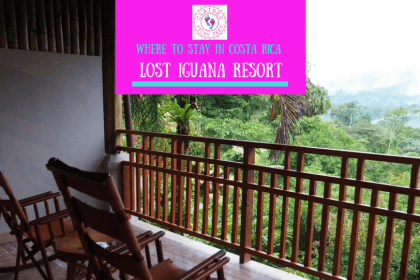 Costa Rica is one of those destinations people dream of. Lost Iguana Resort in La Fortuna is the place you want to stay during your dream! I only had a few short days in Costa Rica and for me, La Fortuna was an easy choice. Set amongst the backdrop of Arenal Volcano it's easy to understand why so many tourists visit this mountain town each year. Wanting to be as close to Mistico Park as possible I decided to stay at the close by resort Lost Iguana, keep reading for my review of Lost Iguana and why you should book your vacation right now!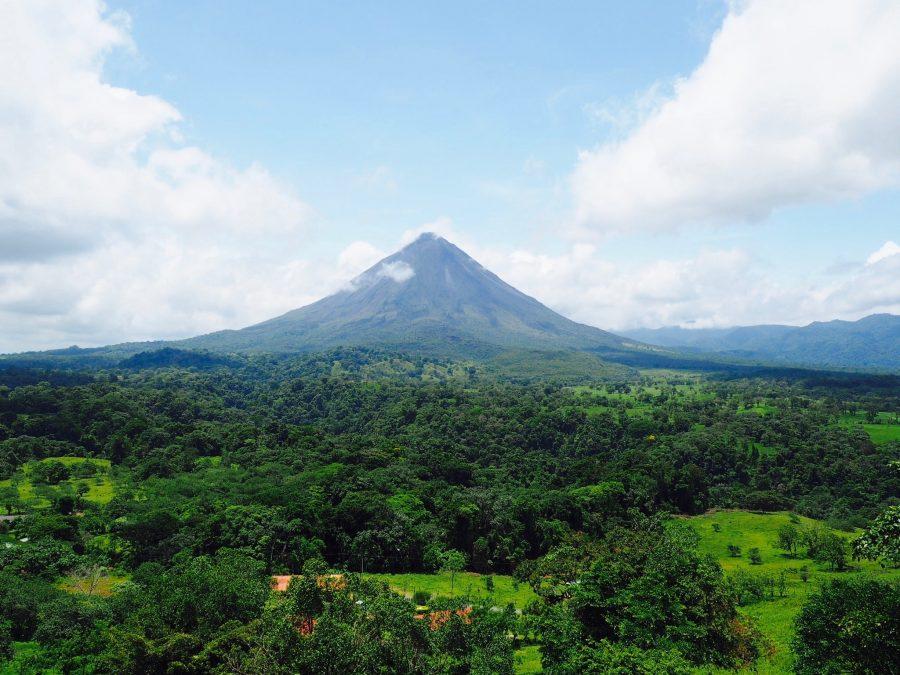 Arrival at Lost Iguana
My journey to Costa Rica was a long one! I was traveling from the Uk and had a 17-hour layover in New York with 3 changes in total! It took me over 30 hours to get to San Juan and a further 6 hours to get to La Fortuna (more on that later)! So to say I was tired when I finally arrived at Lost Iguana tired was an understatement.
On arrival, I was offered a complimentary drink, which was delicious and just what I needed. It was evening and after check in I was given a map of the grounds and information about breakfast. I was then driven to my accommodation in a golf buggy. A small thing but the relief I felt at not having to carry my backpack or find my way in the dark to the room was immense.
First Impressions
My first impression was that this place was a little bit special. That was before I had even seen my room.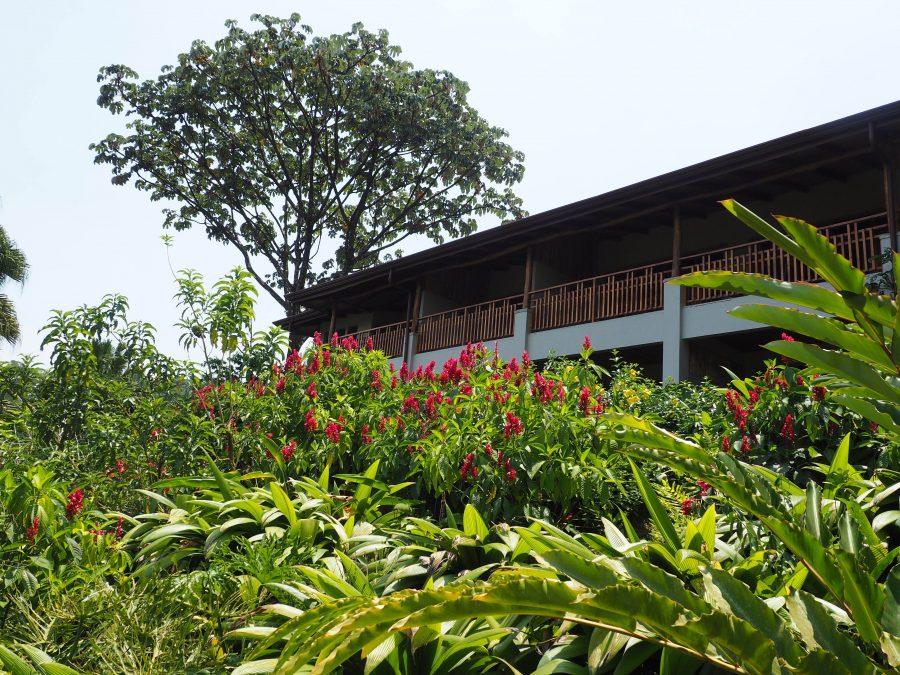 Entering my room I realized that this place wasn't just a little bit special, it was really special! I was staying in a Luxury Suite.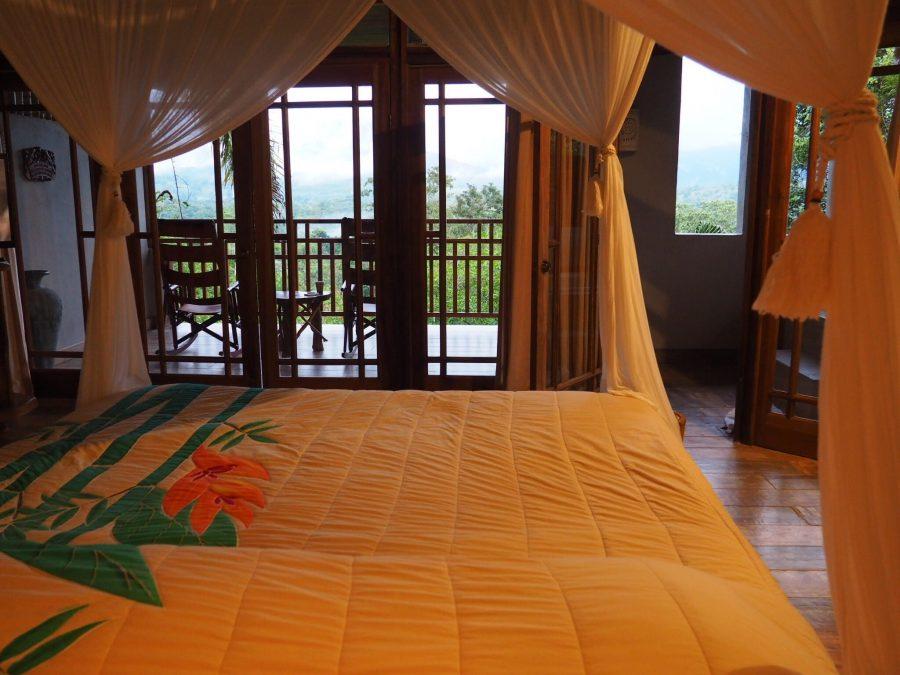 The room had everything you could possibly want.
Huge bed
Kitchen and bar area, complete with stocked mini bar.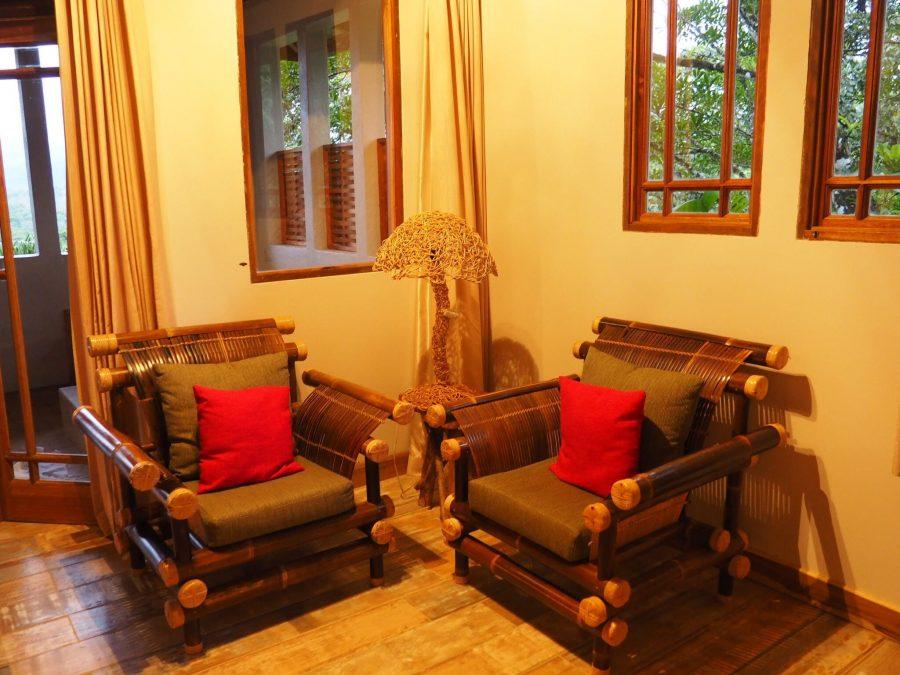 Balcony with rocking chairs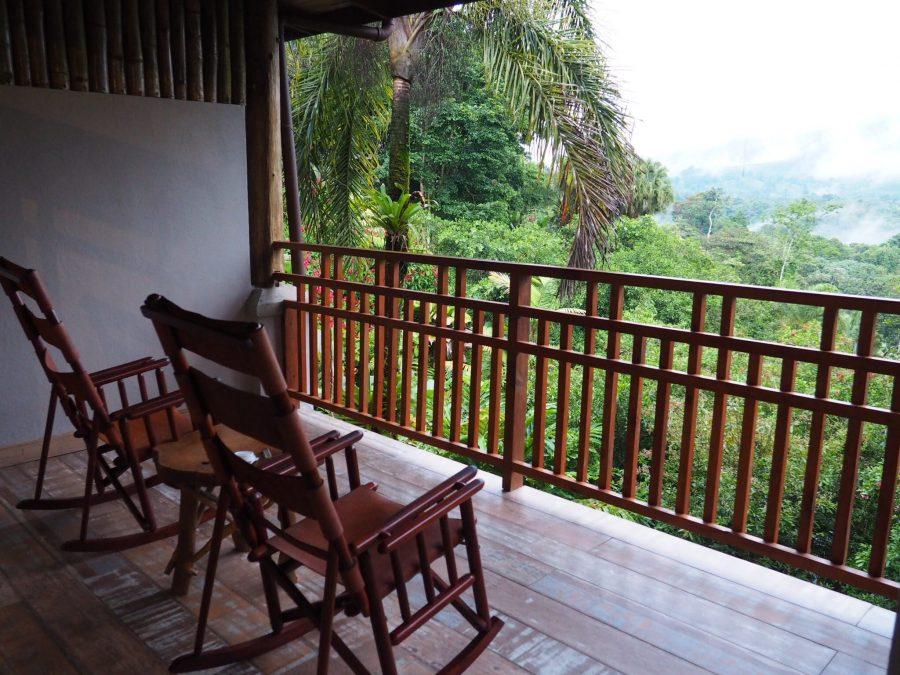 And the piece de resistance…an outside jacuzzi bath! Yes, that's right a bath outside on the balcony.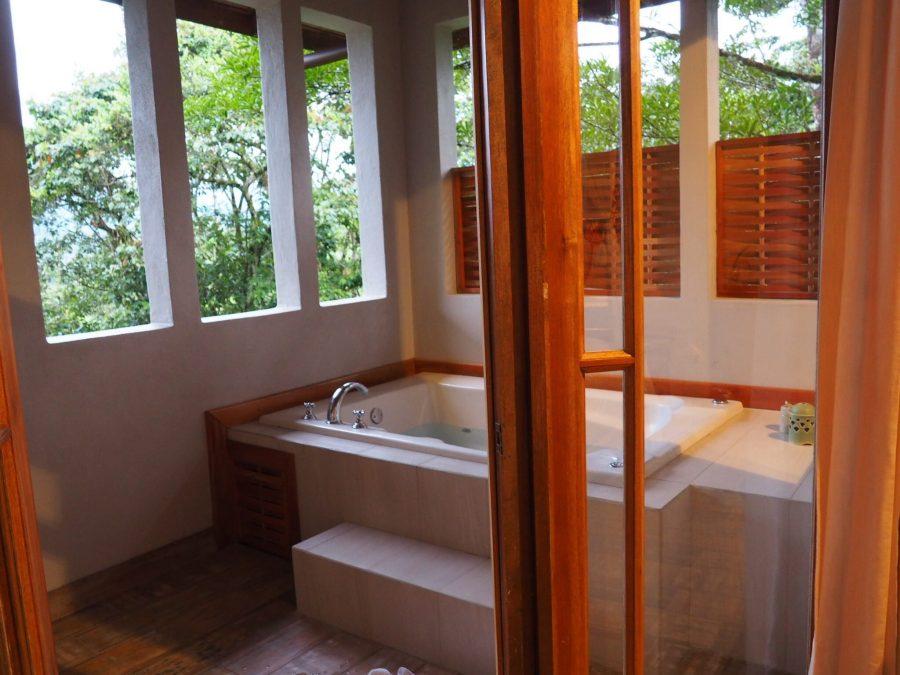 That View
What I realized when I walked out on the balcony was that there was a view of the volcano, from my bed. This really excited me and I couldn't wait to go to sleep just so I could wake up to that view.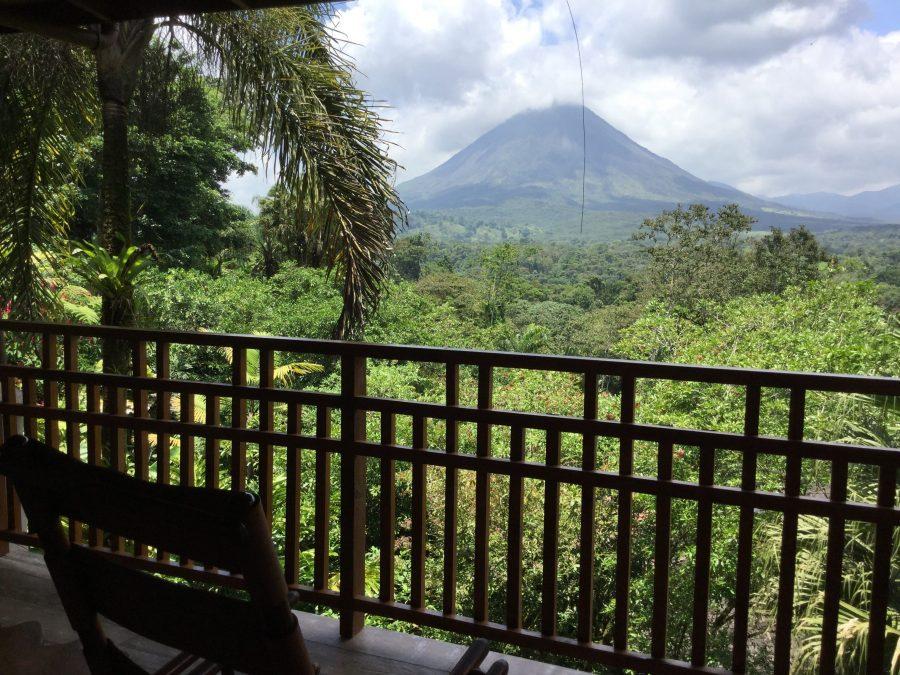 And what a view it was at sunrise.
I genuinely could have just stayed in bed all day staring out to the view of Arenal Volcano. But the pull of breakfast was also strong!
The Restaurant
I only ate breakfast in the restaurant which was included in my stay. The menu is what I would expect from a resort like this. I opted for a traditional one morning and a breakfast burrito the next. As I'm a vegetarian they were able to adapt the breakfast for me without fuss.
The coffee was excellent as was the service.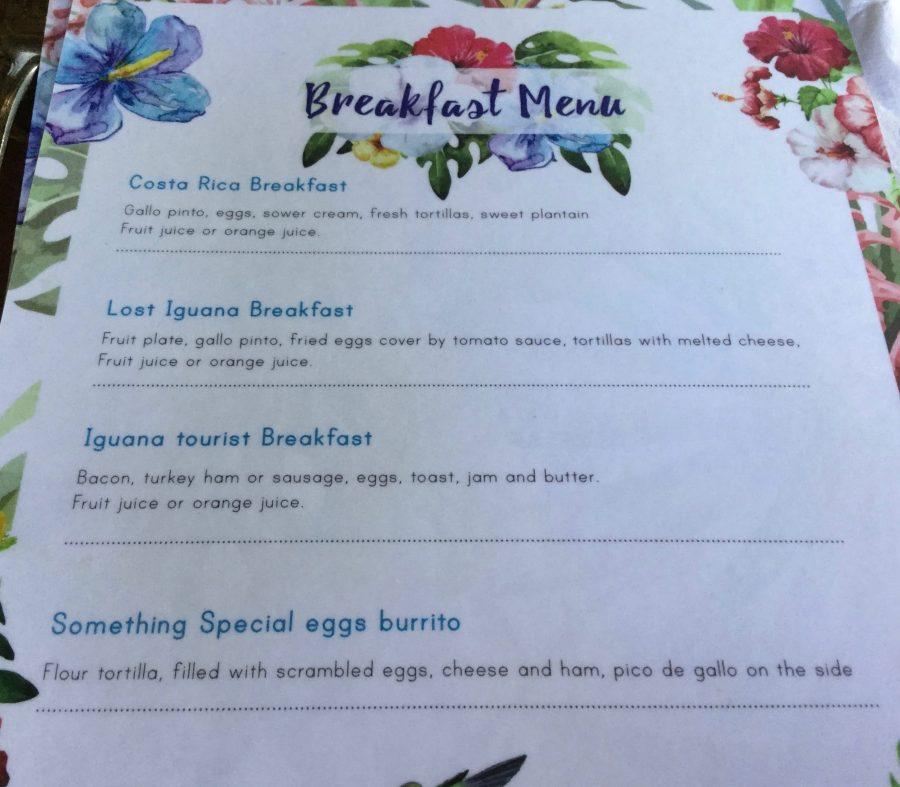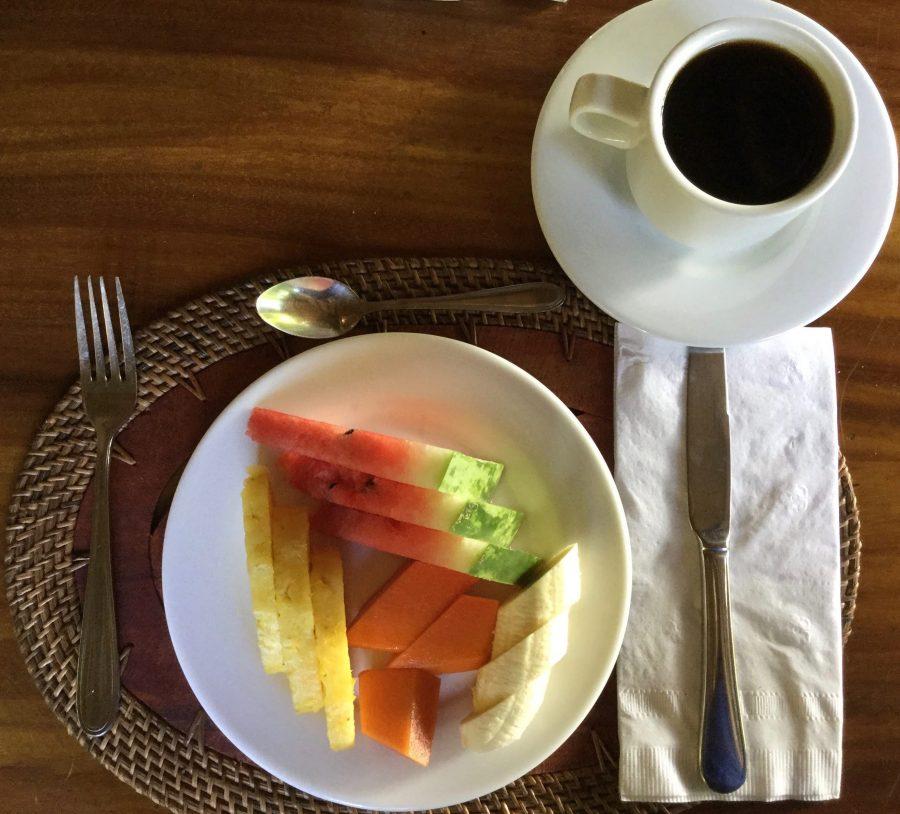 The cost of other meals in the restaurant was reasonable with meals around $10-$20. There was also room service on offer which I did not use.
The Pool
There are actually 2 pools in the resort. One heated and one cold, with a swim up bar so you don't have to get out to quench your thirst. Towels are available from the bar and there are plenty of sun loungers for you to relax and sunbath on.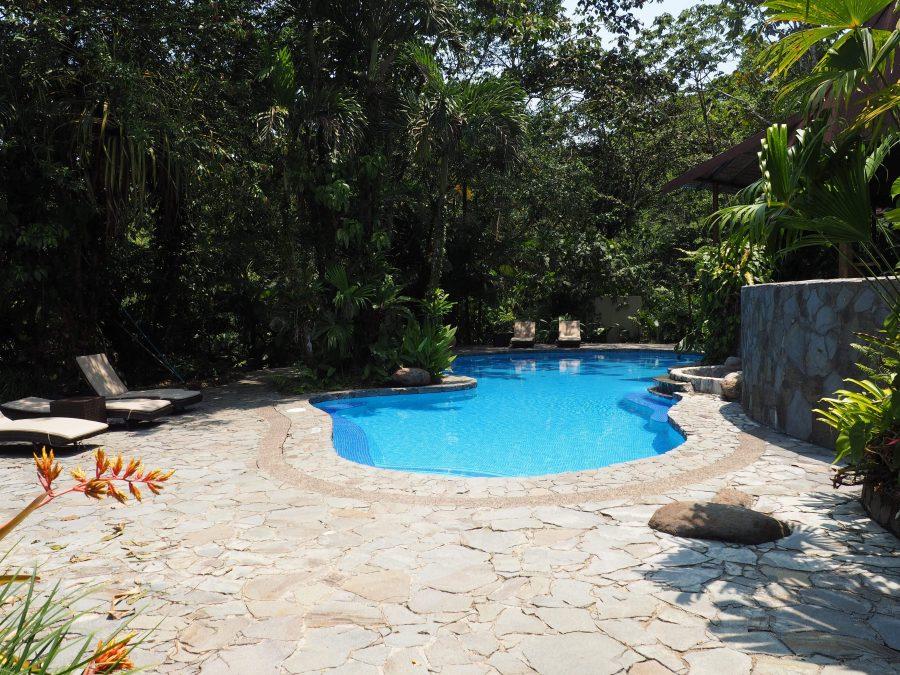 The Spa
I didn't have time to visit The Golden Gekko Spa sadly, so I am unable to offer a review of it. However, the treatments look luxurious and there are plenty of special offers and packages to choose from.
The Walk
When I realized there was a trail around the grounds I got really excited. I loved the location of Lost Iguana and its grounds were spectacular. The trail itself runs around the outside of the resort and takes you through a part of its jungle grounds where you will see some impressive sites including a few small waterfalls and a maze!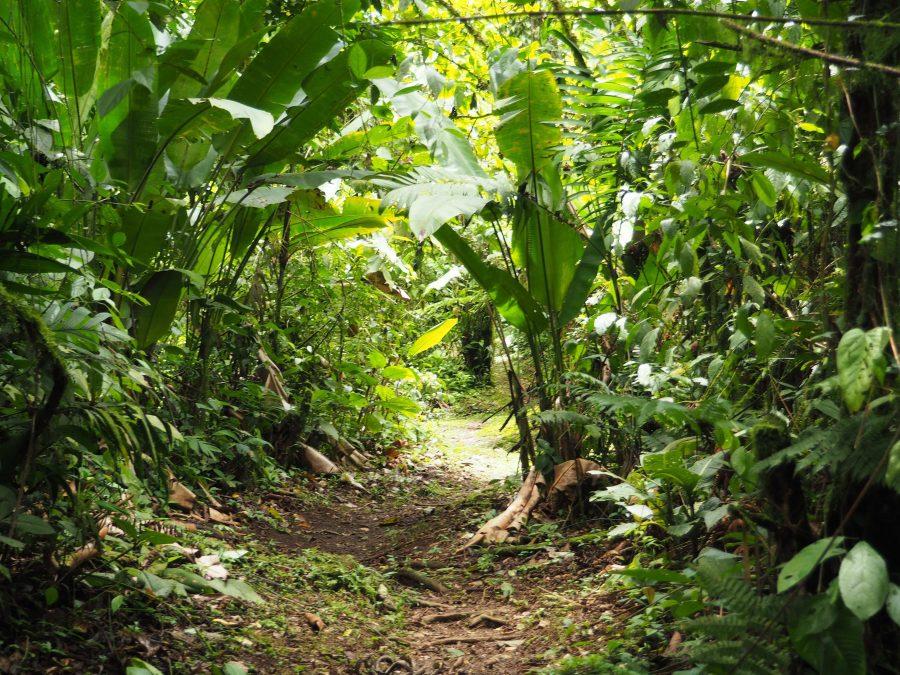 It was an easy walk with just a few uphill parts. There were also plenty of resting stops too.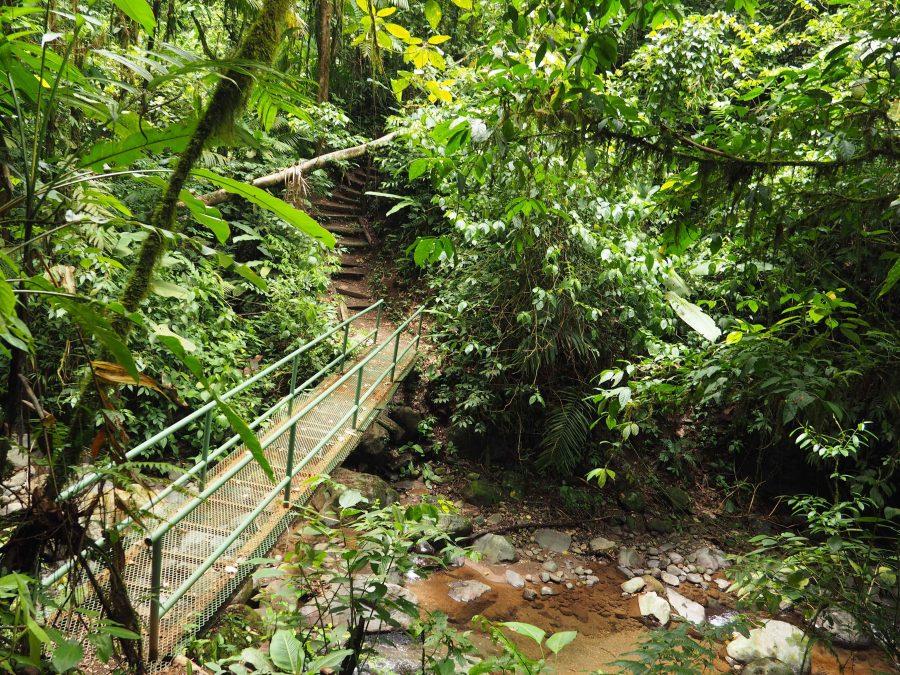 Make sure you take plenty of water and wear closed shoes or hiking sandals.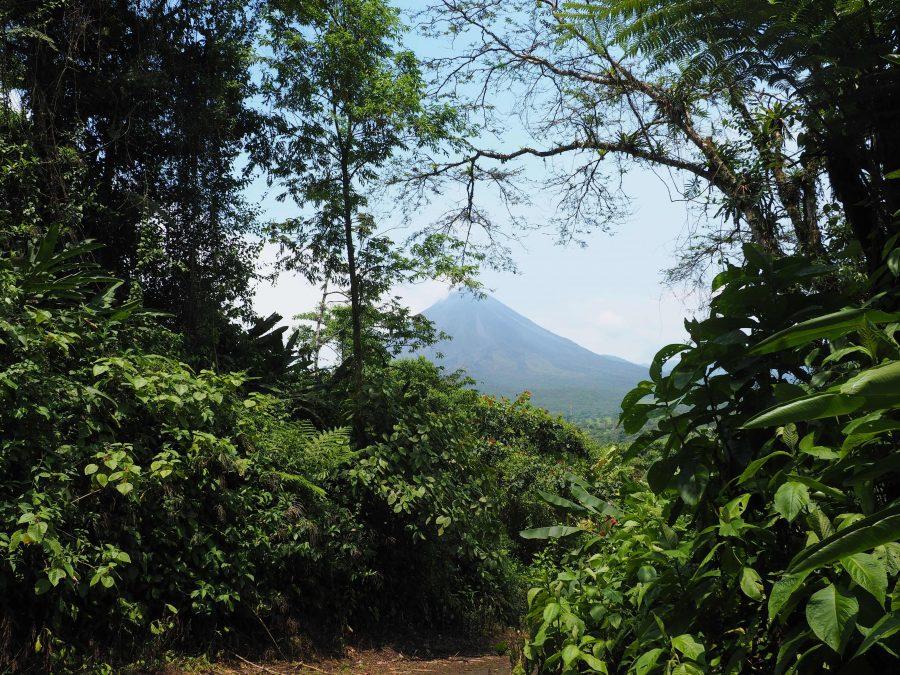 Mistico Park
I had a visit to Mistico Park booked which was why I chose Lost Iguana. I have written a full review of my visit to the park here, which you can read in full. The park is walking distance, however, I was dropped off and picked up by the driver from Lost Iguana. Which I was really grateful for due to the rain. Take a read of my blog post about Mistico Park here.
Other activities
In La Fortuna, you will find you are spoilt for choice for things to do. Lost Iguana are able to arrange all of the tours for you, taking the stress away from having to search around. Their top tours are:
White Water Rafting

La Fortuna Waterfall

Tabacon Hot Mineral Pools

Skytram Canopy Tours
For a full list of the trips, they can arrange for you visit their web page here.
Getting there
I always take the hard way to get from a to be. It's part of my job as a travel blogger. However I would not recommend what I did (taking the public bus) for 2 reasons, it took 3 times as long for me to get there and I only saved around $10. Instead, I would recommend either hire a car or arrange for a shuttle. Even if you do decide to get a public bus to La Fortuna it will cost you $30 in a private taxi from the town to the resort.
The Rainy Season
If you are thinking of going to Costa Rica in the rainy season my advice is to absolutely go. It doesn't normally rain all day. If it had of done though there is nowhere I would have rather been that in my room in Lost Iguana looking out at Arenal Volcano! I wrote a post about traveling to Central America in the rainy season that you can read. The rain didn't affect my visit at all, just take your umbrella!  
Final Thoughts
This is one of my most favorite resorts in an idyllic location. I really can't recommend a stay in Lost Iguana enough. If you go there please also make sure you plan a full day of activities in Mistico Park too! My only negative was that because it is a resort there isn't much choice if you don't want to eat in the resort.  You aren't really in walking distance from any other restaurants. This is why I would highly recommend hiring a car for your stay in Costa Rica. It's by far the most convenient and cheapest way of being able to explore Costa Rica. Taxis are expensive, as are shuttles. Having a rental car will not only save you money but it will give you far more flexibility for your vacation.
I really hope you have enjoyed this review and I would love to hear from yo if you are planning a trip to Lost Iguana. Feel free to contact me directly if you have any questions.
If you need a cheap flight to Costa Rica check Skyscanner first! Or download their App here, and don't forget your insurance!