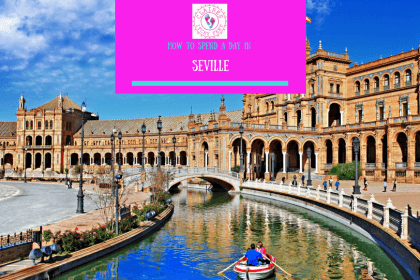 Want to visit Saville but only have 1 day? 
 How can you possibly explore this wonderful city in so little time? It's not easy but I have just 8 hours to cram as much in as I could. So here's my guide to help you plan your 1 day in Seville. 
Arrival
We arrived by train from Malaga into the main station, it took us 2 hours and cost €55 for a round trip. We didn't have a clue where we were going and ended up getting so lost! So when you come out of the station walk straight, cross over the road and head to the left-hand side of the bridge walk down the steps and walk straight, you will have to turn and it will take you 20 minutes.
If you need a landmark to head for then the Cathedral is a good starting point. 
Take a walk through the town centre
Walk past the cathedral and keep going towards the river and the Torre del Ore (Gold's Tower). This is where most of the bus tours start from.
Get on one of the city's hop on hop off bus tours.
I would recommend just sitting on the tour the whole way round, takes 90 minutes, and then going back to the places you liked the look of after as everywhere is easily walked.
You can get the bus tickets on Viator, they have lots of tours all around the world and always have great discounts. They also have a handy app so you can check out tours on the go.
The places I liked the most that we explored by foot were:
It is in the middle of a huge public park so it's worth taking your lunch with you if you are on a budget then you can eat it in the park admiring the view. The Plaza really is stunning, its size makes taking a good photograph that captures is all tricky.
You can also take a boat ride around its moat for €6
Giralda (Cathedral)
If you take a walk through the city centre you can't miss it.
Where to eat
We ate by Macarena and although the food was incredible it was very expensive (which we didn't realise until after we ordered). If you want to eat I'd recommend the Alameda de Hercules area as we went past this on the bus and there looked to be some really nice places to eat in this area with reasonable prices.
Don't forget to take your time
With such little time in Seville, I didn't want to spend the 8 hours running from one tourist attraction to the next. Instead, I wanted to people watch while eating paella and wander the streets admiring the architecture and taking photos. I wish I'd dedicated more time for this as the walk back to the train station way my favourite part. Every time I turned a corner I was faced with another beautiful building, a coffee shop I wanted to sit and drink coffee at, or flamenco dancers I wanted to watch.
Was it worth it for 8 hours?
Even though I spent a short amount of time in Seville and didn't have time to really explore the city one thing I do know is that I want to go back, and next time I'll be staying for a lot longer that 8 hours! Seville is bursting with culture. It has a bubbling art scene that I know I want to soak up. The history of this city is fascinating and it's seen as the gateway to the Americas.
If you only have one day then make the most of it, but my advice is take a week, you won't regret it! Need more convincing? Then take a read of this inspiring post from 197 Travel Stamps.
If you need a cheap flight to anywhere check Skyscanner first! Or download their App here, and don't forget your insurance!