Backpacking in Central America? If you have made it to Tikal, chances are you are going to one of three places: Mexico, Belize or to somewhere else in Guatemala. I decided to skip Belize as I was on a tight schedule (I had a flight booked leaving Cancun in 4 days) and went straight to Mexico. On the advice of several friends who had traveled extensively in Mexico, I was advised to go to Tulum for a few days. So here is my guide on how to get from Tikal to Tulum in Mexico.
Start in Flores
If you are visiting Tikal you will need to get to Flores ideally. As that's where all of the buses pick up from. Unless you want to take the public bus (more on that later). You will also not be able to get a bus directly from Flores to Tulum. Instead, you will need to get the bus to Chetumal just over the Mexican border, and then change buses (or take a taxi) to Tulum. 
The cheap (and more difficult way)
From Tikal
If you are coming directly from Tikal ask the shuttle driver to drop you off where you can get the public bus to Belize. It's about half the way back and should cost you 25Q. Take the bus across the border all the way to Belize City if you can. If not get off the bus at the border, then on the other side ask for directions for the public bus to Belize city. Once you arrive in the City you want to get to the ADO bus stop and take a bus to Chetumal in Mexico. From Chetumal, you can change bus and take one to Tulum.
From Flores
As above but you will need to ask a tuk-tuk driver to take you to the bus station to catch a bus to Belize. It will only cost you 5Q and it's worth it as there are two bus stations, you don't want to end up at the wrong one. The driver will point you in the right direction.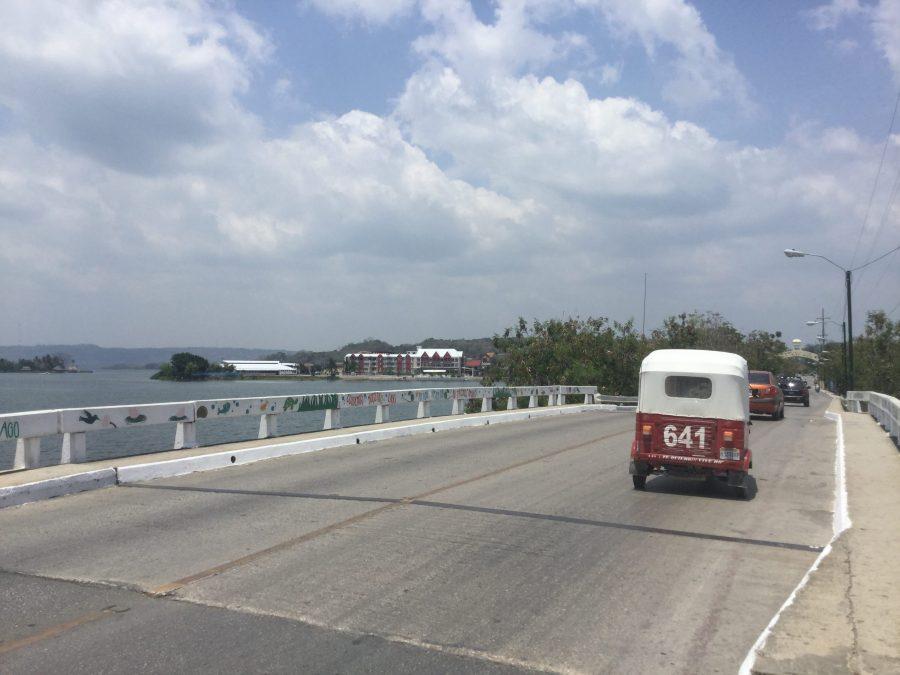 I'm not sure of the cost of the bus to Belize or from Belize to Tulum as I didn't do this myself. I don't think there was much price difference though and the first part of the journey won't be very comfortable, for that reason I recommend one of the other options.
The Tourist Way
There are two main 'tourist' buses that run services from Flores to Chetumal. San Juan or Marlin. After doing a lot of research and taking advice from the travel agent I decided to pay the extra 15Q (just over $1) to go with Marlin. San Juan has a pretty bad reputation, their buses are uncomfortable and don't always have AC. For my extra 15Q, I had a big coach (with 2 seats to myself), AC and WIFI yea that's right WIFI ON THE COACH. I was in heaven after my other two hellish bus rides that week. 
Top Tip: Don't book directly with Marlin as it's a lot more expensive.
It gets better too…
In the morning you will be picked up in a shuttle (coaches can't access the island as the streets are too narrow. They bring you to their office where you get complimentary Tea, Coffee, fruit, and toast while you fill out immigration forms and wait for the others to be picked up. There is also a small shop next door where you can grab any snacks and drinks you might need.
The Guatemalan / Belize Border
When you get to the border you will need to exit the bus with all of your belongings and pass through immigration. Once you have got your Guatemalan exit stamp you will need to walk across the border and join the queue to enter into Belize.  The bus will be waiting for you on the other side.
We went straight through to Belize City and then changed bus in a car park. This was the only stop and it was quick. Some of the people on the bus spoke to the driver and quickly ran off in search of food, but I couldn't see anywhere close by.
The Belize / Mexico Border
When you get to the Belize/ Mexico border you will need to exit the coach again. This time you can leave your bags. You will have to pay an exit fee of $30 Belize Dollars or around $17 USD. the coach will then pick you back up and drive you across the border over to the Mexican border control. Once you pass through passport control you will need to pick up your luggage and go through a scanner. You will then have to wait until everyone on the bus has been cleared and they have checked the bus before you can all go back on.
Arriving in Chetumal
Once you arrive at the bus station where you will be greeted by an ice cold beer. Honestly go with this company they are amazing: Coffee, toast, wifi, and beer! It's a backpackers dream!
Getting from Chetumal to Tulum
You have two options here a second bus or a taxi
Bus
The bus from Chetumal to Tulum is operated by a different company ADO who have their own bus stop. To get to that bus stop you will need to get a taxi across town. This will cost around $5.
Taxi
At the Mexican border, the bus driver tried to dissuade us from taking the ADO bus to Tulum and instead told us to get a taxi. I think there is some rivalry there as their routes overlap. If there are 4 people it's worth doing, as it is easier and the cost isn't much different. Lucky for me there were 3 other brits on the coach who I had gotten chatting too who were also heading to Tulum. So I was able to hop in with them. It cost us 200psc each. For a 3 hour journey, I thought that was pretty reasonable! He stopped twice on the way so we could by food and beer and took us directly to our hotels. This would only work if there were 4 of you though unless you had a spare 800 psc.
The Money is no Object Way
Simple, get a flight! You can fly from Flores to Cancun. Then take an ADO coach there.
If you need a cheap flight to Guatemala check Skyscanner first! Or download their App here, and don't forget your insurance!