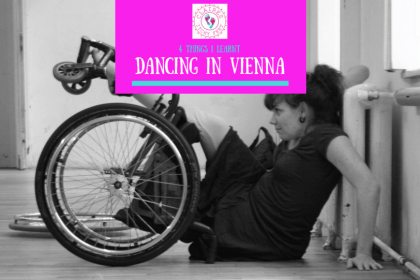 I traveled to Vienna in 2011 and it was magical. Vienna taught me a lot about traveling and having almost 3 weeks in this beautiful city I had plenty of time to take it all in. So here are 4 things I learned from dancing in Vienna.
Here's what Vienna taught me:
1. Hostels are great 
This also made me start thinking about solo travel. Up until this point, I'd been a bit of a snob and thought hostels were for alcohol-fueled teenagers, people with low hygiene standards who liked sleeping in dirty beds and potential serial killers. Oh, how wrong I was! Seeing lots of lovely friendly travelers move through our hostel challenged my perception of both hostels and solo traveling. I was 100% sold on both.
If you are looking for a more comprehensive guide to hostels in Vienna click here.
2. You can travel on a budget
Lidl is everywhere and as long as there is a Lidl you can get by on a shoestring! We mostly ate rice, pasta and cured meats with lots of fresh salad and veg. They have a fantastic free film festival in one of the parks there so buy yourself some cheap booze and don't forget the cups (we did and had to improvise with Mcdonalds cups).\
3. How to appreciate art
I'm not from a particularly arty family (well visual art anyway) and having never had much experience with visual art I didn't have much confidence viewing it. Being with Connie and Adam who were both visual artists really opened me up to this world. I developed a love of Klimt and Egon Schiele, whose work dominates Vienna. Whenever I'm travelling to a new city I always seek out their work. Thanks to Vienna visiting galleries and culturally rich places are always high on my travel agenda.
4. You need more than 1 day to explore a city! 
We met so many backpackers who were travelling through with just one day to spare. We were horrified at this as it took us 3 weeks and we still hadn't seen everything (we were busy dancing all day). But to really get to know a city like Vienna you need to give it a little more time than a quick tour on a hop on hop off bus. I know sometimes this isn't possible when your itinerary is tight but when planning I always try and do at least 2 days in a city before moving on.
I also started to develop my skills as an (amateur) photographer in Vienna, here are a few pictures I took that really represent my time there.

Have you ever visited a place that taught you some life lessons? I'd love to hear them, so please drop me an email or comment below.
If you need a cheap flight to anywhere check Skyscanner first! Or download their App here, and don't forget your insurance!