After spending 9 months traveling in Central America, I know a thing or two about bus travel in Central America. And most importantly how to survive on long bus rides. Some have been hell (Guatemala I'm looking at you), and some have been merely a bad dream.
Now, I know sitting on a bus for long periods of time to cross borders might not seem like most people's idea of fun, but there are two good reasons bus travel is a must.
It's cheap
It's better for the environment
For example
Flores in Guatemala through Belize to Chetumal in Mexico cost me around $20. To fly I would be looking at a cost of $400…big difference! The flight would also have at least 1 stop and take the same time, if not longer than the bus. So as I have already said it's cheaper and sometimes it is far easier as you don't have to deal with security checks and fight transfers.
You can often book the bus the day before and you don't need to fuss about plastic bags for your liquids.
Not all bus travel is equal
You have a few different kinds of bus travel. The type of bus (and how much it costs) will likely reflect how traumatic a journey you will have. Most of my traveling has been in Guatemala so far so I'm going to focus on there. However, it is similar in other neighboring countries. Costa Rica is far more organized and way more expensive. If you are traveling in Costa Rica, rent a car!
Long distances on local public buses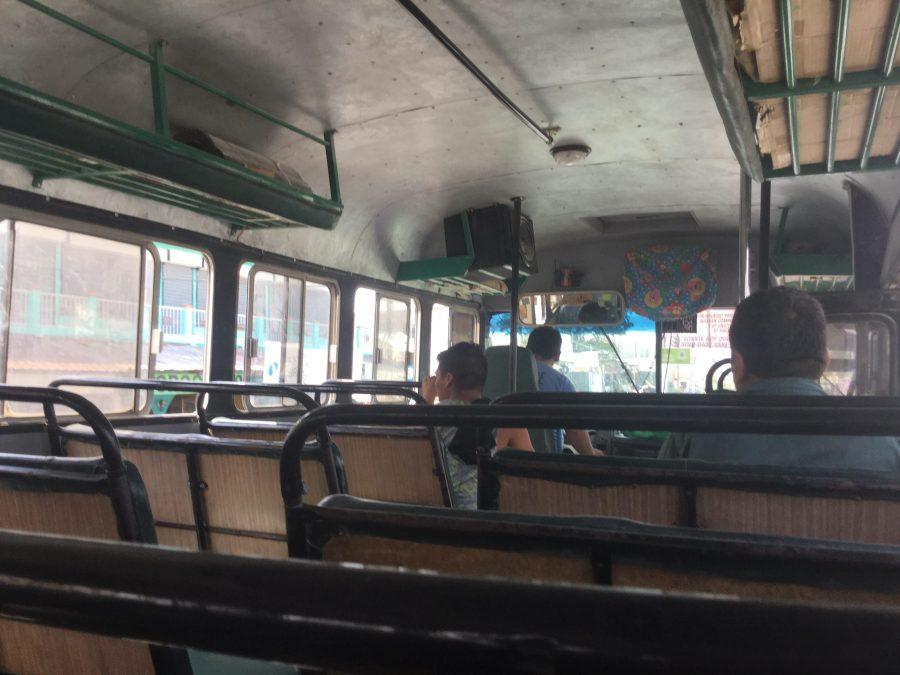 I have traveled quite a bit on a chicken bus in Guatemala. Yes, they take the corners way too fast, and they pump out some pretty nasty fumes. But if you don't mind being squished and getting stared at by the locals a bit they are a really cheap and easy way of getting around.
The public buses I've taken in other countries have been a lot different. It's a bit more organized, it normally waits until everyone gets on before pulling away. You are unlikely to have a local sat on you (true story) and your backpack goes under the bus, not thrown on top of it.
Bus travel in Central America
Using the tourist shuttles (minibusses) in Central America
The tourist shuttle is exactly what it sounds like. Think of them as regular buses but just for tourists. You get your own seat, your bag will probably still be on top of the bus unless it's empty, but they will secure it. and you will pay twice as much at least for it. In Guatemala, tourist shuttles are cheap and quick. In Costa Rica that are quicker but a lot more expensive. You can book a tourist shuttle online here.
Using Large Coaches in Central America
These are the buses you get if you are going a longer distance, mostly when you are going from one country to another. I've only used one of these and that was from Tikal to Tulum. In Guatemala, they aren't very common as many of the roads are too narrow to accommodate them. But they are great for traveling between countries. Be sure to book your bus online at least 24 hours before your journey.

So here are my 13 tips to help you survive on long journeys
1. Pay the extra money
If you are on a shoestring this class of bus travel in Central America may not be a choice for you. However, the last long journey I took was my 3rd 10+ hour bus ride in a week. Yep, 30 hours on a bus in 6 days. So when they asked me if I wanted to pay an extra $2 for a better bus with wifi and AC it was an easy answer!
2. Pack headphones
Preferably noise reducing ones so you can block out other people, or the noisy engine (especially if you are on a chicken bus).
[amazon_link asins='B07TQSBB5B' template='ProductAd' store='clsitf-20′ marketplace='US' link_id='e0108597-e79f-48e2-903f-1dfcf0d95e47′]
3. Download Podcasts, Audiobooks or Films
I was never really an Audiobook person until I started taking long bus rides. I sometimes get motion sickness so reading makes me feel sick. A good podcast can be a lifesaver. If you can get the wifi to download some films of a TV series make sure you do that too. I've managed to watch a whole season in a bus journey before.
4. Pack Your Neck Pillow
I know some people might think a neck pillow is a waste of space, I am not one of those people. I never go anywhere without mine and I keep it clipped onto my bag, so it takes up no space in my bag. It's light, so it doesn't add to my weight, and it has a removable cover so I can wash it regularly. I don't just use it when I'm traveling, I also use it when I'm in a hotel or a hostel if I want to sit up in bed to read for example.
Most places only give you one pillow so it comes in really handy. I have also used mine several times to sit on during long uncomfortable journeys. Honestly, after sitting on my backside for 10 hours I couldn't feel my backside. Sitting on that pillow and relieving some of the pressure made me want to cry tears of joy!
5. Have Warm Clothes Handy
If you are traveling on a bus with AC it will get cold. Especially if it's a night bus! It's a thing on bus travel in Central America and South America. So make sure you keep some warm clothes in your bag or even better a blanket or a shawl.
6. Wear Quick Drying Clothes
If you don't have a bus with AC make sure you wear quick dry clothes, for the opposite reasons. Especially if you are traveling in the day. At one point traveling from Semuc Champey to Tikal in Guatemala, I thought I was going to pass out because of the heat. I was drenched! My water was so hot I could have made tea with it.
7. Pack a Hand Fan
See above. That hand fan was my most treasured possession on hot bus rides when we got stuck in traffic.
8. Bring Lots of Snacks
I never did this. And I always regretted it. Always. The buses don't always stop, so you might not have the chance to buy food on the way. Make sure you have plenty of water and snacks with you just in case… preferably things that don't melt!
I'm a big fan of these IQ vegan snacks. They are chewy so don't break up when they are at the bottom of your bag.
9. Pack a Power Bank
Most buses (unless you pay for the fancy ones) won't have charging points like they do at home. I always carry my power bank everywhere with me.
10. Choose Your Seat Wisely
This is especially if you are tall and long legged like me. Honestly, sitting in those little minibusses cramped in for 10 hours unable to stretch out my legs was a living hell!
Chicken Busses – You're lucky if you get a seat quite frankly!
Shuttle Busses – If you can bag the front passenger seat. Or if that's taken sit on the front row, on either side so you get a window seat. These seats mean you will get ok legroom, control of the window and you can get out easily if you need to go to the bathroom. Sitting at the back you will be likely trapped in until everyone else empties out!
Coaches – Try and get a window seat so you can control the window and you can rest your head on it if you want to sleep.
11. Always Carry some US Dollars
If you are crossing borders it can be tricky to exchange the local currency from the country you are leaving into currency for the place you are entering. There will be men offering to do this for you at the border, but you won't get a great rate.
You can also use dollars to pay the border crossings. I always try and keep a $50 and some smaller change $1's $10's and a $20. I actually only used dollars in Costa Rica as I couldn't get any cash out of the cash machine! They took my dollars on the local buses and in the shops.
12. Keep a Pen Handy
You will need it to complete the immigration forms when crossing borders. They normally hand them out of the bus. It saves time and hassle to have one handy.
13. Pack a Notebook and Your Travel Guide
If you aren't old school like me then you might use your phone notes and Kindle. What better way to kill time on a long bus ride than re-reading your guidebook, taking some notes and planning your next adventure. I always find I'm able to focus much more when I'm in transit than when I'm still in a previous destination.
14. Look after your back
I recently started using the Chirp Wheel and it's seriously saved my back! It may not be ideal to pack with… although I do travel with my little one now… but it's great for the in-between times. Use code CLAIRE15 for 15% off.
I hope these tips help you to survive busing your way around Central America. If nothing else it's an interesting experience!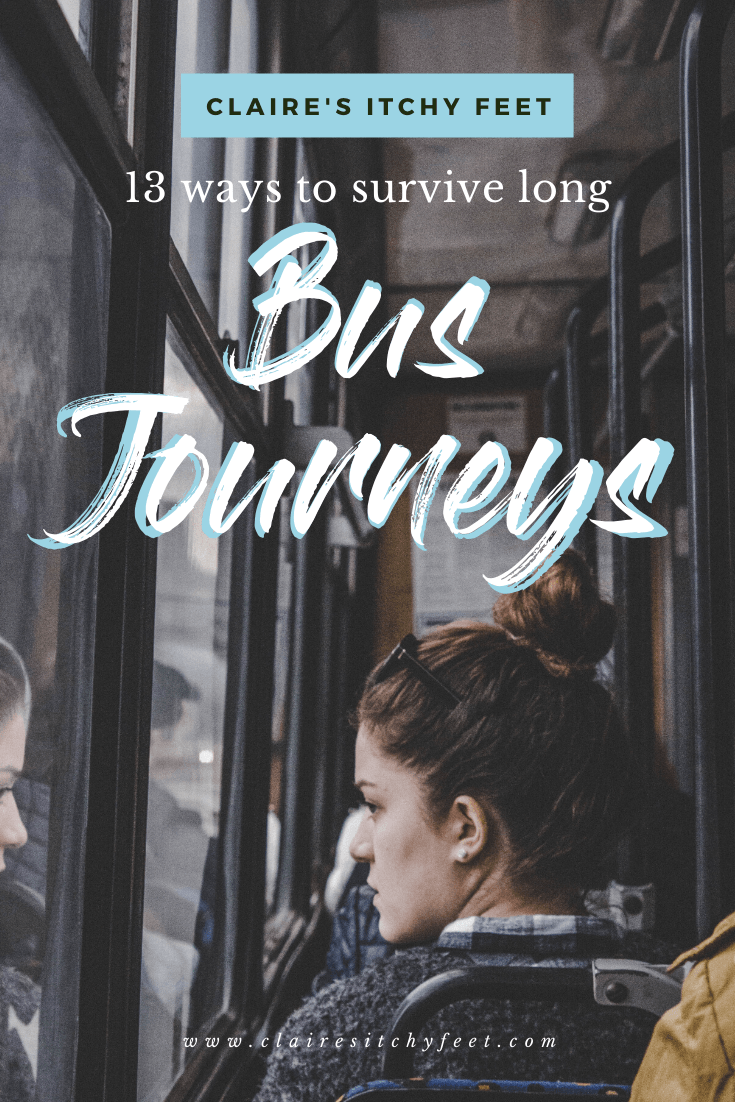 Final Thoughts
If you are traveling in South America you can book most of your bus travel through Busbud. The only company I recommend for booking transport and tours in Guatemala (other than the individuals and companies I have named) is GuateGo. You can book transport in Guatemala with them here and Guatemalan tours with them here. In Europe try Megabus.
This post was proofread by Grammarly