You will hear mixed opinions about how much time you should spend in Havana. Some people say 2 weeks is not enough and others say 2 days! In my opinion Cities as interesting and as layered as Havana take time to appreciate. If you only have 48 hours you are only going to be scratching the surface and probably just hitting up the 'tourist attractions'. If you have more time then you can start to peel back the layers and really get under the skin of Havana. To help you prioritize your time here is how to spend a fun 48 hours in Havana.
How long should you plan to stay in Havana?
On my recent trip, I spent a total of 4 days, 5 nights in Havana. With an extra day or two, I feel that would have been the perfect amount of time for me. In fact, I probably could have quite happily spent another week there. But if you are pushed for time and want to see the best of Havana in two days here is how you can make the most of your 48 hours in Havana.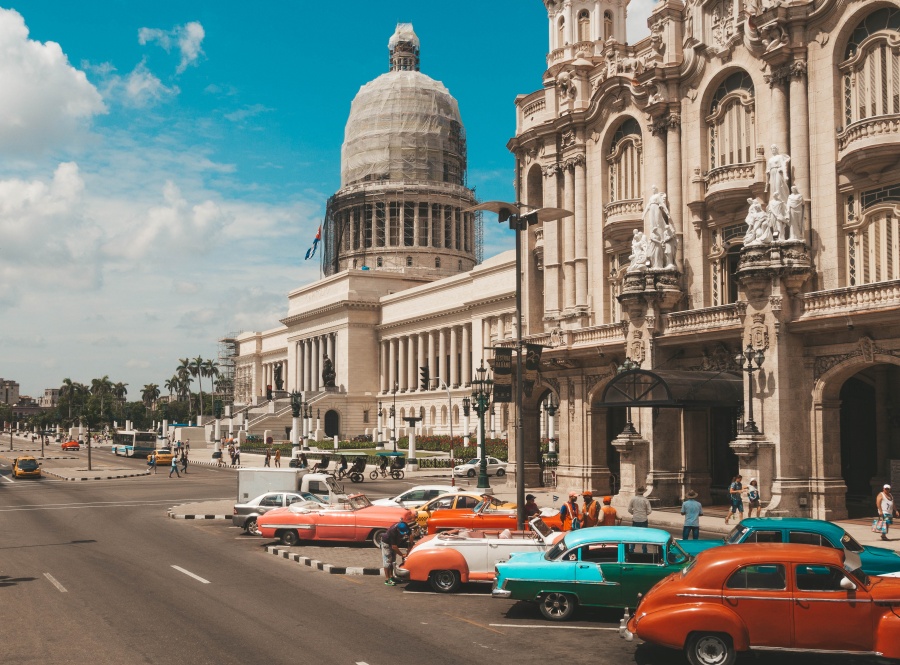 Changing Money in Havana
People from the USA
You will need to take enough money to last you your entire trip. You will not be able to get money out of your US bank account in Cuba and your US credit and debit cards will not work. I wasn't even able to login to Paypal or my US bank account there! Your USD are also not welcome here so it is best to bring Euros, CAD, GBP of MEX Pesos. All of which you can easily exchange. If you being USD they will charge you a 'tax' of 10% for exchanging them!
Bring more money than you need. It's better to be safe than sorry. You do not want to run out of money in Cuba! If you want to reduce the amount of cash you are bringing then pre-book accommodation and tours on AirBnB that way all you will need to bring is enough money for food, drink, and travel.
People from the rest of the world
As long as you have a Non-US bank account and a Visa Debit card your card is welcome here. Bring enough cash to exchange at the airport for your first 48 hours and then you can withdraw money from the ATM's after that. The rate I always found good and it's far quicker and more convenient than queuing up at the exchange places of the bank to exchange money.
Exchanging money
The exchange rates are pretty fixed so you don't need to worry about getting the best rate. Exchange a little at the airport for your taxi ride and for spends that day. You don't want to do too much as the rate is always better outside of the airport.
Getting to Central Havana from the Airport
If you are flying in you are going to need to get to the city from the airport. Unfortunately, there really isn't any other way than paying $25 for a taxi. I did ask the driver if we could wait for a little while so I could try and find someone to share the taxi with. But there was no one. I had even asked quite a few people on my flight if I could share. But everyone either had booked transport and it was full or wasn't traveling to Havana.
I had to pay the full $25 on my own. It is the same price to get back. Trust me I tried to find an alternative and couldn't.
Day One
Once you arrive at the hostel settle in, take a quick shower and try and make some friends! Hostels are the best places to meet other travelers and Backpackers Hostel in Cuba is the easiest place in the world I've found to make friends. You will be sharing a room with at least 1 other person, possibly 2. There is a communal area where you can also go and sit to wait to meet people. Because there are only normally 9 guest there it is so easy to meet others. Both times I stayed here I met other travelers and hung out with them.
Once you are settled try and find a friend and head out to explore.
If there is no one around, then head out solo and try and get back around 6 pm as by this time most people will be back from their explorations.
Walk towards the central park close to the Capitol. There you can take the Hop on Hop off tourist but. It costs $10 and the last bus is at 6 pm. You can hop on and off or do what I did and just sit back and take in the sites. You will not only get to see all of the city but you will also get your bearings so you have a better idea of the city's Geography. If you want to visit the famous graveyard the bus stops here so I do recommend getting off and then hopping back on later. The bus takes about an hour and a half.
After the bus depending on the time either take a walk along the Malecon for sunset or wander around the capitol.
Don't forget to go into Floridita for the most overpriced daiquiri in Cuba. At 6 CUC it is three times more expensive than most other places. But this is where the daiquiri was first made and where Hemingway himself used to drink them. Plus you can get your picture taken with the Hemingway statue with your daiquiri. Literally the most touristy thing I've ever done haha… okay, maybe not but it's up there.
Head back to basecamp and see if anyone wants to come to eat with you. And then walk to Tu Tiempo it's a little walk from the hostel but absolutely worth it! You can eat there or get it to go.
Nightlife
The nightlife in Havana don't start until late, so 10-11pm is an excellent time to aim to go out. $5cuc will get you a taxi to FAC otherwise known as Fabrica del Arte. Tell the taxi driver you want to go to Fabrica. I didn't take many pictures as I don't want to spoil the surprise for you. But here is a little video of a dance-off between some Cubans that we may or may not have started…
What I will tell you though is that this place is like nothing I have ever seen before. It is the future of what nightclubs should be. You can skip dinner and come a little early and eat here. You could watch a film, take a dance class, talk with friends, see an art exhibition. Or dance to pop music while encouraging Cubans to have dance-offs.
Fabrica is the most New York hipster thing that New Yorkers haven't even thought of yet. Go, go go!
Day Two
If you have a decent camera, then I urge you to book a Photo Tour with Photojournalist Juan. Juan works for the Havana Times, and he is brilliant. He is also fluent in English and not only does he know a hell of a lot about photography, but he also knows the best places to shoot in Havana. This tour made my trip. I not only learned a hell of a lot about photography, specifically street photography but I also got some fantastic shots.
I know that I would never have got shots like this without Juan's guidance. Not only did it make me feel safer and more confident photographing people being with a Cuban. But he also gave me so much advice and guidance that has helped me grow as a photographer. The tour is 9 am – 1 pm.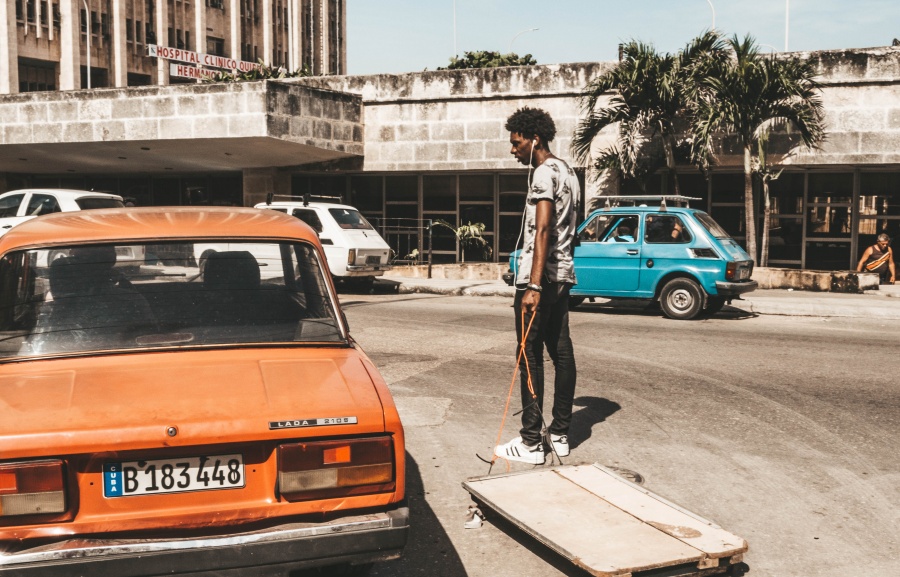 If you are vaguely interested in photography, then book this. Once you have finished this tour then either do a quick version of the below Old Havana tour or skip it and go straight for lunch followed by a car tour.
The best way to spend your morning is wandering the streets of Old Havana.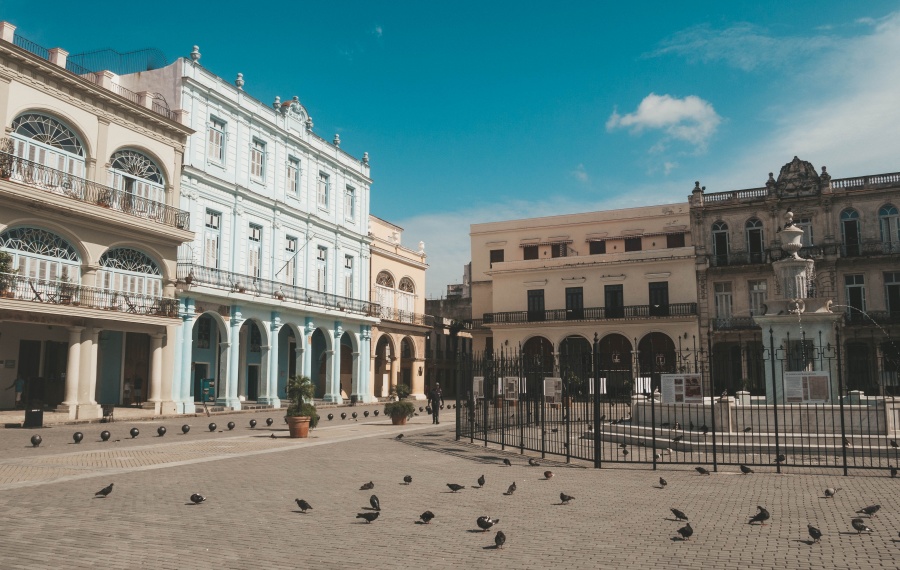 Start in Plaza Vieja for Breakfast at La Vitrola it's pretty touristy and they even put a flag in your food, but it's not too expensive, and it's a great place to start the day with some people watching.
If you don't want food then get a coffee at Cafe El Escorial, it is in the same square, and they have coffee with ice cream, and it is delicious!
After this walk towards the sea and take a walk along the harbor. You will pass the rum museum which runs tours in English at 2 pm and 3 pm if you want to return later for the tour.
Spend a few hours wandering the streets and soaking up the atmosphere. Some places of note:
Plaza San Francisco
Conde de Villanueva – Best place to buy cigars ad if you ask them they will give you the whole tourist talk on cigar making in Cuba.
Ambos Mundos – excellent rooftop bar
Obispo street – Main tourist street
Bodeguita del Vicosa – Birthplace of the Mojito
Head back to the capitol and pop into the Gran Hotel to 'use the bathroom' just tell them you want to come in and have a look around. The bathroom is so fancy, and they have the best chairs. If you have five friends, you can make them sit in the chairs and pretend you are on Game of Thrones.
Okay, next it's time to be a serious tourist!
Go with your friends to where all of the cars are parked and haggle your way into a tour in a classic car. Solo it's expensive. As there was a group of us, I only paid $10, and it was the most fun thing I could have done.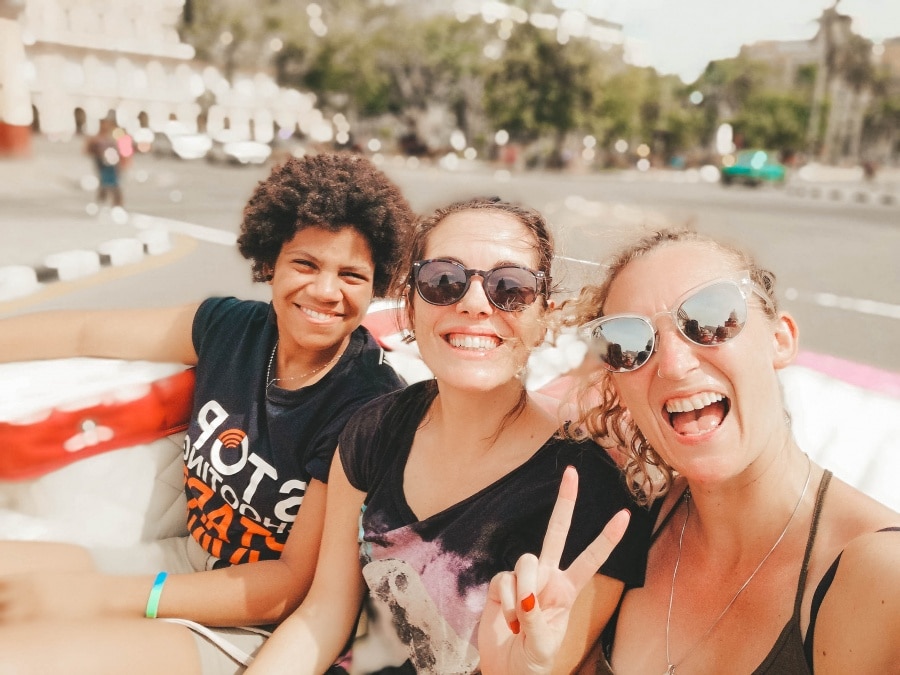 Make sure you ask the driver to stop at the John Lennon park so you can get a picture.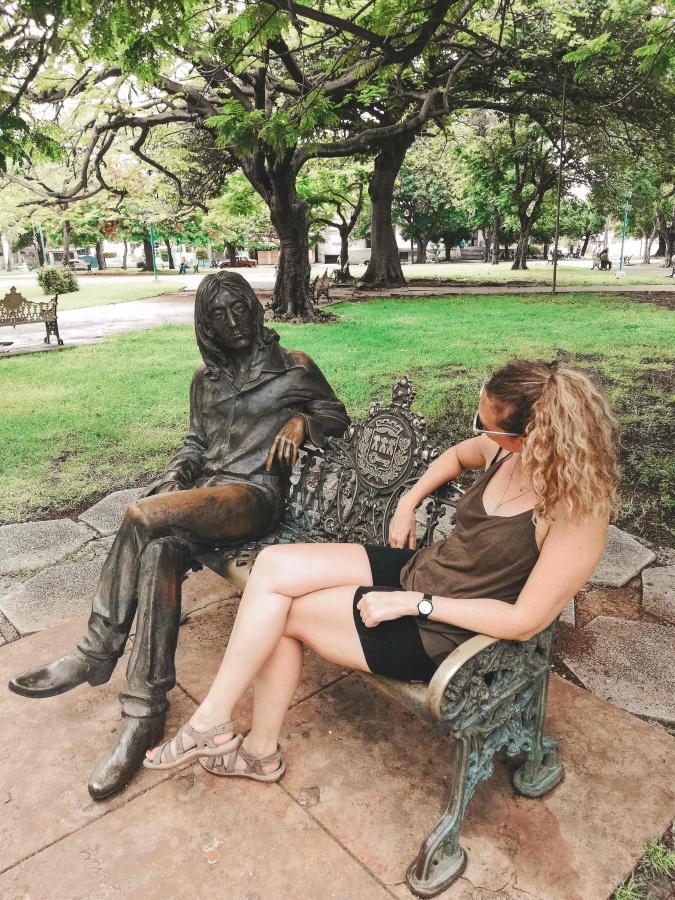 They will stop in the Plaza de la Revolución so you can get some pictures there and some posing on the car shots.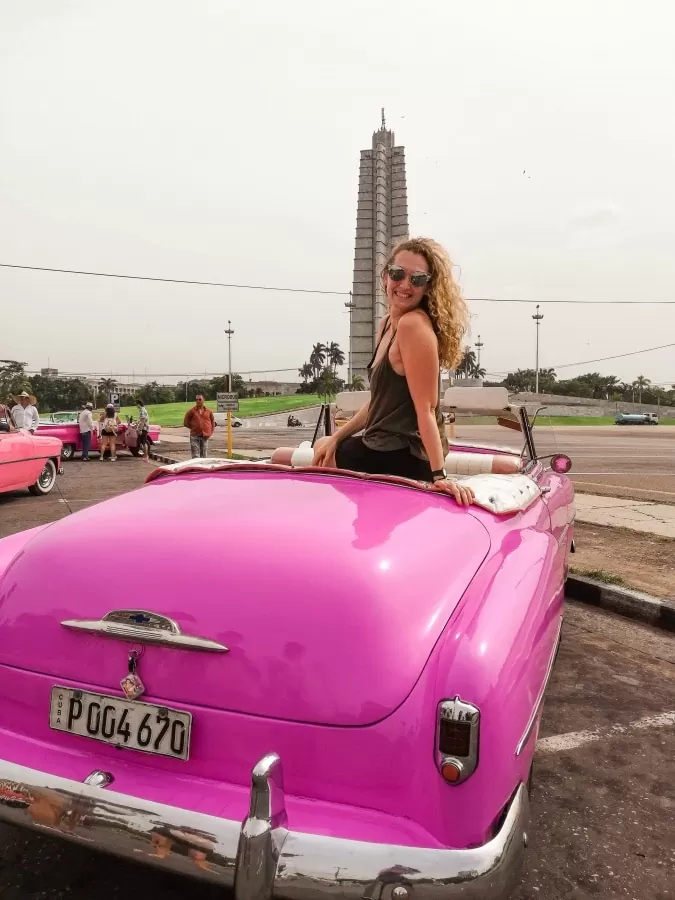 After your car tour, it's fine to head over to Castillo de San Carlos de la Cabana to watch the sun set and then see the cannon ceremony. I wouldn't have even known this was a thing if my Cuban friend hadn't told us about it. She took us all of the public buses over there. But if you don't have a Cuban friend then take a taxi.
You can eat very cheaply here in the government restaurant. I think we paid $12 for a lobster meal!
It is one of those things you should 100% try and do while in Cuba the ceremony and the history behind it is fascinating. The fort itself is so well preserved, and it's well worth the hassle of getting over there. The ceremony is at 9 pm every night. Try and get there early so you can find a good place to stand. Don't be late as it starts at 9 pm sharp.
After the ceremony hop in a taxi back into el centro. I recommend going to a Jazz club in Havana Vaje called La Zorra y el Cuervo The cover is 10 CUC but you get two cocktails included, and it's a cool place with some great live Jazz music.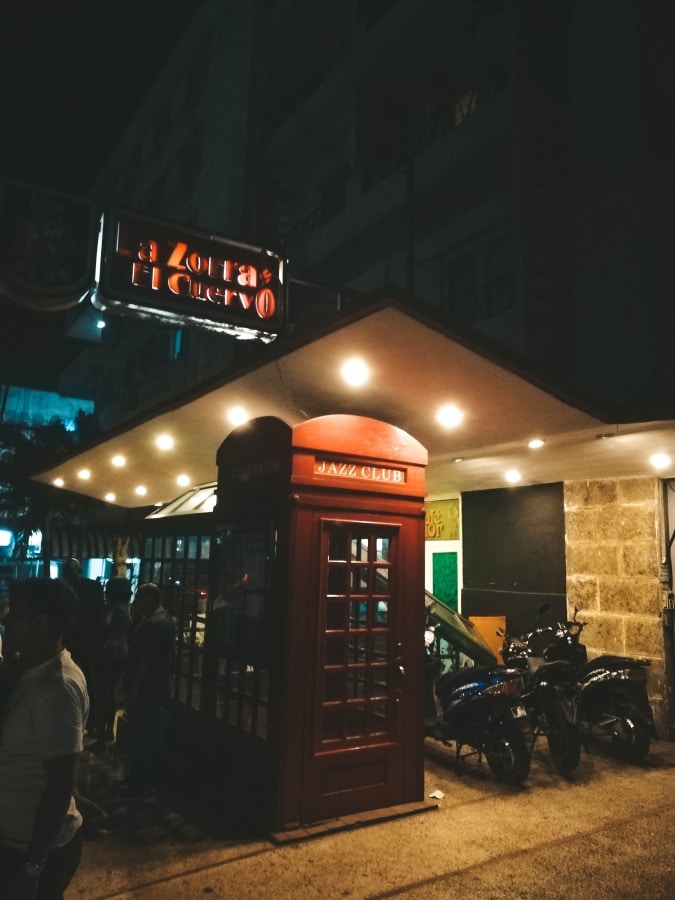 Where are all the hostels?
In Havana, there are plenty of hostel options. This is always the best option for solo travelers as you can save money by just paying for a bed and you will be sharing a room with new friends.
Here are my Havana Accommodation recommendations
Backpackers Hostel – I stayed here and loved it.
Casa Malecon – Perfect for small groups
Tu Habana – If you prefer to stay in Vedado
Want $20 off your AirBnB booking?
Next stop Vinales…
Getting to Viñales is easy. Give the bus a miss as you will have to pay $5 cuc to get out to the bus stop and then your bus fair. It will cost the same amount for a taxi collective to pick you up and drop you off door-to-door. Ask Lilian at the hostel to sort you out and also ask her to book you a cheap place to stay in Viñales. I stayed at Casa Gringo, and my hosts were lovely.
There is a lot more I could tell you to see and do in Havana but in all honesty the place is fascinating, and my top recommendation is walk everywhere.
Final Thoughts on Havana
Havana is safe, and if you can make some Cuban friends ask them to show you around I LOVED hanging out with our little group in Havana, and I felt totally blessed to make some Cuban friends who were so generous and welcoming. One friend, in particular, helped me find the best places to eat, helped us to navigate the bus and made sure we didn't pay too much in a taxi. In return we made her do some tourist stuff that I'm sure her friends made fun of her for.
So to Maiteé. Thank you, you have no idea how grateful and blessed we all felt to have met you, and I only hope we meet one day again somewhere in the world and I can return the favor!