Looking for some inspirational traveling women to follow on Instagram? I feel constantly inspired by the way other women are out there being all #Kickass #WhoRunTheWorld and whatever other # you want to use. I feel like women are coming together and supporting each other to achieve, especially in the digital world.
Now I know Instagram can seem like a pretty superficial platform, and sometimes it is. But it is also full of some pretty incredible female travelers who are constantly inspiring other women.
Female Travel Blogger Instagram Accounts You Need to Follow in 2019
So to celebrate all of these badass female adventurers I asked 7 of my favorite Instagram Galpals who inspires them and why.
https://www.instagram.com/p/BkQOuXBBF8t/
Someone that has inspired me for years is Montrealer, Mel Vandersluis. Now one may think that I love Mel because of the fact she is from my most favorite city in the world, but it's her personality, her sweet, honest self and her ability to create amazing content (that isn't like every other creator who has risen above 100k followers) that makes me excited every time one of her new posts shows up in my feed.
Mel has been able to not let her quick rise to power Instagram influencer jade her. How do I know this? Simply from watching her stories, her live videos and the fact that she always responds to my comments (I have yet to DM her).
https://www.instagram.com/p/Bjkg4gbniY0/?taken-by=mvanderslu
On top of all of this, and the amazing vision she has behind all of her content, Mel knows that you need to be able to diversify yourself, and even has her own jewelry line on the side. A girl after my own heart because I do these kinds of crafty things in my spare time but have yet to make a business out of them (even though people have told me I should…hmmm).
In this crazy world of influencers it's pretty common for people to reach a certain level of followers, start selling courses, and then somehow become unavailable, but not Mel…you can tell she cares about her followers. Yes, she has gorgeous photos on her feed but she is also a pretty fabulous photographer who consistently wants to keep learning to up her photo and video game.
https://www.instagram.com/p/BiCgzwPhJrU/?taken-by=poorinaprivateplane
One of my favorite bloggers/influencers is Sunita from @sunitav_ I have been following this girl forever. And no matter how big she gets she has remained the same girl I started following years ago.
https://www.instagram.com/p/Bhey-l3D6in/?taken-by=sunitav_
I love her sense of style, personality and the fact that she engages with her audience (she always responds to DMS). Not only that. But her travels are always so inspiring. And she does it with such an understated girl next door flare. It is refreshing to see this on insta.
https://www.instagram.com/p/Bjxumu7F7M3eGCUbLtYHqNjMbd2o193YFcQpns0/
I'm a huge fan of "@byebyeadrienne" because along with her life/travel partner "@heyheyandrew", she's been traveling around the world for four years officially. To which I say…it's more than a singular travel adventure at this point, but rather, it is a lifestyle! Refined touch of raw, is the best way to put it when it comes to Adrienne's account as she keeps her posts honest and blunt.
https://www.instagram.com/p/BWvILaYn_K3/
Her travels are not isolated to any one region nor style, which gives me the confidence to galavant across the spectrum of luxurious travel and backpacking. Her storytelling has inspired me to tell and share my own adventure stories whole-heartedly with more gusto while giving myself the chance to indulge in story-telling projects with the locals I meet along my way.
More so, Adrienne and Andrew designed "@TheRobeLives" which is its own wonderful project, that in and of itself inspires me to develop a product as such that benefits an organization as impactful as thecup.org!
https://www.instagram.com/p/BqBRwBMHG5l/
https://www.instagram.com/p/BqFs3L3ndnv/
Kiona and I have so many things in common, we sometimes joke that we're the same person. I really admire her social media & how well she connects with her audience!
https://www.instagram.com/p/BoyYSY-g7mh/
We share things like our love for Mexico, our passion for being as real as possible in our captions & of course… traveling! What started as a few Instagram likes and comments has now turned into a real-life friendship, because her offline persona is just as fun as her online self.
https://www.instagram.com/p/BpmlVG1FzTD/
I love following @kaptain.kenny because she's one of the most real and kind people on Instagram chere.
https://www.instagram.com/p/BqxUUk0F-bW/
https://www.instagram.com/p/BmyFd9rnNZD/
I've followed Katie (@katieshowblog) for years and have never been let down by her authenticity and integrity. Her travel photos from Egypt (or anywhere, for that matter) are stunning and have me wanting to jump on a flight ASAP to head to the pyramids.
https://www.instagram.com/p/BmSpZrenxJX/
I was lucky enough to meet Katie in person and she is just as witty and hilarious as she is on Instagram and Facebook. Make sure you tune into her videos about solo female travel because it's bound to stoke the wanderlust in you!
Claire from Claire's Itchy Feet
https://www.instagram.com/p/Bo_0FwwhGfU/
In all honesty, all of the women I asked to contribute to this post are my inspiration. Some have become friends in 'real life' and others I have yet to meet. But if I had to choose just one person as my Instagram Inspo it would be @mylifesatravelmovie.
https://www.instagram.com/p/BqISRi4lG-X/
One of the things I love about her Instagram is her honesty. She tells it how it is and has lived out some of the most difficult situations in her life on Insta. Like the time she was in a car crash in Cambodia and then not long after was in Bali during the earthquake. I also love how she always replies to anyone who comments on her pictures. She is for sure someone who has inspired me to do better on Instagram and she is one of the first solo female travelers who really inspired me to travel solo.
Final Thoughts
So there you have it! now you have 16 new kick-ass women to follow on Instagram. If you like this post make sure you give it a share on social media and don't forget to comment below and share your Instagram inspirational traveler.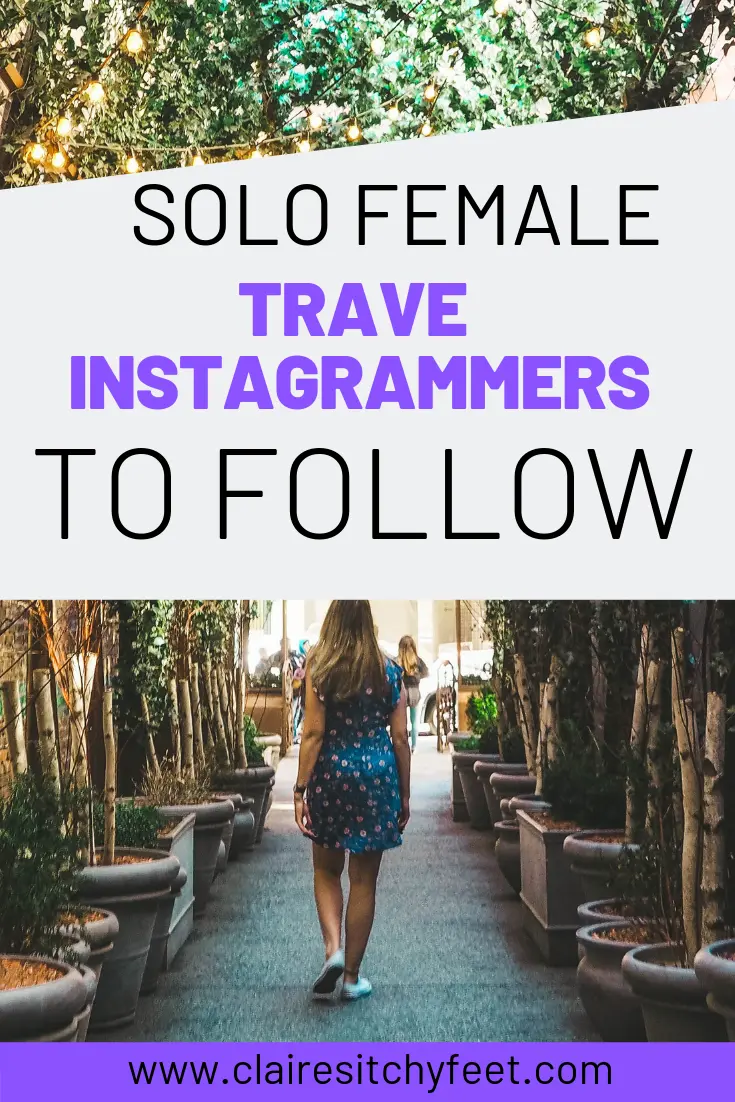 This post was proofread by Grammarly