Need a 3 week Guatemala itinerary? To help you decide how to see Guatemala in 3 weeks? If you have the time I would recommend spending at least 4 weeks (I stayed for 9 months!). But if you are on a tight timeline and only have 3 weeks I've put together this guide to help you see as much of Guatemala in 3 weeks as you can.
Traveling by bus in Guatemala
Guatemala isn't a huge country but the roads are pretty awful. this means to access most places unless you want to drive you will need to take a tourist shuttle bus. They are basically mini busses crammed full of people. If you are on a super tight budget you can take a chicken bus to most places, but if you only have 3 weeks I really wouldn't recommend that as you would likely spend most of your time on a bus!
The tourist shuttle rides can often be long and uncomfortable. But they get you from A-B and they are pretty cheap. During peak season January-May your backpack will be strapped to the roof, in the rainy season when there are fewer people your backpack is normally in the bus with you. Regardless of the season, for this reason, make sure you travel with a good waterproof cover for your backpack! Read my guide to surviving bus rides in Central America here.
For all of your transport needs in Guatemala, you can book shuttles, buses, tours and Spanish classes is GuateGo.

Entering Guatemala
Depending on where you are coming from you can either start in Flores or Guatemala City. If coming from Belize or East Mexico you will start in Flores anywhere else start in Guatemala City and head straight to Lake Atitlan. You can also fly from Guatemala City to Flores is you really want to save time and have the money.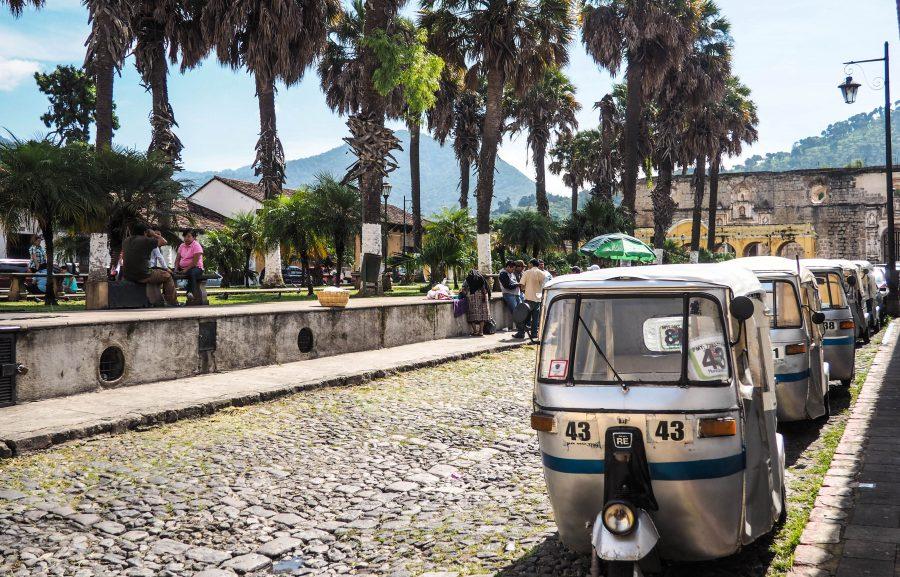 My 3 week Guatemala itinerary
Day 1 Visit Tikal
Start your Guatemala backpacking trip off with a bang by spending your first day exploring the UNESCO site of Tikal. I have written a whole post on it here where you can find out everything you need to know.
Top Tip: If you want to do a sunset or sunrise tour you will need to book and pay in advance. I would recommend taking the evening tour as I was informed by staff at Tikal you have a better chance of seeing the sunset. There is almost always a lot of mist in the morning.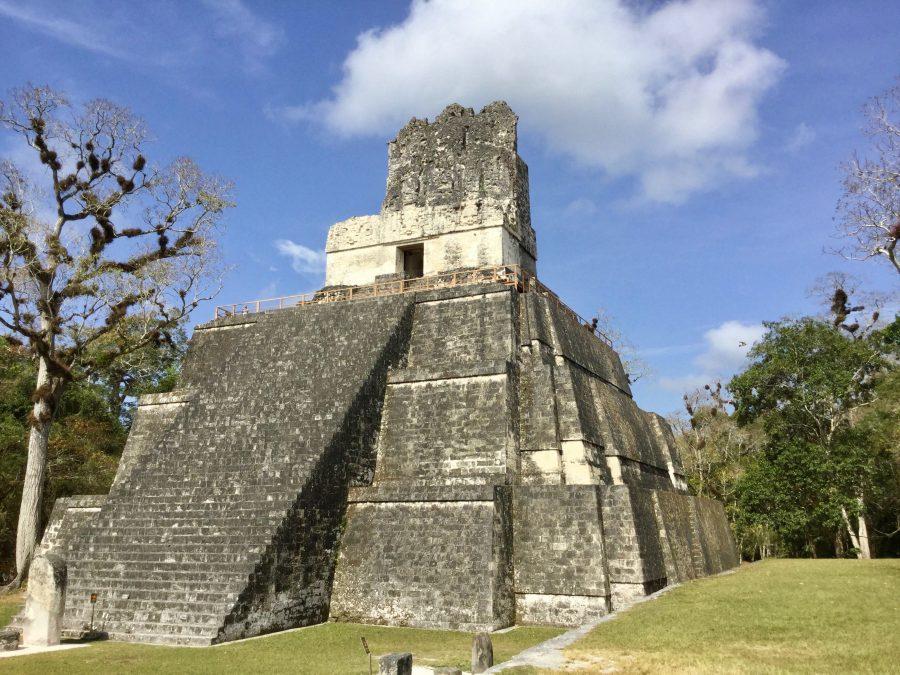 Day 2 Flores
I didn't have much time in Flores, but there is plenty to do including kayaking, shopping at the markets, or partying at Los Amigos.
Day 3 – Travel to Rio Dulce
Book yourself on a tourist shuttle from any of the hotels or hostels in Flores to take you to the Rio Dulce.
Day 4 and 5 Rio Dulce
You are going to need 2 days minimum to really explore Rio Dulce. Sadly I never made it there but you can read all about Wanderlust Chloe's time there here.
Day 6 Travel to Semuc Champey
There is no easy or nice, way to get to Semuc Champey. It is deep in the jungle and the roads only allow for the small minibusses to get down.
When you arrive in Lanquin you will be greeted by a sea of men shouting hotels to you. Most people stay at Zephyr Lodge if you want somewhere a bit more lively. There are lots of great options though I personally recommend El Retiro. All of the local hostels run a free shuttle service though so I would have an idea of where you want to stay before you get there. Then listen out for them shouting the name and get a ride. If you do want to stay at Zephyr though you should book in advance if you can as it does get booked up in peak season.
Day 7 Semuc Champey Tour
Getting to Semuc Champey isn't easy. But it is so worth it! I don't always advocate for taking organized tours but this one is one I would always advocate for. If you don't take the tour you won't be able to access a lot of the places there like the caves. So spend your day in Semuc doing the tour. You can read all about my experience and advice for booking here.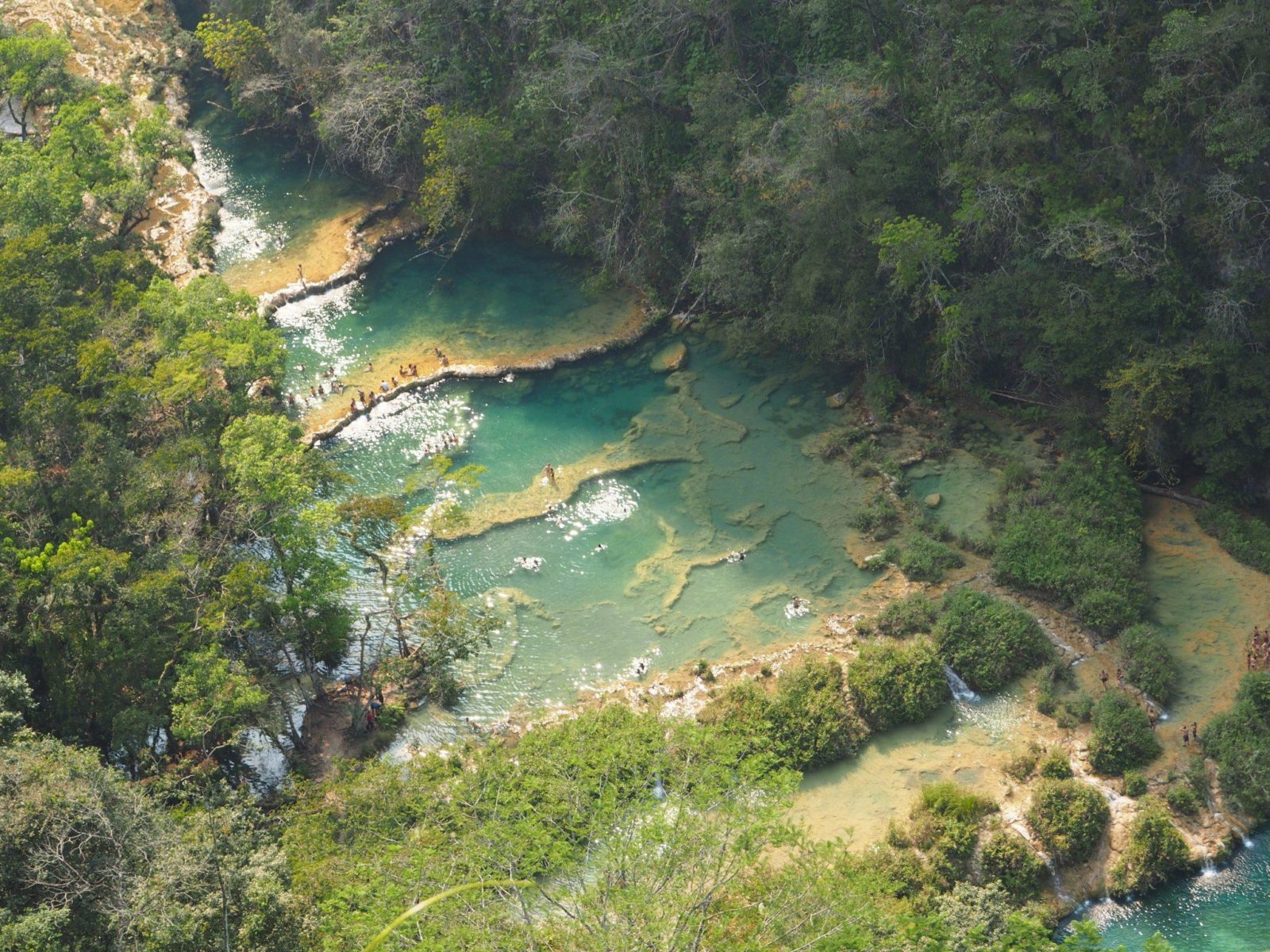 Day 8 chill in Lanquin
I really wish I'd had a spare day in Lanquin to relax. The bus rides in and out of Semuc aren't pleasant and having an extra day would have been so nice. It really is a beautiful place and the accommodations there are really nice. I could have happily spent a day just swimming in the river and pool and drinking coconut water. If you have the time take this day to chill or return to Semuc Champey on your own to take more time in the pools.
Day 9 – Travel to Antigua
I'm afraid it's no better leaving Semuc Champey as it is arriving! You can book a shuttle at the place where you are staying, they are all pretty much the same price and normally leave at 8 am. Read more about it here.
Day 10-15 Antigua
Once you arrive in Antigua you will be shattered so take a shower, go in search of food and then get an early night. I love Antigua and I'm sure you will too! I've written a guide to seeing Antigua in 4 days which you can read here or if you are there over the weekend I've written a guide to spending the weekend in Antigua you can read here. There is plenty to do it will just depend on whether you want to relax and enjoy some downtime or go on a volcano hiking adventure!
Accommodation in Antigua?
There are 3 places I recommend Selina or Yellow House Hostel if you are looking for a hostel. Alternatively, if you want an Airbnb I can't recommend this house enough. The owner Chelsea is a very good friend and I stayed in the larger one last time I was in Antigua. For hotels, I recommend Hotel Mesón de María, Barbara's Boutique Hostel, or Hotel Paseo de la Merced.
Would you like up to $29 off Airbnb? Just use this link.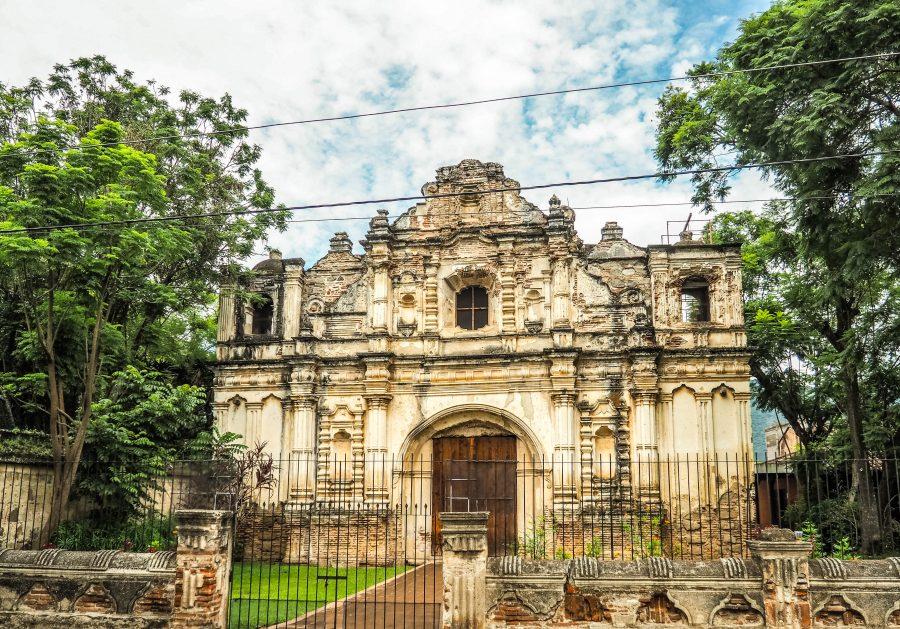 Day 16-17 El Paradon
El Paradon is the closest beach to Antigua and only takes a few hours to get to. It has great surf, food and some of the nicest accommodation I've stayed in here in Guatemala. Take a read of my guide here. There is only one bus each way every day. You will leave Antigua at 9 am and the shuttle then returns at 1 pm from El Paradon. So if you can squeeze an extra day in then spend an extra day chilling here. Wifi is non-existent so be prepared to go offline for a day or two!
You will need to return to Antigua to take a shuttle to Lake Atitlan your next destination.
Day 18-20 Lake Atitlan
Book yourself on the first shuttle to Panajachel for the morning of day 10. From Pana, you have a few choices. You could spend the day exploring Pana, they have a great market so if you want to buy any gifts do it here. But it isn't the nicest place on the lake so my advice would be to take a walk down the main street, have brunch and then take a launch (boat taxi) to San Pedro and use there as your base for the next few days.
I have written a lot on Lake Atitlan which you can read to decide what you want to do while you are there.
Need accommodation in Lake Atitlan? Stay here with my friends Julia and Joel in there amazing AirBnB!
Day 21 Take a Shuttle to your next country
Word of caution – don't be tempted to get a shuttle direct to or from San Pedro or any of the other villages around the lake. Always go to Pana and then take the launch. The roads aren't great and it will put hours on your journey. The road down to San Pedro is pretty crazy, I've taken it twice and that's enough for me!

Do you have more time? Then check out my 4-week itinerary. Less time? Check out my 1-week and 2-week itineraries here.
Are you ready to book your trip?  To help you get the best deals and service here are the companies that I personally use to book all of my travel online. I always shop around before booking anything, but these are my tried and tested starting places.