New to backpacking? Need to know how to pack with compression packing cubes in a backpack? If you are struggling to pack light or just generally cram your life into a backpack, I've got you covered!
If there is one thing I've learned over the past 3 years being a full-time traveler, it's how to pack like a pro using backpack cubes.
What You're Going To Need To Learn How To Use The Best Packing Cubes In A Backpack
How Light Do You Pack and Would You Need Small Packing Cubes?
If you're a super light packer you may only need a backpack (I envy you). If you're like me you are going to need a backpack and a daypack, I love Cabin Zero's 28lt which I wrote a review of here. It's great as it fits all of my digital nomad kit in it, the straps are super comfy and the perfect size to wear on my front!
If you need a full-size backpack then take a look at Gear Hungry. Or if you prefer a case I love this one. You may also need some lightweight packing cubes.
The pre-packing preparation
Organize everything you need to go in your day bag
Before you do anything with your compression packing cubes start by making a pile of things you want to go into your day bag. This is the bag I always keep with me on the bus, train or plane. So I keep anything valuable i.e. my Mac, camera equipment portable charger.
I personally always pack my PJ's at least one fresh change of clothes. This is not just in case anything happens to my backpack, it's also so I don't have to go into my backpack if I'm just staying for one night at a hotel en route to my final destination. I always make sure I keep my toiletries on the top of my backpack for easy access.
NEXT, MAKE A PILE OF ALL OF THE CLOTHES YOU WANT TO TAKE WITH YOU in Packing Cube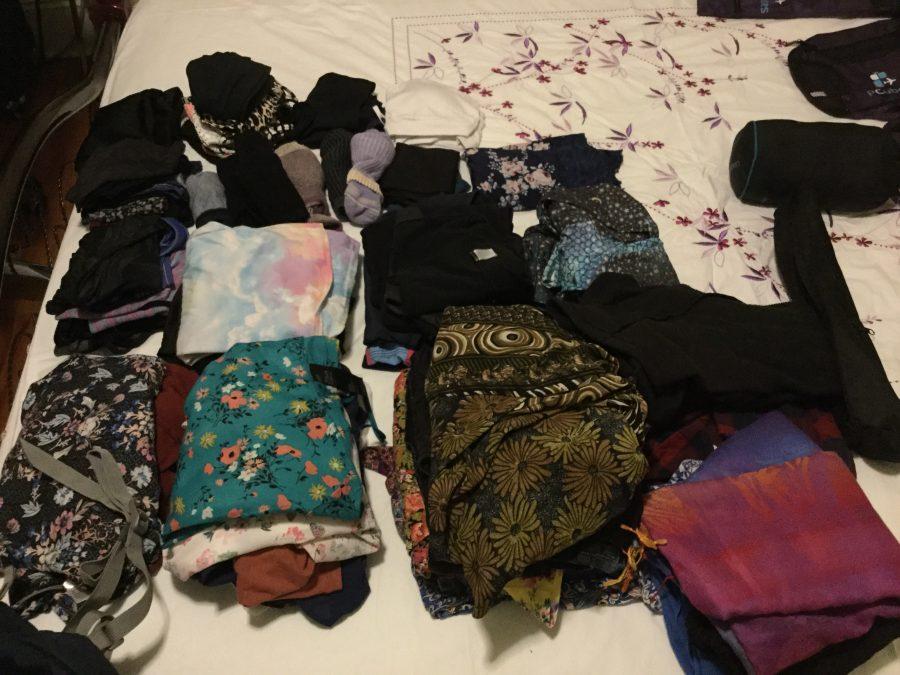 THEN MAKE A PILE OF EVERYTHING ELSE YOU NEED FOR MEDIUM CUBE
In this last pile add all of the other random things you need to fit into your bag. This is where I add all of my random things, like my crystals and my sage smudge stick (a yogi needs her crystals and sage you know).
In this final pile, I also include all of my toiletries that don't fit in my little wash bag ie sun cream. I don't travel with a lot of toiletries, but I always travel with sun cream as it can sometimes be super expensive!
Be sure to put anything that could possibly leak into individual Zip Lock bags and seal them up.
Now that you have your piles it's time to grab your best packing cubes and save space!
Why do you need to pack with backpacking cubes
If you haven't got on board with compression packing cubes yet you really are missing out. I honestly don't think I could travel without packing cubes anymore. They really are game-changer. Here are two of the things I love most about compression packing cubes:
You can get pack so much more using them. So if you want to pack more clothes including clean and dirty clothes, you need the best packing cubes.
Compression packing cubes help keep your stuff organized. This doesn't just make my OCD satisfied it's also convenient. I travel with shoe bag & four packing cubes, 1 for my underwear and swimwear, 1 for my yoga and sportswear, one for dirty clothes separate and one storage space for everything else. I can always find what I'm looking for and if I don't have a locker at my hostel I can pull out the packing cubes and lay them on the floor, keeping all my clean and dirty clothes organized!
Things to consider before buying packing cubes
Before ordering some best packing cubes on Amazon, proceed with caution! Not all packing cubes are made equal. If you are buying them to help you save space then you need to make sure the ones you are buying are at least medium size, good quality, with a good zipper and strong stitching. I've had some great ones and some really bad ones!
The best packing cubes I recommend are these packing cubes you can get on Amazon, they are made of quality material, water resistant, stitching is super strong and the zippers are tough. I cram a lot into my cubes and after putting them to the test they are good packing cubes.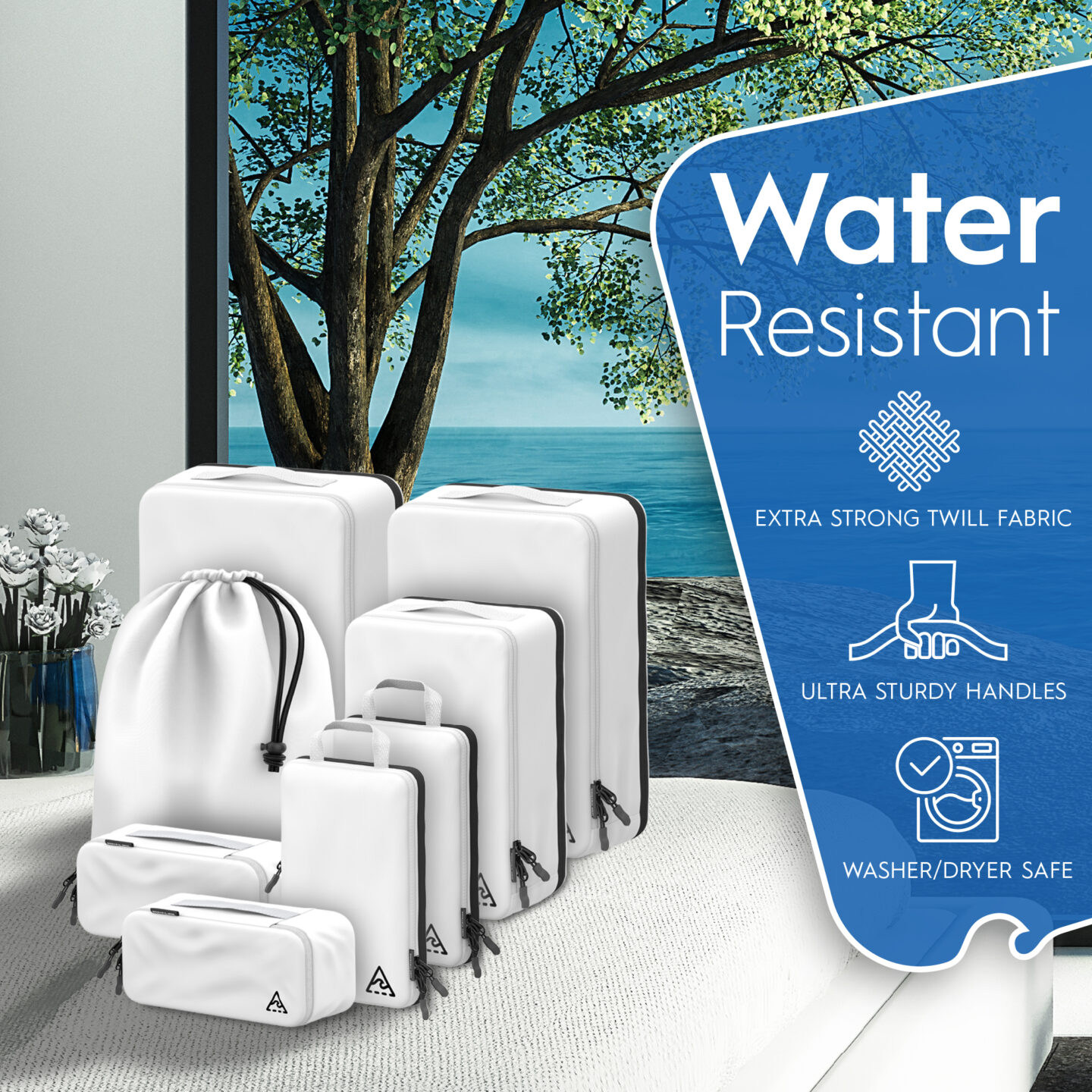 To pack my clothes and t shirts inside the large cubes I roll everything I can, and then anything that doesn't roll well I place on top. I then zip it up and go around cramming smaller items into any spare space I have in the large cubes (no wasted space in my backpack!).
Once my cubes are packed I place them inside my backpack, the largest first, then the medium and lastly the small cubes.
Packing your backpack with backpack cubes
Then I start packing all of the things from my random piles into my backpack around my compression packing cubes and my carry on bag.
I use the zip bags to store things I want to keep together, I have one for first aid and medicine, one for my crystals, one for a toiletry bag, and one for my herbs and spices. If you are long-term traveling I can't recommend making yourself a herb and spices pack enough.
You can read about how to create your own here. I normally pack the zip bags in the top zip part of my backpack as they fit perfectly in there.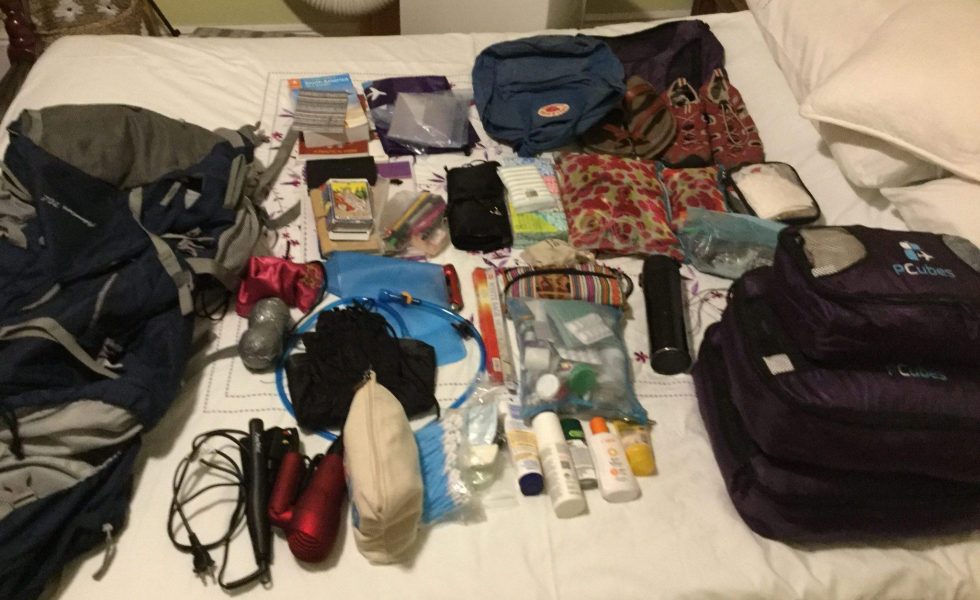 I pack my sleeping bag, shoes, and coat (plus anything else that will fit in) in the bottom of the backpack.
Once I've packed everything in and used all of the space I put my small packing cube on the top followed by my small toiletry bag on top. This is not just because they fit here but also because I can access them easily without having to root around in my backpack.
The final touches
I then attach my hiking poles, tent, yoga mat, and travel tripod to the outside (as I said I don't pack light haha, I travel with my life on my back).

Packing your daypack
Then anything that didn't fit in my backpack I add to my day pack pile and start packing everything in. I'm always conscious of where I'm putting things if I'm traveling by plane. If this is the case I try not to put any liquids in, I make sure my swiss army knife is in my checked luggage and I try to make sure the only thing I have to remove from my bag is my laptop and camera
Don't forget to use a zip lock bag for any liquids you have in your hand luggage.
And that's it! I hope this guide has helped you to pack your backpack like a pro using multiple packing cubes! If it has please leave me a comment below or share the love by sharing on social media.
This post was proofread by Grammarly
PIN FOR LATER!