Looking for a new bag to take on your next short trip? Finding the best personal size carry on bag can be tricky, especially if it is the only bag you will be able to take with you on the flight. I have recently been flying with a lot of budget airlines recently and I'm too cheap to pay for a carryon, so it's just me and my airline personal item!
Why you need to choose your airline personal item wisely
If you aren't already aware many budget airlines are now not only charging for checked luggage, but they are also charging for cabin luggage and only allowing passengers to have one personal item. But even if you are allowed to have a carry on bag and personal item. If you choose wisely you can maximize how much you can take with you on the plane to avoid having to check-in luggage.
Choosing the best personal item carry on bag
I have been traveling the world with my CabinZero
backpack since 2016. It is still going strong, and I'm still in love! It's 28l and it fits underneath the seat in front of me making it the perfect airline personal item size. It even has compression straps so if you have filled it to the max you can use them to make it fit.
Size is everything
The CabinZero
bags come in 2 sizes. A Large 44L or a small 28L. Both can be used as carry on, the 44L as your main carry on and the 28l as your airline personal bag.
The 28L is perfect for me. I use the backpack for 2 things, as a carry on while I'm flying (which is a lot) and as a work day pack while I'm out and about. It works perfectly for both. Although a side holder for my water would make this bag even more perfect. It's pretty much the one thing that lets it down as a daypack. That said it's not actually sold as a day pack, more as a carry-on. However, as a backpacker, everything I take with me has to have multi-functions.
As my carry one, I load it up with my electronics and anything else I can't fit in my check-in so it can weigh a fair amount. The padded straps mean the weight isn't uncomfortable (good job cabin zero). It's even fine as a front pack, which I have to use it as when I'm on the move!
Then as a day pack, It normally has my laptop, camera, rain jacket and anything else I may need for the day.
I've also used it on a few adventures! Like horse riding in Costa Rica at Mistico Park!
Colors
The backpack comes in a lot of colors, it was not easy to decide on yellow! But I liked the idea of having a backpack that's a bit brighter. I'm really happy with the color, my only issue is keeping it clean! Using it every day it picks up a lot of dirt. Good job its machine washable!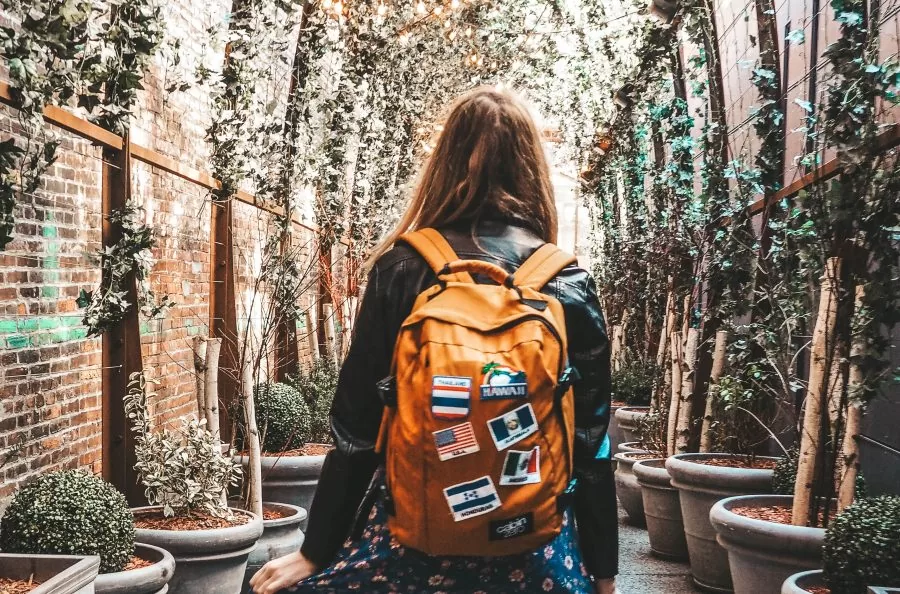 Things I love about my Cabinzero backpack
The size is perfect for me to go with my big checked in hiking backpack. If you get the 28l size it is the perfect size for your personal item.

It also works well as a day pack and a work bag for my digital nomad office. It has some seriously thick padded shoulder straps, which really help with the weight I carry!

The color and look of the bag is great, the extra padded straps are also a big win for me

Inside the bag, there is a compartment for my laptop plus 2 zip pockets that I use to store my chargers, first aid kit and any other smaller items I keep in my carry on.

The size clips are perfect for me to attach my yoga mat! I know they may not be meant for that but I love that I can do this!

It has a Built-in Global Tracker, powered by Okoban. That means if you lose it you can just go online and find out where it is.
If you like them on Facebook you get a 25-year warranty!
So if you are looking for a stylish multi-functional bag look no further! If you want to get your hands on one of these fabulous bags then all you need to do is visit CabinZero
.
Don't forget insurance!
Whatever you do, don't forget about insurance. I personally use Safetywing insurance for Digital Nomads. But that will only cover your medical expenses. So if you need something more comprehensive then it's World Nomads all the way!
This post was proofread by Grammarly