The Mediterranean gem Cyprus is known for its breathtaking scenery, beautiful beaches, good food (Halloumi!), wine, and an abundance of culture. But how about scuba diving in Cyprus? We are going to talk about why scuba diving is popular here and the best places to dive in Cyprus, including amazing wreck dive sites. If you want to learn more about scuba diving in Cyprus keep reading!
Why Scuba Dive in Cyprus?
The Mediterranean climate of Cyprus means that you can dive all year round! The sea temperature is warm, and the visibility is high. This makes it a great place for beginners to learn to scuba dive.
There are many exotic locations around the country, which are more accessible than the more tropical Asian countries you might have had on the list. Cyprus welcomes tourists with open arms, and you can find many packages that make your trip a little easier; not to mention most people speak English so you do not have to fear that language barrier.
If you scuba dive in Cyprus, you are likely to come across many wrecks on the seabed which makes your dive even more exciting! Now let's dive deeper into the best places to scuba dive in Cyprus.
Did You Get Travel Insurance Yet?

The Insurance companies I recommend are Hey Mondo, Safety Wing, and Travel Insurance Master

Hey Mondo is great if you are looking for a great value flexible policy. They offer single-trip cover, annual multi-trip cover, and long-term travel cover. Safety Wing is great value, with monthly coverage starting at $39. It's super easy to use, and it just renews each month. I currently use them as they offer me free cover for my son as part of my policy. I also use Travel Insurance Master for short trips.

Read my full travel insurance post here, where I go into detail about all companies.
Scuba Diving in Ayia Napa & Protaras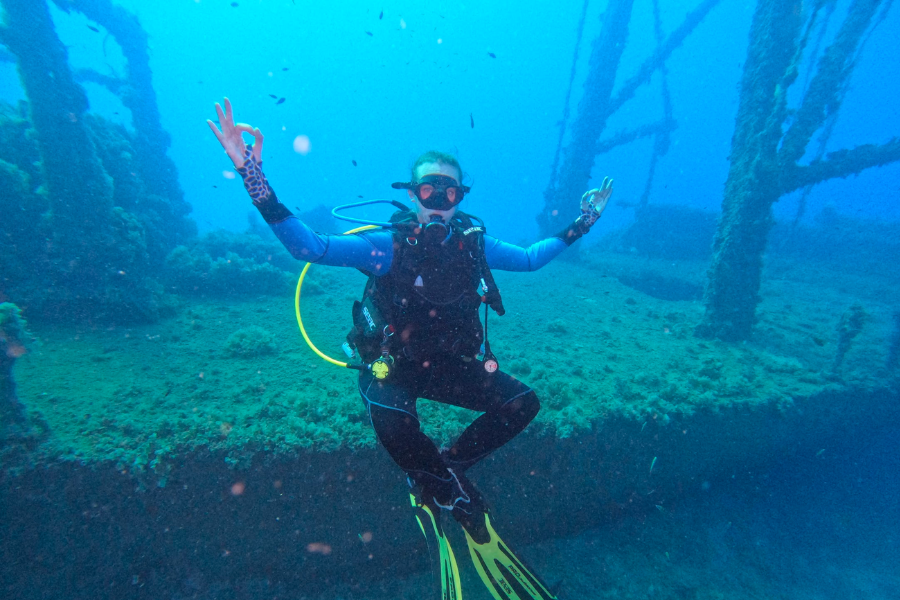 Ayia Napa is not only for partygoers; this scuba diving location is perfect for beginners and advanced diving levels. Its amazing shore and wreck dives make it an easy choice. It has a wide variety of marine life which is accessible all year round. The famous Nissi Beach offers white sand, crystal clear waters, and plenty of reefs to explore. Sandy Bay and Blue Haze are popular dive sites in Ayia Napa. These sites are good for people that want to be near the tourist hotspots on land.
Protaras is located about 8 kilometers east of Ayia Napa, and although it is close, the town itself is more of a quiet, untouched beauty. This spot is perfect for families.
The scuba diving in Protaras offers plenty when it comes to dive sites, for all levels. If you dive in Protaras you will discover the beauty of Cape Greco National Park where you will be blessed with never-ending marine life, coral, and rock formations.
Some of the spots not to miss are Green Bay, The Caves, DeCosta Bay (to spot turtles), Moral Eel (for octopus and eel lovers), and Blue Hole an underwater cave that you can swim through.
In Ayia Napa and Protaras, you have the choice of many Scuba diving courses including PADI Cyprus courses such as PADI open water, rescue diver, deep diver, PADI discover scuba diving, and more! I highly recommend diving Protaras.
Scuba Diving in Limassol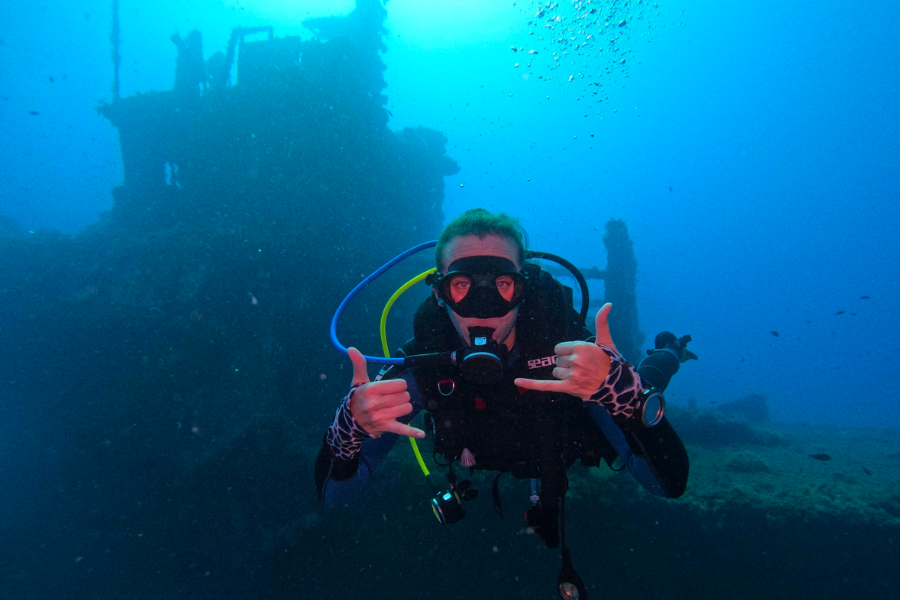 Limassol boasts some of the best Scuba Diving in Cyprus.
The calm, shallow waters are great for beginners and there are many amazing wreck sites to visit for the more adventurous and experienced. Holding one of the longest dive seasons in the med, Limassol is a fantastic option for travelers.
The dive sites range from beaches, sandy bottoms, and reefs to caves, wrecks, and oceans. There is really something for everyone when you dive into Limassol.
Costandis (24m depth) and Lady Thetis (19m depth) make up the Limassol Wrecks and are some of the most popular wreck dives in Cyprus. These abandoned ships look extremely mysterious and eerie in the deep waters of Limassol and are a great experience for all divers.
For more information on Limassol diving, read my full review here.
Scuba Diving in Paphos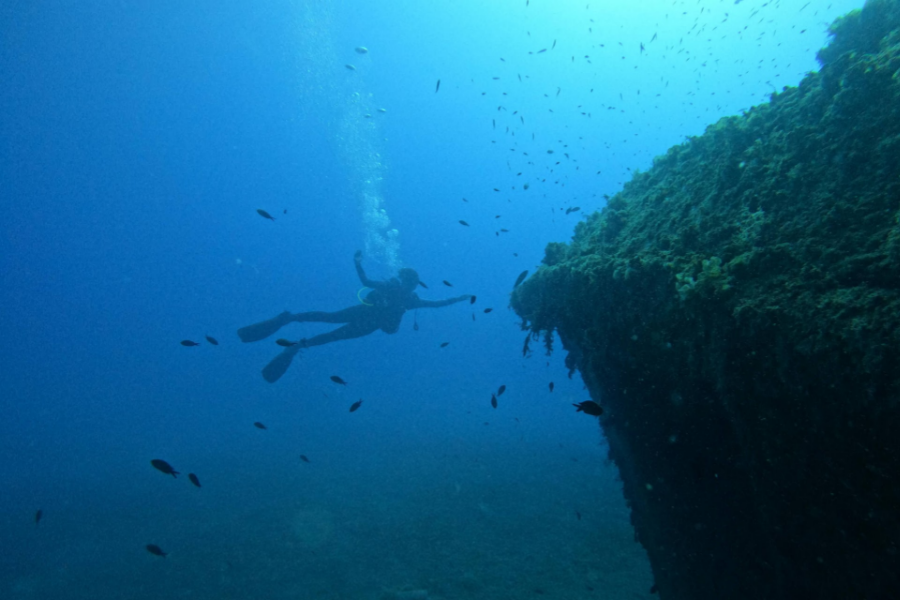 You cannot talk about diving in Cyprus without mentioning Paphos and the coral bay district. Its rocky coastline offers a variety of depths and landscapes meaning that there are routes for all levels of divers. This variety makes it a popular place to dive in Cyprus.
There are reefs, caves, swim-throughs, greens, marine life, and wrecks. On land, there are many dive shops that have years of knowledge and can guide you to which dives suit your level.
One of the biggest dive attractions here is the Orphurus site which is an intricate group of overhangs full of marine life and colorful reef.
For the more experienced divers, get involved in the small Island of Manijin. You can swim around it on the surface or go deeper to discover the many caves and drop-offs.
Scuba Diving in Larnaca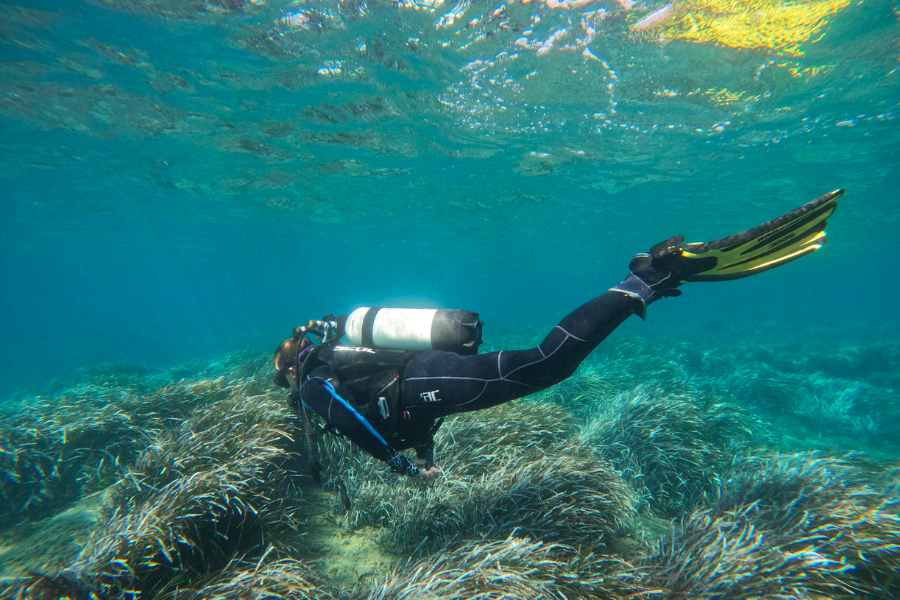 Larnaca is a popular holiday destination for many and why not dive whilst you are there? It has a seaport and marina meaning that it brings a wide range of marine life.
Diving here you will discover unique marine life such as octopuses, seabream, eels, amberjacks, sting rays, and even turtles! This is an amazing place for Sealife lovers!
The Zenobia Wreck is also a must-see for those more experienced divers and wreck hunters.
Make sure to bring an underwater camera for these dives! The marine life here is also plentiful; you will spot eels, octopuses, sea horses, and much more.
Best Dive Sites in Cyprus
Let's summarise and take a look at the best places to dive in Cyprus. As you can see there are many places to scuba dive in Cyprus. Below I have listed the best dive sites including some I have already spoken about, and some exciting new sites to add to the itinerary!
Here are the 10 best dive sites in Cyprus
Looking for a place to stay in Cyprus? Check out these options:
If you are looking for the perfect family-friendly villa to stay at while in Cyprus then look no further than Villa Sophia Pervolia. It's actually our current family home when we are in Cyprus (about 3-6 months of the year). When we aren't there we rent it out. You can check it out on Airbnb and book through there. Or send me an email inquiry and book it directly with me to save some €€€.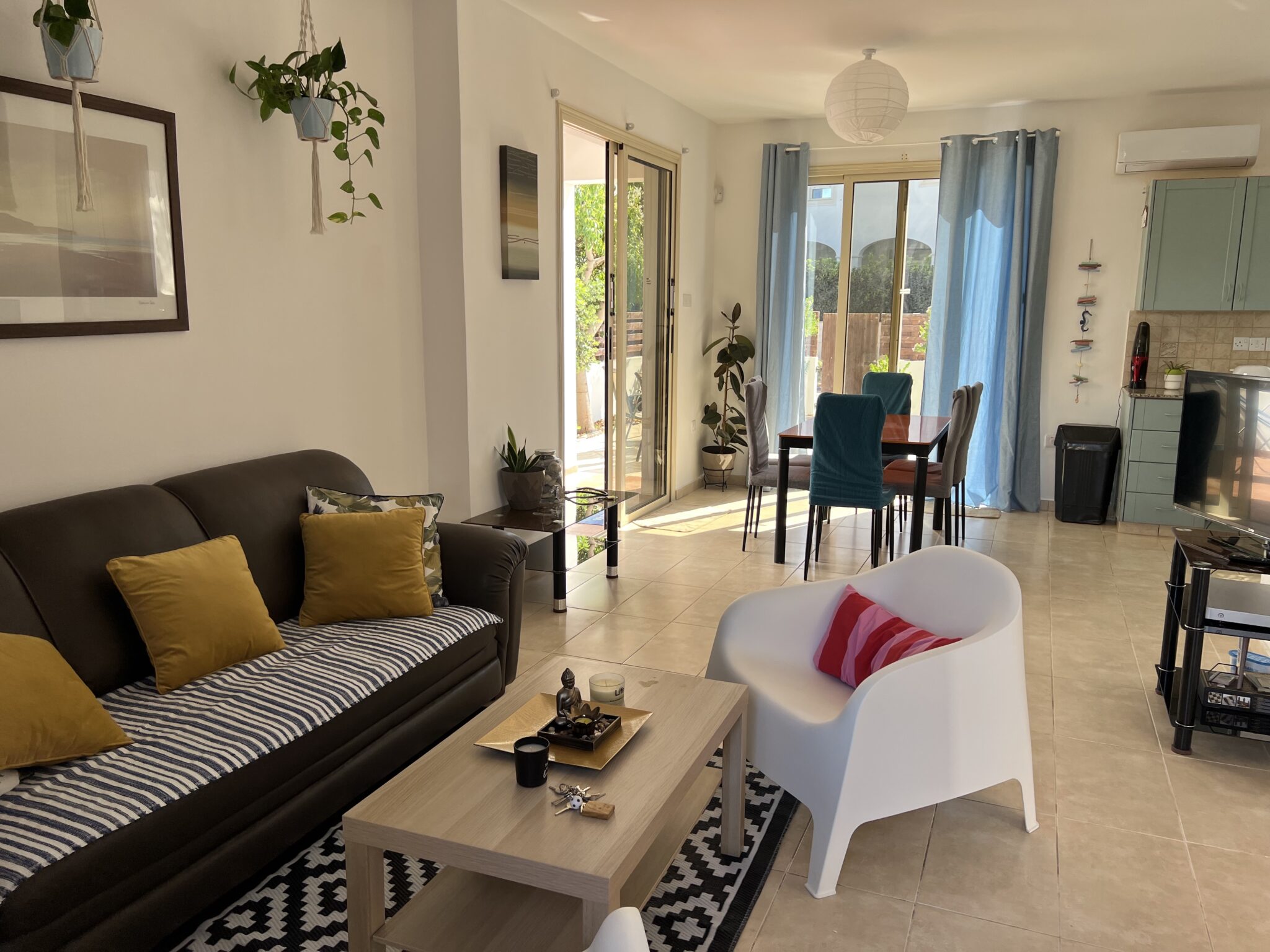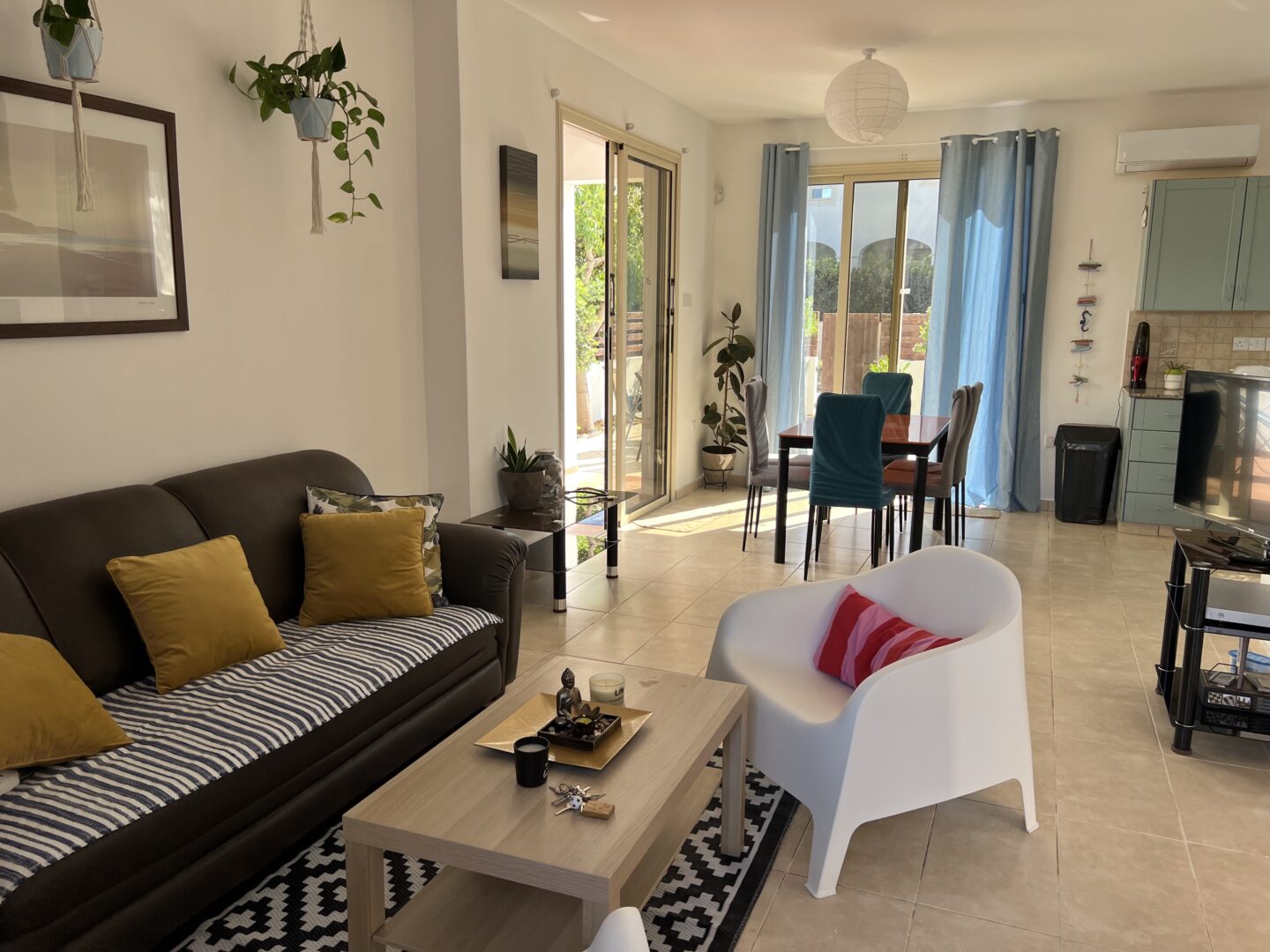 Budget Hotel
Unique Stonehouse Traditional Villa in Ayia Anna
Mid Hotel
Luxury Hotel
Conclusion
Overall, Scuba diving in Cyprus is fantastic. There are countless options regarding location, dive sites, and courses.
Whatever level of diving you are at, Cyprus offers something for everyone. Diving is available all year round, although a little chillier in the winter months November to March- but nothing a wetsuit can't protect!
The type of dive site is endless with reefs, drop-offs, caves, wrecks, and ancient ruins. There are many established diving centers that will be able to guide you, as well as plenty of hotels and accommodations to stay in around the area. Scuba diving in Cyprus is not only diving but a holiday but also an adventure that you will not regret! I hope that this article will make you feel more informed about the best diving in Cyprus.
Happy Scuba Diving!