So I think by now we can all agree that scuba diving in Cozumel is awesome. So awesome in fact that I've already dedicated 3 whole blog posts to it here, here, and here. Well, I've found a new must-dive location in Cozumel that warranted its own post so here we are, post number 4 my personal review of ScubaHunt Cozumel – an underwater scavenger hunt you NEED to add to your Riviera Maya dive itinerary.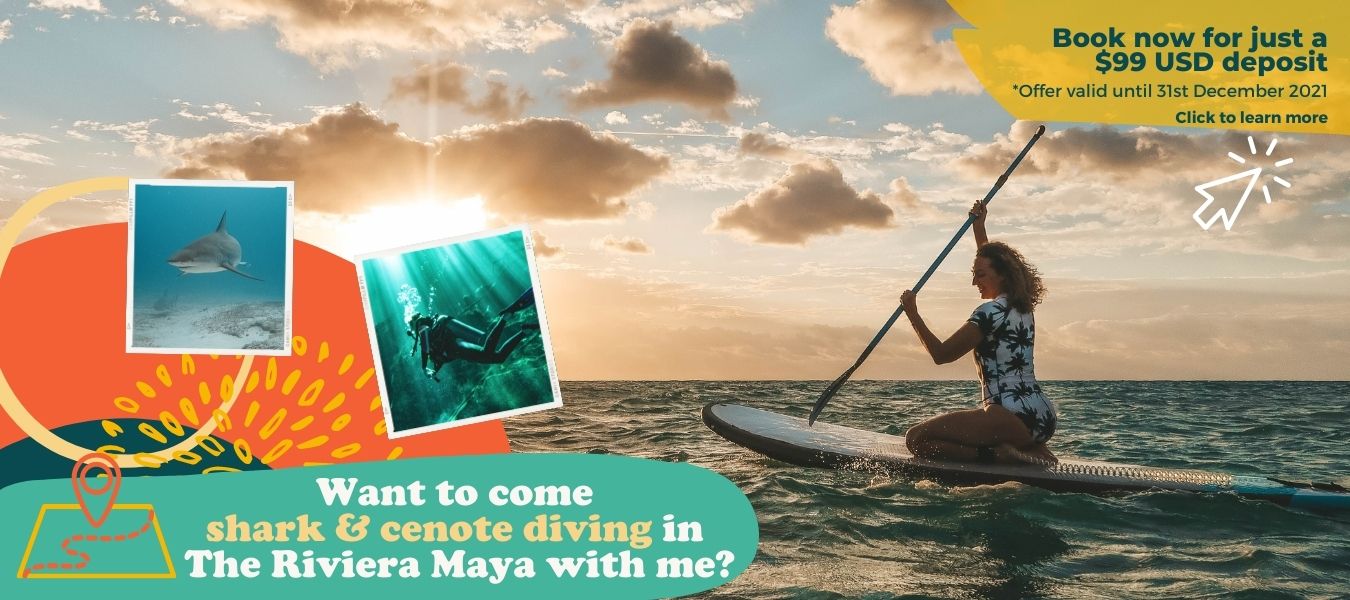 What is ScubaHunt Cozumel?
ScubaHunt is an underwater scavenger hunt in Cozumel and something I've personally never heard of before. It's part scavenger hunt, part escape room, and part labyrinth. The concept is simple. You buddy up, get a briefing and your first clue, then it's time to dive.
The whole dive adventure should take around 70 minutes and during this time you and your partner work together to solve the clues and hunt for that treasure! Is there actually treasure to hunt? Yes, if you make it to the end and solve all of the clues your genius will be rewarded, but I'm sworn to secrecy about the prize, so you will just have to try it yourself if you want to know.
Did You Get Travel Insurance Yet?
If you are planning a trip right now then you NEED to think seriously about insurance. If 2020 taught us anything, it's that you need to be prepared for anything! Travel insurance has always been high on the list of things to get before you travel but now more than ever it should be at the top of your list! I'm pretty sure we have all had travel plans messed up because of COVID and not all insurers covered this. So you need to find an insurer that covers travel disruption due to COVID-19, World Nomads, Safety Wing, or Travel Insurance Master are the ones to go for.

World Nomads is great for incidents that happen prior to your trip, so if you get sick or are unable to travel due to travel restrictions some of their policies will cover that as cancellation cover.

Safety Wing goes the extra mile and covers quarantine outside your home for up to 10 days, they also have a really handy map on their website showing requirements and restrictions for each country.

I also use Travel Insurance Master for some short vacation type trips as they are cheaper than World Nomads a lot of the time.

If you are doing shorter trips or a longer backpacking trip then WorldNomads or Travel Insurance Master are the best option. If you are a digital nomad or planning travel of at least 6 months then go for SafetyWing.
How Does It Work?
So I was a little dubious at first. All kinds of questions and concerns came into my head, most safety-related…
Can I do this as a solo traveler without a dive buddy?
What if I get so focused on solving the clues that I forget to check my air or get lost?
My navigation skills leave a lot to be desired, do I need them?!?
My dive schedule is normally packed when I visit Cozumel can I fit this in?
And lastly, I'm pretty ride and die with my current Cozumel dive company. Is this not cheating? Maybe they will think I don't love them anymore…
Of course, I shared all of my (many) concerns with ScubaHunt's creator Steve and he quickly put my neurotic mind at ease…
Can I do this as a solo traveler without a dive buddy?
You will need a dive buddy/teammate to join you on this dive. But that doesn't mean that solo travelers aren't welcome. It just means that they will buddy you up with another diver to share the fun with. You will be working closely with your dive buddy/teammate to solve the clues and navigate through the maze, so if you can find a friend who you think you could work well with doing this, even better.
What if I get so focused on solving the clues that I forget to check my air or get lost?
I get such anxiety about getting lost, especially as Cozumel has such a strong drift sometimes. But you (and I) can rest assured that that's just not going to happen… unless of course you deliberately ditch your partner. There will be a divemaster closely supervising you and your buddy at all times, the ratio is 1 DM to 4 divers, so they will keep a close watch over you. So yeah, you might get a bit lost with the clues, but you aren't going to get physically lost. The guides will use their discretion on when to quietly snigger from the sidelines at just how 'lost' your team is, and when to offer a helping hand to get you back on track.
Because of the nature of the underwater challenge in Cozumel you are going to be in constant contact with your dive buddy to solve the clues. It's not like doing a reef dive when you have to worry about your buddy chasing down a baby shark for a selfie and ditching you. And lastly, it's a very shallow dive so you don't need to worry about running out of air. In fact, it's so shallow there is no need for a safety stop and you can do it as your last dive the day before you fly.
My navigation skills leave a lot to be desired, do I need them?!?
Like for real, I'm still not sure how I passed this part of my advanced course. Never fear, you can leave your compass on dry land, the team at ScubaHunt Cozumel have made the maze intuitive to navigate using underwater buoys. There are 11 of them to be precise. But you will need to solve the clues to know which direction to follow of course.
My dive schedule is normally packed when I visit Cozumel. Can I fit this in?
Cozumel has some of the best dive sites in the world. So in all honesty when I'm pushed for time and trying to cram in as many reef dives as I can, do I really have time for this? Well, the answer is, absolutely. Because it's shallow you can add it on as an extra dive to your normal 2 tank dive. Plus it's in a super central location and just a 2-minute boat ride from the sure. So don't worry, you have time.
And lastly, I'm pretty 'ride or die' with my current Cozumel dive company. Is this not cheating? Maybe they will think I don't love them anymore…
This was my first thought when I was asked to review the experience. I've been in a committed relationship with ScubaTony for some years now and can't imagine diving with anyone else in Cozumel. Anyway, I actually spoke to them and it turns out that ScubaHunt are actually working alongside many of the dive companies in Cozumel, so I had nothing to worry about. It's not something that is in direct competition with the dive shops, it's a unique fun dive that can enhance your dive experience in Cozumel.
Who is ScubaHunt Cozumel For?
Ok so if you have read this far and you are still interested, then chances are this Cozumel dive experience is for you. In my opinion, this isn't a dive for complete beginners fresh out of their Open Water course. It's probably more suited for people who have been diving for a while and want to try something a bit different and have some underwater fun.
I personally think this is the perfect activity to do with friends and family on your last day of diving. Or as part of a celebration like a birthday, destination wedding, or of course a bachelor/ett party.
It's probably not for you if you are still a little nervous underwater and not fully comfortable diving yet. Although, who knows, maybe all that problem solving will keep your mind off all the things making you nervous in the first place! Cozumel is known for its drift diving and although you aren't going to be 'in the drift' on this dive there may be a bit of a current so it's a bonus if you have some experience with this already.
You will need a minimum of your Open Water certification to do this dive. And if you don't have your own gear you can rent it off them.
If you still aren't sure if this is for you, check out their Trip Advisor reviews here, and see what others have said about the experience.
Where Is ScubaHunt Cozumel Located?
Now, this is the best bit. It's right downtown! It's actually located in one of the best bars in Cozumel for food and drinks, especially at sunset, Hemingways.
From the restaurant, you take a 2-minute boat ride and you are there.
So for example, if you are getting the ferry over from Playa del Carmen, you can walk from the ferry to Hemmingways, dive in the afternoon, then enjoy a meal at Hemingway's watching the sun setting before getting the ferry back.
Sounds like a perfect day to me!
Book Your Cozumel ScubaHunt
Ready to book?
Simply pop your name and email in the form below and let SucbaHunt know the preferred dates and number of divers in your party. If you have any questions, leave them in there too. Someone will get back to you within 24 hours.
Happy diving!
Need accommodation in Cozumel?
Check out my guide to accommodation in Cozumel here, or if you don't have time here are 3 places I personally recommend.
Stingwray Villas boutique hotel in Cozumel