China is well-known and at the same time quite an unknown country, covering almost one-third of Asia. It is famous for many things and places, like the Great Wall, the Forbidden City, the Giant Panda, and many more. But not too many people know about "another China" – somewhere in the geographical heart of Asia, a "China" of sand deserts, giant snowy mountains, endless grasslands and wilderness, and ancient rich culture. This is Xinjiang, the largest province of China, in the far west of the country. Let's make a solo journey through this guide to Xinjiang, diving into another mysterious world.
Introduction guide to Xinjiang
Xinjiang, called also Xinjiang Uyghur Autonomous Region (XUAR) is the westernmost and the largest province of China. Its capital is Urumqi – a remote megacity, surrounded by snowy mountains and deserts. The province is highly diverse, both naturally and ethnically. In its extreme north, around the borders with Mongolia, Russia and Kazakhstan are Altay Mountain Range. South of its is the Dzungar Plain, covered mainly by deserts and steppes.
Then in the middle is Tianshan, one of the highest and most beautiful mountain systems on the Earth. South of it is the Tarim Basin with its Taklamakan Desert like a giant yellow eye (as it is seen from a satellite image). And the Tarim Basin is surrounded by Pamir on the west, and Kunlunshan, the Karakoram and the Great Tibetan Plateau on the south.
It is interesting to know that Xinjiang is the farthest land from any ocean on the Earth, is located exactly in the middle of Asia. It has a long history, highly related to the famous Silk Road, whose routes cross the deserts and the mountains of this land. Many ethnic groups, kingdoms religions, and empires have lived and controlled Xinjiang until now, remaining a lot of mysterious artifacts, abandoned cities, traditions, and culture. All of this makes Xinjiang a really worth land to visit and explore, full of mysteries and beauty.
Top things to do in Xinjiang
As you can see, Xinjiang is a very large land, with a great variety of everything. So, obviously you can do a lot of things there, however, it needs time. You have to plan a trip, that is at least one week-long, but the more, the better. So, let's take a look at the opportunities which you can find in Xinjiang.
Explore the Chinese side of the Karakoram Highway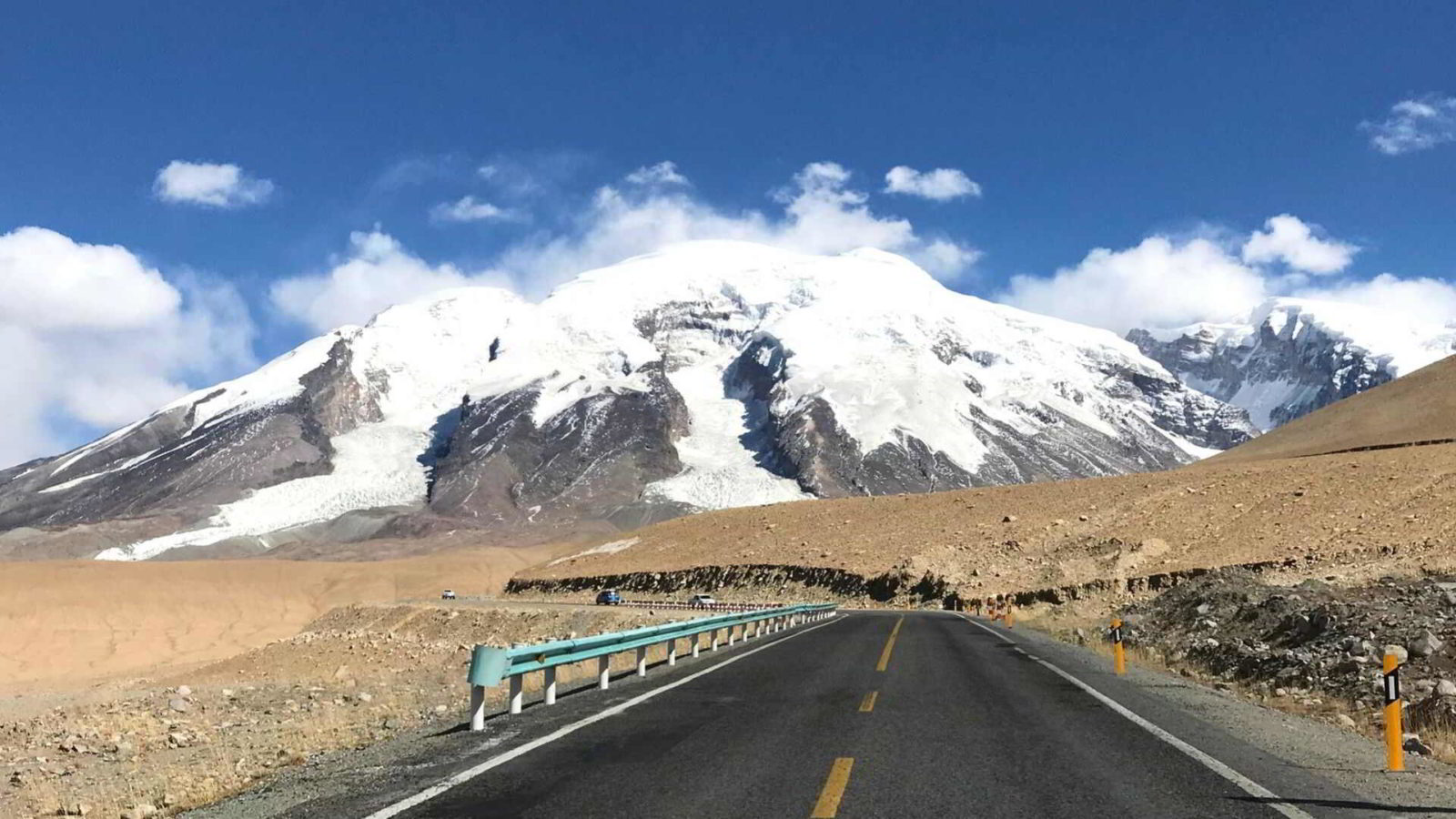 The Karakoram Highway is one of the most beautiful roads on the Earth, connecting China with Pakistan, and crossing the highest border pass with a road – Khunjerab Pass. Its whole length is around 1300 km, starting from Hasan Abdal in Pakistan, and finishing at Kashgar, China. And its Chinese section is around 413 km long.
On its course from Kashgar, the Karakoram highway passes by several incredibly beautiful destinations, providing fantastic landscapes that you can't see anywhere on Earth. After it leaves the Tarim Basin, it ascends through the Ghez River Canyon, penetrating deep into the Pamir Mountains.
Then it reaches Baisha (White Sand) Lake at around 3200m altitude, and proceeds on two high mountain valleys, separated by a small mountain pass. East of these valleys you can see the breathtaking, almost unreal images of two giant mountains – Kongur Tag (7649m) and Muztag Ata (7509m) – the highest peaks of Pamir, rising more than 4 km directly over the road. Muztag Ata is especially stunning at Karakul Lake, where it faces its reflections on the lake water.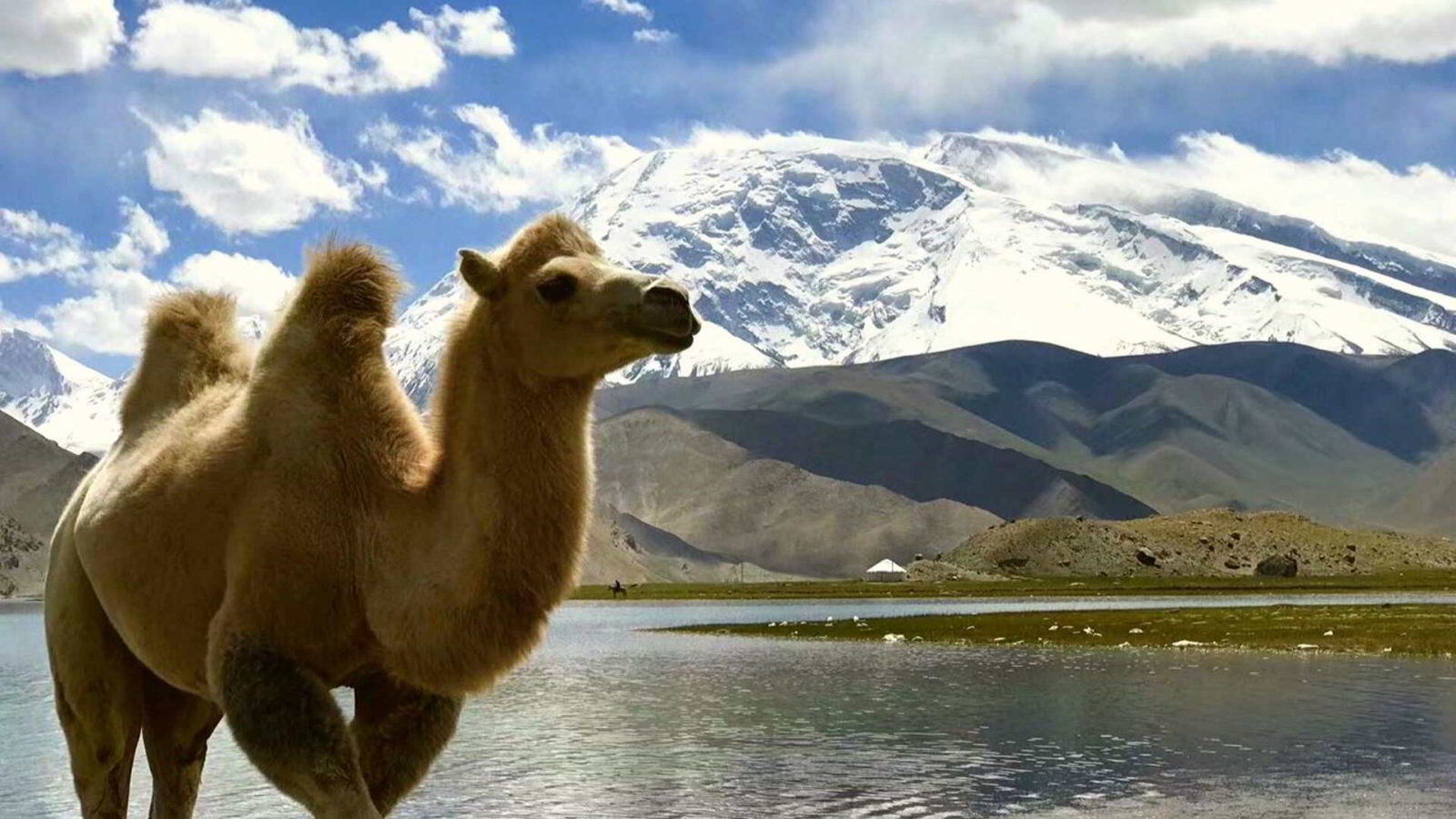 Then the road reaches Tashkurgan – the main town of the local Pamiri Tajiks, where you can taste their culture and mysterious history, as well as enjoy the breathtaking view of the surrounding grasslands under the giant peaks. Finally, the road ascends to Khunjerab Pass, where it leaves China and proceeds into Pakistan.
However, now this road is restricted for foreigners, so the only way to enjoy it is to join an organized tour from Kashgar. Yes, it limits your freedom, but the breathtaking views that you will enjoy all the time are really worth it. The prices for a 2-days trip go between 1200 and 1500 RMB per person (for foreigners), with arranged accommodation in Tashkurgan.
Enjoy the gorgeous grasslands and coniferous forests in Tianshan
Tianshan Mountains are a giant mountain system, shared between China, Kyrgyzstan, Uzbekistan, and Kazakhstan. Its Chinese part is entirely within Xinjiang. The highest peak of Tianshan is Jengish Chokusu (7439m). The lowest parts of the mountain system, especially on its north side are covered by splendid grasslands and gorgeous coniferous forests. All this creates stunning landscapes, especially when you see scattered yurts, flocks of sheep, cows or horses on the grassland.
One of the ways to enjoy this is to join a tour on the "heavenly" Duku Highway, crossing Tianshan from south to north. This road passes through canyons, valleys, lakes, coniferous forests, vast grasslands, and sharp alpine peaks. You literally can't stop taking photos on every curve of the road, as Duku Highway is considered one of the most beautiful roads in the world.
Another way is to visit Yili and Sayram Lake, near the border with Kazakhstan. Sayram Lake is a splendid jewel, surrounded by grasslands, forests, and high snowy peaks. It is especially beautiful in summer when the grassland is covered not only by grass but also by flowers.
But maybe the most adventurous way to explore this beauty is to join trekking on some of the Tianshan trails (you can find treks in some of the hotels or hostels) or to pass Duku Highway by bicycle. You can be sure that you would never forget such an adventure!
Taste Taklamakan, one of the largest and deadliest sand deserts on the Earth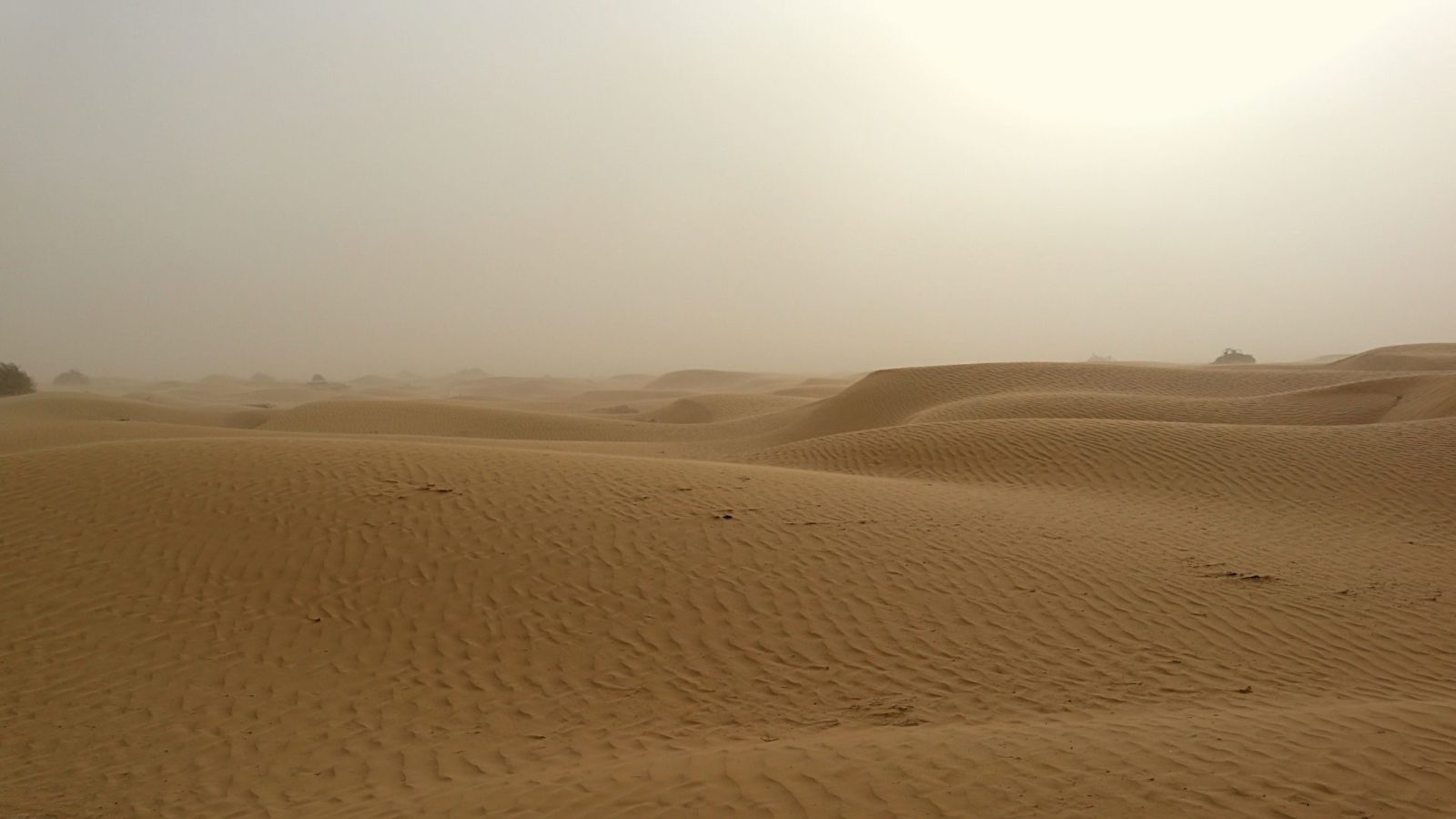 Taklamakan Desert offers a totally different landscape. It is an endless sea of sand, and as its name means: "The place where you enter, but never go out", it is considered one of the deadliest deserts on the Earth. However, it is deadly only if you enter deep inside without proper preparation. But in fact, you can still experience and "touch" the desert, tasting this unique sandy landscape.
This desert is around 1000 km long and 400 km wide. You can find some of the highest dunes on the planet, especially deep in its interior. Three "desert roads" cross is from north to south, as well as several other roads that approach the edge of the desert. And this is the way to experience this unique place.
One of the easiest and most accessible ways is to travel to Makit, a town located 200 km east of Kashgar, and from there to go some 5 km to a place, called "Makit N39". The name "N39" comes from the 39th north latitude of the Earth, which passes exactly through that place. Now it is turned into a tourist attraction, with desert jeeps, camels, ATV, etc, but if you want, you can just walk on the sand yourself.
Another way is to hire a car with a driver, or even better – to rent a bike (again, ask your hotel for this) and make a trip on some of the desert roads – between Aksu and Hotan, or between Luntai and Qiemo. Then stop on the road and penetrate into the sand dunes.
But be careful – DON'T GO TOO FAR WITHOUT WATER! And in general, walk according to your preparation. Don't forget the name of the desert and its meaning!
Touch the feeling of Siberia around Kanas Lake
Far north, where Russia touches China between Mongolia and Kazakhstan, the mountains of Altay Range are rising. And one of their valleys hides a stunning jewel. It is Kanas Lake, with pale blue waters, surrounded by a beautiful Siberian forest of pines and birches. Add to this the sunny meadows with sheep, horses, and yurts, and the wooden huts in the forest. This is the landscape of Kanas, deep inside the heart of Asia.
The best season to visit this beautiful place is in autumn when the birches become golden. Mixed with the dark green pines, it creates a unique artistic picture of the whole area, especially if you can see it at dawn when it is covered by morning mist. But the other seasons are beautiful too, clothing the area with different colors – white or green.
Kanas lake is best accessible from Altay City, which you can reach by train or bus from Urumqi. Then, from there you can get a tourist bus to Kanas area. However, have in mind that it is a border area, the travel regulations can be changed at any time and you may require a travel permit, so advice with your hotel or hostel before you go.
Descend the second-lowest point on the Earth at the Turpan Depression
Xinjiang is the farthest land from any ocean on Earth. But along with some of the highest peaks on the planet, rising over 8000m altitude, there is an area, located deep below the sea level. It is called the Turpan Depression. There is a dry seasonal lake on its bottom, called Aiding Lake, and the bottom itself is located on 157 m below the sea.
At first sight, the place is nothing special, but only a deserted plain, with some dry grass, under the merciless sun and heat reaching 45 C in summer. But for those who love geography, it is a special place, and there is a big globe on the bottom, marking the deepest spot.
But you can't reach the bottom of the depression without visiting the main city near it – Turpan. It is known as the hottest city in China, full of local Uyghur culture. Along with the second-lowest place on Earth, you can visit the splendid Emin Minaret, Turpan Museum, Karez Wells and the ancient Yar (Jiaohe) City. Then, along with that, you can hire a taxi to the bottom of Turpan depression, among the other places to visit. And don't forget to try the delicious Turpan grapes!
Dive into the local Uyghur culture in Kashgar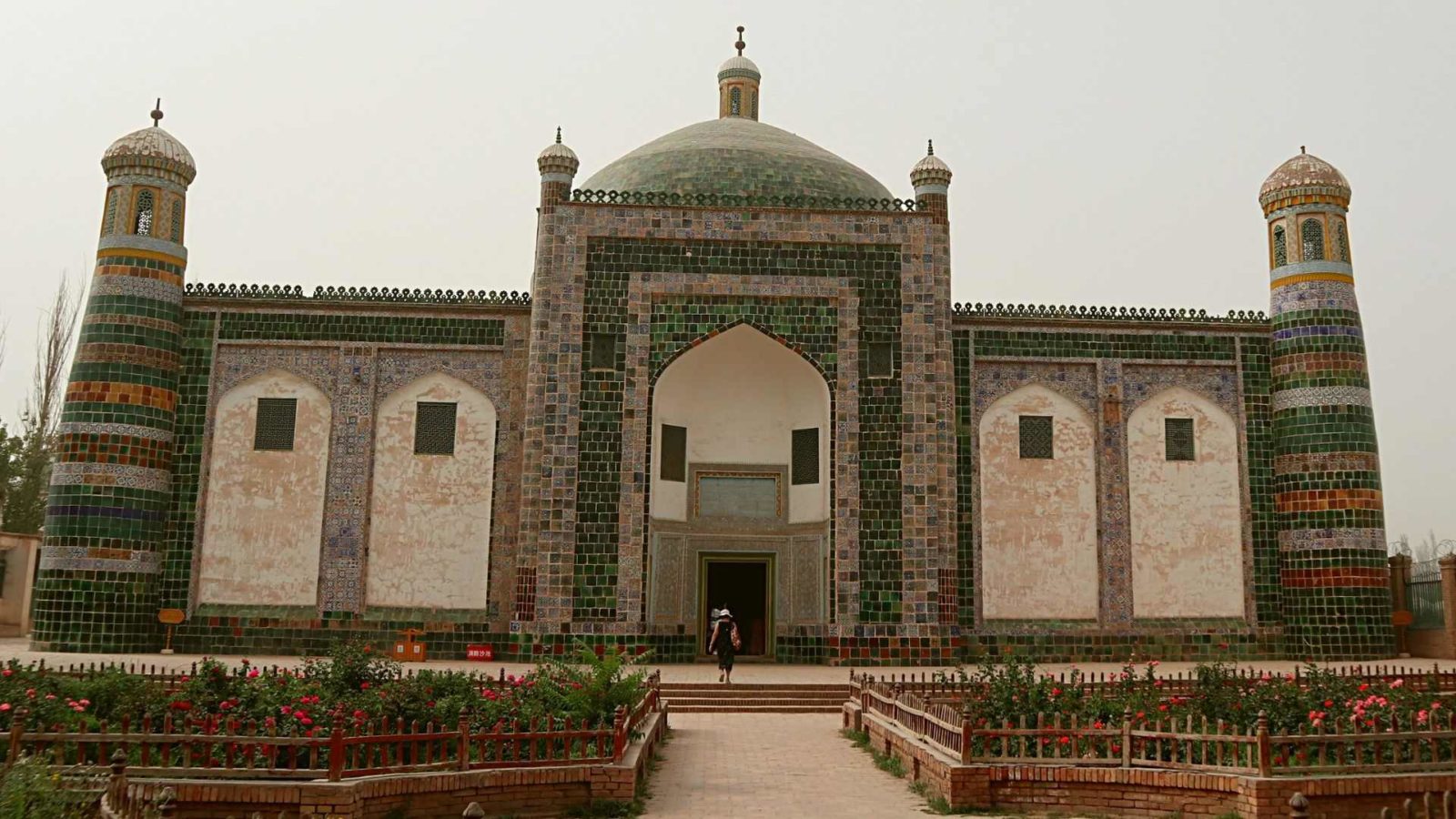 The Uyghurs are one of the main ethnic groups in Xinjiang. They live mainly in Xinjiang's southern part, and they have their own unique culture, belonging to the people of Central Asia. You can see their beautiful houses, you can try their delicious food, in many cities and villages in Xinjiang, but the best place to experience it is Kashgar, on the extreme west of Xinjiang.
Kashgar is the second-largest city in Xinjiang, and it has its own "Old Town". Although now the original "Old Town" is almost demolished and moved to a new place, it not only doesn't destroy the local culture and life but enriches it, making it more popular.
So, you can walk around the Kashgar's Old Town, enjoying the local Uyghur architecture. Then go to the center of Kashgar, to the main square and visit the largest in area mosque in China. Take a bus to Afaq Khoja Mausoleum, a splendid shrine with some interesting history. Then taste the local atmosphere in the East Bazar – the big central open-air market of the city. And don't skip the local cuisine, it is really worth to try it!
Go to the farthest point from the ocean at the Center of Asia, Urumqi
Urumqi is the capital of Xinjiang and the largest city in the province. It is a relatively new city, with not too much to see, except some parks and Chinese temples. In fact, the main reason to visit Urumqi is just that it is the main starting and ending point of your trip to Xinjiang.
But for the geography lovers (and I consider that all the travelers should be such), there is a special spot, some 20 km southwest of Urumqi. This is the geographical center of Asia. The place itself is nothing special – a nice park, with the main alley, an art exhibition on both sides of the alley, presenting every country in Asia, and a central circle with a shrine in the middle, marking the absolute center of the continent.
Around this spot, there are only a field with birches, several villages nearby and the distant Tianshan Mountains. But when you go there, remember that you are on one of the farthest possible places from every sea beach on the Earth.
Try the famous Xinjiang fruits
Do you know that many of the cities in Xinjiang have fruits as their symbols? The grape is a symbol of Turpan, the pomegranate is a symbol of Kashgar, the apple is a symbol of Aksu, and the Hami melon is a symbol of Hami (Kumul). Yes, even the name of the fruit in English – "Hami melon" comes from this city in Xinjiang!
So, whenever you go to some of the cities in Xinjiang, don't forget to visit a local market with fruits. You can't miss it, fruits are selling on every open market, in every city. Watermelons, strawberries, apples, pears, pomegranates, hami melons, grapes, and many more, all grew in the perfect conditions of the Xinjiang oasis fields. And believe me, you may never taste sweeter or softer fruits anywhere else in the world, full of natural juice!
Research the mysterious ancient history in the deserted cities
Xinjiang has a very long and ancient history, full of mystery. The province, or part of it, has been conquered by various kingdoms and empires. Yes, the Uyghurs have come to this land in the 8th century AD, but it has been ruled by the Tibetans, by the Chinese Han and Tang Empires, and by some local kingdoms, long before the Uyghurs. Many ancient nomadic people have roamed around Xinjiang too, remaining some strange and mysterious artifacts.
But some of the most magnificent and mysterious places, echoes from the far distant history are the silent ruins of the ancient cities, now inhabited only by the desert winds. If you go to Turpan, don't skip Yar, or Gaochang. If you go to Kuqa, don't skip Subashi. But maybe the most mysterious of them are Loulan and Miran, in the southeastern edge of Taklamakan Desert, reachable only by an organized tour from Qiemo or Ruoqiang (Charklik).
Along with it, don't skip the historical museum Turpan. There you can see the ancient discovered mummies, known as "Tarim mummies". The most ancient of them belong to unknown people, wandering in Xinjiang some 3000-4000 years ago.
Reach K2, the second-highest mountain on the Earth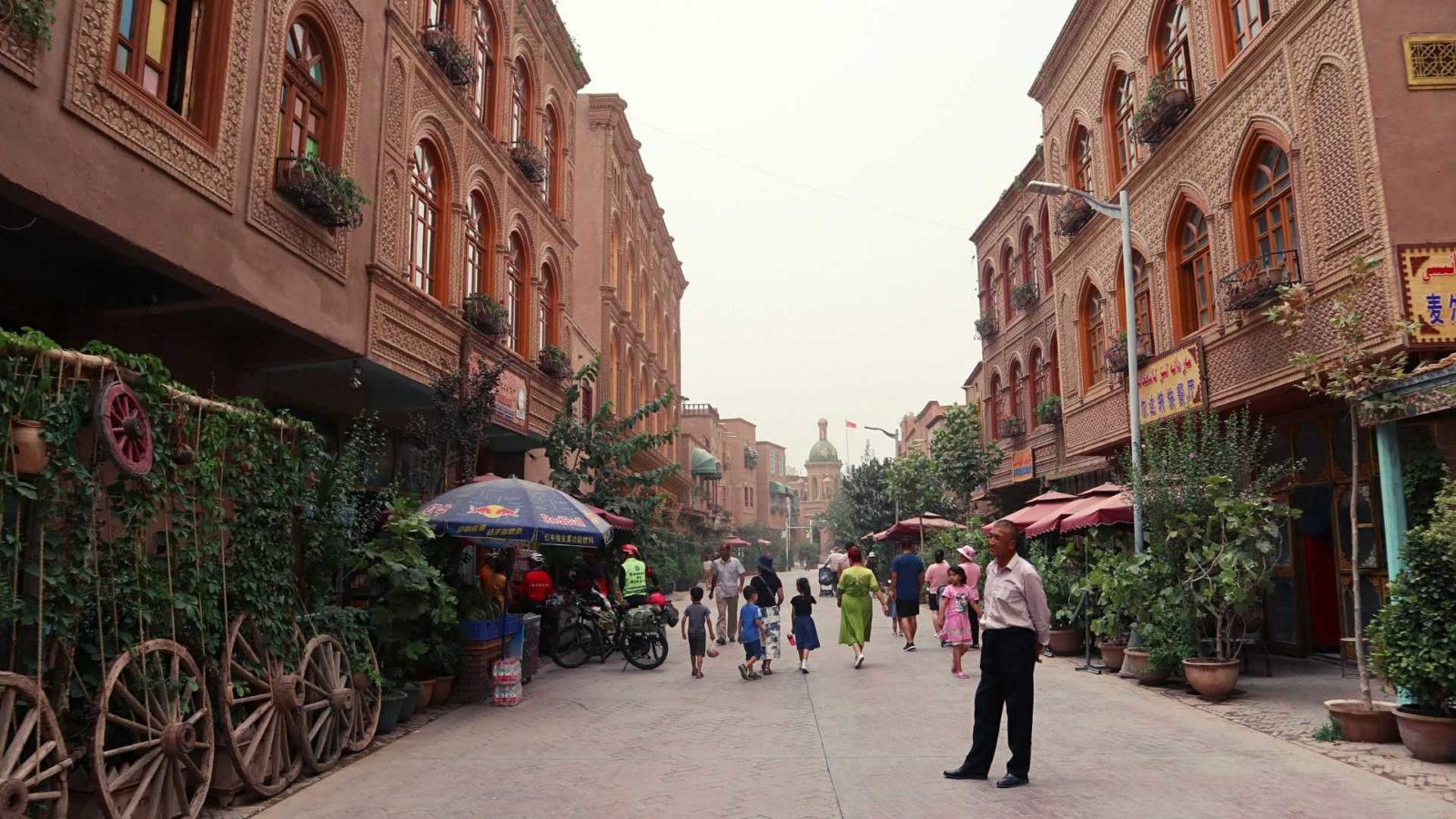 This is maybe one of the biggest challenges – to make a trek to the Chinese side of K2. K2 (named Chogori) is the highest peak in the Karakoram Mountain Range, and the second-highest peak on the Earth, with its altitude of 8610m. Yes, here I don't mean to climb it to the top – it is not for everyone, of course. But I mean, you can join a tour to its northern Base Camp.
Yes, it is difficult, and obviously expensive, but greatly rewarding. Normally, the tour starts from Kashgar (and you have to ask your hostel or the Kashgar Travel Center for details and joining). The whole trip is around 20-25 days, of which you spend 15 days in trekking – around 6 to 8 hours a day. And the highest altitude that you will reach is 5200m. Yes, you will not climb the peak, but you will observe it from its northern side, enjoying fantastic mountain landscapes that you will see all the way. You can see more details here.
Nightlife in Xinjiang
When we talk about nightlife, usually people mean bars, night clubs, disco or parties. And yes, I can say that you can find something like this in Xinjiang, but it is much different than the common imagination.
Here is an example of nightlife activity in Xinjiang. You join a tour to Tahskurgan, on the Karakoram Highway route. Your group arrives in Tashkurgan, explores the ancient Stone City, the Golden Grasslands and ends in the Pamiri Tajik Village. But before you go to sleep at your hotel, you can join an evening folk party. Yes, the local Pamiri Tajiks love dancing, and they arrange traditional folklore parties around a bonfire. And if there happens to be a wedding party too, it would be incredibly colorful and happy. It is quite different than what "nightlife" means for many people, but it is totally worth trying it!
And you can find such kind of folklore parties in other places in Xinjiang, performed by other minorities – Uyghurs in Kashgar and Turpan, Mongols in Bayan Buluk, on the Duku Highway, Kazakhs in Yili or Tuvans near Kanas. Believe me, it is something that you can't find anywhere else in the world, and it's worth much more than the "common nightlife" that you can find everywhere.
Or, if you are on trekking, or a bike trip, bringing your tent, and find other people together, you can make a party under the night sky by yourself. The air in Xinjiang is almost everywhere incredibly pure (with exception of the days when the winds blow sand dust from Taklamakan Desert) and your party would be literally held under the open space, stars and the Milky Way.
How to get to Xinjiang
Xinjiang is a part of China. To get there, the only thing you need is your passport with a Chinese visa. You don't need any travel permits and organized tours to reach Xinjiang (you would need these only for some particular destinations), as in the case of the Tibetan Autonomous Region. Then, there are three main transportation ways to get to Xinjiang.
By plane
The main international Xinjiang airport is in the capital Urumqi. You can fly to Urumqi from every Turkic country, or from Beijing. Then, Urumqi can be your starting and ending point of your Xinjiang trip. Another airport is Kashgar, but it has only a few international flights to the neighboring countries, so Urumqi is a better option.
By train
There are two ways to reach Xinjiang by train. The first way is by train from Beijing (or other cities in the eastern part of China) to Turpan or Urumqi. And the second way is from Kazakhstan, through Horgos Border Pass – to Yili or Urumqi. So, in this option, Urumqi, Turpan, Hami or Yili can be your starting or ending points.
Adventurous ways to get to Xinjiang
Yes, there are some other ways to reach Xinjiang, but they are quite adventurous. The easiest one is by changing many buses from Xining in Qinghai, through the southern highway to Kashgar.
Other ways to reach Xinjiang are through the border passes with Pakistan (Khunjerab), Tajikistan (Qolma), Kyrgyzstan (Irkeshtam and Torugart), some other passes from Kazakhstan, and Mongolia. But since there are no direct buses from those countries to Xinjiang, you have to find a local bus or other transport only to the border pass, then go through it (which may be really difficult, slow and requiring 1001 documents and permits), and then find another transport from the pass to the nearest city.
Another way to reach Xinjiang is from Tibet, on the "heavenly" Road 219, but it is again very difficult, expensive and possible only by an organized tour. If you are even more adventurous, you can try one of those ways by bike, although only a few people have done it.
Getting around Xinjiang
Once you arrive in Xinjiang, there are enough ways to travel around. There are domestic flights between Urumqi and Kashgar, as well as to smaller destinations (however, I would recommend it only if you are urgent – these flights are expensive, and you would miss a lot of breathtaking views on the way).
Another way to travel is by train. There are several railways, connecting Urumqi with Turpan and Hami, Urumqi with Altay, Urumqi with Yili and Urumqi with Kashgar and Hotan. Yes, the distances are long, so most probably you should travel in a sleeper compartment.
There are also buses, connecting the main cities in Xinjiang, but they are slower. One of the buses crosses the Taklamakan Desert on the desert road between Hotan and Aksu, but you can't see anything of the desert, because it is a night bus.
However, many of the most beautiful destinations in Xinjiang can be reached only by organized tour, or by a hired car with driver. Have in mind that places like Tashkurgan are located in border areas, and are restricted for independent traveling foreigners.
Other places, like Duku Highway or most of the roads leading to (and passing through) Taklamakan Desert, are lack of any public transport, so you can travel there only by car (again, you can ask your hotel or hostel for that), and if you can't find other fellow travelers, it would be quite expensive. Another option is to rent a bike from a bike shop for several days (yes, you can find such shops in Urumqi, Kashgar or Korla) and visit these places by bike.
You can't drive a car in Xinjiang, as in the whole of China, unless you don't have a Chinese driving license. Yes, there is an option to obtain a temporary driving permit, but forget about it in Xinjiang, it is possible only in places like Beijing or Shanghai.
Accommodation in Xinjiang
First, I have to start with the rule that is valid for the whole of China. Not every hotel can accept foreigners! In China, every foreigner must register in the local police station. Many hotels have a license to do it instead of the police, so you can go to the hotel and they will do it for you.
But many other hotels don't have such a license, they can't register you, and you have to go to the police station. The problem is, the owner of the hotel must go together with you, and it is unlikely that an owner would do it. Instead, they just will say: "We don't accept foreigners". Xinjiang is not an exception.
And in Xinjiang, usually, only the expensive and luxury hotels can accept foreigners, as well as some hostels. Of course, the latter is much better, and I would highly recommend it. The hostels are not only much cheaper (you can expect prices between 15-35 USD per night per room), but they are specially arranged for foreign travelers.
Their staff is usually very friendly and helpful – they can help you to arrange and join various tours or to hire a car with a driver, and they can guide you to many places and night folklore activities in the city. Besides, you can meet many other fellow travelers and share each other's experiences.
Every hostel you can stay at is registered with Booking.com, so you can check here to pre-book your accommodation in Xinjiang.
Another unusual, but the unique option is to sleep in a roadside yurt. It would be an unforgettable experience, and you can find such an opportunity along the Duku Highway or other roads on the grassland and forest areas in Tianshan.
Safety Tips For Xinjiang
Yes, I know, Xinjiang is a place with a not so good reputation. Many people have heard about "detention camps", "pressing and persecuting of Uyghurs", terrorists, etc., and they imagine repressions and chaos. But in reality, Xinjiang is an extremely safe place. There is police presence everywhere, and it not only prevents political unrest but in fact, it literally lowers to zero any crime possibility.
Maybe for someone, it may sound like "oppression and freedom limit", but for locals, both Han Chinese and Uyghurs, it means "safety and security". In spite of some opinions in the West of "tensions" between the Chinese and Uyghurs, they all prefer to live in peace and harmony, more than everything.
There are luggage scanners everywhere, as well as many check-in police stations on the exits of the cities, and you can expect to register often. Don't feel bored or "scared" by that, the policemen are always very polite and helpful and although it may cause a little slowing of your trip, it is not a big problem.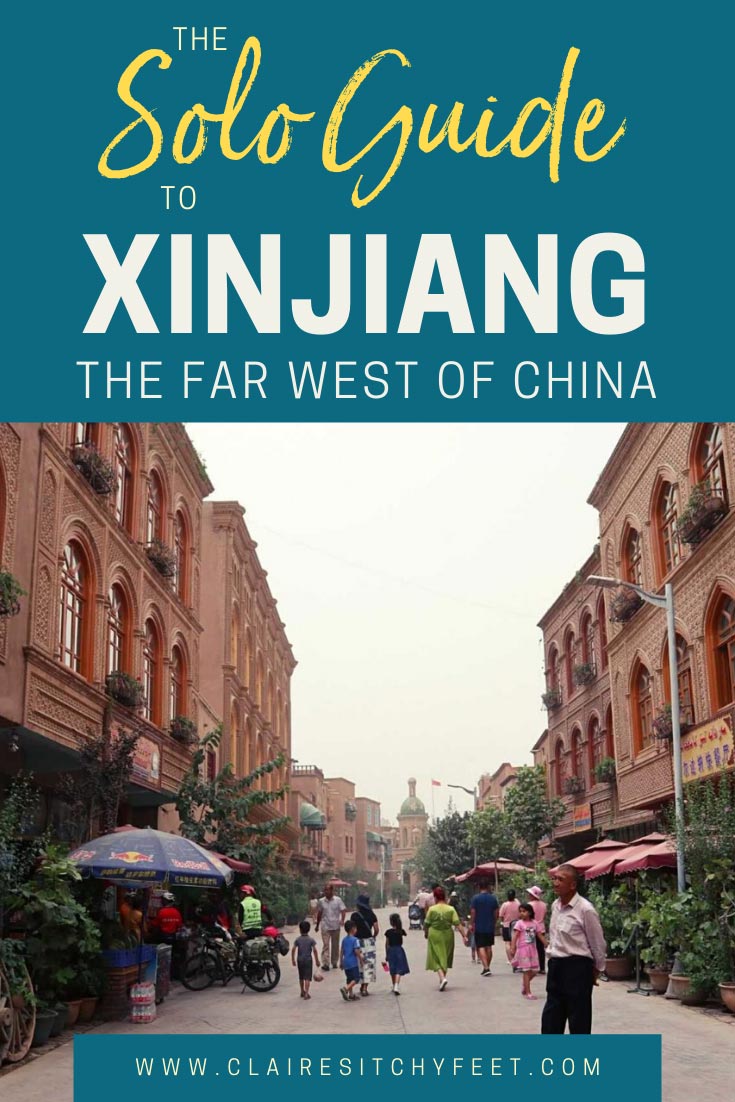 Final thoughts
I hope you have found this guide to Xinjiang helpful. As I'm sure you can see, Xinjiang is a place, totally different than most of the famous and popular destinations in the world. Maybe some people would think: "this place is not for me, it looks too adventurous". But actually, this place can be very friendly and convenient, and at the same time, if you want to make it adventurous, there are endless opportunities for that. The natural environment – its mountains, deserts, grasslands, and forests can give you not just adventures, but a really unique experience, that you can't find anywhere else.
Author Bio
Krasen Jelyazkov is the main voice behind Journey Beyond the Horizon – a travel blog, focused on exploring the Earth from a geographical and historical point of view. He has traveled in various countries, mainly off the beaten lands in Asia, and shares his experience and valuable information from there in his blog.
You can follow Krasen on Social Media Facebook | Twitter | Instagram | Pinterest