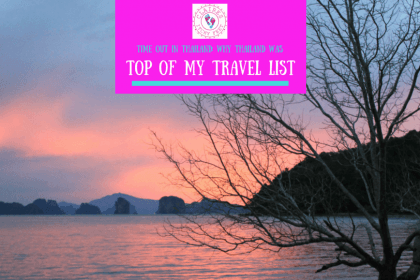 Like many people, I dreamed of visiting Thailand. Romanticised about island hopping, white sandy beaches and crystal clear water. So when my long term relationship ended rather abruptly I decided to take a time out in Thailand! So here is my guide on how to plan your trip to Thailand.
Yes, I watched Eat Pray Love…
Forgive me for what I'm going to admit to, but after watching Eat Pray Love a few years ago, it woke something up in me (yes I know I'm a big cliché). I think what I realised without really knowing it at the time was that I am (or could be) her. I could see myself falling into a relationship and losing myself completely (done this a few times before) and next thing I know a few years down the line I wake in a cold sweat in the middle of the night looking for the door… Anyone who knows me well enough to share a room/ bed with me knows I HAVE to sleep by the door.

The Failed Relationship
In October 2016 I got DUMPED. So I did what any wanderer who has sat still for too long would do…called my travel buddy/ partner in crime up and enlisted her to disappear to Thailand for a few weeks with me! During the weeks leading up to this mini adventure, I had made some huge life decisions about wanting to quit my job/life and head somewhere warmer.
So with this in mind, I decided Thailand is the perfect place to cut my teeth. As female travellers with little backpacking experience we wanted somewhere we could easily navigate and where we would feel relatively safe.
It doesn't take much research to find out why Thailand is one of the most popular and safest locations for female travellers with its clear tourist routes, transport links and just the sheer volume of information available about where to go, what to see and most importantly how to behave that is culturally appropriate. And let's not forget it's also super cheap!


Booking Our Flights
We booked our flights a bit late really and as we were going for the whole of Christmas and New Year, which is peak time, they were our biggest expense. If you are planning to go out at this time of year book your flights early. I spent days phoning flight bookers and checking and double checking flight search engines. It was Skyscanner who finally got us the best deal.
We flew with budget Russian airlines and had changes in Russia…which people kept telling me was a long way round and I should have changed somewhere else blah blah, but it was cheap. Like £200 cheaper than all the others. So Russia it was!
We did SO much reading and research before our trip to help us make the most of our relatively short time over there. The most useful thing I found was Pinterest. I created a Pinterest board for us both to use and as I found useful articles on packing/ things to take/ things to remember etc we pinned them on it. If you are planning a trip to Thailand check out our board here.
Planning Our Adventure
We didn't want to over the plan as we both wanted the freedom to change our minds but we did book a few things before we went which shape our trip:
So this was our plan:
Flight out Sunday 13th Dec
Arrive in Bangkok Monday 14th Dec and spend 2 nights in Bangkok
Travel to Ayutthaya to see the temples Wednesday 16th Dec
Night train to Chiang Mai arriving on Thursday 17th Dec
Friday 18th and Saturday 19th Dec Trekking
Sunday 20th Dec flight to Phuket
Monday 21st Dec boat to Koh Yoh Noi for 3 nights at Island Yoga 21st-24th
Island hop 24th Dec until 4th Jan
Fly from Bangkok 5th January
Budget
One of the things I did a lot of research on was the budget. It's impossible to predict and it depends on how strict you are with yourself. we weren't really that bothered and although we saved money staying in cheap accommodation and eating street food at times we staying in expensive accommodation and drank cocktails. For some tips on eating cheaply in Thailand check, this post out.
I have also given a rough breakdown in each section as some areas like Bangkok and Chiang Mai was a lot cheaper than Islands like Koh Samui.
If you are planning your first trip to Thailand then be sure to check out my top tips here 

If you need a cheap flight to Thailand check Skyscanner first! Or download their App here, and don't forget your insurance!