Planning a weekend trip to Antigua, Guatemala? Lucky you! Weekends are the best time to explore Antigua as there is so much going on that doesn't happen during the week. In this post, I'm going to talk you through my perfect weekend Itinerary to ensure you make the most of your weekend in Antigua
Saturday
Early Breakfast at Union Cafe
This is one of my favorite spots in Antigua, they have amazing coffee and smoothies. Get there early and fill up on overnight oats. Make sure you leave some time for your breakfast to settle though, yoga next!
Yoga in the park
At 9:30 every Saturday Lauren and Irene from Shakti Shala offer a FREE community yoga class in Union Park in partnership with Union Cafe. The deal is you get the yoga class free and you pre-order a smoothy from Union Cafe for 35Q for after the class. This is such a great deal and both Lauren and Irene are incredible yoga teachers! Make sure you follow them on Instagram and Facebook too.
Caoba Farm
Once your class is finished and you have enjoyed your smoothie you are going to head down to Caoba Farm. It's a 20-minute walk down 5 Avenida, there is a free shuttle that picks up close to the Central Park or jump in a Tuk Tuk for 15Q per person.
Saturday is the market day so you can shop for local produce, eat some amazing food (best pizza in Guatemala), listen to live music and even take a free class. The classes differ every week from Zumba to Tai Chi.  You are going to want to spend a few hours here exploring and relaxing.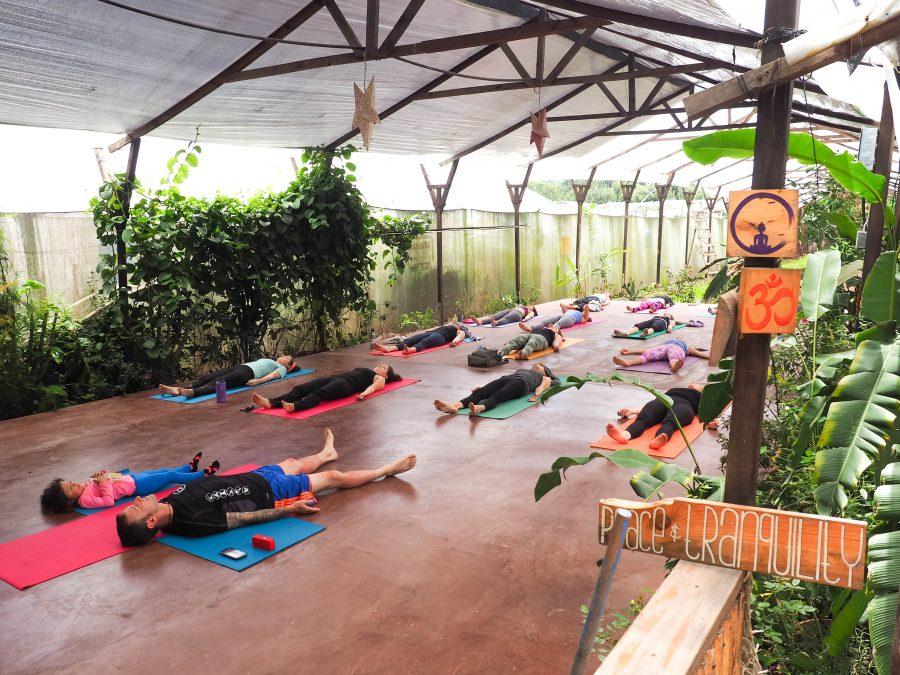 Bar Crawl
It's time to get your Gladrags o and hit the town! I have created a special Antigua Nightlife Tour on Walkli which you can download here. There are plenty of the places on this tour that also offer great food. Take a read of each one and feel free to skip through any that don't suit you.
Sunday
Brunch
You are probably going to want to take it easy today if you went out last night? So I would say you have 2 options for Brunch:
Breakfast Club – It serves breakfast/ brunch all day and it's on a terrace so the views are incredible. They have a great breakfast menu served all day. Comfy seats and great wifi!

Cafe Condesa – If you are really hungry then this place does an amazing all you can eat brunch for 70Q including tea and Coffee. They serve brunch until 1 pm only on a Sunday
Historic Walk
Once you have eaten and got some caffeine inside you it's time to explore the city. Antigua is a UNESCO world heritage site and it is full of beautiful ruins. The ones you are able to enter you will have to pay a small entrance fee. But even if you don't want to go in you will be able to get a great street view.
I have created a walking tour of all of the key ruins in Antigua. You can download the map at Walkli and it starts at Cerro De La Cruz
Street food
Finish off your day by heading up to Iglesia La Merced on 1a Calle to get yourself some street food.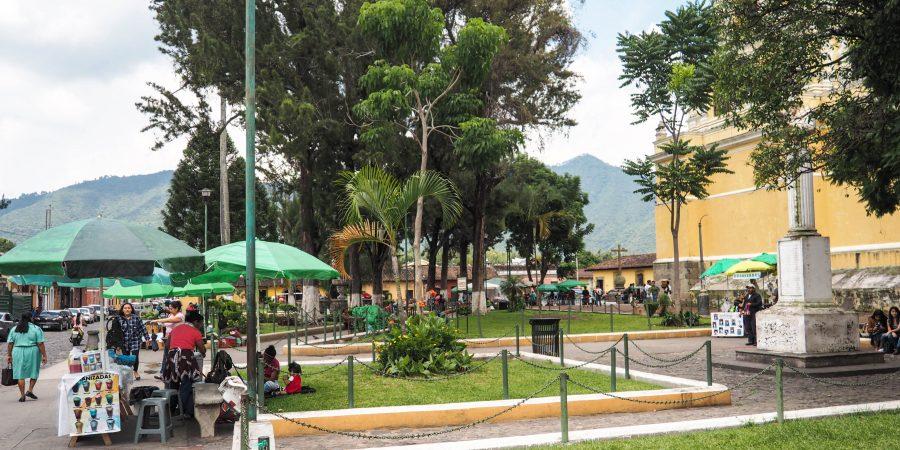 If you need accommodation I highly recommend

Wicho and Charlies or Lemon Tree if you are looking for a hostel. Alternatively, if you want a B&B I can't recommend Donde Rita enough. She is a good friend and has opened up the most stunning Moroccan style B&B.


I've added links below for all of my Antigua Itineraries just in case you have more or less time:
Guatemala Guides | Things to know before visiting Antigua, Guatemala
Guatemala Guides | How to Spend 4 days in Antigua
How to Spend the Weekend in Antigua, Guatemala
Guatemala Guides | How to Spend 2 days in Antigua, Guatemala
Guatemala Guides | How to spend a day in Antigua Guatemala
Are You Traveling soon?
Be sure to check Skyscanner for the best flight deals.
I never travel anywhere without Travel Insurance. If you are looking for insurance be sure to check World Nomads first.
This post was proofread by Grammarly