I am very selective about who I work with and I only work with brands, tour operators and organizations that I feel reflect the same values I have and who offer value to my readers.
These are some of the organizations I have worked with: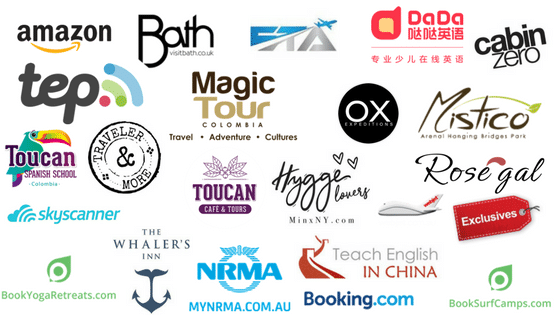 Skyscanner
Cabin Zero
Traveler & More
Minx NY
Toucan Cafe & Tour
OX Expedition
Visit Bath
TEP Wireless
Influencer.com
The Whalers Inn
Red 36
Mistico Park
Lost Iguana Resort
Pura Vida
Tikki pants
Magic Tour
As a freelance writer I have wrote the following published articles
How to get something back you left on a plane
How to see Thailand (contributor)
How to Survive the Rainy Season in Central America
The Adventurers Guide to Central America
Tulum New Year's Eve 2018: Best places to celebrate
How to see Thailand in 3 weeks for less than $1350
Local guide: Plymouth, United Kingdom
Learning Spanish in Guatemala
How to Learn a New Language Before a Trip
I have contributed to the following collaborative posts
Gaga for Graffiti: Around the World v.6
Travel bloggers' favourite places to visit in the UK
How to see Thailand in 3 weeks for less than $1350
Local guide: Plymouth, United Kingdom
Travel Bloggers share 18 Hidden Gems from around the World
Make Time To See The World – Travel Photo Tuesday
How to Get Back Something You Left on the Plane
Travel Safety Tips and Close Calls | Expert Roundup
Why work with me?
With many years of experience writing through my work as a Freelance Project Manager in the Creative and Cultural sector, I have expertise in press releases, marketing copy, funding applications, as well as social media content (including blogging).
A big part of my current employment comes from freelance copywriting. For more information about these services please visit my freelance website www.clairesummersfreelance.com.
If you are a blogger who would like me to collaborate or write a post for your blog, or you would like to offer to write a post for Claire's Itchy Feet then please get in touch by email.