Traveling the world is an amazing experience it can be hard sometimes to fit in a workout when traveling. Many of us needlessly fall into the trap of giving ourselves a pass, to abandon all of our good habits from home. Including a daily workout or exercise routine. Rationally, we know that we will sleep better, eat better, and in general, feel better if we exercise regularly. But sometimes when we're traveling, that habit and priority simply falls by the wayside.
Let me tell you: that doesn't have to be the case. In reality, it's absolutely possible to fit in a workout while you're traveling.
How to fit in a workout when traveling
Below, I'll describe some tips that will help you fit in a workout while you're traveling. Admittedly, none of my pieces of advice are especially life-altering or earth-shattering. But sometimes, especially when we're traveling and are outside our usual comfort zones, a little creativity and thinking-outside-the-box can go a long way.
Learn by foot
Reading a map is an excellent way to learn a new area, exploring it on foot is even better. Put on a good pair of shoes, and whether you want to run, hike, or walk, give yourself a designated amount of time to do some exploring. Consider asking the locals for their advice for places to go and places to avoid, and be sure to do a lot of your exploring in the daytime and well-lit hours.
Most people would not want to be burdened by an actual workout, per se, but if you want to change things up, consider doing your run or walk fartlek style:
Start at a given pace. Then choose spots along the way (like the next light post, the tree on the other side of the street, or the church you see in the distance, for example) to pick up your pace until. Repeat this pattern for different posts for as long as you'd like. The variety can make the time pass by quickly. As an added bonus, you'll likely be able to see and experience more than you would if you stay at the same pace.
Explore by bike
If running or walking isn't your thing, consider renting or borrowing a bike to explore your new location. Many places have become increasingly bicycle-friendly, so be sure to take advantage of designated bike lanes. Remember to pack your helmet (or borrow one)! Also, again in the name of safety, be sure to ride during daylight or well-lit hours. Biking your way around a new location will help orient you. Plus you'll be able to cover a greater radius than what you could cover simply on foot.
Jump into a local group workout
If group fitness classes are your thing, research if there are any free or steeply-discounted community fitness classes. Something like the November Project, that you can show up and participate in. Not only will a group class take the guesswork out of your fitness routine for the day. Since all you'll be responsible for is showing up. But it'll also allow you to better connect with the locals. This could help glean from their advice about anything from food recommendations to other places you should go sightseeing. Local group fitness classes sometimes meet outdoors, so be sure to dress appropriately for the weather.
Keep it simple, and do a home workout
If your schedule precludes you from adventuring too far beyond the confines of your hotel room, fear not. There are tons of at-home or hotel room exercises that you can do with minimal or no equipment. Many of these exercises rely on you using your body weight to perform compound movements, like squats or push-ups, for as many repetitions as you can in a set amount of time.
Additionally, you can create an excellent at-home or hotel-room routine by doing things like calisthenics (such as jumping jacks or burpees). If you don't want to create your own routine or don't know where to start, a simple online search for "at home exercises" or "hotel room exercise routine" will do the trick.
Treat it as a priority
Finally, I think the best way to fit in a workout while you're traveling is the same way you fit in a workout when you're not traveling: by simply making it a priority. And if you are worried about aches and pains thanks to working out, don't. When I have aches, I try CBD balms for deep muscle pain and it really helps.
You do not have to find a place to do a workout, you need to find reasons. If you see a cycling area or a trampoline park, do not hesitate in getting in there and bouncing on a trampoline. Bouncing on a trampoline itself is a great exercise for the whole body.
We all have the same number of hours in any given day, so the onus is on each of us to figure out how to make the most of it. If getting in a daily workout is important to you, you'll figure out how to do it. Maybe it'll mean an early wake-up so you can fit something in before a day of exploring or meetings, or maybe it'll mean doing something low-key in your hotel room before bed.
However, you fit it in, being flexible will help you tremendously.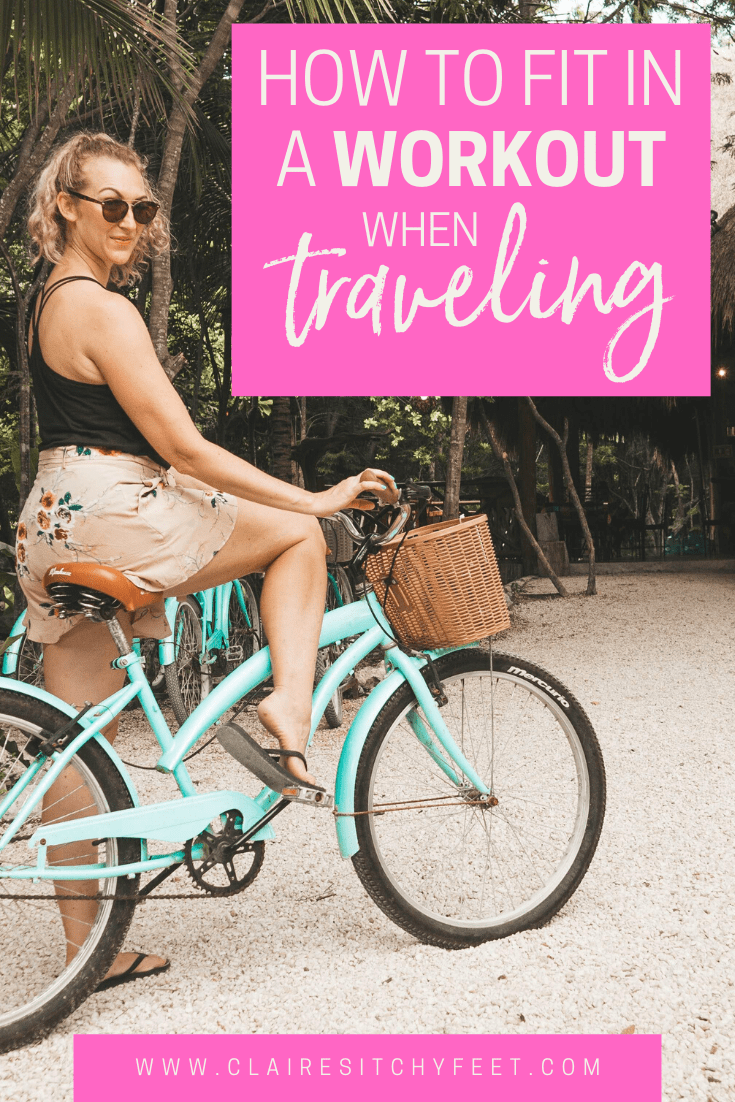 Final Thoughts
Traveling can be a wonderful experience and one that can forever change your view of the world (and alter the course of your life), but I think it'll also behoove you to still do some of the same things that you'd do at home, if for no other reason than to ensure that you can get as much as possible out of your travel experiences.
If you're already used to eating healthily and exercising daily, do more of the same when you're on the road. It may mean that you'll do other exercises than what you do at home, but that's ok; something really is better than nothing. Plus, staying with an exercise routine while you're traveling will help you stay energized and be ready to roll, eager to get out and go exploring, while you're away from home.
You owe it to yourself to give yourself the best travel experience possible, and doing a daily workout — whatever it may be — while you're traveling will help you have an enriching experience.
Like this post?
Then you might also be interested in these articles:
How to prepare for Yoga Teacher Training Abroad
The Beginners Guide to Ayurveda for Travelers
The Best Essential Oils for Travel
Essential Natural Beauty Products for Travel
Guest post written by Jane Grates
Writer's Bio:
Author, Innovator, Sock Lover, Yoga Teacher, and a Travel Blogger. I used to think that you could just go get a pen and write anything under the sky.
This post was proofread by Grammarly
Are you ready to book your trip?  To help you get the best deals and service here are the companies that I personally use to book all of my travel online. I always shop around before booking anything, but these are my tried and tested starting places.