Stratford Upon Avon is best known as the birthplace of William Shakespeare and a must-visit location on any UK itinerary. So deciding where to stay in Stratford Upon Avon is going to be an important decision as you will want somewhere close to all of the must-see historical sites.
On my recent visit, I stayed in Hotel Indigo Stratford Upon Avon with my family and I was pretty blown away, not only by the hotel and its amenities but also by the location and proximity to everything we wanted to see and do. It's because of this that I felt compelled to write this review of Hotel Indigo Stratford Upon Avon to help you make the best choice when deciding where to stay in Stratford Upon Avon on your next visit.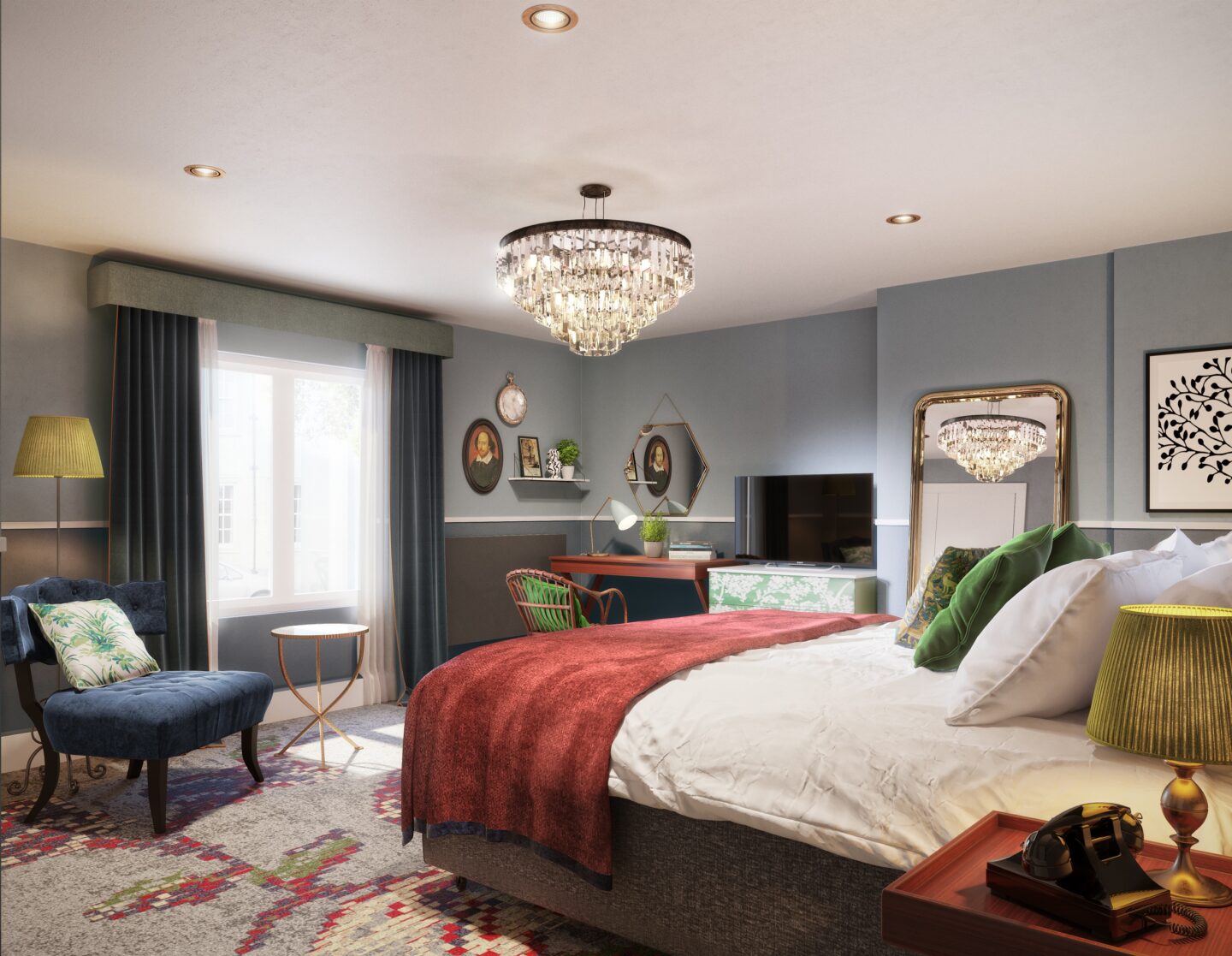 Hotel Indigo Stratford-Upon-Avon Overview
Free parking was available on sight for guests, something I really appreciated and not all that common in such a central hotel. This made my arrival even more comfortable as there was no hunting around for a parking space, and then having to walk to the hotel with all of my luggage which goes far beyond just a backpack there days with all of my photography equipment and the baby stuff).
From the moment I walked through the doors of Hotel Indigo in Stratford Upon Avon, I felt at home. The staff gave us such a warm welcome and checking in was quick and easy. We were offered a map of the local area and advised of some walks we could do to make the most of the good weather.
The hotel itself is the perfect blend of modern amenities whilst giving you a feel of being part of the Shakespearean past. The hotel boasts 4 stars and a Superb 9.2 review rating on booking.com. There are 93 guest rooms that's design takes inspiration from the history of the local neighborhood.
If you are looking to stay in a historic building with modern amenities in the heart of the city then Hotel Indigo Stratford Upon Avon checks all of the boxes.
Hotel Indigo Rooms
Every room at Hotel Indigo Stratford upon Avon seems to perfectly blend together all of the must-have ingredients for a top boutique hotel.
Comfort
Luxury
Attention to detail
cleanliness
With its quirky decor, ultra-soft sheets, and super stylish bathrooms, our room felt old-fashioned cozy yet modern. Everything in the room felt carefully curated and was so well designed. From the old-fashioned telephone to the plush velvet chair.
All of the rooms fall in to 3 categories of design, Tudor, Georgian, and Contemporary.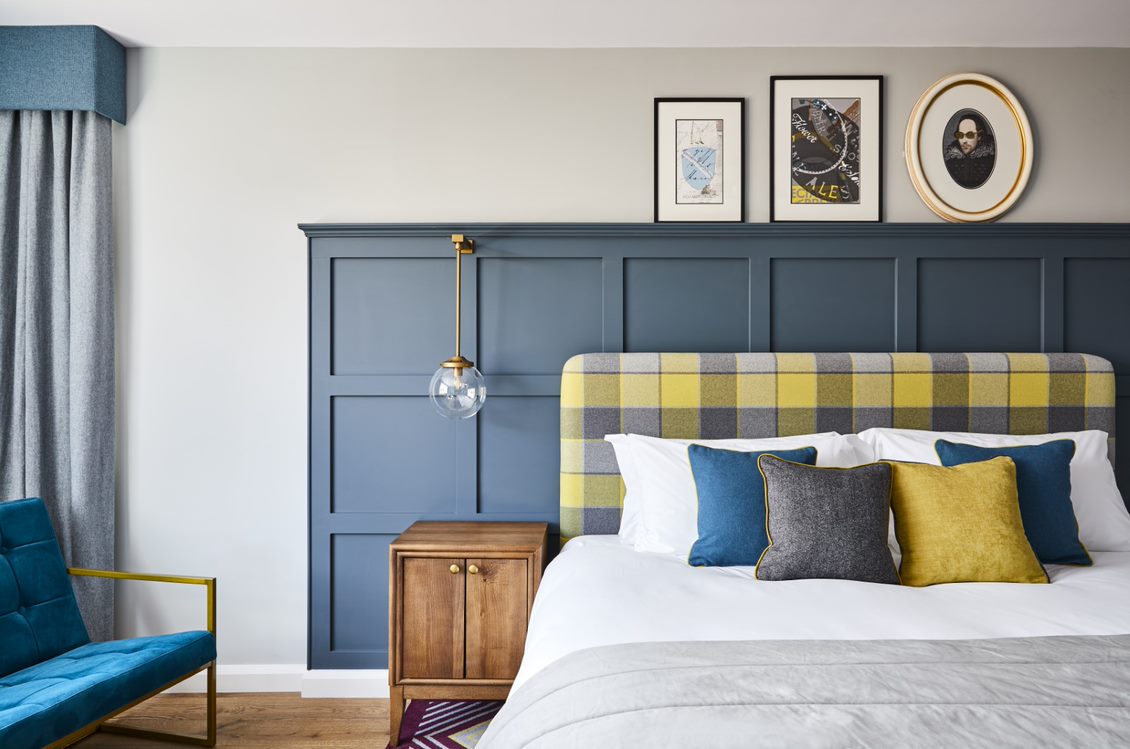 The Tudor Rooms display the tradition of the 16th century building.
The Georgian Townhouse is inspired by Shakespeare's Theatre, with each of the rooms sprinkled with a touch of luxury.
The Contemporary Rooms are the newer rooms located in the newly built part of the hotel that offers a more modern and sophisticated design inspired by the 20th century past.
As standard, each of the rooms comes with a Nespresso coffee machine, a kettle, mini-fridge, iron and ironing board, hairdryer, a 40-inch flat-screen TV, and Wi-Fi.
But for me, it was the bathroom that really stole the show! I actually found myself wanting to go back to the room just so I could take a bath and then wrap up in the hotel-provided bathrobe and slippers. I only wish I'd bought some bubble bath with me.
It's the attention to detail that sets this hotel in Stratford Upon Avon apart from the competition. I mean they even had a little carton of fresh milk in the mini-fridge so I could drink my English tea without the horror of having to add UHT milk, something only British people can truly understand haha.
I was a bit concerned about adding a cot for my baby into the room as in general hotel rooms in the UK can be on the smaller size, especially ones in historic buildings like we were in. But no, the cot the hotel provided free of charge for us fit into the room perfectly. Although we did need to move it closer to the bed as it was a very hot night and the cot was right in the path of the AC which wasn't great for little Charlie.
I think the only slightly negative thing I can think of to say, if I'm being super picky, was that the duvets were a little on the small side for such a huge bed. But as the room was the perfect temperature anyway it really didn't matter to us all that much.
You can watch the reel we created to highlight the room we stayed in here.
Location Location Location
The boutique hotel in Stratford Upon Avon is located right in the heart of the neighborhood where the 16th-century English poet and playwright William Shakespeare was born. You will actually find William Shakespears New House directly opposite the hotel and his actual birthplace a short walk away.
Thanks to the hotel's central location I was able to leave my car safely parked at the hotel's secure undercover parking area and walk everywhere to visit local touristy sites.
And if for whatever reason you don't want to go out then the hotel has plenty of snug nooks and semi-private seating areas where you can relax. They also have a well-maintained beer garden where you can simply sit and enjoy the ambiance and architecture in any weather. If it gets too chilly in the garden, the hotel staff provides guests with blankets and hot beverages to keep you warm.
Cleanliness
This hotel was clean clean clean! Like seriously, one of the things that first comes to mind when I think about this boutique hotel in Stratford upon Avon is its cleanliness. Every corner was spick and span, something that is important to most people in these post-pandemic times. Worrying about allergies or contaminations is not something I did at all during my stay here.
Hotel Indigo Stratford History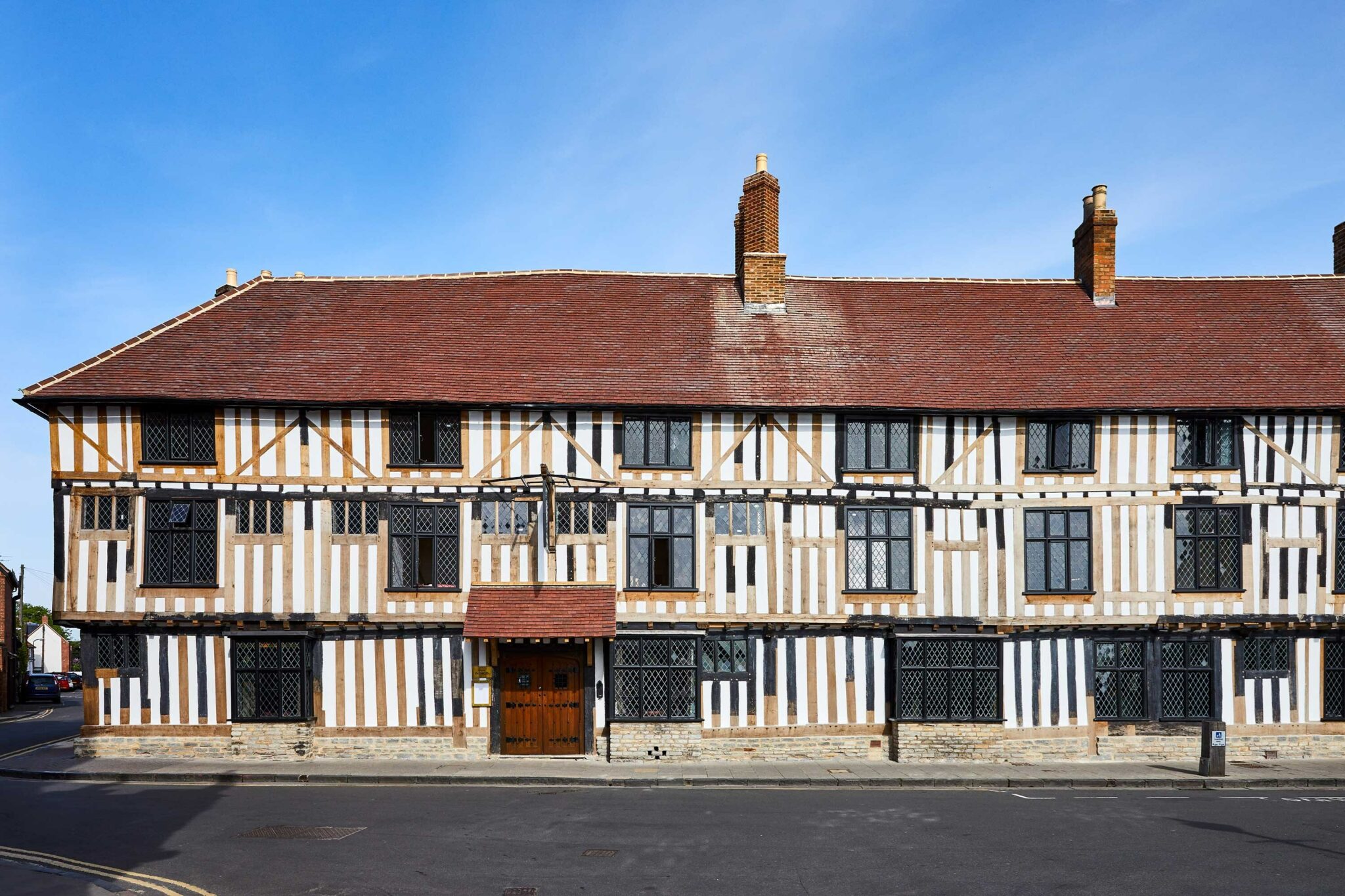 Interestingly, part of the Hotel Indigo Stratford upon Avon dates back to the 15th century. A piece of history right there! The hotel has many charming spaces to just hang out. There is a lovely entranceway, a vast hall, a bar, and a lounge, where you can chill after a long day of sightseeing. I'd also really love to come back here during the winter as the hotel has an abundance of cozy places I can picture myself enjoying while warming up with a hot apple cider or glass of mulled wine.
The Woodsman Restaurant
Part of the hotel, The Woodsman restaurant and bar are independently run and owned by restaurateur Mike Robinson. The Woodsman offers an irresistible menu with delicious (and uber English) dishes.
You can read my full review of The Woodsman restaurant here. I strongly recommend booking at least one meal in the Woodsman while staying at Hotel Indigo Stratford Upon Avon, and you will need to book as it does fill up, especially at weekends.
The breakfast was included in our room price and served in a room next to the main restaurant from 7 am. If I'm honest, in general, hotel breakfasts leave me feeling rather disappointed. Especially the continental options. But not here. In fact, the continental breakfast spread was so epic I didn't even bother ordering a cooked breakfast as I had no room to eat it!
It was a proper English experience, with a fresh and abundant array of breads, muffins, fruits and cereals, jams, and marmalades. There were even some delicious little maceral tartlets I couldn't get enough off.
I'd also like to give a mention to the restaurant staff, who cleaned Charlie's breakfast bowl of mashed bananas once he had finished eating. It's these small details I appreciated and what you come to expect from Hotel Indigo Stratford
Final Thoughts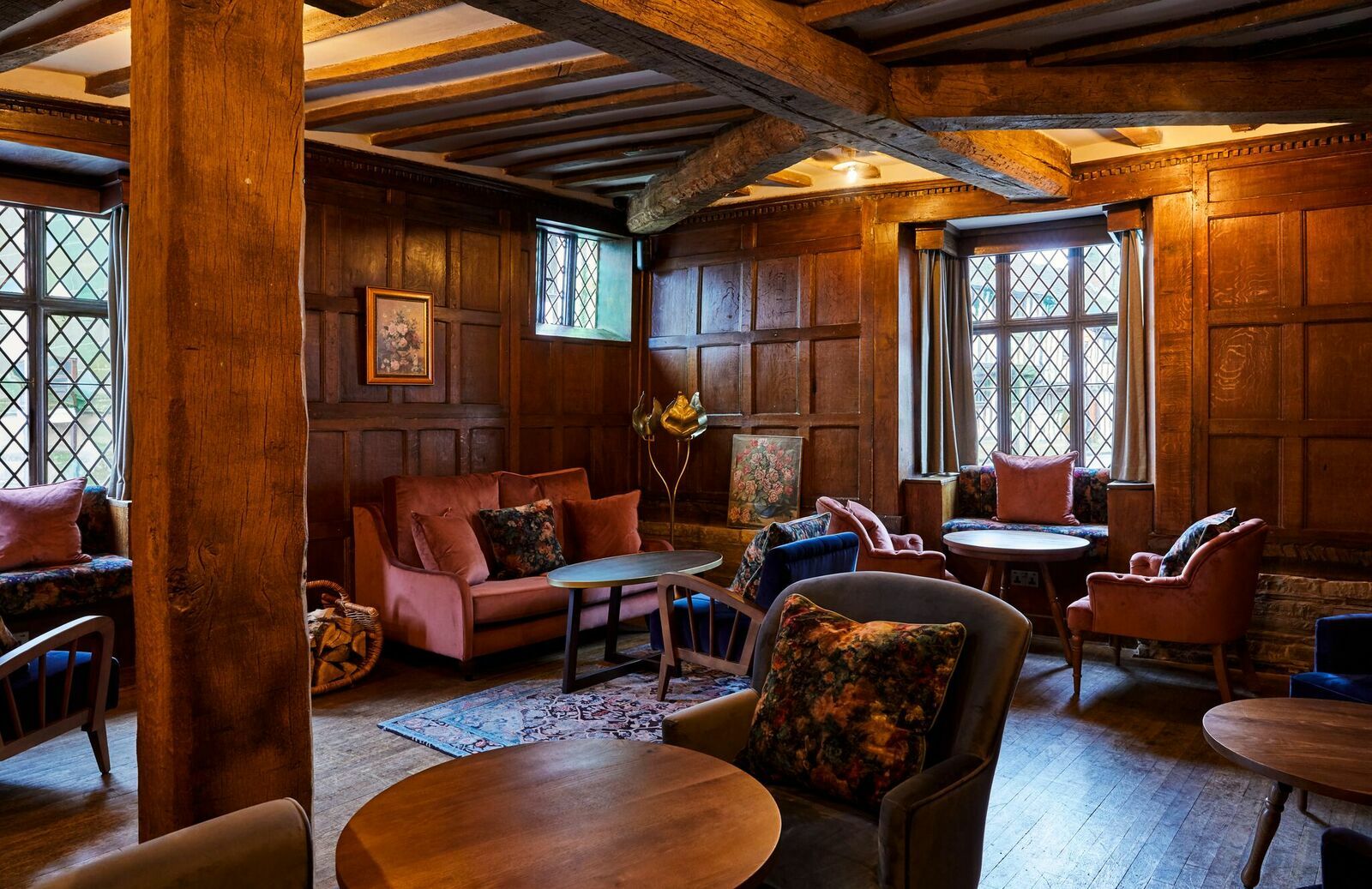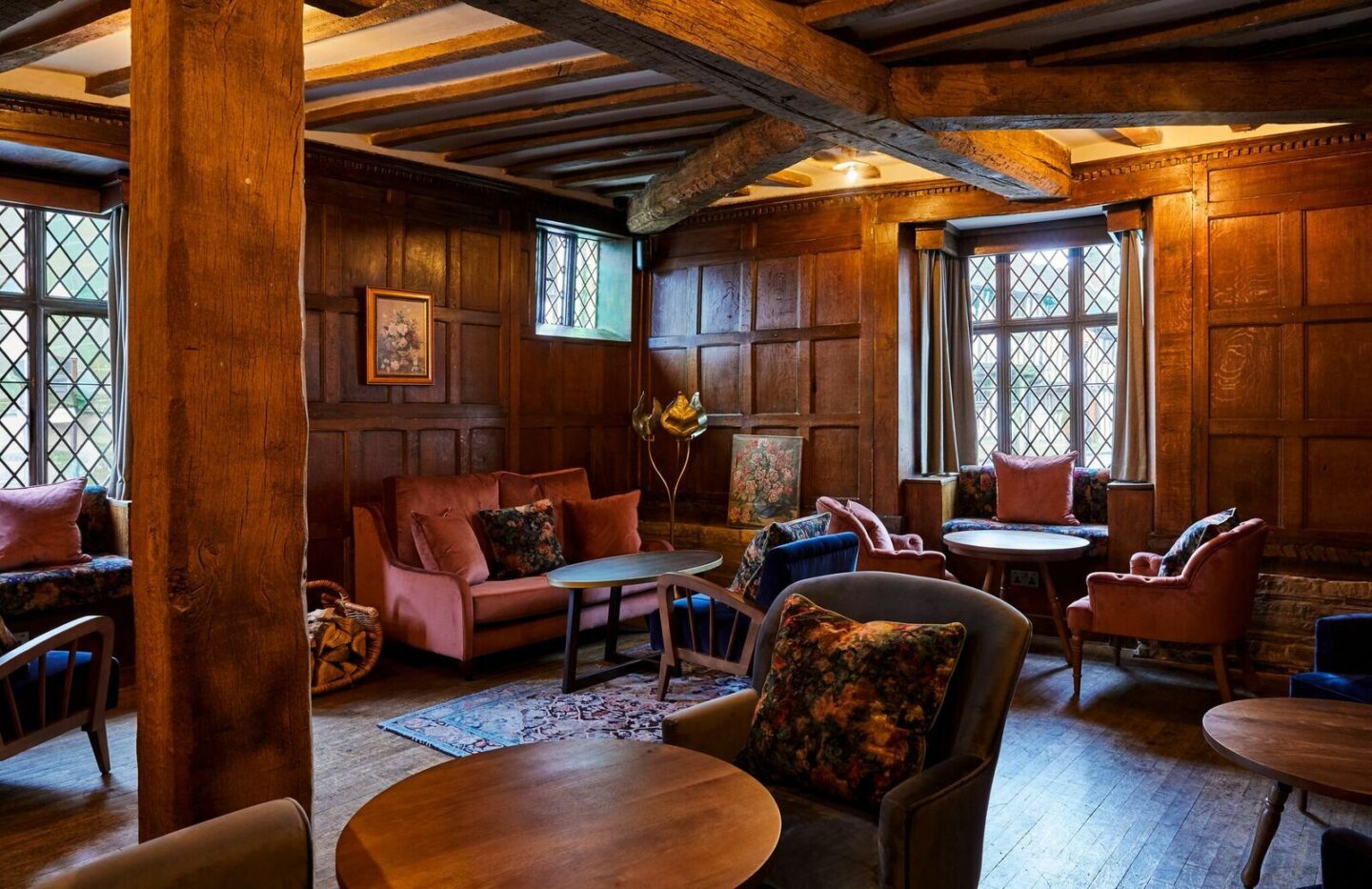 What I really love about the Hotel Indigo brand is that no two hotels are alike. Each of the hotels takes design inspiration from the neighborhood around each property. You can expect the same high standards, but each Hotel Indigo features thoughtful design touches that really connect with the spirit and essence of the locality it's in.
The amenities at the hotel excelled all of my expectations. I knew from the photos and reviews I'd read before booking that it was a nice hotel, but what I experienced went above and beyond the standards, I expect from a boutique hotel.
To sum up my experience at Hotel Indigo Stratford I'd say it was the perfect balance of style, history, cleanliness, and warmth. A whole lot of heart.
Room rates from £129 for bed and breakfast and you can book here using this link.