Thinking of visiting San Juan Puerto Rico? If you are looking for an island getaway but don't want to wait around for your friends' two-week vacation? Why not just set out on a solo adventure! San Juan is a perfect place to visit on your own with safe vibes, easy-to-get-around transportation, and plenty to keep you busy. If you're into sunny weather and captivating culture, look no further than Puerto Rico. After all, they don't call it the "Isle of Enchantment" for nothing.
Founded in 1521 by Juan Ponce de León, San Juan is the capital of Puerto Rico with rich Spanish and French traditions. The city is divided into different sections, including Old San Juan, Tourist Beach Area, and outlying communities (Rio Piedras, Hato Rey, Puerta de Tierra, and Santurce). When planning your trip, you'll be looking to mostly visit Old San Juan and the Beach Area.
After a major category 5 hurricane devastated the island in 2017, Puerto Rico as a country has been steadily recovering. Fortunately, the City of San Juan bounced back quickly and is fully open for business with a healthy appetite for tourism!
Did You Get Travel Insurance Yet?

If 2020 taught us anything, it's that you need to be prepared for anything!

The Insurance companies I personally recommend are Hey Mondo, Passport Nomads, Safety Wing, and Travel Insurance Master

Hey Mondo is great if you are looking for a great value flexible policy. They offer single-trip cover, annual multi-trip cover, and long-term travel cover.

Passport Nomads provides the most comprehensive cover for Digital Nomads. If you find yourself in need of medical care you just contact them and they will pre-load your card with the funds to cover your treatment, meaning you won't need to pay out of pocket and then put in a claim later.

Safety Wing is great value with monthly cover starting at $39. It's super easy to use and it just renews each month. I currently use them as they offer me free cover for my son as part of my policy.

I also use Travel Insurance Master for short trips.

Read my full travel insurance post here where I go into detail about all 4 companies.
Top Things To Do When Visiting San Juan Puerto Rico
San Juan is jam-packed with things for you to do when planning one day in San Juan . Whether you're looking to relax on the beach, salsa dance the night away, or stuff your face with Caribbean food, San Juan is the place for you.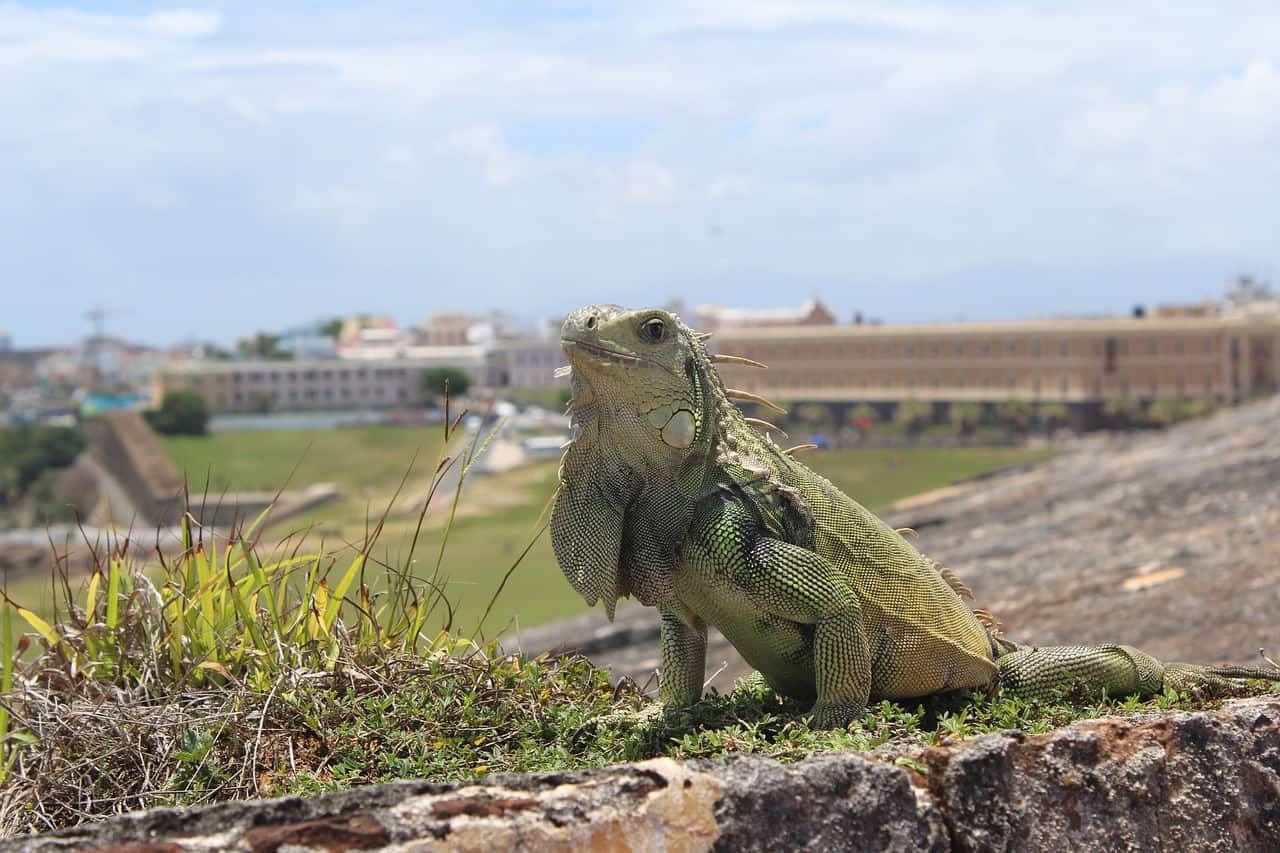 Quick Tip: Book accommodation, tours, and transport ahead of time online to save money and stress.
Best San Juan Tours: Click here to check out the top San Juan tours
Best San Juan Accommodation: Click here to check out the best accommodation in San Juan
Best San Juan Transport: Click here to book a bus, ferry, or train in San Juan
Visit San Juan Beaches
It's no secret that San Juan is famous for its beaches. And some of the best beaches in San Juan, Puerto Rico are right in the heart of San Juan, including Condado Beach, Ocean Park, and Isla Verde.
Condado has a Miami Beach vibe with plenty of parties and beautiful people. Head a little east of Condado Beach along the coast, and you'll find Ocean Park which is a bit quieter. Ocean Park is the place to hang out on a Sunday afternoon to watch the kite surfers with a beer in hand.
Keep heading east of Condado and Ocean Park to find Isla Verde, which was named by USA Today as a "Best Urban Beach." It's just a few minutes drive from the airport with a family vibe and lined with plenty of walkable hotels, restaurants, and shops.
Wander Around Old San Juan
Head to historic Old San Juan to immerse yourself in Puerto Rican culture. You can easily get lost walking along the cobblestone streets with cocktail bars, restaurants, shady plazas, and brightly colored houses dating back to the 16th century.
Old San Juan makes for a perfect day trip to visit San Felipe del Morro and Cristóbal fortresses (if you're into history). On most sunny days, you can find families sitting on the giant lawn in front of San Felipe del Morro flying kites and enjoying the ocean view.
At night, you'll find live music on nearly every street, dance floors dedicated to salsa, and rooftop wine bars where you can sip a glass and people-watch below.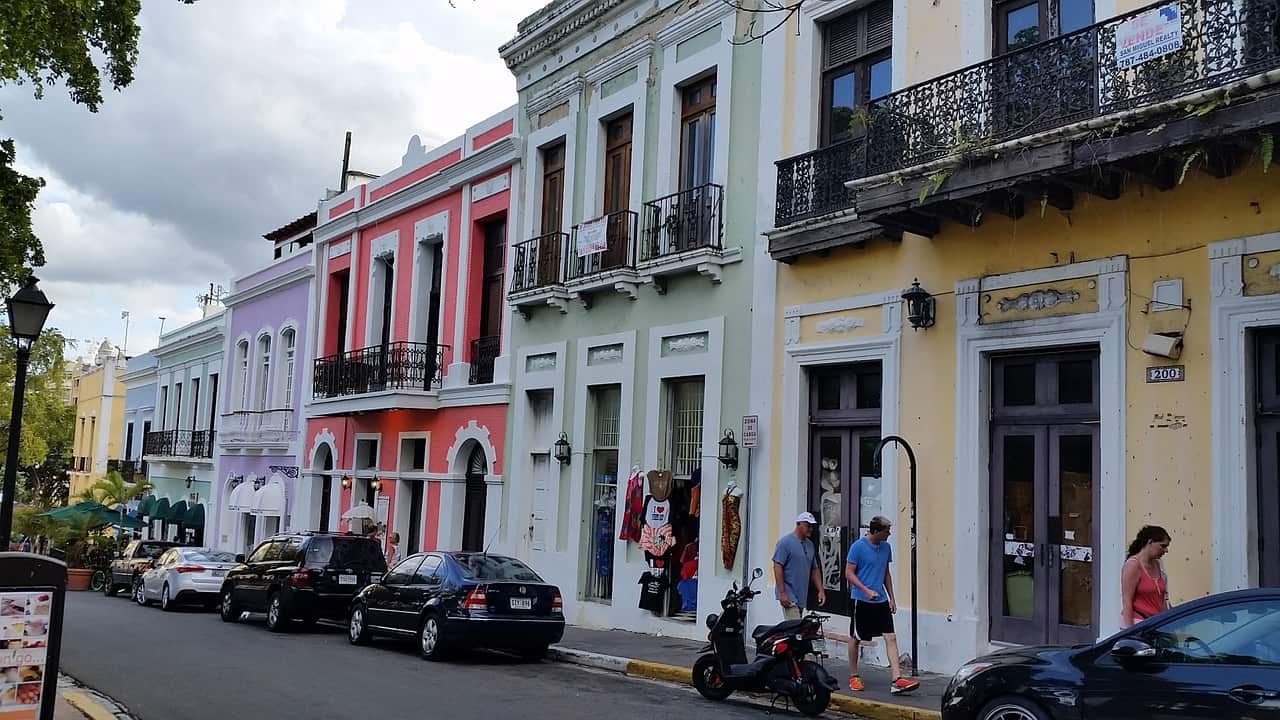 Visit La Perla
La Perla is a shanty downtown located along the northern historic wall of Old San Juan, about 650 yards long. It's filled with brightly colored houses down the slope from Calle Norzagaray. It's been known in the past as a dangerous neighborhood; however, the area is experiencing a revival with new restaurants and shops starting to pop up. While I wouldn't recommend walking the streets at night, La Perla is perfectly safe to visit during the day.
You might recognize La Perla which was made famous as the on-site location of Luis Fonsi's "Despacito" video. It's become more of a tourist attraction since the video, but it's still worth visiting to take a walk along the rocky coast. My must-eat recommendation for La Perla is a restaurant called La Garita which boasts expansive ocean views while you eat your lunch of fresh ceviche and mofongo (mashed plantains).
Check out the Street Art
In an effort to revitalize the Santurce area of San Juan, a street art movement has taken place to support the revival. The area is home to the Santurce Es Ley ("Santurce is Law") Project, which has now turned into an international festival with visiting artists. Put on your walking shoes, and head to Calle Cerra where you can take a self-guided walking tour taking in impressive street murals on nearly every wall and corner.
Snorkeling Day Trip to Culebra
No trip to Puerto Rico would be complete without spending some time out on the water. Just east of San Juan, you'll find a small island of its own: Culebra.
Every one of the San Juan day tours to Culebra will take you to stunning Flamenco Beach. You'll be able to get out into the water, walk along the beach on a sheltered horseshoe-shaped bay, and snorkel one of the most beautiful reefs in the Caribbean. It's no wonder Flamenco Beach is consistently ranked as one of the "World's Best Beaches."
To book your day trip, I recommend checking out East Island Excursions which is one of the most reputable tour companies on the island.
El Yunque Rainforest
If you're up for an adventure, about an hour's drive away from San Juan you'll find El Yunque Rainforest, the only national rainforest located in the United States. Yunque is one of the smallest known rainforests, but it's incredibly diverse with hundreds of animal and plant species. It's well worth the drive to set out on a trail and explore the lush rainforest and massive waterfalls.
Nightlife in San Juan
Once you've taken a nap from your day of exploring, it's time to experience the abundant nightlife in San Juan. My favorite nightlife spot to visit is La Factoria found in Old San Juan. La Factoria was recently named one of the "Best 50 Bars in the World" where you can find live salsa dancing on several nights a week.
Another great nightlight spot is right in the center of the city: La Placita. This area is a big open-air square packed with bars, live music, restaurants, food trucks, and people dancing in the streets. You can almost always find a lively party here on most nights of the week.
If you love rum cocktails and are looking to learn a bit more about San Juan culture, check out Spoon Food Tours' "Sip & Savor Cocktail Tour." This tour lasts a couple of hours beginning at 5:30 pm where your guide leads a group bar crawl around Old San Juan, explaining more about the city's history while you sip rum cocktails along the way.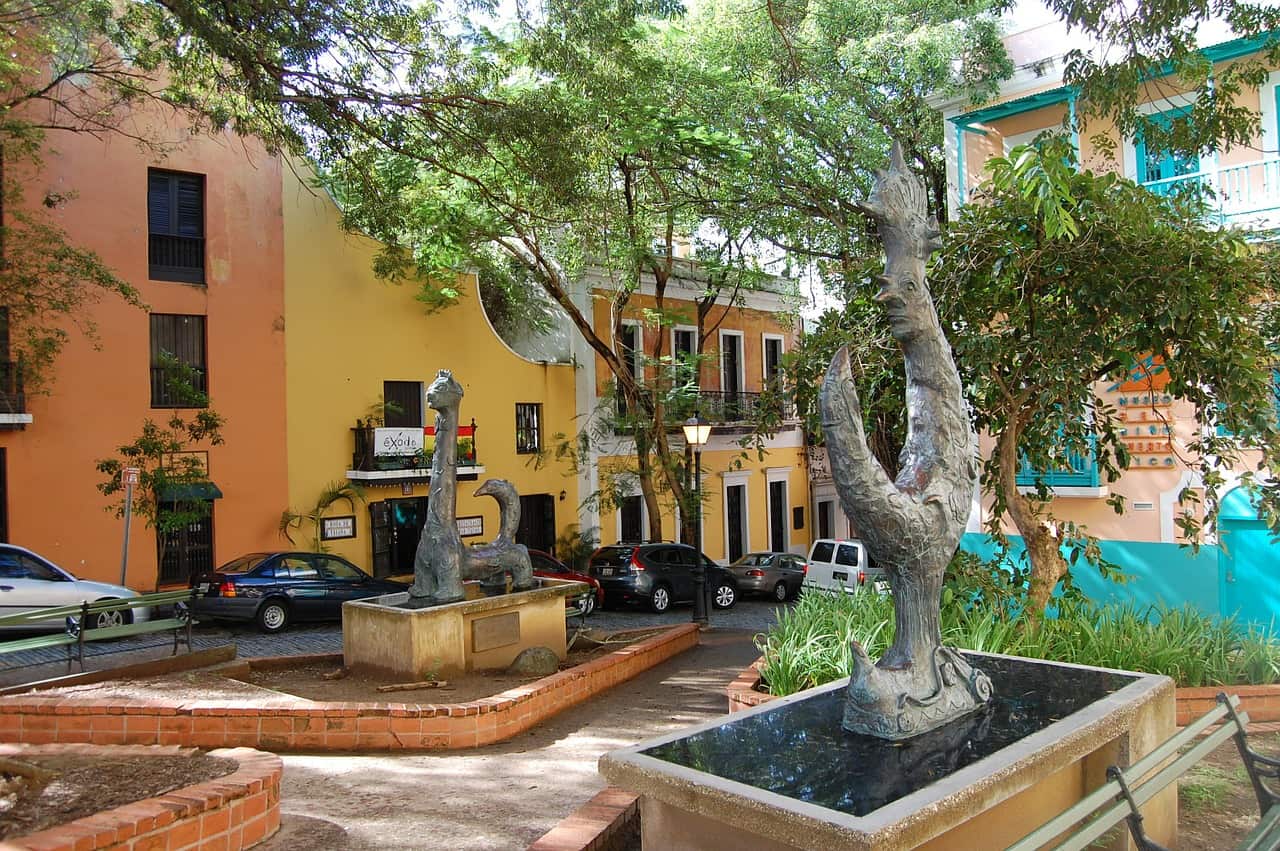 Transportation in San Juan
San Juan has a great public transportation system with an active bus line that can take you around all of the main parts of the city, including getting from the center of the city to Old San Juan and back.
One of the best ways to get around San Juan is by using Uber. The app is very active in San Juan and actually quite cheap. Be aware that the city currently has a rule that does not allow Uber to pick you up at the airport. You CAN be dropped off at the airport through Uber; however, you will need to get a local taxi or rent a car to leave the airport once you land.
The Best Area To Stay In San Juan Puerto Rico
You'll find no shortage of places to stay around San Juan for all types of budgets. When planning your trip, I recommend looking in the following areas as they are the safest, most walkable, and you will find the most things to do: Old San Juan, Condado, Ocean Park, and Isla Verde.
Outsite (Low-Mid, Old San Juan)
This is a 13-bedroom, fully renovated mansion-like house located on a quiet street in Old San Juan directly across from the ocean. Outsite is a co-living space where other solo travelers and digital nomads stay for a few nights up to a few weeks. The house has a shared kitchen, courtyard, and co-working space if you need to hop on a laptop and get some work done.
Intercontinental Hotel (Mid, Isla Verde)
Only a 1.2-mile drive from the Luis Munoz Marin International Airport, you'll find the Intercontinental Hotel located in Isla Verde. You can walk just steps from your room to the beach where you can enjoy the hotel's beach amenities. The Intercontinental also has plenty of on-site restaurants and a full-service spa to enjoy.
El Convento (High, Old San Juan)
If you're looking to spoil yourself for a few nights, this is the hotel to stay. El Convento is located in Old San Juan just steps away from historic landmarks and nightlife. It was the first "Small Luxury Hotel of the World" located in Puerto Rico and also the oldest member of the "Historic Hotels of America."
The hotel has a relationship with the Courtyard Marriott in the Isla Verde Beach Area, so you can take advantage of their umbrellas and chairs when you're ready to hit the beach.
La Concha Renaissance Hotel (High, Condado)
Located right on Condado Beach, La Concha is a well-known luxury hotel within walking distance to everything San Juan has to offer. It's an architectural landmark that's been renovated for the 21st century. Is anyone down to sip a cocktail in the infinity pool overlooking the ocean while watching a sunset? Yes, please!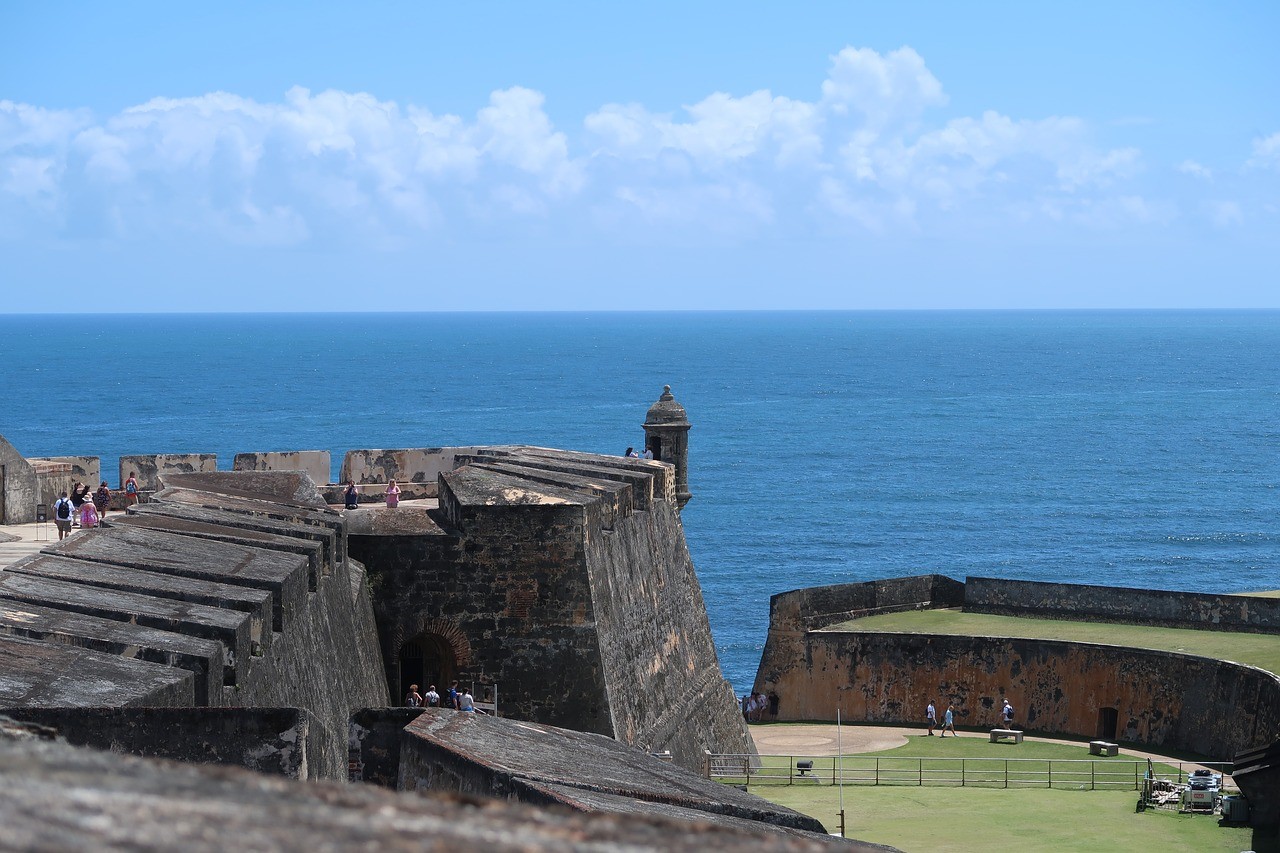 Safety Tips For San Juan
Most areas of San Juan are very safe for solo travelers to visit. You'll find plenty of solo travelers enjoying the beaches, visiting the museums, and sightseeing around San Juan.
If you decide to head out at night solo, be sure to exercise caution, just as you would in any major city. When walking at night, I would recommend staying near the more touristy areas that are closer to the water (Old San Juan, Condado, Ocean Park). Crime is definitely existent in San Juan; however, you'll find that the majority of locals are friendly and helpful.
San Juan Travel Guide Planning
🚗 Where can I book bus or private transportation while I'm in San Juan?
I strongly recommend using Bookaway. You can book online with local operators and have 24/7 customer support.
🎫 Where can I buy tickets for museums, attractions, and tours in San Juan?
I recommend either Viator or GetYour Guide. They have a lot of options!
👩‍⚕️ What is the best insurance to have while traveling?
I recommend using Heymondo for a great value policy. The app also offers you 24/7 Dr Chat. For Digital Nomads check out SafetyWing digital nomad insurance.
I have also written a blog post covering all my recommended travel insurance here
✈️ Any flight recommendations?
WayAWay offers you cheap flights with cashback. You can use this code CLAIRE22 to get 10% off. Otherwise Skyscanner or Expedia are my go-to flight searching platforms.
📱What do you use for internet connection while traveling?
I'm a big fan of personal WiFi devices and they have saved my ass so many times when traveling. I wrote a full review of the top travel WiFi devices you can read here. I personally use GlocalMe as I can either pop in a physical sim card or use their local carrier.
With regards to my phone connection, I use e-sims while traveling, so rather than having to swap out my regular sim card I can download the app and buy a virtual sim card. I recommend using eitherAirhub or Alosim. Both have great coverage of multiple countries and are very easy to use.
🛏️ What is the best platform to use for booking accommodation?
The 3 best platforms that I normally use are Booking.com, Hotels.com, and Expedia They offer great deals and multiple options. I always check all three to be sure of the best deals.
🛅 Do you have any luggage recommendations for traveling?
I do have a complete list of the best packing and luggage products that I recommend, you can check the list here. I'm currently traveling with this suitcase and this backpack.
Tips for Solo Travelers in San Juan
If you've decided to set out on an adventure as a solo traveler, congrats! Many are too nervous to take the plunge, but I highly recommend it. Here are a few tips to consider during your solo trip:
-Look into booking a group tour through a local tour company or the Airbnb Experiences app. Taking a group tour is a great way to meet other travelers.
-Consider booking a hostel or co-living space, like Outsite in Old San Juan. These accommodations host travelers who tend to be traveling alone and have the same "solo travel" mindset as you.
-Talk to people! Even if you're just in a coffee shop waiting in line, strike up a conversation with the baristas or others waiting for their coffee. This is a great way to find "insider info" on the best areas to visit in a new city and breaks down the barrier of feeling like you're "alone" while you travel.
–Learn at least a little bit of the language. Puerto Rico's official languages are both English and Spanish; however, every Puerto Rican will appreciate your effort in trying to use your Spanish skills. Speaking more of the local language is a sure way to make better connections with locals.
I took this course ran by my friends at Heart of Travel.
Final Thoughts
Traveling solo lets you explore at your own pace and discover a new city through a pair of fresh eyes.
San Juan is the perfect place to visit when you're ready to head out on an adventure or weekend getaway as a solo traveler.
You'll find that most of the tourist areas of San Juan are walkable, safe to visit, and will entice you with its mix of charm and authentic Caribbean culture. So, what are you waiting for?
Author Bio
Wes is a freelance writer and blogger who writes about travel and the digital nomad life on his blog Wes Meets World. When he's not traveling, he enjoys spending time at home in Kentucky with his chihuahua, Auggie, and drinking copious amounts of espresso.
Follow on Instagram