Home to over 2,000 natural sandstone arches of every shape and size, Arches National Park is the second most visited of Utah's Mighty Five National Parks after Zion National Park. The stunning desert landscape featuring red rock pinnacles, spires, windows, and, of course, Arches is a Unites States favorite, drawing nearly 2 million visitors in 2021!
The best way to experience Arches National Park is to take a hike to get up close to the many magnificent sandstone arches and red rock formations. Most of the hikes in Arches are easy to moderate in difficulty and easily accessible, making it a great place for hikers of all experience levels to explore. In this article, we've rounded up 10 of the best hikes in Arches National Park to help you plan the perfect trip!
Did You Get Travel Insurance Yet?
If 2020 taught us anything, it's that you need to be prepared for anything! Travel insurance has always been high my list of things to get before I travel but now more than ever its at the top of my list.

I'm pretty sure we have all had travel plans messed up because of COVID and not all insurers covered this. So when looking for travel insurance it's important to check it covers travel disruption due to COVID-19, Hey Mondo, Passport Nomads, Safety Wing, and Travel Insurance Master all provide cover for this.

Hey Mondo is great if you are looking for a great value flexible policy. They offer single trip cover, annual multi trip cover, and long term travel cover. You even have the option to start the cover when you are already on your trip, although you won't be covered for the first 72 hours. For me my favourite feature is their app which offers you a 24/7 Dr chat and the ability to file a claim direct in the app.

Passport Nomads provides the most comprehensive cover for Digital Nomads. The game changer with them is that you have a red card and if you find yourself in need of medical care you just contact them and they will pre load your card with the funds to cover your treatment, meaning you won't need to pay out of pocket and then put in a claim later.

Safety Wing is great value with monthly cover starting at $39. It's super easy to use and it just renews each month. They have an excess of $250 and it's simple to make a claim through their website. I currently use them as they offer me free cover for my son as part of my policy and I like that it renews on a monthly basis, so I don't have to pay out a big lump sum up front.

I also use Travel Insurance Master for some short vacation type trips.

If you are doing shorter trips or an extended backpacking trip then Hey Mondo or Travel Insurance Master are the best option. If you are a digital nomad or planning travel of at least 6 months then go for Passport Nomads or SafetyWing.
Things to Know Before You Go to Arches National Park
During peak season (April through October), timed entrance tickets are required to enter the park. Entrance tickets may be reserved 3 months in advance of your trip starting at 8:00am MT on recreation.gov.
Traffic can often back up in the park and trailhead parking areas fill up quickly. Be prepared to wait and visit early in the morning for the best chance of avoiding crowds.
Admission to Arches National Park costs $30 per vehicle and is good for 7 days. Alternatively, you can purchase an annual America the Beautiful Pass, giving you entrance to all U.S. National Parks for one year for $80.
This is the desert so the air can get quite dry. So, be sure to bring plenty of water and pack any other essentials for a day hike too.
Pets are not permitted on hiking trails, overlooks or in visitors centers. They may be brought to established campgrounds, but must be kept on leash at all times.
The best time to hike in Arches National Park is during the spring and fall, as lack of shade and extreme heat makes hiking dangerous in the summer. Always pack extra water and sun protection, no matter the season, when hiking in Arches.
The closest town and best place to stay when visiting Arches National Park is Moab, Utah. And don't miss out on the nearby Canyonlands National Park during your visit. Our favorite hike in Canyonlands is Druid Arch in the Needles District!
Leave No Trace
Please do your part in protecting the beautiful landscapes found in Arches National Park and remember to Leave No Trace. Refrain from carving or drawing on the arches and rock formations, always stay on established trails, be prepared to hike in the harsh desert climate with plenty of water and sun protection, and pack out any food or trash that you carry with you.
10 Best Hikes in Arches National Park
Map of the Best Hikes in Arches National Park
The map below displays the location of the trailheads for each of the best hikes in Arches National Park, along with key arches and other landmarks.
1. Delicate Arch
Distance: 3 miles
Elevation gain: 550 feet
Difficulty: Moderate
Total time: 2 hours
One of the most iconic geological landmarks in the American Southwest, no trip to Arches National Park is complete without visiting Delicate Arch. Not only is Delicate Arch the most famous in the park, it's also the largest freestanding arch in the area, reaching 46 feet high and 32 feet wide! The massive sandstone arch is framed by snowy mountain peaks in the distance, making for a truly spectacular sight.
Easily one of the best hikes in southern Utah, getting up close to Delicate Arch requires a moderately challenging 3 mile round trip hike that gains about 550 feet of elevation. Seeing this iconic arch in person is well worth the effort required. That being said, don't expect to have the view to yourself! Delicate Arch draws huge crowds every day, and it's not uncommon to wait in line for a photo under the arch, even if you visit at sunrise.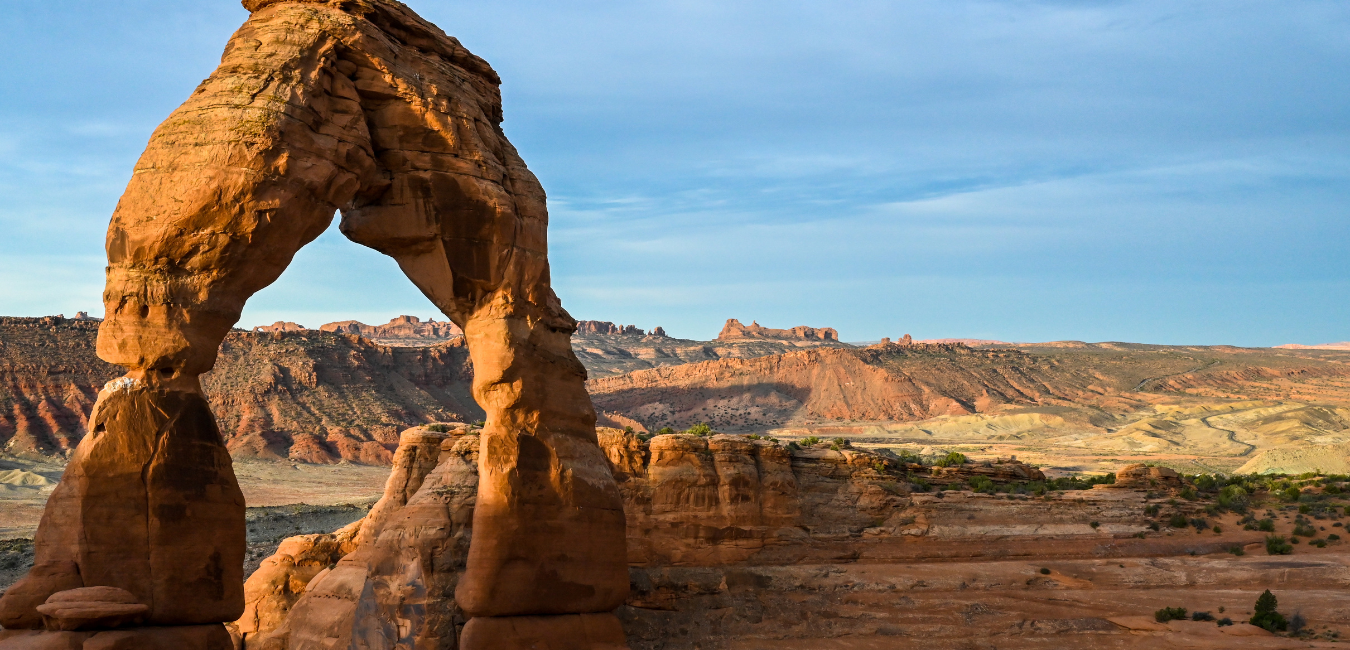 2. Delicate Arch Viewpoint
Distance: 0.7 miles
Elevation gain: 140 feet
Difficulty: Easy
Total time: 30 minutes
If you want to catch a glimpse of the famous Delicate Arch, but don't have the time or energy for the full hike described above, Delicate Arch can also be seen from a viewpoint accessible via a short 0.5
mile round trip hike that departs from Wolfe Ranch. While this trail will NOT bring you up close to the arch, it does offer a nice view of Delicate Arch in the distance.
3. Landscape Arch
Distance: 2 miles
Elevation gain: 250 feet
Difficulty: Easy
Total time: 1 – 2 hours
While Delicate Arch takes the cake for largest free-standing arch in the park, the Landscape Arch is considered as the longest arch in North America, with a length of 306 feet! The long, thin sliver of sandstone looks like it could crumble at any moment and really puts into perspective the fragility of the rock formations found throughout Arches National Park. In fact, pieces of Landscape Arch did break off and come crashing down in the 1990's. However, despite its extremely narrow center, Landscape Arch continues to hang on by a thread!
Landscape Arch is located in the Devil's Garden, and is accessible via an easy 2 mile round trip hike that is paved and easily accessible.
4. Double O Arch
Distance: 4 miles
Elevation gain: 650 feet
Difficulty: Moderate
Total time: 2 – 3 hours
Also located in Devil's Garden, Double O Arch is unique because it features two arches, one on top of the other, carved out a red rock wall. The hike to Double O Arch is moderately difficult, covering 4 miles round trip and 650 feet of elevation gain. Double O Arch is one of the best hikes in Arches National Park because it features a very different type of arch, the chance to see several other arches along the way, and tends to have fewer crowds than many of the shorter hikes.
Along the hike to Double O Arch, you will pass by Landscape Arch. You can also tack on detours to several other arches, including Partition Arch, Navajo Arch, Pine Tree Arch, and Tunnel Arch, accessible via short spur trails.
5. Devil's Garden/Primitive Loop
Distance: 8 miles
Elevation gain: 1,100 feet
Difficulty: Hard
Total time: 4 – 6 hours
The Devil's Garden/Primitive Trail is the longest hike in Arches National Park and easily our favorite trail! Along this 8-mile loop, you'll have the chance to see at least seven awesome arches, including Landscape Arch and Double O Arch. Hiking Devil's Garden is the best way to get away from the crowds and find a bit of solitude in Arches, while exploring one of the most beautiful and arch-dense areas of the park.
The full Devil's Garden/Primitive Trail Loop totals 8 miles and 1,100 feet of elevation gain, making it a fairly difficult hike. The most challenging part of the hike is the eastern side of the loop, known as the Primitive Trail. The trail includes a few difficult rock scrambles and can be a challenge to follow in some places. We recommend having a means of offline navigation, such as downloading the trail map on AllTrails Pro. That being said, the effort is well worth it as Devil's Garden is definitely one of the best hikes in Arches National Park.
6. Window Loop & Turret Arch
Distance: 1.2 miles
Elevation gain: 150 feet
Difficulty: Easy
Total time: 30 minutes – 1 hour
This short 1.2 mile loop hike offers the chance to see three beautiful arches! The largest arch on the loop is the North Window, which you can hike all the way up under for a nice view looking out across the desert landscape. The Turret Arch is a tall arch, cut out of a unique rock formation with a smaller circular arch next to it, accessible via just a short detour off the main loop. You can walk all the way through Turret Arch for a cool view looking back through it with North Window Arch in the background. Beyond Turret Arc and back on the loop trail is the South Window, which is smaller compared to the neighboring North Window, but still quite impressive carved high into the rock wall.
This is one of the most popular hikes in Arches National Park, so expect to share the trail with quite a few other hikers. Many people don't venture past South Window Arch, so the eastern side of the loop tends to be much quieter. It's definitely worth continuing all the way around the loop to escape the crowds and experience a unique view of both North and South Window Arches from the other side.
7. Double Arch
Distance: 0.6 miles
Elevation gain: 100 feet
Difficulty: Easy
Total time: 30 minutes
Although Delicate Arch will always steal the show, Double Arch is another one of the most popular and heavily photographed arches in the park! Double Arch technically consists of two massive sandstone arches that connect overhead, creating an enormous and incredible photogenic rock formation.
This 0.6 mile round trip hike is one of the best short hikes in Arches National Park, and it's definitely worthwhile to walk below Double Arch. It's possible to scramble up the steep section underneath the arch to see it from a different angle, but be sure to use caution as the loose rock can make it a challenging climb. The trailhead for Double Arch is located just across the parking lot from the Window Loop, making it easy to tackle these two hikes together.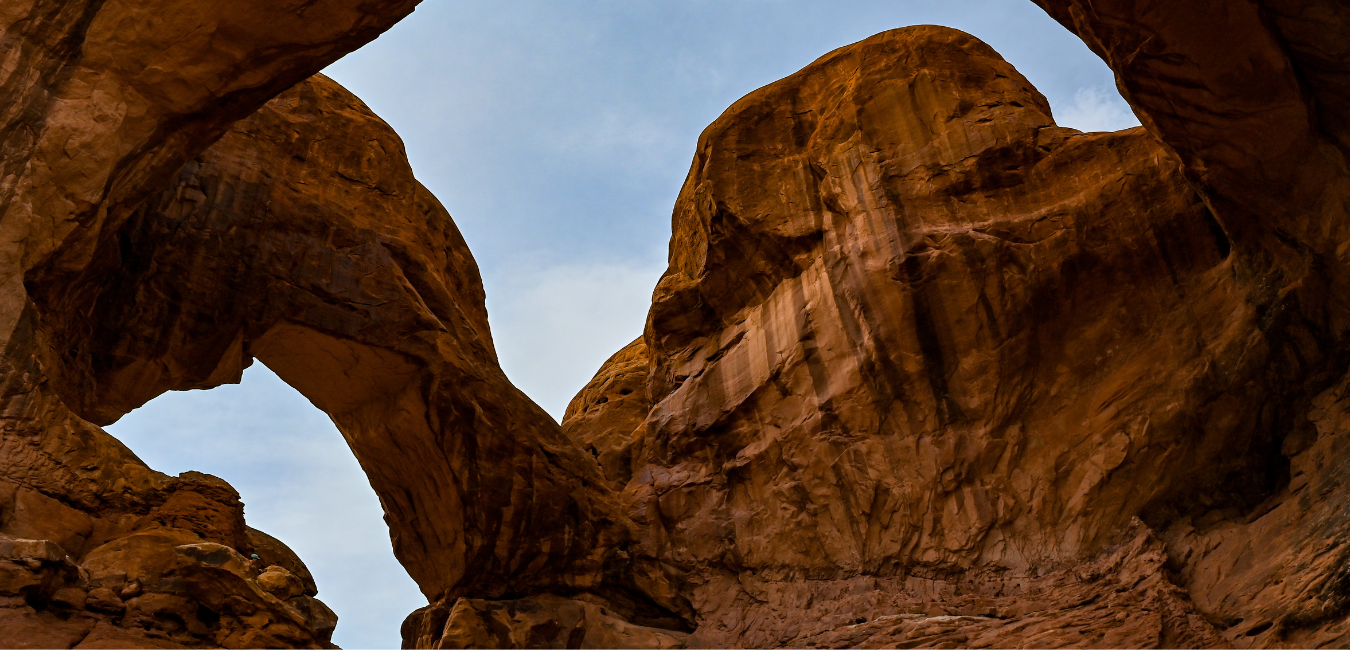 8. Sand Dune Arch
Distance: 0.3 miles
Elevation gain: 100 feet
Difficulty: Easy
Total time: 30 minutes
Sand Dune Arch is named after the thick layer of sand that covers the ground under the arch. Although the trail is only 0.3 miles long, walking through thick sand adds a bit of extra difficulty and may slow down your pace. The arch is tucked away between the walls of a narrow canyon, making for a fun and unique hike.
Sand Dune Arch is located in the northern section of the park, and can be easily combined with Tapestry Arch and Broken Arch (see below).
9. Tapestry Arch Loop
Distance: 0.6 miles
Elevation gain: 50 feet
Difficulty: Easy
Total time: 30 minutes
We thought Tapestry Arch was one of the more underrated hikes in Arches National Park. On a busy spring day in the park, we were surprised to have this arch entirely to ourselves! The hike is located on the northern end of the park and departs from Devil's Garden campground, making it an excellent choice for an early morning stroll if you are camping.
While perhaps not as visually stunning as the Windows or Double Arch, Tapestry Arch is an awesome option if you're looking for a short hike without the crowds. For the coolest view, walk underneath the arch and look out!
10. Broken Arch Loop
Distance: 1.3 miles (add 0.4 miles to include Tapestry Arch)
Elevation gain: 150 feet
Difficulty: Easy
Total time: 1 hour
While many of the arches in the park are given quite literal names (like Delicate, Window, Double, Double O, Sand Dune…), Broken Arch is a bit of a misnomer, as the arch is not actually broken, at least not yet! The arch features a narrow center that looks as though it may one day live up to its name (although, it seems much sturdier than Landscape Arch). Our favorite part of the hike is the views of the snow mountain peaks behind Broken Arch, offering a stunning contrast to the orange rocks.
Broken Arch can be accessed via an easy 1.3 mile loop trail with minimal elevation gain. This hike leads right underneath Broken Arch and is another quieter trail, offering a nice reprieve from the heavy crowds found on most of the best hikes in Arches National Park. It's possible to tack on Tapestry Arch to the hike via an out and back spur trail that adds 0.4 miles roundtrip. To extend the hike even farther, you can also continue to Sand Dune Arch, adding a total of 0.8 miles out and back.
Bottom Line
No matter what hike (or hikes) you choose, you're sure to enjoy your time in Arches National Park! This desert gem is popular for a reason and no visit to Utah is complete without a hike in Aches! If you are looking to make your experience even more interesting, you can also search for some paddleboard adventures in Utah. The only question is which hikes will you choose?
If you are looking for other hiking and adventure destinations in the United States, check these out: 12 Amazing Things to Do in Death Valley and Everything You Need To Know About Ubehebe Crater.
By Sarah & Matt of Two Outliers
Looking for a place to stay near Arches National Park?
---
Author Bio We're Sarah and Matt, two digital nomads, outdoor enthusiasts, and the creators of Two Outliers, an adventure travel and photography blog dedicated to helping you plan your next adventure! We road trip full-time across the United States along with our cat, Fitzgerald, while working full time and spending all our free time hiking, camping, backpacking, kayaking and exploring new places. We hope that our experiences will inspire you to be an outlier!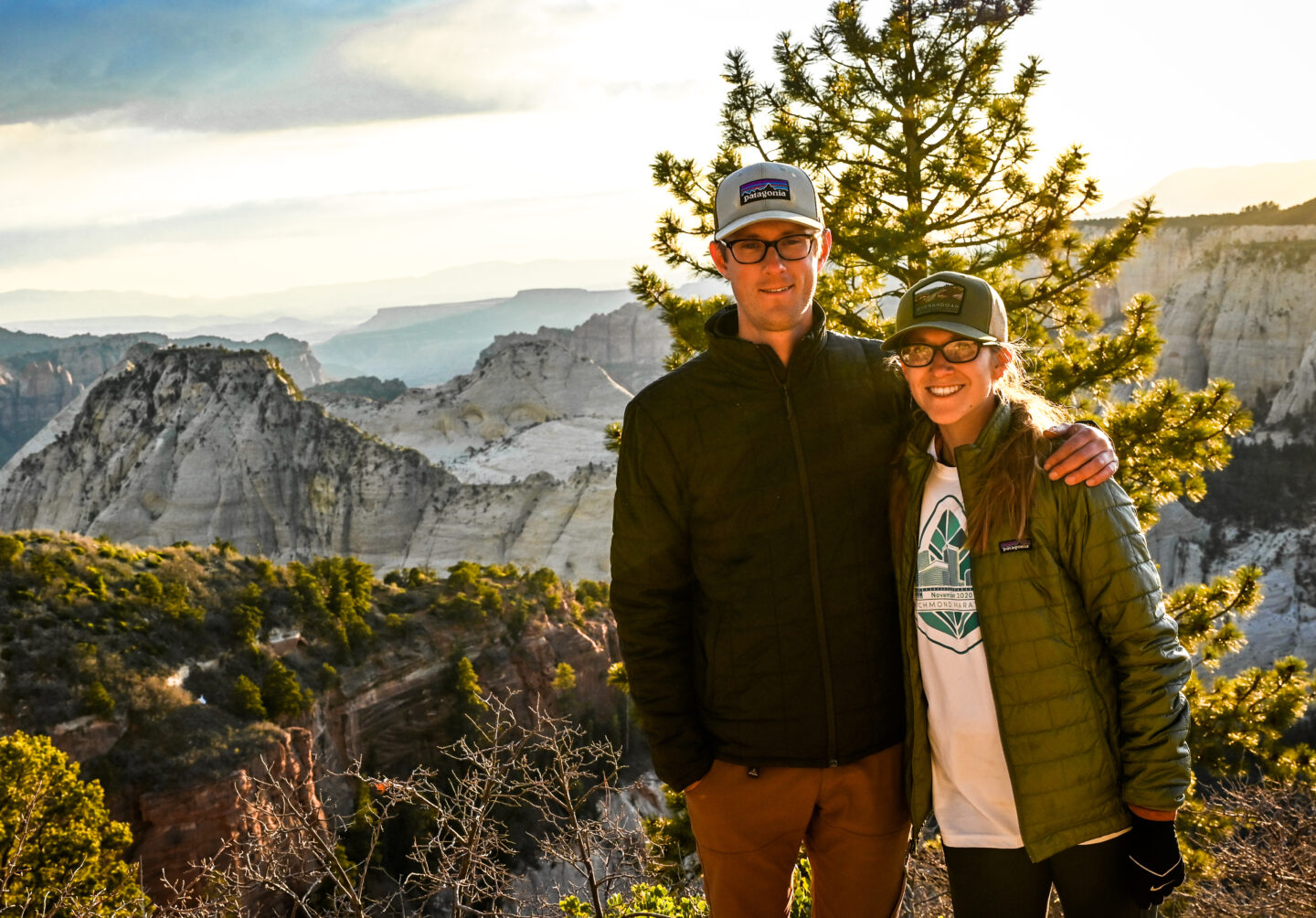 Pin for Later!