How to spend 4 days in Singapore is the ultimate go-to itinerary for your first-time visit to this incredible country. Singapore is fantastic, it's one of our favorites and certainly worth visiting but with so many amazing places, where do you start?
Luckily, with this Itinerary, I've got you covered. I'm going to make sure you get all the Singapore suggested itineraries trips and visit all the best attractions while enthralling yourself in the culture and heritage, hawker stalls, and wonderful architecture of Singapore.
You're not going to miss anything and by the time you leave, I promise, you'll be in love with Singapore too!
>> Read More: Surviving Singapore On A Budget
>> Read More: 5 Days In Singapore For Free: Itinerary For Budget Travellers
Did You Get Travel Insurance Yet?

If 2020 taught us anything, it's that you need to be prepared for anything!

The Insurance companies I personally recommend are Hey Mondo, Passport Nomads, Safety Wing, and Travel Insurance Master

Hey Mondo is great if you are looking for a great value flexible policy. They offer single-trip cover, annual multi-trip cover, and long-term travel cover.

Passport Nomads provides the most comprehensive cover for Digital Nomads. If you find yourself in need of medical care you just contact them and they will pre-load your card with the funds to cover your treatment, meaning you won't need to pay out of pocket and then put in a claim later.

Safety Wing is great value with monthly cover starting at $39. It's super easy to use and it just renews each month. I currently use them as they offer me free cover for my son as part of my policy.

I also use Travel Insurance Master for short trips.

Read my full travel insurance post here where I go into detail about all 4 companies.
4 Days In Singapore: Day 1
Singapore is known as the garden city, it promotes sustainability and has worked hard to become a lush urban environment. Clean living and beautiful green spaces have meant that Singapore is one of the greenest cities in the world.
Therefore, It's only fitting that day 1 out of your 4 days in Singapore should be spent exploring the gardens and parks Singapore is so famous for.
Morning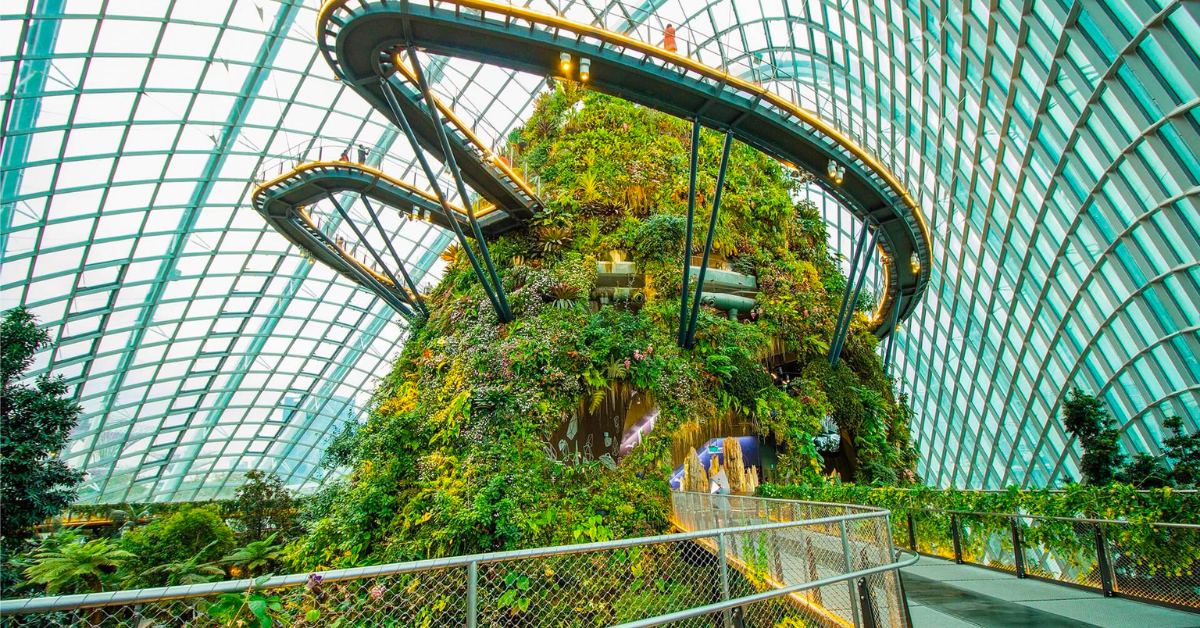 For your first day in Singapore, it's a great idea to head to Gardens by the Bay and tick off some of the best things about Singapore.
Gardens by the Bay is a free park where you can walk around and explore a load of different gardens full of tropical flora and educational material. However, for your first visit head to the world-famous Flower Dome and Cloud Dome.
You'll need around 3 hours to walk around them both at a leisurely pace. Jack and I like to read as much as possible and so take a long time with things like this. If you're the same, you might need to add some time!
The Cloud Forest is an internal cloud forest where on a short walk you'll be able to see stunning plants and trees growing at different levels.
Interesting fact: these plants have adapted to draw water directly from the cloud mist in a process known as horizontal precipitation. It was a really beautiful experience with an incredible mix of engineering and nature.
P.S this is where the waterfall is.
The Flower Dome is another greenhouse that features various gardens from all over the world. It's a horticulture dream, well laid out, and enjoyable to walk around.
Both domes have a wonderful display of orchids and colorful flowers which are perfect for picture backdrops!
Top tip: Head over to Satay by the Bay for lunch. Satay in Singapore means grilled meats on sticks and this place has some of the best.
Activity: Big Bus Tour (Yellow Line)
Est. time: 42 mins
Costs: £27.20
I love Big Bus Tours, I think they're great, especially in cities like Singapore. They provide such a great way to see the city and get your bearings. If used effectively, they can also save you money.
The Singapore Big Bus Tour has two routes, yellow and red. For this particular 4 days in Singapore itinerary, I suggest utilizing the yellow route. After you've finished your morning at the domes jump on at Stop 2.
Afternoon
I can guarantee you will love the Singapore Botanic Gardens. They were such a joy to walk around. You will need to get off your Big Bus Tour at Stop 10 to reach them.
The Singapore Botanic Gardens were established in1859 and have since been designated a UNESCO World Heritage Site. This came after years of dedication to agricultural development, conservation and education.
Now a leading tropical botanical institute, the gardens feature a variety of different spaces which are all free to enjoy. Our favorites were the healing garden, the foliage garden, the ginger gardens and Vanda Miss Joaquim Grove (Singapore's national flower).
Good to know: The National Orchid Garden is not free to enter. It costs S$15. We didn't visit it as we were traveling to Singapore on a budget and had just seen the wonderful orchid display inside the cloud dome.
Activity: Big Bus Tour (Yellow Line)
Est. time: 20 mins
Costs: incl. Above
Hop back on your trusty bus and continue back to the city. We're looking to get off at Stop 18 which will be the Raffles Hotel.
Evening
Activity: Raffles Hotel
Est. time: 45 mins
Costs: S$32 per cocktail
You've probably guessed by now that we're here for the famous Singapore Sling! The popular cocktail was first created in 1915 by bartender Ngiam Tong Boon at the Raffles Hotel. So, what better place to order one than at its original birthplace?
The Singapore Sling is usually a gin-based cocktail containing pineapple juice, lime juice, curaçao and bénédictine. The dazzling pinkness comes from grenadine and cherry liqueur.
Top tip: You will have to make a reservation as it gets busy and it's probably a good idea to do this as soon as possible, even before you leave, to ensure you get a slot.
Afterward, it's time for dinner, you'll notice a number of restaurants on the streets outside the Raffles Hotel. There's also the Raffles City Singapore Shopping mall which has a great food court or you can walk to the Golden Mile Hawker Centre 20 mins away.
4 Days In Singapore: Day 2
Bursting with traditions and beliefs from a multitude of different cultures, Singapore is a country with a rich heritage that has allowed many people to build a life within its confines.
Enjoy spending your trip walking through the different neighborhoods, mixing with locals, and trying flavors from all over Asia.
Morning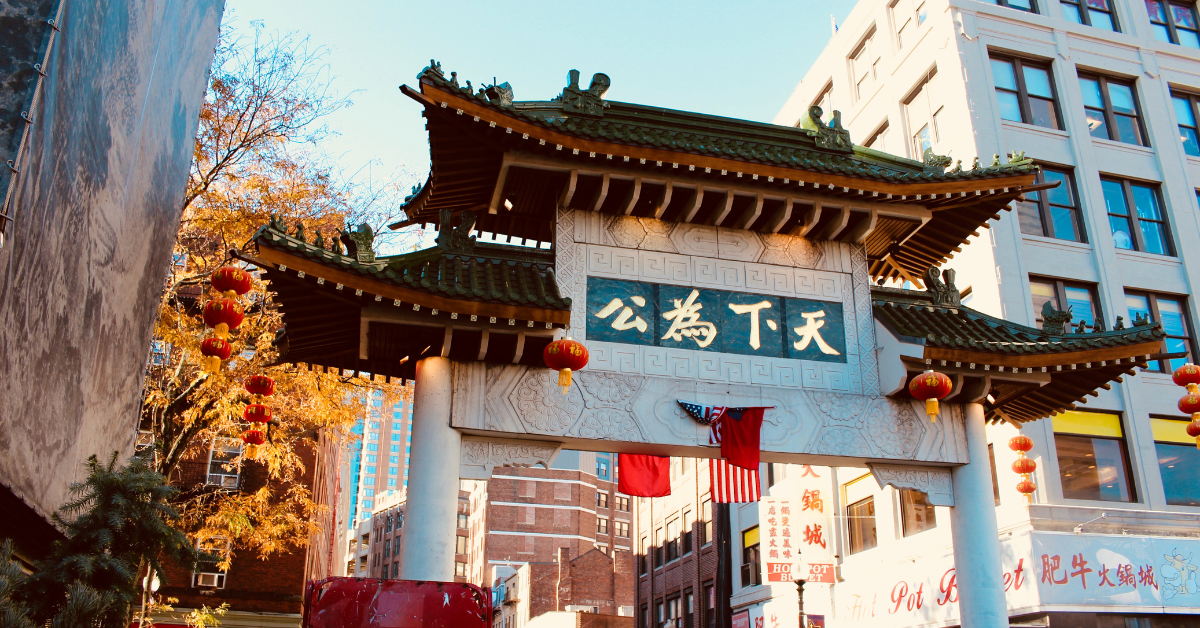 Day 2 of your 4 days in Singapore will be all about exploring Singapore's rich culture and heritage. Singapore has a variety of cultures that stem from many different ethnicities and beliefs; learn about its past and how it's developed through the years.
The main areas to visit are Little India, Kampong Glam, and Chinatown, each with its own wonderful story. The architecture is something to admire, you'll notice temples and mosques, street art, and 19th-century buildings.
The bustling atmosphere in each neighborhood really makes the heritage trails in Singapore amazing. We loved strolling through the streets and finding quirky areas to grab a coffee and lunch.
There are a couple of ways to discover these areas. You can either go on a self-guided heritage walk which is completely free or you can join a tour. Both options are amazing but it's always good to have a guide who can explain the significance and history of certain places.
You Can Book Your Heritage Trail Tour Today!
Whichever you choose, try and finish your walk in Chinatown. This way you can head to one of the main Hawker Centres in Singapore for lunch.
The food culture in Singapore is quite something and the Hawker Centres are celebrated throughout Singapore by tourists and locals alike.
Maxwell Food Court offers a fusion of different dishes from countries such as China, Korea, India, and Thailand. Try and order some classic dishes such as chicken and rice, dim sum, or chili crab.
Afternoon
After lunch, it's time to head to the much-celebrated Art-Science museum back in the Bay Area. The museum is pretty cool, to say the least. It's a collection of high-tech, interactive and immersive installations in one of the most iconic structures in Singapore.
We had a lot of fun playing with the intelligent lights and reading educational material however I would say it was busy. Try not to go on weekends or public holidays to get the best experience.
If you purchase tickets online you can avoid some of the queues however you can buy them at the box office too. It's also possible to rent interactive digital guides with audio commentary for S$3.
We didn't, but in hindsight, it might have been a good idea as we didn't have enough time to read as much as we would have liked as we were rushed onto the next area.
Even so, the experience was great and certainly something worth doing during your 4 days in Singapore.
Afterward, it's time to step back into the light and wander around Gardens by the Bay. This time just too stroll around the free gardens or any areas you missed or wanted to re-visit from your first trip.
I've left the exploration of the Bay Area until now as I think it fits in nicely with this itinerary and also leaves you enough time for the Singapore Botanical Garden on the first day.
There are a few areas within Gardens by the Bay that we enjoyed, such as Supertree Grove, the river walk along Kingfisher Lake, the Sun Pavillion, and Serene Garden.
The water fountains on the lakes were really pretty to watch too and the whole place was so peaceful that we spent a good few hours just walking around. We did get a little lost but in the end, we came out somewhere familiar.
This is also your opportunity to visit the Supertree Observatory or OCBC Skywalk.
We did the Skywalk in the evening and it was pretty cool. There were beautiful changing lights and the city was all lit up.
However, I think visiting during daylight hours would have been even better, as the views would have been spectacular, so that's why I'm suggesting doing it at this time.
Keep in mind the Supertree Observatory costs S$6 and the OCBC Skywalk costs S$8.
Evening
Activity: Ce Le Vie at Marina Bay Sands
Est. time: 45 mins
Costs: S$32 per cocktail
Good to know: The golden hour in Singapore is between 6:00 pm and 7:15 pm, depending on what time of the year you visit.
Jack and I witnessed one of the best sunsets at Ce Le Vie during our 4 days in Singapore and so I'm happy to recommend you visit there too! That being said and if I'm honest, the cocktails weren't that great but the view more than made up for it.
The rooftop bar/lounge does also have a restaurant and so if you're in the mood for some expensive dining you can make reservations there.
If not, head down to the food court in the basement where you will find a large selection of cuisines for a lot less!
Activity: Gardens Rhapsody (Supertree Grove Light Show)
Est. time: 15 mins
Costs: Free
Luckily, every evening at Gardens by the Bay there is a light show at Supertree Grove which is really wonderful. The whole area lights up with changing colors dancing up and down the huge trees.
It's certainly something that shouldn't be missed and worth sticking around for. The Gardens are open well into the night so you won't have any problems and the best thing is that it's a free activity!
4 Days In Singapore: Day 3
True to its name as a Garden City, Singapore has many parks and gardens. One of the most loved by tourists and locals is known as Southern Ridges. Spend your day in nature!
Morning
Day 3 of your 4 days in Singapore and it's time to head to the Southern Ridges National Park. The popular park is loved by locals and tourists who want to escape the busy city and get some fresh air.
The park connects five parks along the southern ridge of Singapore and has a jungle-like canopy of trees and flora and architecturally magnificent walkways. The most noteworthy is Henderson Waves.
The iconic design is a distinctive wave-like structure above the canopy. The park is full of tropical plants and wildlife and is a great place for bird-watching.
There are many trails leading in and out of the park so it's up to you how long you spend exploring, however, I think around 3 hours is a good amount of time to enjoy the space.
We took the trail starting at Mount Faber Park and heading north. You will pass Henderson Waves early on, Alkaff Mansion was a lovely place to stop for refreshments before continuing through the park.
You'll pass Hort Park where we enjoyed walking along the trail and amongst the trees before finishing off at Kent Ridge Park at the Battle of Pasir Panjang landmark.
Afternoon
Activity: Back to Hotel
Est. time: 3 hours
Costs: N/a
Time for a shower and a little rest after all that walking.
If you fancy it you could head to the Peranakan Houses in Joo Chait. It's quite a trek (about 45 mins from central) and although they are wonderful for a photo opp it's a long journey for just a photo.
Joo Chait, where the Peranakan Houses are, is a charming little neighborhood full of coffee shops and boutiques. So, it's up to you if you want to make the journey or just chill in your hotel before the evening's antics.
Late Afternoon & Evening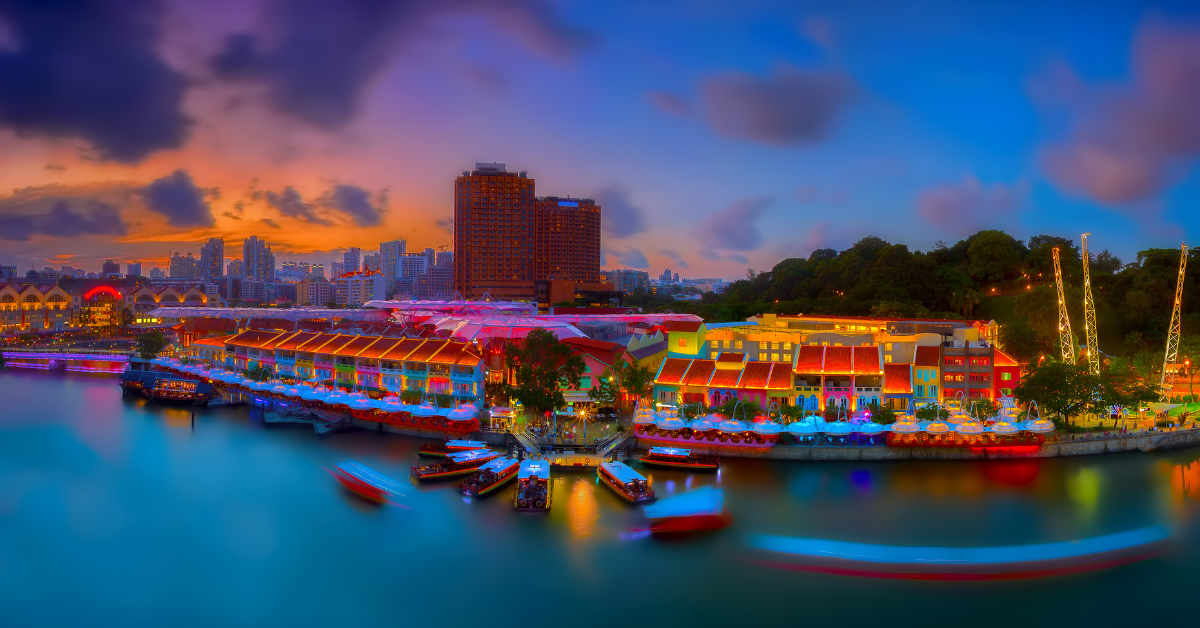 Activity: Clarke Quay
Est. time: N/a
Costs: Skys the limit!
If you're anything like me then you've probably had a little sleep and recuperated. Once you're feeling ready, I think it's a good time to head to Clarke Quay for a spot of shopping before indulging in dinner and drinks.
This trendy, historic area along the riverside is a bustling quay full of colorful restaurants and bars. There's a large shopping center with trendy shops and fashionable boutiques great for shopping.
It's also possible to jump on a boat tour along the Singapore River. This is a nice experience. The boat will take you along the river passing significant landmarks and bridges.
That being said, the main draw to this area is the nightlife. It's a thriving spot where you can eat and drink the night away!
4 Days In Singapore: Day 4
Your final day in Singapore has to be spent on the world-famous Sentosa Island. Find out why it's so amazing and somewhere you're going to love too.
Morning
Activity: Sentosa Island
Est. time: All Day
Costs: See costs of activities below
The last of your 4 days in Singapore is going to be spent on a high. Sentosa Island is a super fun resort island with a lot of activities to keep you pumped throughout the day.
I would suggest getting there early to beat the midday crowds and don't go on the weekends or public holidays. There are a few ways to reach the island. You can get there using the MRT and your EZ-Link card; catch a bus, taxi, or via cable car.
Depending on what you're into, there are activities for everyone. It's a really fun way to spend your last day in Singapore.
Here is a selection of the best activities in Sentosa,
Activity: Cable Car Network (S$15)
To start your day off on a high, head over to the island on the Cable Car. The view is superb and you'll pass over the lush jungle and coastline while having the option of 6 exit points to get you closer to your attraction.
Activity: Universal Studios Singapore (S$77)
Who doesn't love a theme park? Well, Jack! Haha. So he ends up holding the bag while I get a hit of adrenaline. Even so, the great thing about theme parks is that they're great for everyone. They have the big rides that thrill-seekers love but also the arcades, VR, and entertainment that everyone, including Jack, can enjoy!
Activity: Fort Siloso and Siloso Skywalk (free)
The last remaining coastal fort of Singapore's sea defense is now a museum that contains a load of WW2 memorabilia. To reach the museum you'll have to pass over the skywalk which is a treetop walk that provides beautiful views over the landscape.
Activity: Madam Tasaurds Singapore (S$35)
The hugely popular wax-figure museum in Singapore doesn't only have incredible life-like figures of famous personalities but interactive experiences such as an all-new Marvel Universe 4D cinema, VR Racing, and Ultimate Film Star.
Activity: S.E.A Aquarium (S$39)
At Resorts World Sentosa you'll find the much-loved Aquarium. It's home to over 100,00 marine animals where you'll be able to see all types of marine life in different habitats from sharks to sting rays, jellyfish, and tropical fish.
Activity: Wings Of Time (S$16.20)
To end your day on a high, witness an extraordinary light and water show. Laser, water, and fire effects are set to dance around to a superb soundtrack. Also featured is a fantastic fireworks display.
Where To Stay In Singapore
During your 4 days in Singapore, you're going to need somewhere comfortable to stay. The thing is, it's possible to stay almost anywhere these days and be comfortable whether it's in budget accommodation or plush hotels.
Jack and I tend to do budget travel and so can recommend some really good budget spots. However, I've done some research and there are a few really nice hotels I'd love to stay in if we ever go back.
Which I hope we do!
?The Pod – Boutique Capsule Hostel: est. £41 dorms
These are trending pod-style accommodation spots which are popping up all over Singapore, and Asia. Amazingly, they are pretty cool and quirky. Jack and I loved our stay at The Pod and would recommend them to everyone.
?ST Signature Jalan Besar: est. £73 privates
We stayed 3-nights at the ST Signature Jalan Besar just on the cusp of Little India MRT Station. It was directly outside an MRT station which made travel super convenient. The room was perfect, small but great with a fridge and tv. The bed was actually above the sofa which we thought was super cute.
?Marina Bay Sands: est. £450 privates
The hotel is known throughout the world as one of the most iconic landmarks in Singapore. Staying at this hotel is the only way to gain access to its infinity pool, which is often used as a backdrop to promote Singapore and the Marina Bay Sands Hotel. It would make for a good night's sleep I'm sure!
How To Get To Singapore
The easiest way to get to Singapore is on an international flight. Singapore is a transit hub, meaning there are hundreds of flights entering and departing.
You can search on popular sites such as Skyscanner and Google Flights to find deals. You might also be able to find discounted flights if you're flexible with your dates. Sites such as Jacks Flight Club are constantly sending out deals and Singapore comes up often.
Another way to enter Singapore is by bus from Malaysia. If you're traveling overland there are buses that travel from Kula Lumpur to central Singapore (and vice versa) daily and take around 9 hours. You can use sites such as 12Go Asia or Book Away to search for buses.
Getting Around In Singapore
The easiest and most efficient way to move around Singapore is to use the MRT. Singapore has a fantastic metro system which has multiple stations all over the country.
You can purchase an EZ-Link card from any MRT station for S$12. You'll receive S$7 in credit. Average journeys cost around S$2.
If you're planning on using the MRT a lot during your 4 days in Singapore (more than 5 trips in 1 day) then you could consider purchasing a tourist travel pass. They can be bought for multiple days too. Prices start from S$10 and you'll have to pay a refundable deposit of S$10.
Apart from using the MRT, there are taxis in Singapore, however, these can get expensive. If you want to use taxis the best way is to download the Grab App. Grab works in the same way as Uber.
Finally, the best way to get around Singapore during your 4-days is to walk. Singapore is a great city to explore by foot; there are lots of side streets and back alleys to entice your curiosity and you're sure to find some quirky little spots to lose hours.
4 Days In Singapore Tips For Your Trip
? When you first arrive in Singapore, purchase an EZ-Link card from the station at the airport. You'll be able to reach the city via train rather than dishing out for a taxi which could cost up to S$40. The MRT is clean, easy to navigate, and efficient. It's actually a pleasure to ride.
? To save money on your meals choose to eat in the Hawker Centres. You will be able to get a meal between S$5 – S$10. Over your 4 days in Singapore, this is going to save you a load of cash, plus the Hawker Stalls are renowned for providing delicious meals.
? Singapore can get very humid and hot so you will have to stay hydrated. Luckily, you can drink tap water in Singapore! This is great for the environment as it will reduce the number of plastic bottles you will need to purchase. Be sure to take your reusable water bottle with you.
? Singapore has some strict health and safety rules, be sure to familiarise yourself with them before you go so you don't get into trouble. Things like smoking and vaping are illegal while riding on pedestrian pathways and spitting will get you a big fine.
? With the tropical climate in Singapore you need to be prepared for some rain, especially if you're traveling during the monsoon season. Make sure you pack appropriately and take a lightweight rain jacket for those wet days.
Conclusion: 4 Days In Singapore Itinerary
Are 4 days in Singapore enough? I've put this itinerary together so you can see as much as possible during your 4-days. I think it's certainly enough time to see the main attractions and get a real feel for what life is like in Singapore.
In fact, if you utilize this itinerary, you'll likely see more than most people who visit Singapore for 4-days would as the flow means you're not going to waste any time wandering around aimlessly. Which, with a city like Singapore, it's important to have a good plan.
There are, of course, other activities that I haven't mentioned such as Singapore Zoo and the Night Safari. Jack and I tend to stay away from Zoos but you could swap out Sentosa Island if you wanted to experience the Zoo.
This would also open up a slot to visit Joo Chiat and the beautiful Pernankan Houses. They are quite far out from the city center and therefore require a little more time. But, if you're not visiting Sentosa you will have time for both Singapore Zoo and Joo Chait.
The choice is yours.
Author's Bio
Abigail is the travel blogger behind I'm Going On An Adventure. She focuses on budget travel and adventure, giving first-hand experiences to help her readers plan their perfect travel and make the best memories.