There are many wonderful adventure holidays in Ireland for female solo travelers, from the mystic Wicklow Mountains to the peaks of County Kerry. In addition to mountain ranges, you'll find stretches of beautiful coastline, greenways for cycle enthusiasts, opportunities to go out to sea, and more.
Plan your adventure holiday to include plenty of hiking, a dip in the sea, a trip out on a boat to see the landscape from another perspective, and at least one visit to a pub where you can laugh into the night with new friends.
Did You Get Travel Insurance Yet?
If 2020 taught us anything, it's that you need to be prepared for anything! Travel insurance has always been high my list of things to get before I travel but now more than ever its at the top of my list.

I'm pretty sure we have all had travel plans messed up because of COVID and not all insurers covered this. So when looking for travel insurance it's important to check it covers travel disruption due to COVID-19, Hey Mondo, Passport Nomads, Safety Wing, and Travel Insurance Master all provide cover for this.

Hey Mondo is great if you are looking for a great value flexible policy. They offer single trip cover, annual multi trip cover, and long term travel cover. You even have the option to start the cover when you are already on your trip, although you won't be covered for the first 72 hours. For me my favourite feature is their app which offers you a 24/7 Dr chat and the ability to file a claim direct in the app.

Passport Nomads provides the most comprehensive cover for Digital Nomads. The game changer with them is that you have a red card and if you find yourself in need of medical care you just contact them and they will pre load your card with the funds to cover your treatment, meaning you won't need to pay out of pocket and then put in a claim later.

Safety Wing is great value with monthly cover starting at $39. It's super easy to use and it just renews each month. They have an excess of $250 and it's simple to make a claim through their website. I currently use them as they offer me free cover for my son as part of my policy and I like that it renews on a monthly basis, so I don't have to pay out a big lump sum up front.

I also use Travel Insurance Master for some short vacation type trips.

If you are doing shorter trips or an extended backpacking trip then Hey Mondo or Travel Insurance Master are the best option. If you are a digital nomad or planning travel of at least 6 months then go for Passport Nomads or SafetyWing.
Adventure Holidays in Ireland for Female Solo Travelers
One of the easiest ways to organize a trip to Ireland is to choose between Ireland's Ancient East or stick to the west coast, along the Wild Atlantic Way. If you have plenty of time for your holiday, you could always include destinations from both parts of the country and take a road trip.
Travelers who intend to stay in the Ancient East will want to fly into Dublin, while those hoping to stay along the Wild Atlantic Way should consider flying into Shannon Airport. The best way to travel around Ireland is by car, so consider reserving a rental before you arrive.
Explore Ireland's Ancient East
Ireland's Ancient East includes the capital city of Dublin, the mystic Wicklow Mountain, and the idyllic County Waterford. Cork is generally considered to be the area where the east and west meet, but for the purposes of this post, you can consider Cork to be part of Ireland's Ancient East.
Dublin, County Dublin
There are adventures to be had for the solo female traveler in Dublin, Ireland 's largest city – they'll just be more of the urban variety. You can see most of Dublin in one to two days, and there are plenty of historic pubs, trendy restaurants, and coffee shops to fuel your adventures.
Be sure to visit St Stephen's Green, Grafton Street, and Temple Bar to get a sense of the city. Then, visit a charming pub like The Long Hall and have a pint of Guinness or a hot toddy (whiskey, lemon, clove, sugar, and water – served hot, as the name suggests). Have a chat to the barkeep or another patron while you sip your drink.
If you'd like to try an Irish coffee, make your way to Bar 1661 where they serve poitín, a local Irish spirit with a long and storied history. My favorite drink at Bar 1661 is the Belfast Coffee, a play on the traditional Irish Coffee that is made with cold brew coffee, poitín, cream, and nutmeg. Whenever possible, try to reserve a table ahead of time at Bar 1661 to give you the best chance at snagging a seat inside.
Glendalough and the Wicklow Mountains, County Wicklow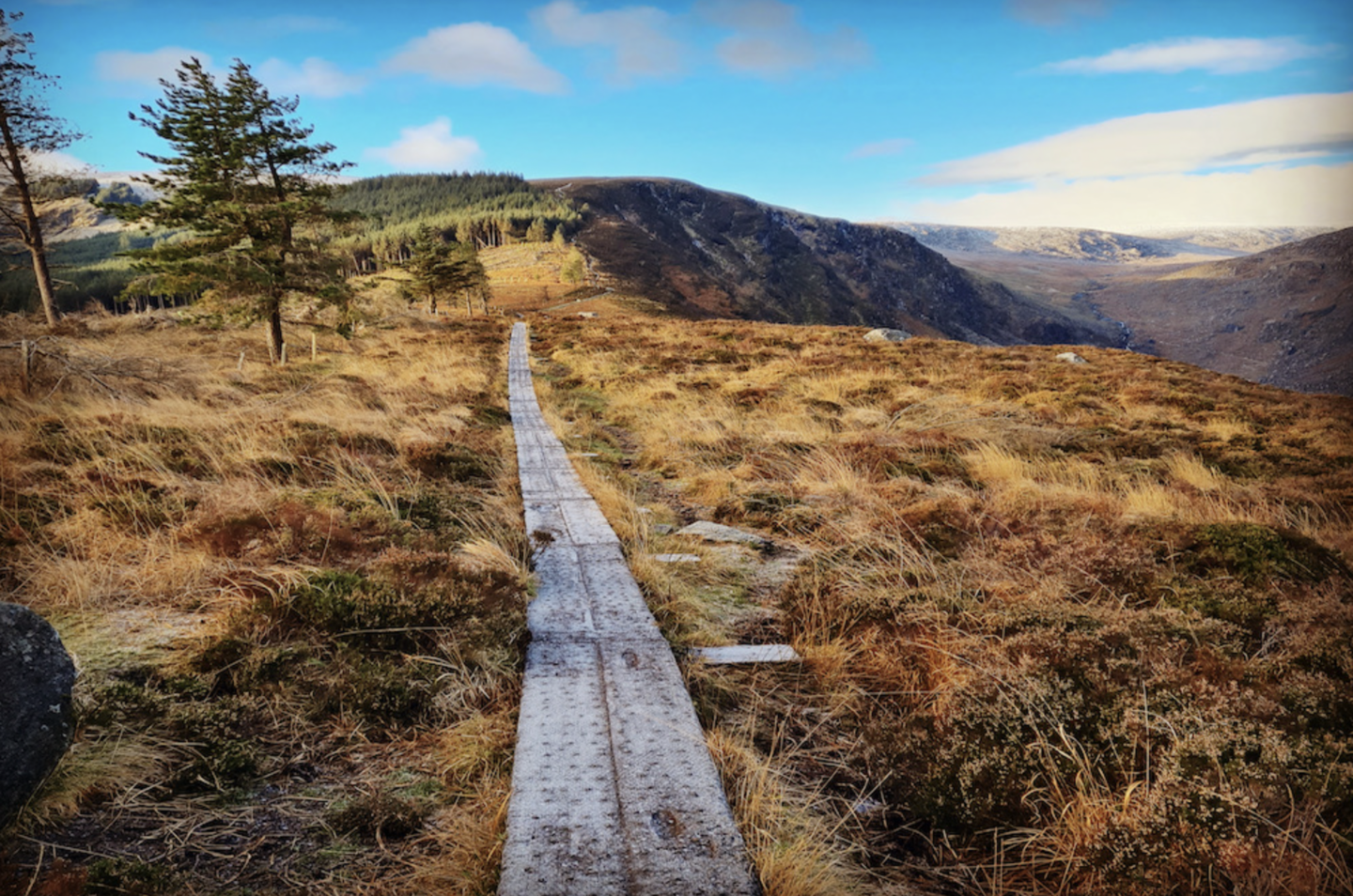 One of the best and most accessible adventure holidays in Ireland for female solo travelers is to visit the Wicklow Mountains. This mountain range is located about an hour south of Dublin, making it easy to access by car from the major airport. You can visit the Wicklow Mountains on a day trip from Dublin, or you can stay a while and spend a few days exploring the county.
Regardless of the length of your visit, you'll find plenty of things to do in Wicklow, including a collection of great hikes, beautiful gardens, and charming seaside towns. Don't miss the strange and contemplative statue gardens of Victor's Way, and be sure to try a bit of the cliff walk between Bray and Greystones. Near Glendalough is Trooperstown, small mountaintop covered in wild purple heather with views all around Wicklow – definitely a hidden gem in the county.
There are wonderful places to stay in Wicklow for all sorts of travelers, from charming and conveniently located hostels to the grandiose Powerscourt Estate.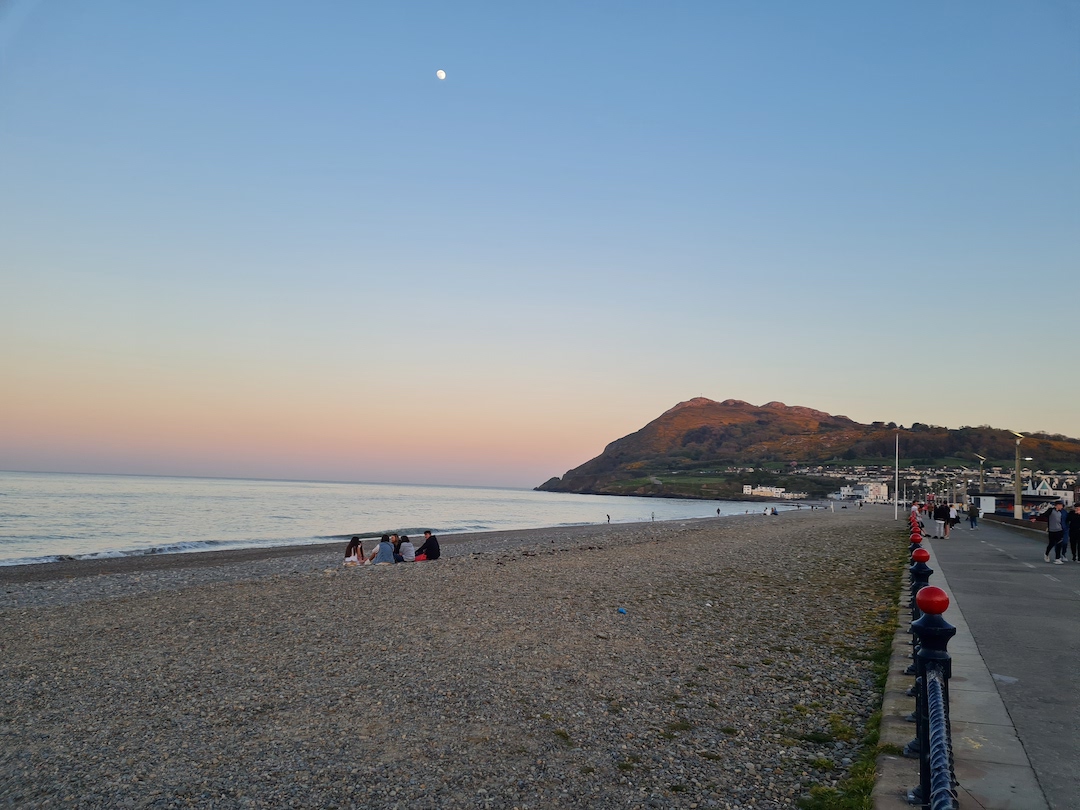 Explore Glendalough
Glendalough is a glacial lake in a mountainous valley in Wicklow, and it is one of the most popular attractions in the area. Near Glendalough, you'll find a set of monastic ruins with a large stone tower, funerary stones that date back centuries, and the remains of a 17th-century cathedral.
You can complete a day hike around Glendalough; the approximately 6-mile trail is my favorite hike in Ireland. If you complete the loop trail going clockwise, you'll climb up to a mountain ridge for a stunning overlook of the lake and the Wicklow Mountain. Then, the rest of the hike is along the ridge and then down towards the lake, finishing with a gentle woods walk.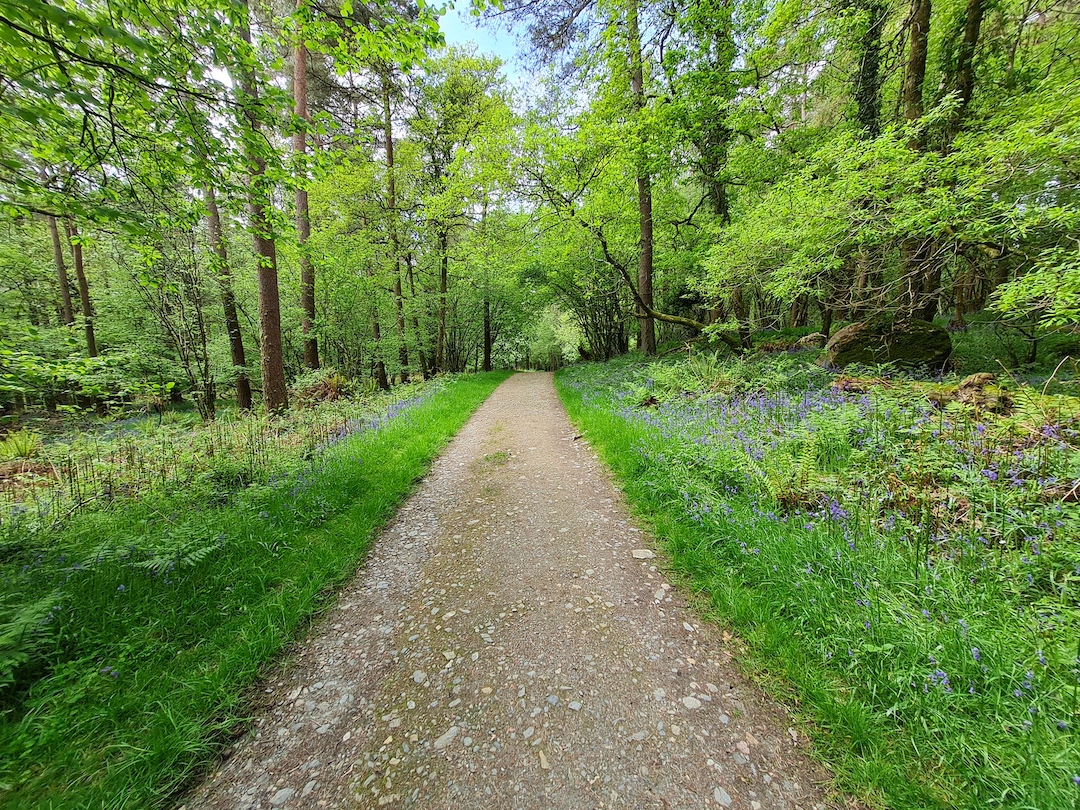 After a hike in Glendalough, swing by the Wicklow Heather, a traditional Irish pub in the nearby town of Lauragh. The interior is beautifully decorated – the perfect spot to grab a pint of Guinness after a day of exploring.
Hike the Wicklow Way
The Wicklow Way is a hiking trail through the Wicklow Mountain that covers nearly 80 miles between Rathfarnham in County Dublin and Clonegal in County Carlow. The trail climbs through spots of thick woods, opens up to scenic expanses, and includes a beautiful stretch in the Glenmalure Valley. If you enjoy thru-hiking and want a manageable trail with temperate weather, hiking the Wicklow Way would be a unique option.
If you choose to complete just a section of the Wicklow Way, I would recommend starting in Glenmalure and hiking into Glendalough or vice versa.
County Waterford
There are several activities for the solo female adventure traveler in County Waterford. You can visit Bunmahon beach, wander through the charming seaside town of Tramore, or cycle along the Waterford Greenway, the longest multi-use trail in Ireland. As with other greenways in Ireland, there are bike rentals strategically placed along the path, so you can rent a bike and complete a portion of the trail without worrying about keeping track of a bicycle for several days.
County Cork
Cork is Ireland's Rebel County, a part of the country known for its fighting spirit during Ireland 's long struggle for independence. There are wonderful things to do in Cork for the solo traveler, from visiting the English Market to having a delicious brunch in the Good Day Deli. Near Cork City, you can kiss the Blarney Stone or, if you venture out a bit further, see the eerie castle in Mizen Head.
Adventure Through the Wild Atlantic Way

The Wild Atlantic Way stretches from just west of Cork, Ireland all of the way up to Derry in Northern Ireland. The path is almost 1600 miles long and includes classic Irish destinations like the Dingle Peninsula, Galway, and the Cliffs of Moher. It's perfect for adventure seekers who like to combine rugged, off-the-beaten-path destinations with some of the greatest hits.
Cliffs of Moher, County Clare
The Cliffs of Moher are a classic Irish destination and for good reason. The cliffs are stunning, and the best way to see them is to park south of the visitor's center and hike north along the Liscannor Walk. The hike is easy to follow and well-marked, but you'll still want to stand back from the cliffs for safety, especially on a foggy day.
The portion of the cliffs with the Visitor's Center would be nearly impossible to miss, so you'll know when you've arrived. If you'd like and time permits, you can continue northwards until you hit the town of Doolin for an extended cliffside hike, but note that there is no reliable transportation back to the area south of the Visitor's Center.
Depending on the day, you might find food trucks tucked back a short way from the cliffs serving up different sandwiches at other quick lunches. If you see a truck with vegetarian food that has a halloumi and pineapple bap (sandwich), be sure to try one!
Inch Beach, County Kerry
While you're in Kerry, make a point of stopping at Inch Beach. This stretch of sandy coastline has densely packed sand that allows for cars to drive across it. There are beautiful sand dunes all along the beach, offering beautiful scenery and vital habitat for local birds and other animals. While you're on Inch beach in Kerry, you'll see amateur surfers in the waves, as well as plenty of active locals jogging up and down the beach.
The Kerry Way, County Kerry
The Kerry Way is one of the most popular hiking trails in Ireland, covering 133 miles of spectacular scenery, swimming spots, and wild terrain. If you have 7 to 10 days, you can cover the whole trail during your trip, wild camping or traveling between B&Bs. If you're short on time or not a thru-hiker, you might prefer to simply hike a section of the trail.
If you have 3 days on the Kerry Way and are comfortable covering some serious mileage, you can hike a section from Kenmare to Waterville. The hike covers about 63 kilometers or roughly 39 miles. The first stretch is from Kenmare to Blackwater Bridge, an 18.5 kilometer hike, and the second stretch is from Blackwater Bridge to Caherdaniel, about 30 kilometers.
Finally, the last day is more relaxed, with a hike from Caherdaniel to Waterville for about 15 kilometers. For the final section, you can take an alternate route via Derrynane beach – watch for signs for the coastal route so that you don't miss it. This is the nicest stretch of the hike, so if you only have one day you could do this section as an out and back.
Dingle Peninsula, County Kerry
The Dingle Peninsula is one of my favorite places to explore in Ireland. This section of the Irish coastline is rugged and beautiful, and the town of Dingle is very cute – well worth a visit. While you're in Dingle, be sure to try some Murphy's ice cream, a local creamery with interesting flavors like brown bread, Irish gin, and butterscotch. The Fish Box, a restaurant in Dingle Town, has arguably the best fish and chips in Ireland.
Take a boat to Skellig Michael
If you're interested in seeing some local wildlife, consider taking a Dingle Sea Safari or similar boat tour out to Skellig Michael. The tour takes a few hours, and you're able to go into small inlets in the cliffs, along the coastline of Skellig Michael, and further out into the sea to see the peninsula from another perspective. Dress as warm as possible for these boat tours, as the wind on the Atlantic can be biting and you'll likely feel cold even in the warmer months.
Is Ireland safe for solo female travelers?
Ireland is a very safe destination for solo female travelers. Normal precautions like staying aware of your surroundings and avoiding travel late at night will eliminate most dangers, though no destination is 100% secure. Beware of pickpockets in large cities and busy public transit stations.
You won't find many natural dangers in Ireland, but the biggest risk is falling, as cliffs can appear more sturdy than they really are when covered in heather. Solo travelers should also take extreme care when swimming or wading in the ocean, where riptides sometimes occur and can present a drowning risk. Finally, be cautious when driving in Ireland and avoid getting behind the wheel if you are groggy, since it can be challenging to remember to drive on the left side of the road.
Must Try Irish Experiences
Regardless of your itinerary in Ireland, there are some experiences you really ought to have while on your adventure. You can try these experiences anywhere in Ireland, and they'll give you an insider's perspective on Irish culture during your trip.
Irish Pub
While you're in Ireland, make a point of visiting an Irish pub as a solo female traveler. You'll find Irish pubs in most every town in Ireland, and each pub will have a slightly different feel and clientele. If you're not a big drinker or if you decide to visit earlier in the day, that staff at most pubs will be happy to serve you lunch, coffee, or tea – just be sure to order something.
Though some pubs definitely feel like bars, the idea of a pub is that it's a public house, or a place where the public can gather to socialize. Some pubs will be full of friendly faces looking to make conversation, while others will have regulars who keep to themselves and won't want to engage with you.
Be aware that locals like to order drinks in rounds. So, if someone offers to buy you a drink, it's possible they'll be expecting you to buy the next round. Don't let this overwhelm you, you can always decline the offer and pay for your own drinks as you go.
Saint Patrick's Day
If your holiday happens to fall in March, you'll want to head to a pub to celebrate Saint Patrick's Day, which takes place every year on March 17 in Ireland. It's a big celebration, usually accompanied by parades and other festivities, that you won't want to miss. Be aware that Saint Patrick's Day is usually a bank holiday (similar to a federal holiday in the United States), so many places will be operating on a reduced schedule or they'll be closed completely.
Throughout Ireland, you'll find that the party tends to continue in the pubs well into the evening. If you'd like to have dinner at a popular restaurant on Saint Patrick's Day, make a reservation to guarantee that you'll be able to find a seat.
Stay in a B&B
Unless you're on a very tight budget, plan to stay in an authentic Bed and Breakfast at least once during your adventure holiday in Ireland. These are typically small hotels run out of large houses, and they typically serve an authentic Irish breakfast in the morning for travelers. The staff at these B&Bs are typically very friendly and open to helping you plan your trip, and they might even have tips about local hidden gems or activities that you can't find online.
Wild Camp
If you'd like to save money on your Irish holiday and have a beautiful bit of the countryside all to yourself, spend a night or two car camping. In Ireland, official campsites are uncommon in most parts of the country, so most people will camp in their car on private land. The fastest and easiest way to find a spot is to ask a local farmer if they know of anywhere that you can wild camp. They'll likely direct you to a spot or give you permission to camp on their land, though this is never a given.
If you want to wild camp or car camp, be sure to let someone at home know where you are and when you expect to be back. Practice Leave No Trace principles and be sure to leave the spot as nice as, or better, than you found it.
Try an Irish Breakfast
If you're visiting Ireland, you should definitely try an Irish breakfast at least once during your stay. The traditional Irish breakfast includes bacon (called "rashers" in Ireland), black and/or white pudding, sausage (sometimes called "bangers"), toast with butter and jam, fried eggs, baked beans, grilled tomatoes, and mushrooms. Often, you'll see hashbrowns included in an Irish breakfast. To drink, you'll typically be served black tea or coffee, along with milk and sugar.
Most places will offer a vegetarian or vegan version of the traditional Irish breakfast, including vegan sausages and sometimes even vegan white pudding.
Information for Women Traveling Alone in Ireland
Ireland is generally very safe for women traveling alone, but there are a few things you should know to stay safe, and comfortable, and to have the best possible experience on your holiday.
Weather and what to pack
The weather in Ireland is generally mild, but be aware that it will feel quite chilly to visitors from warmer climates, even in the summer months. Areas that are mountainous or near the coast will be cooler than other parts of the country, and even in the warmest months, there can be a very chilly breeze off of the ocean.
Pack warm clothes, including a jacket, a sweater, and wool socks, for any trip to Ireland. If you're planning to visit in the winter, ensure that you have waterproof shoes for your hikes and a good quality waterproof jacket to ensure you don't end up soaking wet while adventuring outdoors. The rain in Ireland has a tendency to consist of a mix of mist and raindrops, a combination that can quickly soak through overly breathable or poorly constructed rain jackets.
What is the best month to go to Ireland?
The best time to visit Ireland is between May and September when the weather is milder and some days are warm. The warmest month is July when temperatures can sometimes reach the 80s Fahrenheit. The average temperature in June in Ireland ranges from 50-63°F, and in August the average temperatures are between 57 and 66°F.
How safe is Dublin for solo female travel?
As cities go, Dublin is reasonably safe for solo female travelers and you'll see local women walking alone throughout the day and into the evening. Take normal precautions in Dublin, and keep a close eye on your belongings when in crowded areas. If you need to travel alone late at night, consider taking a taxi, as Ubers are not available in Ireland.
How do you drive in Ireland?
You can rent a car in most cities in Ireland, and it's the most common form of transportation for tourists. In Ireland, as in the UK, cars drive on the left side of the road, which can present a challenge for drivers from other countries. Additionally, you may want to specifically request an automatic transmission when you reserve your rental car, since most people in Ireland drive cars with manual transmissions.
How do I meet friends when traveling solo in Ireland?
Traveling alone is one of the easiest ways to make friends because you'll be more approachable than if you were with a group. That said, you can maximize your chances of making friends by staying in hostels or shared accommodations, where it will be easier to encounter other travelers. You can meet locals by visiting pubs or simply being friendly and open with the people you meet on your adventures.
If you'd like to make friends in public places, avoid being on your phone and thus appearing unapproachable. Instead, keep an open posture and engage people around you in conversations. These strategies won't work every time, but they'll maximize your chances of befriending the people you come across.
There are two groups that organize trips and excursions for women living in Ireland, and you can always check to see if their offerings line up with the dates of your holiday. The first of these groups is Galz Gone Wild, and they often host hikes throughout Ireland for women only. Also look into the Salty Sea Sisters, the head chapter for a series of local groups for women exploring the outdoors.
How do you go out and have fun alone?
The answer to this question is simple: you just do! Make it your mission every day to enjoy your own company, bringing a book or a notebook to pass the time if you start to feel bored. Traveling solo is like working a muscle, the more often you do it, the easier it will become.
Looking for somewhere to stay in Ireland? Check out these options:
Luxury Hotel
Boutique Hotel
Budget Hotel
Holiday Inn Express Dublin City Centre
Backpacker Hotel
Final Thoughts: Adventure holidays in Ireland for female solo travelers
If you've been wanting to get outside and explore a country with stunning views, rugged coastlines, and charming small towns, Ireland might just be the perfect spot for your next adventure. Throughout the island, you'll find friendly locals, warm and welcoming pubs, and charming small towns.
One of the best parts of Ireland is that if you see something interesting in the distance while you're driving, you can simply get out of your car and walk to see it. Most of the land in Ireland is privately held, but farmers typically don't mind if you walk across their fields so long as you leave the gates as you found them. So, be sure to spend a portion of your adventure holiday being spontaneous and exploring hidden spots in the wilds of Ireland.
Author's Bio
Amber Haggerty runs Amber Everywhere, a site dedicated to encouraging others to travel. The mission of Amber Everywhere is to help people feel the sort of belonging, purpose, empathy, and expansiveness that travel can offer, especially if approached with the right mindset. Amber is originally from Colorado, but now she now lives in Europe and writes about her experiences traveling and living abroad.
Instagram: @amber.everywhere | Pinterest: @ambereverywhere | Twitter: @EverywhereAmber | Facebook: Amber.Everywhere