Thinking about traveling long-term and trying to decide on the best travel insurance for digital nomads and/ or backpackers? Then you are in the right place! I've been nomadic since 2017 and now having family health insurance coverage has become even more important.
In this blog post, I'm going to cover everything you need to know about health insurance and travel insurance for digital nomads and backpacking travel insurance. And I'm going to review the top 4 insurance providers to help you decide on the best policy for you.
Do You Need Health Insurance For Travel
But first, maybe you are weighing up your options here and you aren't even sure if you need to get medical insurance for travel. I know I did, I'd look at the money I was going to spend on health insurance coverage and just think about how many nights in a hotel or where I could fly to with that money.
But I always came to the same conclusions:
I don't have a large savings account, therefore, replacing my laptop or camera if anything were to happen would not be easy financially.
If I got sick or was in an accident medical expenses can quickly add up.
Things can easily go wrong and whether I'm traveling solo or traveling with my family I always want to be as prepared as possible if the worst happens.
So, if you are reading this right now and still asking 'should I get travel medical insurance for backpackers or digital nomad travel insurance?' The short answer is: YES. Getting the best travel insurance providers is also important if you have pre-existing medical conditions.
In this post, I'm going to share my personal experience with both digital nomad travel insurance and the best backpackers insurance company and help you to navigate this slightly tricky area and figure out what insurance company is best for you.
In a rush? Check out this quick summary of travel insurance companies I recommend
Best Insurance for Digital Nomad Families: SafetyWing
Best Travel Insurance for Backpacking or Annual Travel Policies: HeyMondo
Best Health Insurance For Digital Nomads: Passport Card Nomads
Best Travel Insurance For Short Trips: Travel Insurance Master
Comparison Table Of Insurance
SafetyWing
HeyMondo
PassportCard Nomads
TRAVEL
Trip Interruption
Up to $5,000. No deductible
up to $7,000
N/A
Travel delay
Up to $100 a day after a 12-hour delay
N/A
Lost checked luggage
Up to $3,000 per certificate period; $500 per item.
up to $2,500
N/A
Natural disaster — a new place to stay
Up to $100 a day for 5 days.
up to $10,000
N/A
Personal liability
$25,000 lifetime maximum

up to $60,000
N/A
Accidental death & dismemberment (AD&D)
$25,000 for death


up to $60,000
N/A
Adventure sports
Most Included
Most Included
Most Included
Electronic Equipment
N/A
Optional
Optional
Maximum benefit
$250,000
Cost
From $45 / 4 weeks
GET A QUOTE
From $119/Month
HEALTH
Excess / Deductible
$250
$250
$0
Hospital
Room and nursing services
Included
up to Maximum limit
Intensive care

Up to the overall maximum limit

Included
up to Maximum limit
Urgent charges

$50 co-payment, not subject to deductible.

Included
up to Maximum limit
Emergency medical evacuation
Up to $100,000 lifetime maximum.
Included
up to Maximum limit
Emergency dental

Up to $1,000
Included
$8,000
Covid Coverage
Included
Included
Included
Maximum limit
$250,000 ($100,000 for 65 years and above)
Up to $10,000,000
3,500,000€
Visit SafetyWing
Visit HeyMondo
Visit PassportCard Nomads
What kind of Travel Insurance Do You Need
This is the first question you need to ask yourself when looking for an insurance company. There are many different types of travel insurance depending on how long you are traveling for, and also if you are buying the policy from your country of residence, or if you are already traveling.
If you are already traveling then some travel insurance won't cover your health insurance plans, and others will make you wait a period of time until the coverage starts. It's important to be aware of the policies travel insurance companies make upfront.
Single Trip Travel Insurance – you are planning a short vacation of 4 weeks or less to one country.
Multi Trip Travel Insurance – you are taking a short trip, but you travel often so prefer to save money and buy one travel insurance policy to cover all of your short trips throughout the year.
Long term travelers Insurance (backpackers travel insurance) – This covers you for trips lasting anywhere from 4 weeks to 1 year. The most common policies are 6 months though.
Digital Nomad Travel Insurance – This is travel insurance for long term travelers and remote workers like me to don't always return to their home country regularly and move to different countries. It provides emergency medical evacuation coverage and some other things like trip cancellation coverage.
Digital Nomad Health Insurance – As more people are becoming nomadic the need for global health care policies that cover routine as well as medical emergencies. If you are long term traveling and want something more than emergency evacuation cover then this is the type of insurance you need to consider.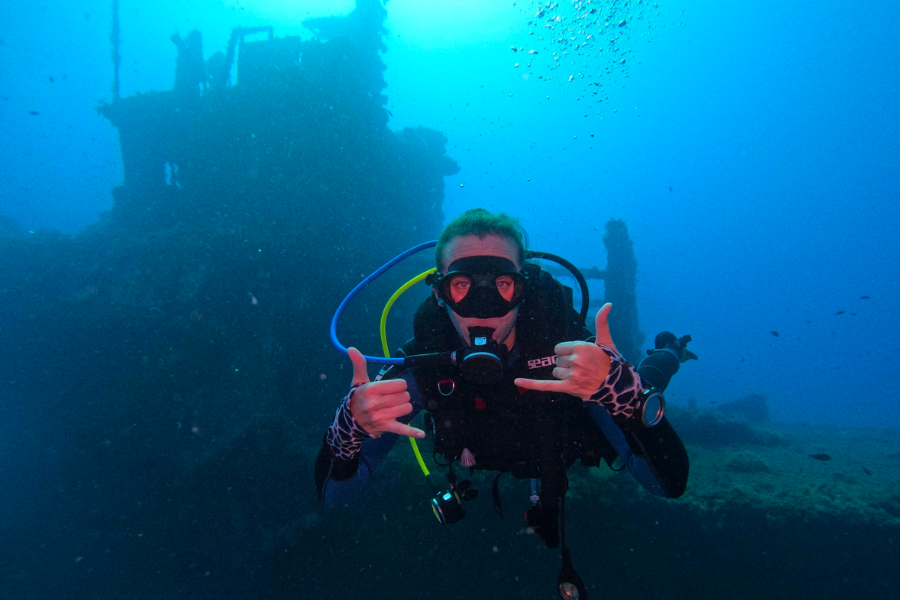 Getting the right travel insurance
Travel insurance for short trips is pretty easy to find, but if you are planning a trip of 4 weeks or more it can become a little more tricky. If you are a digital nomad like me and are always traveling then working out the best travel insurance companies for digital nomads can be tricky. Especially if you want more than just medical cover.
As a digital nomad, you may also want to add in personal possessions insurance for your laptop, camera, phone, and other expensive equipment. That means finding great travel insurance company with gadget coverage that also covers medical expenses. Not so easy let me tell you!
If you think you can travel without long-term international healthcare insurance, think again. It's really not worth the risk and it could end up costing you a lot more in the long run. The last thing you want is to have to deal with a medical emergency while abroad without the best international health insurance. Imagine all the medical costs!
But just in case you need more convincing…
4 Reasons You Need Long-Term Travel Insurance
1. YOU GET SICK OR HAVE AN ACCIDENT
No one plans to get sick or have an accident that requires emergency medical care. But if it happens and you don't have the best global health insurance it's going to cost you a lot of medical bills in the long run and you will likely have to cut your trip short and have a trip interruption. It is always the best option to have medical coverage.
If you need a lot of care or to be medicated at home you are talking about thousands of £ or $ for medical expenses. So unless you have a trust fund it's just not worth the risk. I sprained my ankle while in Guatemala and having digital nomad Insurance I was seen quickly by a doctor at a private hospital. Imagine the emergency medical expenses I have to spend if I didn't have insurance!
Just recently we had to spend 2 days in the hospital with my little boy and I can't even tell you the relief I felt knowing that I was covered by my SafetyWing Travel Insurance policy.
2. YOU HAVE TO UNEXPECTEDLY CANCEL OR INTERRUPT YOUR TRIP
You have been saving for years for your round-the-world ticket. Just before you are about to jet off you have a family bereavement and need to cancel/ delay. Without health insurance, you could lose all of the cost of your trip cancellation your flight, and any bookings you have.
If you can't afford to lose that kind of money then don't risk being uninsured.
3. YOUR BAGGAGE GETS LOST
It's everyone's worst nightmare! You are standing waiting by the luggage carousel and your suitcase doesn't appear. Getting lost luggage back from the airline can take days or weeks if you ever get it back! With travel insurance coverage, you can at least know that you are not only covered for any permanent loss and most insurers will pay out for necessities if your luggage is delayed for over 24 hours.
Top Tip: It's totally worth investing in Airtags if you haven't already and popping one in any checked luggage you have. We bought this 4-pack and I put one in my checked suitcase and one in my carry-on suitcase (which I often ask to check if possible to save struggling with it and the stroller!).
What I love about Airtags is that you can do a quick check before takeoff to make sure everything has made it onto the plane with you so there's no chance of any lost baggage. And if it doesn't then you can follow its journey back to you! Helpful when on the phone with the airlines!
4. YOUR STUFF GETS STOLEN
If you get robbed it's stressful enough without having the added worry of how you are going to pay for replacements. Imagine if your travel documents, passport, bank cards, and money gets stolen it's not easy to get replacements. The cost of this can seriously add up. Most travel insurance companies will cover you for theft as well as health coverage.
If you are willing to risk all of the above to potentially save a few bucks, be my guest! If I've convinced you that getting cover is the way forward read on!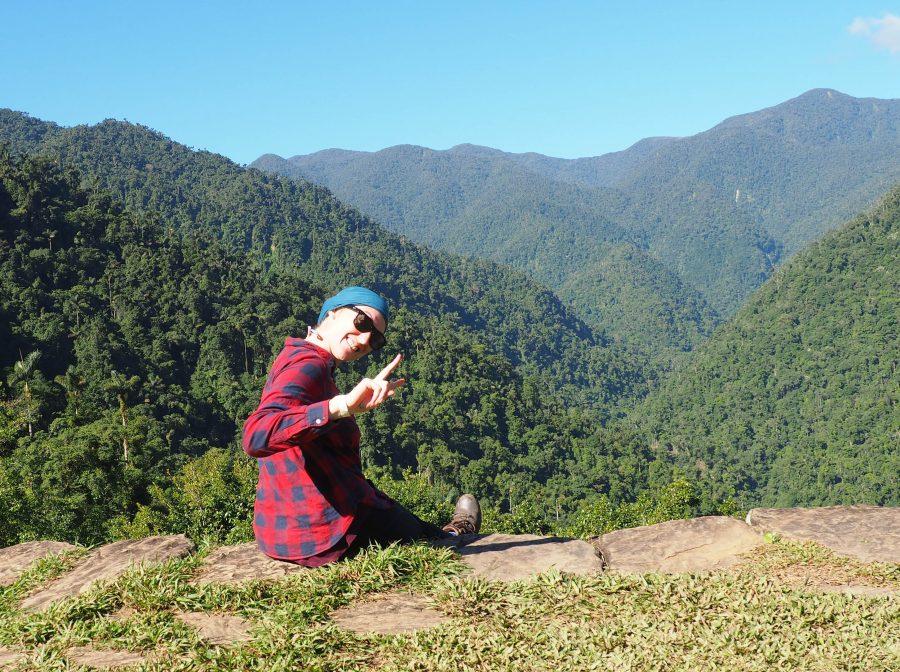 How To Choose Travel Insurance
When looking for insurance I wanted to get the best deal. No one wants to pay out more to travel insurance providers than necessary. If you are going on any trip for more than 4 weeks you will need specialist insurance as most standard vacation insurance companies only cover people for short trips.
For short trips take a look at Travel Insurance Master. I have always found their insurance plans to be comprehensive and their coverage limits fair.
If you travel a lot and want to take out one travel insurance plan to cover all of your short trips for the year then HeyMondo is great. This might be a good option for backpacker travel insurance
If you are backpacking traveling long-term, or just taking a long sabbatical then I also recommend HeyMondo for this.
For digital nomads, you have two options SafetyWing or PassportCard Nomads.
HeyMondo Travel Insurance
When I began my research into the best travel and insurance plans for backpackers one name kept on coming up time and again, World Nomads. Although I used to recommend them and have used this in the past. I found their insurance plans to be expensive and after COVID it started to become difficult to even get coverage with them as a European. This is why I no longer recommend them for backpackers or long-term travelers.
The new travel insurance provider on the block is HeyMondo and it has so many cool features that it really does knock WorldNomads out of the park.
Why HeyMondo Is The Best Short Trip & Backpacker Insurance
They offer cover for COVID
So many insurance providers started excluding COVID in their travel insurance plans. Not HeyMondo. They offer trip cancellation insurance, or date changes due to COVID as well as covering extra lodging expenses in case of quarantine. This is comprehensive travel insurance.
They offer 3 different types of policy
With HeyMondo you can choose from a single-trip policy, an annual policy for multiple trips (up to 60 days each), or long-term flexible travel insurance for trips of over 90 days. You can also choose to start your coverage from outside your country of residence which is great if you are already on the road. But you won't be covered for the first 72 hours until the medical insurance kicks in.
They have 24/7 Dr chat available
Yes, that's right! An English speaking Dr available 24 hours a day through their app. Genius! Oh how I wish I'd had this while I was lying in bed in Guatemala thinking I was going to die of a scorpion sting haha. but all jokes aside this is such a good thing to have when backpacking!
In fact, the App really is awesome. You can have access to all of your policy details from there and even quickly and easily file insurance claims.
Flexible Payments
It wasn't so long ago I was a broke backpacker, so I get it. Things can be tight. One of the key features that make HeyMondo so much better than World Nomads travel insurance is that you can opt to pay monthly, every 90, 180, or 240 days. You will get a renewal notification when your policy is coming to an end and you can choose to renew or let it lapse.
Electronics Coverage
While baggage of up to $1200 is covered on a standard policy, you can opt to add a little extra coverage for your electronics. If you are traveling with electronics that you can't afford to replace if they are lost or stolen, then it's worth thinking about. It is one of the greatest benefits of backpacker insurance policies.
See my technology essential on amazon!
Activities Coverage
Planning on getting out of your comfort zone and being adventurous while traveling? HeyMondo has adventure sports coverage and will cover you for pretty much everything you can think of from riding a camel through the Sahara desert to scuba diving to surfing. For some of the more extreme sports, you will need to pay a little extra for one of their enhanced adventure sports insurance plans, but I was pleasantly surprised at how much was covered in the basic policy.
SafetyWing Digital Nomad Insurance
Safety Wing is global health insurance for Digital Nomads and it's who I personally use for my medical insurance. For me, SafetyWing checks all of the boxes, it's easy to use, affordable, insures my son, and I can just renew each month.
I did get a bit of a shock when my policy doubled overnight after my 40th birthday. But for me, it's still far cheaper than any other traditional travel insurance policy.
Although it is worth mentioning that I am from the UK so I do get free healthcare in the UK. Therefore all I need while traveling is emergency medical coverage. For routine medical stuff, I can go back to my home country. If you are from a country where you do not get free health care then you may need something more comprehensive that covers you for all health care-related things. SafetyWing Remote Health offers this, as does PassportCard Nomads.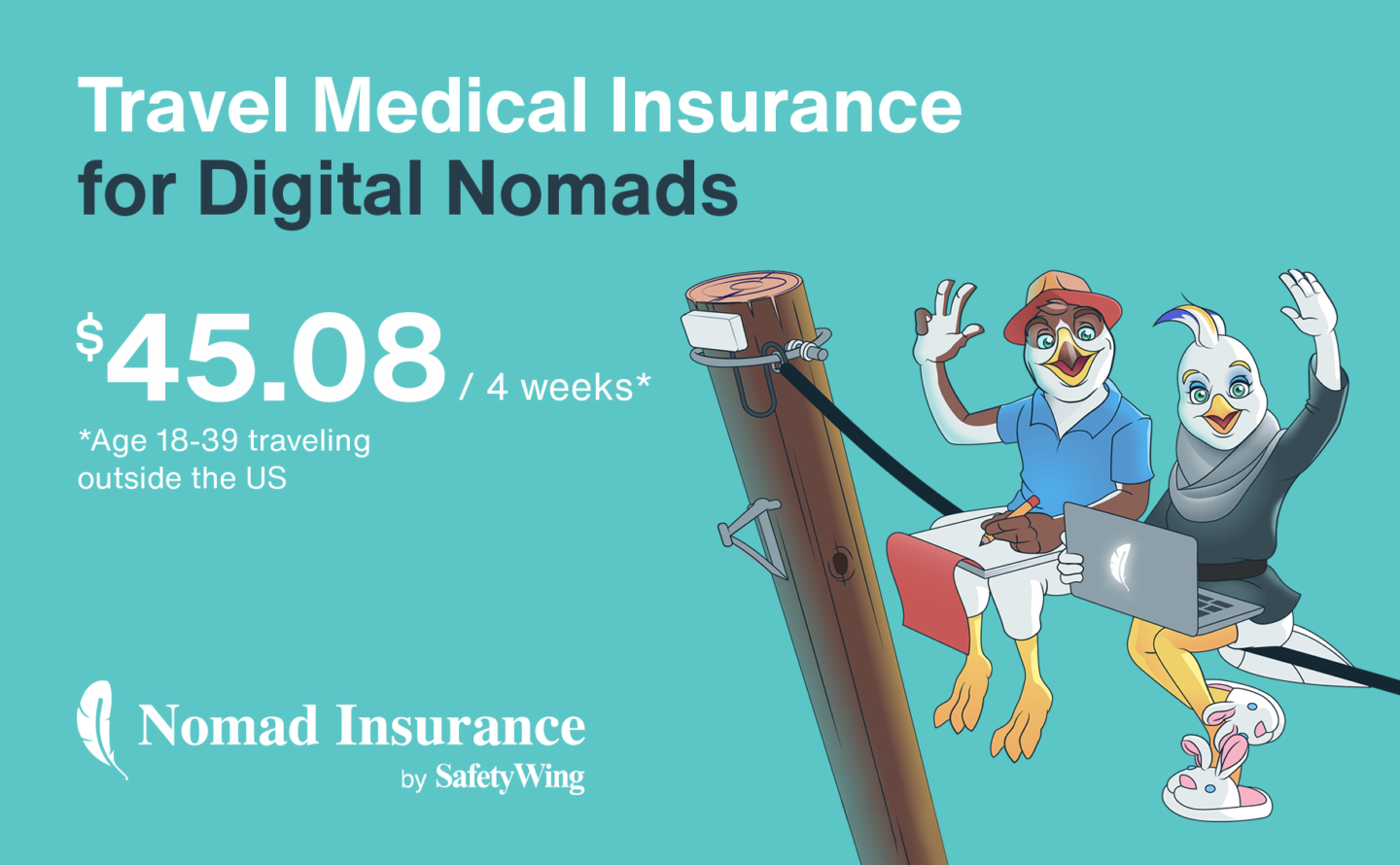 Why Safety Wing Is The Best Digital Nomad Insurance
AFFORDABLE MONTHLY FEE
For me, this was what made me switch to Safety Wing. At $45.08 USD a month, it is so affordable. Even now I'm 40 and I have to pay $73.92 it's still cheaper than most.
Before I was paying a lot of money for World Nomads and I had to pay it all upfront so if I wanted to pay for a whole year, that's a lot to pay all at once. the alternative was to renew my insurance each month, which means I lose out on any discounts making it very expensive. So having the option to pay for my digital nomad insurance monthly with SafetyWing is a huge bonus!
START ANY TIME AND CANCEL ANYTIME
Another big bonus of SafetyWing is that you can cancel anytime. So if you have a change of plans and decide to head home last minute, you can just cancel and start up again any time you like. And they will even refund you for the days not used!
INSURANCE SPECIFICALLY FOR DIGITAL NOMADS
Safety Wing is insurance for Digital Nomads and as such, it mostly covers things for medical coverage that digital nomads need related to health with some basic travel coverage. They understand the needs of digital nomads and so when you get their nomad insurance you aren't having to pay for a lot of extra covers that you don't need. this keeps the cost down.
YOU CAN BUY WHILE ABROAD
This has to be one of the best features. So many travel insurance companies won't let you buy cover if you are already on the road. Safety Wing and World Nomads both offer this and it is a must for us nomads looking for insurance coverage while already traveling!
TRAVEL COVER IS INCLUDED
With SafetyWing you are covered for travel delays, emergency medical situations, interruptions, lost luggage, natural disasters, and political and medical evacuation. For me the cover that Safety Wing provides me with as a digital nomad is perfect. I love that I'm covered for scuba diving and riding my scooter.
ONE CHILD IS COVERED PER ADULT
I was so excited when I saw this feature after having my son. It really saved a lot of stress knowing he was covered by my insurance without any extra cost to me. And we already had to use it when he was admitted to hospital in Cyprus for 2 days. I can't even tell you the relief knowing I was covered for the medical expenses.
PassportCard Nomads Health Insurance For Nomads
Another great travel insurance company is PassportCard Nomads. I highly recommend considering PassportCard Nomads if you don't have any other medical insurance (in your country of residency for example). The cover includes COVID-19, dental coverage, and even maternity care.
You can also buy the plan while you're abroad and you can easily customize your plan with additional coverage. Another thing that I like about this travel insurance is the ability to pay with a red card instead of your own money, which can be particularly helpful when dealing with unexpected expenses on your trip.
Why PassportCard Nomads Is The Best Health Insurance for Digital Nomads
EXTEND OR CANCEL – ANYWHERE, ANYTIME
Whether you need to extend your coverage due to a change in plans or cancel it, you can do so easily. You never have to worry about being locked into a plan that no longer fits your travel plan. Additionally, you can purchase the plan while abroad which is more convenient.
CUSTOMIZE YOUR OWN PLAN
I love that with PassportCard Nomads you can customize your own plan. Whether you're planning to surf, bike, or snorkel, you can find the best plan that fits your plan and lifestyle.
A LOT OF MEDICAL EXPENSES COVERED
This is one of the best travel health insurance you will find. PassportCard Nomads covers [pretty much anything and everything you could possibly need while living the Digital Nomad lifestyle
From emergency medical expenses and surgery to dental coverage and physiotherapy/chiropractic treatments, this plan has you covered. But the real beauty of this plan is that it covers a lot of non-urgent elective medical treatment, surgery, and derivative hospitalization are included.
I also appreciate the coverage for routine checkups, as well as outpatient care such as specialist consultations and office visits. This insurance plan offers the most comprehensive medical coverage out of all of the providers.
Final Thoughts
So if I haven't already been clear if you are long-term traveling, or backpacking then you need HeyMondo. If you are traveling and working as a digital nomad, you need Safety Wing or PassportCard Nomads. They are in my opinion the best choices for an insurance company for long-term travel.
I truly believe they are the best option for backpackers and Digital Nomads who want a full travel cover. If you click on one of my links and buy a policy I will get a small commission. This is at no cost to you and it is how I make money to keep Claire's Itchy Feet going.
This post was proofread by Grammarly