Looking for the best dive computer for beginners? If you are new to diving, a good dive computer is normally the first big investment you are going to make for your new hobby. But how do you know which of all of the dive computers on the market is the best? Luckily I've done the hard work for you! As a new diver myself I spend weeks trawling through reviews and asking dive professional friends, so you don't have to.
Of all the scuba diving equipment, dive computers hold great prominence, a dive computer is an essential piece of scuba gear that provides you with vital information, and its job is to help protect you from lung over-expansion injury and decompression sickness when you dive.
Essentially, the best dive computer for beginners comes with a straightforward user interface, is easy to navigate and use, inexpensive, and doesn't include unnecessary specifications that may intimidate newbies.
After all of my research, I have come up with my personal top 5 beginner-friendly dive computers which are listed below, and also a lot of information to help guide you to buy the best dive computer for your personal needs.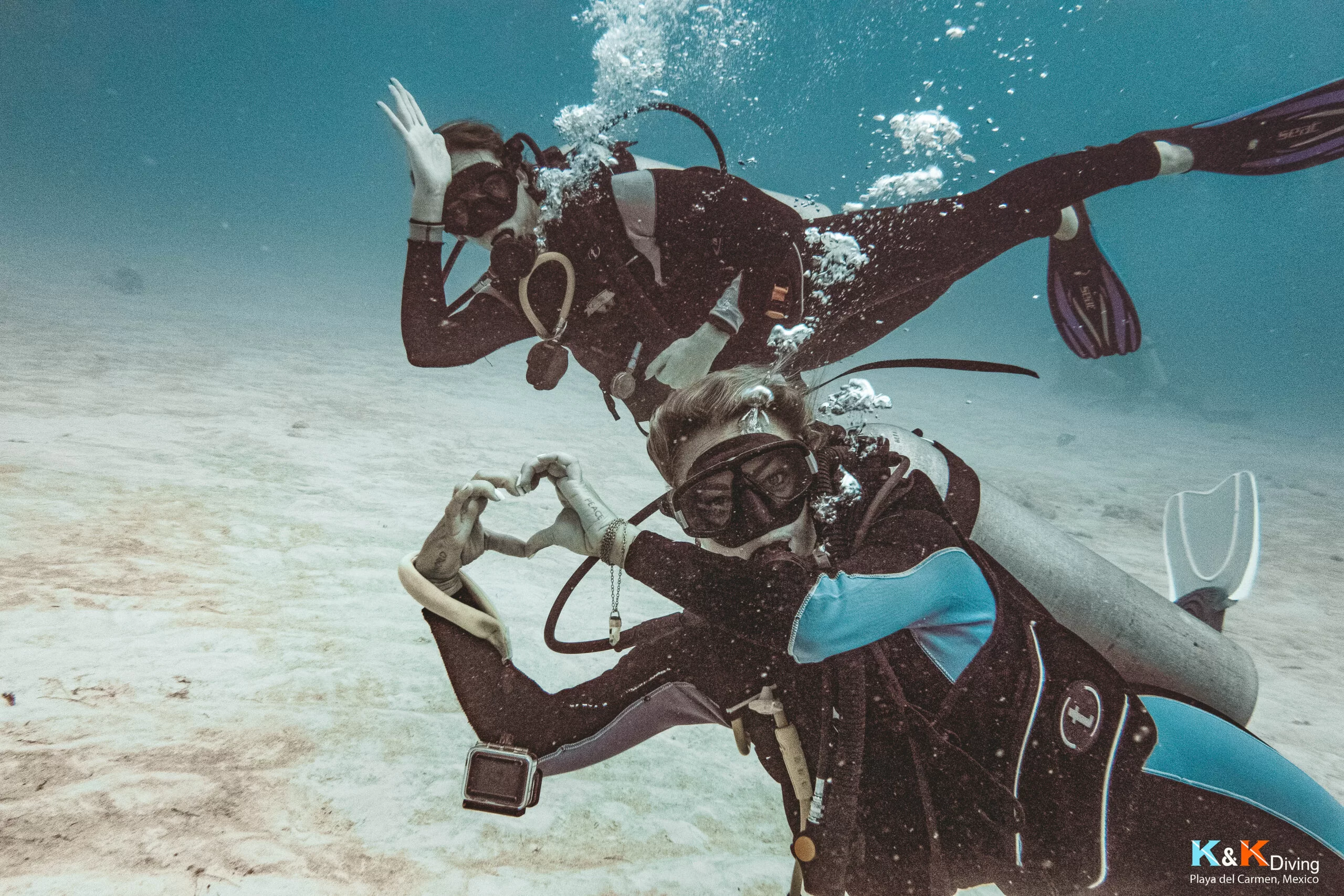 A dive computer is one of the most vital pieces of scuba diving equipment that any diver needs to invest in. A scuba diving computer tracks your depth and time on each dive. It also displays real-time information and ensures that you don't stay down for longer than is safe as well as making you aware of your depth so you don't go beyond deeper the limits in your dive plan. And of course, if you are diving over multiple days having your own dive computer tracking will ensure that all this information will be based on any previous days diving you have been doing.
Dive computers are essentially used to determine how long you can stay under the water at a certain depth. Therefore, you can monitor your decompression stops and ascent rates both for your first dive and subsequent dives. The best integrated dive computers for beginners come with screens that display large digits, providing easy-to-read information.
A standard dive computer for beginners will incorporate the following features:
Time: the amount of time you have been diving for
No Stop Limits: notifies when to make decompression stops
Dive Depth: how deep you are diving below the surface
Ascent Rate: how quickly you are returning to the surface
Previous Dive Info: allows you to monitor your diving activities
Enriched Air Compatible: for extending your 'no stop limit'
No-Decompression Limit: the maximum amount of time you can spend at a certain depth
Emergency Decompression: signals when you ascent incorrectly
Low Battery Warning: tells you that the battery is about to die
The 5 Best Dive Computors For Beginner Divers
Keep reading to learn more about each of these beginner dive computers.
Cressi Leonardo Underwater Single Button Dive Computer
The first on our list of the best diving computers for beginners is the single-button model from Cressi Leonardo. Not only is the product reasonably priced, but is functional and beautifully designed at the same time.
Why is this the best dive computer for beginners?
I believe this is the best dive computer for beginners simply because it is easy to use and easy to read. Thanks to its high-definition screen, you can easily read all the numerical displays clearly. As a new diver, this dive computer is great to learn on because of its simplicity.
What makes this dive computer better than the others?
It really is all about the simplicity of this one. It's a single button computer so if you are feeling flustered down there at least you aren't going to be worried about using a complicated dive computer. It also has a really big screen so you aren't going to miss read any information.
All of these things are so important when you are a beginner diver, you already have enough to worry about and remember.
It also comes in a variety of color options for you to choose from. There are over 13 color variants!
I also love the fact that it works for freediving too and you can even take it snorkeling with you if you want to get used to using it.
The primary reason why I have included this on top of this list is for its functionalities. Another reason is, of course, the price.
The Cressi Leonardo is priced at around $200 USD and has easy navigation and configuration through multiple menus are the primary factors to consider and this computer fulfills that requirement. Moreover, you get access to a large amount of information, which is displayed intuitively.
What are the features and benefits of the Cressi Leonardo?
FO2 can be adjusted up to 21% -50%
PO2 can be adjusted up to 1.2-1.6 bar
Incorporates an oxygen CNS toxicity indicator in graphical format
Is equipped with an easy-to-hear alarm
Can be easily connected to a PC via USB cable and is compatible with Mac and Windows
Aqua Lung i300C Dive Computer
While a little on the expensive side, the Aqua Lung i300C Dive Computer is a highly functional scuba computer that could prove to be beneficial for a beginner. You will love its beginner-friendly usability combined with the more high-end design and functionality.
Who is the Aqua Lung i300C for?
The Aqua Lung i300C will benefit both beginner and professional scuba divers alike because of its functionality. It is the best dive computer under 500 USD and because of its features, it's a dive computer that will grow with you over time as you gain more experience. With this dive computer, you won't outgrow it as fast as you may other lower prices models.
What Makes This dive computer better than the others?
Aqua Lung is a prominent name in the industry known for its premium dive computers. It has an ergonomic design that most drivers will like. Most importantly, this computer comes with a user-changeable battery. So, you don't have to worry about replacing it.
This dive computer is an optimal choice for all underwater diving activities, both for professional and amateur divers. It also includes settings for free diving, scuba diving, and snorkeling.
If you can afford to spend a little more, this dive computer gives you everything you want. It really is an ideal piece of scuba equipment. From wireless connectivity to mobile compatibility, and data retention features, among other things, it is a perfect product for your scuba needs.
What are the features and benefits of this product?
It uses Bluetooth Smart technology that allows you to connect the computer to your mobile device and access the data without any hassle
There is a free DiverLog+ mobile app for both Android and iOS operating systems from where you can access your diving activities
There are 4 operating modes – Free Dive, Gauge, Nitrox, and Air
The data retention feature allows you to protect your data
Can be easily switched up to 3 gasses underwater
Comes with a backlight for easy reading in low light conditions
Oceanic Geo 2.0 Air/Nitrox Dive Computer
TheOceanic Geo 2.0 dive computer is excellent for beginners and pros alike. Available in two color variants – white and black – thanks to its compact size this dive computer can be worn out of the water as your regular wristwatch.
Who is the Oceanic Geo 2.0 dive computer for?
It is a great functional and ergonomic option for scuba divers with different experience levels. You can wear it on a daily basis both underwater and on land.
What makes this dive computer better than the others?
Oceanic is a reputed brand that manufactures state-of-the-art dive computers for divers of all skill levels. The Geo 2.0 is designed keeping in mind functionality and appearance. It is one of the best dive computers with a plethora of features while looking incredibly beautiful.
Unlike many other dive computers for beginners, the Geo 2.0 can be worn both on land and underwater. So, you can wear it all time while you are scuba diving, snorkeling, free diving, or just strolling around the beach.
In addition, it is powered by the dedicated dual algorithm of Oceanic. That is, you can choose between Pelagic Z+ (Buhlmann ZHL-16C data basis) and Pelagic DSAT (Spencer/Powell data basis). The algorithm is designed to safely maximize the dive times at depth. This is a pro-level feature that you can use as you transition to a more experienced diver.
What are the features and benefits of the Oceanic Geo 2.0 dive computer?
There are 4 operating modes – FREE, GAUGE, NORM, and WATCH
User-friendly interface makes navigation simpler
Easily switch between 2 Nitrox mixes and 100% O2
There is a stop time of 3 minutes
All you need to press is just one single button and you can access your 'last dive' details
The data retention feature maintains calculations, particularly when the battery is changed
The Geo 2.0 has a simple interface and design that makes it easy to operate for a newbie. The information is displayed on the large LCD screen, making it easy to understand the large numerals.
The last on my list of the best dive computers 2021 is the Tusa Tails Dive Computer that is loved by many divers for its minimalist design and features. It comes with multiple operating modes and is suitable for beginners. And it's also the dive computer I have.
Who is the Tusa Tails Dive Computer for?
This product is clearly meant for beginners because nothing about the model is intimidating or overwhelming. It only displays a few notifications, which is recommended for beginners as it reduces confusion.
What makes this dive computer better than the others?
This Talis Dive Computer from Tusa is designed keeping in mind divers who are still learning scuba diving and don't need so many functions (to add to the confusion). With minimalist features, it gives you the opportunity to learn and better your command of diving signals.
Tusa Tails Dive Computer is perfect for rookie divers who have just started out and have a long way to go. You can use it for scuba diving and freediving, like many other models we have discussed in this review.
Personally, I love the Tulsa Tails because it is reasonably priced and boasts a wristwatch-like appearance and features and it comes in white haha.
What are the features and benefits of this dive computer?
The Talis dive computer comprises of advanced 2 gas functionality
It has 4 operation modes – Free Dive, Gauge, Nitrox, and Air
Incorporates a 2 Mix Switch feature – Mix 1 and Mix 2. Mix 1 is adjustable up to 21-50% and Mix 2 is adjustable up to 21-100%
Factors To Consider When looking for Best Dive Computer for Beginners
There are a lot of considerations that go into the play when deciding between these top dive computers. If you are not aware of what to look for in a dive computer, this short guide will help give you some clarity.
The following are some factors that you need to consider before you choose your dive computer. This will help you in making an informed decision.
#1 Design and Build Quality
First and foremost, you need to review the design and build quality of the computer. Because you will be using it underwater, it needs to be of top quality.
When it comes to design, you should be able to read the information displayed on the screen. Also, there should be ample light to make it easy on your eyes.
Most importantly, the buttons should be minimal – 1 or 2 maximum. More buttons mean more confusion.
Finally, the computer should be able to bear the pressure and should be water-resistant at least up to 100 meters.
#2 Features
The minimum features that a beginner dive computer should have include:
Overall Dive TIme
No Stop Time
Maximum Depth
Current Depth
Time
Make sure that your dive computer displays this information all the time.
#3 Alarms
The most underrated feature that every dive computer should have is 'alarms.' The computer should let you know with an alarm when stuff happens.
These are some basic yet most important features that an entry level dive computer should have. Look for these when buying your first computer.
That's it. This is an end to our beginner dive computer review. In this post I have covered all the important aspects that are essential for a beginner diver to understand.
While these are not the only dive computers meant for beginners, they are ideal in so many ways, whether in terms of budget, features, appearance, and more.
Overall, these are the best dive computers for beginners, in my humble opinion. If you have any questions or concerns regarding the products I have mentioned, feel free to drop me a comment below.