Visiting Sayulita and plan to do some surfing? In this Sayulita surf guide, I've rounded up everything you need to know about surfing in Sayulita, Mexico from where to take surf lessons to how to buy a surfboard.
Why is Sayulita Surfing So Popular?
So let's start off by talking about why Sayulita surfing is so popular. I mean, if I'm totally honest, it's not the best place to surf in Mexico, if you are just judging it on waves alone. The beach is almost always pretty packed. And unless you are an experienced surfer and can hang out to the right of the beach close to the rocks you will be over on the left fighting it out with the other beginners and trying not to crash into the hoards of swimmers.
So that's the downsides to surfing in Sayulita, now for the reasons I love surfing there.
Everything is so close – The beach is just steps away from the town, so if you stay right in town it will likely take you 5-10 minutes to wander down to the beach with your board.
Sayulita is super cute – Sayulita is just a great place to hang out for a few days, weeks, months, or even years! It's a small colorful Pueblo Magico (magic town) in the state of Nayarit on the west coast of Mexico.
You can walk pretty much everywhere (or rent a golf cart).
It's a well know wellness destination – so when you are on dry land there are plenty of yoga classes, Temazcals, and vegan cafes to choose from.
If you fancy a change there are several other beaches close by that you can venture out to.
The waves are perfect for beginners.
Love It? Pin It!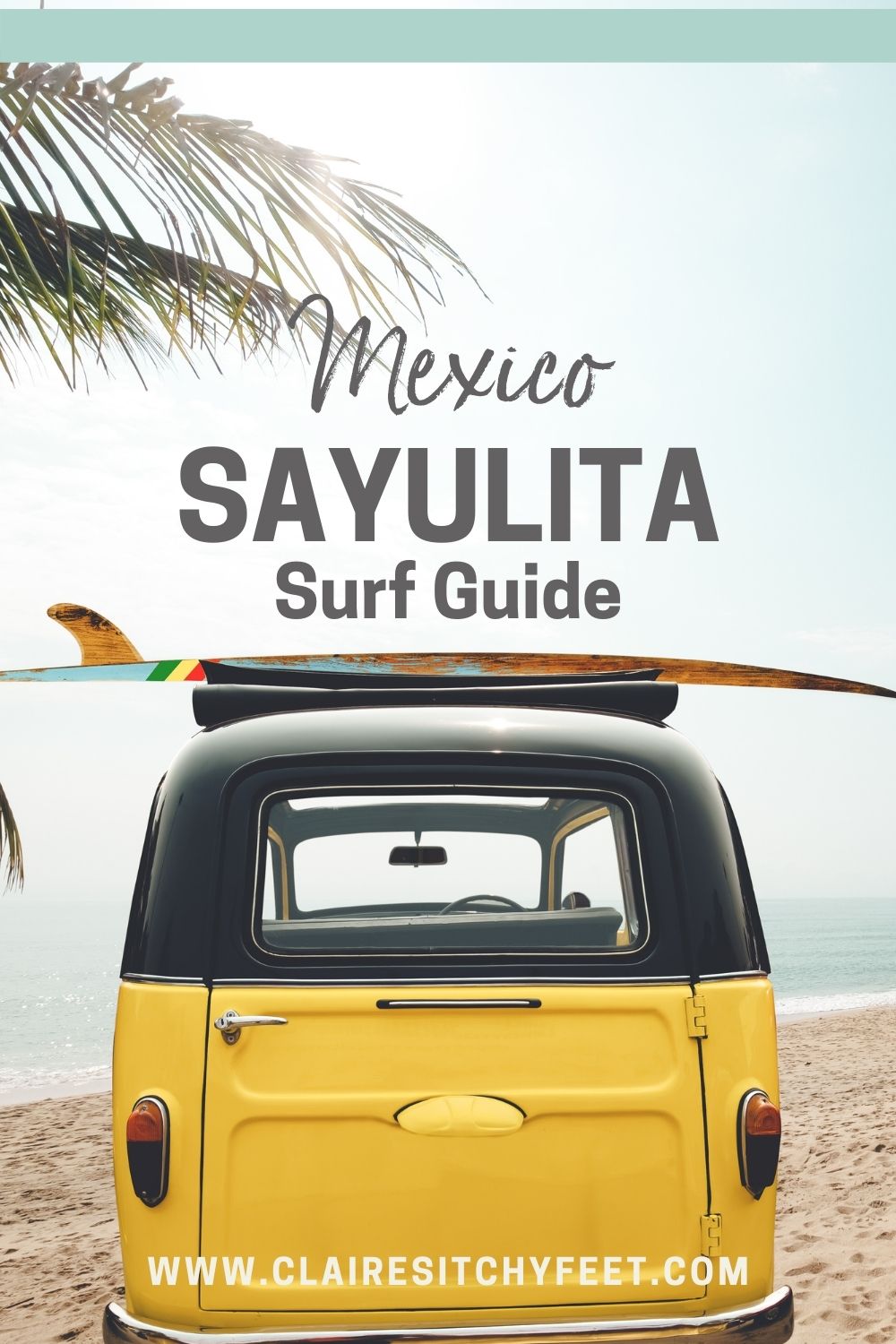 Sayulita Surf Spots
The main surf beach in Sayulita is Sayulita beach. Which is basically the main beach right in the middle of the town. There are lots of other beaches around Sayulita, but this is the only surf one in Sayulita itself.
Sayulita beach is split into two main sections. As you are looking out from the shore over to the right you will see groups of surfers who know what they are doing. This area gets the best waves, but there are quite a lot of rocks close to the shore. This can make it dangerous for beginners. Which is who if you look to your left you will see all of the surf instructors giving lessons and the beginner- intermediate surfers trying to catch some waves.
Most people just choose to come and surf in Sayulita because it's so easy, and I don't blame them. But if you did want to go and check out a few other local surf spots close to Sayulita here are my top recommendations for surf spots in the Riviera Nayarit.
La Lancha
La Lancha is my favorite surf beach close to Sayulita. The only problem with going to La Lancha is often getting there. But you do have a few options:
Rent a car and drive yourself
Take the bus – You can take a bus heading to Puerto Vallarta and ask them to stop at La Lancha. Buses leave every 20 minutes.
Get a taxi
Hitchhike
If you have your own surfboard then the best option is renting a car or trying to hitch a ride with someone that has a truck (actually easier than you might think).
If you don't have your own board, then it's actually much easier, just take the bus and rent a board when you arrive. Alternatively, you can book a trip to La Lancha with Sayulita Surf School they will organize transport for you and you can have your lesson at La Lancha rather than on Sayulita beach.
However, you get to La Lancha you will be dropped off or park at the gas station/ OXXO. From there you need to cross over the road and take a short walk through the jungle to get to the beach. It's not a challenging walk, but it's worth mentioning that it isn't a very accessible beach if you are in a wheelchair or have mobility issues.
Punta de Mita
Personally, I think if you are a more experienced surfer and don't want to party then Punta de Mita might be a better fit for you than Sayulita. In Punta de Mita there are several surf breaks (so you have more options), the beaches are far less crowded, there are fewer surfers there, and the waves are generally bigger. This means it's not as ideal for beginners as Sayulita is.
The most popular surf breaks in Punta de Mita are:
El Anclote
This is not a beginner's break, so if you are new to surfing don't go here alone. You can access El Anclote through El Coral Restaurant.
Stinky
Stinky beach in Punta de Mita is where you will find the surf school and beginner surfers hanging out. It's very central and you can easily access the beach by following the signs or through La Quinta del Sol Hotel.
San Pancho
I have personally never surfed in San Pancho but it's well known for being more of an intermediate break. This is a beach you visit to surf once you have graduated from your surf school in Sayulita! It's worth visiting just to hang out in the town though, its quite possibly my favorite pueblo in Nayarit.
Sayulita Surf Lessons
Surf lessons in Sayulita aren't particularly cheap, but you get what you pay for, and the instruction is top-notch. It only took me a few surf lessons in Sayulita before I felt confident heading out on my own. Now I just have a lesson every now and again to keep improving. Click here to book surf lessons online.
I took lessons with Sayulita surf school and can't recommend them enough. They were great and once you are ready to go out alone they offer board rentals for $10 USD an hour.
Sayulita Surf Camp
Looking to do a Sayulita surf camp! Great idea. There are lots to choose from and you can often team up your Sayulita surf camp with yoga classes to stretch you out in between surf lessons. Personally, I find taking part in a surf camp really helps to push my surfing skills along as you get to really focus on improving.
The best Sayulita surf camp is with a guy called Cory from Variant Surf co. The camp includes the following:
Surfing in Punta Burros
4-day surfing lessons and surf trips
1 day of pampering massage session
Surf board rental and beach gear included
Vehicle provided for airport and surf trip shuttles
1 day photographer for capturing the experience and memories
Airport pickup and drop off service
6 nights' accommodation
Click here for more information about the 7 day Surf camp
Alternatively, the other Sayulita surf camp I recommend is with WildMex Surf & Adventure it's a 7 day progressive surf camp and it includes:
5 instructed surf lessons
All land and boat transfers to surf breaks
Access and use of over 300 surf and SUP boards
Rashguard, booties, and wetsuit top rental
6 nights accommodation
Beach and pool access
Click here for more information about Wildmex surf camps
If you wanted something a bit more budget-friendly and don't mind sleeping in a dorm room then Selina offers 4 day Sayulita surf camps that include:
3 two-hour surf lessons
24/7 service of the Selina team
Includes surf tips, coaching, board rental
Receive discounts for extra services
Daily breakfast will be provided
3 nights accommodation
Prices start from just $220. Click here for more information.
Sayulita Surfboard Rentals
If you just want to rent a surfboard in Sayulita you will have many options! Just walk along Sayulita beach and choose a school to borrow a board from. Alternatively, you can rent a soft beginner surfboard from Sayulita surf school online here for $10 USD per hour.
Did You Get Travel Insurance Yet?
If you are planning a trip right now then you NEED to thing seriously about insurance. If 2020 taught us anything, it's that you need to be prepared for anything! Travel insurance has always been high on the list of things to get before you travel but now more than ever it should be at the top of your list! I'm pretty sure we have all had travel plans messed up because of COVID and not all insurers covered this. So you need to find an insurer that covers travel disruption due to COVID-19, World Nomads and Safety Wing are the ones to go for. World Nomads is great for incidents that happen prior to your trip, so if you get sick or are unable to travel due to travel restrictions some of their policies will cover that as cancellation cover. Safety Wing goes the extra mile and covers quarantine outside your home for up to 10 days, they also have a really handy map on their website showing requirements and restrictions for each country. If you are doing shorter trips or a onger backpacking trip then WorldNomads is the best option. If you are a digital nomad or planning travel of at least 6 months then go for SafetyWing.
Buying A Surf Board In Sayulita
Serious about surfing and want to buy a surfboard in Sayulita? If you want to buy a surfboard in Sayulita firstly I would suggest checking Facebook. Most surfboards for sale in Sayulita will be listed there. If you don't see a surfboard you like on the Facebook market place join some of the local Facebook groups and post in there to see if anyone is selling a surfboard in Sayulita.
Failing that I would advise you to ask around, most surfboards in Sayulita are bought and sold by word of mouth in Sayulita. A friend of a friend knows someone whose uncle is selling a board kinda thing. So ask local surfers, check-in the Sayulita surf shops. And if all else fails get yourself to Costo in Puerto Vallarta and buy a wavestorm haha
If you want to buy a new surfboard in Sayulita then take the bust to Buscarias and there is a surf shop there that makes custom surfboards called MAS Surfboards.
What to Pack for Surfing in Sayulita
My favorite section, what to pack… and by that I mean what cute surf outfits you should invest in before going surfing in Sayulita.
Here is my packing list of must include things when planning a surf trip to Sayulita. Under it, I've included some surf-friendly swimsuits (of course). For my complete packing guide for Mexico click here.
Rashguard
Thin wetsuit (for the wintertime only)
You can read my full what to pack for a surf vacation here and my what to pack for Mexico here.
Looking For Somewhere To Stay in Sayulita?