Wondering where the best surfing in Mexico is? You are in the right place. With more than 9,000 miles of coastline to explore, Mexico has some of the best beaches for surfing trips that are famous among surfers from all around the world. The unbelievable waves, perfect climate, rich history, and delectable food meet up to make a surf destination worth visiting.
In this post you are going to learn the top surf destinations Mexico has to offer to help you plan your trip.
Did You Get Travel Insurance Yet?

The Insurance companies I recommend are Hey Mondo, Safety Wing, and Travel Insurance Master

Hey Mondo is great if you are looking for a great value flexible policy. They offer single-trip cover, annual multi-trip cover, and long-term travel cover. Safety Wing is great value, with monthly coverage starting at $39. It's super easy to use, and it just renews each month. I currently use them as they offer me free cover for my son as part of my policy. I also use Travel Insurance Master for short trips.

Read my full travel insurance post here, where I go into detail about all companies.
The Best Surfing in Mexico
Here is a quick list of the best places to surf in Mexico:
1. Sayulita, Nayarit
The colorful town is one of the best surfing spots in Mexico. And yes, I did put it as number 1 because it's where I live and I'm 100% biased 😉
But for me, surfing in Sayulita is awesome for so many reasons, and not just because the town is small and the beach is right in the center of town. Sayulita can get a bit of a bad rep as a party town, and while I must admit I avoid Saturday nights there, the pros far outweigh the cons.
Quick Tip: I highly recommend booking all of your Mexico transportation with GottoGo. You can search for buses, shuttles, ferries, and Flights on their website. What I love most about them is their customer service. I know these guys personally from living in Guatemala, and they look after their customers.

If anything happens and you get delayed and miss your bus, you can just call them, and they are always there to help. If you book through them, you will pay a little more than booking in person at the bus station. But it's worth it for the ease and security. Click here to search for transportation in Mexico.
Who is surfing in Sayulita for?
Sayulita attracts a mixed crowd of people from beginners to more experienced surfers. You will find beginners will stick to one side of the beach while those who know what they are doing will stick to the other side where it's a bit rockier. The only downside to surfing in Sayulita is that during the day there can be a lot of swimmers in the water, which can get a bit annoying when the break is near the shore.
My advice would be to base yourself in Sayulita but travel around a bit. For example, I really enjoy going to La Lancha beach just outside Sayulita or to Punta de Mita which has several surfing beaches. La Lancha is great for a day trip, whereas Punta de Mita would be somewhere to spend a few days (maybe to avoid the crazy weekends in Sayulita). Both places are a very short drive from Sayulita.
If you are looking for the best surf school in Sayulita then I would highly recommend Sayulita Surf School. Sergio and the team are such a great bunch, and I progressed so fast with just a few lessons. You can book your lessons with Sayulita Surf School via WhatsApp by clicking here. Please tell him I sent you!
Looking for a Sayulita Surf Camp?
If you want an all-inclusive surf camp experience in Sayulita then I highly recommend Cory and Variant Surf Co. You can learn more about the Mexico surf camp he offers in Sayulita by clicking here. The surf camps offer surf lessons, surf trips, yoga lessons, discovery tours, and activities for all ages. These surf camps are for beginners and for pros.
A great option for a surf and yoga retreat is Yantara Retreats Sayulita (more on these guys later!) You can prepare por some pampering and fun. This is not the most affordable option, but not the most expensive either. What it is certain is that you'll be well taken care of. The one week sample package includes:
7 nights accommodation in one of our wonderful casitas
3 vegetarian meals and afternoon snacks cooked by our in-house chef (one evening off)
11 yoga classes spread across the week (yoga equipment included)
1hr pool session working on breathing techniques underwater
5x2hr surf lessons (rental included)
5x1hr free surf time (rental included)
a 2hr surf trip to a secret location
a 2hr evening sunset paddle session
Sunset hike up Monkey Mountain
unlimited filter water
transport to and from the airport
Click here for more information about Yantara Retreats Sayulita and use the discount code CLAIREIF10 for a 10% discount code upon reservation!
When is the best surf in Sayulita?
December to April is the best time to visit Sayulita, the water is a bit cooler as it's winter so you may need that rashguard! But during the summer months, the heat can be unbearable, but the water is warm!
Other things to do in Sayulita
There are so many fun things to do in Sayulita that I wrote a whole Sayulita guide you can read here. But as well as surfing you can scuba dive (from La Cruz) visit the markets, explore the beaches, eat your way around all the restaurants, yoga, salsa, or just chill. And of course, if you are looking to party, Sayulita will not disappoint!
Where to Stay in Sayulita
Budget: Blue Pepper Beds Sayulita or My Sisters House – Female only
High: Sayulinda Hotel
2. Puerto Escondido, Oaxaca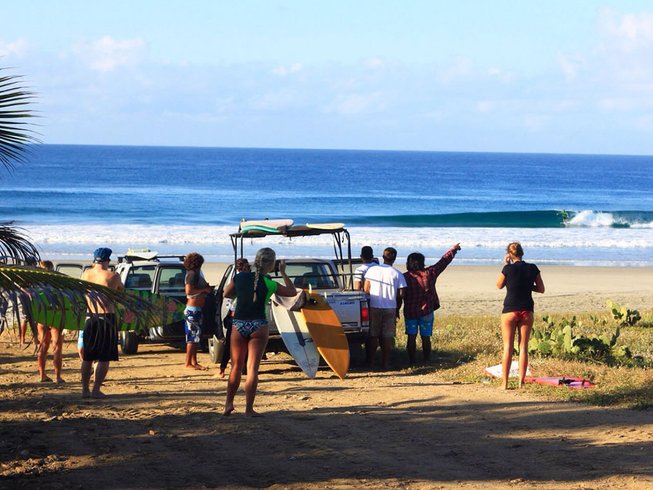 This is among the most famous Mexico surfing areas. Here it's less of a beginners place, you will find more experienced surfers coming to advance their skills. The beach is full of heavy barrel rocks from top to bottom. High waves are the specialty of this area.
Even if you aren't an experienced surfer, Oaxaca is one of my favorite states in Mexico. And Puerto Escondido will not disappoint. I would recommend that beginners find a good surf school or surf camp to get them started so you can get to know the area and the beaches.
Looking for a Puerto Escondido Surf Camp?
Oasis Surf & Language School is, for me, one of the best options for surfing lessons no matter your level of experience. Each instructor is assigned only two persons to assure the safety and fun of the experience and you can have them in both English and Spanish. The surf camp includes surfing lessons, fitness group classes to enhance your surfing conditions, private Spanish lessons, surfing equipment, and more. If you want more information about Puerto Escondido surf and Spanish camp click here.
When is the best time to surf in Puerto Escondido?
Early May to August is the best time to surf in Puerto Escondido if you are looking for the big waves, though it is also the most crowded season. If you are looking for a less crowded beach, the best months to surf in Puerto Escondido are September, October, and early November. Although be warned September is the rainy season and the last time I was there in September it pretty much rained the whole time.
Other things to do in Puerto Escondido
Puerto Escondido is a great destination for almost everybody. There are plenty of things to do if you are traveling on your own or with your family. Do some dolphin watching, snorkeling, take a walk around the beaches, join in a food tour, enjoy the nightlife, or go to the markets. There is also a big yoga scene here plus it's just a few hours from San Jose the mushroom capital of Mexico…
Book a surf trip in Mexico with Thermal
Where to Stay in Puerto Escondido
Budget: Tower Bridge Hostel or Casa de Olas Boutique Hotel
Mid: Hotel Santa Fe
High: Hotel Escondido – Adults Only or Villas Carrizalillo
3. San José del Cabo, Baja California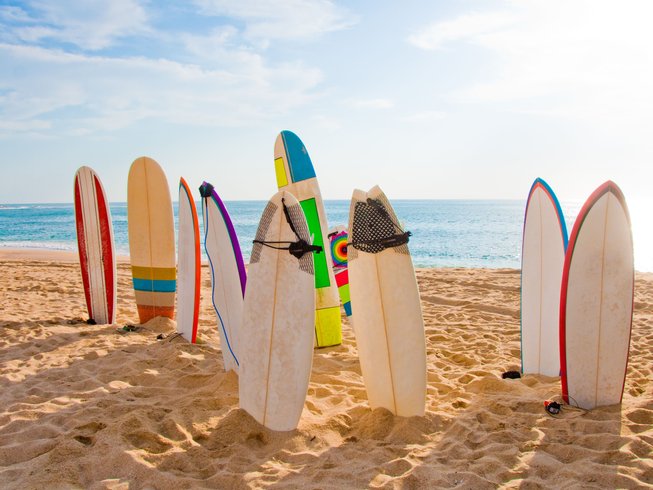 This Mexico surf spot is not far from the US border, therefore, it attracts surfers from all over the world. Especially US citizens who can drive here from California. This beach here is best for beginner surfers. The beach has some of the best waves in Mexico; however, the water on Ensenada beach always remains cold. This obviously puts off a lot of people who prefer to surf in warmer waters.
Looking for a San Jose del Cabo Surf Camp?
Cabo Surf Retreat is a surf camp dedicated to beginner surfers that want to live an authentic "Baja experience". These guys like to call themselves unique because you can choose your surfing schedule, this means that there is not a set program you have to follow. Of course, all of the time you will be guided by professionally certified instructors. Continue reading more in this beginners surf retreat in San Jose del Cabo link.
When is the best time to surf in San Jose del Cabo?
June to August are the best months to catch some waves, however, it is also the time when the Los Cabos Open happens. This means that you will find a lot of contestants practicing around June. If you have some time to wait for the crowds to leave, you can still catch some big waves or, another good season is from December to February. Though the water is much colder so bring a suit!
Other things to do in San Jose del Cabo
The stunning ocean is not the only attraction to this place. You can visit art galleries, join in food or beer tours, trekking around the rocky formations, boat rides. There are tons of things to do.
Where to Stay in San Jose del Cabo
Budget: Marisol Boutique Hotel
Mid: SIX TWO FOUR Urban Beach Hotel
High: Krystal Grand Los Cabos – All Inclusive
4. Troncones, Guerrero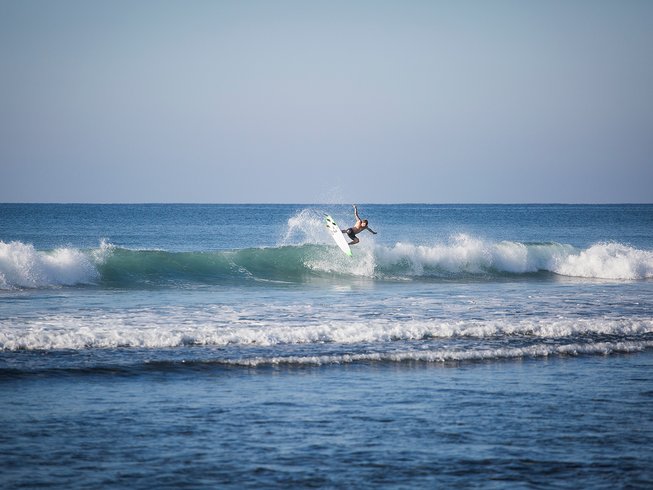 This is one of the best surf spots in Mexico and is now the center for the best waves in Mexico as well. Surfing in Mexico for beginners is great here as it is relatively safe. This makes it the ideal area to learn surfing in Mexico and to enhance your surfing skills.
Surf Camp in Playa Troncones
If you are looking to do an all-inclusive Mexico surf camp then I highly recommend this 8-day yoga and surf camp in Mexico. It is predominantly a yoga retreat with a few surf lessons added in but you can borrow the boards whenever you like so this would be great for surfers who want to improve their yoga and don't need so many classes.
When is the best time to surf in Troncones?
At Troncones, it is always surf time, though there are two seasons to take into consideration. One is from April to October, you can find the biggest swells, which are perfect for adventurers. But be aware of the weather conditions because things can go wrong if a storm gets too close to the shore. Second, from November through March, the waves diminish in size considerably but are still perfect for surfing, plus the weather is better through this time.
Other things to do in Troncones
Troncones is not a very touristy beach but has incredible places for yoga, tours to the countryside or, wake up in the early morning to help baby turtles reach the ocean with turtle release programs.
Where to Stay in Troncones
Budget: Troncones Point Hostel
Mid: Casa de la Costa or The Resort at Majahua Palms
High: Present Moment Retreat
5. Pascuales, Colima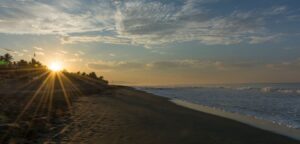 One of the lesser-known places in Mexico to surf in the state of Colima. If you are a more experienced surfer looking for a quieter place to base yourself in Mexico, this is it. Pascuales in Colima is among the best surf towns in Mexico. Although be aware this beach is for experienced surfers only. If you are a beginner and you want to surf here then you will need to take classes with one of the local surf schools. The beach is famous for waves of more than 25 feet high!
When is the best time to surf in Pascuales?
The waves at Pascuales are great all year long, but if you are looking to catch the best ones, the best season is from May to August. The beaches can get a little crowded in front of the town when the swell is good.
Other things to do in Pascuales
This is a small Mexican community perfect to get away from the city hustle. Not much to do other than exploring the town and enjoy the beach.
Where to Stay in Pascuales
It's actually pretty tricky to find accommodation in Pascuales. Most of the accommodation listed online is in neighboring towns. I would recommend staying in the local area and renting a car so you can easily travel around to the different beaches in the area.
Mid: Campestre San Rafael (6km)
6. Mazatlan, Sinaloa
Mazatlan is one of the best surf towns in Mexico for all surfers from beginners to more advanced surfers. It also has some of the best surf schools in Mexico. Plus, it really is a playground for many other water sports too including windsurfing, kite surfing, snorkeling, and scuba diving. Waves can be seen throughout the year and weather conditions also remain nice.
When is the best time to surf in Mazatlan?
The best time of year to surf is from April through September when the large south swells push through.
Other things to do in Mazatlan
You can go whale watching from December through April, visit the aquarium, take a ferry to Isla de la Piedra, go to the theatre Angela Peralta or walk around the colorful streets of Old Mazatlan.
Where to Stay in Mazatlan
Budget: Ibis Mazatlan Marina or Hotel la Siesta
Mid: Gaviana Resort
High: Hotel Boutique Casa Lulu