India's capital city Delhi is undoubtedly the country's food capital as well. You will find every type of cuisine here to appease your taste buds. From relishing tongue-tingling spicy, tangy street food, and melt-in-the-mouth sweet delicacies to ala carte gourmet cuisines, there are many reasons for a hardcore foodie to take a Dubai to Delhi flight.
Here we list the 11 best reasons to travel to Delhi for a food trail.
1. You will get a variety of flavors & cuisines
There are numerous street food vendors, sweets shops, North Indian restaurants, fast food joints, regional & international food places, and top hotels spread across the national capital.
You can enjoy street food savories like samosas, kachoris, golgappas, choley bhaturas, and kebabs, and relish the sweetness of jalebis, faluda, rasgullas at Chandni Chowk. If you want light snacks, there are amazing coffee houses, bakeries, and sandwich hangouts at Connaught Place.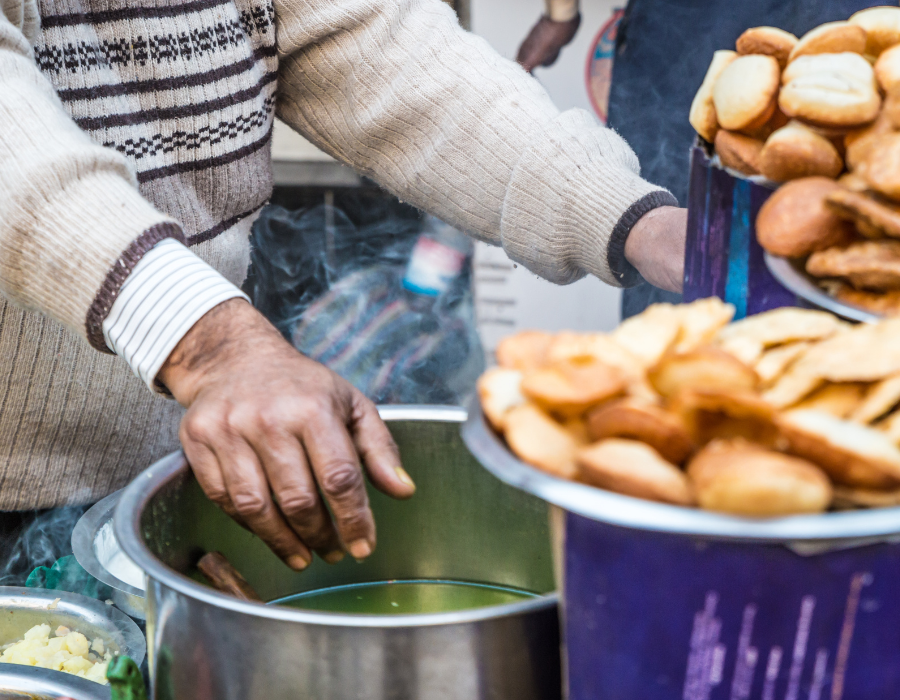 2. It's a heaven for Non-Veg food lovers
Old Delhi and Jama Masjid areas in Delhi offer the best meat dishes that a non-veg foodie has to try. Here, apart from the world-famous 'butter chicken,' you will get well-cooked keema samosas, grilled botis, Kakori kebabs, Niharis, mutton kormas, and more.
Some of the interesting places we can recommend for the Mughlai non-veg cuisine are the Karim's at Jama Masjid for mutton korma, Kallu Nihari in Daryaganj, Matka peer Dargah Biryani, Chicken Jahangiri at Al Jawahar and butter chicken at Moti Mahal. For some different tastes, try chicken momos at Dolma Aunty at Lajpatnagar or the fish pakoras at Ganesh in Karol Bagh.
3. It's a delight for dessert lovers
If you have a sweet tooth, head to this 100-year-old eatery in Chandni Chowk to relish some hot and juicy jalebis, a deep-fried South Asian pretzel soaked in sugar syrup. Your taste buds will thank you for the treat.
For more sugar-coated love, check out sweet shops like Bankey Bihari Brijwasi for Rasgulla in Kamala Nagar, Giani's Di Hatti in Chandni Chowk, or Haldiram's outlet for rabdi falooda, and Roshan di Kulfi in Karol Bagh for some frozen dessert.
If you can jump a Dubai to Delhi flight during Indian winters, then don't miss out on eating this exclusive dessert, 'Daulat ki Chaat,' a sweet foamy milk delicacy prepared using the wintery dew only available in Chandni Chowk in India.
4. You will get the best of the street food in India
India is famous for its lively street food culture, and Delhi serves the best of it. Chole Bhature or Chole Kulcha, available at most restaurants and street shops, is an all-time favorite spicy chickpeas and Indian bread dish. Try it at outlets in Chandni Chowk, Paharganj, or Sadar Bazaar.
Golgappa of Delhi called pani puri in Mumbai and puchkas in Kolkata, is the king of Indian street food. The crunchy water balls are like an explosion of spices and chutneys in the mouth. You will find golgappa vendors on almost every street in the city, and for hygiene conscious, visit any Haldirams outlet. Besides, there are papri chaats, dahi bhallas, pakoras, samosas, and paranthas to enjoy.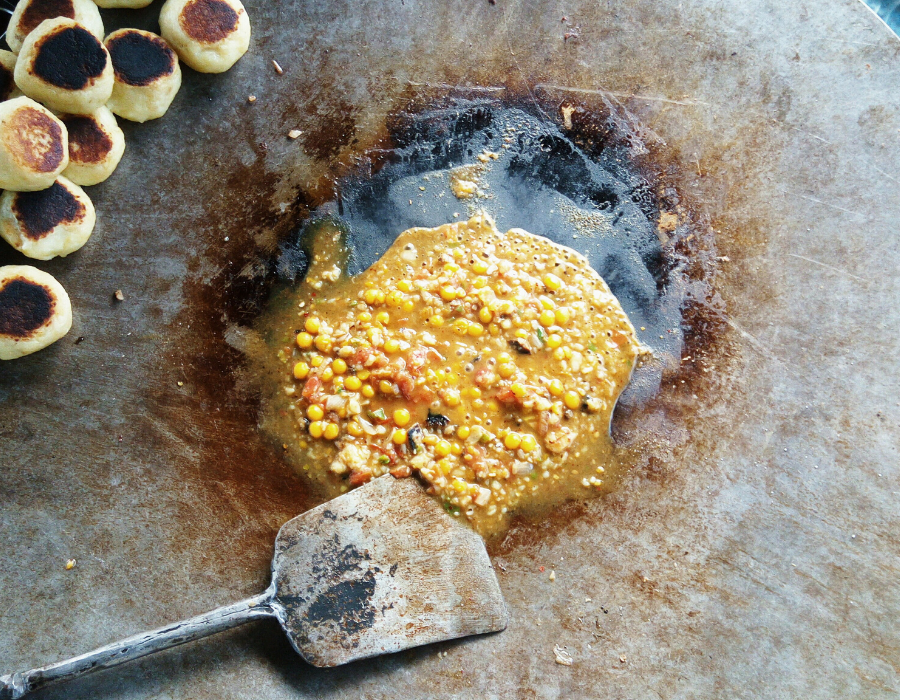 5. Multi-cuisine and international food outlets
Delhi is not only famous for North Indian cuisine but also some world cuisine and fusion food options are available here. Connaught Place (CP), known for its Georgian-style architecture and as a business district in Delhi, has multiple restaurants, cafes, and bars serving fusion food.
You can have a drink or two at Connaught Clubhouse, said to be the city's first German microbrewery, or enjoy a meal at rooftop restaurants like Tamasha or Farzi Café. Then there are iconic outlets like Wengers for pastries, cakes, patties, and sandwiches and United Coffee House for a strong cup of coffee to get over a hangover.
You can also try Tibetan fusion food at Hungry Strike in Lajpatnagar, whose tandoori momos are much admired. If you are shopping at Janpath market, then for quick bites, there are the global regulars Starbucks, McDonald's, etc., located in the area.
6. Eat gourmet dishes prepared by top chefs at luxury hotels
If you are not a fan of street food and strong spices can upset your appetite, you can spend on a luxurious a la carte meal at some of the fancy places in Delhi. Five-star hotel restaurants like Le Cirque at The Leela Palace Hotel, Bukhara at ITC Maurya in Chanakyapuri, Varq at the Taj Mahal Hotel, The Spice Route at the Imperial, etc. have good reviews. ITC Maurya's Dal Bukhara, a rich flavored lentil dish with a giant flatbread, is a must-try. Besides, there is a Korean restaurant, an Ethiopian cuisine restaurant, and a British food café at Connaught Place.
7. Try out regional Indian food delicacies
Delhi has a high influx of migrants from other parts of India who have brought in their local cuisine. You will find restaurants serving Bihari food, Bengali food, Rajasthani delicacies, Kashmiri Wazhwans, and even Nepalese cuisine outlets.
For authentic South Indian dosas, idlis and appams, check out the famous Saravana Bhawan at CP and try out the full South Indian veg thali at the Andhra Bhawan for less than $2.
8. Clean the palette with a variety of drinks
If you've had enough to eat, then settle the solid food with some amazing mix of juices, shakes, and sorbets. The Cha Bar at the Oxford book store serves hot cardamom chai, and the budget-friendly iconic Indian Coffee House offers a nice cuppa café latte in CP.
If you are craving a cold beverage, don't forget to indulge in some creamy milkshakes from Keventers or cold coffee at Depaul's. Then there is undoubtedly the option of returning to the street during summer days as you will find numerous chuski ( local ice candy) shops near the famous India Gate.
9. Enjoy Indian hospitality and share your love for food
Indian culture gives the guests the highest regard, and Delhites welcome everyone with warmth and love. You will experience the traditional Indian hospitality at every place in Delhi. From street vendors to top five-star chefs, you will be treated with equal enthusiasm.
10. Experience the diverse culture of India
While exploring the food trail of Delhi, you will also get a chance to visit amazing locations in Delhi. The narrow streets of Chandi Chowk, the Mughal established monuments at Lodhi road, the circular route of the Colonial Connaught place, the modern Indian establishments like the India Gate, the Parliament, the Janpath road, etc.
11. Gather memories for a lifetime through food
You will have multiple food pictures for your Instagram feed and countless food stories to last a lifetime.