Hocking Hills Ohio in the United States, is an outdoor lover's dream come true! This beautiful, peaceful place is surrounded by nature and is the perfect destination to plan an escape from everyday life. Scenic hiking trails, waterfalls, caves, streams, and forests make up the landscape. In fact, the Hocking Hills region is home to Ohio's most popular state park, in addition to several other preserves.
Did You Get Travel Insurance Yet?
If 2020 taught us anything, it's that you need to be prepared for anything! Travel insurance has always been high my list of things to get before I travel but now more than ever its at the top of my list.

I'm pretty sure we have all had travel plans messed up because of COVID and not all insurers covered this. So when looking for travel insurance it's important to check it covers travel disruption due to COVID-19, Hey Mondo, Passport Nomads, Safety Wing, and Travel Insurance Master all provide cover for this.

Hey Mondo is great if you are looking for a great value flexible policy. They offer single trip cover, annual multi trip cover, and long term travel cover. You even have the option to start the cover when you are already on your trip, although you won't be covered for the first 72 hours. For me my favourite feature is their app which offers you a 24/7 Dr chat and the ability to file a claim direct in the app.

Passport Nomads provides the most comprehensive cover for Digital Nomads. The game changer with them is that you have a red card and if you find yourself in need of medical care you just contact them and they will pre load your card with the funds to cover your treatment, meaning you won't need to pay out of pocket and then put in a claim later.

Safety Wing is great value with monthly cover starting at $39. It's super easy to use and it just renews each month. They have an excess of $250 and it's simple to make a claim through their website. I currently use them as they offer me free cover for my son as part of my policy and I like that it renews on a monthly basis, so I don't have to pay out a big lump sum up front.

I also use Travel Insurance Master for some short vacation type trips.

If you are doing shorter trips or an extended backpacking trip then Hey Mondo or Travel Insurance Master are the best option. If you are a digital nomad or planning travel of at least 6 months then go for Passport Nomads or SafetyWing.
Best Things to Do in Hocking Hills Ohio
Whether you want to disappear down a river on a kayak or go on a high-flying zipline adventure, there's something for everyone in the Hocking Hills region. And when you've had enough outdoor fun for the day, head into nearby Logan to check out its cozy cafes and lively pubs – several of which offer live music.
Many attractions around Hocking Hills highlight the sheer beauty of the region. Below are some of the top things to do in Hocking Hills Ohio.
Don't forget to pack hiking boots, sneakers or sandals, hiking pants or yoga pants, a light rain jacket if it rains, and a top.
1. Hike to Old Man's Cave
The one-mile loop trail that leads to Old Man's Cave is a scenic trail to what many consider the most popular attraction in the Hocking Hills area. In the Hocking Hills State Park, Old Man's Cave is situated in a valley and features two waterfalls that drop into the pools below.
Around the area are deep gorges, colossal rock formations, and the cave itself, which was named after a hermit who took up residence there in the late 18th century. Although you might be tempted to take a refreshing dip in the waters of those pools, swimming is strictly prohibited at the site. Still, you can stay there as long as you want and take in the stunning natural surroundings!
2. See a Natural Wonder at Ash Cave
Ash Cave was used for shelter centuries ago, but today it's another one of the top things to do in Hocking Hills. This natural cave and waterfall surrounded by lush forest look like something out of a fairytale.
The way the water cascades down over the ledge into the little pool inside the giant cavern creates a surreal scene that must be seen to be believed! The half-mile trail in Hocking Hills State Park that leads to Ash Cave passes through a narrow tree-lined gorge. The cave itself is the largest recess cave in Ohio at 100 feet deep and 700 feet from one end to the other.
3. Check Out the Rock House Cave
There's only one cave in Hocking Hills State Park that meets all the criteria needed to classify as a proper cave, and that's Rock House. The scenic Rock House Loop Trail is about a mile long, and before you even reach the cave, you'll enjoy spectacular views. The Rock House Cave is likened to a 200-foot tunnel located halfway up a 150-foot sandstone cliff with a 25-foot-high ceiling. One of the most impressive features of the structure is the Gothic-style window formations.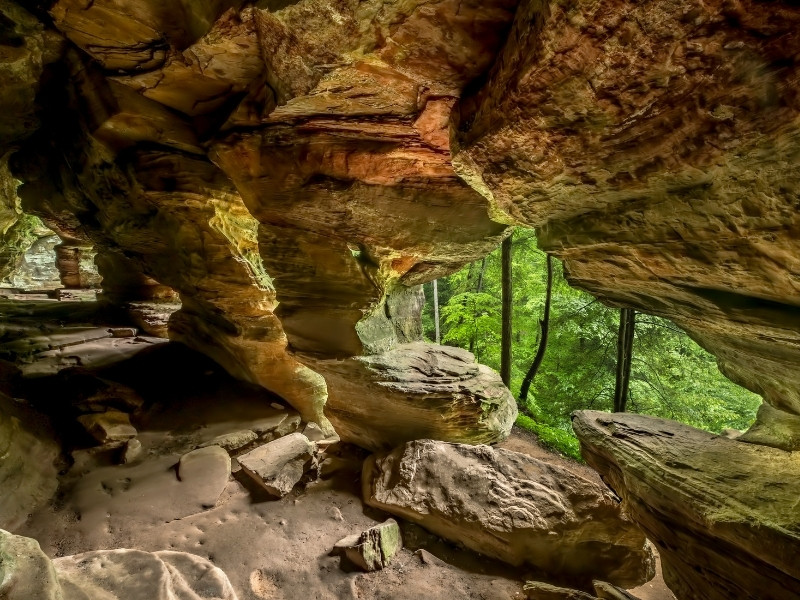 4. Book a Getaway Cabin Hocking Hills
While there are many lodging options in the Hocking Hills region (check out the options listed at the bottom), staying in a private cabin tends to be the preferred accommodation option. There are a ton of beautiful cabin rentals available in the area, the best of which are included in this round-up of the top Hocking Hills Luxury Cabins. Hocking Hills Pet-Friendly Cabins are also plentiful if you're traveling with a furry friend!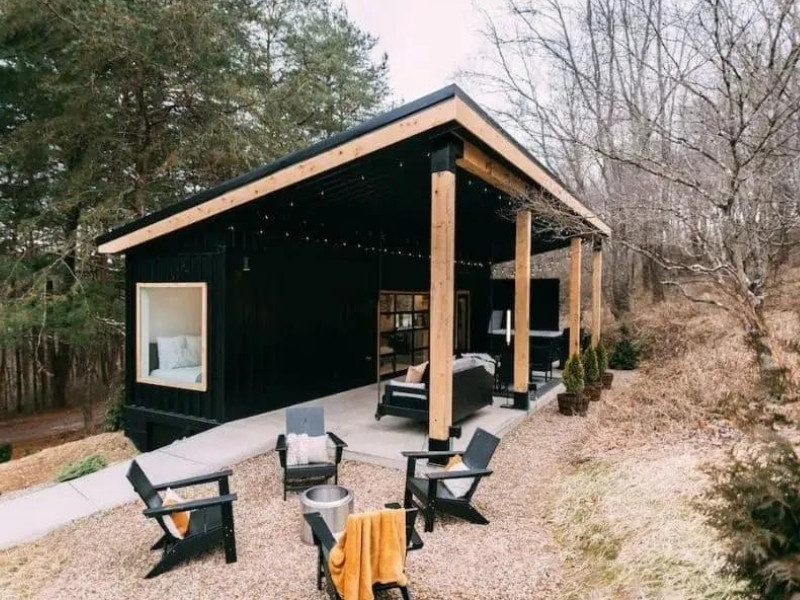 5. Visit Conkles Hollow Nature Preserve
Conkles Hollow is a nature preserve located within Hocking Hills State Park. The gorge is only 100-feet wide in places and, with cliffs almost 200-feet high, is said to be the deepest gorge in the state. In fact, it's so deep that the sun's rays don't reach the valley floor, which means there's an exciting mesh of plant species thriving below.
The main trail that leads to the gorge is only a half-mile long and runs along the mouth of the valley. However, if you feel like doing more hiking in the area, you can take the more strenuous 2.5-mile Rim Trail. You'll see incredible views and waterfalls falling over the sandstone cliffs as you explore the preserve.
6. Hike Along Cantwell Cliffs
The entire Hocking Hills region has a remote feel, but if you want to go somewhere really remote, Cantwell Cliffs is the place to head to! The almost two-mile hike is challenging but worth it.
Upon arrival at Cantwell Cliffs, you'll see some of the best views in all of Hocking Hills. Valleys, unique rock formations, soaring trees, a waterfall, and 150-foot cliffs are some of the sights that make up the beautiful surroundings.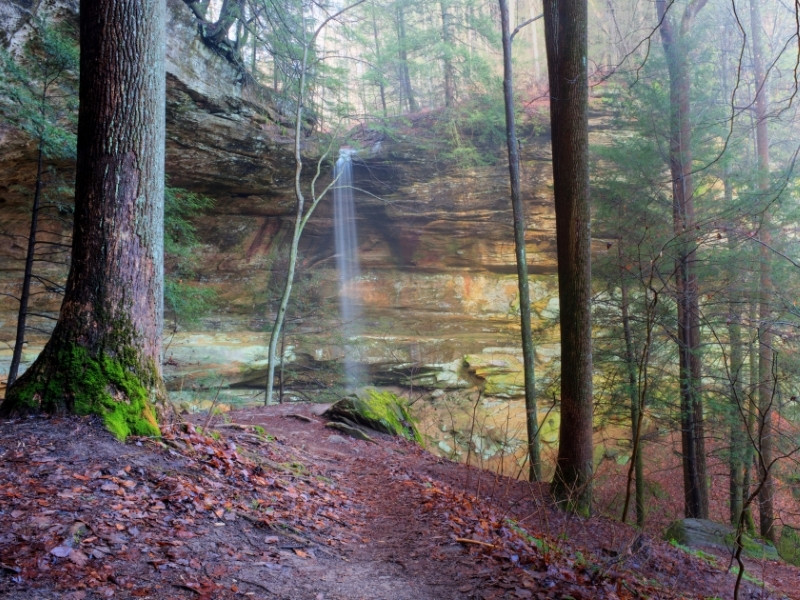 7. Take a Short Hike to the Devil's Bathtub
Another unique thing to do in Hocking Hills is to visit the Devil's Bathtub. This top attraction can be found along the Buckeye Trail. Hike for about a mile before reaching a crystal-clear pool known as The Swimming Hole.
A short distance past this site, you'll reach the Devil's Bathtub, a tiered waterfall in the middle of a creek. Watching the tub change size due to the swirling action of the water is mesmerizing!
8. See a Piece of History at the Moonville Tunnel
Moonville Tunnel is a remnant of the Marietta Cincinnati Railroad that existed from the mid-19th century through the early 20th century when the economic downturn turned Moonville into a ghost town. The tunnel itself was constructed in 1857 and stretches 100 feet.
The trail leading to Moonville Tunnel can be found on Hope-Moonville Road and is just over a mile long. Still, you can extend your hike along the Moonville Rail Trail for another 10 miles through scenic woodlands. This area is famous for bird watchers, and along the way, you'll see another historic tunnel. Legend believes that the Moonville Tunnel is haunted by a ghost carrying a lantern through the tunnel on stormy nights.
9. Visit The Hocking Hills Historical Society & Museum Complex
If you want to learn more about the area's history, a perfect place to start is the Hocking Hills Historical Society and Museum Complex in the nearby town of Logan.
At this museum, you'll learn about Hocking Hills during World War II and the Native American presence in the region. There are six buildings full of exhibits and artifacts to explore, so you'll be a Hocking Hills expert by the time you leave the site! A railway telegraph, print shop, recreated 1912 schoolhouse, carriage house, and Lutz steam car are just some of the fascinating things you'll see here.
10. Enjoy Swimming, Fishing, and Hiking at Lake Logan
While most bodies of water in Hocking Hills State Park don't allow swimming, you can undoubtedly take a refreshing dip on the north side of Lake Logan at the beach.
Situated in Hocking Valley, Lake Logan is also one of Ohio's best lakes for fishing. But, if fishing and swimming aren't on your to-do list, take a stroll on one of the many trails where you might spot wildlife, including raccoons, turtles, deer, and many species of birdlife. Around the lake, you'll also find several picnicking areas.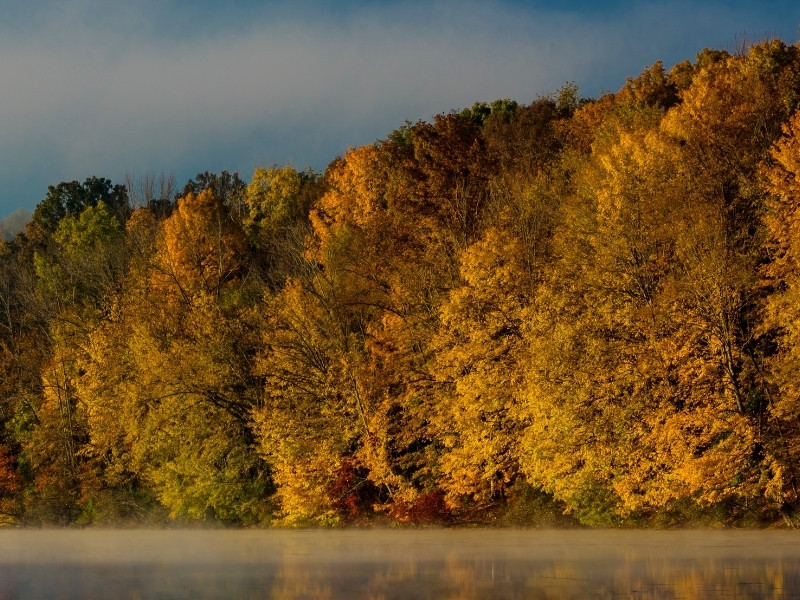 11. Spend Some Time in Nature at Cedar Falls
The hike to Cedar Falls is easy, and that's a good thing because it's worth the small effort it'll take to see this waterfall. At 50-feet high, it's not quite the tallest waterfall in Hocking Hills State Park, but it's the largest in terms of water volume. All this water falls into a small pool at the bottom. The steps leading down to the falls are a work of art in and of themselves.
The sound of the falls combined with the picturesque cliffs and grottoes create a perfect place to take a relaxing break and perhaps even catch a glimpse of the snapping turtles often spotted in the area.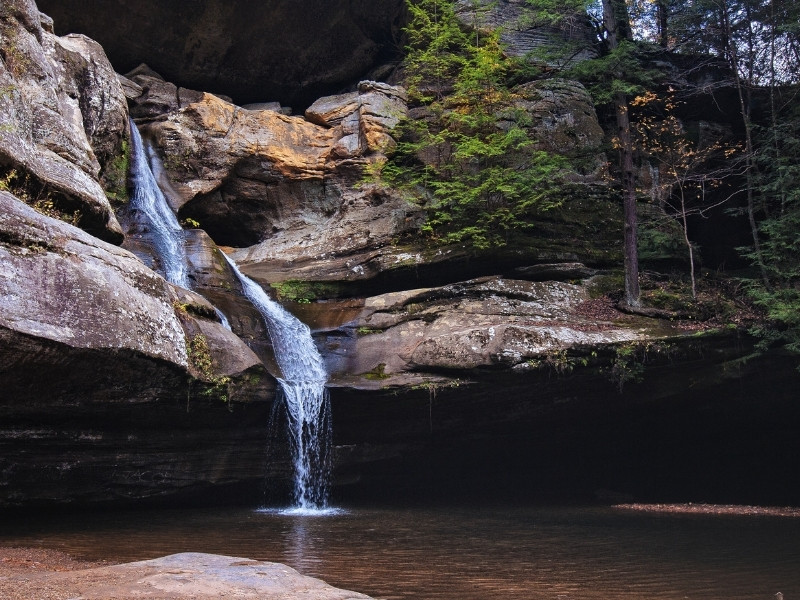 12. Combine History and Nature at Zaleski State Forest
One of Ohio's most extensive forests, Zaleski State Forest is a remote natural area that is much quieter than nearby Hocking Hills State Park. Within its 28,000 acres, you'll find rugged terrain amidst deep forests and an abundance of outdoor adventures.
If you're up for an epic backcountry adventure, there's a 23-mile backpacking route. You can also limit your visit to a day trip exploring top sites like Waterloo Wildlife Area, a lake, and the horse camp. The forest is steeped in history, which can be seen in the prehistoric Native American mounds, an old schoolhouse, and a historic sawmill.
13. Take A Ride On The Scenic Railway
When you need a break from hiking, head over to the Nelsonville Depot and take a ride along a scenic railway! Every weekend, the railway offers several different types of train rides. Each one allows you to sit back and enjoy the picturesque countryside between Nelsonville and East Logan in comfort. This is one of the best things to do in Hocking Hills, especially in the Fall when the leaves are changing color. This is an excellent opportunity to explore your photography abilities.
14. Go Ziplining
With so much open space and so many forested areas, it's no surprise that another one of the best things to do in Hocking Hills is Ziplining. The region is home to the state's oldest zipline, Hocking Hills Zipline.
You'll launch into a high-flying adventure over the scenic landscape below from high up on a platform. There are over 60 ziplines in the area operated by several other companies too, including Hocking Hills Canopy Tours and Valley Zipline Tours.
Extend the Adventure in Hocking Hills Ohio
Hocking Hills is a fantastic place to visit, but your road trip adventure doesn't need to end there! The east coast of the United States is home to some of the country's best national parks. Cuyahoga Valley National Park in Ohio, Great Smoky Mountains National Park in Tennessee, and Shenandoah National Park in Virginia are other incredible places to see on an East Coast National Parks Road Trip.
Looking for a place to stay in Hocking Hills Ohio?
Sleep Inn Logan Ohio-Hocking Hills
Holiday Inn Express Hocking Hills-Logan, an IHG Hotel
Pine Creek Horseman's Camp Hocking Hills Cabins
---
Author Bio
Jenna is the founder of Up and Away Magazine, where she curates road trip itineraries and lodging guides to the United States most beautiful outdoor spaces. Up and Away Magazine aims to inspire others to opt outside in a way that is practical, accessible, and suitable for all budgets. In her spare time, Jenna enjoys hiking, climbing, and backpacking.