On a budget and need cheap food in Bangkok? If you are planning a trip to Thailand and you are on a tight budget then take a read of my guide to eat in Bangkok and anywhere else in Thailand for under $7 a day.
Thailand is the perfect place for those thrifty travelers who are watching the pennies. You can find plenty of budget accommodation and food options right across the country. There is a good reason why Thailand is a backpacker and Digital Nomad paradise.
How to Save Money in Thailand – Eat Street Food
The number one best way to save money in Thailand is simple; eat Thai food. Or to be more specific; Eat Thai street food! It's cheap and delicious and surprisingly you often have less chance of getting sick eating street food in Bangkok than you do eating in a restaurant.
So if the thought of eating from a street vendor turns your stomach and has you reaching for your anti-bac hand gel, you might be in for a bit of a culture shock! To really experience Thailand, and make sure you aren't blowing your budget, you are going to need to get over your fear of festering poultry and unwashed hands.
I can honestly say I ate from street carts for most of my three weeks there and not once did I get an upset belly…The Singha beer is another matter, though!
Did You Get Travel Insurance Yet?

The Insurance companies I recommend are Hey Mondo, Safety Wing, and Travel Insurance Master

Hey Mondo is great if you are looking for a great value flexible policy. They offer single-trip cover, annual multi-trip cover, and long-term travel cover. Safety Wing is great value, with monthly coverage starting at $39. It's super easy to use, and it just renews each month. I currently use them as they offer me free cover for my son as part of my policy. I also use Travel Insurance Master for short trips.

Read my full travel insurance post here, where I go into detail about all companies.
Where to Find Cheap Food in Bangkok
In Thailand, you can't walk for long without seeing a street cart selling food. Many of the carts will also have some tables and chairs for you to sit on while eating your food.
There are a few options to look out for:
Walking streets – This is basically a market, they close the road off, and it becomes a pedestrian-only street. There is always plenty of stalls offering food.
Food markets – This normally consists of a lot of food vendors with a large section centrally where you can sit and eat your food.
Street Carts – These are the street vendors who are spotted around the streets. They don't normally have a seated area.
Restaurants – I found that even some of the most expensive restaurants still had Thai food on the menu for about 50-70 tbt. So when I wanted to sit inside with some air conditioning and get out of the heat for a bit by sticking to Thai food, I was still able to stick to our budget.
If you just need a pizza or a cheeseburger they can be found! You will probably pay between 100 and 200 tbt (£2-£4) for western food. Vegetarian food you may have to work a bit harder to find. But there is plenty of great vegetarian food in Thailand to be found.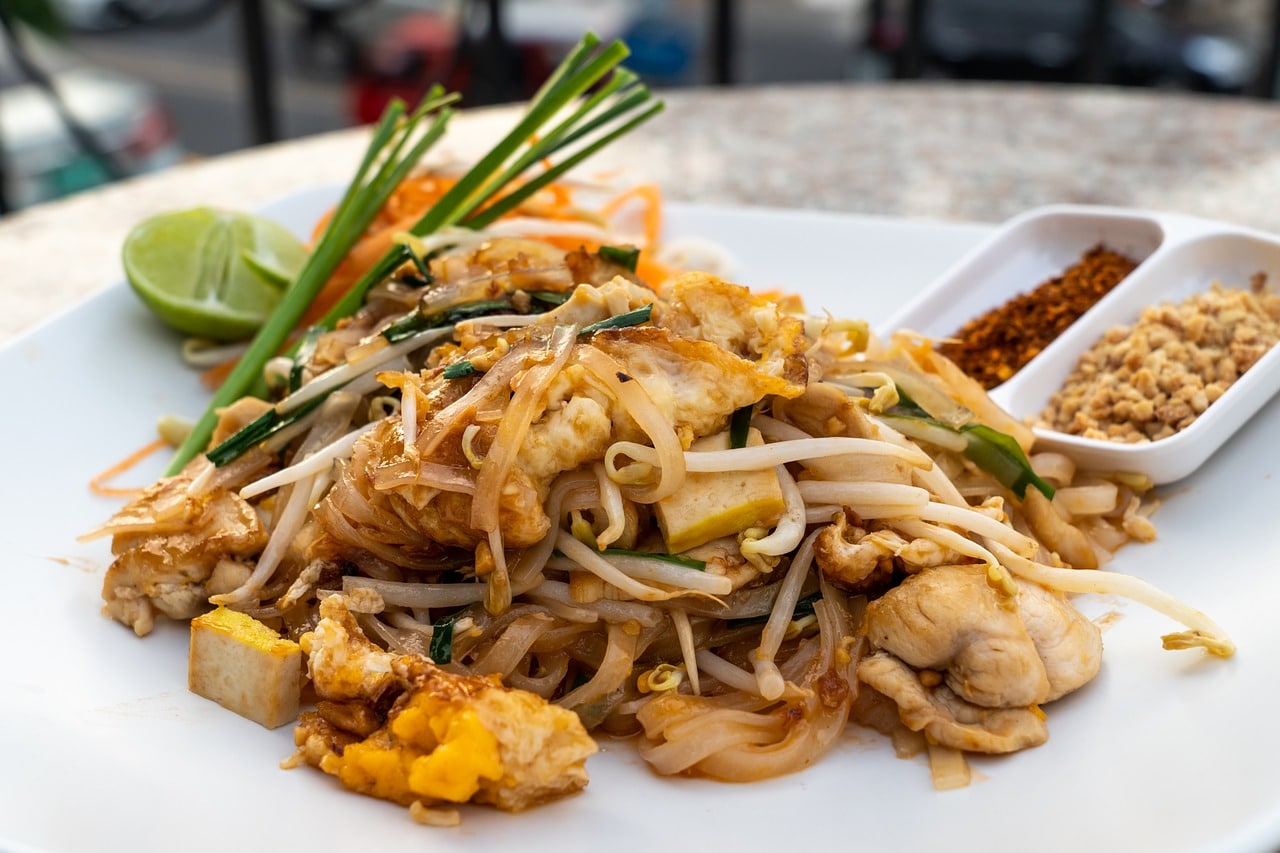 The Cost of Breakfast in Thailand
Cost: 10tbt-200tbt
There is no such thing in Thailand as breakfast (well there is actually they have a dish called Joke, but I didn't come across it once in Thailand). That said they have cottoned on to our western ways and most places will offer some sort of western version of breakfast. Here are a few things to watch out for:
Most of the sausages are chicken sausage
The bacon is streaky (like you get in the US)
Eggs are eggs- You normally get them fried, boiled, scrambled or as an omelet
In general, I found most places call a traditional English breakfast an "American Breakfast."
If you want a western breakfast, it will normally cost you 100-200 tbt if you compare that to eating normal Thai food which will cost 30-60 tbt that's a fair amount more.
If the thought of curry or noodles for breakfast makes you shudder then go for fruit. You can get it everywhere, and it's super cheap. If you want it all cut up nice for you grab a ten tbt bag from one of the vendors.
If like me you aren't a real person until you have had at least 1 cup of coffee you can normally get a half decent one for about 50-60 tbt
Thailand street food including cantaloupe and mango in a plastic bag ready for sale. Bangkok, Thailand. Selective focus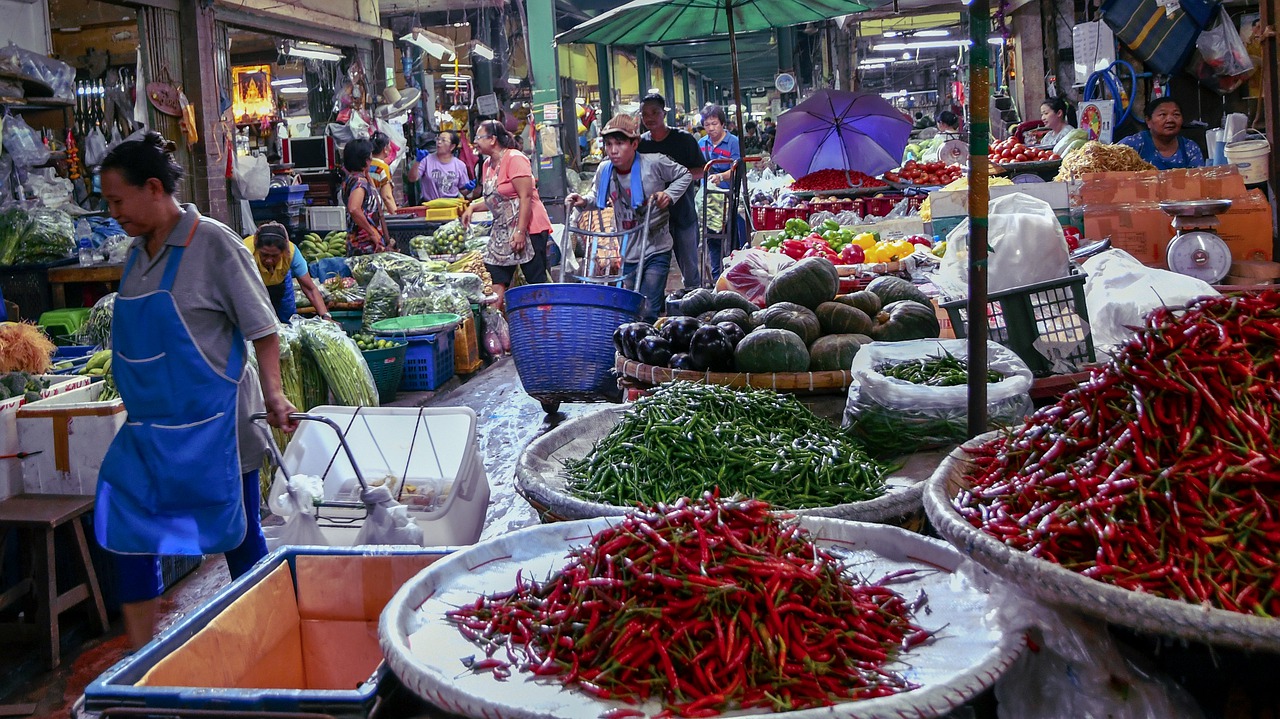 The Cost of Lunch and Dinner in Thailand
Cost: 30 – 70 tbt (£0.80 – £1.20)
Thai food, spicy papaya salad
The Cost of Drinks in Thailand
We found the drinks were about the same everywhere we went:
Coke, Fanta, sprite, etc. 40-60 tbt
Water 10-20 tbt
Tea and Coffee 50-100 tbt
A Budget for Eating Thai Food in Thailand
Breakfast – Bag of fruit and a coffee 70 tbt
Lunch – Pad Thai and a bottle of water 60 tbt
Dinner – Thai Green curry and a Coke 100 tbt
Total 230 tbt (or $7)
A Budget for Eating Western Food in Thailand
Breakfast – Western-style cooked breakfast and a coffee 150 tbt
Lunch – Toasted cheese sandwich and water 150 tbt
Dinner – Pizza and a coke 200 tbt
Total 500 tbt (or $15.00)
Need Transport in Thailand?
I'm a big fan of using BookAway.com when booking transportation in Thailand. I wrote a whole blog post about using them that you can read here. It makes the whole booking process so much easier, plus they have 24/7 support in case you need it!
Final Thoughts
I love Thai Food and eating in Bangkok was pretty much a dream come true for me. I can honestly say I didn't have a single bad meal in Thailand eating local food. However every time I opted for a Western-style meal I was pretty disappointed both with the taste and on how much money I spent. Take my advice and stick to local food as much as you can.
My golden rule for eating anywhere is if there are plastic tables and chairs you are getting the real deal!
Looking for somewhere to stay in Bangkok? I highly recommend staying at The Yard, it's the best hostel in town, and they have private rooms if you don't like the idea of sharing.
This post was proofread by Grammarly