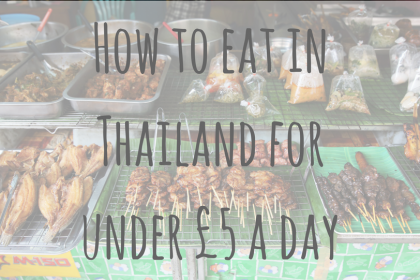 If you are planning a trip to Thailand and you are on a tight budget then take a read of my guide to eating in Thailand for under £5 a day. So you can spend your hard-earned money on the important things; like elephant pants and longboat rides…
Thailand is the perfect place for those thrifty travellers who are watching the pennies.
The number one best way to save money in Thailand is simple; eat Thai food. Or to be more specific; Eat Thai street food!
If you are heading out to Thailand and the thought of eating from a street vendor turns your stomach and has you reaching for your anti bac hand gel, you might be in for a bit of a culture shock! If you want to really experience Thailand and also make sure you aren't blowing your budget you are going to need to get over your fear of festering poultry and unwashed hands. I can honestly say I ate from street carts for most of my three weeks there and not once did I get an upset belly…The Singha beer is another matter, though!
Breakfast
Cost: 10tbt-200tbt
There is no such thing in Thailand as breakfast (well there is actually they have a dish called Joke but I didn't come across it once in Thailand) . That said they have cottoned on to our western ways and most places will offer some sort of western version of breakfast. Here are a few things to watch out for:
Most of the sausages are chicken sausage
The bacon is streaky (like you get in the US)
Eggs are eggs- You normally get them fried, boiled, scrambled or as an omelette
In general, I found most places call a traditional English breakfast an "American Breakfast"
If you want a western breakfast it will normally cost you 100-200 tbt if you compare that to eating normal Thai food which will cost 30-60 tbt that's a fair amount more.
If the thought of curry or noodles for breakfast makes you shudder then go for fruit. You can get it everywhere and it's super cheap. If you want it all cut up nice for you grab a 10 tbt bag from one of the vendors.
If like me you aren't a real person until you have had at least 1 cup of coffee you can normally get a half decent one for about 50-60 tbt
Lunch and Dinner
Cost: 30 – 70 tbt (£0.80 – £1.20) 
In Thailand, you can't walk for long without seeing a street cart selling food. Many of the carts will also have some tables and chairs for you to sit on whilst eating your food.
There are a few options to look out for:
Walking streets – This is basically a market, they close the road off and it becomes a pedestrian only street. There is always plenty of stalls offering food.
Food markets – This normally consists of a lot of food vendors with a large section centrally where you can sit and eat your food.
Street Carts – These are the street vendors who are spotted around the streets. They don't normally have a seated area.
Restaurants' – I found that even some of the most expensive restaurants still had Thai food on the menu for about 50-70 tbt. So when I wanted to sit inside with some air conditioning and get out of the heat for a bit by sticking to Thai food, I was still able to stick to our budget.
If you really just need a pizza or a cheeseburger they can be found! You will probably pay between 100 and 200 tbt (£2-£4) for western food
Drinks
We found drinks were about the same everywhere we went:
Coke, Fanta, sprite etc 40-60 tbt
Water 10-20 tbt
Tea and Coffee 50-100 tbt
Eating Thai Food
Breakfast – Bag of fruit and a coffee 70 tbt
Lunch – Pad Thai and a bottle of water 60 tbt
Dinner – Thai Green curry and a Coke 100 tbt
Total 230 tbt (or £4.80)
Eating Western Food
Breakfast – Western style cooked breakfast and a coffee 150 tbt
Lunch – Toasted cheese sandwich and water 150 tbt
Dinner – Pizza and a coke 200 tbt
Total 500 tbt (or £10.50)
I love Thai food and I don't think it's possible for me to ever get sick of Pad Thai! That said most mornings I did opt for a more western style breakfast, sometimes a girl just needs eggs and a coffee in the morning.
If you are planning your first trip to Thailand then be sure to check out my other posts:
How to see Thailand in 3 weeks
How to Eat in Thailand for under £5 a day
Top Tips for First Time Visitors to Thailand
What to pack for a backpacking adventure in Thailand
How to take the night train from Ayutthaya to Chiang Mai
If you need a cheap flight to Vienna check Skyscanner first! Or download their App here, and don't forget your insurance!
What is your favorite Thai food? I'd love to hear from you so please do leave me a comment bellow I will get back to you as soon as I can!