Solo female traveler looking for your next destination? Chloe from Journey With Chloe shares her experience traveling solo in Barcelona in this Barcelona Solo Guide so that you can enjoy all this amazing city has to offer, even if you decide to teach English in Barcelona.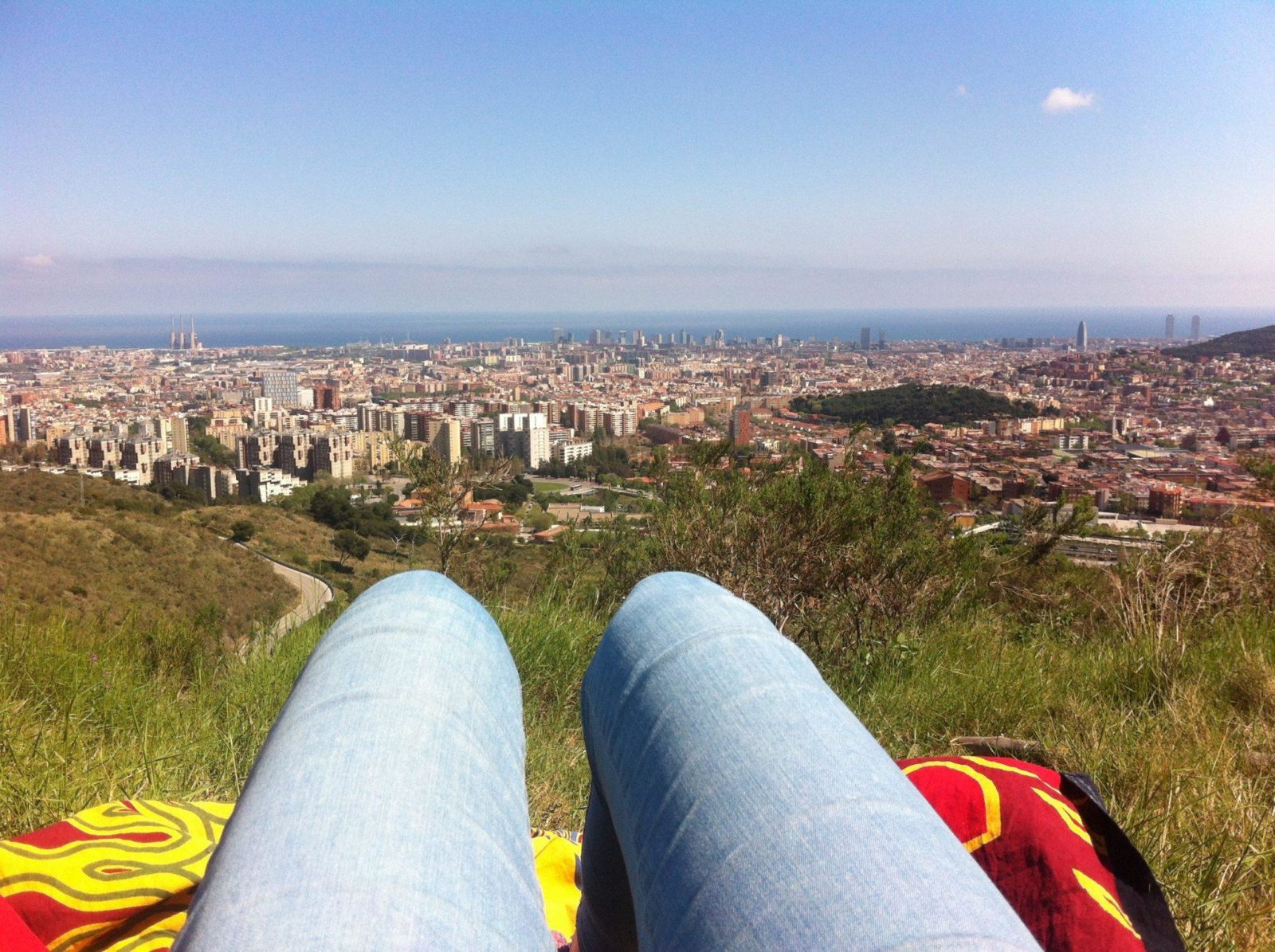 Barcelona Solo Guide
I recently lived in Barcelona for a year. It was undoubtedly the best experience of my life. I have to be honest, the rumors of Barcelona being notorious for pickpocketers are true. A lot of my friends who lived there had their things stolen. BUT all of these times were during a night out clubbing, so don't get scared off. Just be smart with your belongings and they won't be stolen.
Barcelona is still the ideal place for solo female travelers. I couldn't have felt safer walking home alone at 5 am from the metro, hiking up mountains outside of the city or even hitchhiking by myself! Just like anywhere else in the world, being street-smart is key. I always ended up having conversations with strangers whenever I explored the city by myself. Barcelona's population is international, meaning people are very open-minded and friendly.
Getting from Barcelona Airport to the City Centre
There is an Aerobus which takes you from the airport to Plaza Catalunya, but it costs around €5. A cheaper option is the public bus (€2.15). During the day, take bus 46 to Plaza Espanya.
At night, take the N16 night bus to Plaza Catalunya or N17 to Plaza Espanya or Plaza Universitat (one stop after). You can jump on the metro at any of these plazas if you need to travel further.
Getting Around Barcelona
Barcelona is such an interlinked city when it comes to transport. It's super easy to get around via bus and metro.
If you're terrible at navigating like me, use Google Maps to map your route before exploring and take screenshots. The app works out which bus or metro lines you need to take.
Don't buy single tickets! A T10 costs €9.95 which gives you 10 journeys by bus and metro. If you want to cycle, rent a bicycle (from €6). Only locals can use the city bikes.

The best areas to Stay in Barcelona for solo travelers
The best places to stay are in the 'local' neighborhoods:
Gràcia – the most traditional Catalonian area. Visit Parc Güell, eat tapas and wander around the various plazas.
Eixample – I lived in this area and loved it! Home to the Sagrada Familia, Gaudi's Casa Batlló and Casa Mila.
If you want to be more central:
Barri Gotic (Gothic Quarter) – the old city, with cobbled streets and beautiful architecture such as the Cathedral.
Barceloneta – closest to the most popular beach and lots of clubs. Hence, the streets can be noisy at night during the summer.
El Born – similar to the Gothic Quarter. Near Ciutadella park.
Other cheaper but further out options:
Vila Olímpica – a short walk to Bogatell beach and the Port.
Poble Sec – near the Magic Fountain and Montjuïc.
I wouldn't recommend staying in La Rambla or especially El Raval. It's a bit sketchy at night…
Claire: Here are a few places I recomend staying in Barcelona.
Budget Accommodation in Barcelona
Good hostels will cost between €10 and €15 per night during low season.
In summer, prices double! Expect to pay at least €20 a night for a decent hostel.
If you're on a tight budget, check out Couchsurfing. It's free and you get the chance to meet someone with knowledge about atypical things to do in the city! Check out these Couchsurfing tips if it is your first time using the app.
Food in Barcelona
Another amazing aspect of this city is the food. You can find any type you want.
Good news for solo female travelers, there are plenty of tapas bars around Barcelona and epic food markets like La Boqueria Barcelona.
Go to neighborhoods further out from the center such as Poble Nou, Poble Sec and Gràcia for the cheapest and most authentic food! For example, try Gata Mala.
It's vegetarian and vegan-friendly city too, with meals under €10. I would recommend Veggie Garden, Cat Bar or Biocenter.
France may be reputable for making good crêpes but they're just as delicious in Barcelona! Try sweet or savory for under €10 at Creps Barcelona.
Day trips from Barcelona
There are plenty of fun things to do in Barcelona but if you are looking for some day trips to take outside of the city you could take a trip to Montserrat from Barcelona or Gerona is also not too far away.
This is a guest post written by Chloe from Journey With Chloe. All images are credited to Chloe and Journey With Chloe blog. If you liked this post please check out Chloe's blog Journey With Chloe and be sure to follow her on Facebook, Twitter, and Instagram.
Check out our other Solo Girls Guides
Barcelona | Copenhagen | Israel | Kuala Lumpur | Moscow | Nepal | Queenstown | Prague | Santa Barbara | Stockholm | Uzbekistan | Vegas | Zurich
This post was proofread by Grammarly