Looking to find the best WiFi for travelers? In this portable WiFi box travel review, I've found the best WIFI hotspots to accompany you on your next trip.
If you are a regular reader of my blog, you will already know that my number one requirement for traveling anywhere is strong WiFi.
As a Digital Nomad, having weak-ass WiFi is a dealbreaker for me. Unless of course, I'm on a planned adventure like disappearing into the jungle for four days in search of a lost city in Colombia or going off the grid in Cuba for nine days.
So I decided it was time to test out some of the best WiFi hotspots for international travel.
Quick Overview of best WiFi Hotspots for travel
What is a mobile WiFi hotspot?
A mobile hotspot for international travel is a battery-powered wireless router that travels with you. These portable WiFi hotspots are designed to be lightweight and compact enough to slip into your pocket or backpack.
With the ability to connect to multiple smart WiFi devices, these WiFi hotspots bring the internet to your mobile phone, laptop, and tablet, no matter where in the world you are.
How Mobile WiFi hotspots work?
A mobile hotspot for international travel works in a way that they have tie-ups with 4G wireless carriers across the globe.
This allows for easy transition from one carrier network to another as travel the world. Meaning you don't have to buy a new local sim card to use in the country you are in as these mobile WiFi hotspot companies let you update your network as you change countries.
Some services require you to pay a flat fee for internet connectivity. In other cases, you pay for what you use. That means you can get internet connectivity for a day, a week, or even a month based on your requirements.
Mobile WiFi hotspots can be a bit of an investment if you want to buy one. But there is an alternative, you can rent one for your trip. which can save you a lot of money if you are planning a short trip and don't want to invest in a traveling WiFi hotspot yet. Several of the hotspots mentioned in this review have rental options where you can rent out a mobile hotspot data plans for international travel for a small fee.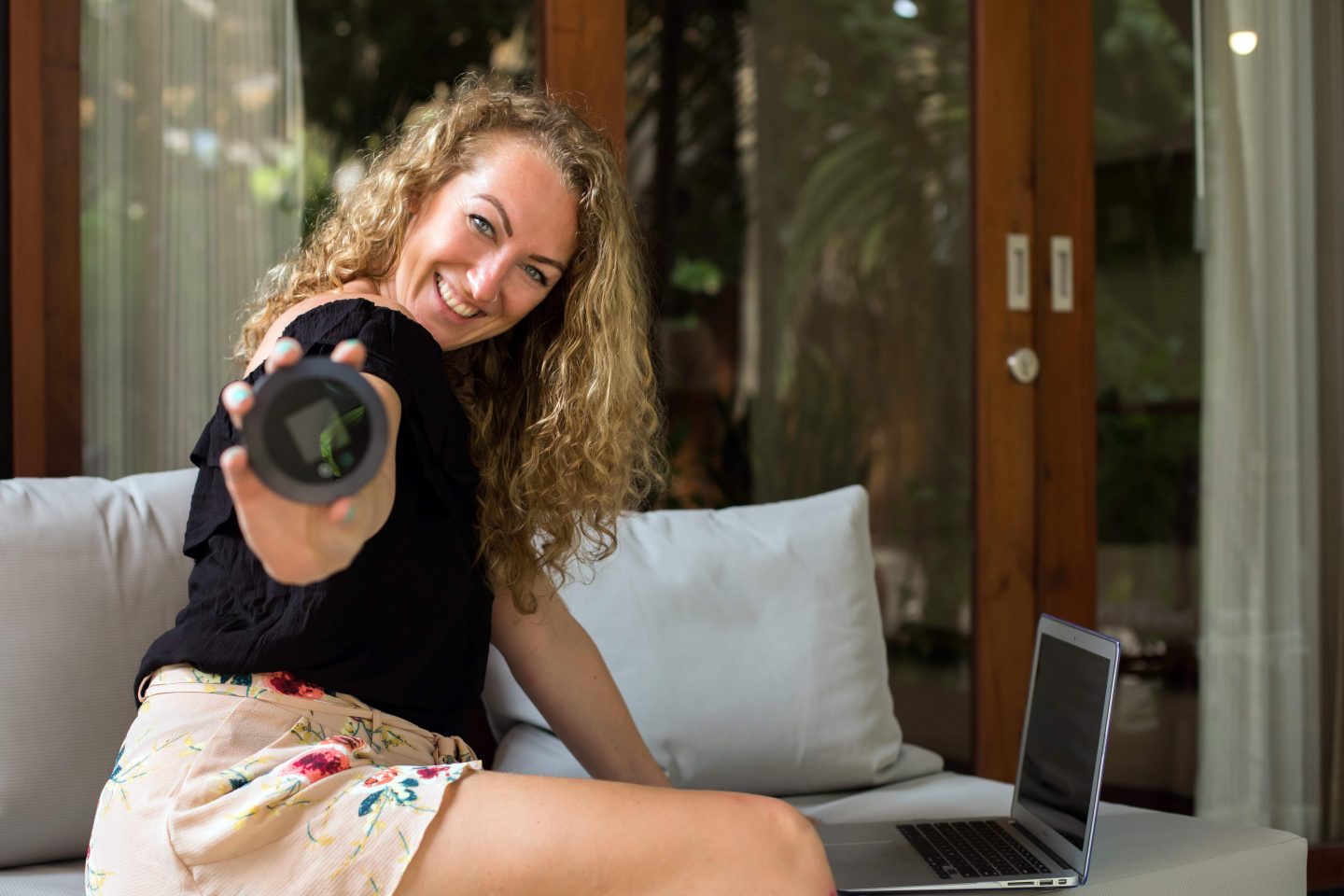 Why do you need a mobile hotspot when traveling?
A portable WiFi travel hotspot is a big bonus for those looking for a secure connection while traveling or those traveling away from public WiFi.
Similar to a cellular device, portable WiFi devices for travel give you access to uninterrupted internet connectivity, enabling you to live your nomadic lifestyle, upload pics, send documents, receive emails, and more on the move.
They can also give you peace of mind when traveling to a new place where you may not have mobile phone coverage. I can't even tell you the number of stressful situations in airports I could have avoided if I'd had a mobile WiFi device with me so I could get an Uber, pull up a map, or contact my hotel to ask for directions.
When looking for the best international wifi hotspot, design and build quality are the two most important factors to consider.
As you are already traveling, you do not need anything bulky or fragile. WiFi hotspots for travel are designed to be carried anywhere with you so you really do need to make sure they are robust, lightweight, and that they don't take up too much precious space in your backpack.
So, choose one that suits your traveling needs and pay close attention to size and weight.
Portable Wifi Travel Reviews
With a powerful 4700 mAh battery and a patented vSIM Technology, Skyroam Solis proves to be the best WiFi hotspot for international travel.
Skyroam lets you stay connected wherever you are in the world, on any smart device.
My favorite feature of Skyroam though is that it's a lot more than just a travel hotspot WiFi. It has multiple functionalities, including doubling up as a power bank and a camera. This in itself is a space saver which as a backpacker is always a bonus.
Skyroam Solis is a personal wifi hotspot with superfast 4G LTE embedded. Plus as I already mentioned with this device you also get a power bank and a 720p remote camera built-in. This is not your regular WiFi hotspot for travel.
As well as being the perfect travel companion the Skyroam portable wifi hotspot is ideal for home use too. You can actually see through its remote camera, which could come in handy for checking in on pets of teenagers!
Skyroam Solis offers the best of both worlds. You get a high-performance portable wifi hotspot and a quality camera/ video recorder, plus a power bank at the same time. So if you are wanting to save space in your backpack this could be your best option.
It comes with an 8MP, wide-angle camera for live stream and recording
Can connect up to 10 devices
The 4700 mAh power bank keeps your devices charged throughout the day
4G LTE wifi offers blazing fast speeds
SignalScan feature allows you to reset your signal anytime
How to use this device?
Download the Skyroam mobile app on your iOS or Android device, choose your WiFi plan, and connect with your devices. It's that easy.
You can manage your data directly in the Skyroam app.
Cost/ plans
You have a few different options here. If you don't think you will need to use it much and prefer to pay as you go then you can do this for $12 per GB. The bonus of this is no throttling! You always get fast WiFi. The downside is $12 per GB is pretty expensive.
At the other end of the spectrum, you can get unlimited WiFi for $99 per month. This will give you high-speed WiFi for up to 20GB for 30 days. After that, it will be much slower. You can get this cheaper by pre-paying for 3 months or 6 months. So this is perfect if you are planning on traveling long term.
Another option is to pay per day. For $9 USD per day, you can get high-speed internet for 24 hours. You will need to pre-pay for so many days upfront. When you want to use a day pass then you can activate it in the app. There is throttling but this changes depending on the country.
Then the final option is to pre-pay for 1Gb per month for 3 months at a cost of $9 USD for 1GB. So you basically pay $27 USD for 3 months. This is a good option if you are just planning on using this mobile WiFi device as a backup for when you can't find local WiFi.
Coverage
You can use this mobile hotspots for international travel across 135 countries.
Speed Throttles
On the monthly unlimited plan, you can get high-speed data up to 20 GB for 30 days, slower after that.
On the day pass, you will need to check the limits on the country that you are in as each country has a different limit.
Includes a speaker and microphone
Secure connection
Works well with local and international plans
Can connect up to 10 devices
Has a number of different plans depending on your budget
You can rent or buy a device
Has network issues when used in very remote areas
Available in only a single color
The unlimited plan is expensive unless you book a few months to get the discount
Unclear what the speed throttles are on the day passes.
Want 15% off Skyroam?
Use code: CLAIRESITCHYFEET
The next on my list is the KeepGo hotspot that connects up to 15 smart devices in one go. This is one of my favorite portable hotspots (and the one I am personally using when I travel right now) as it gives unlimited access to internet connectivity on the go. You just top up when you run out of data.
It's an ideal portable WiFi for road trips. If you are carrying multiple smart devices with you you can connect your laptop, tablets, and mobile phones to the internet all at the same time. It's also incredibly easy to use. Just turn it on by pushing a button and enter the password printed on the inside cover and you are good to go.
KeepGo is one of the smallest global wifi hotspots in the world that easily fits in your pocket. It's very lightweight and the slimline design makes it easily transportable. All you have to do is buy prepaid data and enjoy uninterrupted internet.
The KeepGo offers a high-speed 4G internet connection in over 100 countries with no throttle. You can travel the world without inducing expensive data roaming charges.
Each lifetime line comes with 1 GB of unlimited data with a 2 GB bonus data coupon.
How to use this device?
To use your KeepGo WiFi hotspot all you need to do is visit the KeepGo website and activate it. Then open your wifi settings and scan to detect KeepGo. No need to download any apps. Just activate and go.
Cost/ plans
The plan starts from $3 for 100 MB and goes up to $24 for 1 GB.
When you buy the device for $99 you get 1GB of data included.
I've got to be honest. If you are looking for a WiFi device to use worldwide KeepGo is probably the most expensive as to buy just 1GB is $24 USD! That's more than double Skyroam. But if you can afford to top-up 25GB at a time at a cost of $250 USD that price per GB comes down to a more affordable $10 USD per GB.
So you may be wondering why this is my budget pick, right? Well, that's because if you don't need worldwide coverage, just USA and Europe you can get 1GB for $8 USD… Making it the cheapest pay-as-you-go mobile WiFi option.
There is no contract or extra fees, but you will need to set up an automatic top-up of $8 USD per month for this plan. If/ when you run out of data you can manually top up for $8 USD, or you can set up auto top-up so you never run out of data.
This makes KeepGo the best budget option for traveling in the USA and Europe.
Coverage
You can use this mobile hotspot for international travel across 100 countries.
Speed Throttles
No throttles ever!
Supports up to 15 devices/users
1800 mAh removable battery
Data you buy does not expire
Pay as you go
Alerts you when you run low on data
Can set up automatic top-ups
the smallest and most lightweight device on the market
The cheapest option if you are traveling in the USA or Europe
No speed throttles
Expensive to top-up if on the worldwide plan
Sometimes it's difficult to turn it off and I've had to resort to removing the battery.
Battery lasts for 7 hours use
It's so lightweight it almost feels a little flimsy. Especially compared to Skyroam and Travel Wifi which feel much more robust.
Want 10% off your KeepGo?
Use code: CLSITCHYFEET
Next on my list of the best WiFi devices for international travel is this portable hotspot from TraveWiFi. Formerly known as TEP travel wifi, the Sapphire 2 wifi hotspot features a portable design with lots of functionality.
If you are planning on traveling the world and need a WiFi companion then you can't go wrong with this device.
It is not only easy to use but it also offers some of the best worldwide coverage allowing you seamless internet connectivity throughout your trip, irrespective of where you are. I've even managed to get solid coverage on Isla Holbox in Mexico where I couldn't even get phone signal!
This portable WiFi travel hotspot was built for world travel. The TravelWiFi device comes with flexible data options and offers 4G LTE speed with 12-hour battery life.
What I love about it is the ease of use when traveling to multiple countries. And the long battery life!
Why is the TravelWiFi hotspot device one of my top-picks? The primary reason why I am recommending it is that it really does make a great wireless travel companion that will suit the broadest range of traveler's needs.
It has 4G connectivity with a maximum download speed of 150 Mbps and an upload speed of 50 Mbps.
How to use this device?
It really couldn't be easier, simply turn on the wifi on your smartphone or smart device and sync it with the TEP hotspot.
You can manage data directly in the Sapphire app.
Cost/ plans
Data plans offered by TravelWifi/TEP Sapphire 2 are convenient and flexible. You can filter the plans based on the destination, trip duration, and data usage.
It's really difficult for me to map out the costs for you without knowing the specific circumstances. What I will say though is that TravelWiFi is not the cheapest option, and it can get expensive!
For example for 30 days rental in Mexico getting 1GB a day that would cost me almost $240 USD! That's more than double what I would pay for a month unlimited with Skyroam.
Back in the days of TEP things were a lot less complicated. But navigating the website to figure out pricing is a bit of a nightmare.
If you buy the device for around $150 USD and then add on a 30-day plan say for the USD the plan would cost you $67 USD for just 8GB… You might as well get Skyroams unlimited plan of something like Google Fi for that price as at least you would get over 20 GB of data, not a measly 8GB.
Even their Global Freedom plans are expensive at almost $120 USD for 10 GB.
Probably the best value package is the Saphire 2 + 100GB of USA data. At $202 USD that's a pretty good deal as it includes the device. You also get 1GB of data to use worldwide.
Coverage
You can use this mobile hotspot device for international travel across 130 countries, including 35 European countries.
Speed Throttles
Once you have used up your daily GB allowance (depending on the plan you are on) the speed is reduced significantly.
Get free 1 Gb preloaded data
Valid in over 130 countries
Incredibly lightweight
Available in two different color variants
Offers pick-up and drop off in some countries
Buy or rent options
Plans are expensive
Complicated to work out pricing and plans
Battery life could be improved
Want 1o% off Travel WiFi?
Use code: CLAIRESITCHYFEET
If you are looking for a brand you trust, and that you know is going to have solid coverage then Google Fi is a perfect choice as we all know Google is a renowned name in the internet industry.
The big difference between Google Fi and all of the other products on this list is that it's not a physical product. It's actually more of a mobile phone data plan. So why have I included it on here? Because if you are a digital nomad or about to embark on long-term travel to different countries then this is exactly what you need.
The only reason I don't have Google Fi is that it's too expensive for me to justify the monthly cost right now as I'm not traveling much outside of North America. If I was though, I'd have signed up right away.
Google Fi comes with dedicated phone plans and the one I'd recommend to travelers is the unlimited one. Yup UNLIMITED DATA! So not only can you use the data on your phone as much as you like, but you can also turn your phone into a hotspot so you can use the data on your laptop and other devices.
And it gets better. If you are traveling with a friend or partner, you can select the family plan which will save you a little money.
There are other bonuses like the fact you can relax knowing wherever you are in the world, when you get off that plane and turn on your phone it's going to work. I can't say the same for my Mexican phone sadly. Plus I know from personal experience of traveling with friends who have Google Fi they ALWAYS have phone signals. With Google Fi, you can just hop on whichever network has the best signal at that moment.
Thanks to its built-in VPN Google Fi is one of the safest wifi hotspots available in the market.
How to use this device?
Here's the tricky part. You need to be in the USA to set up and activate this plan. They also tell you that you can't use a VPN to get around this. But I was with a friend in El Salvador who used a VPN to sign up for Google Fi and it worked. So if you have a good VPN like this one, then you can get around this.
Some people will need a sim card, some won't. It really depends. You will need to go through the signup process to determine this. If you do need a sim then they can post one out to you.
Cost/ plans
There are four plans – Flexible, Simply Unlimited, and Unlimited Plus.
I would suggest that most of you are going to need the Unlimited Plus which is available at $70 a month for a single user. You get 22 GB of fast data before it slows down.
Coverage
Google Fi has the best worldwide coverage of all of these plans. It covers you in over 200 destinations. You can see the full list here.
Speed Throttles
On the unlimited plus plan you can get highspeed coverage of up to 22GB per month. After that, it will slow down. But if you want your fast data back you can do so by paying $10 USD per GB for it.
A trusted name in the industry
5G included
Highly secure
Share Fi with families and groups
Coverage in over 200 destination
Can get started quickly and without a sim card in some cases
No need to buy a new sim card in each new destination
Cancel anytime
Compatible with only select devices
Expensive if you aren't internationally traveling a lot
Can only activate from within the USA
Although I've put this as my 5th choice. I actually think that the GlocalMe Tri Force would be the travel WiFi device I would choose if I was traveling long term right now.
So what makes this mobile WiFi hotspot so special? Well, it has a drop-resistant/ anti-slip design, perfect if you are clumsy like me. It's also a battery pack so you can charge your mobile easily while on the move. And it gets better, it will give you up to 28 hours of service. Which is impressive by any standards. I really like this device.
GlocalMe actually has several great devices to choose from including the G4 Pro, which is a SIM-free touch screen device that comes with a selection of pre-installed apps like google maps. Of the budget-friendly First G which you will need a SIM to use but at less than $70 it's the cheapest device on the market… and it looks mightily similar to the TravelWifi device (but half the price).
What I really like about GlocalMe is the flexible plans it offers. Each device (apart from the First G) comes with 1 GB of global data and 8 GB US data. This is enough to get you started and far more than other products on this list. Although they have a lot of different plans, they are easy to navigate and choose from, unlike other providers.
Also, if you use my discount code, you can get a 20% discount!: GMKOL20
Very robust and has an anti-slip design
Can connect up to 10 devices and enjoy 4G network speed
No SIM card needed as it uses CloudSIM technology
Can be used as a portable batteries pack to charge your other devices
Epic battery life – 28 hours
Comes with 1GB of worldwide data and 8GB of US data
Comes with the GlocalMe app for easy tracking
How to use this device?
Download the GlocalMe app on your Android or iOS device, activate your plan, open wifi settings on your mobile phone, and sync with GlocalMe wifi and you are good to go.
Cost/ plans
There are a lot of different plans available. So it's really going to depend on where you are traveling to and for how long.
Use my discount code for a 20% discount!: GMKOL20
To give you some examples:
You can get 36 GB of data to use in North America (Canada, USA, and Mexico) for less than $200 (sometimes it's on sale for $159).
Right now you can get 20GB of data for Europe for just over $100 USD! This is on sale as the normal price is $183 USD.
My advice is to check out their current deals here, and if you don't see anything that works for you, sign up for their mailing list to be emailed when they have new discounts.
Coverage
If you are doing a world tour this will offer you coverage in over 140 countries. Impressive.
Speed Throttles
No speed throttles! It's pay as you go so you just top up when you run out.
Traffic protection and blacklist management
Flexible plans and preferential price
Several different devices to choose from
Particularly good for travel in North America or Europe
Multi-functional devices
Excellent battery life
Although you can rent a device, it's not cost-effective
Lesser known brand
Can get pricy if you don't find a good deal
Last, but by no means least is the We.Stream. It's a premium mobile wifi hotspot for international travelers offering a choice of multiple networks per country. In fact, it actually has the best coverage of all of the devices on this list.
What I will say though is that in all honestly, this isn't going to be the best value travel companion for international trips. However, if you are looking for a WiFi solution for a road trip or for Van Life then this is the one I would recommend.
Why? Because if you buy your We.Stream on Amazon here, you can get 50GB of US data to be used in 3 months, plus 1GB of international data. This is a pretty decent deal. Not so great if you are planning a trip to backpack in Europe though…
I also love the fact that you can directly buy data through the touchscreen. It's the only device on the list that this is possible. Small details!
Some other key selling points are that the We.Stream uses Cloud SIM technology that doesn't require you to have a SIM card. It is a touchscreen model that has multiple features, such as a USB power bank, two SIM card slots for your local SIMs, and more. So if you run out of data and it's cheaper to use a local SIM you can, or if they don't offer coverage in the country you are visiting you can tether using a local SIM.
You can also connect up to 5 devices, not as many as other mobile WiFi hotspots. But if it's just you and a partner 5 should be fine.
Oh, and it also has a built-in VPN.
Comes with multiple 4G networks per country you visit
Buy data upfront for a month, week, or even day
Cloud SIM technology saves the hassle of setting up SIM cards
Two additional SIM card slots for your local SIMs
VPN for secure browsing included
Long battery life
Comes with 50GB of US data and 1GB of worldwide data
Can top up directly on the device
Doubles as a power bank
How to use this device?
We.Stream lets you buy data through the device itself. So you just have to set up your account on the We.Stream travel internet hotspot, browse through the plans, and choose the one that suits your needs.
Cost/ plans
When you buy the device you get 50 GB US data valid for 3 months. Plus 1GB of international data.
You can check out all of the data plans for when that runs out here.
I'm not going to lie, although it's not the most expensive, it's also not the cheapest option if you are going to be using a lot of data. If you think you can survive on 2 GB per month for a year $250 USD isn't a bad price to pay. But if you are going to need closer to 20GB per month then you are probably better off with Google Fi.
Coverage
This is the best premium wifi hotspot for world travelers because it provides coverage in over 150 countries. That's more than any other company.
Speed Throttles
There are speed throttles on all of their unlimited plans. So it's important to buy enough data so you don't get capped.
15 hours battery life
No SIM card needed
Set up a corporate VPN for added security
Touchscreen design with 2 GB memory storage capacity
On the expensive side
Setting up the hotspot on the device can be tricky
other Alternative to Consider - E-SIM
If you're an avid traveler, you know how important it is to stay connected while on the go. And while mobile hotspots have been a popular solution for a while now, e-sims are quickly gaining ground as the better option.
With e-sims, you can easily access the internet on your device without having to rely on a Wi-Fi hotspot or tethering from another device. This means you can browse, stream, and work while on the go, no matter where you are in the world.
I would recommend using Airhub or Alosim. They're available in 100+ countries, making them an ideal option for those who frequently travel to different destinations.
There are several factors to consider when buying a portable wifi travel hotspot. From wifi support to battery life, size and weight, display, and more depending on the purpose of your travel and the need for internet connection, the hotspot for international travel should be picked.
These are my best picks but I encourage you to do your own research. My advice would be to shop around until you find the best deal. I know it can be a little overwhelming when looking for such devices.
But I am here to help. If you have any questions or concerns regarding the products discussed or anything else regarding travel, feel free to ask.