Looking for an action-packed summer holiday? You should really think about doing a Tignes summer in the French Alps. Here is a list of things to do in Tignes in Summer!
Whether you're a thrill-seeker, a ski enthusiast, or a family traveler, there's something for everyone in this mountain paradise. I've had the pleasure of exploring Tignes in Summer, and let me tell you, it's an experience you don't want to miss.
Located in the Tarentaise Valley, Tignes is part of the Espace Killy ski area, one of the most fabulous ski regions in the world. But it's not just about skiing or snowboarding; there's so much more to do. From paddleboarding on the crystal-clear lake in the summer to tackling some serious hiking trails, Tignes offers a medley of outdoor adventures that will make your heart sing.
If you're looking for things to do in Tignes with kids, they've got you covered. Trust me, between the family-friendly activities and the sheer beauty of the surroundings, your little ones will be captivated.
Did You Get Travel Insurance Yet?

The Insurance companies I recommend are Hey Mondo, Safety Wing, and Travel Insurance Master

Hey Mondo is great if you are looking for a great value flexible policy. They offer single-trip cover, annual multi-trip cover, and long-term travel cover. Safety Wing is great value, with monthly coverage starting at $39. It's super easy to use, and it just renews each month. I currently use them as they offer me free cover for my son as part of my policy. I also use Travel Insurance Master for short trips.

Read my full travel insurance post here, where I go into detail about all companies.
Things to do in The French Alps in Tignes in Summer
Tignes in summer is hands down one of the most beautiful places to visit. The French Alps in the summer are the world away from the mountains in the winter months. It is the perfect place to enjoy some hiking and overdose in all that fresh mountain air.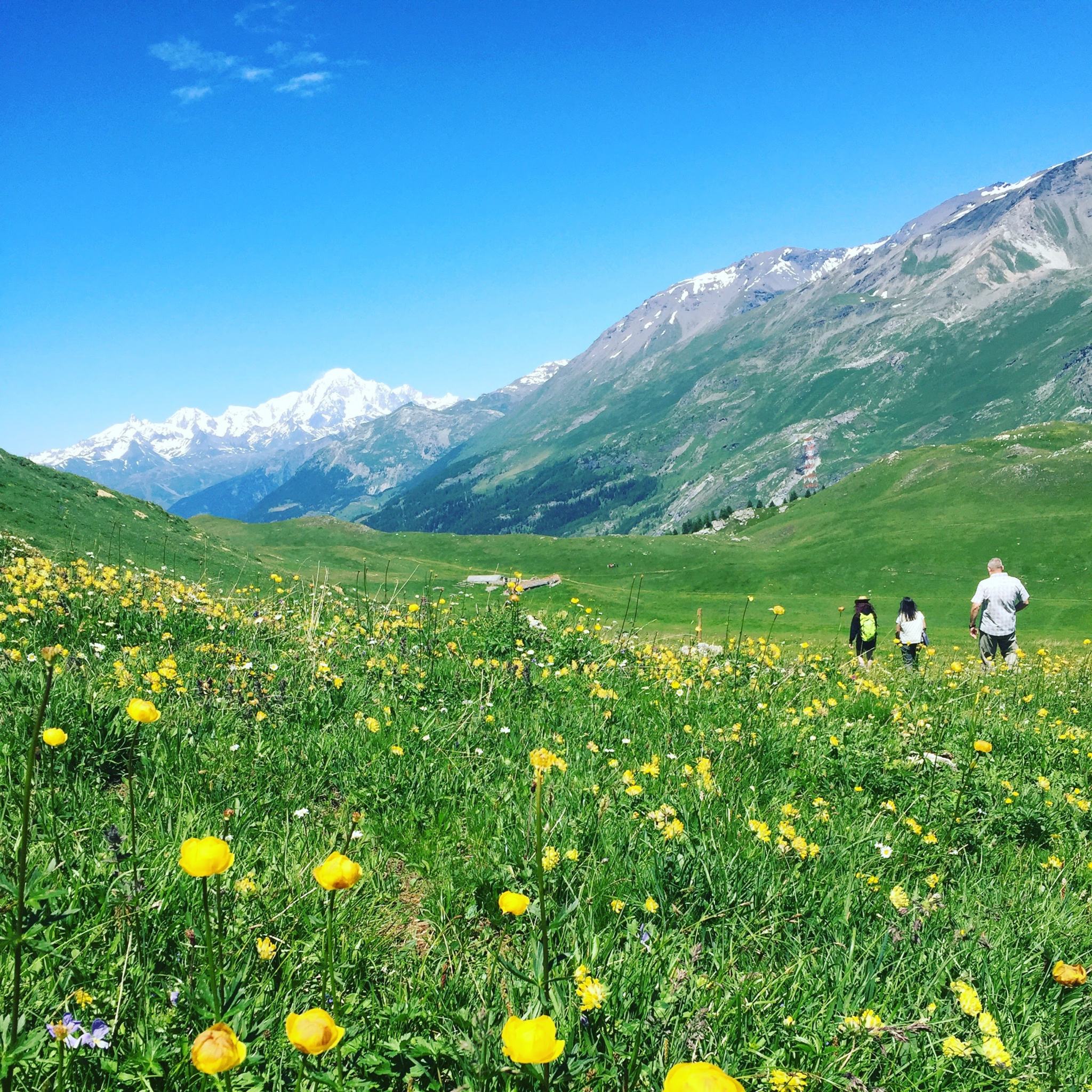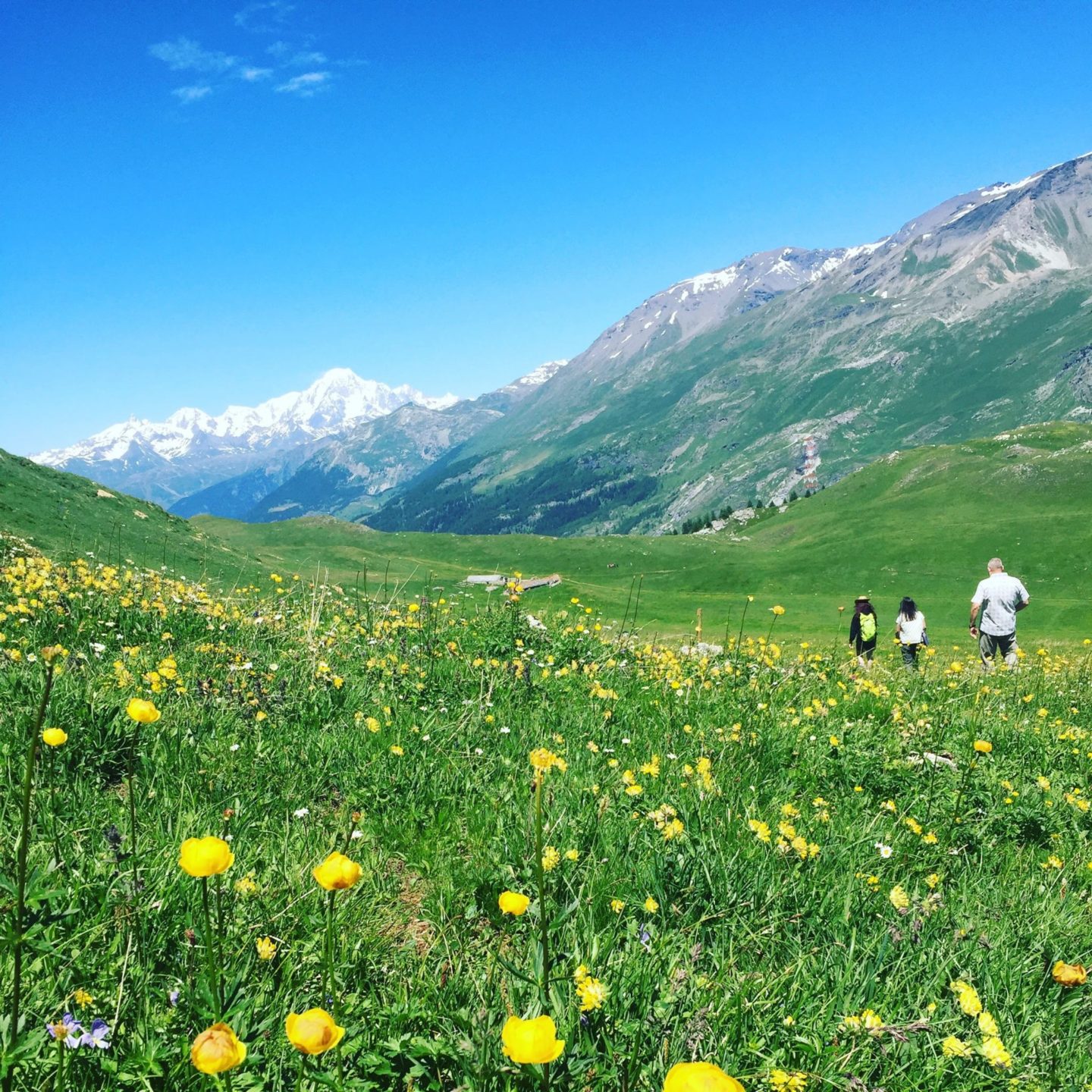 Summer Skiing Tignes
Skiing and snowboarding aren't just winter sports when it comes to Tignes. Tignes offers summer skiing and snowboarding on the Grande Motte glacier. Yup, you can actually hit the slopes in your t-shirt and shades! Its one of the most popular things to do in Tignes and the reason many flock there over the summer months.
At over 3,000 meters, the Grande Motte glacier is a force to be reckoned with, offering a snowy playground even when the sun is blazing down in the valleys below. The conditions for summer skiing Tignes are surprisingly good, especially in the mornings when the snow is freshly groomed. You can ski every day from 7 am until 1 pm. Do make sure you go early though as once the sun comes out, the snow melts and it starts becoming too slushy to ski on.
Now, you might be wondering about the logistics of summer skiing in Tignes. The glacier usually opens from late June to early August, so you've got a decent window to plan your trip. You'll take the funicular from Tignes Val Claret, and in just a few minutes, you'll find yourself in a winter wonderland.
Beginners, don't fret! There are slopes suitable for all levels, and plenty of instructors around to help you get your snow legs—even in the summer.
Quick Tip: Book accommodation, tours, and transport ahead of time online to save money and stress.
Best Tignes Tours: Click here to check out the top Tignes tours
Best Tignes Accommodation: Click here to check out the best accommodation in Tignes
Best Tignes Transport: Click here to book a bus, ferry, or train in Tignes
Go Mountain Biking in Tignes
Once the snow melts and the skiers leave the mountain bikers begin to arrive. Just watching hurtlingly down the mountains filled me full of anxiety, but they seemed to be having a great time.
Tignes in summer is a great place for novice mountain bikers and I noticed lots of classes for beginners so if you like the idea of speeding down mountains on two wheels then get yourself to Tignes mountain bike school.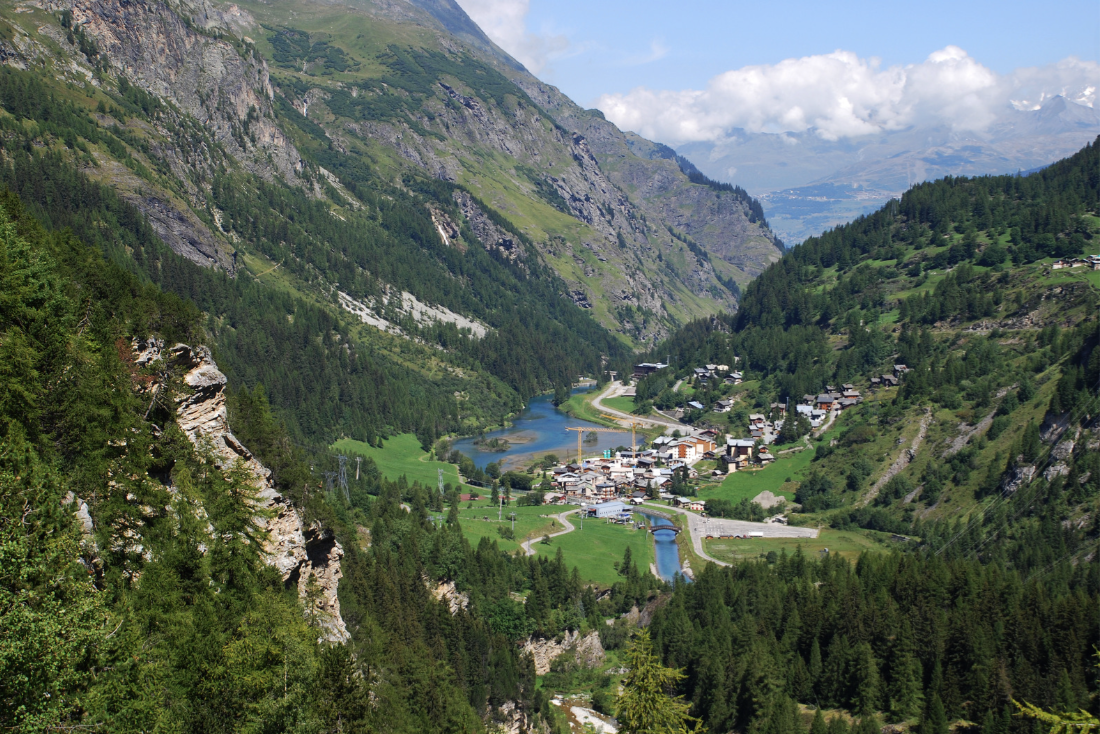 Go Hiking in Tignes
Now, Tignes summer hiking was one activity that I got on board with. I'm all for two feet on the ground putting one foot in front of another! There are 25 hiking routes in Tigne and you can buy a guidebook from the tourist information center.
If you are a little lazy the best bit is that if you don't fancy the trek up the mountain, you can use some of the Ski lifts for free and then just hike down. WINNING!
Enjoy the Water Activities on the Lake
From Water balls to SUP Yoga there is a whole host of fun Tignes water activities you can do on the tranquil lake. It's also a great (mostly flat) spot for a jog. One lap around Tignes Lake is 1.5 miles and there are just a few steep hilly parts to test how good your running is at high altitude.
Quick Tip: View my full Europe packing guide here including a downloadable checklist. And check out my Europe Essentials shopping list here.
Play a round of Golf in Tignes
Next to the lake is Tignes Golf Course for golfing pros, for everyone else they have mini-golf just a short walk down the road.
Go Horse Riding in Tignes
What better way to spend an afternoon than galloping through the Alps on a horse?!
White Water Rafting in Tignes
From Bourg-Saint-Maurice to Gothard there are different grades of white water rafting in Tignes to enjoy depending on your experience, and how crazy a time you fancy having on the river. I didn't get a chance to do this personally but next time it's top of my list.
Rock Climbing in Tignes
Another activity not on my list but if you fancy going to climbing school what better place than in the mountains of Tignes? You can choose to climb on the rocks or head indoors to Tignespace.
Get a sweat going at the Indoor Gym and Wellness Centre
All of those outdoor sports and activities in Tignes can take their toll, so make sure you leave some time to relax in the Wellness Centre as well as the usual spa treatments you can unwind in a Turkish bath. Or if you haven't done enough you could always hit the gym!
Other Tignes In Summer Activities
There are too many things to do in Tignes to name all of them. Trust me if you want a holiday packed with adventure and activities (especially if you have children) then this is the place for you!
Here are a few of my favorite Tignes activities:
For a full list visit the Tignes website.
Best Places to Eat in Tignes
If there's one thing I can't resist, it's good food, especially when I'm traveling. Tignes is not just an adventurer's playground; it's also a food lover's haven. Here are some of my top picks for the best places to eat in Tignes, whether you're looking for local French cuisine, international dishes, or a quick bite between activities:
NIUROU Steakhouse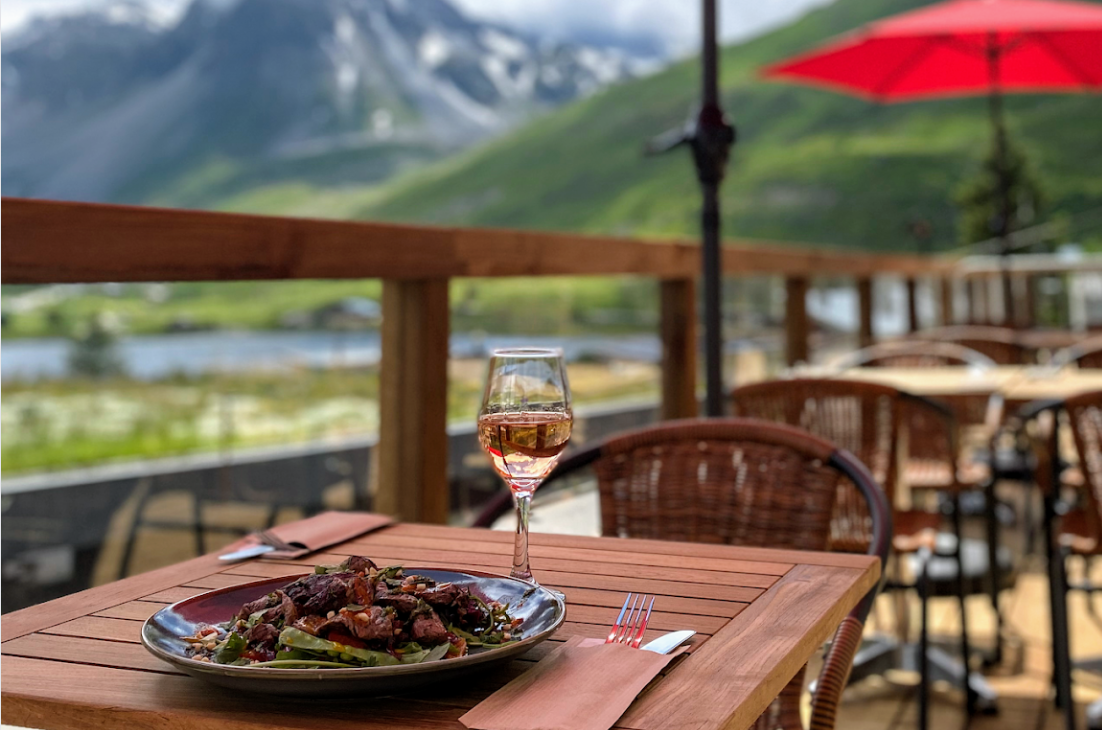 Niurou Steakhouse is a must-visit if you're a meat lover. However, if you are vegetarian or vegan don't be put off as they actually have gained a strong reputation for their meat-free dishes too!
Tucked away in the heart of Tignes, this place is a carnivore's paradise. The ambiance is cozy with a rustic, mountain-lodge feel that instantly makes you feel at home. But let's get to the real star of the show—the steak!
They offer a variety of cuts and cooking styles, satisfying even the pickiest of steak aficionados. The wine list is pretty impressive too, perfectly curated to complement your meal. I've got to say, if you're looking for a hearty, indulgent dinner, Niurou Steakhouse is the place to be.
La Table en Montagne
You can't visit Tignes and not indulge in some classic Savoyard cuisine. We're talking cheese fondue, raclette, and tartiflette! La Table en Montagne is where you'll find some of the most authentic local dishes.
If you're after a dining experience with a view, look no further. Situated at 3032 meters above sea level, Le Panoramic offers an unparalleled mountain backdrop. The food is as impressive as the view, with a range of gourmet dishes that left me absolutely smitten.
Le Clin d'Oeil
The atmosphere is cozy, and the menu has a mix of French and international dishes. I was especially taken by their homemade pasta.
Tignes Cuisine
If you're in the mood for something a bit more global, Tignes Cuisine offers a range of Asian dishes that are to die for. Sushi, noodles, curries—you name it. A must-visit if you're craving some international flavors.
Don't let the name fool you; this place offers more than just coffee. It's the perfect spot for a quick lunch or an afternoon snack. The paninis and wraps are just divine, and of course, their coffee game is strong!
Pizza anyone? La Pignatta serves up some mouth-watering Italian dishes, and their pizzas are simply to die for. If you're traveling with kids, this place is a hit!
For something a little different, give Queue de Cochon a try. They specialize in rotisserie meats, and let me tell you, their roast chicken had me coming back for seconds.
Where To Stay In Tignes
Whether you're visiting for a solo adventure, a romantic escape, or a family holiday, there are options galore to suit every budget and style.
Here's my roundup of where to stay in Tignes, based on my own experiences and a bit of insider knowledge:
If you're looking to splurge a little (or a lot!), Les Suites is the epitome of luxury. Think plush rooms, a top-notch spa, and personalized service. It's a bit on the pricier side, but the experience is worth every penny.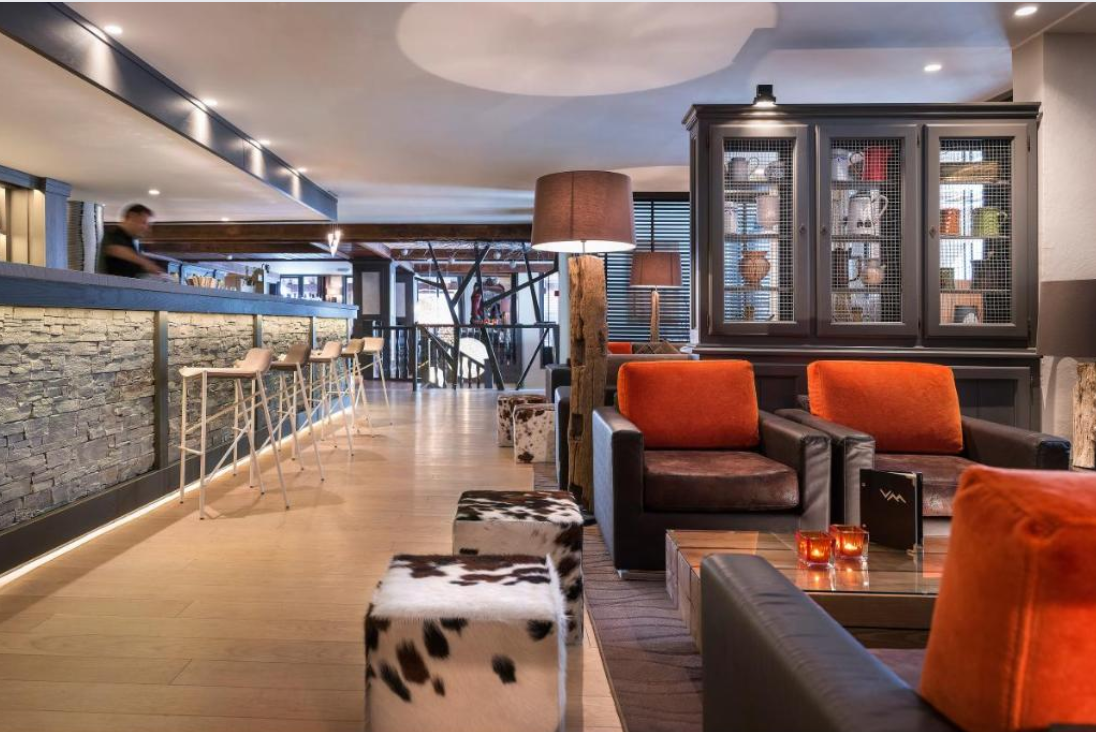 Great for families and couples alike, Hotel Village Montana offers comfortable rooms and convenient access to activities. I particularly loved their indoor pool and sauna, perfect for unwinding after a day of adventures.
This is the place if you're looking for something wallet-friendly but still cozy. It's a no-frills spot with basic amenities, but what it lacks in luxury, it makes up for in charm and accessibility.
This is more of a communal experience, ideal for solo travelers or groups of friends. The rooms are simple, but there's a shared lounge area that's perfect for swapping adventure stories with fellow travelers.
For the Homely Feel: Airbnb Options
There are plenty of Airbnb listings around Tignes, ranging from cozy studios to full-fledged chalets. It was a fantastic option for us, especially traveling with a toddler. The homey vibe and kitchen facilities were perfect for family meals.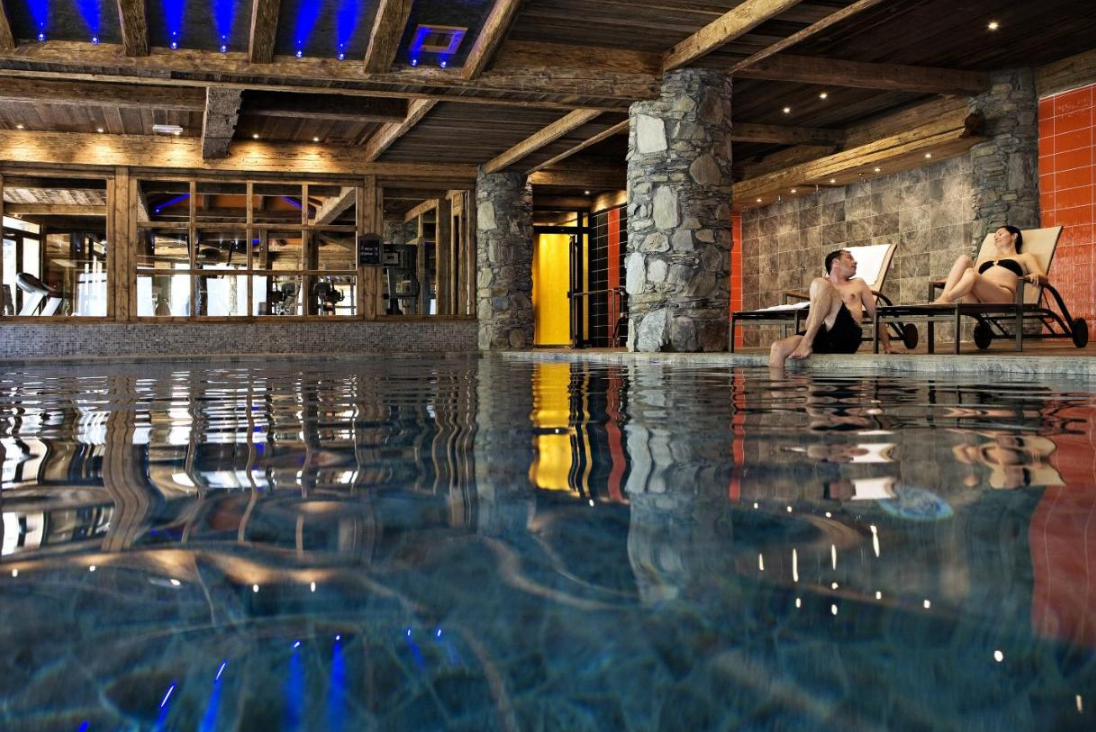 If you're planning to stay for a while, consider a serviced apartment like CGH Le Nevada. It comes with a kitchen, so you can prepare your own meals, and the amenities include a swimming pool and spa facilities.
For a Unique Experience: Arctic Lodge
Ever dreamt of staying in a modern, Scandi-inspired lodge? Arctic Lodge offers a unique experience with its minimalistic yet luxurious design. Plus, they offer various adventure packages that got my adrenaline junkie side all excited!
The Best Day Trips To Take From Tignes In The Summer
Of course, Tignes in summer is a destination all on its own, but sometimes you want to spread your wings a bit, right? Well, there are some amazing day trips you can take from this charming alpine town. Here are my top picks:
Ever wanted to visit Venice but with a French twist? Annecy is your place! Just about a two-hour drive from Tignes, this town is all about canals, pastel-colored buildings, and, of course, that stunning lake. Hire a paddleboat or take a refreshing swim. It's also a fab spot for shopping and trying out local cuisine.
Chamonix is only about 90 minutes away and it's an adrenaline paradise. Think paragliding, mountain biking, and rock climbing. This place is a playground for outdoor enthusiasts. And for those less inclined to thrill-seeking, the views of Mont Blanc are absolutely Instagram-worthy!
Just under two hours from Tignes, Aix-les-Bains is perfect if you're craving a spa day. Known for its thermal spas, this town offers the ultimate relaxation experience. While you're there, you can also take a leisurely stroll along Lake Bourget.
4. Val d'Isère – A Neighbor Worth Visiting
If you don't fancy a long drive, hop over to Val d'Isère, just about 30 minutes away. It's close but offers a slightly different vibe. Check out the local shops, take a scenic hike, or relax at a café and enjoy the alpine views.
For those of you who love nature as much as I do, you have to check out Ecrins National Park. It's about a three-hour drive, but oh-so worth it. Hiking trails galore, and don't even get me started on the wildlife spotting opportunities—think marmots, eagles, and more.
Tignes Travel Guide Planning
🧳 Any recommendations on what I should pack for Tignes?
Yes! I have created a whole packing guide to Tignes which you can read here and you can also check out my packing list for Tignes on Amazon here.
👩‍⚕️ What is the best insurance to have while traveling?
I recommend using Heymondo for a great value policy. The app also offers you 24/7 Dr Chat. For Digital Nomads check out SafetyWing digital nomad insurance. I have also written a blog post covering all my recommended travel insurance here
✈️ Any flight recommendations?
WayAWay offers you cheap flights with cashback. You can use this code CLAIRE22 to get 10% off. Otherwise, Skyscanner or Expedia are my go-to flight searching platforms.
🎫 Where can I buy tickets for museums, attractions, and tours in Europe?
I recommend either Viator or GetYour Guide. They have a lot of options available!
🚗 Where can I book rental cars or private transportation?
I strongly recommend using RentalCars. They are available in more than 60.000 locations and customer service support in more than 40 languages.
📱What do you use for internet connection while traveling?
I'm a big fan of personal WiFi devices and they have saved my ass so many times when traveling. I wrote a full review of the top travel WiFi devices you can read here. I personally use GlocalMe as I can either pop in a physical sim card or use their local carrier.
With regards to my phone connection, I use e-sims while traveling, so rather than having to swap out my regular sim card I can download the app and buy a virtual sim card. I recommend using either Airhub or Alosim. Both have great coverage of multiple countries and are very easy to use.
🛏️ What is the best platform to use for booking accommodation?
The 3 best platforms that I normally use are Booking.com, Hotels.com, and Expedia. They offer great deals and multiple options. I always check all three to be sure of the best deals.
🛅 Do you have any luggage recommendations for traveling?
I do have a complete list of the best packing and luggage products that I recommend, you can check the list here. I'm currently traveling with this suitcase and this backpack.
Final Thoughts About Tignes In Summer
The thing that struck me the most about visiting Tignes in summer (apart from how beautiful it is) was how much fun it was! It's impossible to get bored as there is so much to do.
One moment I was hiking up a scenic trail, awestruck by the mountains around me, and the next, I was paddleboarding on a crystal-clear lake as if I were miles away from civilization. The food scene was a delightful surprise too—so much variety and flavor packed into one small mountain town!