Looking for an action-packed summer holiday? You should really think about doing a Tignes summer. Here are a list of things to do in Tignes!
Things to do in Tignes
Soak up the beauty of the Alps
Tignes is hands down one of the most beautiful places to visit. The French Alps in the summer are the world away from the mountains in the winter months. It is the perfect place to enjoy some hiking and overdose in all that fresh mountain air.
Go Skiing and Snowboarding
During the Summer there are very few European places to ski in the summer. In Tignes summer skiing on the glacier is a thing. You can ski every day from 7 am until 1 pm. Do make sure you go early though as once the sun comes out, the snow melts and it starts becoming to slushy to ski on.
Go Mountain Biking in Tignes
Once the snow melts and the skiers leave the mountain bikers begin to arrive. Just watching hurtlingly down the mountains filled me full of anxiety, but they seemed to be having a great time.
Tignes is a great place for novice mountain bikers and I noticed lots of classes for beginners so if you like the idea of speeding down mountains on two wheels then get yourself to Tignes mountain bike school.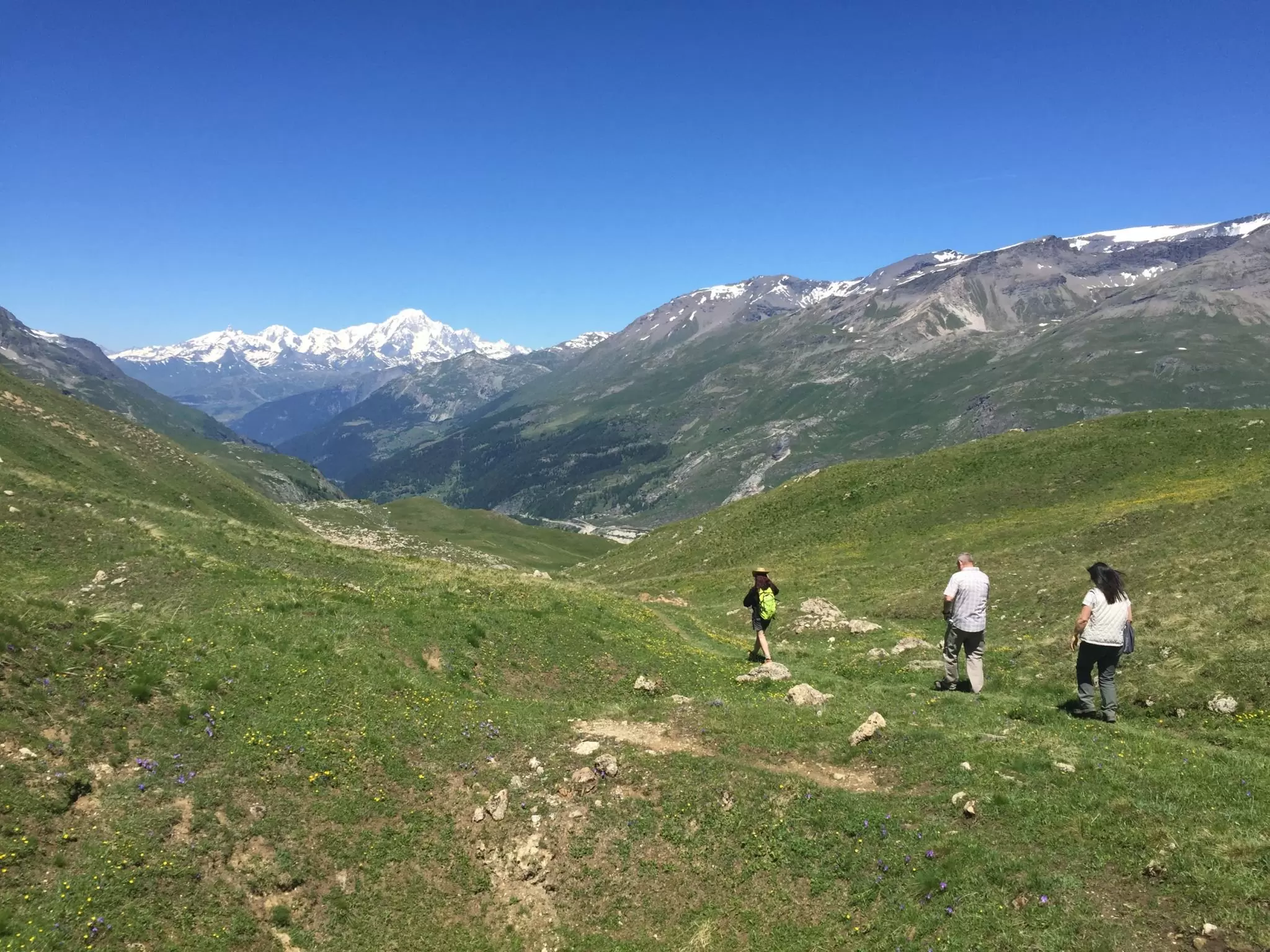 Go Hiking in Tignes
Now, summer hiking in Tignes is was one activity that I got on board with. I'm all for two feet on the ground putting one foot in front of another! There are 25 hiking routes in Tigne and you can buy a guidebook from the tourist information center.
If you are a little lazy the best bit is that if you don't fancy the trek up the mountain, you can use some of the Ski lifts for free and then just hike down. WINNING!
Enjoy the Water Activities on the Lake
From Water balls to SUP Yoga there is a whole host of fun Tignes water activities you can do on the tranquil lake. It's also a great (mostly flat) spot for a jog. One lap around Tignes lake is 1.5 miles and there are just a few steep hilly parts to test how good your running is at high altitude.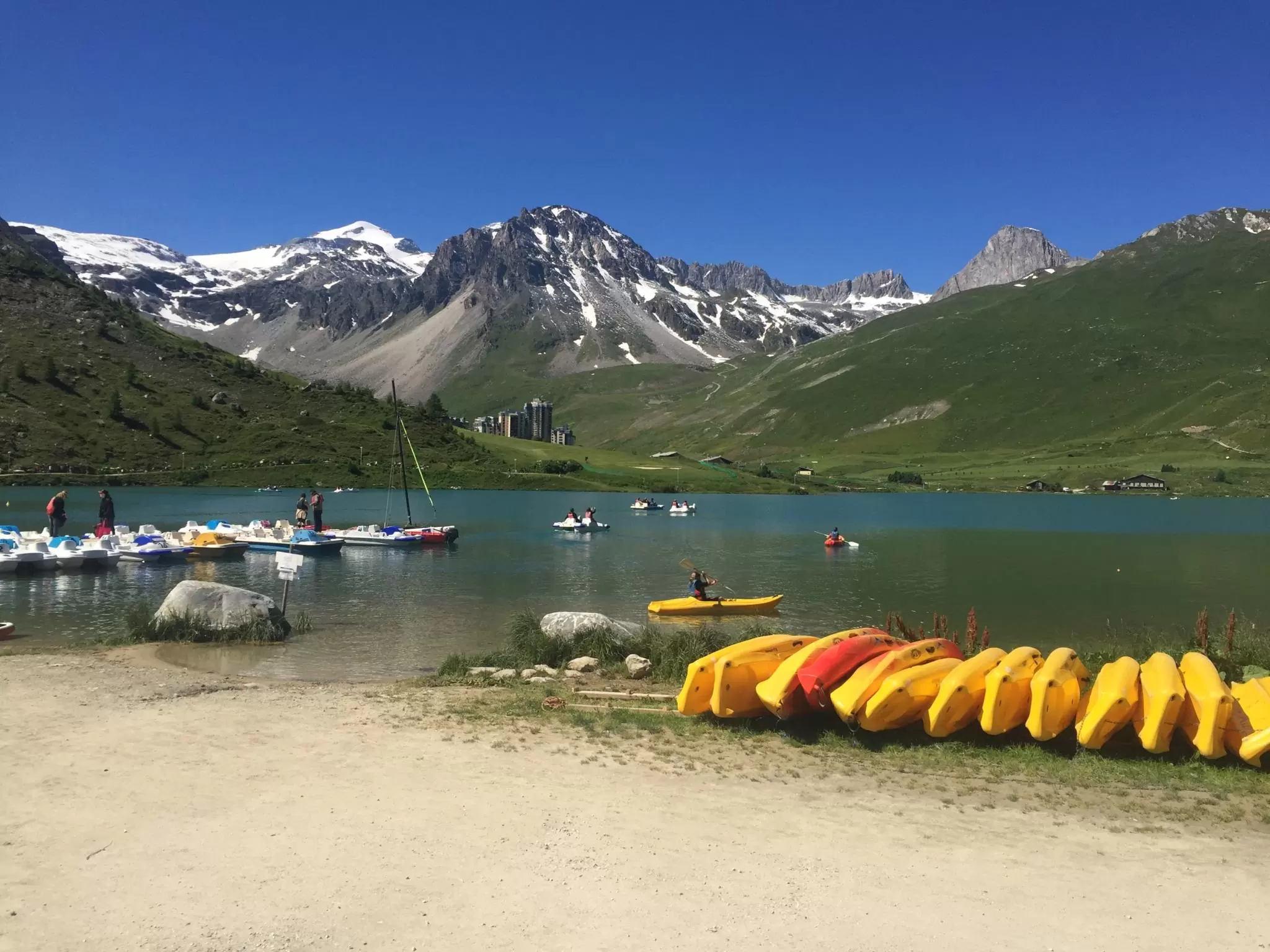 Play a round of Golf in Tignes
Next to the lake is Tignes golf course for golfing pros, for everyone else they have mini-golf just a short walk down the road.
Other Tignes Activities
There are too many things to do in Tignes to name all of them. Trust me if you want a holiday packed with adventure and activities (especially if you have children) then this is the place for you!
Here are a few of favorite Tignes activities:
Beach Volleyball (that's right they have built a beach up in the mountains)
Archery
Shooting Trampolining
Skating in the skate park.
For a full list visit the Tignes website.
Go Horse Riding in Tignes
What better way to spend an afternoon than galloping through the Alps on a horse?!
White Water Rafting in Tignes
From Bourg-Saint-Maurice to Gothard there are different grades of white water rafting in Tignes to enjoy depending on your experience, and how crazy a time you fancy having on the river. I didn't get a chance to do this personally but next time it's top of my list.
Rock Climbing in Tignes
Another activity not on my list but if you fancy going to climbing school what better place than in the mountains of Tignes? You can choose to climb on the rocks or head indoors to Tignespace.
Get a sweat going at the Indoor Gym and Wellness Centre
All of those outdoor sports and activities in Tignes can take their toll, so make sure you leave some time to relax in the Wellness Centre as well as the usual spa treatments you can unwind in a Turkish bath. Or if you haven't done enough you could always hit the gym!
Final Thoughts
The thing that struck me the most about visiting Tignes in summer (apart from how beautiful it is) was how much fun it was! It's impossible to get bored as there is so much to do. If I had children this would be the perfect holiday to keep them entertained. The whole place was just full of happy, active and adventurous people, so if that's your vibe then what are you waiting for? Get your flight booked now!
The Best Tignes Hotels
This post was proofread by Grammarly