Have you ever wondered what it would be like to hike around a volcanic crater? Ubehebe Crater is located within the Death Valley National Park in the United States. This park is known to be the hottest, driest, and lowest place in North America! Ubehebe Crater is only one of the many attractions in Death Valley National Park; you can be certain that the park will keep you busy for days!
Ubehebe Crater is 0.5 miles wide and 600 feet deep and has been known to be as old as 7,000 years! It was formed when steaming hot magma touched groundwater after a volcano eruption. If you look down, your knees might get wiggly and your heart will start pounding. But it's not as scary as it looks!
Did You Get Travel Insurance Yet?

The Insurance companies I recommend are Hey Mondo, Safety Wing, and Travel Insurance Master

Hey Mondo is great if you are looking for a great value flexible policy. They offer single-trip cover, annual multi-trip cover, and long-term travel cover. Safety Wing is great value, with monthly coverage starting at $39. It's super easy to use, and it just renews each month. I currently use them as they offer me free cover for my son as part of my policy. I also use Travel Insurance Master for short trips.

Read my full travel insurance post here, where I go into detail about all companies.
What You Need to Know About Ubehebe Crater
While you can get great views from the parking lot, we recommend hiking around the Ubehebe Crater to fully explore the volcanic landscape and spot other smaller craters.
Here are some important things you need to know to hike around the crater:
Trail Distance: 1.5 mile
Elevation Gain: 500 feet
Intensity: Moderate
Type of Trail: Loop
Amenities: There are no restrooms at the site but there are restrooms at the Grapevine Ranger Station that's 5 miles away from the Ubehebe Crater, and the parking lot is appropriate for all vehicles sizes.
Hiking Time: 2 hours (plus extra time if you plan to also hike down to the crater's bottom)
Park Entrance Fee: $30 for a 7-day period; the fee is waived if you own any one of the annual passes
If you're hiking on this rugged terrain, you need to be prepared. Make sure you're packing durable hiking shoes, water, and other hiking essentials.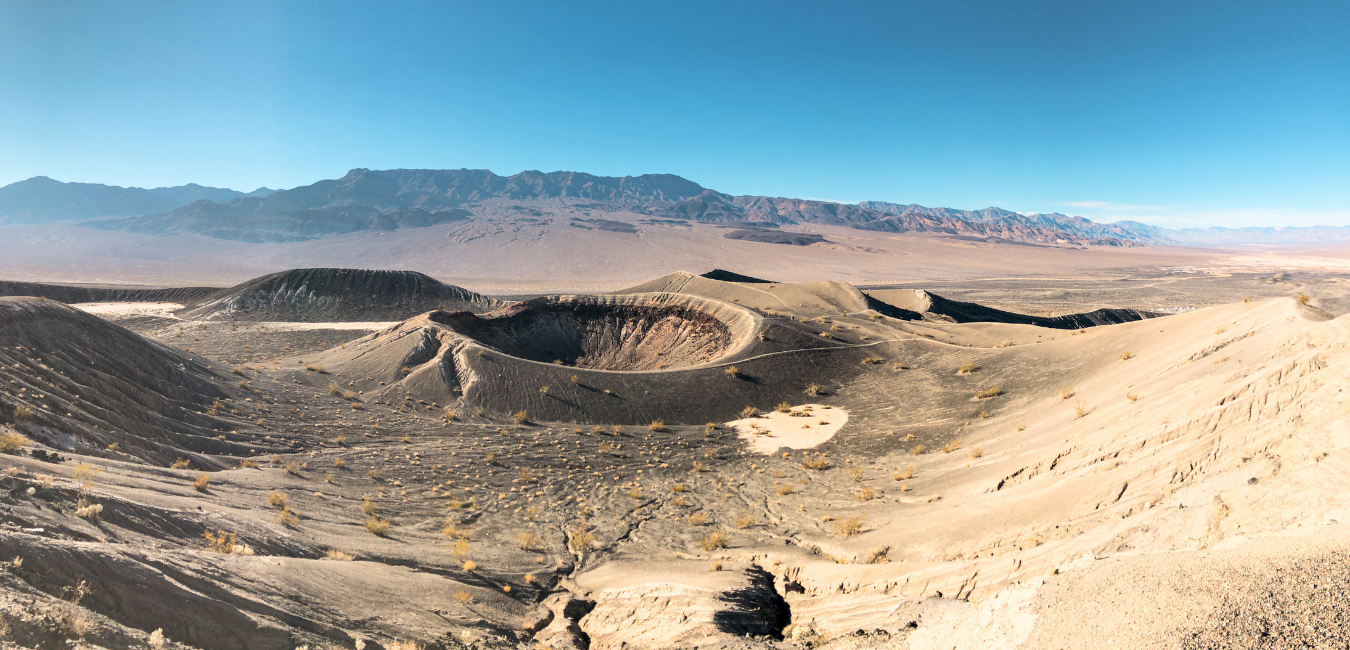 How To Get To Ubehebe Crater
The drive to Death Valley National Park is doable in a day if you're driving from Las Vegas, Los Angeles, or San Francisco Bay Area. Here are a few more details:
From Las Vegas – it's a 157-mile drive that takes 2 hours and 30 minutes
From Los Angeles – it's a 284-mile drive that takes 5 hours
From San Francisco – it's a 528-mile drive that takes 9 hours
Are you looking to fly in to visit Death Valley National Park? The nearest airport is Harry Reid International Airport in Las Vegas, Nevada. It's a 118-mile drive that takes 2 hours.
Once you get to the Furnace Creek Visitor Center, It takes about 1 hour and 15 minutes (56.3 miles) to get to Ubehebe Crater. From the visitor center, take a left on CA-190 and continue for 17.1 miles until Scotty's Castle Road. Turn right on Scotty's Castle Road and drive for another 33.4 miles until you see Ubehebe Crater Road. Continue for 5.3 miles until you reach the site's parking lot. It's a long drive but well worth it to see this massive crater.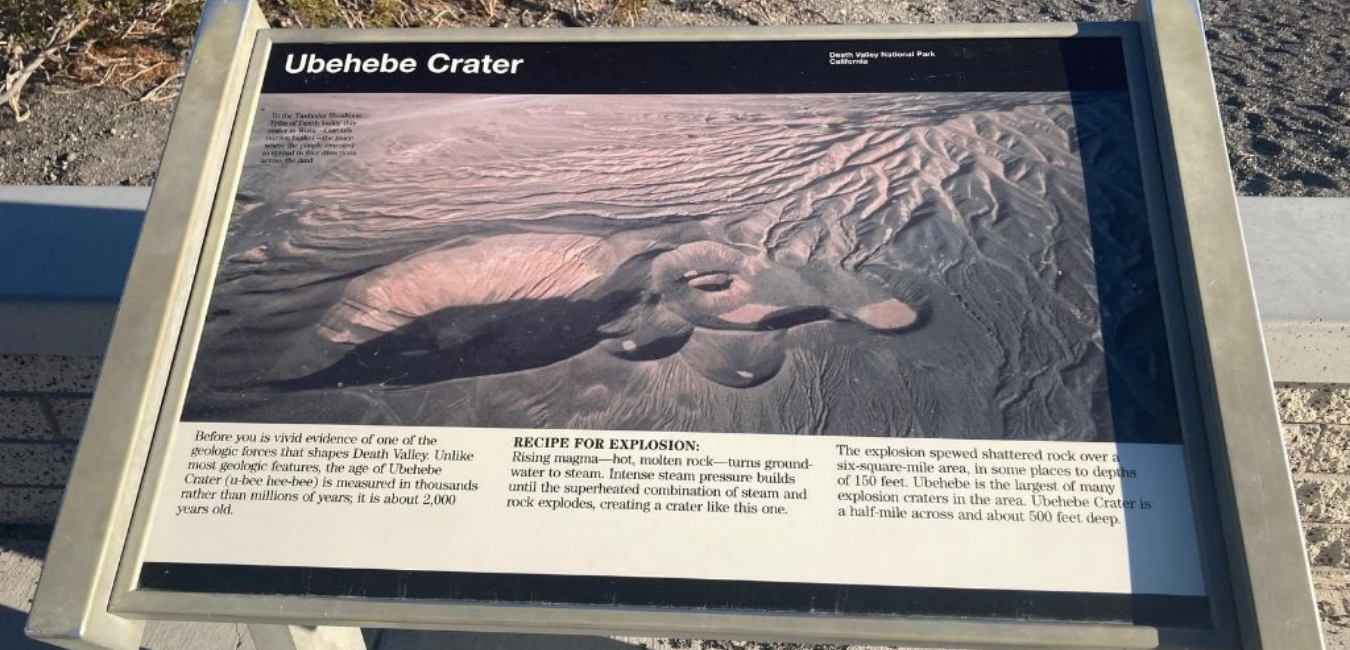 Best Time To Visit Ubehebe Crater
The best time to visit Ubehebe Crater is during the winter when the temperatures aren't too hot. You can also visit during the fall or spring but be prepared for some hot days. It's best not to visit during the summer; summer temperatures can reach 134 Fahrenheit!
What's the best time of day to visit Ubehebe Crater? Visit this attraction in the afternoon to see the sun's shadow on the crater. It's incredible to see and photograph the reddish-orange crater walls in contrast to the clear blue sky.
Things To Do Near Ubehebe Crater
Even though Ubehebe Crater is located far from the park's well-known attractions, there are other attractions to explore in the area:
Scotty's Castle
Tour around this paid attraction that was named after Walter Scott, a gold prospector. Go back in time to this 1930 home that's visited by 100,000 people annually.
Little Hebe Crater
In contrast to the Ubehebe Crater, Little Hebe Crater is smaller, gray-colored, and circular-shaped. You can also hike around this crater.
Ubehebe Peak:
If you're an avid hiker, then hike to the Ubehebe Peak that's 5,678 feet high. You'll get gorgeous views of the park, Mount Whitney, and the Racetrack (the desert floor that looks cracked due to the tracks left after rain).
Where To Stay In Death Valley National Park
There aren't a lot of hotels to stay in Death Valley National Park but the few places that are within the park's boundaries provide great comfort, service, and amenities. Here are the three hotel options when choosing to stay in Death Valley:
This hotel is located in Panamint Springs. It's a no-frills experience in a cabin. The prices are relatively better than the other hotels that are centrally located in the park.
This hotel is located in Furnace Creek. It's just 2 minutes away from the Furnace Creek Visitor Center. If you're looking for a Death Valley hotel that has all the activities and amenities that you can think of, choose this hotel. Choose activities from horseback riding to yoga and movie nights or play golf at its 18-hole golf course. There's also a swimming pool, buffet restaurant, and outdoor recreation amenities including basketball, tennis, and volleyball courts.
This hotel is also located in the Furnace Creek area. This 3-star hotel is beautiful with palm trees surrounding the hotel building. This Spanish Colonial Revival-style resort truly looks like an oasis in Death Valley's desert. If you're looking for a relaxing place to stay, choose this hotel. The hotel offers fine dining, a sauna, and on-site massages.
Alternatively, the park has 9 campgrounds spread out throughout the park. If you choose to camp here, the Furnace Creek Campground fills up quickly during the spring, fall, and winter seasons. But you'll likely find spots at the Stovepipe Wells campground or the Sunset campground. Camping in Death Valley isn't recommended during the summer since night temperatures can still remain high at around 100 Fahrenheit.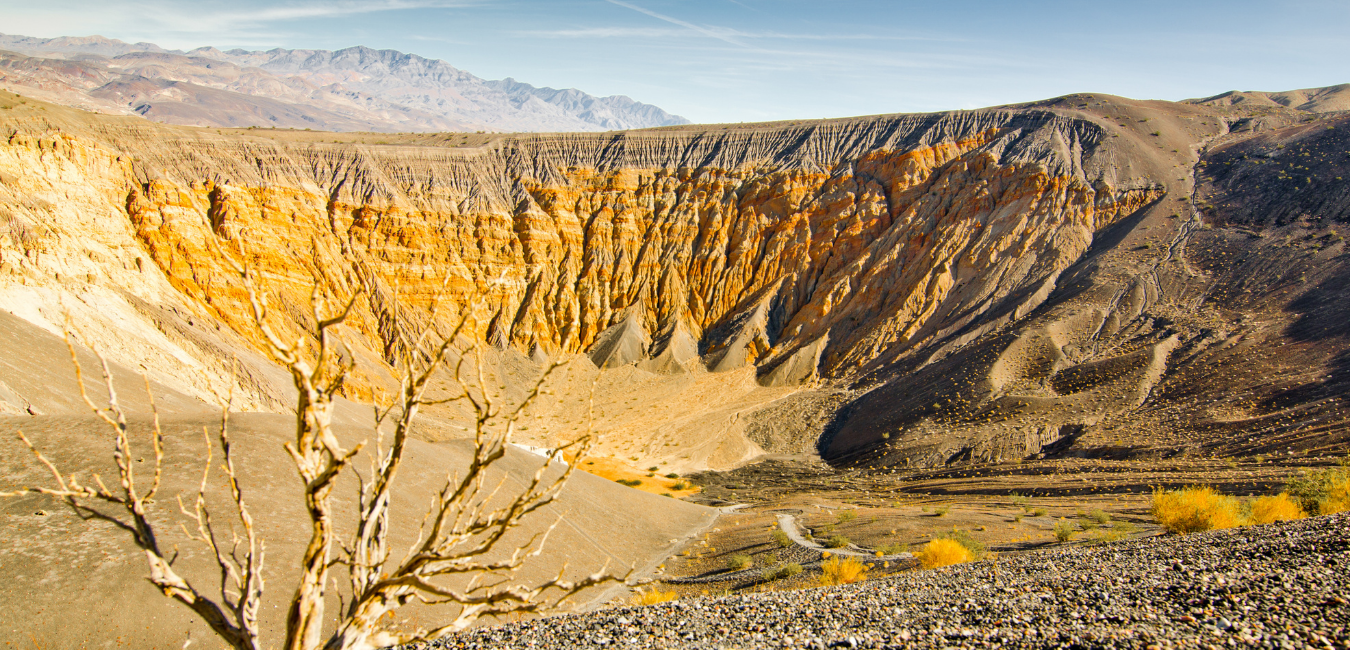 Conclusion
The Ubehebe Crater in Death Valley is an incredible place to visit with breathtaking views. We hope this guide helps you plan your visit to the Ubehebe Crater.
Author Bio
Rasika is the owner of the travel blog Bae Area and Beyond. She is from the Bay Area and her blog covers California destinations. She hopes that her readers will fall in love with California, just like she did.