With so many travel yoga mats out there, it is hard to decide which one to buy! But never fear, I've got you covered! As a travel-obsessed yogi myself I never leave home without my travel yoga mat. In fact, I'd go as far as to say that I'm more attached to my travel yoga mat that I am the entire contents of my backpack!
In this post, I have chosen the best travel yoga mats to review so you can decide which one is right for you.
What makes a good portable yoga mat?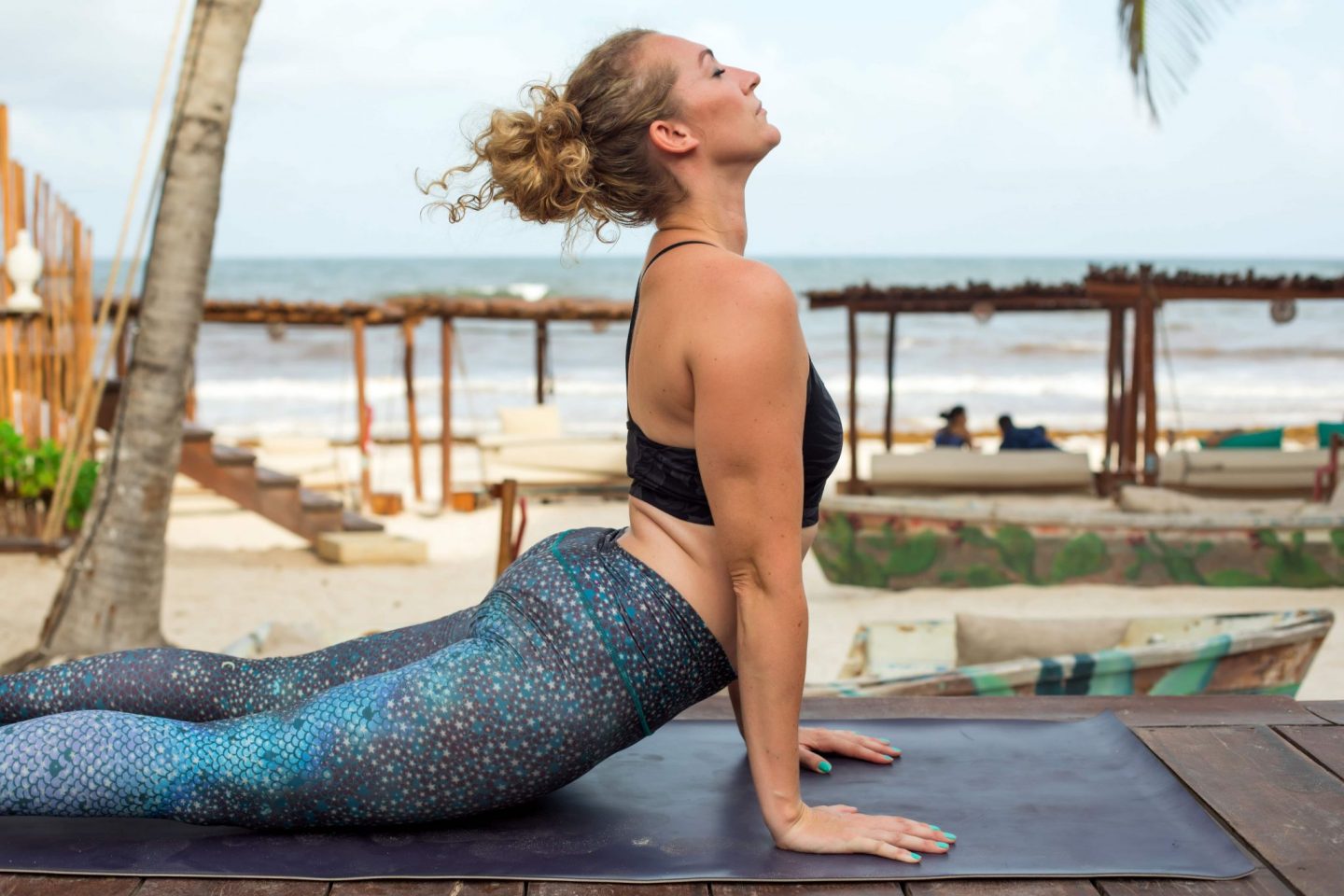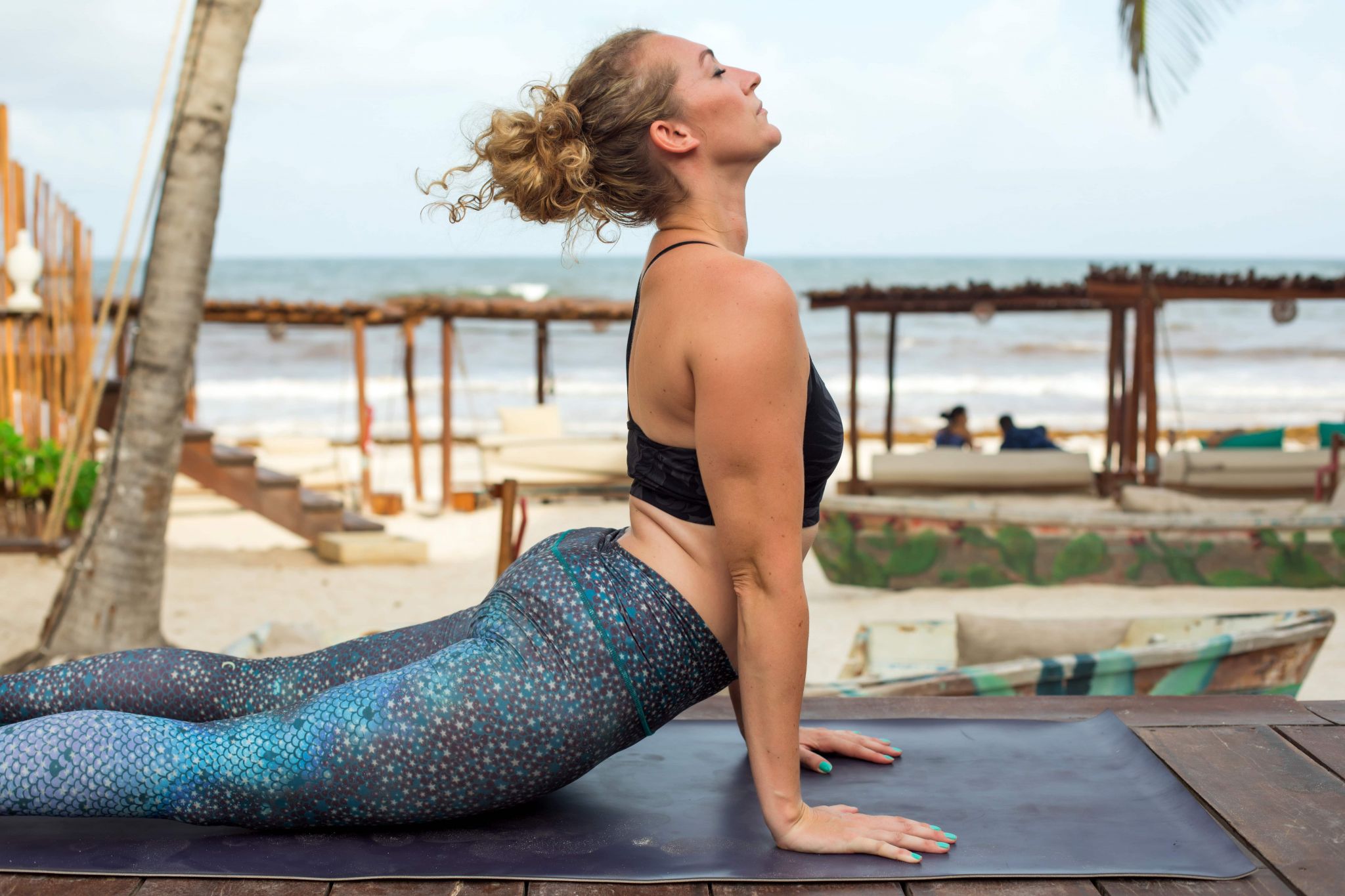 Before we go any further here are some things to think about before choosing a travel yoga mat.
Do you just want a travel mat, or will this become your main mat?
If it is going to be your main mat, that's fine. I actually only use my thin travel mat and I just put a cheap yoga mat from Walmart under it to add a bit more cushioning as mine is a thin yoga mat.
Folding yoga mat?
This is a big one, having a fold-up yoga mat can be a game-changer for travel. I recommend looking for a yoga mat that you can fold and roll. That way you have the option of folding it up in your suitcase. It is also really useful for me to have a foldable yoga mat so I can put it in the basket of my bike.
Lightweight yoga mat?
Just because it's a travel yoga mat doesn't necessarily mean it is a lightweight yoga mat! So if you do need something thin and light then be sure to check the weight. Even thin ones can be on the heavy side.
The Best Travel Yoga Mats
| Name | Size | Thickness | Weight | Price |
| --- | --- | --- | --- | --- |
| Lululemon 3mm Reversible | 66cm X 180cm (26" X 71") | 3mm | 3.87lb | Check Price |
| Gaiam Dry-Grip foldable | 61cm X 173cm (24" X 68") | 2mm | 1lb | Check Price |
| Jade Travel Mat | 68" x 24" or 74" x 24" | 3.5mm | 3.3 lb | Check Price |
| Manduka eKo SuperLite | 61cm X 180cm (24" X 68") | 1.5mm | 2lb | Check Price |
| Prana Nomad Travel Mat | 61cm X 183cm (24" X 72") | 3mm | 3lb | Check Price |
My favorite yoga mats for travel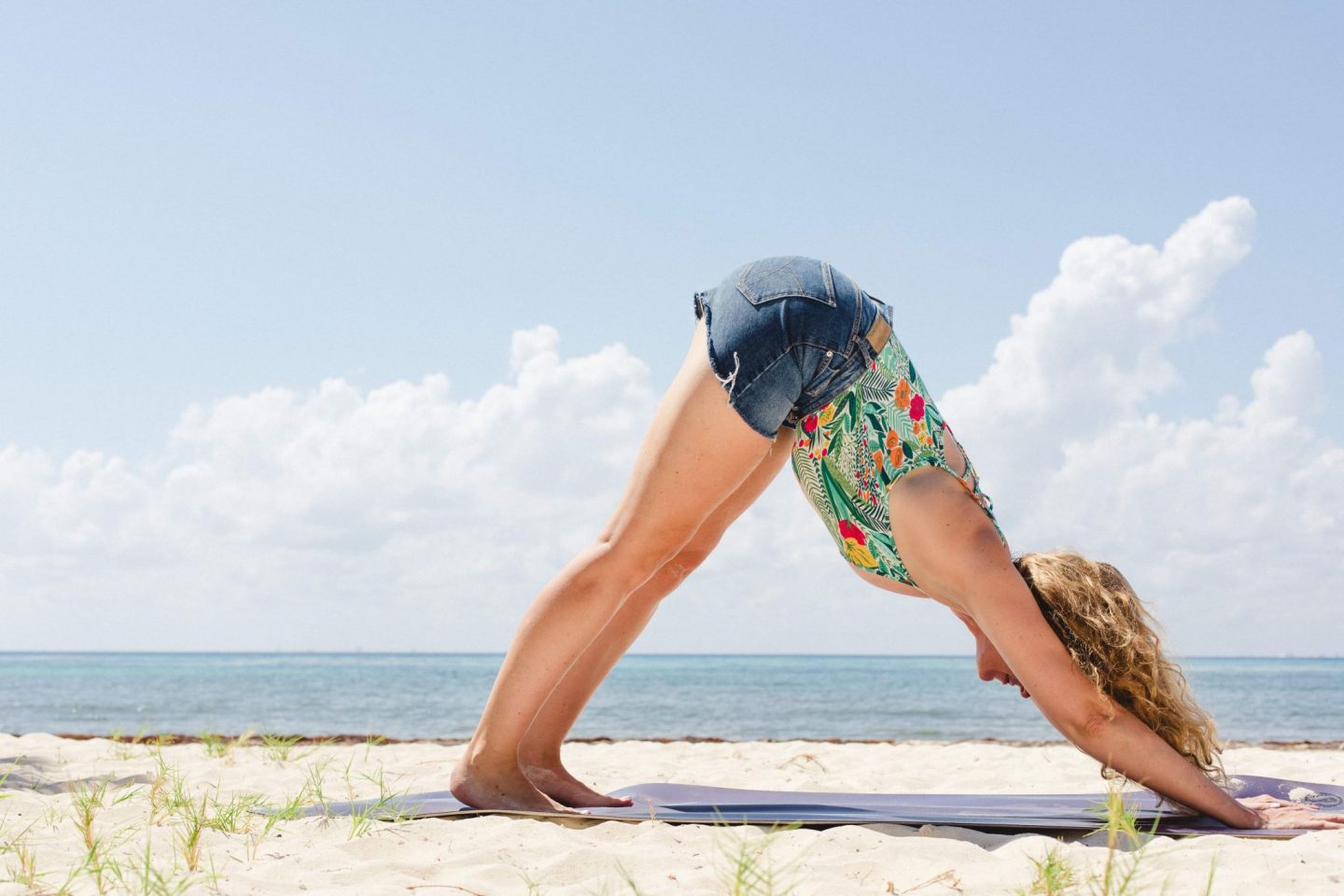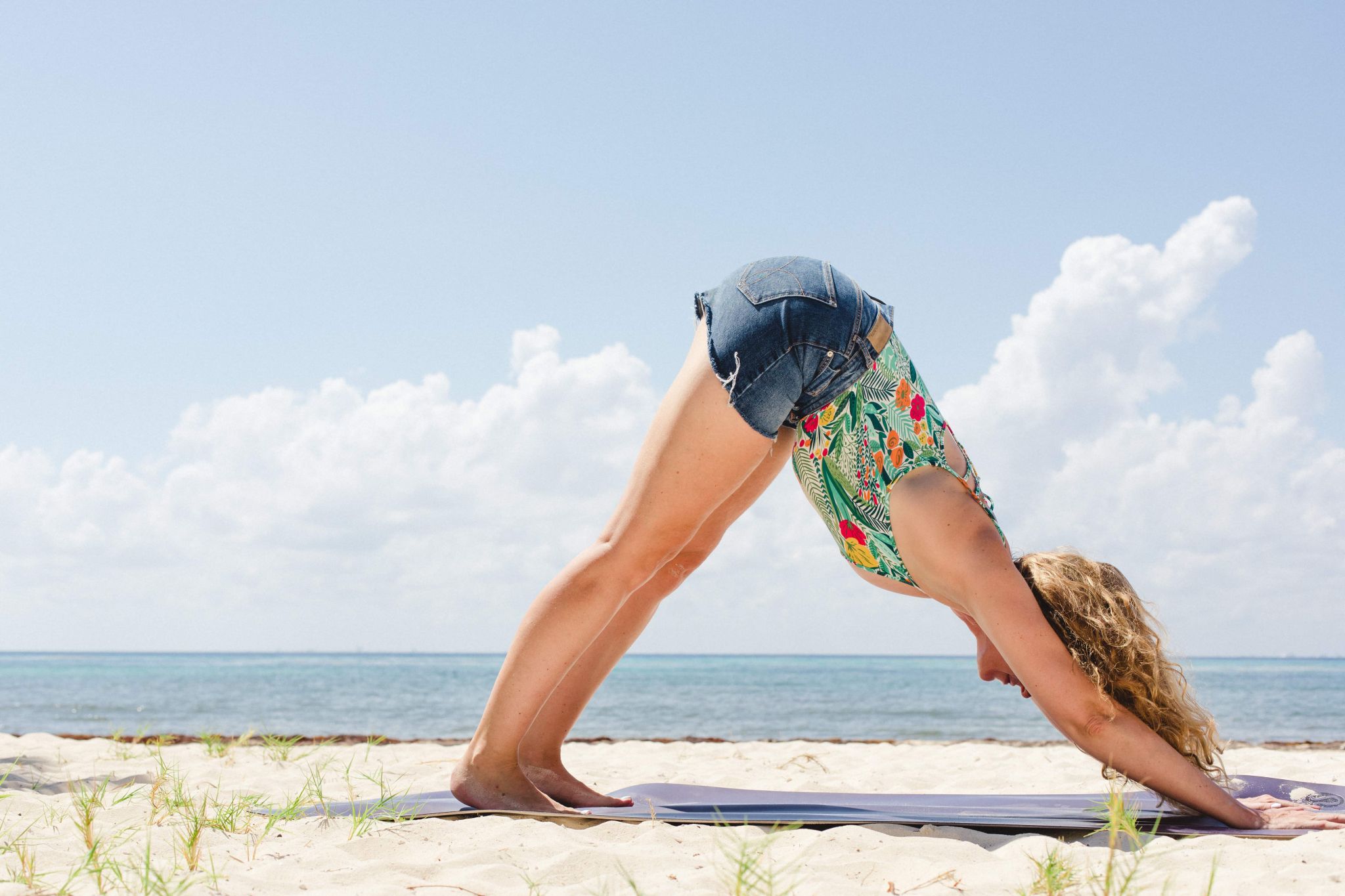 I'm now on my second of these Lululemon mats and I personally wouldn't use anything else for practicing yoga. Sadly I lost my first one in Guatemala and I was gutted! I tried a few other cheaper mats (reviewed below) but not of them did for me what this mat does, so I sucked it up and spent an extra $60 on a second one! Now Lululemon does have a thinner mat for travel, the (UN)Mat.
I personally haven't used this travel mat as it was just a bit thin for me and the reviews weren't all that great. For me, the 3mm is perfect as when I'm practicing at a studio or at home I just place the light yoga mat on top of a studio (or cheap mat) for some extra padding. But if I'm away from home where I don't have access to a second mat it is still thick enough for me to practice with alone. Any thinner and it would be uncomfortable.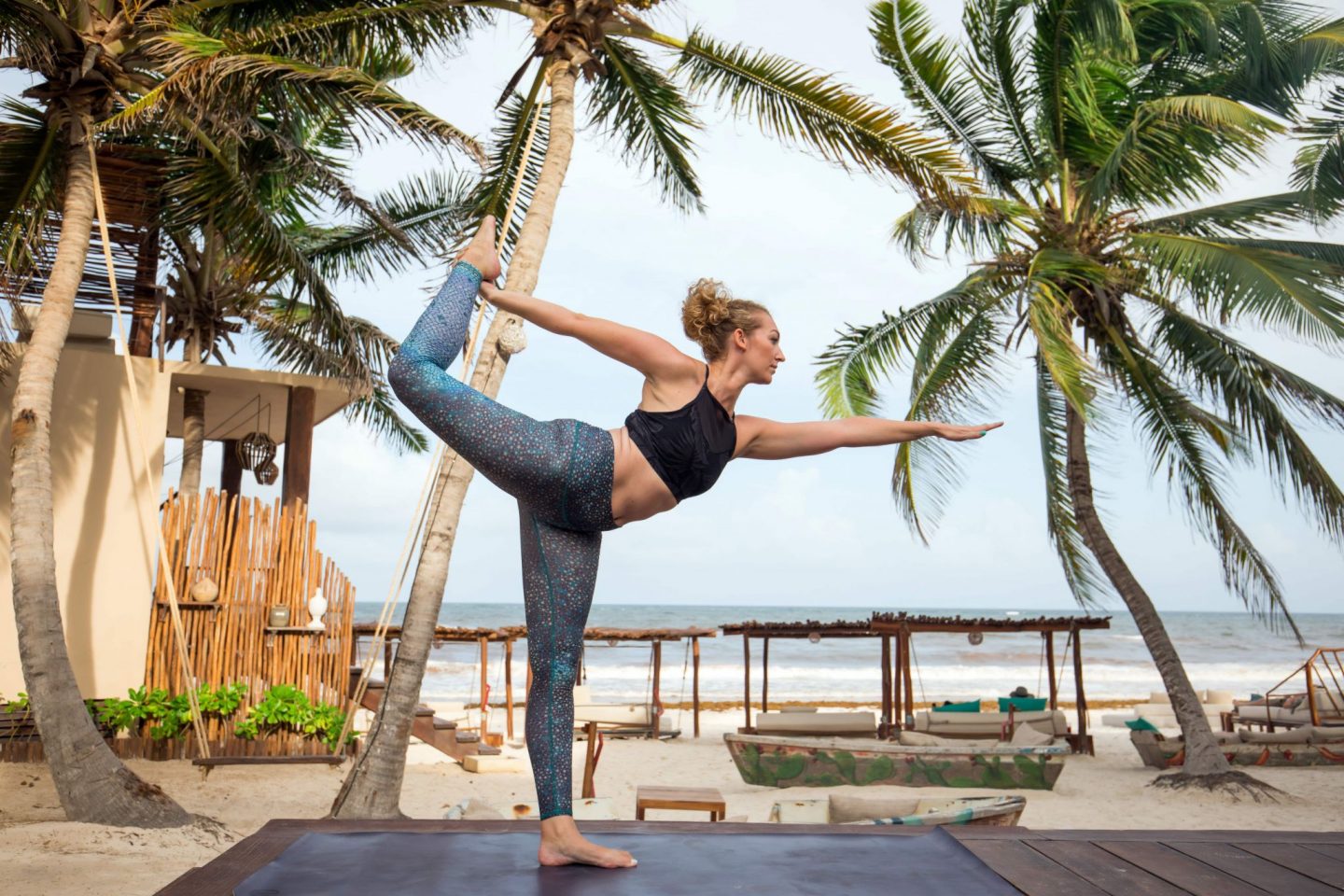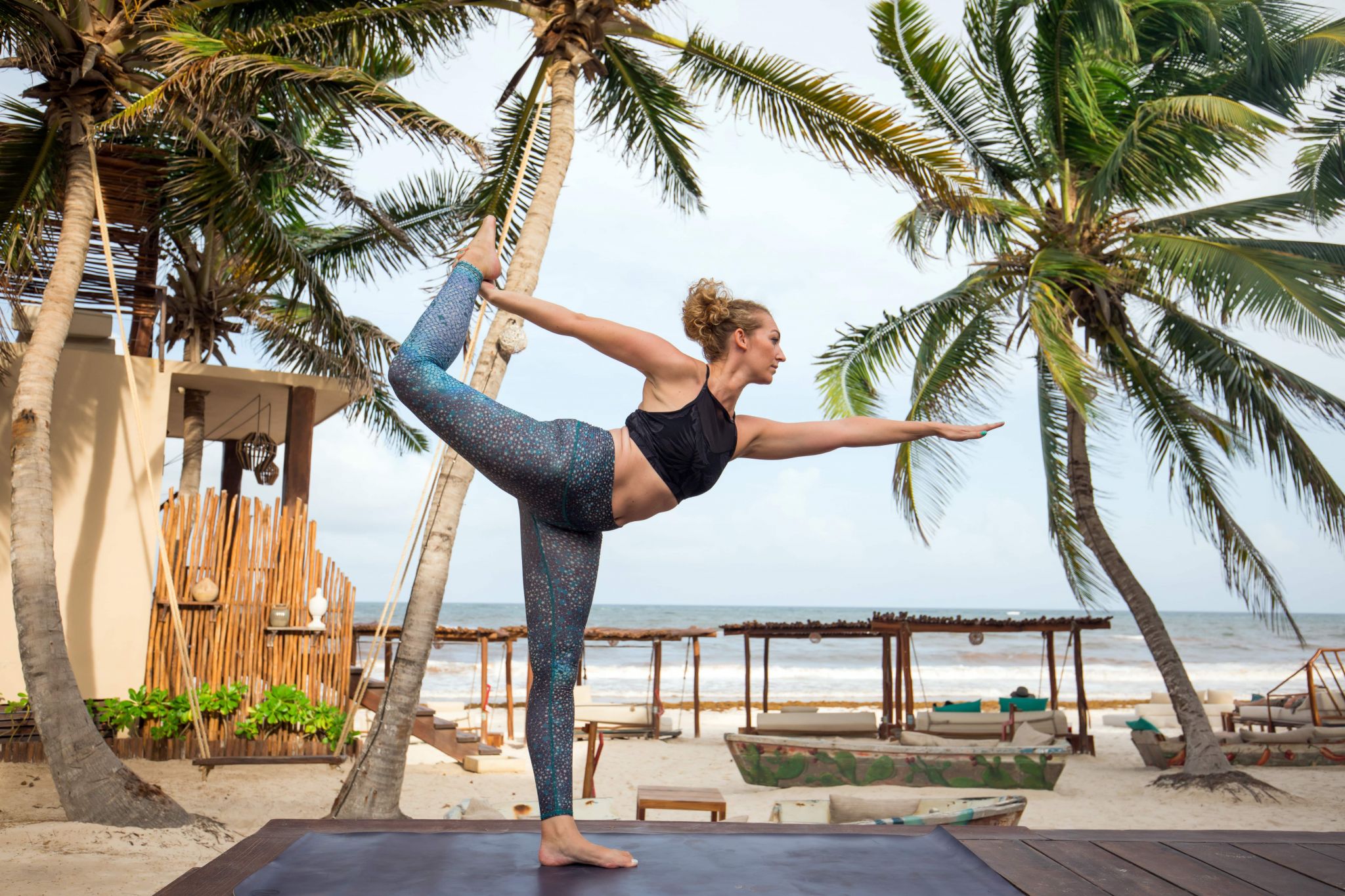 Reasons I love this travel yoga mat
The Grip! – I live in the Caribbean so every yoga class is hot yoga and I sweat a lot. This means on a normal yoga mat I slip a lot. This is the only yoga mat I don't slip on and believe me, I have tried a lot of yoga mats!
Reversible – This mat is reversible and the other side is even better for grip, but if I'm honest I never reverse it as I don't need to.
Foldable – Although it doesn't say it in the product description this is a foldable yoga mat. I have folded it a lot either to put into my backpack/ suitcase or to travel in the basket of my bike.
Antibacterial – This mat has an Antimicrobial additive which helps to prevent mold so if you live in a hot climate like me this is a real plus.
Reasons this travel yoga mat isn't for you
Weight – So this isn't strictly speaking a travel yoga mat it is on the heavier side. So if weight is something you need to keep down this mat may not be the best choice for you.
Cleaning and Maintenance – This yoga mat is super sticky! That means things like dust and dirt are also going to be attracted to it! You have to make sure you clean it after use and leave it to dry away from the sun.
Scuffing – It can scuff easily so you will need to take care not to damage it.
Price – At just under $60 it is at the top end of the pricing for portable yoga mats. Although in my opinion, you do get what you pay for and this mat is worth every penny!
Travel Mat Specs
Size: 66cm X 180cm (26″ X 71″)
Thickness: 3mm (0.12″)
Weight: 3.87lb (1.76kg)
If you are on a tight budget then this lightweight yoga mat is a great buy. It is one of the lightest yoga mats on the market and for a bargain price.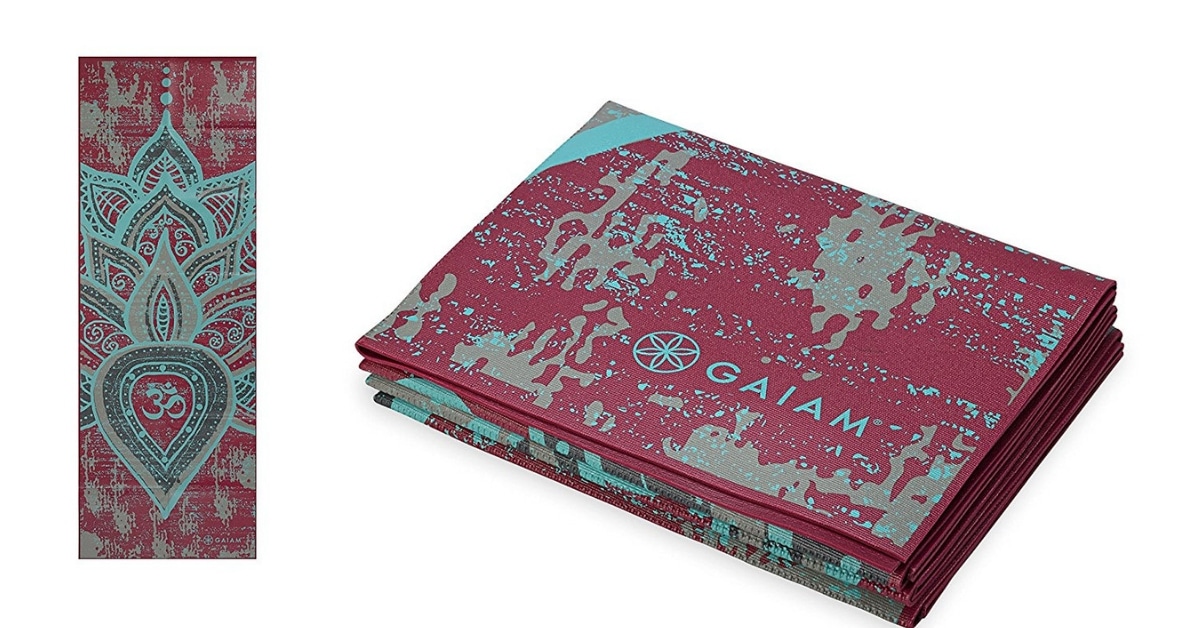 Reasons to buy this mat
Weight – This is one of the lightest yoga mats you are going to find as it weighs just 1lb, you won't find a more lightweight yoga mat than this.
Price – You aren't going to find a decent portable yoga mat for a better price than this.
Colors – There are a lot of super cool patterns and colors to choose from. So if you want a patterned yoga mat this is a great option.
Foldable – It's a foldable yoga mat and it will easily fold into a 10"x12" square.
Sticky – It has a sticky feel to it which helps with grip.
Backpacker friendly – Taking all of the above into consideration I would say if you are a backpacker looking for a cheap travel yoga mat to take away with you that won't take up too much space and won't add to your weight, this is it!
Reasons this mat isn't for you
Grip – Although it does have a sticky grip. Having tried it out in a hot and humid country, I did struggle a bit with grip. So if you are a slider like me then this may not be the right choice for you.
Thin – This is an extremely thin yoga mat and it feels almost like practicing on the ground. If you want something with more padding then chose a different mat. Alternatively, this is perfect to layer on top of another mat, or even on a towel.
Quality – As it is at the cheaper end of the spectrum it isn't the best quality. So if you are someone who practices daily and want a mat that is going to last then this isn't the yoga mat for you.
Travel Mat Specs
Size: 61cm X 173cm (24″ X 68″)
Thickness: 2mm
Weight: 1lb
For me, the two contenders for best yoga mats are Lululemon and Jade. I personally prefer Lululemon as I find it easier to grip and you can use their mats right away. With Jade, you need to 'break it in' but they are excellent quality mats that will stand the test of time… They just take a bit of extra work.
The Jade Travel Mat is a travel mat for serious yoga practitioners who don't mind the maintenance that goes along with looking after these mats. It is also on the larger and heavier side meaning you can't fold it easily.
Reasons to buy this mat
Quality – If you are a yogi on the go and want a more travel-friendly version of the standard Jade yoga mat then you can't go wrong.
Cushioning – It is thicker than other travel yoga mats so it will give you a bit more cushioning, this means you can use it comfortably on its own without a second mat.
Non-slip – Once you have broken in your Jade yoga mat the grip is fantastic thanks to its open cell natural rubber surface.
Reasons this mat isn't for you
Weight – This is a good quality and well cushioned portable yoga mat. The compromise is that it is on the heavy side. In fact, it is over 3 times heavier than a Gaian mat!
Bulky -Jade mats are well known for their cushioning and at 3.5 mm thick this mat may be a little too bulky for some travelers.
High Maintenance – Because of its open cell natural rubber surface your Jade mat will take a lot of maintenance if you want it to last. It will absorb EVERYTHING. So you have to clean it after each use and dry away from the sun. If you leave the mat in the sun it can destroy is as it will totally dry out the rubber. So if you do buy this mat, be sure to read all of the maintenance instructions and follow them. If you don't you run the risk of destroying your mat.
Travel Mat Specs
Size: 68" x 24" or 74" x 24"
Thickness: 3.5 mm
Weight: 2.9 or 3.3 lb
If you want a Jade mat but need a lighter alternative Jade also has a Voyager Yoga Mat which is lighter and thinner. Click here to check out prices.
This was the mat I bought when I lost my Lululemon and it really wasn't a bad travel yoga mat. It just wasn't the mat for me. It is ridiculously thin and very light and I personally never used it without a mat underneath as it was just too thin. But the price is ok, it had an ok grip, and you can fold or roll it.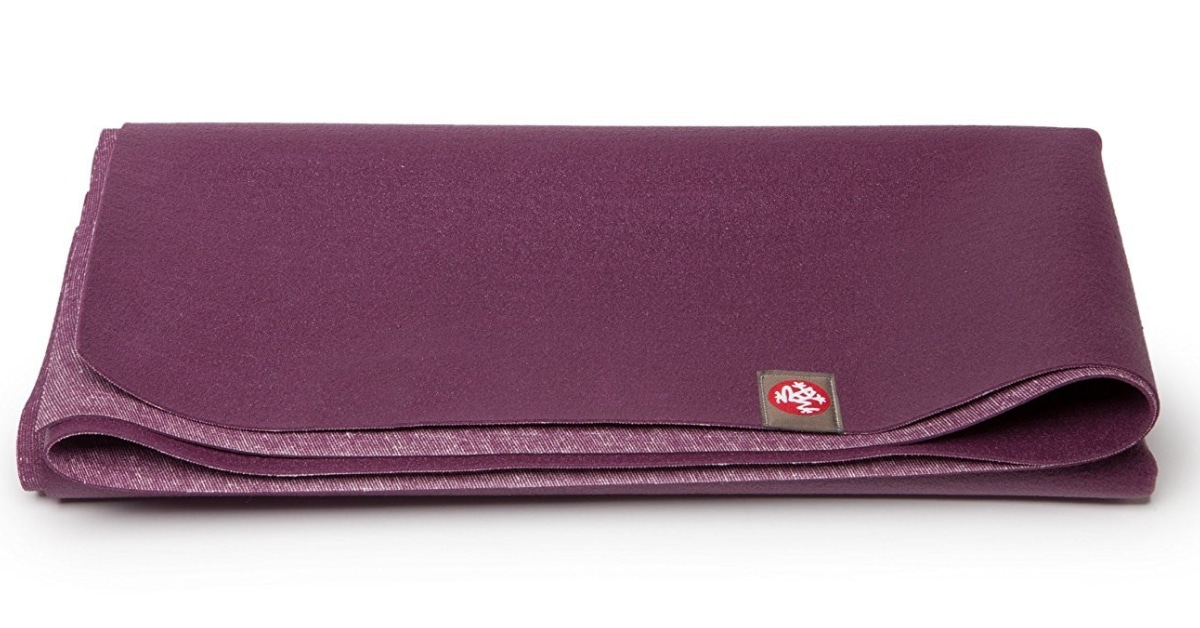 Reasons to buy this mat
Thin and lightweight – It is one of the thinnest and lightest yoga mats you will find and from a well known and trusted brand.
Price – Manduka is a well-known brand and the price sits somewhere in the middle. This was one of the deciding factors for me as I trusted the brand, but didn't want to spend over $50 for a travel yoga mat.
Quality – despite its size the quality of this mat is very good and it will last as long as you look after it.
Colorful – It comes in a wide variety of colors and patterns.
Backpacking – This is a great option for backpackers who are also serious about yoga. You will need to place on top of a studio mat though if you prefer a little extra cushioning.
Latex-free – As it is an eco yoga mat it is made from all natural materials and it is latex free.
Reasons this mat isn't for you
Grip – For some the grip on this mat is perfect. It has a sticky feel and this will help you to grip so long as you don't sweat or practice in a humid place. I personally found that as soon as my hands became sweaty and the mat got a little damp it became like glass and I had no grip at all! Although this really helped with my jump thoughts!
Too Thin – It was way to thin for me to use on its own on a hard floor.
Smell – It smells and it didn't really fade with time no matter how much lavender water I sprayed on it haha. So if you are sensitive to smells then give this one a miss!
Travel Mat Specs
Size: 61cm X 180cm (24″ X 68″)
Thickness: 1.5mm
Weight: 2lb
Manduka also does a Pro-lite Yoga and Pilates Mat which is a great option if you don't mind something a little bulkier. Click here to check prices.
I'm a big fan of Prana yoga clothing and after recently trying out their Nomad Travel Mat I could be converted from my Lululemon. It is on the larger side of travel mats and similar spec to the Lululemon. The added bonuses are that it is UV and germ resistant. It also doesn't scuff like the Lululemon so if you are going to be traveling a lot and practicing yoga outdoors then this could be great for you. Although the grip is not as good in my opinion.
Reasons to buy this mat
Reversible – There are two sides to choose from. Both have good grip, although one side is slightly better in hot weather.
Price – It is a good price for the quality of the mat.
Cushioning – The cushioning on this mat is good meaning you can practice on it without a second mat. Although personally, I do prefer to use a second mat underneath when I can.
Quality – It is an excellent quality portable yoga mat from a trusted brand.
Reasons this mat isn't for you
Maintenance – it does like to pick up dust so needs a lot of cleaning. Although if you just avoid getting the black mat you will be fine!
Weight – it weighs 3lb so it's not the heaviest mat, but it isn't the lightest either. So you may prefer something a little lighter.
Choice – They currently only have it in 2 colors, black and blue… pretty dull!
Travel Mat Specs
Size: 61cm X 183cm (24″ X 72″)
Thickness: 3mm (0.12″)
Weight: 3lb
Oher mats by Prana that are good for travel are the Xtra Lite Mat and Transformation Mat (great for hot yoga).
Yoga Mat Cleaner
The one common theme running through with all of these yoga mats is that you will need to keep them clean and be sure to dry them out! The key to getting the most from your yoga mat is to look after it, and it will look after you. You can easily make your own yoga mat cleaner with a little alcohol, lavender, and tea tree oil (blog post coming soon!).
But if you prefer to buy something then my two favorites are Asutra and Mind Over Lather. Both of them are 100% natural and smell amazing!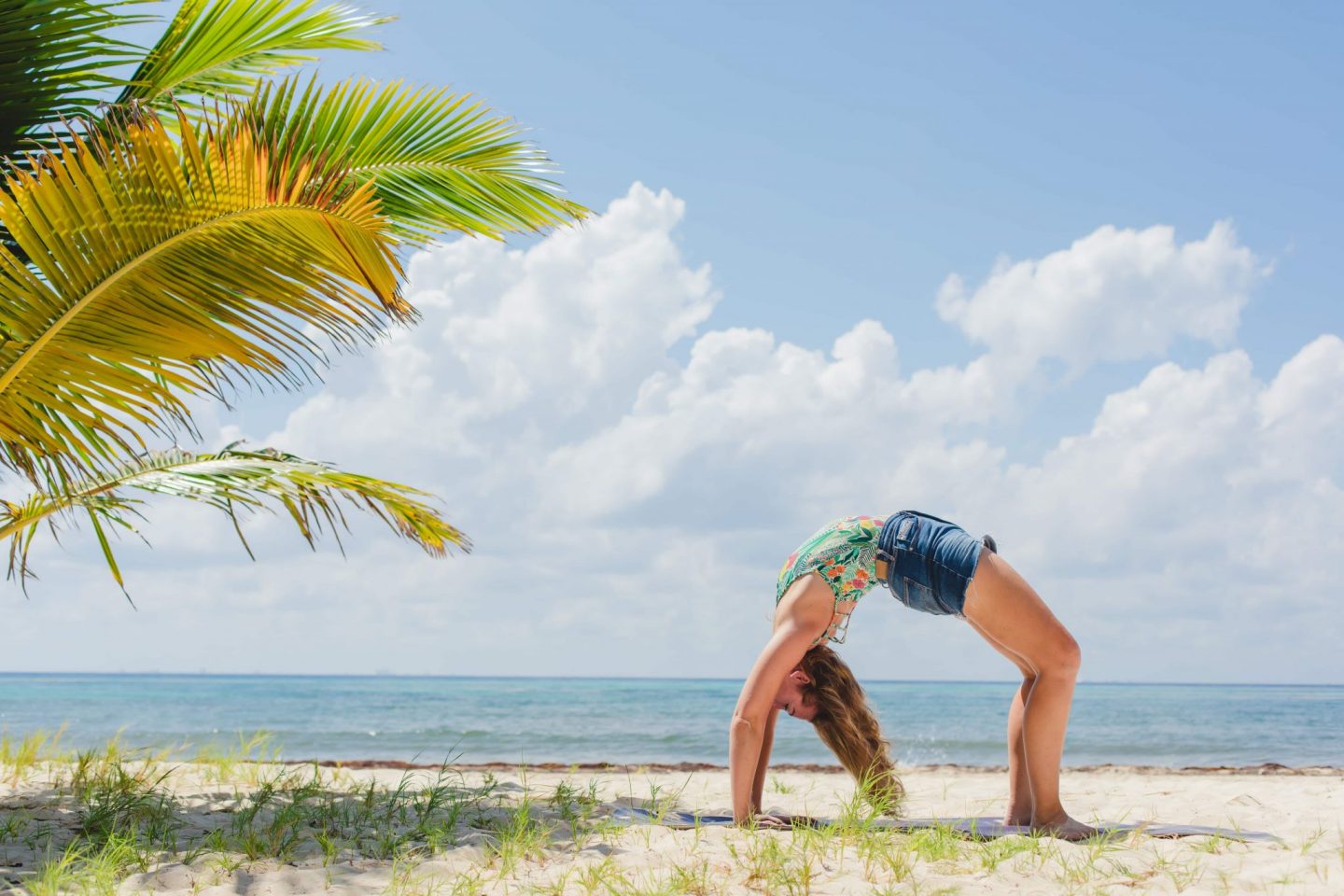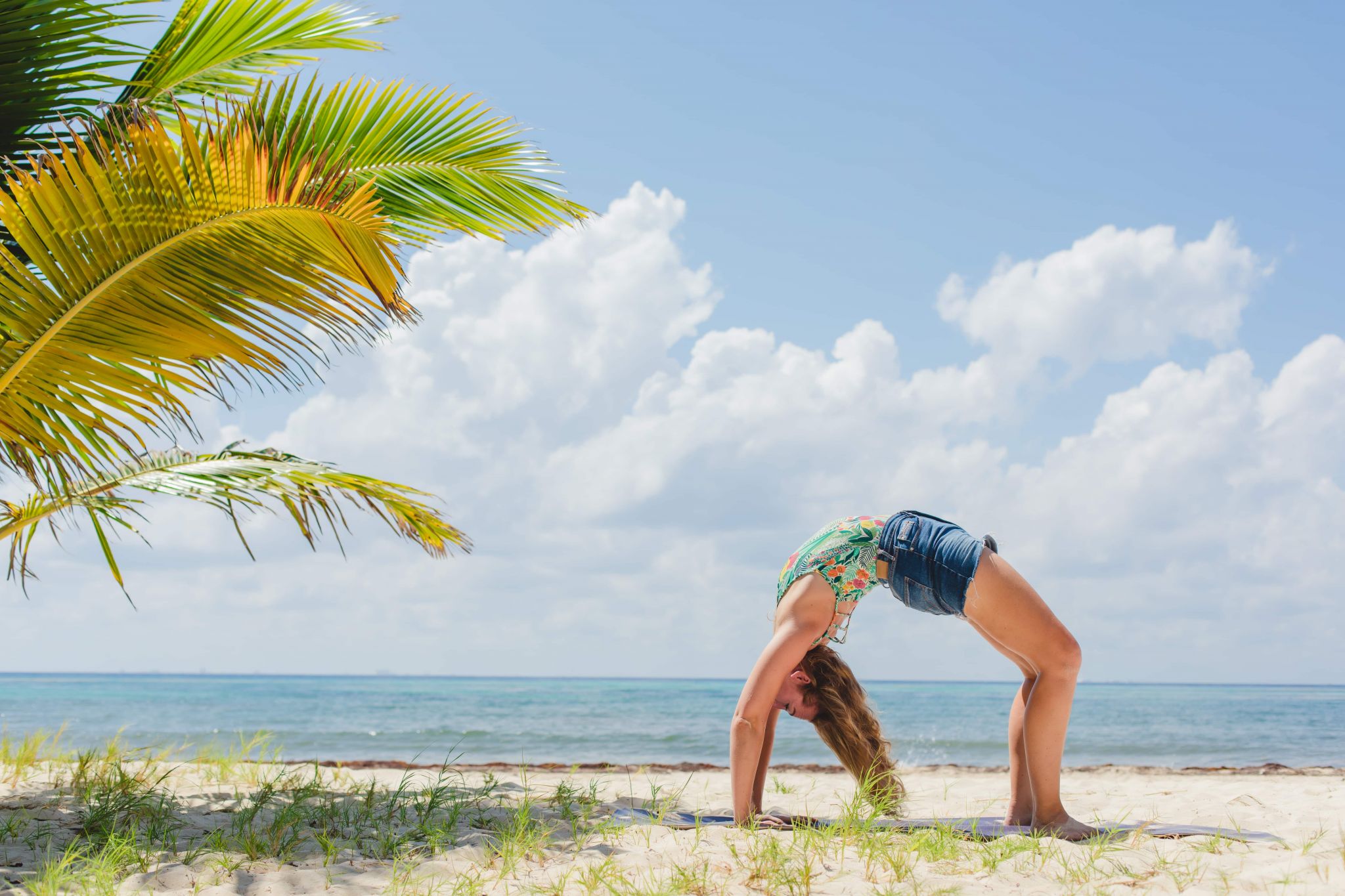 Final Thoughts
As a traveling yogi, I know how important having a good travel yoga mat is, especially as some of them are quite an investment. Although each of these mats has pros and cons you really can't go wrong with buying any on this list. It really is just personal preference.
Do you have a favorite travel yoga mat that I've missed off this list? Let me know in the comments below and I'll be sure to try and get my hands on one to try it out!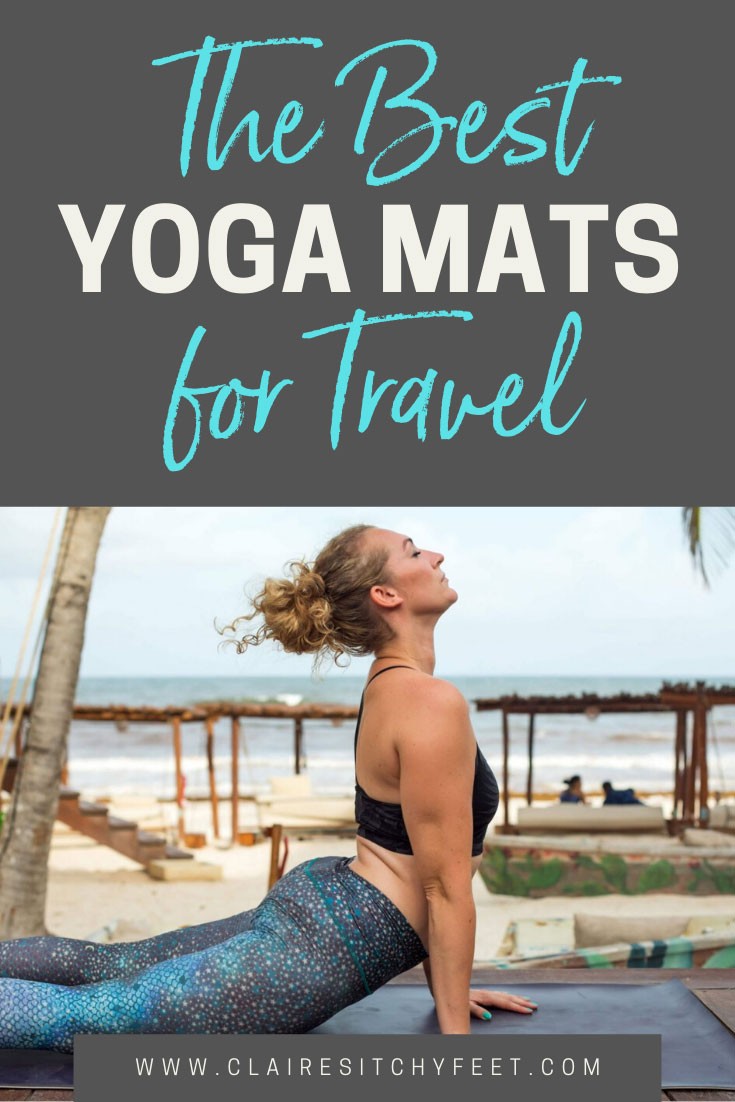 Thinking of doing your Yoga Teacher Training or going on a Yoga Retreat? Take a read of these posts:
How to Choose a Yoga Teacher Training Abroad
How to prepare for Yoga Teacher Training Abroad
5 Reasons to do Yoga in Thailand
This post was proofread by Grammarly
Are you ready to book your trip?  To help you get the best deals and service here are the companies that I personally use to book all of my travel online. I always shop around before booking anything, but these are my tried and tested starting places.