Istanbul is one of the most unique cities on Earth, spanning two different continents: Europe and Asia. It was the once ancient capital of the Roman Empire, formerly known as Constantinople, which was conquered by the Ottomans.
For centuries it has been the place where the West and the East meet, blending a mix of cultures, histories, and traditions that make Istanbul totally unique.
If you are looking for a weekend getaway, Istanbul is the ideal destination. You can easily see all the highlights of Istanbul in 2 days, though if you have time, you could certainly see more fascinating things.
In this guide, we'll be covering everything you can see and do in 2 days in Istanbul, as well as organized them into a helpful itinerary.
Did You Get Travel Insurance Yet?
If 2020 taught us anything, it's that you need to be prepared for anything! Travel insurance has always been high my list of things to get before I travel but now more than ever its at the top of my list.

I'm pretty sure we have all had travel plans messed up because of COVID and not all insurers covered this. So when looking for travel insurance it's important to check it covers travel disruption due to COVID-19, Hey Mondo, Passport Nomads, Safety Wing, and Travel Insurance Master all provide cover for this.

Hey Mondo is great if you are looking for a great value flexible policy. They offer single trip cover, annual multi trip cover, and long term travel cover. You even have the option to start the cover when you are already on your trip, although you won't be covered for the first 72 hours. For me my favourite feature is their app which offers you a 24/7 Dr chat and the ability to file a claim direct in the app.

Passport Nomads provides the most comprehensive cover for Digital Nomads. The game changer with them is that you have a red card and if you find yourself in need of medical care you just contact them and they will pre load your card with the funds to cover your treatment, meaning you won't need to pay out of pocket and then put in a claim later.

Safety Wing is great value with monthly cover starting at $39. It's super easy to use and it just renews each month. They have an excess of $250 and it's simple to make a claim through their website. I currently use them as they offer me free cover for my son as part of my policy and I like that it renews on a monthly basis, so I don't have to pay out a big lump sum up front.

I also use Travel Insurance Master for some short vacation type trips.

If you are doing shorter trips or an extended backpacking trip then Hey Mondo or Travel Insurance Master are the best option. If you are a digital nomad or planning travel of at least 6 months then go for Passport Nomads or SafetyWing.
Is 2 Days in Istanbul Enough?
But first, the question we often get asked is- Is 2 days in Istanbul enough? Ideally, you would want to spend at least four days in Istanbul to see the best attractions, simply because it's so big and there are so many unique neighborhoods to get lost in.
However, Istanbul is one of the biggest transit hubs in the world, and it's quite common for travelers to have a 2-day layover in Istanbul. With some sturdy shoes and a can-do attitude, you can squeeze the highlights into 2 days.
An Itinerary for Istanbul in 2 Days
Since the city is divided into two continents, it makes sense to explore the European side on one day and the Asian side on the other day.
However, most of the main attractions are on the European side, so we'll be spending more time exploring this side. Here's what we would recommend you see during your 2 days in Istanbul.
Istanbul Itinerary Day 1
The first day ticks off the main attractions and highlights in Sultanahmet, the most popular tourist neighborhood in Istanbul.
On the first day, we cover the most unmissable things to do in Istanbul, and fortunately, these sites are all within walking distance of each other.
Stop 1: Hagia Sophia
Our first stop is the Hagia Sophia, one of the world's most important mosques. It was built by Roman Emperor Justinian in 537 as a cathedral for Constantinople. At the time of its construction, it was the largest Christian church in the Roman Empire.
After Constantinople was seized by the Ottoman Empire it was converted into a mosque. It was a museum for a brief period between 1935 – 2000 when it was turned back into a mosque.
The Hagia Sofia is a stunning feat of architecture, showcasing some of the best Byzantine mosaics and artistic coverings. It is also a working mosque, so visitors should plan their visits outside of prayer times.
Stop 2: The Blue Mosque
Across the Sultan Ahmet Parkı from the Hagia Sophia is The Blue Mosque. The mosque doesn't look very blue from the outside, but once you go inside you'll see why this building has this name.
The walls, arches, and ceilings are adorned in blue mosaics that are a piece of beauty. It also has more than 200 stained glass windows and a gorgeous marble mihrab.
The mosque was built by Sultan Ahmed I between 1609-1616. It is said there was some confusion between the Sultan and the architect, as the mosque ended up having six minarets instead of the traditional four. The mosque is also the resting place of Sultan Ahmed I.
Stop 3: Topkapi Palace
Just around the corner from the Sultan Ahmet Parkı and the Blue Mosque is the Topkapi Palace, another important historic landmark in the city.
The palace was the former home of the Ottoman sultans in the 15th-16th centuries. It was built by Sultan Mehmed the Conqueror in 1459 after he seized Constantinople.
Over the years, it was expanded and renovated, having major renovations carried out after an earthquake in 1509.
Today, the palace holds a large museum exhibiting collections of Ottoman treasures, including clothing, weapons, religious artifacts, and manuscripts.
Several rooms are closed to the public, but visitors can see the treasury where the Spoonmaker's Diamond and Topkapi dagger is kept. Visitors can also see the harem, where the wives and female members of the royal family lived.
The palace was recognized as a UNESCO World Heritage Site in 1985.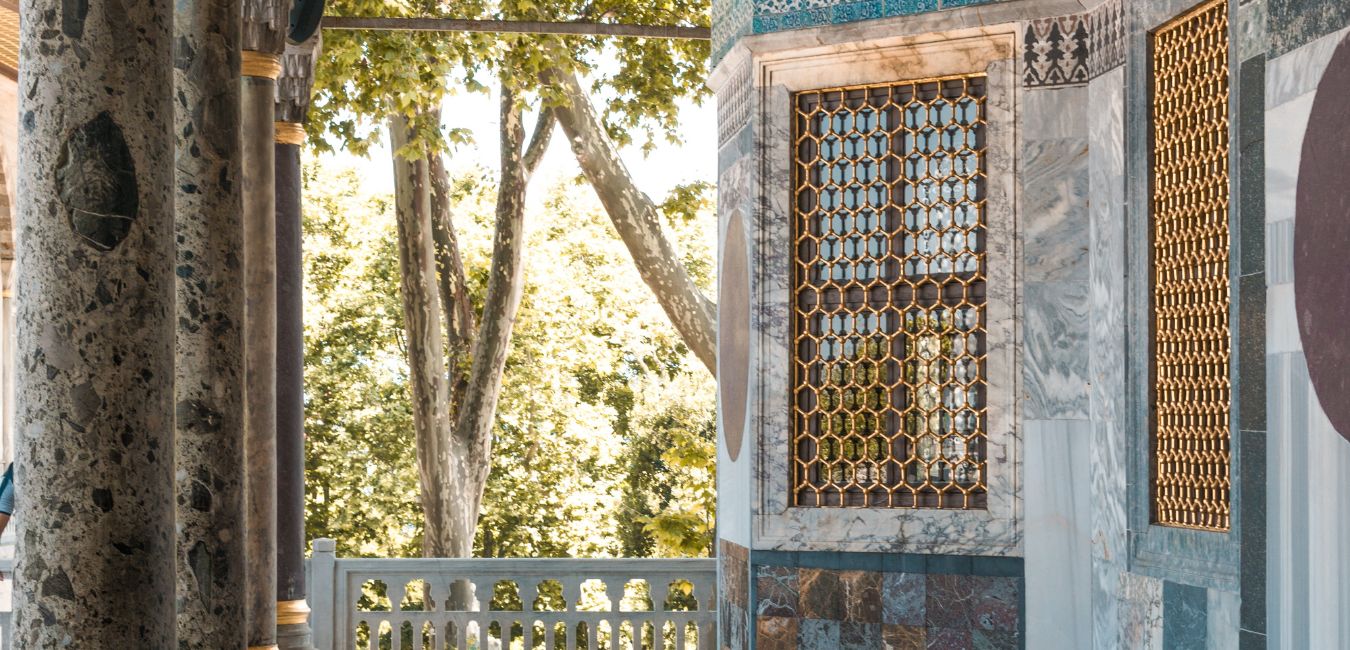 Stop 4: Basilica Cistern
The Basilica Cistern is an underground passage that was built by the Romans to hold the city's water source. The cistern is held up by 336 marble columns and covers 9,800 sq. meters.
It was made famous after it featured in the Dan Brown movie remake, Angels and Demons, starring Tom Hanks.
There are several cisterns across the city, but this is the largest one that visitors can enter.
Stop 5: Turkish Hammam
No visit to Istanbul would be complete without visiting a Turkish Hammam, or Turkish Bath in English. Turkish Baths are similar to Roman baths in that they are public bathing spaces filled with warm pools of mineral water.
Turkish Baths also usually have saunas and steam rooms, as well as offer massages. Sounds bliss, right?
One of the most traditional Hamamms in Istanbul is connected to Sultan Ahmet Park, just across from the Topkapi Palace. The Hammam is called Hurrem Sultan Hammam and was originally built in the 16th century.
It's a bit of a lavish experience, but definitely one worth spending the money on.
The Galata Tower is a landmark that can be seen from most parts of the city. It is the former watchtower and was built in 1348 by the Romans.
The tower has had a turbulent history, having caught fire in the late 16th century, and then again in the early 19th century. In 1875 the roof was completely destroyed by a storm and had to be rebuilt.
What you see today is a renovation of the original tower made of concrete instead of wood. It's a popular place to visit as visitors can see panoramic views of the city from the top of the tower.
It's also a museum and exhibition hall.
Stop 7: Dinner at İstiklal Avenue
Istiklal Avenue, or Independence Avenue in English, is the most iconic street in Istanbul. It begins at Taksim Square and heads down towards the Galata Tower.
The street houses many Ottoman buildings in Neoclassical, Neo-Gothic, and Art Nouveau architecture, which would have served as apartment blocks for the Ottomans.
Today they house high street brand names, boutique stores, theaters, cafes, pubs, and hotels. It's the most vibrant street in the city and the best place to find buzzing nightlife and delicious restaurants.
Istanbul Itinerary Day 2
The second day takes you to some more of the most iconic landmarks in the city, as well as offers a chance to binge on delicious street food in Istanbul.
Stop 1: Nova Santiye Cafe
We've all seen pictures of people sitting on Turkish cushions, sipping Turkish tea while seagulls fill the skies over the Bosphorus and Hagia Sophia. But if you're not sure where those pictures are taken, then the likelihood is they're from Nova Santiye Cafe.
This photo spot is a restaurant that has gained popularity because of its roof terrace. It gets really busy during the day, so we recommend visiting for breakfast so you can have unobstructed views and a decent meal before a day of exploring.
Stop 2: The Grand Bazaar
The Grand Bazaar is a huge covered market, which is said to be the biggest and oldest in the world. It was the main trading hub for the Ottoman Empire and has 61 streets and over 4,000 shops.
This is undeniably the best place to pick up some souvenirs in Istanbul, from Turkish lamps, rugs, Turkish delight, Turkish tea, and Turkish towels.
Just around the corner from Grand Bazaar is the Spice Market where you can find various teas and spices, which are said to cure certain medical conditions from diabetes to mood enhancements.
Stop 3: Süleymaniye Mosque
The Süleymaniye Mosque was commissioned by Suleiman the Magnificent in 1550 and was designed by the imperial architect Mimar Sinan.
The mosque is most famous for its courtyard of mausoleums, which features the resting place of Suleiman the Magnificent and his wife Hurrem Sultan.
The mosque was the largest in the city until it was surpassed by the Çamlıca Mosque which was built in 2019.
The mosque is stunning, both on the inside and outside, but it's also a fantastic place to admire views of the Golden Horn and Bosphorus Strait.
Stop 4: Lunch at Galata Bridge
The Galata Bridge crosses Istanbul's Golden Horn and connects Eminou and Karakoy. It's a popular spot for fishermen to cast their lines, which is why you'll see swarms of seagulls flying around the harbor.
Along the bottom of the bridge, you'll find several seafood restaurants. These restaurants are the perfect place to stop for lunch and sample some of Istanbul's freshest catches of the day.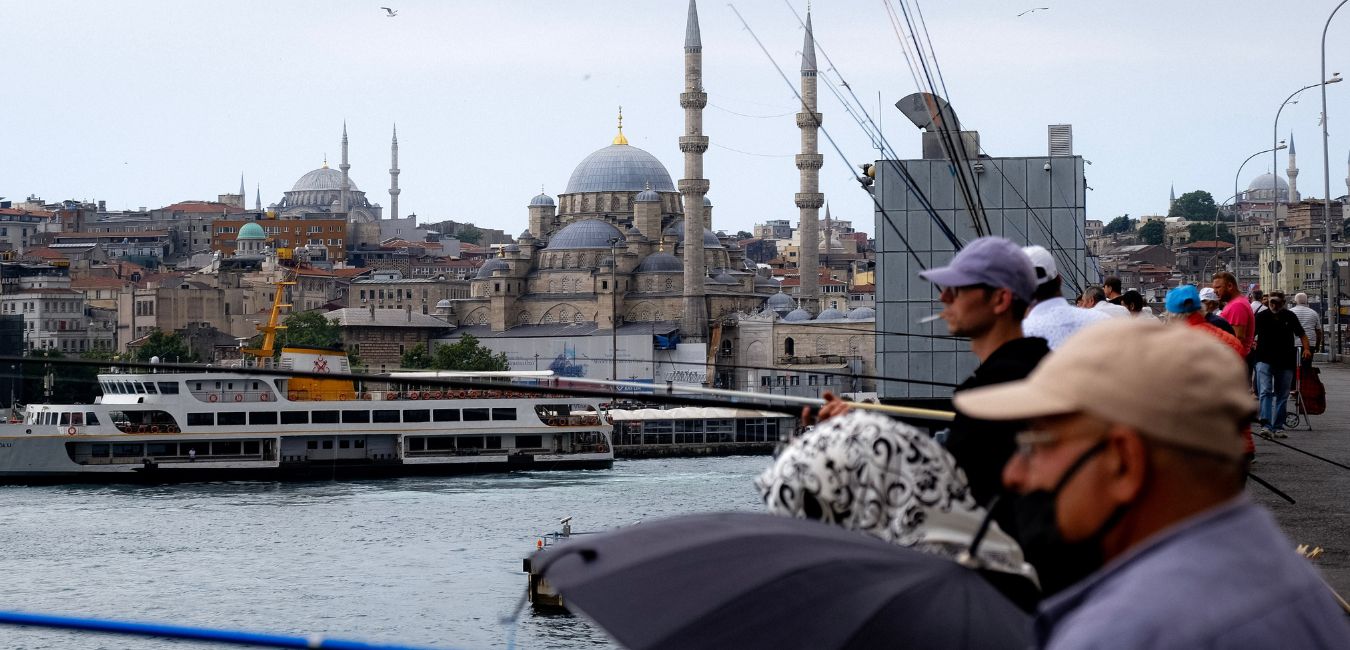 Stop 5: Dolmabahçe Palace
The Dolmabahce Palace is one of the most stunning palaces in Istanbul, and also the largest and most expensive.
It was built by Abdülmecid I, the 31st Sultan of the Ottoman Empire as his family home, but caused controversy as the cost to build it put a huge financial burden on the city.
It is said to have cost the sultan five million Ottoman gold lira to build…that was a quarter of the yearly tax revenue by the city.
It's located on the European side of the Beşiktaş district and was once the administrative center for the Ottoman Empire (1856-1887 and 1909-1922). It features 285 rooms and 46 halls, and is also home to the largest diamond in the world.
The architecture resembles some of the finest details from Baroque, Rococo, and Neoclassical styles.
Stop 6: Bosphorus Cruise
If you're thinking your legs are aching from all the running around by now, then you'll enjoy sitting back and enjoying a Bosphorus cruise.
Many of the city's palaces were built on the embankment of the river, and a river cruise is the best way to see them for their architectural beauty.
You'll also pass by castles and fortresses, as well as get a glimpse of the most vibrant neighborhoods in the city.
Stop 7: Dinner in Kadikoy
The Asian side of Istanbul is what we'd consider the hipster side of the city. It has a few attractions, but none worth seeing over the attractions on the European side.
However, you can't visit Istanbul without saying you've visited both sides, so we'd recommend you take the ferry over to Kadikoy and grab yourself a Balık Ekmek (fish sandwich) and watch the sunset from the promenade.
If your feet aren't tired, you can walk all the way up to Harem where you can see Maiden's Tower off the shore of Üsküdar.
Getting Around Istanbul
Istanbul is a very walkable city but we understand that we don't all have mechanical legs that can run marathons. So if you want to give your legs a break, then you can use the extensive tram network, which connects most districts in Istanbul.
There's also a metro and bus network. The metro is the cheapest option to get from the European side to the Asian side, but if you want to get there with a view, there are several ferries that leave every 15 minutes or so.
You will need an Istanbulkart to get on any public transportation. You need to set this up with an HEC code, which you're given on arrival, so it's not as simple as buying a card and off you go.
We recommend you get this sorted at the airport before getting a bus into the city. You can also get one at most metro stations.
Tips for Visiting Istanbul
Before you go booking flights and planning your itinerary, we have just a few more words of advice…
Get your Visa beforehand. Americans need a visa to enter and the days of visas on arrival are long gone.
The airport in Istanbul is 54 kilometers away from the center of Istanbul and takes a couple of hours on the bus. If you're visiting on a layover, you might want to organize a transfer to avoid wasting time on the bus.
Wear sturdy shoes. Istanbul is a walkable city so make sure you wear comfy shoes.
If you need a taxi, Uber is better than yellow taxis. Some taxi drivers like to scam tourists or take them on a longer route so they have to pay more. Uber means you can see your price beforehand so you won't run into any problems.
Get your Istanbulkart at the airport. You cannot get on any public transportation without an Istanbulkart. You can get one at the airport or at any metro station, but it's easier to get one at the airport.
Don't get a sim card at the airport. We found that prices for sim cards were cheaper for tourists in the city.
Before You Go
So there you have it, this is how you can spend 2 days in Istanbul and tick off all the main sites in the city. Whether you're transiting on a layover or just have a weekend to explore somewhere new, you'll find Istanbul is the perfect city to enjoy a couple of days away.
Need a place to stay in Istanbul?
Asian side
Hostels:
European side
Hotels:
Millennium Istanbul Golden Horn
Hostels:
Author's Bio:
Louisa Smith, Co-Founder of The Turkey Traveler
The Turkey Traveler is a #1 travel blog on all things Turkey related. Offering insider tips, recommendations, and guides, The Turkey Traveler is your ultimate resource to help you plan a trip to Turkey.
PIN ME!