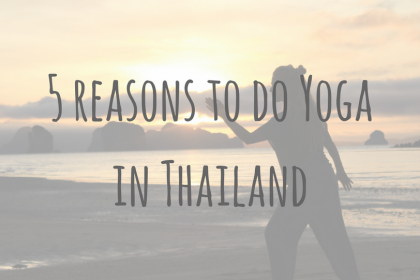 There are so many reasons to go to Thailand. And even more, reasons why you should do Yoga there. Here are my top 5 reasons to do yoga in Thailand.
Visiting the beautiful and tranquil Island of Koh Yao Noi part way through our three week trip to Thailand was possibly the best decision we made.
Here are 5 reasons why
Transitioning from Northern Thailand and the hustle and bustle of Bangkok and Chaing Mai to Southern Thailand and the quieter Island life was jarring. I didn't realize it at the time but I was still in city mode and hadn't adjusted to this new slower speed. Spending a few days reconnecting, slowing down and grounding myself at Island Yoga helped me to relax and enjoy my holiday.
All that travel and sitting still on long coach journeys between places shorten your muscles. Doing yoga will stretch and elongate those muscles!
The coffee. I bounced out of bed at 6 am and ran down to the beach for the pre-sunrise Thai Chi coffee and fresh bread. That's how good the coffee was. And of course, starting the morning with Thai chi as the sun is rising was pretty epic.
The people. We only booked for 3 days and if I could have I would have stayed longer. The people we met there were incredible, warm, welcoming and a lot of fun. If you are traveling solo doing an activity based stay like this is the perfect place to meet other solo travelers. Most people there were traveling solo.
It's not your average retreat. Don't be put off by the idea of a retreat or think that you need any experience at all. Yoga really is for everyone and unless it is advertised as 'advanced' then beginners are welcome. There was a mix of people from beginners who had no yoga experience at more advanced practitioners. It was also very relaxed in that you could dip in and out of classes if you wanted to skip one.
Getting to Koh Yo Noi
If I have convinced you to go Koh Yao Noi ( I really hope I have) here's how to get there from Phuket
Car
Book a car to take you to Bang Rock Pier (about 1 hour away from Karon) to get a boat to Yao Noi.
Boat
The boats are pretty regular and there are two different types of boats a Long Boat (slower but cheaper) that takes about 1 hour, or a speedboat (faster and more expensive) takes about 30 mins. We paid 200 tbt for the speedboat because that was the next boat when we arrived around lunchtime. You just pay when you get on the boat. Our driver tried to get us to pay some guy he pointed to when we got out at the pier but we told them no and walked off to get a drink and wait. They do that a lot in Thailand and it can be really difficult as you can get quite flustered and end up getting ripped off. I would always advise you to take your time and not be rushed into parting with your money!
Tuk Tuk
We arrived on Yao Noi after lunch and there were several Tuks waiting. We jumped in with an American and a German lady who were both heading to the same place. It cost us 100 tbt to get there.

Rooms and Booking
We had booked in for 3 nights in a mixed dorm (all other rooms were taken due to it being so busy over Christmas) at a cost of 4900tbt. That was inclusive of all yoga (2 classes a day 7:30 am and 4:30 pm)  and Thai Chi (6 am) as well as breakfast (best breakfast in Thailand without a doubt).
If you are going there solo, I would recommend staying in the dorm as it was really nice. You still had your own space/ privacy but sharing you get talking to people you are staying with. AND most importantly they help wake you up at 5:55 to get down to the beach for Thai Chi!
Island Yoga
I would highly recommend Island Yoga if you fancy doing some yoga while you are traveling around Thailand or if you are looking for a chilled out Yoga retreat. This place is perfect for solo travelers, beginners and anyone else! Most people we met there were traveling solo and almost everyone extended their stay. Unfortunately, we couldn't as we had already decided on Koh Jum for Christmas and booked a beach hut. We were so sad to leave, especially as we had made some great friends there.
For a full list of all Yoga Retreats available visit Book Yoga Retreats. They not only offer retreats in Thailand but all over the world!
So why do Yoga in Thailand?
After Bangkok, Chiang Mai, traveling, not sleeping, stressing about getting from one place to another etc I felt totally out of whack. Spending a few days grounding myself did me the world of good. When I left I felt calmer and more adapted to my surroundings.
The next Island we visited was small and quiet and had I not taken a 'time out' on Yao Noi I don't think we would have been able to relax and enjoy it as much. The teachers were wonderful and we were even sent a PDF full of information about yoga and self-practice when we left. Island Yoga is a special place and I really hope to head back there soon. This time I'll be sure to stay longer than 3 nights!
Take a read of this guest post "The Insider's Guide to Travel in Thailand Like a Yogi" for more information about doing yoga in Thailand.

Budget:
Car to Bang Rock Pier 850 tbt
Boat to Koh Yao Noi 200 tbt
Tuk to Island Yoga 100 tbt
3 nights B&B on Island Yoga (including teas and coffees/ water, 6 yoga classes and 3 Thai Chi classes) 4900 tbt
Food and drink 680 tbt
Tuk to pier 50 tbt
Total spend 6780 tbt (about £135.00)
If you want to book a yoga retreat anywhere in the world visit Book Yoga Retreats or if you are interested in doing your Yoga Teacher Training visit Book Yoga Teacher Training for a full list of training worldwide.
If you are planning your first trip to Thailand then be sure to check out my other posts:
How to see Thailand in 3 weeks
How to Eat in Thailand for under £5 a day
Top Tips for First Time Visitors to Thailand
If you need a cheap flight to Vienna check Skyscanner first! Or download their App here, and don't forget your insurance!