One of my top things to do in Chester is, without a doubt eat at The Forge Restaurant in Chester. This is the second Mike Robinson restaurant I have eaten at, so I felt confident about what to expect. But let me tell you, they blew my expectations out of the water. In this post, I'm going to share with you a full review of the dining experience at The Forge Restaurant in Chester.
The Forge Restaurant Overview
As I already mentioned, this was my second Mike Robinson restaurant experience. So I already had a pretty good idea about what to expect. Locally sourced (very British) ingredients, sustainability at the heart (field to table), game on the menu, open fire cooking, comfort in the design. You can learn more about Mike Robinson and his ethos here.
Well, I got all of that and so much more.
When I learned that we had been booked in for dinner at 7 pm I felt extremely anxious. Having a 5-month-old teething baby and dinner at a fancy restaurant was NOT something I wanted to endure. Or indeed make any restaurant guests sitting close to us endure. But it was what it was, so we turned up for dinner at 7 pm with a slightly grumpy baby.
I'd love to tell you that Charlie was a total angel throughout the dinner and the whole experience was a dream. But it wasn't. He was tired, teething, and wanted to grab/ put in his mouth anything he could grab. Although the staff kindly had a highchair waiting for us, he was still too little to be able to use it. So I had to hold him on my knee the entire time.
Now, why am I telling you this?
Because the way the staff treated us during this difficult time was what blew me away. They were so kind. They brought my husband a fresh starter when he went to get the Calpol for Charlie as he was in pain with his teeth as his first one went cold. They constantly came over to check in on us and gave Charlie lots of attention. And upon seeing how stressed out I was trying to hold my baby and eat my dinner one of the staff members even took Charlie off me and went for a walk around the restaurant so I could eat. I've since been told by a follower on Instagram that this same staff member did the same for her.
My point is the staff were amazing. Yes, it's an upscale restaurant, but it's also relaxed and easy-going. Fine dining without the BS British stuffiness. Also, the fellow diners were all very kind and so the whole experience which could have so easily sent me over the edge, actually ended up being enjoyable. It felt more like dining in someone's living room at times, that's how relaxed and intimate the atmosphere was. It made us all fall in love with the restaurant.
Would I book an evening meal at 7 pm again with a baby, no probably not haha. But when you're traveling and so don't have a sitter then sometimes you don't have a choice. So it's good to know that The Forge is extremely family-friendly so you can eat an incredible meal here in Chester during your visit, even with a teething baby in tow.
So my restaurant overview, the food is amazing, the staff are incredible, it's fine dining yes, but it's also comfortable and relaxed. Prices are what you would expect to pay for the quality of food and service, and it's worth every penny.
The Restaurant
The restaurant itself is just off the main high street in Chester within Hotel Indigo Chester (read my hotel review here if you are looking for somewhere to stay in Chester). The restaurant has its own entrance and outdoor seating area on the pavement. Upon entering the restaurant the first thing you will notice is the kitchen. It's hard to miss it considering it's right there in front of you taking up most of the back wall making it the focal point of the restaurant.
In the Forge, like The Woodsman, the preparation of the food is as important at the food itself. Being in such close proximity to where the food is being prepared makes you really feel like a part of the magic. It adds such a depth to the whole experience.
In Mike Robinson's restaurants, he wants you to feel a part of the process, to feel an emotional connection to what you are eating. So it's no accident that in this restaurant no matter where you are sitting you feel a part of the food preparation process.
I love this.
The seating areas are stylish but super comfortable. I loved the big round booths with lots of cushions, which also happened to make nursing my baby much easier. Highchairs were available, and it was set up for us before we were seated.
The Menu
The first thing we experienced in The Forge was the drinks trolly. Wow! I can see why it's so popular, even I was tempted to have a gin and 1. I haven't drank in years (even before I was pregnant) and 2. I hate gin. My husband did succumb to pressure and get a cocktail though which he informed me was otherworldly.
The trolly was brought over by an extremely knowledgeable and delightfully enthusiastic member of staff who actually went through the whole explanation of everything on the trolly twice (once for the camera as we were filming a vlog). She told us that the cordials were made in-house by one of the chefs and lots of other information about the mixology was available. Then when you have chosen your poison she mixed it up right in front of you. It was a polished performance and felt very special.
Then we got the menu.
I knew instantly what I wanted, wild venison scotch egg for a snack, whipped chicken liver parfait to start, and then sharing the aged stake for the main.
The Scotch egg was a must for me because let's face it, scotch eggs are kinda gross. If you are reading this and aren't a British person then you may not even know what it is, it's basically a hard boil egg wrapped in sausage meal and breadcrumbs. They sell them in supermarkets and they aren't the best quality food, to put it politely. So I knew I wanted to see how it would be ordering one here.
Well.
I will never be able to eat another scotch egg again without being disappointed and thinking about this scotch egg. It was perfectly cooked, the yoke was soft and the perfect texture/ color, and the meat was quality and tasty. The whole thing was an explosion of tastes that made me really think of childhood and family picnics.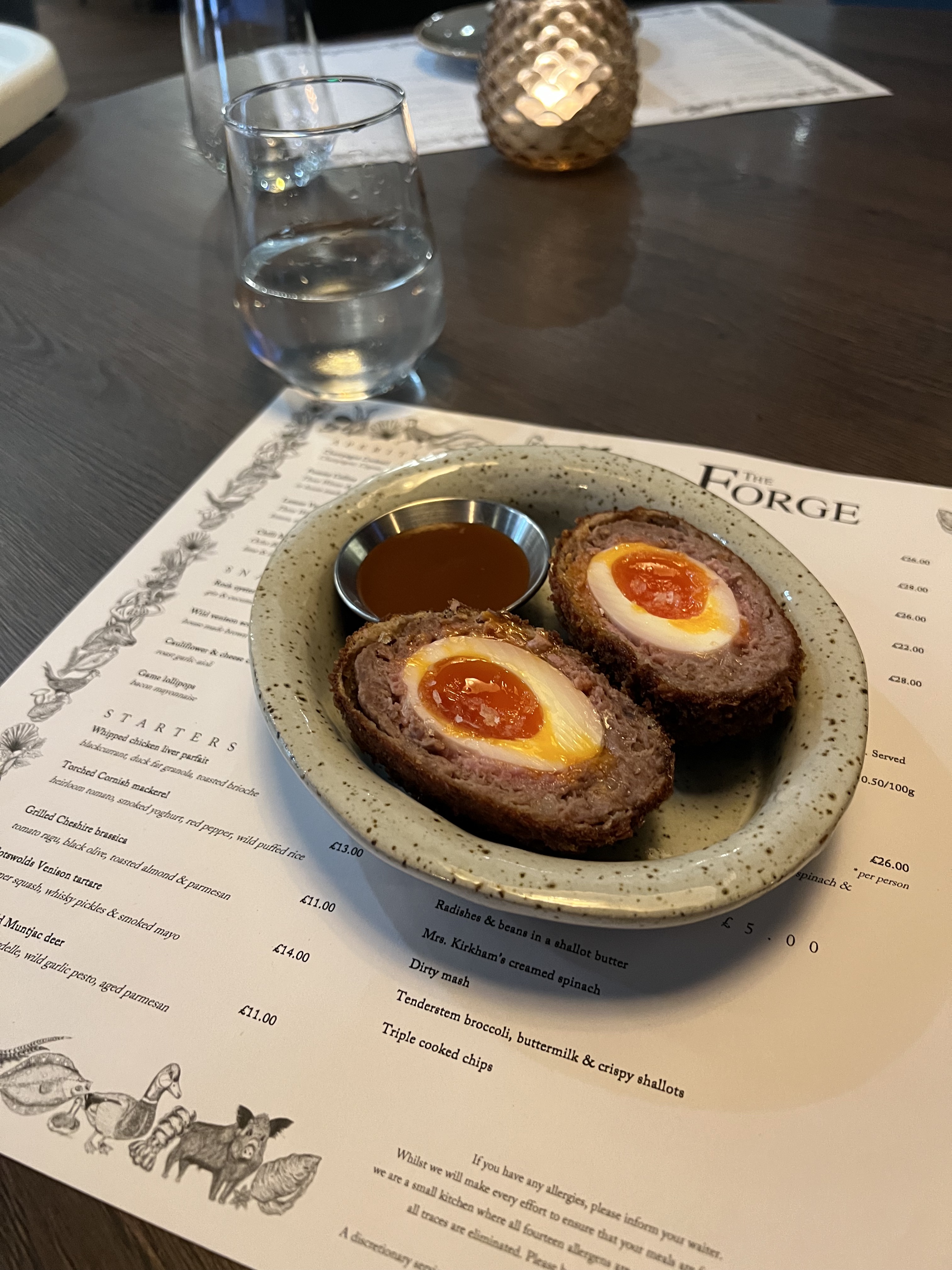 The pate was also delicious and had the perfect balance of tastes and textures.
But it was the aged steak that really stole the show.
We asked, as we always do, what is 'the thing' to order here. We were told confidently that it was the steak. It's aged in house, they bring it in at 30 days old, and then it's treated and kept for 2-3 months before being served to customers. What makes the experience even more exciting is that you get to choose the steak yourself.
A member of staff escorts you over to the fridge where you can choose your steak by size and cut. You let them know how you want it cooked and if you want any extra sides and then the magic begins.
We ordered the steak with dirty mash and vegetables. This was a great combination, but you need to add the gravy too as this mixture of flavors is what really makes the whole dish work. It was my first time eating an aged steak and they have set the bar very high.
It was not a cheap meal. But it was such a special experience, and I mean whole experience, that it's worth coming here with the expectation of spending a couple of hundred pounds on an unforgettable evening.
The Staff
I know I've gushed a lot about the staff already. But I'm going to gush some more.
The staff were truly fantastic, and I mean all the staff. From the mixologist with the drinks trolly to the chef who personally brought over our meals and talked to us about the aging process of the steaks, to the lovely woman who took Charlie so I could eat my meal. Everyone quite clearly loved working there, felt passionate about the customer experience, and made us feel completely relaxed and at home.
The staff make this place, just as much as the food.
Final Thoughts
Whether you are a guest of Hotel Indigo Chester or just looking for an excellent meal in Chester, you will not be disappointed in The Forge. We went as a family, but we were dining alongside solo diners, couples, and small groups of friends and families celebrating birthdays. It's a restaurant for any occasion.