Perched on the Southern French coastline, Marseille is an ancient city- and a top destination for travelers worldwide.
Marseilles is a perfect addition to any trip to Paris, Nice, or elsewhere in the region. Whether you're visiting for a weekend or much longer, Marseilles will keep you occupied and curious!
If you're looking for the best things to do in Marseilles while visiting this wonderful destination, you're spoilt for choice!
The highlights of Marseilles include touring historic landmarks, shopping in local markets, enjoying quaint neighborhoods and so much more.
In this article, we have compiled a comprehensive list of the best things to do and experiences to enjoy while visiting this charming French coastal town.
Did You Get Travel Insurance Yet?

The Insurance companies I recommend are Hey Mondo, Safety Wing, and Travel Insurance Master

Hey Mondo is great if you are looking for a great value flexible policy. They offer single-trip cover, annual multi-trip cover, and long-term travel cover. Safety Wing is great value, with monthly coverage starting at $39. It's super easy to use, and it just renews each month. I currently use them as they offer me free cover for my son as part of my policy. I also use Travel Insurance Master for short trips.

Read my full travel insurance post here, where I go into detail about all companies.
Things to do in Marseilles: Historic Architecture
Many of the best things to do in Marseilles involve the city's centuries-old past. It is said to have been inhabited since 600 BC, when it existed under Greek rule. While most of the city's historic sites are more recent than that, they astound nevertheless.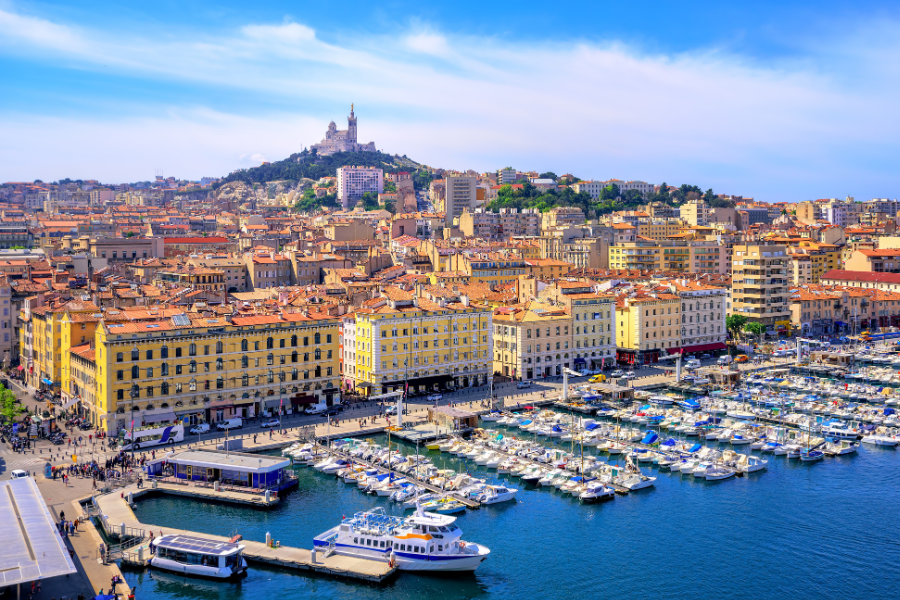 The iconic Basilique Notre-Dame de la Garde makes a great start to any architectural tour of the city. Built in the late 1800's, this basilica marks Marseilles' highest point.
Visitors can enjoy the interior of the ornate church and take in the city views from the hilltop. The basilica is accessible on foot, or via a small train that can take you to its entrance.
2. La Catedral de la Major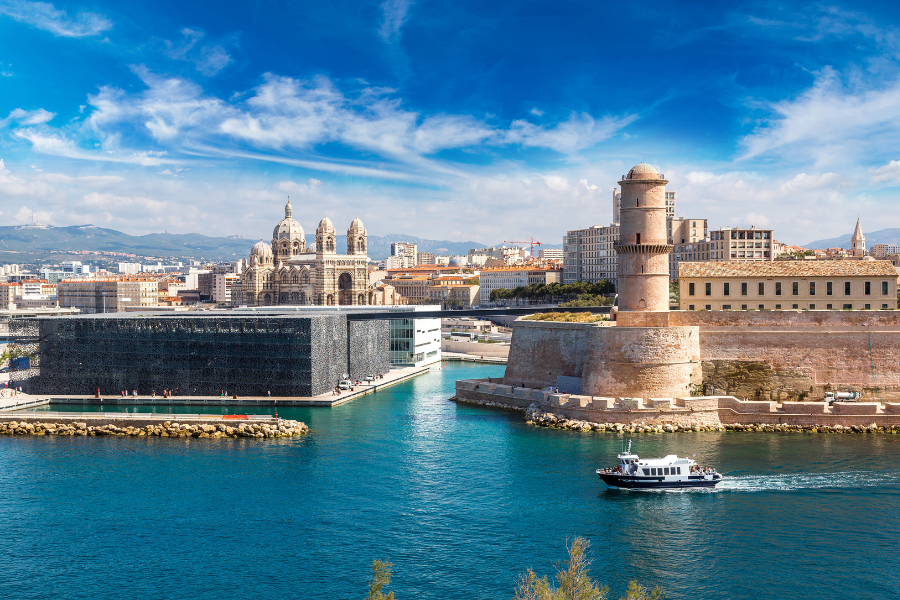 Be sure to also visit La Catedral de la Major, or the Marseille Cathedral. Built in the 19th century, this cathedral is one of the largest of its kind. It combines various architectural styles, and the result is awe-inspiring.
The cathedral is near the Marseilles waterfront and walking distance to many cafes, bars and restaurants.
3. Palais Longchamp
Located in the St. Charles district, the Palais Longchamp is a 19th century-era architectural marvel.
The monument was originally built to mark the completion of the Canal de Marseille. Longchamp Parc, which stands directly behind the building, was unveiled around the same time.
Today, the Palais is home to both the Musée des beaux-arts de Marseille, and the Natural History Museum of Marseilles.
4. Château d'If
Located off the coast on the Île d'If, the Château d'If is one of the most popular things to do in Marseilles.
This historic castle is a former prison made famous by author Alexandre Dumas. The fortress plays a role in Dumas' famous book, "The Count of Monte Cristo."
Today, visitors can take a short boat ride to visit the chateau. The destination is open all year- be sure to check ferry schedules in advance.
The short trip to the island is also a great chance to photograph the passing coastline.
Things to do in Marseilles: Meet the Neighborhoods
5. Le Panier
Home to the Cathedral of Marseilles, Le panier is a former working-class district. Today, it is home to emerging restaurants, shops, and more. Extremely walkable, it is one of the most popular neighborhoods to lose yourself in when visiting Marseilles.
Le Panier is the city's oldest neighborhood, and you can feel its past in the narrow alleys, quaint businesses, and charming homes.
Wandering Le Panier is the best way to experience it, so set your plans aside and let the city take over.
6. Vieux Port
Vieux Port, or the Old Port, is another must-see. This waterfront neighborhood is just south of Le Panier. An extensive artisans' market happens in the neighborhood throughout the summer.
Vieux Port is also known for its nightlife and cuisine- two parts of Marseilles you won't want to miss.
The area's many popular restaurants include Le Café des Epices, Chez Fanny and Le Souk. Marseilles cuisine has plenty of international flair thanks to the city's multi-cultural identity.
After dinner, stop by a local bar to soak in the local after-hours scene.
7. Endoume
For a quieter, beachier take on Marseilles, head to Endoume. Located further south, this neighborhood boasts small, tranquil beaches and a walkable waterfront. Rocky and calm, Plage de Maldormè is one of the area's accessible beaches.
You may also want to visit Plage de la Pointe d'Endoume. There are plenty of restaurants and cafes lining this district's waterfront, and it's easy to spend an entire day admiring Endoume.
Things to do in Marseilles: Museums
8. Mucem
If you're out in the Joliette district, stop by Mucem. This unique space holds exhibits on Mediterranean history and culture. Marseilles has been a cultural crossroads since ancient times and is the perfect home for a place like Mucem.
The museum offers kids' activities but is also geared toward adults. The museum grounds include the 12th century Saint Jean Fort, along with the museum's more contemporary building. If you don't have time to tour the exhibits, spending time exploring only the fort is still worthwhile. Keep in mind that Mucem is closed on Tuesdays.
9. Natural History Museum of Marseilles
The Natural History Museum of Marseilles is located right by the Palais Longchamp. It's easy to plan a whole day around the monument, the museum, and one of the many eateries in the area. Direct tram and metro transportation is available to Longchamp Parc.
Founded in 1819, the Natural History museum is engaging for kids and adults alike. The collection includes fossils and botanical, zoological, and mineral specimens. The museum hosts both permanent and special exhibitions and is closed on Mondays.
10. Musée des Beaux-Arts, Marseille
The Musée des Beaux-Arts is conveniently located right next to the Natural History Museum and within the Palais Longchamp. This museum is focused on 16th to 19th century art and houses pieces from France, Italy, Spain and Holland. Works range from sculpture to drawings, and temporary exhibits join the permanent collection.
The space itself is monumental and elegant, and it's easy to get lost in Marseille's storied past while viewing the artwork. The museum is closed on Mondays.
11. The Marseille Soap Museum
For an offbeat museum day, visit the Marseille Soap Museum, located in Vieux Port. This interactive space invites both children and curious adults to learn about the history of soap in Marseilles.
Paintings, antique machines, and rare historic artifacts are just some of the uncommon objects displayed throughout the museum. Machine demonstrations help you understand the process of soap making as an art form.
Visitors are also invited to customize their own soap bars which they can take home. Located next door, the Soap Museum Shop offers colorful, fragrant souvenirs to bring back as gifts and souvenirs.
Things to do in Marseilles: Day Trips
While exploring the city can be fulfilling, you may want to change up your pace and explore slightly outside of Marseilles.
12. Parc National des Calanques
The Parc National des Calanques hugs the coastline between Marseilles and Cassis. Exploring the park is one of the most popular things to do in Marseilles, and offers an easy escape from city living. The park offers several winding trails, many of which include lookout points and swimming beaches.
If you're looking for one of the most scenic beaches in the country, don't miss Calanque d'En Vau. For one of the closest options to Marseilles, check out Calanque de Sormiou or Calanque de Marseilleveyre. Be sure to research your chosen hike before setting off, as there are different entry points throughout the park.
Marseilles' balmy climate makes it easy to enjoy the great outdoors throughout the year. However, keep in mind that between June and September, the park may experience closures due to weather and fire risk.
If a closure interrupts your plans, consider touring the park by boat or kayak with a local guide.
13. Monaco
Did you know that you can plan a day trip from Marseilles to an entirely different country and still be back in time for dinner? The tiny nation of Monaco is located on the French Riviera just east of Nice, France.
About 15 trains run from Marseilles to Monaco daily. The train ride takes between 3 and 3.5 hours.
Once in Monaco, explore the city on your own or arrange a walking tour. Highlights include the Prince's Palace, Monte Carlo Casino, and the Monaco Cathedral.
If you're a Formula 1 fan, you likely already know that Monaco plays an important role in the world of motorsports. For a unique take on the city, book an F1 walking tour that guides you around the entire Monaco Grand Prix Track.
This, combined with lunch in Monaco's charming old town, or a visit to a local museum will be well worth the travel time.
14. Plage de la Grande Mer- Cassis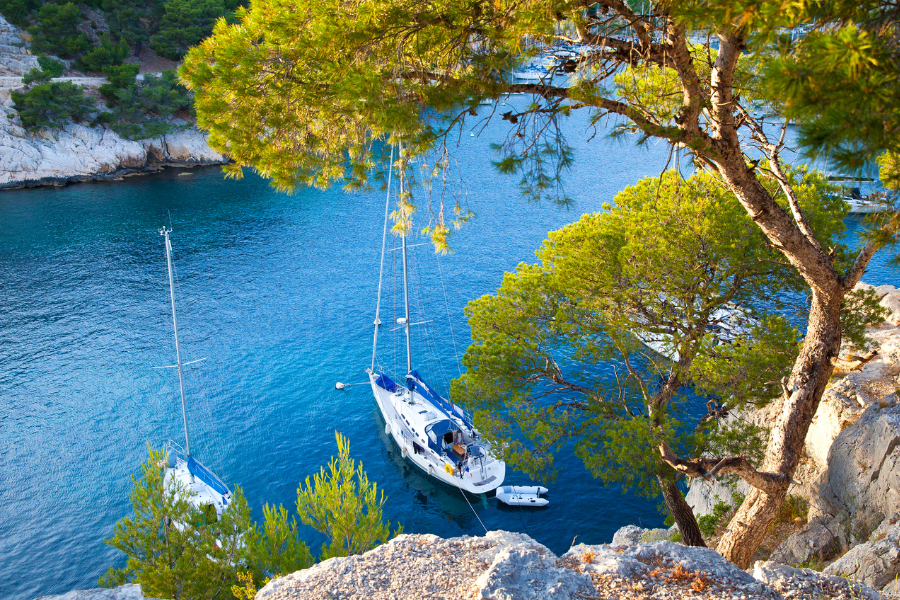 Marseilles has no shortages of beaches- however, if you want to escape the city crowds, consider taking a day trip to the village of Cassis. Located in the village, the Plage de la Grande Mer is a pebbly, calm seaside oasis. The beach is family-friendly and offers gorgeous views of the surrounding coastline.
There are plenty of dining options nearby, and kayak and boat rentals are readily available. Cassis is a 30 minute train ride from Marseilles, meaning you can easily plan a day trip without rushing.
Things to do in Marseilles, France can include everything from learning about the region's diverse history to enjoying natural wonders. The city is as versatile as it is intriguing, and it's easy to plan a busy itinerary. Next time you're planning a trip to Europe, let Marseilles be your gateway to France and the Mediterranean
Looking for somewhere to stay? Check out these options!
Luxury Hotel
New Hotel Le Quai – Vieux Port
Holiday Inn Express Marseille Saint Charles, an IHG Hotel
Mercure Marseille Canebière Vieux-Port
Mid Hotel
Les Appartements du Vieux Port
Staycity Aparthotels Centre Vieux Port
Budget Hotel
Toyoko INN Marseille Saint Charles
ibis Styles Marseille Vieux Port
Pin for later