The importance of self-care has never been more prevalent than it is now. And one of the best ways that you can relax and unwind is on a yoga retreat in Europe.
In this blog post, I'm going to review some of my top European yoga retreats. These yoga retreats are designed to help you unwind, relax, and renew your energy, leaving you feeling refreshed and recharged.
Why Do A Yoga Retreat in Europe?
Where else can you team up your daily yoga practice with wine and olive oil tasting in Tuscany, or eating tapas in Barcelona?
A yoga retreat in Europe can offer a unique and fulfilling experience for yogis of all levels. Europe boasts a rich history and diverse cultures, which can provide a beautiful backdrop for yoga practice and spiritual exploration. In addition, there are so many yoga retreats in Europe that are hosted in beautiful locations such as Tuscany, the French Alps, and the Greek islands, which offer stunning natural beauty and a peaceful atmosphere.
Europe is also home to many experienced yoga teachers who can offer a wide range of yoga styles and practices. Whether you are looking to deepen your existing practice or try something new, a yoga retreat in Europe can provide an opportunity to learn from experienced teachers and immerse yourself in the yoga community.
Finally, a yoga retreat in Europe can be a chance to take a break from the stress and routine of daily life and focus on your well-being. Many retreats offer a variety of activities such as meditation, spa treatments, hiking, and healthy meals, which can help rejuvenate your mind, body, and soul.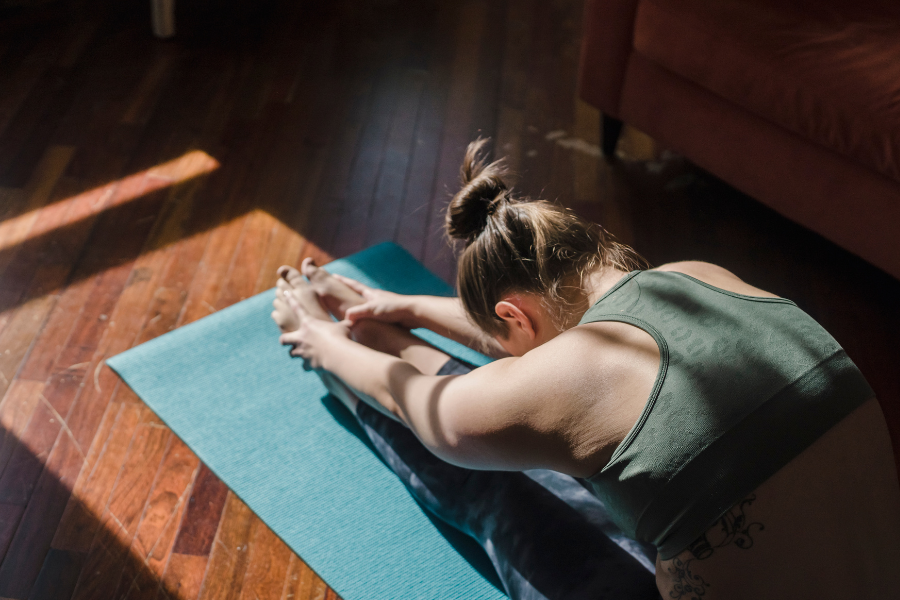 Did You Get Travel Insurance Yet?

If 2020 taught us anything, it's that you need to be prepared for anything!

The Insurance companies I personally recommend are Hey Mondo, Passport Nomads, Safety Wing, and Travel Insurance Master

Hey Mondo is great if you are looking for a great value flexible policy. They offer single-trip cover, annual multi-trip cover, and long-term travel cover.

Passport Nomads provides the most comprehensive cover for Digital Nomads. If you find yourself in need of medical care you just contact them and they will pre-load your card with the funds to cover your treatment, meaning you won't need to pay out of pocket and then put in a claim later.

Safety Wing is great value with monthly cover starting at $39. It's super easy to use and it just renews each month. I currently use them as they offer me free cover for my son as part of my policy.

I also use Travel Insurance Master for short trips.

Read my full travel insurance post here where I go into detail about all 4 companies.
How To Choose The Best Yoga Retreat In Europe For You
Choosing the perfect yoga retreat is a very personal decision based on your specific preferences and goals but here are a few things to think about to help you choose the right retreat for you:
1. Determine your goals: Before you start searching for retreats, think about what you hope to achieve from the experience. Are you looking to deepen your practice, learn a new style of yoga, or simply relax and recharge? Knowing your goals will help you narrow down your search and find a retreat that meets your specific needs.
2. Research the teacher or leader: The teacher or leader of the retreat can have a big impact on your experience, so it's important to do some research before booking. Look for a teacher or leader with experience and a teaching style that resonates with you.
3. Consider the location: The location of the retreat can also play a big role in your experience. Do you prefer a secluded, natural setting, or would you rather be in a bustling city? Consider factors such as the climate, the activities offered, and the overall atmosphere of the location.
4. Check the schedule: Look at the schedule of the retreat to ensure it aligns with your needs and preferences. Some retreats may have a strict schedule with little free time, while others may offer a more relaxed and flexible schedule.
5. Read reviews: Reading reviews from past participants can provide valuable insights into the quality of the retreat and the experience offered. Look for reviews that speak to your specific goals and preferences. One of the reasons I love booking retreats through BookYogaRetreats is that you can read the reviews and know they are genuine.
6. Consider your budget: Yoga retreats can vary widely in cost, so it's important to consider your budget when choosing a retreat. Keep in mind that a more expensive retreat may offer higher quality accommodations, food, and experiences, but that doesn't necessarily mean it's the best fit for you.
In this review, I've tried to include a variety of yoga retreats in Europe that cater to many different wants, needs, and budgets!
SAMATVA LUCE Sound & Yoga Retreat – Ibiza
When: 9th – 13th June 2023
Number of nights: 4
Yoga Style: Vinyasa
Location: Ibiza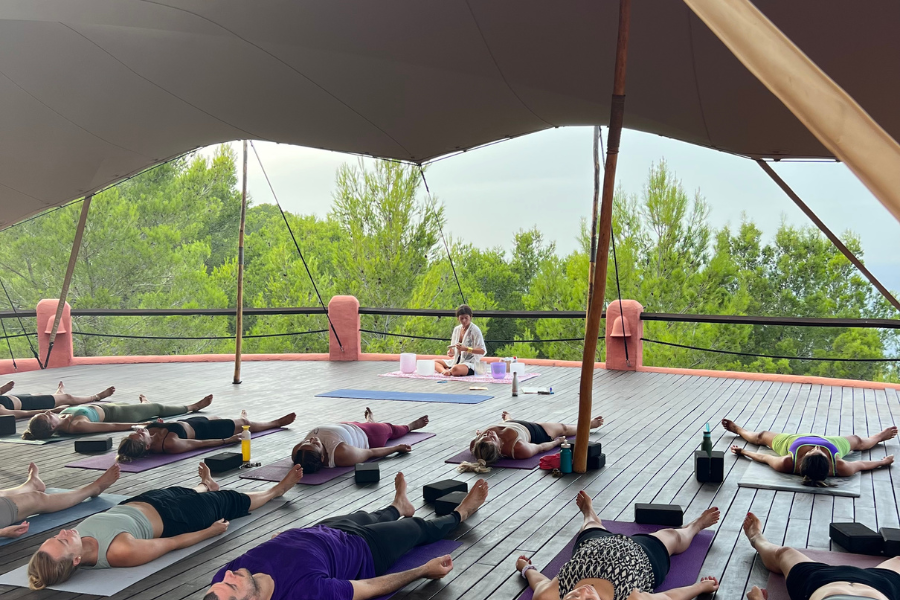 Are you ready to feel the freedom that Ibiza has to offer? The island of Ibiza is said to be home to powerful crystals that vibrate at a higher frequency, and you're invited to join this 5-day transformational retreat.
You'll spend your days practicing yoga in the outdoor shala, relaxing by two pools, swimming in a secret spot, and soaking up the sweeping views of the Mediterranean. And don't worry about food – we've got you covered with nourishing vegan meals.
This is a chance to come with an open mind, ready to embrace change, and recharge your batteries with daily yoga, mantras, pranayama, sound, and ceremony. The outdoor yoga shala and ocean views will create the perfect setting for you to connect with yourself and the energy of this special island.
Leah and Danielle can't wait to welcome you with open arms to Ibiza and share this incredible experience with you. Get ready for a journey of transformation, relaxation, and connection.
Daily sample schedule
7.30 Light breakfast
9.30 – Vinyasa yoga
11.00 – Reflection / Relaxation time
12.00 – Lunch
16.00 – Meet Your Voice – Vocal Workshop
19.30 – Dinner
20.00 – Cacao Ceremony with Soundbath
SAMATVA LUCE Sound & Yoga Reteat – Puglia
When: 31st July 31 – 5th August, 2023
Number of nights: 5
Yoga Style: Vinyasa
Location: Puglia, Italy
I'm pretty excited to tell you about an incredible yoga retreat that's happening this summer in Puglia, Italy. It really is the perfect opportunity to nourish your mind, body, and soul while experiencing the unspoiled beauty that Southern Italy has to offer.
The retreat is hosted by Leah and Danielle, two amazing yoga teachers who have fallen in love with the charming white-washed villages, ancient olive groves, and sun-drenched beaches of Puglia. During the retreat, you'll have the chance to practice daily inspired, invigorating yoga, mantras, pranayama, voice activations, sound baths, and ceremony.
But this retreat isn't just about yoga – it's a chance to reset, replenish, and restore while experiencing all the joys of a unique holiday experience. You'll have the freedom to participate in all the offerings or take time for yourself to enjoy the pool, and surroundings, or venture further out.
Puglia is known for its succulent food traditions, local wines, and friendly people, and Leah and Danielle have arranged for a private villa within walking distance of the village of Patu. You'll enjoy nourishing farm-to-table Italian cuisine and soak up the spirit of Italian summer with the support of these two amazing teachers.
If you're looking for a chance to connect with your inner self, recharge your batteries, and experience the magic of Italy, this retreat is the perfect opportunity. Leah and Danielle cannot wait to welcome you to this special place and accompany you on your journey.
Daily sample schedule :
7.30 Light breakfast
9.30 – Vinyasa yoga
11.00 – Reflection / Relaxation time
12.00 – Lunch
16.00 – Meet Your Voice – Vocal Workshop
19.30 – Dinner
20.00 – Cacao Ceremony with Soundbath
5 Day Private and Luxury Life Changing Couple Retreat with Spa, Yoga, and Meditation in Tuscany
Price from: $8,011
Number of nights: 4
Yoga Style: Dynamic
Location: Italy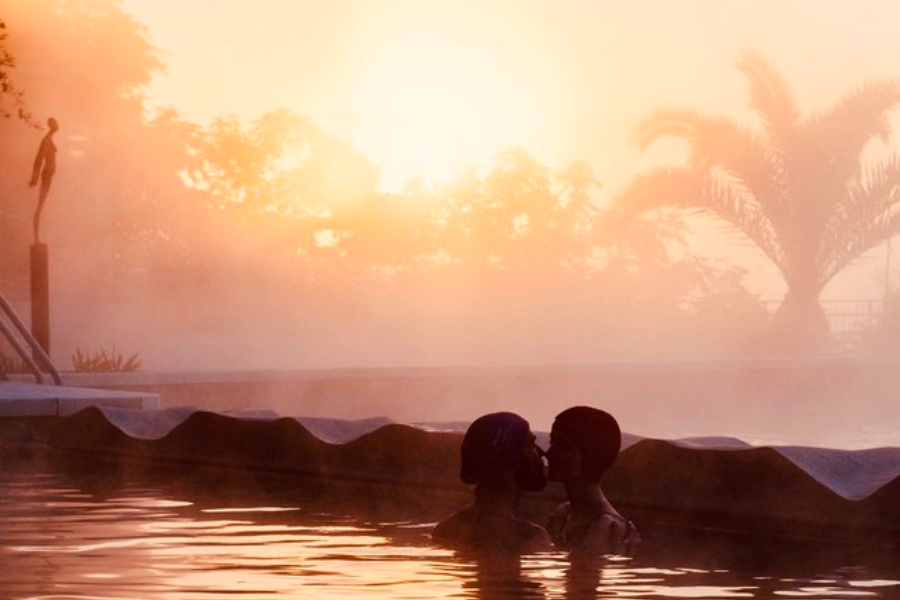 Is life as a couple feeling robotic, chaotic, or nerve-wracking? You and your partner need a truly relaxing and enlightening break where you can release the trapped stress and reinvent the lost spark again.
This remarkable 5-day private couples yoga retreat Europe is nestled in the picturesque countryside of Tuscany, Italy, with thermal springs relaying healing energies. Your escape takes place in the historic and luxurious spa hotel in Bagno Vignoni.
This yoga retreat Europe focuses on dynamic yoga, where you get to open up your heart and overcome your frustration as a couple. Tanya and Michael, the gifted instructors of this remarkable retreat, will guide you through a series of life-changing teachings that will open your heart and mind to your partner.
Michael is a pro with Reiki sessions, while Tanya helps align your energies with spiritual yoga practices – together, they make a power punch for yoga holidays Europe.
Couples who have been on this retreat sing praises for these compassionate instructors because their ability to help people open up is incredible. Their talent for connecting you to your inner selves and each other is nothing short of profound, which makes it one of the best yoga retreats Europe.
As you break free from old habits and patterns, you'll discover a deeper sense of peace and harmony, both within yourselves and as a couple. Life gets hard, but when you take out time to revive your bond as a couple, dealing with it comes naturally to you.
What's included:
A 100% private retreat with tailor-made program for the two of you
4 nights accommodation in a luxury spa hotel
Daily breakfast buffet
Unlimited access to outdoor thermal pools, spa, and well-being center
Welcome drink with orientation walk in Bagno Vignoni
Saturdays and Wednesdays; night swim in the thermal outdoor pools with snacks and wine from 9 p.m, – 12 a.m.
6 Day Yoga and Wellness Retreat in Alicante, Costa Blanca, Valencia
Price from: $1,000
Number of nights: 5
Yoga Style: Yin, Restorative, Kundalini and Hatha flow
Location: Spain
Nestled in the serene seaside town of Albir, Spain, lies La Crisalida Retreats, a haven for health, well-being, and rejuvenation. This all-inclusive retreat center offers a holistic approach to healing, combining activities like yoga, meditation, rebounding, and life makeover workshops with delicious and nutritious plant-based cuisine.
Whether you seek inner peace, physical fitness, or simply a break from the hustle and bustle of daily life, La Crisalida has something special to offer. The expert instructors offer a variety of yoga styles, including Hatha, Yin, Restorative, Kundalini, and Hatha flow. The classes, held in a picturesque rooftop terrace or tranquil studio, aim to reconnect you with your inner self, fostering balance, strength, flexibility, and inner peace.
What's included:
A stay in a large ensuite apartment (shared or private) with substantial facilities
Daily yoga classes
All your retreat programme activities, starting at 8am and finishing at 9pm
Three meals per day (or nutritious juices, your choice)
Unlimited fresh fruit
Unlimited filtered water and herbal teas
Free transfers between Alicante airport
Pool towel to relax on the sun loungers around the retreat or take to the beach
Free Wi-Fi in your apartment and communal areas
Satellite television in your apartment and DVD player
Book swap, DVD library and informative books
4 Day Urban Yoga Retreat in Barcelona City
Price from: $380
Number of nights: 3
Yoga Style: Hatha
Location: Barcelona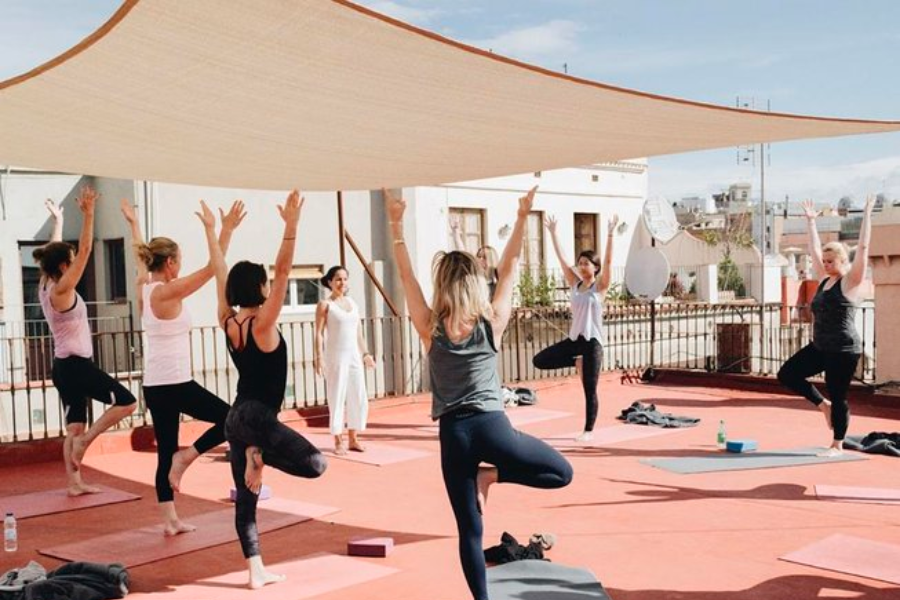 Barcelona is not a quiet place, thanks to its vibrant life, but still, there's a tranquil gem hidden in its heart awaiting you. Yoga Weeks is a 4-day urban yoga retreat in Barcelona that can turn your actively tuned brain to peaceful mode.
You'll experience the fusion of tranquility and vibrant city life with the 4-Day Urban Yoga Retreat nestled in the heart of Barcelona.
Yoga Weeks Barcelona, being one of the most sought-after European yoga retreats, presents an outstanding yoga retreat that seamlessly blends tradition and modernity.
Set within an exquisite modernist house dating back to 1890, this sanctuary offers participants the chance to delve into Hatha yoga while surrounded by the city's dynamic energy.
A highly skilled team of international yoga instructors will guide you through daily morning and rooftop evening yoga sessions so you make the most of your stay.
Besides their extensive expertise, these instructors bring a wealth of holistic and alternative therapy knowledge.
The shimmering shores of Barcelona's beaches are only a 10-minute walk away from here and provide the perfect backdrop for reflection. For an exceptional experience, don't miss the full moon special sessions accompanied by live music that will elevate your practice to new heights.
What's included:
Morning 2 hours yoga classes
Rooftop evening yoga sessions
A beautiful setting in a modernistic space in the center of the city
3 nights accommodation
Delicious nutritional vegetarian meals
Snacks and drinks
All house facilities
4 Day Private Luxury Life Changing Yoga, Meditation, Healing, Spa Retreat in Tuscany Italy
Price from: $5,036
Number of nights: 3
Yoga Style: Dynamic
Location: Tuscany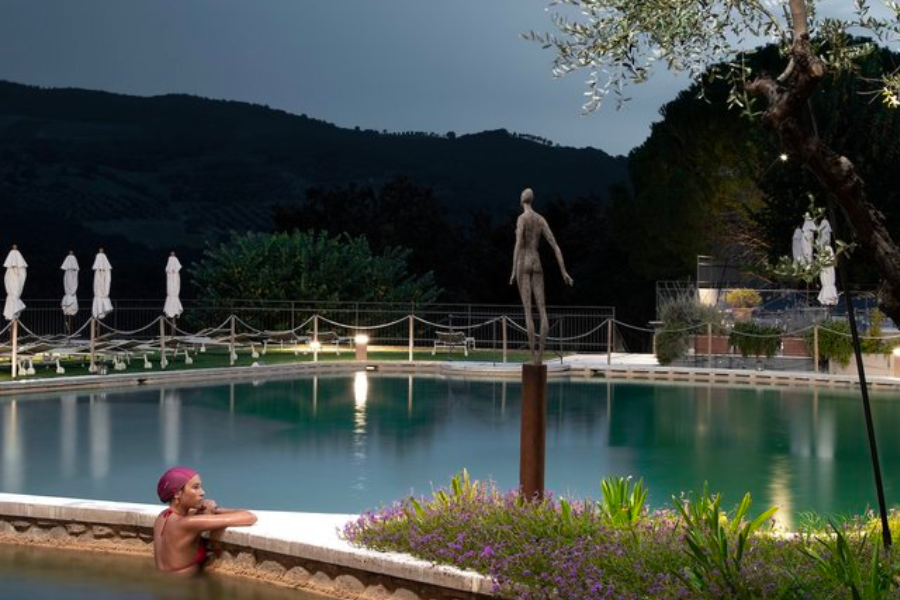 Finding your inner voice and perspective shift can change your life for the better. But doing it without professional help is no walk in the park. That's when it's time to sign up for life-changing luxury yoga retreats Europe and give yourself time to breathe, unwind, and realign.
This 4-day private life-changing yoga retreat in Europe packs a boatload of esoteric matters and spirituality that revive your lost energies. Tanya and Michael, the pros behind this retreat, know well how to deliver a wellness experience.
If you prefer 'done-for-you relaxation,' say no more because this retreat will be customized to deliver exactly what you need. The life-changing experience with spiritual masters Tanya and Michael Aprile ensures a unique, private, and fully customized program that unlocks the highest wisdom and allows profound healing.
Don't worry about your experience level or age, as this retreat accommodates all backgrounds and skill sets. On Friday and Saturday nights of your yoga holidays Europe, you can indulge in a magical night bath beneath the stars in the thermal pools—an unforgettable memory to cherish.
What's included:
3-4 private sessions a day
3 nights accommodation in a luxury spa hotel
Daily breakfast buffet
Unlimited access to outdoor thermal pools, spa, and well-being center
Welcome drink with orientation walk in Bagno Vignoni
1 night swim in the thermal outdoor pools with snacks and wine from 9 p.m. – 12 a.m. (Friday and Saturday)
8-Day Yoga and Hiking Holiday with Floating in Therma on Kos Island
Price from: $1,156
Number of nights: 7
Yoga Style: Hatha, Yin
Location: Greece
Being in a place where no toxicity can follow you is no more a dream, as this 8-day yoga holiday on Kos Island, Greece, is the perfect leeway from a chaotic life. The yogis here love connecting your mind, soul, and body to ensure you get perspective about life and everything important.
Pair such an intimate healing experience with tested yoga practices, and you're surely in for a treat. This program is designed in a way so you can unwind at your own pace while maintaining your privacy.
The choice is yours: indulge in the island's stunning beaches, explore the diverse hiking and cycling routes, or take a refreshing dip in the crystal-clear waters.
Elevate your practice with expertly guided Hatha and Yin yoga sessions tailored to help you find clarity and strength in both body and mind.
One of the highlights of your yoga retreat Europe experience will be a mesmerizing sunset meditation at Hippocrates Altis, a sacred site in the Asklepion area.
One evening during your stay, you'll be treated to a visit to the natural hot springs at Therma, cherished by locals for its healing properties. You can float in the warm, mineral-rich waters, allowing them to soothe your muscles and rejuvenate your spirit.
What's included:
Ten yoga sessions
Two hikes
Visit to the hot springs and sunset meditation
Daily rich, healthy breakfast and six evenings of delicious plant-based dinner
Daily wake-up juice
Freshly ground coffee during meals, herbal tea available all-day
7 nights accommodation
The form you have selected does not exist.
4 Day Wild Woman Nature Retreat With Yoga in Cumbria
Price from: $591
Number of nights: 3
Location: Cumbria
Stress, competition, FOMO, feelings of being not enough – argh, these things can mess up with your brain and send you down a spiral of self-doubts. But when you pull your life brakes to assess where things are going wrong and how to fix them, you can come out as a winner.
That's what this 4 Day Wild Woman Nature Retreat With Yoga in Cumbria. It's not just a quiet holiday; it assesses your wellness and offers holistic solutions based on what you're going through.
Say you're burnt out because of all things life and feel like you've lost yourself. A mindful stress reduction session under the guidance of a pro yogi can get you out of this phase and help you think clearly.
As you step into this retreat, you'll be welcomed by an experienced health, fitness, and wellness team dedicated to guiding you through a natural detox that allows your body to recuperate from everyday stressors.
Throughout your stay in this yoga retreat Europe, you'll engage in daily yoga sessions, Pilates classes, and body toning exercises specifically designed to strengthen your muscles.
What's included:
Yoga classes
Breath work, shadow work, and woodland resetting
Horse meditation, wild swimming, stories, and singing around the campfire Cacao ceremony, bare-footing, dance, and sharing circles
Forest bathing and woodland activities
3 nights accommodation
Daily meals and campfire cooking
Stunning cabins and yurts close to waterfalls, forests, and lake
1 Week Mindfulness and Yoga Retreat in Sardinia, Province of Ogliastra
Price from: $2,065
Number of nights: 7
Yoga Style: Hatha, Nidra
Location: Sardinia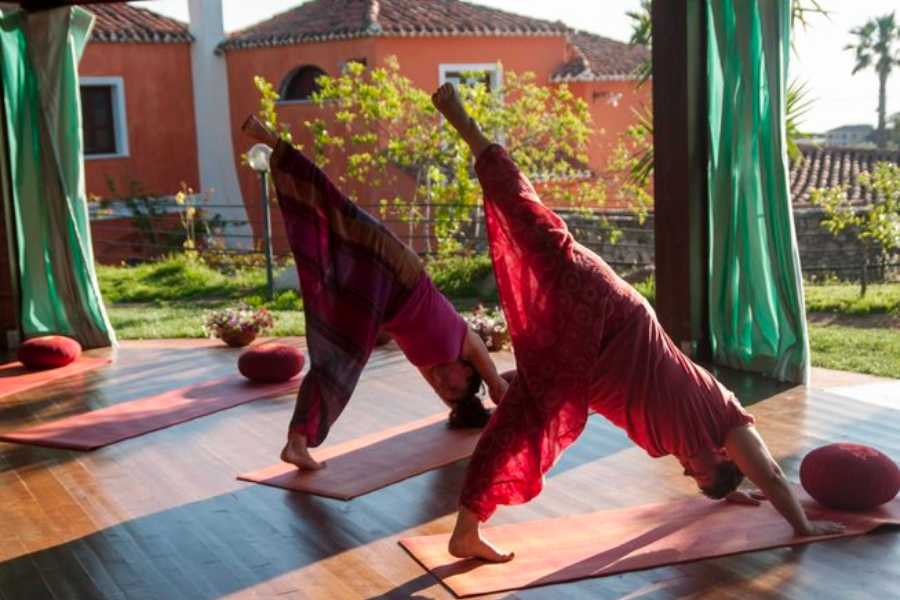 European yoga retreats focus a great deal on bringing different aspects of holistic health together; this one is no exception.
Sardinia is one of those places where nature has put its best foot forward, and while on this retreat, you get to live there. Dreamy, right?
With the One Week Mindfulness and Yoga Retreat, you'll experience a beautiful blend of gentle Hatha yoga, pranayama, and deep relaxation guided by the warm and joyful teacher, Cristina.
You'll be staying at the serene Galanìas Hotel on this retreat. This peaceful sanctuary is designed in the charming Sardinian style and boasts stunning views of the coast and the picturesque La Torre di Barì beach.
But wait, there's more! Luxury yoga retreats Europe are all about your preferences, and if you're seeking an exclusive one-on-one retreat, say no more. Reach out to the Galanìas Hotel, and they will arrange a personalized week of highly focused meditation just for you. Your yoga instructor will tailor the retreat to your mental state, yoga preferences, and any additional requirements you might have.
What's included:
7 nights accommodation
Half board: daily breakfast and dinner
5 days yoga per week: 2 sessions per day of 90 minutes each
Daily Hatha yoga practice
Varied daily pranayama classes
Guided mindfulness meditation and visualizations
Guided Yoga Nidra classes
Airport transfers
1 beach towel
Free Wi-Fi in the common area (Reception, bar, restaurant, swimming pool area)
Private outdoor car park
What To Pack For Your Yoga Retreat Europe
Packing for a yoga retreat will depend on a few factors such as the location, duration, and activities planned during the retreat. However, here are some general items to consider bringing:
1. Comfortable yoga clothes: Pack comfortable clothes that you can move freely in. Depending on the weather, you may need layers or lighter clothing.
2. Yoga mat: Bring your own yoga mat if you have one. Some retreats may provide mats, but it's always a good idea to bring your own.
3. Props: Depending on your yoga practice, you may need props such as blocks, straps, or blankets. Check with the retreat organizer to see if they provide these or if you should bring your own.
4. Water bottle: Staying hydrated is important, so bring a refillable water bottle that you can use throughout the day.
5. Snacks: While most retreats provide meals, you may want to bring some snacks to have between meals or during breaks.
6. Toiletries: Pack toiletries such as shampoo, conditioner, toothpaste, and sunscreen. If you're staying in shared accommodation, bring a towel and any other personal hygiene items you need.
7. Comfortable shoes: Pack comfortable shoes for walking or hiking, depending on the activities planned during the retreat.
8. Journal and pen: Many retreats include time for self-reflection, so bring a journal and pen to capture your thoughts and reflections.
9. Books or other reading material: If you have downtime between activities, you may want to bring a book or other reading material to unwind.
10. Travel adapter and charger: If you're traveling to another country, don't forget to bring a travel adapter and charger for your electronics.
Remember to check with the retreat organizer for a complete packing list and any specific items they recommend bringing for the retreat. And you can read my full yoga retreat packing list here or visit my Amazon list here.
Pin for later