Europe is definitely a lovely place where people speak multiple languages, and diverse cultures are found within a couple of miles. Two of the most famous cities in Europe are London and Paris, lots of people are looking forward to travel from London to Paris. Both capital cities are rich in history, culture, and tourism, attracting millions of tourists around the world.
People who visit Europe often visit London first, then Paris. Despite being only 214 miles (344 kilometers) apart, they're two of the world's most popular tourist sites. And, there are actually numerous ways you can carry out your London to Paris journey, especially if you want to go shopping in Paris.
If you're one of those seeking to know how to get to Paris from London, you're reading the right article. Below are all of the available options, as well as an estimate of how long each option will take.
How to get from London to Paris
Train
Traveling by train from London to Paris is fast, convenient, and fun. It's a way to go from one world-famous city to the other in only a couple of hours. Particularly in the comfort of Eurostar Trains, you get to enjoy good food and experience the culture and tradition of Europe.
The Eurostar is a quick and reliable rail service that connects the heart of London with the heart of the city of Paris. Just book your Eurostar train tickets from London to Paris online and you're good to go. It's generally the best and most suggested method to get between the two cities. There's nothing more you need to do than get to the station on time and relax for the whole duration of the ride.
Eurostar trains provide a travel class to accommodate people's budgets and preferences. Each seat has a plug, and there's free wi-fi for all passengers, allowing them to stay connected the entire journey. Just make sure you know the best time to visit Paris so that you can save as much money as possible.
Air Travel
Flying is another convenient mode of transportation to travel between London and Paris because it's a relatively short journey. Plus, flights between the two cities are frequently affordable. So, which airlines operate from London to Paris?
There are several airlines that provide regular flights between London and Paris. These include British Airways, EasyJet, Air France, Vueling, and CityJet. The cost of the plane tickets might vary greatly depending on the time of year, proximity to the destination, and availability of schedule.
The length of the flights will depend on the aircraft or airline, but, usually, it takes between 60 to 90 minutes to fly straight from London city airport to Paris.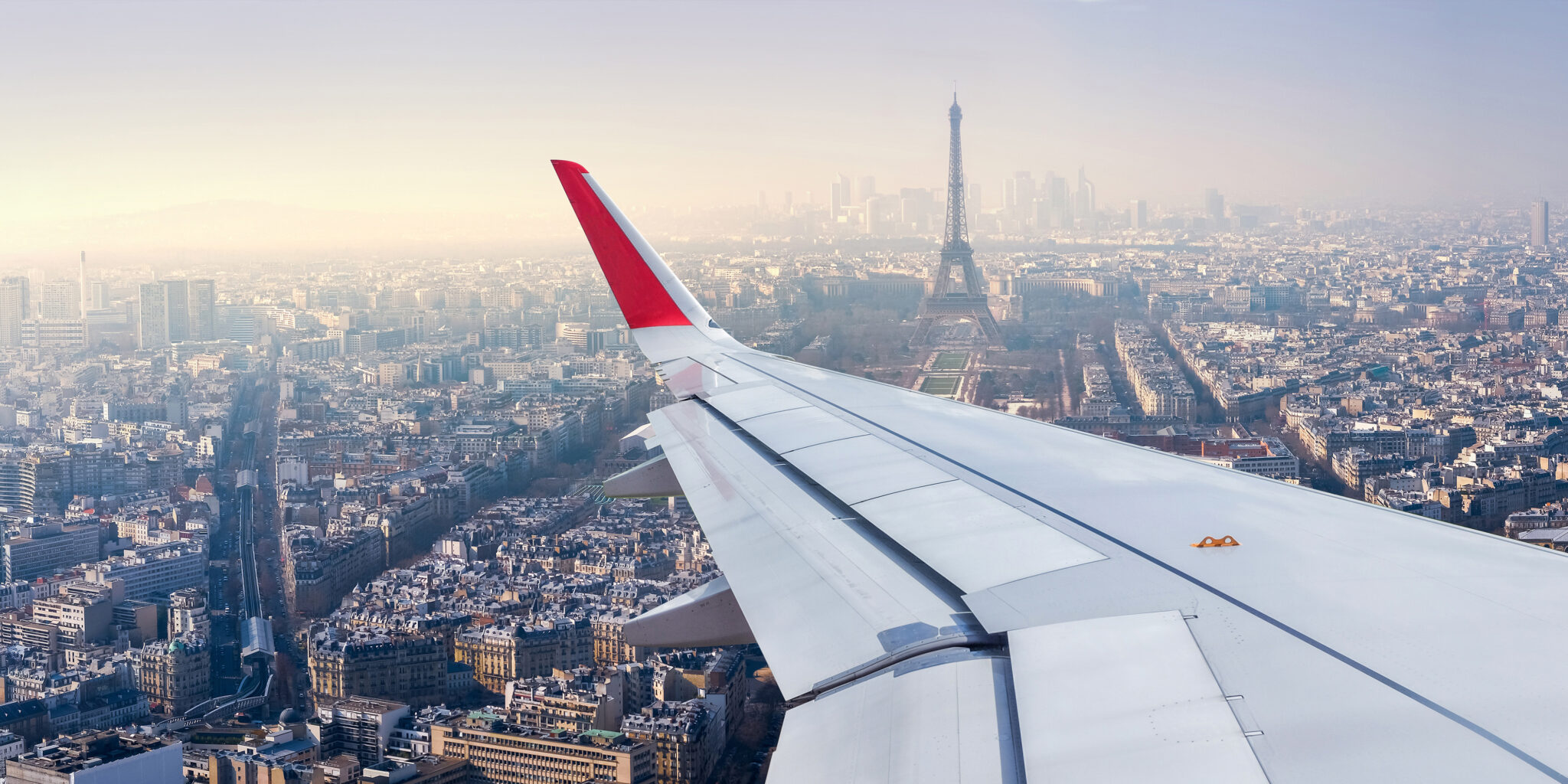 Driving A Car
Driving from London to Paris is another common means of transportation between the two cities. It provides you with some freedom, as well as the convenience of being in your own vehicle for the duration of the trip. There are no luggage limits or per-person costs, and the schedule is more flexible than going by train or plane.
If you choose this mode of transportation, it's vital to know that driving restrictions in France and the United Kingdom differ. Aside from understanding the variations in traffic rules, there are other things you must do to prepare to carry a foreign automobile across the borders, including possessing a valid driving license, passport, car registration certification, documentation of car insurance, and more.
Taking A Bus Or Coach
Riding the bus from London to Paris is typically the most cost-effective mode of transportation. While it's not as fast as taking the train or flying, it's a convenient option to travel between the two cities. Flixbus and BlaBlaBus seem to be the most popular operators that offer rides on this route. You only have to get your tickets and schedule directly from the bus companies indicated above.
Ferry Ride
If you're not in a hurry to get to Paris, taking a ferry to cross the channel is a one-of-a-kind, calmer, and more picturesque option. That's because it's the ideal way to see the Cap Blanc-Nez and the White Cliffs of Dover. The total journey could take between six and eight hours. But, most of the time, it'll depend on your train schedules, itinerary, and stops.
Ridesharing
If you want to save money for your trip from London to Paris, but don't want to take the bus, you may try looking for a ridesharing or carpooling service. It's an arrangement that automatically gives you a random travel companion for the ride. In finding a carpool across the Channel from London to Paris, consider contacting carpooling or ridesharing providers.
Private Car Or Taxi
If you don't want to put up with any complication or delay, and don't mind paying a little more, you could arrange private automobile transport. Although most taxi services and ridesharing drivers rarely conduct such a long cross-border excursion, certain private transfer companies still do.
The driver will pick you up in London and transport you to the Parisian place you want to visit. In most cases, the journey will take between six and eight hours, depending on traffic conditions.
Final Thoughts
There you have it—eight different ways to travel from London to Paris. So, which way do you think is best? Whatever option you choose, keep in mind that you'll have to go through border enforcement and security, so ensure you already have all the essential travel documents prior to your trip to get in and out of each capital city sans any hassle. After that, enjoy the tour!
PIN FOR LATER!