Planning a European adventure? I'm sure both London and Paris are on your itinerary and you found yourself here as you need to know how to get from London to Paris or Paris to London! In this blog post, I'm going to detail the best ways to get from London to Paris with instructions and all of the information you could possibly need to aid your trip. So what is the best way to get from London to Paris? Let's dive right in!
London to Paris: A Tale of Two Cities
Often, visitors start their European adventure in London and then head to Paris. Despite being a mere 214 miles apart, these cities are among the world's most visited tourist destinations. And, there are actually numerous ways you can carry out your London to Paris journey, especially if you want to go shopping in Paris. Whether you're considering a train ride from London to Paris or exploring other means, here's a comprehensive guide on the best way to travel between these two magnificent cities.
What Is The Distance From London to Paris
The distance from Paris to London depends on the mode of transportation and the specific route taken. Here's a breakdown:
By Air: The aerial distance (straight line) between Paris and London is approximately 344 kilometers (214 miles).
By Road: If you're driving, the distance is roughly 450-500 kilometers (280-310 miles), depending on the specific route. This includes the journey through the Eurotunnel or via a ferry crossing the English Channel.
By Train: Taking the Eurostar, which travels through the Channel Tunnel, the distance is about 495 kilometers (307 miles).
When Is The Best Time To Visit London and Paris
Deciding on the best time to visit London and Paris involves considering several factors like weather, tourist crowds, and local events. Both cities have their unique charm throughout the year, but let's break down what you can expect in different seasons:
The Best Time To Visit London
Spring (March to May)
Weather: Gradually warming, with average temperatures ranging from 11°C to 15°C.
Crowds: Fewer tourists compared to summer, making it a great time to explore.
Events: The Chelsea Flower Show and the Oxford vs. Cambridge Boat Race.
Summer (June to August)
Weather: Warmest months, with temperatures often between 18°C to 30°C.
Crowds: Peak tourist season, so expect more people at attractions.
Events: Wimbledon Tennis Championships, various music festivals.
Autumn (September to November)
Weather: Cooling down, with temperatures between 11°C to 15°C.
Crowds: Fewer tourists; a good time to visit for a quieter experience.
Events: The London Film Festival and the Totally Thames festival.
Winter (December to February)
Weather: Cold, with chances of snow. Temperatures hover around 2°C to 6°C.
Crowds: Christmas markets and New Year's celebrations draw visitors, but January and February are quieter.
Events: Christmas lights and markets, New Year's celebrations.
The Best Time To Visit Paris
Spring (March to May)
Weather: Mild, with temperatures around 12°C to 20°C.
Crowds: Fewer than in summer. The city begins to bloom, making it very picturesque.
Events: Paris Marathon, Nuit des Musées.
Summer (June to August)
Weather: Warm, generally between 20°C to 25°C, but can reach 30°C.
Crowds: This is peak tourist season. Expect long lines at popular attractions.
Events: Bastille Day celebrations, Paris Plages (temporary beaches along the Seine).
Autumn (September to November)
Weather: Cool and pleasant, with average temperatures between 10°C and 15°C.
Crowds: Diminishes after August, offering a more relaxed atmosphere.
Events: Nuit Blanche, the Montmartre Wine Harvest Festival.
Winter (December to February)
Weather: Chilly, with average temperatures around 3°C to 7°C.
Crowds: Christmas and New Year bring tourists, but generally quieter than summer.
Events: Christmas markets, festive lights, Valentine's Day in the city of love.
Personal Preferences and Travel Goals
Cultural Events: Choose the season based on specific events or festivals you wish to attend.
Weather Preference: If you prefer warmer weather, late spring to early summer is ideal. For cooler weather, autumn and winter are better.
Budget Considerations: Winter (excluding the Christmas season) and early spring usually offer better deals on flights and accommodations.
In my humble opinion if you want the best balance of nice weather, manageable tourist crowds, and the ability to enjoy outdoor activities and events, late spring (May) and early autumn (September to October) are generally considered the best times to visit both London and Paris.
How to get from London to Paris
Traveling By Train From London to Paris
Traveling by train from London to Paris is fast, convenient, and fun. It's a way to go from one world-famous city to the other in only a couple of hours. Particularly in the comfort of Eurostar Trains, you get to enjoy good food and experience the culture and tradition of Europe.
The Eurostar is a quick and reliable rail service that connects the heart of London with the heart of the city of Paris. Just book your Eurostar train tickets from London to Paris online and you're good to go. It's generally the best and most suggested method to get between the two cities. There's nothing more you need to do than get to the station on time and relax for the whole duration of the ride.
Eurostar trains provide a travel class to accommodate people's budgets and preferences. Each seat has a plug, and there's free wi-fi for all passengers, allowing them to stay connected the entire journey. Just make sure you know the best time to visit Paris so that you can save as much money as possible.
How long is the train from London to Paris?
The train ride from London to Paris is on the Eurostar, which travels through the Channel Tunnel and typically takes about 2 hours and 20 minutes.
This time can vary slightly depending on the specific service or time of day. That said the Eurostar is known for its efficiency and speed, so it mostly runs on time without delays. It's honestly the fastest and most comfortable way to travel from London to Paris in my opinion.
How To Book Your Train Tickets London to Paris
Booking train tickets from London to Paris, particularly on the Eurostar, is a straightforward process. Here are the steps to follow:
Choose Your Booking Platform:

Eurostar Official Website: The most direct method is to book through the Eurostar website (eurostar.com). It's user-friendly and often has the best deals.
Trainline or Omio: These are third-party booking platforms that compare prices across different rail operators.
Travel Agencies: Some people prefer using a travel agency, especially if they're booking as part of a larger trip.

Select Your Travel Dates and Times:

Enter your departure date and preferred travel times. Remember, prices can vary significantly based on time and demand, so if you're flexible, try different dates and times to find the best deal.

Choose Your Ticket Type:

Eurostar offers different ticket classes (Standard, Standard Premier, Business Premier). Each class has different perks and prices.
Consider whether you want a flexible ticket (allowing changes or cancellations) or a non-refundable, fixed-time ticket (usually cheaper).

Fill in Passenger Details:

You'll need to provide the names and sometimes additional details of all passengers.

Choose Your Seats:

Depending on the ticket type, you can select your seats when booking or be assigned seats automatically.

Add Extras if Needed:

This might include travel insurance, extra luggage allowance, or carbon offsetting.

Payment:

Enter your payment details. Most major credit and debit cards are accepted.

Confirmation and Tickets:

After payment, you'll receive a confirmation email with your ticket. Tickets can be e-tickets (mobile or print-at-home) or, in some cases, you can opt to collect them at the station.

Check Travel Requirements:

Ensure you have a valid passport and check if you need a visa or any other travel documents, especially in the post-Brexit context.

Arrive Early at the Station:

It's recommended to arrive at least 45-60 minutes before departure for check-in, security checks, and passport control.
Remember to check for any travel deals or discounts (like youth, senior, or group discounts) that might apply to you. Train tickets in both the UK and France are crazy expensive and can get booked up in advance. That's why I'd strongly advise that you book your London to Paris train ticket as early as possible to get the best price. The later you leave it the more the train ticket will cost.
Exact Instructions to help you take the train from London To Paris
Taking the train from London to Paris is a straightforward and enjoyable experience, especially when using the Eurostar service. Here are the exact steps to help you navigate this journey:
Before You Travel on the London to Paris Train
Book Your Ticket:

Book your Eurostar ticket in advance through the Eurostar website, a third-party booking platform like Trainline or Omio, or a travel agency.
Ensure your ticket is either printed out or available on your mobile device.

Get Your Travel Documents ready:

Make sure you have a valid passport. Depending on your nationality, you might also need a visa to enter France.

Pack Accordingly:

Check Eurostar's luggage allowance and pack your bags accordingly. Remember to keep essentials and travel documents in an easily accessible place. You can read my European Packing Guide here and my London Packing Guide here.
On the Day of Travel from London to Paris
Arrive at St Pancras International:

The Eurostar departs from St Pancras Station. It's very easy to get here by public transport or taxi from whatever hotel you are staying at in London.
Arrive at St Pancras International Station in London at least 45-60 minutes before your train's departure time. Yes, I know that's super early for a train. But remember this is an international train and so you will need to go through extra security so you don't want to be rushing!

Check-in and Security:

Once you arrive at the station simply follow the signs to the Eurostar terminal.
You will then need to go through the Eurostar check-in process. You can use the automated gates if you have an e-ticket, or check in at the counter if needed which speeds things up a bit.
You will then pass through security. This security is very similar to airport security so make sure you have your luggage and personal items ready for scanning.

Passport Control:

After security, you'll go through passport control. Here, is where your passport will be checked and stamped if necessary.

Wait in the Departure Lounge:

Once through passport control you can kick back and relax! You'll enter the departure lounge which is where you will find shops, cafes, and seating areas to relax before your journey.

Boarding the Train:

Keep an eye on the departure boards for your train's platform number.
Boarding usually starts around 20 minutes before departure.
Find your carriage and seat as indicated on your ticket.
During the Journey London to Paris Train Journey
Onboard the Eurostar:
The Eurostar is what I would class as a 'fancy' train. And so the facilities onboard are pretty decent. Some of the classes will include WiFi, when not included you can buy WiFI as an extra. The seats are pretty comfy and there is a food and drink service. I personally prefer to bring something with me though as the selection at the train station in the departure lounge is better
The journey from London to Paris takes about 2 hours and 20 minutes.
Arrival in Paris:
The train will arrive at Gare du Nord station in Paris.
After disembarking, follow the signs to exit the station. From Gare du Nord, you can easily connect to the Paris Metro, buses, taxis, or continue to your Paris accommodation.
Top Tips For The Train ride from London to Paris
Seating: Consider reserving a window seat for scenic views, especially when traveling through the French countryside.
Time Zone: Remember that Paris is 1 hour ahead of London, so adjust your watch or phone accordingly.
Refreshments: You can bring your own snacks and drinks on board, but there is also a bar-buffet car available.
Connectivity: Power outlets are available on the train, so you can charge your devices during the journey.
Fly From London To Paris
Flying is another convenient mode of transportation to travel between London and Paris because it's a relatively short journey. Plus, flights between the two cities are frequently affordable. So, which airlines operate from London to Paris?
There are several airlines that provide regular flights between London and Paris. These include British Airways, EasyJet, Air France, Vueling, and CityJet. The cost of the plane tickets might vary greatly depending on the time of year, proximity to the destination, and availability of schedule.
The length of the flights will depend on the aircraft or airline, but, usually, it takes between 60 to 90 minutes to fly straight from London City Airport to Paris.
Things to Consider When Choosing Your Flight
Airports in London: London has several major airports including Heathrow, Gatwick, Luton, Stansted, and London City Airport. Choose the one most convenient for you. I can tell you now that Luton and Stanstead are quite far out and not easy to get to. Gatwick I'm not a fan of but transport links are easy. So do yourself a favor and don't be dazzled by the promise of a cheap flight from Luton to Paris as by the tame you wast ha;lf a day getting there and pay for public transport it will cost you more.

London City Airport is super easy to get to and its FAST to get through security. Last time I flew through there I just arrived like 45 minutes before my flight and glided through security and right onto the plane. Best airport experience ever. So if you can find a good flight from there snap it up!
Airports in Paris: Paris also has multiple airports, mainly Charles de Gaulle (CDG) and Orly (ORY). Charles de Gaulle is larger and more international, while Orly is closer to the city center. But they are both well connected to the city center. So it really doesn't matter so much which one you fly into if the price is right. Personally, I prefer Orly as it is smaller, calmer and closer to the city center.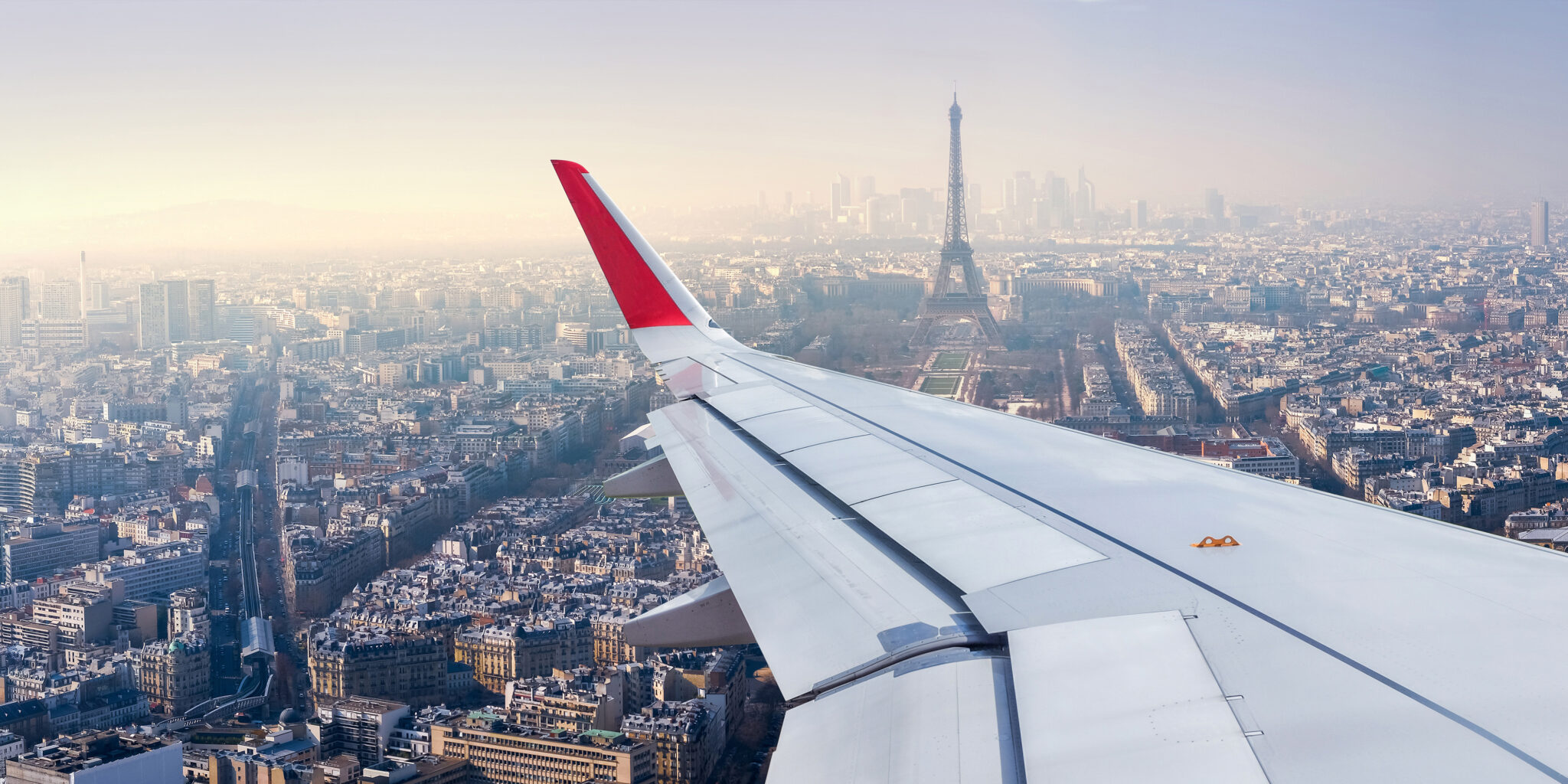 Drive from London to Paris
Wondering can you drive from London to Paris? Well, you can and many people do… it's just not the easiest way to travel from London to Paris!
Driving from London to Paris is another common means of transportation between the two cities. It provides you with some freedom, as well as the convenience of being in your own vehicle for the duration of the trip. There are no luggage limits or per-person costs, and the schedule is more flexible than going by train or plane.
Here's a step-by-step guide to help you plan this journey:
1. Prepare Your Vehicle
Check Your Car: Ensure your car is in good condition. Check the oil, tires, brakes, and lights.
Legal Requirements: Make sure you have all required documents, including a valid driver's license, vehicle registration, proof of insurance, and a valid passport for border control. If you are driving your own car check with your insurance company if you are covered and maybe up your AA cover to ensure you have coverage in France. If you are in a rental car then be sure to disclose your plans to drive to France so they can give you the correct insurance coverage.
Driving Kit: In France, you're required to carry certain items in your car, like a warning triangle, high-visibility vests for all passengers, and a breathalyzer. You buy a kit with everything you need in it here.
2. Plan Your Route
London to the Channel: The first leg is to reach the English Channel. The most common crossings are the Eurotunnel Le Shuttle or a ferry from Dover to Calais.
Eurotunnel Le Shuttle: This train service takes you and your car through the Channel Tunnel from Folkestone to Calais in about 35 minutes.
Ferry from Dover to Calais: Ferries depart frequently and take about 90 minutes to cross. You can stay in your car or explore the ferry during the crossing. Again book this in advance.
3. Book Your Channel Crossing
Eurotunnel Booking: You will need to book this in advance. Don't just turn up. You book a slot and need to be there at your allocated time. Prices can vary a lot depending on the time of day and day of the week. I'd recommend booking as much in advance as you can to get the best deals.
Ferry Booking: Book your ferry ticket in advance as well. There are multiple ferry operators, so compare prices and times.
4. Driving in France
Calais to Paris: Once in Calais, follow the A26 and A1 motorways to Paris. The drive is about 300 kilometers and takes around 3 hours under normal traffic conditions.
Toll Roads: Be prepared for toll roads on French motorways. Have cash or a credit card ready for payment.
Speed Limits: Adhere to French speed limits, which vary depending on the type of road and weather conditions.
Right-Hand Drive: Remember that in France, unlike the UK, you drive on the right-hand side of the road.
5. Arriving in Paris
Parking: Plan ahead for parking in Paris, as it can be challenging. Consider booking a hotel with parking facilities or using a designated parking area.
Traffic and Navigation: Paris traffic can be heavy, and navigating can be challenging. A GPS or a reliable navigation app will be helpful.
6. Tips for a Successful Trip
Breaks: Take regular breaks, especially on long drives. French motorways have well-equipped rest stops.
Fuel: Keep an eye on your fuel level. While there are many fuel stations along the motorways, it's best not to let it run too low.
Emergency Numbers: In case of emergency, dial 112 in Europe.
If you choose this mode of transportation, it's vital to know that driving restrictions in France and the United Kingdom differ. Aside from understanding the variations in traffic rules, there are other things you must do to prepare to carry a foreign automobile across the borders, including possessing a valid driving license, passport, car registration certification, documentation of car insurance, and more.
Taking A Bus from London to Paris
Taking the bus from London to Paris is typically the most cost-effective mode of transportation and is popular with backpackers and budget-conscious travelers.
While taking a bus from London to Paris is not as fast as taking the train or flying, it's a convenient option to travel between the two cities. Flixbus and BlaBlaBus seem to be the most popular London to Paris bus operators that offer rides on this route. You only have to get your tickets and schedule directly from the bus companies indicated above.
The London to Paris bus usually departs from Victoria Coach Station or other specified pickup points in London.
The bus journey from London to Paris typically lasts about 7 to 9 hours, varying with traffic and the route taken. During the trip, the bus crosses the English Channel, either via a ferry from Dover to Calais or through the Eurotunnel. Onboard, passengers can usually enjoy amenities such as Wi-Fi, power outlets, and toilets, and some buses offer snacks and drinks for purchase.
Upon arriving in Paris, buses generally stop at major stations like Paris Bercy or Paris Gallieni. These stations are well-connected to the city's public transport network, making it convenient for travelers to reach their final destinations in Paris.
For a comfortable trip, it's advisable to pack light due to limited luggage space, keeping essentials and valuables in a small carry-on bag. Bringing your own snacks and water is a good idea, although there are typically stops for food and restrooms. For added comfort, especially on overnight journeys, dressing in cozy clothes and bringing a neck pillow can make the travel experience more pleasant.
Take the Ferry From London to Paris
Now this one I have looked into in soooo much detail as I was planning to take the ferry with my dog from France to London as its the best way to travel with animals. The only issue is post-COVID that many of the foot passenger services don't exist and most only let you bring your car…
If you're not in a hurry to get to Paris, taking a ferry to cross the channel is a one-of-a-kind, calmer, and more picturesque option. That's because it's the ideal way to see the Cap Blanc-Nez and the White Cliffs of Dover. The total journey could take between six and eight hours. But, most of the time, it'll depend on your train schedules, itinerary, and stops.
Taking a ferry from London to Paris involves a few steps.
First, you need to travel from London to a port in the UK that offers ferry services to France, such as Dover. From Dover, you can take a ferry to Calais in France. The ferry journey across the English Channel is scenic and takes about 90 minutes.
Once you arrive in Calais, you can continue your journey to Paris. This can be done by either renting a car, taking a train, or using a bus service from Calais to Paris. The overall journey, combining all modes of transport, can take several hours but offers a unique and enjoyable travel experience with beautiful views, especially on the ferry crossing.
You can book your ferry crossing here.
Ridesharing
This is very popular in France, but not so much in the UK. While I was in France I used BlaBla car all the time to travel around and it saved me so much money!
So if you want to save money for your trip from London to Paris, but don't want to take the bus, you may try looking for a ridesharing or carpooling service. The most popular is BlaBla car.
It's an arrangement that automatically gives you a random travel companion for the ride. In finding a carpool across the Channel from London to Paris, consider contacting carpooling or ridesharing providers.
Private Car Or Taxi
If you don't want to put up with any complication or delay, and don't mind paying a little more, you could arrange private automobile transport. Although most taxi services and ridesharing drivers rarely conduct such a long cross-border excursion, certain private transfer companies still do.
The driver will pick you up in London and transport you to the Parisian place you want to visit. In most cases, the journey will take between six and eight hours, depending on traffic conditions.
Obviously, this is going to cost you quite a bit! so this option isn't for the budget backpackers!
Final Thoughts
There you have it—eight different ways to travel from London to Paris. So, which way do you think is best? Whatever option you choose, keep in mind that you'll have to go through border enforcement and security, so ensure you already have all the essential travel documents prior to your trip to get in and out of each capital city sans any hassle. After that, enjoy the tour!
PIN FOR LATER!