Ireland is a popular European destination throughout the year. With stunning national parks, beautiful beaches, and delicious food, millions of visitors come to Ireland each year to enjoy the best of what it has to offer and some even decide to start living in Dublin, the capital, to immerse themselves in the Irish culture.
As content creators who live in Ireland, we would like to thank Claire for giving us the opportunity to write this guest post that combines these two aspects of our lives. Whether you are visiting Ireland for a year, a week, or a weekend, we are happy to share our tips on photographing Ireland and hope they will allow you to bring your memories to life!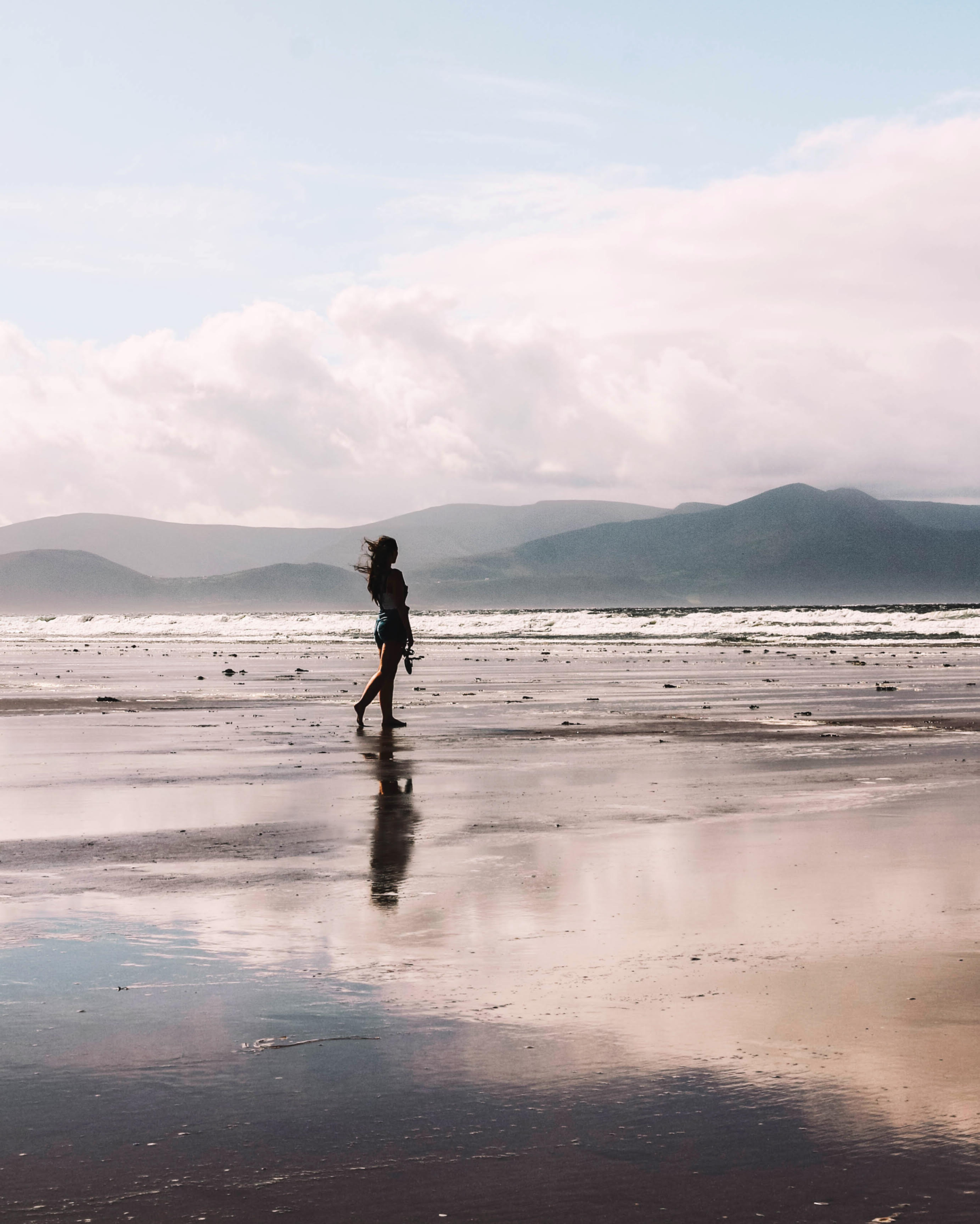 Did You Get Travel Insurance Yet?

If 2020 taught us anything, it's that you need to be prepared for anything!

The Insurance companies I personally recommend are Hey Mondo, Passport Nomads, Safety Wing, and Travel Insurance Master

Hey Mondo is great if you are looking for a great value flexible policy. They offer single-trip cover, annual multi-trip cover, and long-term travel cover.

Passport Nomads provides the most comprehensive cover for Digital Nomads. If you find yourself in need of medical care you just contact them and they will pre-load your card with the funds to cover your treatment, meaning you won't need to pay out of pocket and then put in a claim later.

Safety Wing is great value with monthly cover starting at $39. It's super easy to use and it just renews each month. I currently use them as they offer me free cover for my son as part of my policy.

I also use Travel Insurance Master for short trips.

Read my full travel insurance post here where I go into detail about all 4 companies.
Ireland is far from being short of gorgeous places to photograph. In this section, we have selected our favorite photo spots in several regions of the country.
1. Photographing Dublin City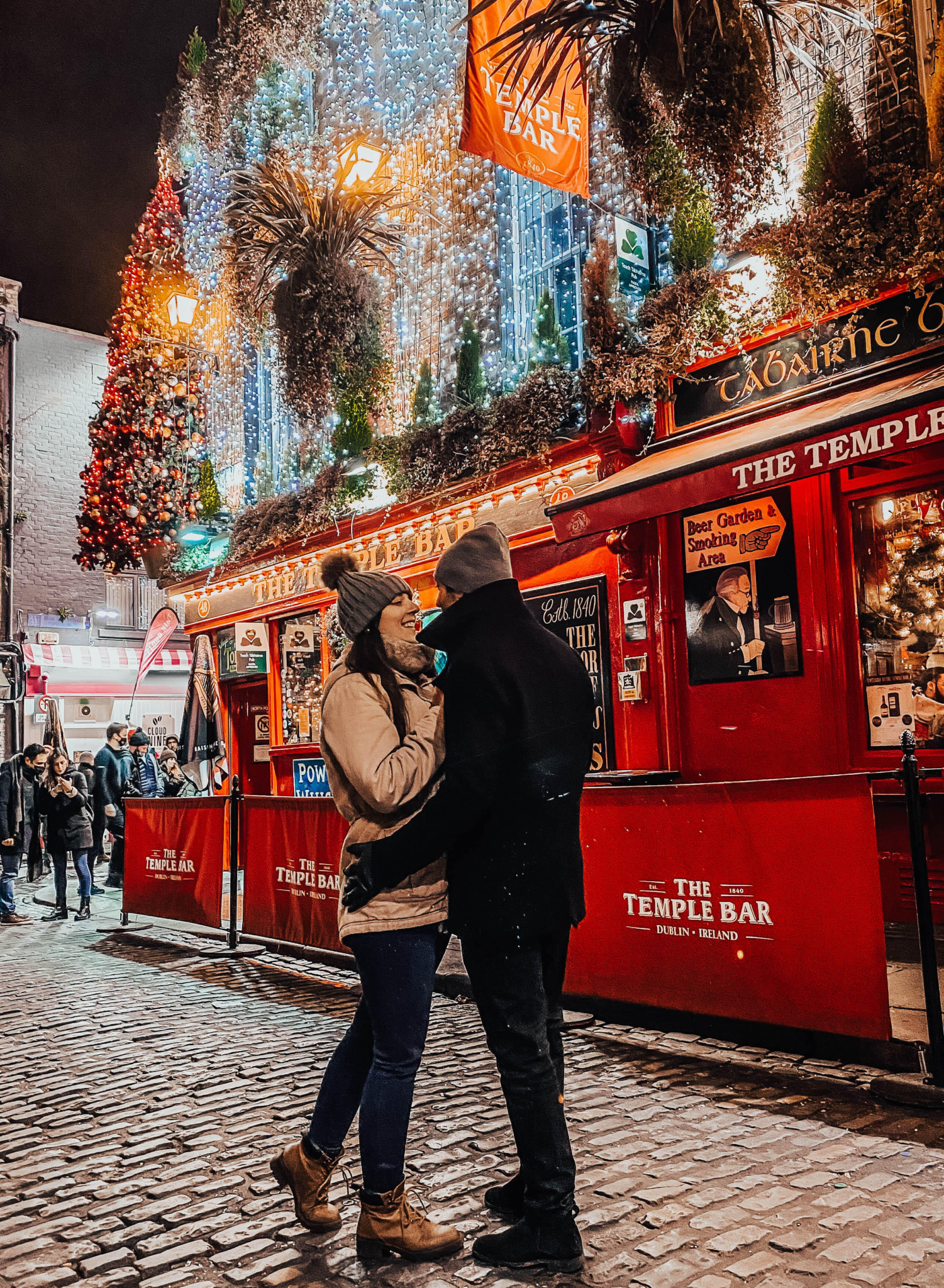 A guide to photographing Ireland would not be complete without a section on the best photo spots in the capital. As the capital of Ireland, Dublin is usually on any visitor's Ireland itinerary. From the most famous landmarks like Dublin Castle to hidden gems like the canals, Dublin is a bustling city with lots of different places to take photos.
To get to Dublin, you'll need to fly into Dublin Airport just north of the city. You can then hop on a bus or take a taxi which will take you to the city center in about 20 minutes. The fast bus tickets cost around €7 while a taxi is usually around €25. There are also cheaper buses available for about €2 per ticket but they take around 40-45 minutes to reach the city.
Below, we have gathered some of the best spots for photographing Ireland's capital.
The Temple Bar Pub
A trip to Dublin would be incomplete without a stop by the Temple Bar Pub. Located in the Temple Bar district which is known for its live music and Irish spirit, the Temple Bar Pub is an iconic institution in the country. It is especially interesting to photograph when visiting Dublin in the winter as it is all decorated for Christmas.
As every visitor tends to take photos right in front of the pub, it gets quite busy, sometimes to the point that you have to wait for your turn. Instead, we recommend taking photos from the side, where you'll have a great view of both the red wall and the hanging Christmas tree.
St Stephen's Green Shopping Centre & Park
From the glass and iron structure to the giant clock that hangs in the center, St Stephen's Green Shopping Centre is quite the unusual shopping center! Its unique architecture and style make it a great opportunity for creative and artistic shots. Some of our favorite spots to take photos inside include the stairs and the central platform.
If you're coming to Ireland in the spring, St Stephen's Green Park is also a great area to photograph as it is well flourished at that time of the year. From the Gazebo to the numerous ponds and grass spaces, it offers numerous opportunities for different photos!
2. Photographing Wicklow Mountains National Park
The Wicklow Mountains National Park is one of our favorite areas to visit on a weekend or even for a week. There are so many things to do in Wicklow and of course, so many beautiful places to photograph. The national park is located about an hour's drive from Ireland's capital Dublin, making it quite easy to reach.
There are several ways to get to Wicklow. for example, you can get there by bus, although there is only one in the morning that takes you there and one at night that brings you back to Dublin. You can also take the train to one of the coastal towns in Wicklow and then take the bus or taxi around the park although that is not the most practical way to get around. The easiest way to get to Wicklow is by car. You can rent a car at the big brand companies or you can use the GoCar app if you're just doing a day trip.
Below, we have gathered some of the best spots to take photos in the Wicklow Mountains National Park.
Powerscourt Waterfall
Powerscourt Waterfall is, in our experience, one of the best spots to photograph Ireland in the fall. At that time of the year, the park around the waterfall turns into a fall aesthetic wonderland. With orange-colored trees, a tall waterfall, several paths, and the river coming through, it offers lots of different photo opportunities.
Devil's Glen
The Devil's Glen is another hot spot for photos in the Wicklow Mountains National park. Just like the Powerscourt Waterfall, Devil's Glen is absolutely gorgeous in the fall. The walk is actually mostly under the trees so there are plenty of opportunities to take photos with red and orange colored trees.
3. Photographing Ireland from the Dingle Peninsula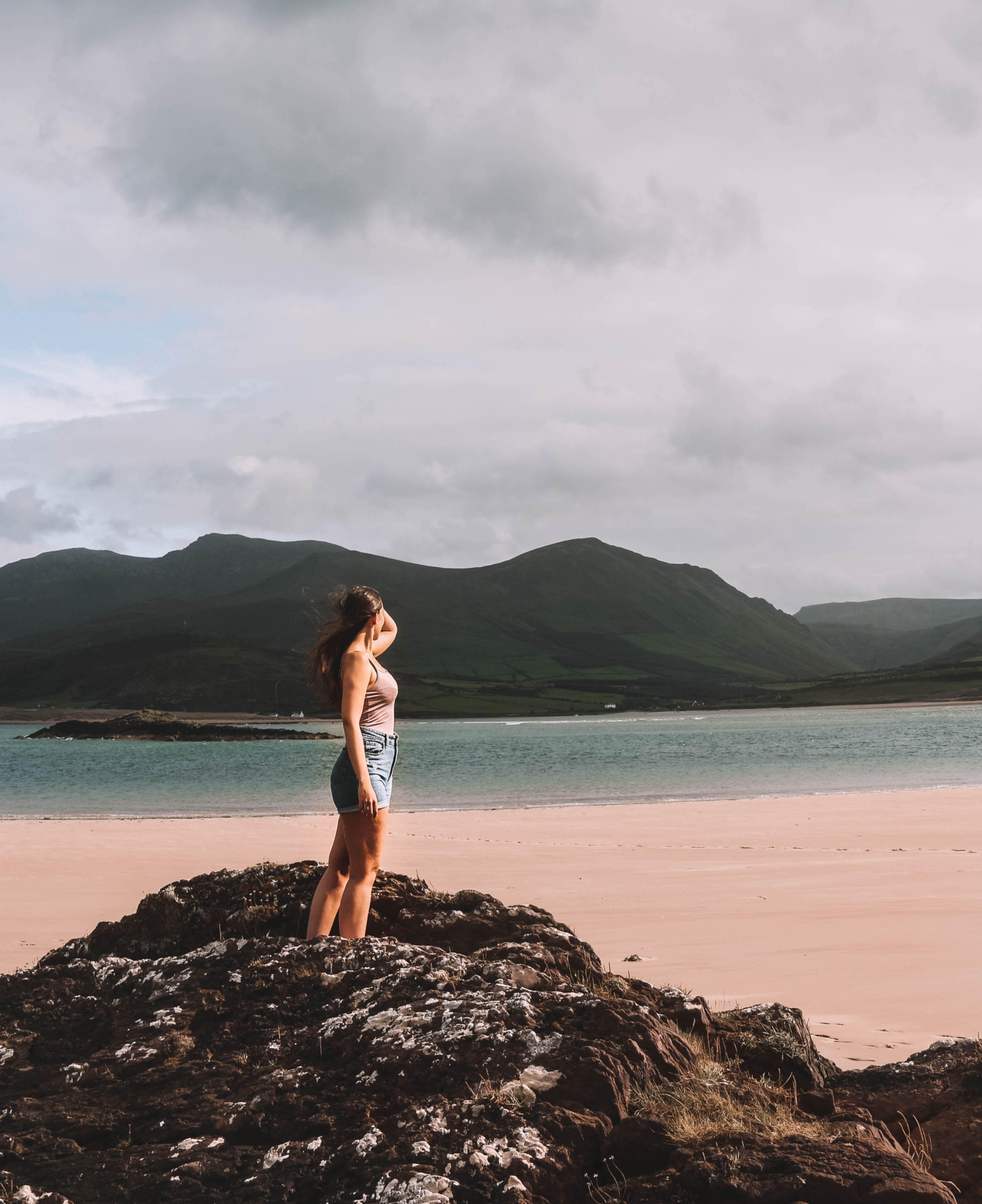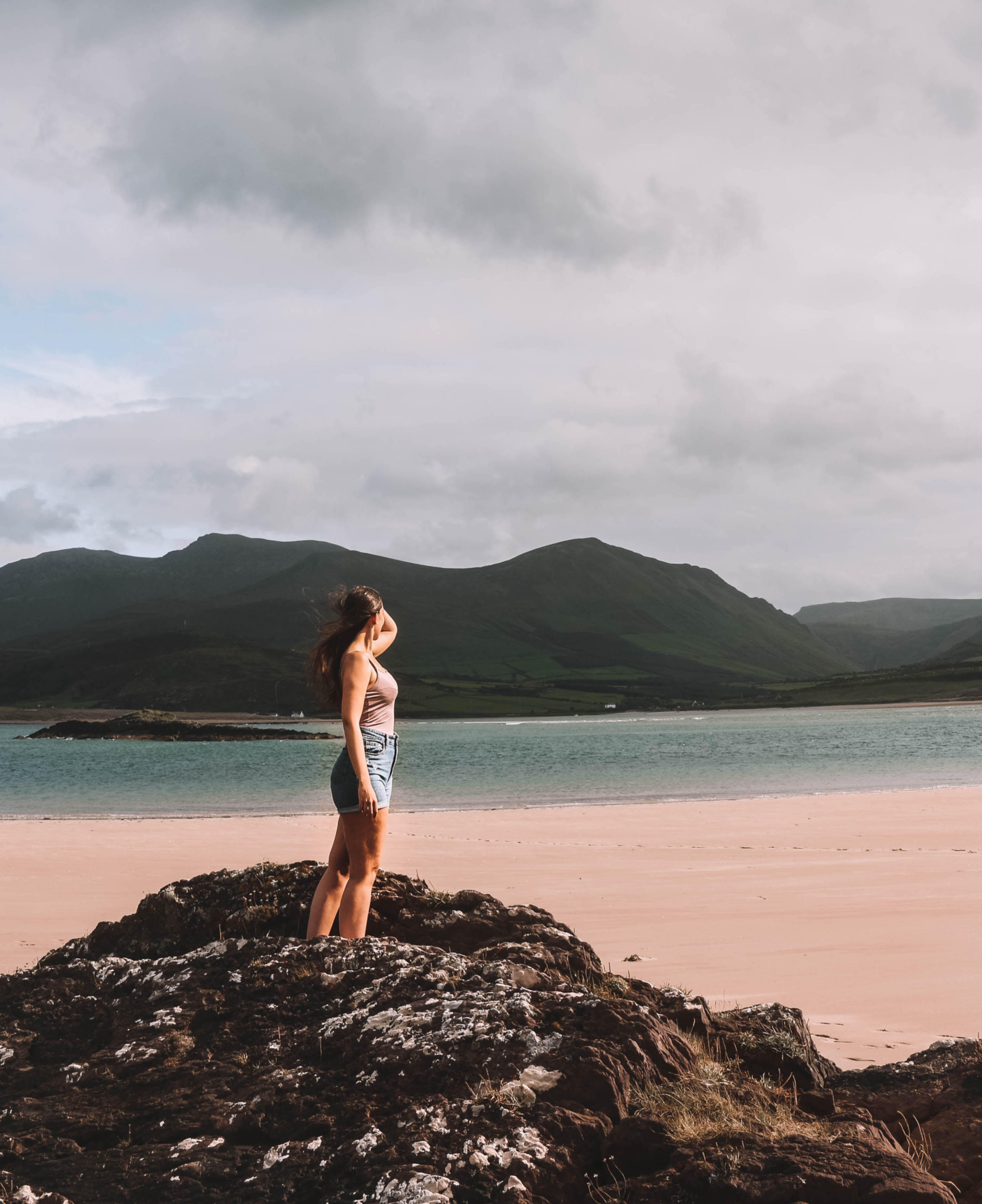 The Dingle Peninsula is the perfect spot if you want to come to photograph Ireland in a less busy area of the country. Located in County Kerry, the peninsula is often overlooked by visitors who prefer focusing on the Ring of Kerry just south of the peninsula. In this section, we share with you two underrated spots on the peninsula that make for great opportunities for photos.
Inch Beach
Inch Beach is located a few minutes from Dingle and is a strand of sand that extends over 5km. The beach, which sits right off the road, is made of compact golden sand. At low tide, it is possible to drive and even park on the beach. This is a fun experience in itself that we enjoyed quite a bit. That said, always make sure you are aware of the tide as some cars get stuck in the water!
The beach is a great photo spot. At low tide, there is only a thin layer of water in some parts of the beach which acts as a mirror and can easily reflect your subject. This makes for really creative shots.
The beach is also a hot spot for surfing. Surfing is actually quite a bit of a popular activity in Ireland so taking photos of surfers in action is a great memory to bring back from your trip to the country. Of course, you may want to try surfing yourself. If that's the case, know you can rent gear right on the beach for about €10.
Inch Beach is also a great spot to photograph the Ring of Kerry as you can see right from the strand.
Cappagh Beach
Cappagh Beach is definitely an underrated gem of Ireland. Located in the north of the peninsula, it offers a long strand of thin golden sand and turquoise and blue waters that are surrounded by tall lush mountains. The area made us think of French Reunion Island! When we visited, the sky was partly cloudy with rays of sunshine coming through which gave the beach a very dramatic look, perfect for photos!
What to wear in Ireland
If you're looking for a place to stay in Ireland, check out these options!
Luxury Hotel
Mount Wolseley Hotel Spa & Golf Resort
Mid Hotel
Budget Hotel
Skellig Port Accomodation – 2 Bed Apartment
Tips for photographing Ireland
Ireland is a stunning country and offers plenty of landmarks and nature spots to photograph. But Ireland can also be a bit difficult to photograph mostly due to the unstable weather. No matter the season that you're visiting Ireland, you're always taking the risk of vacationing in Ireland under the rain. Actually, some of the rainiest times we have had in Ireland were during summer! So here are some tips for photographing Ireland throughout the year:
Rain gear: We recommend always packing your rain gear with you, even if the sky is blue and the sun is out. The weather can change really quickly and we sometimes get the four seasons throughout the day. Trust us when we say it really isn't fun exploring Ireland to take photos without the right gear!
Camera protection gear: As we've lived in Ireland for over 3 years, our camera has definitely seen some raindrops a couple of times. That said, we always bring our camera protection case and make sure we pack it in a waterproof bag.
Pick the right time: The weather is often grey in the country and it can sometimes be difficult to find the right lighting to photograph beautiful places. In our experience, mornings are often nicer with the least clouds and softer light that makes photos clearer without harsh light spots.
Safety: Did you know that the Cliffs of Moher are actually one of the most deadly tourist spots? That's because, regularly, people move too close to the edge and fall off the cliffs while taking photos. Please stay on the paths and away from the edge of the cliffs. Instead of taking risks, use different angles and editing to get the best shots.
Security: Ireland is overall quite a safe country with most people, both locals, and visitors, being honest people. That said, we would recommend always keeping an eye on your gear and never advertising how much gear you are carrying or leaving in your car. In Dublin, always hold on to your camera, especially in busy areas like Grafton Street and Henry Street. Though we have never had an issue and have taken numerous photos with a tripod in those areas, you'd want to be careful and always keep your belongings close to you.
Author's Bio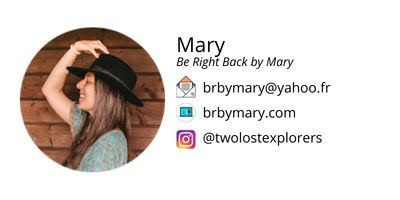 We are Eric and Marie, the part-time travelers behind Be Right Back and @twolostexplorers. From idyllic beaches to adventurous road trips, we focus on romantic travel in Europe and beyond. We also help people travel as they want without breaking the bank by sharing our budget travel tips.