If you are travelling around Colombia, I have no doubt that you will hear so much about the salsa heaven that is Cali! Other than free hostel Salsa classes throughout Latin America, I was never a dancer and really did not believe it was for me… however, I still ventured to Cali to try it out and boy was I wrong! I had one of the best weeks of my travels, learning to salsa and being whirled around at local Salsa bars.
I stayed for a week in Viajero Cali Hostel and Salsa School and cannot recommend it enough. With beds in a dorm room from £7 and a private room from £20, this is definitely a budget option for accommodation. (Scroll to see more accommodation options for varying budgets)
The beauty of this hostel is that it has everything you need to enjoy your time in Cali in one place. As well as really great hostel room facilities and bathrooms, they have a swimming pool (which is perfect after a salsa session in the sun), a bar (serving fresh juices and drinks into the evening), a food truck and the most important thing; Salsa lessons onsite. It is also worth noting that there were some of the friendliest hostel staff here – from the receptionists to the salsa teachers to the cleaners.
Did You Get Travel Insurance Yet?

The Insurance companies I recommend are Hey Mondo, Safety Wing, and Travel Insurance Master

Hey Mondo is great if you are looking for a great value flexible policy. They offer single-trip cover, annual multi-trip cover, and long-term travel cover. Safety Wing is great value, with monthly coverage starting at $39. It's super easy to use, and it just renews each month. I currently use them as they offer me free cover for my son as part of my policy. I also use Travel Insurance Master for short trips.

Read my full travel insurance post here, where I go into detail about all companies.
How to get to Cali
Before you can begin your Salsa journey (whether you are a beginner like me or a pro), you need to get to Cali. I went from Salento to Cali, which was a relatively simple and easy journey (as you will find in the link below) and then got a taxi from the Bus Terminal to Viajero (10-15 minutes). The Taxis use metres to work out the price and these tended to be very fair. For the rest of the time in Cali, we used Ubers to get around (however there is a bit of a legal grey area with these in Colombia).
To get to Cali from Salento read this.
To get to Cali from Medellin read this.
To get to Cali from Bogota read this.
Need to book transportation in Colombia?
I highly recommend booking all of your Colombia transportation with GottoGo. You can search for buses, shuttles, ferries, and Flights on their website. What I love most about them is their customer service. I know these guys personally from my time living in Guatemala and they really do look after their customers. So if anything happens and you get delayed and miss your bus, you can just call them and they are always there to help.

If you book through them you will pay a little more than if you book in person at the bus station. But it's worth it for the ease and security in my opinion. Click here to search for transportation in Colombia.
Salsa Classes
As Cali is often dubbed the Salsa Capital of the World (despite it actually originating in Cuba), there are unsurprisingly many options to learn here. You will be learning the Cali style of salsa – Salsa Caleña. So even if you have learnt before, I guarantee you will be wowed by the salsa here and learn A LOT.
Viajero Hostel and Salsa School offer classes within the hostel itself and you will undoubtedly see others in lessons while chilling around the hostel. They have two dance studios and also use some open outdoor spaces for classes. You can book private classes at the front desk, either in single lessons or in blocks of 5 or 10 hours for a discount on class prices, and you will be assigned one of the teachers at Viajero.
Costs of classes
You can choose to learn either Salsa or Bachata and they have the same prices.
One hour class:– 58 000 COP ($12)
Block of 5 hours:– 236 000 COP ($51) (Valid for 8 days)
Block of 10 hours:– 390 000 COP ($85) (Valid for 10 days)
Personally, I chose to try a one hour Salsa class initially and after having the best time ever, I booked the block of 5 hours of classes. I was given Luis as my teacher, and then organised all of the lesson timings directly through him. During my week stay, I did one or two hours of private lessons a day (with one day off due to a heart-breaking dance-related injury) and this felt like the perfect amount for me.
Over the course of the week I learnt so many new steps, as well as how to follow to signals given to me by my dance partner (which helps when you are let out into the wild to Salsa). I am definitely still no dancer, but the joy it gave me is unlike anything I've experienced.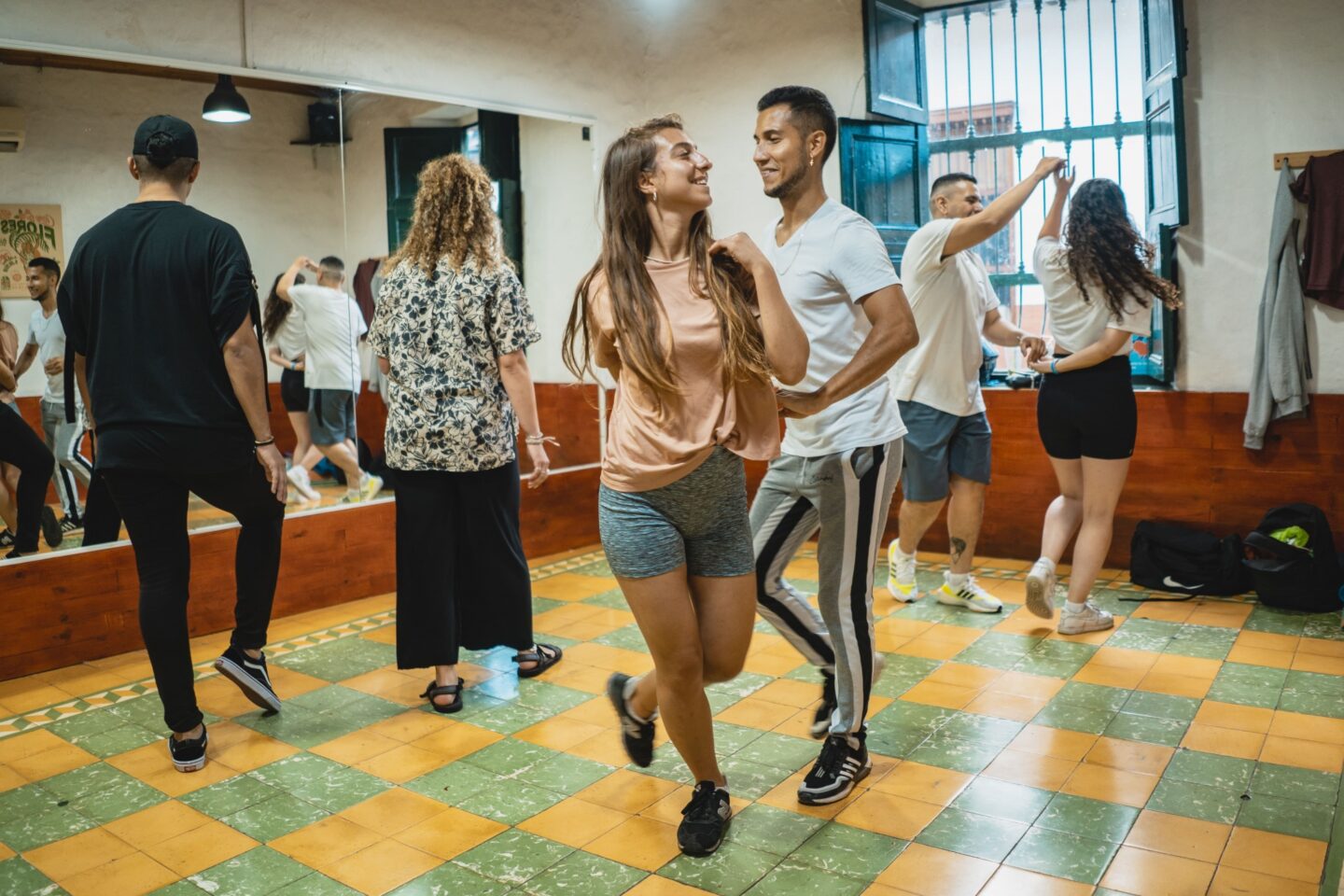 Along with the private lessons, Viajero ran free group salsa lessons every evening (the times varied between 5-7pm) and then a free Urban group class following these. Unlike other hostel salsa lessons I had done during my travels, each class featured new moves instead of going over the basic forward-backward step for the 100th time. Each group class was taught by a different teacher at the school, so it was a great chance to see their teaching style as you could then request them as your private teacher.
Where to practise Salsa (Cali nightlife)
One of the best things about Viajero Hostel, is how helpful the reception team are for recommending places to dance the night away. They will tell you which Salsa bars are best each night, but conveniently La Topa is right around the corner. This soon became my favourite place to go out in Cali (and potentially Colombia which is a very bold claim!)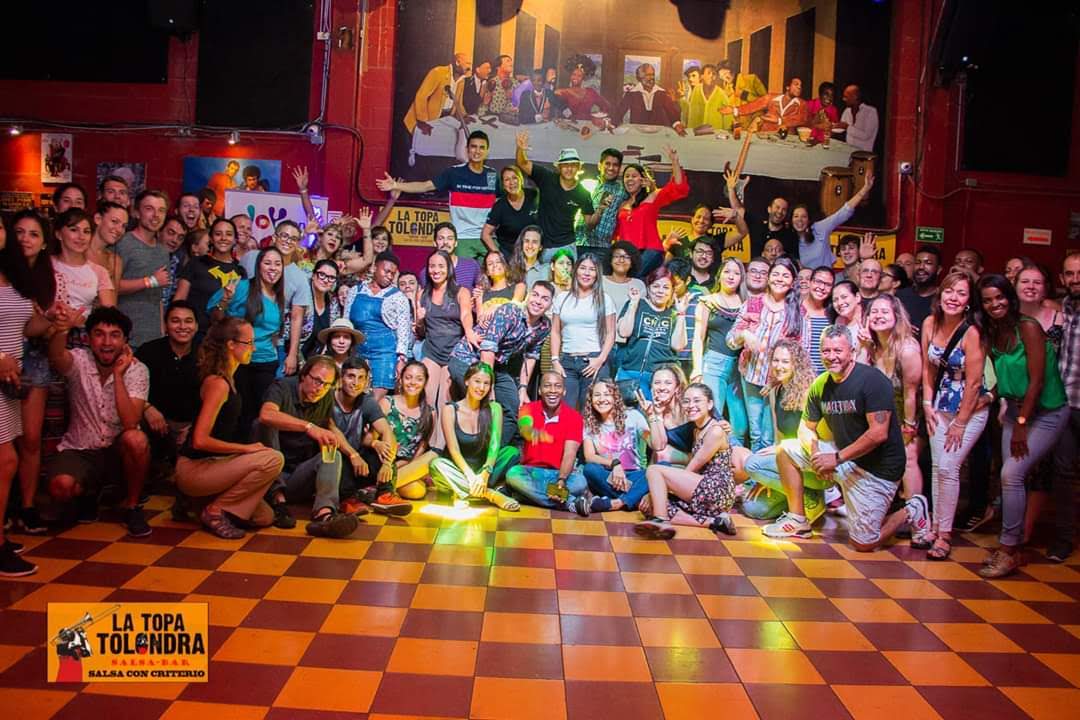 La Topa
They were open every night we were there (except a bank holiday), and even though it is busiest on a Saturday or Wednesday, I found it was a great place to practise my new moves any night. They also run group classes prior to it turning into a Salsa free for all, so definitely check on their Instagram for whether they have classes on.
I'm sure you are wondering why La Topa was so magical – well… it's hard to capture the feeling in words, but I truly felt like I was in a different world. My first night there I was so nervous at the prospect of being asked to dance (with no private lessons yet), but as soon as I danced a few times my confidence grew in leaps and bounds. As with learning anything (like Spanish), the more you practise, the better you get. And luckily, the local men loved teaching us while we danced (some had more patience with my lack of rhythm than others).
La Topa appealed to me more than other Salsa Bars as there was a huge dance floor so lots of room to dance and as I mentioned before, it was super close to Viajero. I would still recommend that you always get an Uber or taxi back, as we were given some warnings about safety in Cali (we never personally had any issues but it is always something to bear in mind).
If you want to mix it up a little then head to Alameda Park (Parque Alameda). If you go a little early you can have some food and soak up the vibes. Around the park are some of the best places to dance Salsa in Cali and because there is a lot of choices here it's great for newcomers as you can try a few different places.
If you want to dance more than just Salsa then head to a club called Cafe Mi Tierra. Here they play a mix of salsa, bachata, reggaeton, and more.
Where to stay in Cali Colombia
Though Viajero Hostel Cali & Salsa School has a special place in my heart, below are some other options for accommodation in Cali. You can still go to Viajero for lessons if you wish, however there are many classes over the city – so researching the ones closest to your location with the best reviews is probably your best bet!
Budget Hotel
Mid Hotel
Luxury Hotel