When I heard about a language course in Colombia that combines Spanish classes with yoga and Salsa I was sold. I knew it was something I needed to experience. Then when I found out it was held in an Ashram in Cali Colombia I was sold. Learning Spanish and Salsa in Cali Colombia, YES PLEASE!
To give you a little context, I've been living in Latin America and trying to learn Spanish for 3 years now. Unfortunately, my dyslexic brain hasn't been as willing to learn a new language as I would have liked. I really did believe that I would be fluent in Spanish by now, but here we are! Although I do have a pretty good grasp on some things and can understand what is being said to me 90% of the time. It's just the forming full sentences and speaking that hasn't been so easy for me. I'm also a yoga teacher and have been dancing salsa (although not Cali style) for 2 years. So if anything I was a little worried that the program might be too basic for me.
That said, I'm a firm believer that you can ALWAYS learn something for every experience you have so I signed on the dotted line and made the journey from Salento to Cali to do the YES.Academy immersive Spanish program.
How to get to IKY Ashram
To get to Cali from Salento read this.
To get to Cali from Medellin read this.
To get to Cali from Bogota read this.
I personally arrived by bus and I didn't want to mess around on the bus (because I was being lazy and for this trip, I wasn't on a tight budget. So I took a taxi from the bus station which cost me $30,000 pesos.
If you are on a tight budget and don't mind the adventure of catching a bus from the bus terminal. From the Bus Terminal, you can take any bus heading in the direction of Jamundí. Check with the driver that it takes the Panamerican way. Tell the driver you want to be dropped off at the La Mazorca Tierna Restaurant, The Ashram is 50 meters behind the restaurant.
In my experience bus drivers in Colombia are extremely helpful. So if you let them know where you are going they will normally remember to tell you when you are there and stop for you. If you are worried though just follow along with the map on your phone. It should take around an hour to get there on the bus.
If you fly in you can also take an airport taxi for around $50,000 – $80,000 pesos directly to the Ashram. Alternatively, you can take the bus to the Cali but terminal and then follow the instructions above.
Program Overview
The idea of the immersive Spanish program is for you to be able to fully dedicate yourself to learning Spanish, yoga, and salsa over a 2 week period. Although you aren't going to be a master of any of these things in just 2 weeks, for beginners it's the perfect amount of time to give you a solid foundation. Or if you already have a good base, it's a good amount of time to build on that.
Personally, each time I've done a block of Spanish classes I've found 2 weeks just the right amount of time for me before I need a little break to practice what I've learned before learning anything else new.
The beauty of this course is because you are living in the Ashram and getting 3 meals a day you can completely dedicate yourself to your learning without distractions. As I sit and write this the day after the course ended I can honestly say I haven't felt this chilled out in years! My Spanish has taken big leaps forward, I feel calm and focused after all of the yoga and meditation, my body feels amazing after returning to vegetarianism for 2 weeks, AND I can now bust out some Cali style moved on the dance floor.
So, all in all, it was 2 weeks very well spent!
The Schedule
I personally found the schedule pretty perfect. There was just the right balance of study time and relaxing time. Here is how a normal day in the Ashram for me was:
5:45 alarm – I woke up early as I was doing the Deepak Cokera 21 days to abundance meditation each morning. It was the perfect way to start my day.
6:30 Mantras
7 – 9 am Yoga, Meditation, and Pranayama
9 am Breakfast
10 am 12 pm, Spanish class
12 pm Lunch
2:30 or 3 – 4 or 4:30 pm Second Spanish class (the set time is 3-4:30 pm but as a group, we opted to have a slightly shorter lunch so we could have an hour to rest after the Spanish class and before salsa.
4 – 5 pm break
5 – 6:30 pm Salsa class
6:30 pm Dinner
7 pm optional Yoga Nedra
After that, you are free to relax, get an early night, or do some extra study!
There were some variations, for example on Mondays there is no Salsa class in the Ashram as they will take you to a well known Salsa club for the group class there and some social dancing after. And on the final Friday, there is no class as there is a group trip to a different salsa club together to practice all of your new moves in a social dance setting.
Weekends are also different. On the first Saturday, you take a bus into Cali and do a tour of the market and the San Antonio area, and Sunday is a free day. On the final Saturday, there is normally a fire ceremony, but unfortunately, there were not enough of us to experience this.
Maya Yoga
I feel like seeing yoga on the program may put a few people off (guys I'm looking at you). But you really shouldn't. The classes are very slow, in both English and Spanish, and very well suited to beginners. Even though the classes are very accessible for complete beginners to yoga, as a yoga teacher it was very interesting for me to learn a new style of yoga. I especially enjoyed the meditations and mantras.
What I really liked about the yoga classes each morning is that I was starting each day preparing my mind. I was relaxed and in a calm state to begin learning.
Spanish Classes
My group was just 4 people and we were all at a similar level. I'd actually already covered most of the grammar in other classes, but a lot of it hadn't stuck. So these 2 weeks for me were about filling in all of the holes I had and improving my ability to string a cohesive sentence together.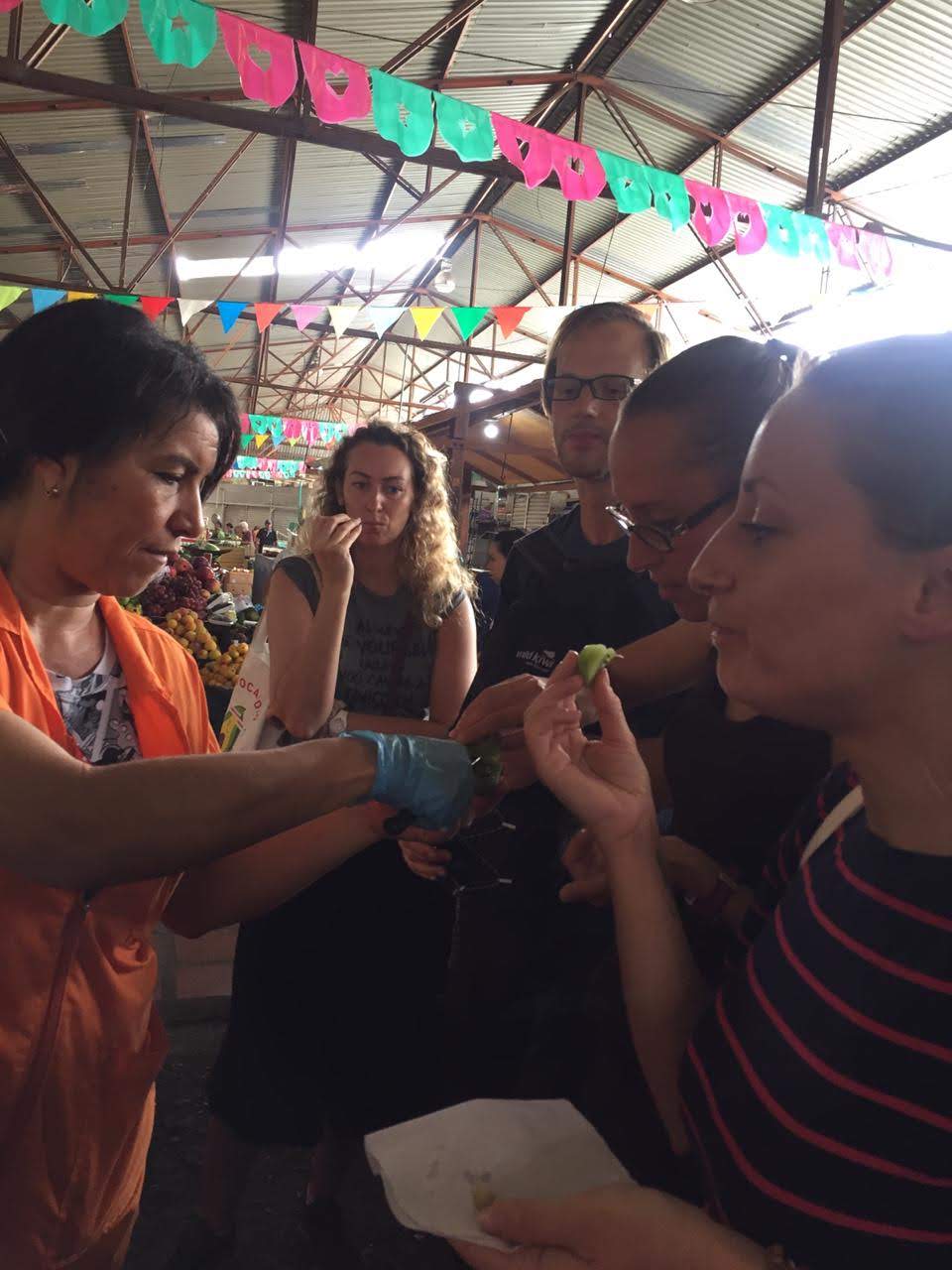 I asked to cover body parts and movements, basically, everything I need to teach yoga in Spanish better. So Maria our teacher made time to do some exercises each day to stand up and do some fun exercises moving bodyparts. We also asked to briefly cover the basic past and future tenses which she also included for us all. I really loved how much effort Maria our teacher always put into ensuring we got what we needed from the cause. She really did go over and above for all of us.
Salsa Classes
This really was always a great end to the day for me. The teacher Sofi, is amazing and has such a wonderful way of making it fun. Although I dance to a decent level of Salsa, salsa in Cali Colombia is like nowhere else on earth. They dance their own style of salsa here. But even so, it didn't take me long to get the hang of the basic steps.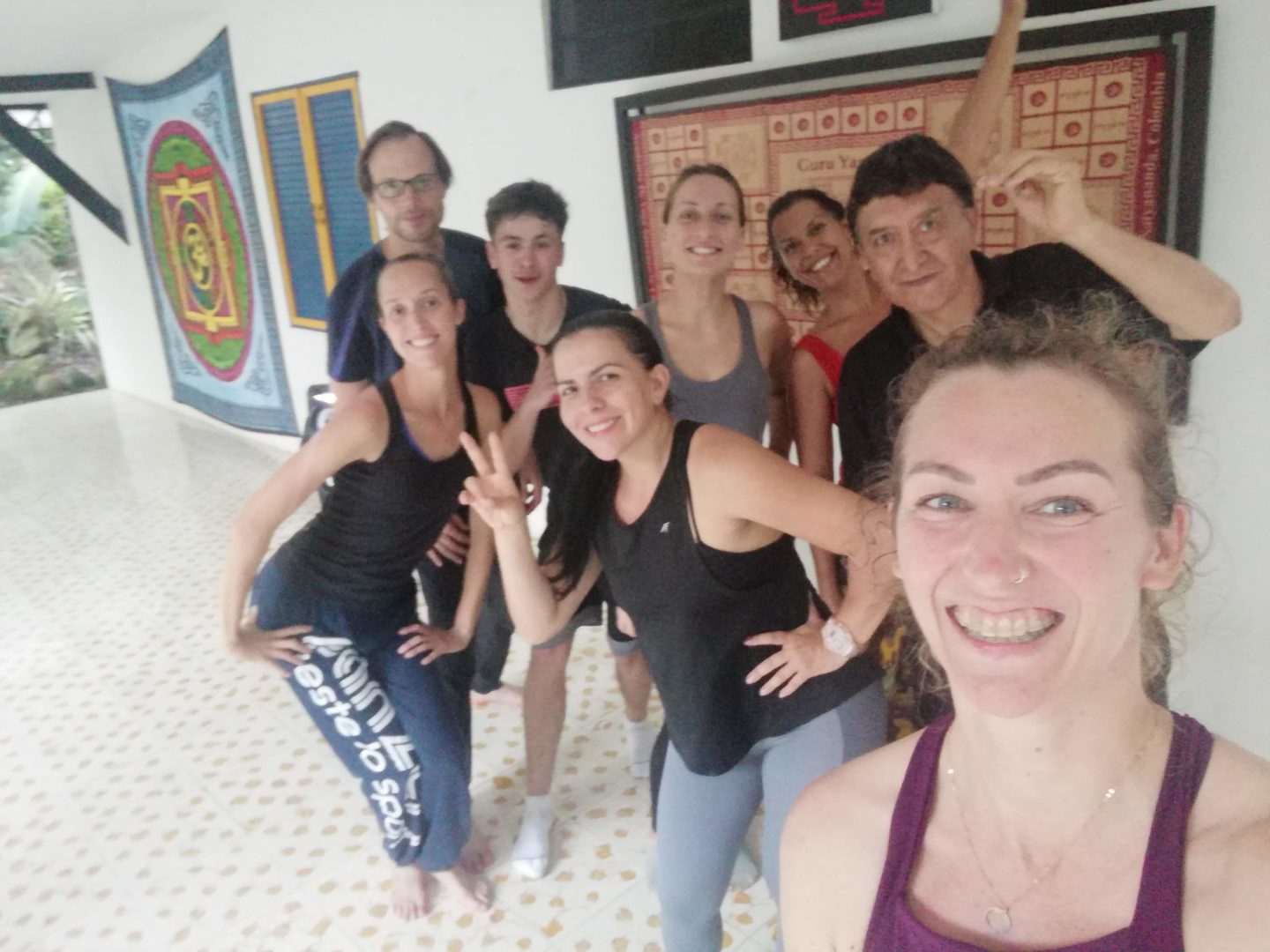 So to make things more challenging for myself I spent the 2 weeks learning the lead, which was so incredibly useful for me. I also asked Sofi to go over some arms for me which she was happy to do. She also always took time in each class to dance with me so I was able to get to practice being a follower too.
When I first started dancing socially in the nightclubs of Medellin it took me forever to be brave enough to actually dance. I was so unnecessarily hard on myself as I didn't want to get anything wrong. So I love the fact that they literally take you out to dance 3 times on the course. As a new dancer, this is gold, especially for the guys! Maria our Spanish teacher came with us to all of the clubs and made a real effort to help the guys practice. She also knew a lot of people there and encouraged us to dance with the locals. For those new to salsa, I know this was a really great opportunity to practice without feeling embarrassed about being a beginner.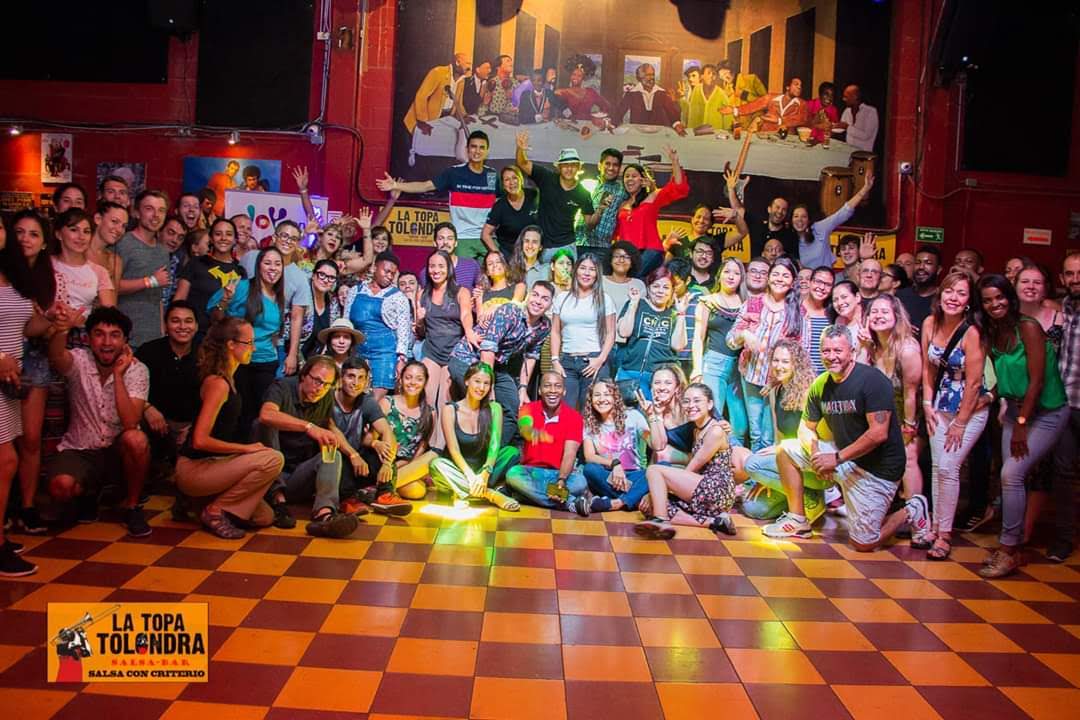 On the last Friday night when you go to a different club, Sofi and a male 'taxi' dancer came with us and we were able to really bust out some moves!
Ashram life
This is important. This program happens in an ashram. Although they are not as strict with those on the YES.Academy Program as they are on the people staying in the Ashram, but there are still rules you need to follow, and things you need to be aware of before deciding if this is right for you.
Food – you can eat what you want. But you will be served 3 vegetarian meals a day. Its very basic simple food so don't go expecting 3-course al a carte evening meals and you'll be fine. I actually found the food delicious and I never felt hungry once. After eating so well I honestly felt great and it's put me back on track of not eating meat. I was actually a vegetarian for years before I got sick and I only started eating meat again a year ago.
If you really don't think you can live without meat you are free to go to the supermarket and buy your own meat to prepare in the kitchen, but I'd strongly advise you to give vegetarianism a try for 2 weeks, you might just like it!
Smoking, Alcohol, and Drugs – These things are an absolute no-no. You can not smoke, drink alcohol or taking any mind-altering substances while in the ashram. If you want to smoke (some did) then you will need to just walk off the grounds of the Ashram to do so. We had a few drinks while out in the salsa clubs, but you can't drink on the grounds. The Ashram is a secret space so these rules need to be respected.
If you think you can't live for 2 weeks without eating meat and sinking a bottle of wine before bed, you probably want to look for a different program!
It's an Ashram, not a hotel or hostel – Please adjust your expectations. There will be no maid service. The accommodation is basic but very comfortable. I actually had my own room which I really liked so I could do meditations and self-study without distractions. You will have everything you need, but just don't go expecting 5* luxury!
Respect – I think the biggest thing I can say to prepare you for Ashram like if it's a new experience for you is to really take the time to think before you act and always act from a place for respect. Respect the silence in the morning. Don't take too much food, have respect for others and only take extra once everyone has eaten. It can really be a beautiful experience if you are open to it and it will teach you some self-awareness.
The Ashram staff are much more relaxed with the rules with the people on this program than they are with the general visitors to the ashram. They all have to sign a contract agreeing to the rules and that they will go to all of the yoga classes including doing 2 hours of karma yoga a day, which we didn't have to do. You don't need to worry about this, it's just good to know.
What to pack
They will give you some advice about what to bring on your joining instructions. But here are a few things I would advise you to bring.
Warm clothes – it can get cold at night and in the morning. As a lot of the yoga class is seated or in Shavasana (laying down) you are going to want to make sure you are wrapped up. So socks, long pants, jumpers, and even a warm jacket if you have it.
Yoga mat – only if you have one. They do have them there, but I prefer to practice on my own mat and I have a yoga mat specifically for travel.
Notebook and pen
Socks – you won't be allowed to wear shoes for the salsa class so make sure you have some socks to dance in as it can get pretty hard on the feet.
Nice clothes – of course, this is optional. But its nice to put on something nice when you go out to the clubs. Try and make sure you have pockets to put your money in so you don't need to worry about a bag.
Yoga clothes – leggings and yoga tops. You don't need anything fancy, you just need to be able to move.
I would also advise going to the supermarket to buy some snacks, fruit, tea, etc. I often needed a little something before the yoga class so I made sure I always had a lot of fruit on hand.
Then just your normal packing list of things you travel with.
Cost
If you are still on the fence about booking on this course then do the math. During the 2 weeks, you will need very little money. All you will need is money for weekend meals and any drinks you may want to buy at the salsa clubs. I hardly spent anything while I was there.
The cost for 2 weeks in a dorm is $433 USD
Add a little extra for weekends meals and drinks to bring it to $500 USD
Divide that by 14 days it comes to $35 USD a day for 2 weeks of food, and accommodation. PLUS you are learning Spanish, yoga, salsa. And you also get a tour of Cali and 3 evening trips to salsa clubs with the transport and cover paid for you.
So even if you are a backpacker and on a super tight budget, this is one investment worth making. Plus knowing Spanish will 100% save you money while traveling in Latin America. I can guarantee as a Spanish speaker I will get a better deal on most things involving negotiation that you will as a non-Spanish speaker, think of the long game!
Are you ready to book?
For a shared room, the cost is currently $433 USD and for a private room, the cost is currently $508 USD you can book using this link.
PLEASE NOTE THAT THE USD PRICES ARE JUST FOR REFERENCE. THE DEPOSIT CAN BE PAID IN UDS BUT THE FINAL CASH PAYMENT THAT YOU WILL MAKE WHEN YOU ARRIVE IS IN COP.
Prices are correct as of March 2020.
Still, have questions? Contact YES.Academy directly and they will be able to help you with anything you need to know.
[email protected]
WhatsApp +57 3146016174
You can visit their website directly here.
If you do book, please let them know that you learned about the program from me!
Where to practice your new dance skills in Cali
So the course has finished and you are ready to go out into the world and bust out your new moves on the dance floor of some of the best clubs in Cali. Good for you! I'd recommend spending at least a few nights extra in Cali so you can party (or Rumba) a bit.
I recommend staying at the El Patio Hostel in San Antonio. It's where I stayed and not only is it in a great location, but it's cheap, super cute and the couple that run it are very lovely. Oh, and there is free coffee in the morning!
If you want to go where the Colombians go then try the Topa T It's where they take you both Mondays of the course but on a Saturday night, it gets much more crowded. If you want to mix it up a little then head to Alameda Park (Parque Alameda). If you go a little early you can have some food and soak up the vibes. Around the park are some of the best places to dance Salsa in Cali and because there is a lot of choices here it's great for newcomers as you can try a few different places.
If you want to dance more than just Salsa then head to a club called Cafe Mi Tierra. Here they play a mix of salsa, bachata, reggaeton, and more.