Are you looking for day trips from Medellin? Medellin is Colombia's second-largest, and busiest city. It also just happens to be one of my favorite cities in the world, the vibe in Medellin is unlike anywhere else. When I'm here I pretty much spend all my time dancing salsa and bachata, improving my Spanish skills, and drinking coffee.
One thing I would say though is it's more of a digital nomad city or a city you want to stay in for a while. 3 days in Medellin isn't really going to be enough to get under the surface of the city. But after a few weeks living in Medellin, you are going to want to get out and about and do some exploring!
To help you navigate your way around I've put together this guide to some of my favorite day trips from Medellin including some notes of how to get there.
1. Roam Around Guatape
Guatape is a colorful town with fantastic views of lush and green mountains located at the east of Medellin. The Guatape tour is one of the most famous tours, and the amazing viewpoint from El Peñol is a must on your to-do list if you are in Medellin.
The bright and vibrant colors of the buildings with colonial heritage give a happy and sweet vibe. From almost every hotel terrace visitors can appreciate an incredible view of the mountain El Peñol. El Peñol is a 200-meter high rock, and why is this interesting? Well, you can climb the 270 stairs to reach the top of the rock to appreciate the astonishing view.
You can easily get to Guatape by bus from El Poblado bus station. However, I decided to just book on a tour to save the hassle of dealing with public busses. I'd say if you want to go and spend the night, go on the bus. If you want to do this as a day trip, do a tour, it's not expensive and it will save you time and hassle.
Click here to book your trip to Guatape.
2. Relax at Arvi Natural Park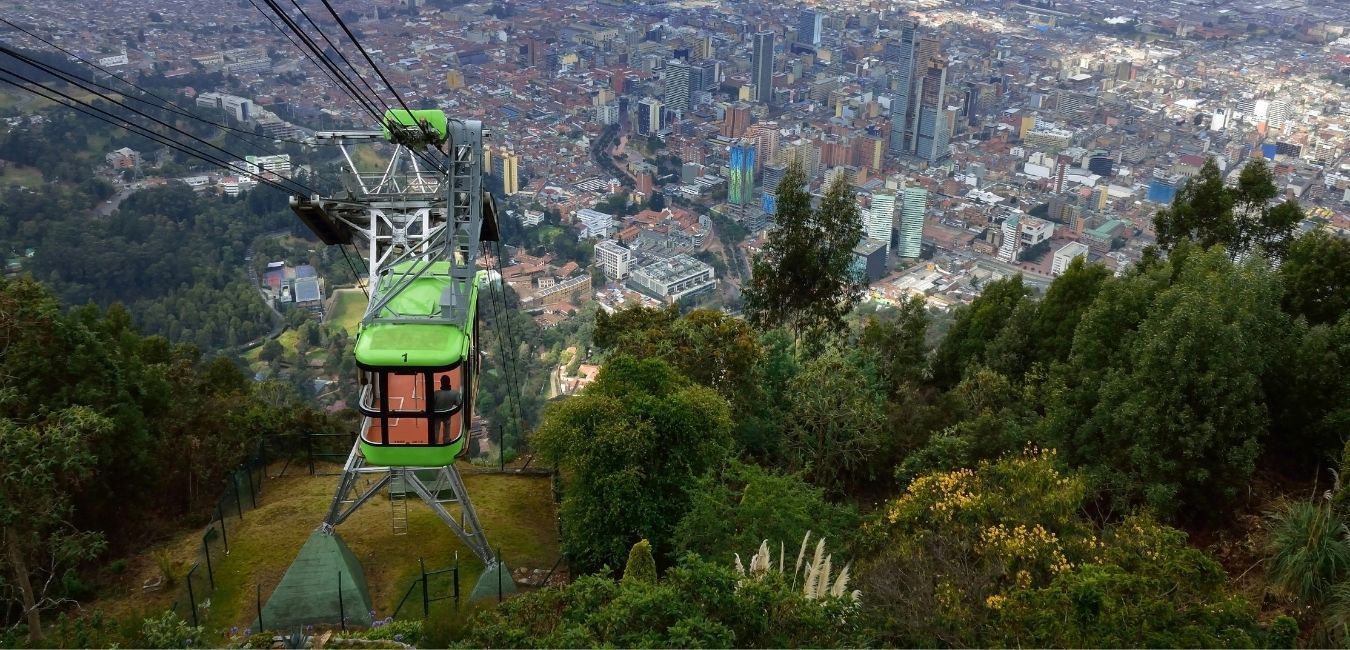 This is a regional natural park close to Medellin you can reach by public transportation, metrocable, or by car directly from Medellin. The huge Arvi park is located northeast of Medellin surrounded by the Andean Mountains. There are several activities close to nature you can choose from.
Because of the size of the park, there is only part of it you will be allowed to enter without a guide. If you want to really explore the park you will need to book a tour. To make things a bit more interesting you can also book horses to ride, bikes, or you can just hike!
As well as all of the flora and fauna there are lots of birds to spot for any birders out there.
Click here to book a tour of Parke Arvi
The last time I went to Arvi park I went with Colombian Buddy. I had such a great day with Mau my guide. This is a great option if you are new to the area and don't want to go to the park alone. To learn more about Colombian Buddy click here.
3. Visit San Rafael
San Rafael is an "off the beaten path" town close to Medellin where you will find fresh-water rivers and lagoons, this is an undiscovered paradise tourist attraction. It is at a much lower altitude, so the weather is warmer which is perfect for swimming in the fresh waters coming directly from the pristine mountains. It is definitely another perfect place for nature lovers.
You can easily get here by public bus, or you can do it as a tour with Guatape if you are short on time.
Book a tour of San Rafael here
4. Drink Colombian Coffee at Jardin
Yet another town about four to five hours away from Medellin where coffee is life. This is a colorful town with cafes and restaurants that take their tables out on the cobblestone streets from where you can have a view of the coffee plantations in the surrounding mountains. The small town consists of almost 14000 residents and is a relaxing place away from Medellin's bustle.
I didn't make it to Jardin on my last trip sadly, I got stuck in Salento too long! But from what I've been told it's a less developed and 'touristy' version of Salento. Although it's closer than Salento, transport is a little more difficult as the buses aren't as frequent.
5. Go Paragliding at Cocorna
This is a small town located less than two hours away from Medellin well worth visiting for a day trip from Medellin. Why do people come here? Mostly to get their blood pumping by paragliding.
You can see the whole city, mountains, and rivers just like a bird. So I'd say you strap up and get ready for paragliding over Medellin and have an amazing experience of a lifetime! I would book this ahead of time with a company that will pick you up from Medellin to save the hassle of getting yourself there.
Click here to book your paragliding tour from Medellin.
Are you ready to book your trip?  To help you get the best deals and service here are the companies that I personally use to book all of my travel online. I always shop around before booking anything, but these are my tried and tested starting places.