Are you planning a trip to Salento Colombia? In this post, I'm going to go into detail on everything you need to know about traveling to Salento and also how to get to your next destination after Salento. Salento travel is pretty easy and in my opinion, traveling to Salento in a bus is probably the easiest and cheapest option, but it is also possible to fly to Salento from Bogota, Cali, Medellin, or any other Colombian airport.
In the following blog post, I'm going to cover how to fly to Salento, as well as how to take the bus from Bogota to Salento, Medellin to Salento, and Cali to Salento. Of course, I'll do it all in reverse too so you will know how to get from Salento to Bogota, Medellin, or Cali.
To make it easy for you to use the table of contents to skip to the relevant starting destination for you.
Please note that these instructions on how to get to Salento Colombia as correct as of February 2021. Of course, things do change, so please if you do notice any out-of-date information drop me a line to let me know so I can ament it.
Did You Get Travel Insurance Yet?
If you are planning a trip right now then you NEED to think seriously about insurance. If 2020 taught us anything, it's that you need to be prepared for anything! Travel insurance has always been high on the list of things to get before you travel but now more than ever it should be at the top of your list! I'm pretty sure we have all had travel plans messed up because of COVID and not all insurers covered this. So you need to find an insurer that covers travel disruption due to COVID-19, World Nomads, Safety Wing, or Travel Insurance Master are the ones to go for.

World Nomads is great for incidents that happen prior to your trip, so if you get sick or are unable to travel due to travel restrictions some of their policies will cover that as cancellation cover.

Safety Wing goes the extra mile and covers quarantine outside your home for up to 10 days, they also have a really handy map on their website showing requirements and restrictions for each country.

I also use Travel Insurance Master for some short vacation type trips as they are cheaper than World Nomads a lot of the time.

If you are doing shorter trips or a longer backpacking trip then WorldNomads or Travel Insurance Master are the best option. If you are a digital nomad or planning travel of at least 6 months then go for SafetyWing.
Flying into Salento
Is there a Salento Colombia airport?
No there isn't but the closest airport to Salento Colombia is in Pereira (PEI) which is 27.1 km away. The other airport that is very close to Salento is Armenia (AXM) which is 29.2km away. Armenia airport near Salento Colombia is the better choice as it's a little bit easier to take a bus from Armenia to Salento as the buses leave every 20 minutes. The Pereira to Salento bus doesn't run quite as frequently.
Direct flights to Salento are frequent from Bogota, and you can easily book one-stop flights from Medellin, Cartagena, and Santa Marta. Cali is only a 3-hour bus ride away. So I really wouldn't recommend trying to fly from Cali to Salento.
Flight times to Salento: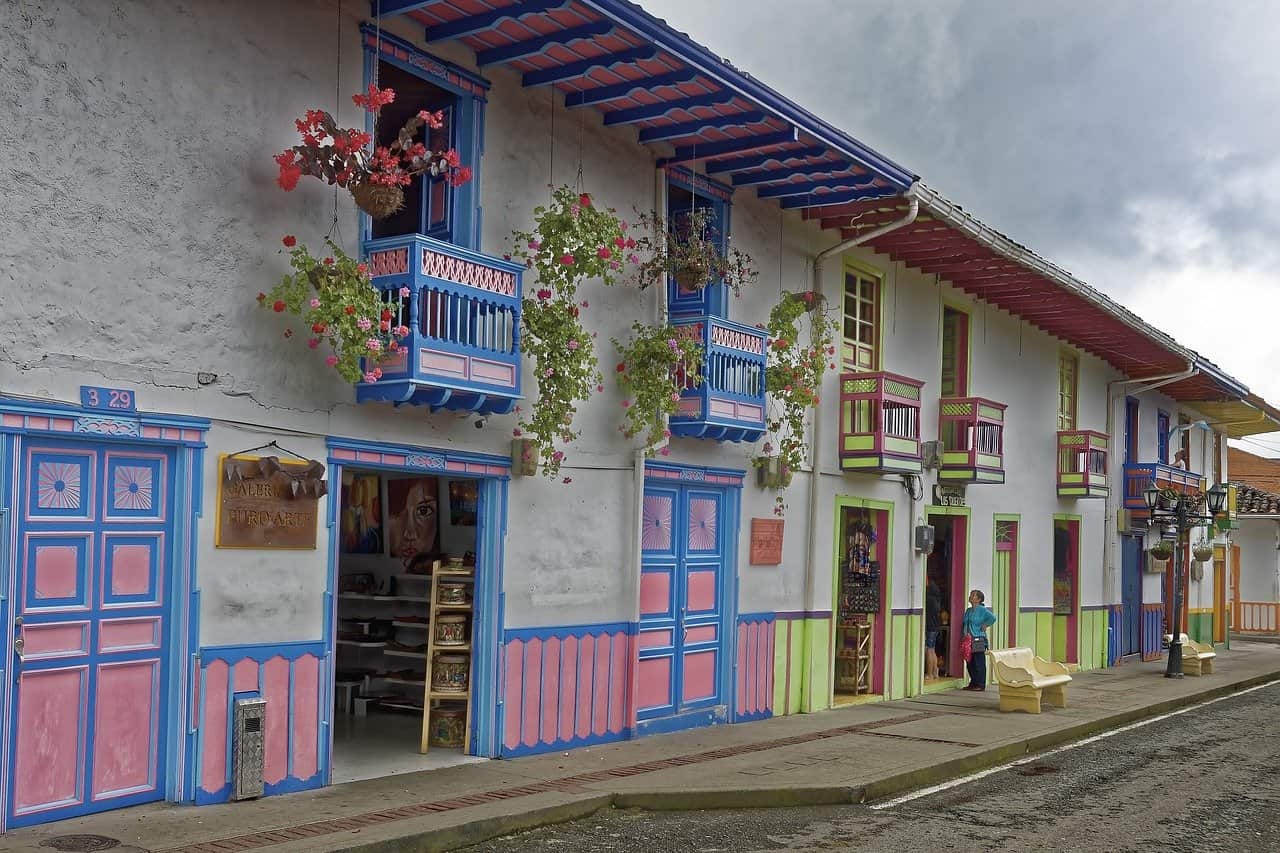 From Bogota to Salento flight details:
You can fly with Avianca to Armenia for around $50 USD and the flight time is under 1 hour.
If you fly into Peredia from Bogota the flight time is under 1 hour and the flight is operated by Colombia budget airline Viva Colombia.
This means you can get some very cheap flights to Salento. But be warned you will have to pay for baggage and be sure to read the fine print. It's the same company as European airline Ryanair and they like to do the same tricks to get people to pay more money. So make sure you print your boarding card etc. Both LATAM and Avianca fly from Bogota to Peredia to, so personally I'd chose flying with them over Viva Colombia if at all possible.
From Medellin to Salento flight details:
To fly from Medellin to Armenia normally takes around 3.5 hours and includes a stop in Bogota. Flights cost around $50 USD and are either with Avianca or a mix of LATAM and Avianca.
If you fly from Medellin to Peredia the flight will take around 3 hours and either be operated by Avianca or a mix of Viva Air and Avianca or LATAM and Avianca. The cost is about the same with tickets averaging around $50 USD
Traveling from Pereira Airport to Salento
It's about a 2-hour journey from Pereira airport to Salento. You will need to take a taxi from Peredia airport to the bus station which should cost around $11,000 COP. Then from there, you can hop on a bus to Salento for around $7,000 COP. 145-140,000 taxi direct
Bus from Pereira to Salento timetable:
Weekdays 6.20 am, 8.40 am, 11.20 am 1.20 pm 4.20 pm
Weekends every hour until 5 pm
Alternatively, if you have good negotiating skills and aren't on a tight budget then you can skip the Pereira to Salento bus and see if you can find a taxi driver to take you directly to Salento.
Traveling from Armenia Airport to Salento
This is a lot easier than traveling from Peredia airport to Salento as the airport in Armenia Colombia is closer to the bus station and the buses to Salento from Armenia are much more frequent. From Armenia airport, you will need to get a taxi to Armenia bus station. From there you can take one of the small buses to Salento. The bus ride will take you around 45 minutes and cost $4,000 COP. The buses don't really run on a timetable but they run around every 20 minutes, or when they are full.
If you don't fancy the bus and budget isn't an issue then a taxi ride from Armenia airport to Salento will cost you around $95,000 – 120,000 COP.
It's easy to find the bus, there will normally be someone walking through the bus station shouting Salento and looking for people to fill up the bus. You will pay the driver, or the Audante (helper) as you exit the bus in Salento.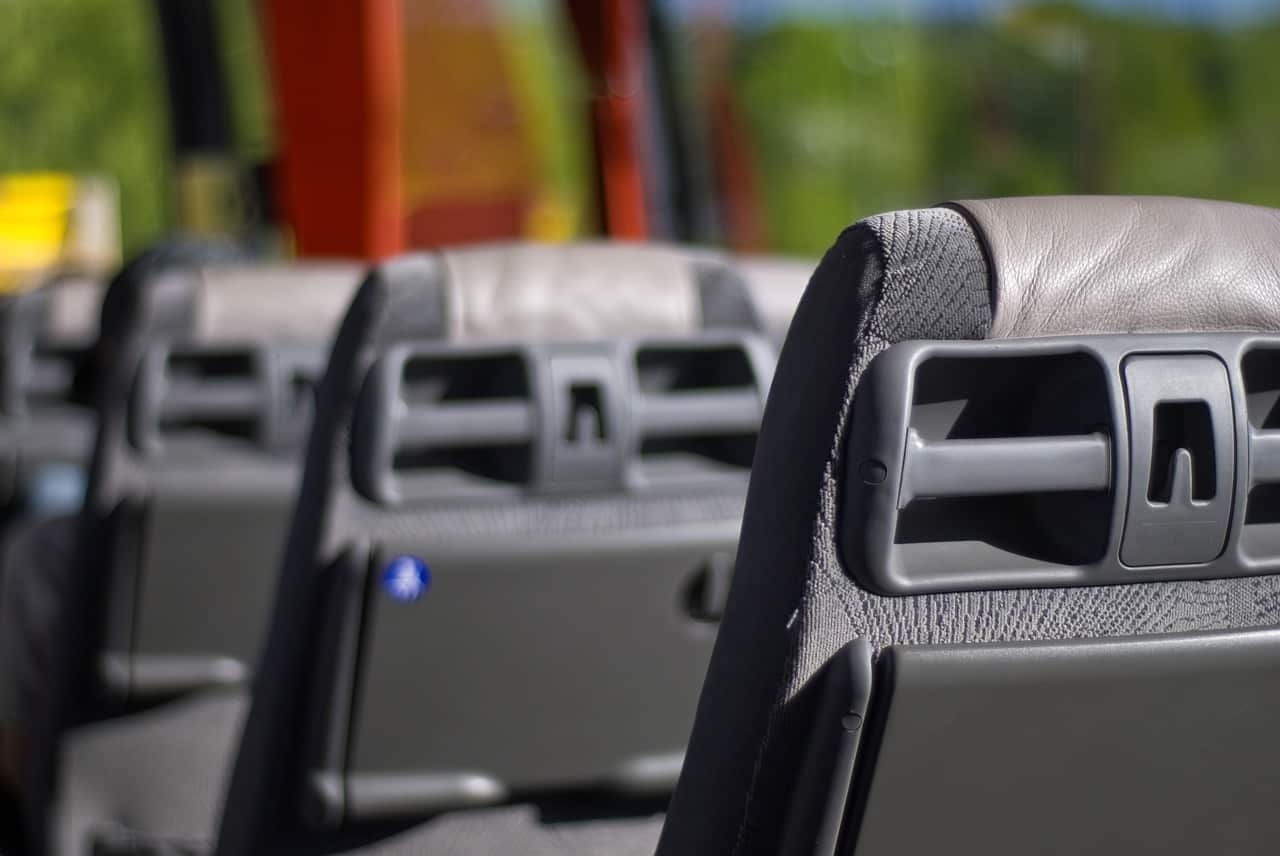 How To Get From Bogota To Salento By Bus
This is the way I traveled to Salento from Bogota and it was actually way less painful than I thought. First things first, there is no direct bus from Bogota to Salento. Instead, you will need to take the Bogota Armenia bus and then take a second bus from Armenia to Salento. Don't panic, it's very easy, cheap and safe.
The bus company that operates the Bogota Armenia bus is Bolivariano. It's a large, comfortable bus and there was even wifi, and plug sockets to charge up devices.
To take the bus from Bogota to Salento is easy but there are a few things to consider. I advise taking gone of the night buses, this will save you a night's accommodation, and allow you to make the most of your time by traveling while you are sleeping (or at least trying to).
To take the night bus from Bogota to Salento you have two buses to choose from one at 8:45 pm (which I was told was actually 9 pm when I got there) or one at 9:45 pm. If you prefer to travel during the daylight hours then I'd go for the first bus so you don't miss the last bus to Salento from Armenia.
If you want to book online using Bus Bud then pick which one you like, probably the latter is better so you aren't arriving quite so early to Salento. I didn't book online because you have to print your ticket which was too much hassle for me, plus it's cheaper to book in person if you are booking o the day. If you decide to just book in person at the bus terminal then I would advise getting there at least an hour before. This is because the buses can get full and most Colombians won't book online. So getting there earlier means you will get a seat. Plus if there is no space on the first one then you have a second shot at the later bus from Bogota to Armenia.
Now, this is important. Make sure for the Bogota to Salento bus you go to the Terminal de Autobus Sur NOT the north one. Once you arrive at the terminal head directly to the Bolivariano desk and ask for "un boleto a Armenia por favor" the ticket should cost $49,000 pesos. They will write on the back of the ticket the stand number and the bus number.
Once you have your ticket you can take a seat in the waiting room until they call the bus number (or it comes up on the screen). At this point, you can head out of the waiting area and down the stairs. Find the stand with the number they told you. Or just show your ticket to one of the staff and they will point you in the right direction.
Your bus ticket will have an allocated seat number look for the word 'silla' and a number, that's your seat number. Make sure you have all of your valuables on the bus with you and all your other stuff can go under the bus in your big bag/ suitcase. They will give you a ticket for your bag so it's pretty safe. Once on the bus, I'd advise keeping all of your things with you in your sea, don't put anything in the overhead, 1 because it could get stolen, and 2 you might forget it!
The first Bogota to Armenia bus is at 8 am and it gets in at 5 pm. So long as it gets in on time you will be in Armenia in time for the last bus from Armenia to Salento which is at 8:30 PM. If you decide to take the 10:30 am bus that is due to get in at 7:30 pm so if it's late you may end up missing the last Armenia to Salento bus.
The bus ride will take you around 45 minutes and cost $4,000 COP. The buses don't really run on a timetable but they run around every 20 minutes, or when they are full. The first official Armenia to Salento bus is at 7 am, however, I arrived at the bus station at 4 am and I was on a bus to Salento from Armenia at 4:50. So there are early buses which will leave when full.
According to Bolivariano these are the Bogota Armenia bus times
Bus Bogota Salento (via Armenia):
8 am gets in at 5 pm
10:30 am gets in at 7:30 pm
8:45 gets in at 8:45 am the next day
9:45 gets in at 9:45 am the next day
Bus Armenia Salento times:
Every 20 minutes (or when full) from around 5 am through until 8:30 pm
However, I was on the 8:45 (or 9:00 pm) bus and I got into Armenia at 4 am! This totally threw me as it was hours earlier than I thought so I believed I was going to have t wait a few hours in the bus station before catching a bus to Salento. Then just as I finished my tinto (coffee) a guy came through shouting Salento!
The whole journey from Bogota to Salento by bus was very easy and so cheap. Personally, I recommend taking the Bogota Salento bus journey at night if you can to make the most of your time.
How To Get From Salento to Bogota By Bus
Now to get the bus from Salento to Bogota it's pretty much the same in reverse. There is no direct Salento to Bogota bus. You will need to take the bus, Salento – Armenia, and then the Armenia – Bogota bus.
The first bus from Salento to Armenia is at 5 am and you can catch it from the 'bus station' in town. Once again you can pay the driver on the bus your $4,000 pesos. The bus Salento- Armenia leaves around every 20 minutes from 5 am until around 10 pm.
On arrival in Armenia head to the Bolivariano desk to buy your ticket, if you haven't already bought it online using Busbud. If you are buying from the bus station in Armenia then I advise you to arrive at least an hour before your bus to make sure you get a ticket. During high season book online if possible as the buses do get full.
The first Armenia to Bogota bus is at 9 am and this will get you into Bogota at 5 pm. This is actually the only daytime bus from Armenia to Bogota. After this, you have the option of 3 night buses.
The night bus times from Armenia to Bogota:
9:30 pm
10 pm
11 pm
I would advise getting the latest bus so you aren't getting into Bogota at 5 am or 6 am. The bus terminal is in the south of Bogota and can feel a little sketchy. Best to arrive there during daylight hours. From the bus terminal in Bogota use either Beat, DiDi, or Tapsy to get you to where you need to go in Bogota. It's cheap and saves you dealing with packed buses full of commuters going to work while you have all your luggage!
How To Travel From Medellin To Salento By Bus
Unlike traveling from Bogota to Salento you do not need to take a Medellin Armenia bus. Instead, you can travel direct from Medellin to Salento by bus without any changes. This is not the route I took but I did speak to some kind backpackers in Salento who gave me the full lowdown on Medellin Salento bus.
The bus from Medellin to Salento is operated by Flota Occidental and the first bus runs at 9 am with the last (a night bus) leaving at 10 pm. It is super easy to get the bus, Medellin, to Salento and it will cost you around $54,000 COP.
The Medellin Salento bus I would recommend you getting is the night bus that leaves at 10 pm. This is the bus my friends got and it got them into Salento from Medellin at 4 am. If you stay at The Coffee Tree Hostel they have couches and hammocks that they will let you crash on until check-in and at around 6 am the free coffee with be ready! By taking the night bus from Medellin to Salento you can save on a night's accommodation and make the most of your time. You are also much more likely to avoid traffic!
Here is the current Medellin to Salento Bus timetable:
9 am
11:30 am
2 pm
10 pm
It's worth mentioning that the direct bus from Medellin to Salento is a smaller minibus and although it is comfortable enough, it's not a luxury bus like the one from Bogota to Armenia I was on. If you would rather travel on a nicer bus from Medellin to Salento then You will need to take a bus from Medellin to Armenia and then change buses in Armenia.
How to Travel From Salento to Medellin
Getting the Salento to Medellin bus is pretty much the same, but reverse. Head to the bus station in Salento, ideally the day before you want to travel, and book yourself on one of the Salento Medellin buses.
The current Salento to Medellin direct bus timetable with Flota Occidental is:
8 am
10 am
1:30 pm
9:30 pm
Again this is on one of the minivans. If you want a luxury bus then you will need to hop on a bus to Armenia and from then take a bus to Medellin.
How To Travel From Cali To Salento By Bus
There are no direct buses between Cali and Salento but it is very easy to get to Salento from Cali via Armenia. Flighing isn't really an option as there are no direct flights so you would need to fly over Salento to Bogota and then fly back again, pointless. Plus it will only take you around 4 hours to make the journey from Cali to Salento by bus.
There are so many buses between Cali and Salento (via Armenia) that I wouldn't even bother to pre-book or plan too much. Just turn up at the bus station and find out when the next bus is and get on it. Getting from Armenia to Salento is also super eaFsy with buses running every 20 minutes from 5 am until 8:30 pm. The cost of the Armenia Salento bus is just $4,000 COP and takes around 45 minutes.
The Cali Salento bus journey will look something like this Cali to Armenia then Armenia to Salento. For the first part of the journey, you need to make your way to the main bus terminal in Cali and decide which bus company you want to go with. The journey on an express bus will take 3 hours (all of these Cali to Armenia buses are express).
There are several bus companies operating on the Cali to Armenia rout and they are:
Express Trejos Premium
The buses run from 6:10 every hour until 8:10 pm at a cost of $22,000 COP
Express Trejos Ruana Azul
The buses run from 4:40 every 40 minutes until 7:40 pm at a cost of $22,000 COP.
Palmira Express
The buses run from 6:00 every 20 minutes until 8:00 pm at a cost of $21,000 COP.
Bolivarian Express
The buses are at 9 am, 12:30 pm, 5:30 pm and 7:30 pm at a cost of $23,000 – $36,000 COP. These buses are a bit nicer, hence the increased price.
Tax Belalcazar
The buses run from 5:00 every hour until 9:00 pm at a cost of $21,000 COP.
Velotax
The buses run from 5:00 every hour until 12:00 am at a cost of $22,000 COP
I personally did this journey and chose the Palmira Express as that was the company a local recommended me to take. The bus was comfortable, had wifi and TV's and it was on time.
How To Travel From Salento to Cali By Bus
There is no direct Salento to Cali bus. You will need to transit through Armenia. It's very easy, as the buses to Armenia from Salento start at 5 am and the last bus is at around 9 pm. The cost is $4,000 pesos and the journey is around 45 minutes. Once at the station in Armenia you will just need to check when the next bus to Cali is with the company you want to travel with (see above options). I chose Palmira Express as they have busses every hour.
The whole journey was very straightforward so you really shouldn't have any issues.