Santorini is a destination that carries with it an aura of romance, history, and mythical beauty. No two travelers experience this Cycladic island in quite the same way. For some, a whirlwind weekend suffices. Others are enchanted for a week or even more.
The exclusivity of the island means it can be an expensive destination. So when planning your Santorini getaway, it's important that you decide on what is most important for you to see and experience.
Did You Get Travel Insurance Yet?

If 2020 taught us anything, it's that you need to be prepared for anything!

The Insurance companies I personally recommend are Hey Mondo, Passport Nomads, Safety Wing, and Travel Insurance Master

Hey Mondo is great if you are looking for a great value flexible policy. They offer single-trip cover, annual multi-trip cover, and long-term travel cover.

Passport Nomads provides the most comprehensive cover for Digital Nomads. If you find yourself in need of medical care you just contact them and they will pre-load your card with the funds to cover your treatment, meaning you won't need to pay out of pocket and then put in a claim later.

Safety Wing is great value with monthly cover starting at $39. It's super easy to use and it just renews each month. I currently use them as they offer me free cover for my son as part of my policy.

I also use Travel Insurance Master for short trips.

Read my full travel insurance post here where I go into detail about all 4 companies.
Deciding on your ideal duration
So, how many sunrises and sunsets do you wish to witness over the caldera? It's a highly personal choice.
Maybe you're the type who likes to hop between sights, catching the highlights before moving on. Or perhaps, you lean towards unhurried exploration, letting each day dictate its rhythm.
Let's break it down by giving you realistic ideas on what you will be able to see and do in your allotted timeframe. In this article we give you suggested itineraries starting from a 3 day stay, up to 7 days.
| | |
| --- | --- |
| Duration | Vacation Style |
| 3 Days | The main highlights with a touch of leisure |
| 4 Days | Balanced exploration with relaxation |
| 5 Days | Immersive dive with extra time for hidden treasures |
| 7 Days | A full experience, including nearby island hops |
The absolute minimum amount of time to spend on Santorini is 3 days, although it's a short amount of time, the island is actually quite small (you can drive from one end to the other in about 40 minutes), so quite a lot can be packed into this duration.
But you can easily book a 7-day stay on the island and have more than enough things to see and do.
Here is our pick of the main sites for a fabulous 3-day visit (We will cover 4 – 7 days further down the article).
Quick Tip: Book accommodation, tours, and transport ahead of time online to save money and stress.
Best Santorini Tours: Click here to check out the top Santorini tours
Best Santorini Accommodation: Click here to check out the best accommodation in Santorini
Best Santorini Transport: Click here to book a bus, ferry, or train in Santorini
3 Day Itinerary: The Santorini Highlights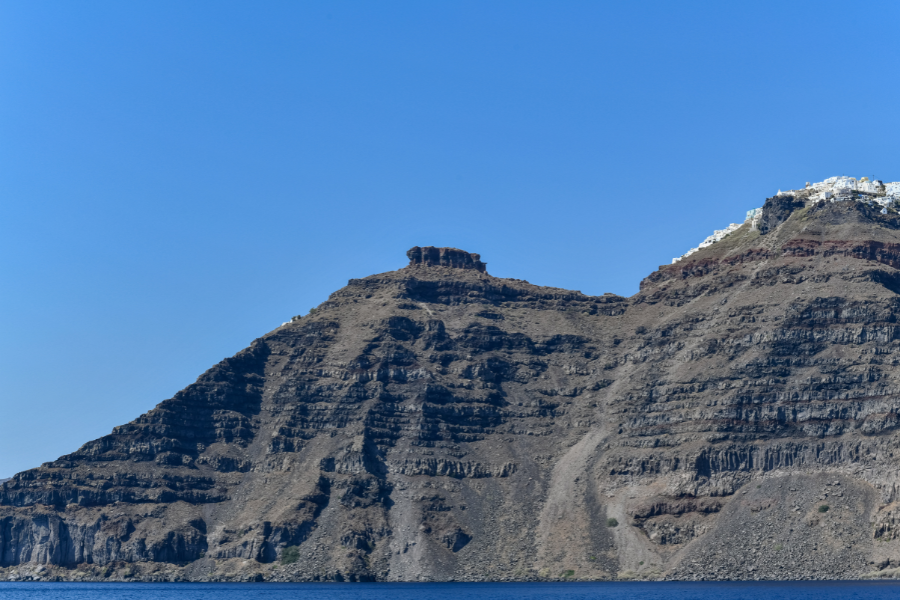 Day 1: Embracing Caldera's Magic
Start your journey in Fira, the bustling hub of Santorini. Enjoy your first view of the beautiful caldera with an early morning Greek coffee at a cliffside café.
As you move from Fira, the afternoon beckons with adventures. Take a boat to tour to Santorini's volcano, an icon of the island's rich history and geothermal origins. Also included in this excursion is a stop at the hot springs, where you can enjoy the warm waters.
Then as the day wanes, Oia's sunset awaits, casting brilliant hues of gold and pink, encapsulating a moment of sheer wonder.
| | |
| --- | --- |
| Time of Day | Activity/Description |
| Morning | Explore Fira. Morning Greek coffee overlooking the caldera. |
| Afternoon | Boat ride Santorini's volcanic islands. |
| Evening | Witness Oia's infamous sunset. |
Looking for somewhere to stay? Check out these options!
Milos Villas Hotel
Gianna Suites
Porto Castello
Day 2
Day two immerses you in Santorini's rich history. Begin with a visit to Akrotiri, an archaeological site dating back to the Bronze Age. As you walk amongst the excavated buildings of this ancient civilization, listen to stories and theories of the Minoan culture that once populated it.
Then, continue on to Ancient Thera, located on the east side of the island, high on the summit of a mountain called 'Mesa Vouno'.
When the sun lowers and appetite rises, Santorini presents the perfect dining solution: Aktaion. A renowned establishment that showcases the very best of Greek culinary traditions.
| | |
| --- | --- |
| Time of Day | Activity/Description |
| Morning to Afternoon | Akrotiri Archaeological Site & Ancient Thera. |
| Evening | Dinner at Aktaion. |
Looking for somewhere to stay? Check out these options!
Santorini View
Phos The Boutique
Paradise Resort
Day 3: Beach & Wine
After 2 very busy days, now is your chance to unwind and relax with a beach day!
Perissa Beach draws you in with its distinctive dark sands, creating a mesmerizing contrast against the cerulean waters. But the allure doesn't stop there. Take a taxi boar around the cliffs to 'Kamari Beach', with its lively beachside promenade, ensuring every moment is vibrant.
As evening shades the island, it's time for a wine expedition. Whether you find yourself at Domaine Sigalas or opt for Santo Winery, every sip captures the essence of Santorini, like a bottled sunset.
| | |
| --- | --- |
| Time of Day | Activity/Description |
| Daytime | Spend time at the unique Perissa Beach and later, the lively Kamari Beach. |
| Evening | Head for wine tasting at either Domaine Sigalas or Santo Winery and relish every sip. |
As you can see, we've packed a lot into 3 days. But there's still much more to see and do, so if you think you can extend your trip by a few more days, here are some more excellent ideas to fill up your days.
Looking for somewhere to stay? Check out these options!
Exi Sea Side Suites
Anna Maria Rooms Santorini
Villa Dima
4 -7 Day Itinerary: The full island experience
Day 4: Hiking and exploration
Morning beckons with a promise: a hike from Fira to Oia. It's more than just a hike, this journey takes high up along the caldera, with fantastic views at every turn. You'll pass through whitewashed villages and climb high up into the rugged hills before descending down to your final destination of Oia.
As noon transitions to afternoon, Santorini urges you deeper. Beyond the well-trodden paths, Pyrgos awaits, a village where time seems paused, offering panoramic views. Then there's Megalochori, where you can delve into more of Santorini's age-old traditions.
Then, as stars prick the evening sky, there's a cinematic rendezvous at the Open Air Cinema in Kamari. The blend of tales and nature's nocturnal sounds is a sublime experience.
| | |
| --- | --- |
| Time of Day | Activity/Description |
| Morning | Hike the iconic Fira to Oia trail. |
| Afternoon | Visit the villages of Pyrgos and Megalochori. |
| Evening | Watch a film at the open air cinema in Kamari. |
Looking for somewhere to stay? Check out these options!
White Grape Suites
Muses Cycladic Suites
White Cave Villas
Day 5: Viewpoints and fine dining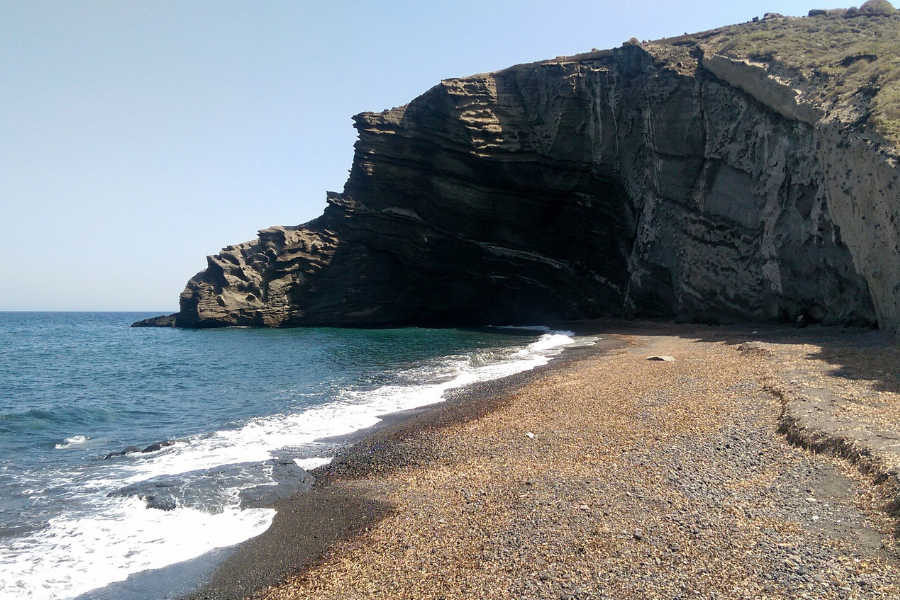 Morning in Santorini sings a different tune at the secluded 'Koloumbos' Beach a hidden gem located in the north of the island.
Then it's time to take a trip down to Santorini's old port via cable car. If you're feeling fit, you can climb the 600 steps back up to Fira or do it via a donkey ride.
As dusk sets in, Santorini offers a range of culinary experiences. Roka provides a taste of traditional Santorinian cuisine, highlighting the island's local ingredients and recipes.
For those who appreciate fine dining, Metaxy Mas presents dishes that combine taste and tradition, showcasing the skill and expertise of its chefs.
| | |
| --- | --- |
| Time of Day | Activity/Description |
| Morning | Visit Koloumbos Beach. |
| Afternoon | Take a cable car ride down to the old port. |
| Evening | Relish Santorini's flavors at Roka or immerse yourself in the culinary finesse of Metaxy Mas. |
Days 6 & 7: Meet the neighbours
With 2 extra days, now would be an excellent time to expand your horizons in the Aegean, and now would be an excellent time to explore the neighboring islands.
Ios, popular among younger travelers, boasts beautiful sandy beaches, active nightlife, and panoramic hilltop views.
Mykonos offers a blend of modern charm, many traditional Greek tavernas, and historic beauty, evident in its iconic windmills and bustling beach clubs.
Naxos presents an opportunity to step back in time with its ancient temples set against clear skies and traditional villages that echo the past.
As you explore these islands, each contributes a distinctive element to your overall Grecian experience.
| | |
| --- | --- |
| Islands | Description |
| Ios | A haven for the young at heart. Sandy beaches, lively nightlife, and hilltop vistas define it. |
| Mykonos | A harmonious mix of cosmopolitan charm and traditional grace. Whitewashed buildings, windmills, and vibrant beach clubs. |
| Naxos | Step back in time with its ancient temples. Enjoy the expansive beaches and timeless villages. |
Looking for somewhere to stay? Check out these options!
Hotel Petradi
Calistus Mykonos
Polis of Naxos Stylish Suites
Map of Accommodation in Santorini
Santorini Travel Guide Planning
👩‍⚕️ What is the best insurance to have while traveling?
I recommend using Heymondo for a great value policy. The app also offers you 24/7 Dr Chat. For Digital Nomads check out SafetyWing digital nomad insurance. I have also written a blog post covering all my recommended travel insurance here
✈️ Any flight recommendations?
WayAWay offers you cheap flights with cashback. You can use this code CLAIRE22 to get 10% off. Otherwise, Skyscanner or Expedia are my go-to flight-searching platforms.
🎫 Where can I buy tickets for museums, attractions, and tours in Israel?
I recommend either Viator or GetYour Guide. They have a lot of options available!
🚗 Where can I book rental cars or private transportation?
I strongly recommend using RentalCars. They are available in more than 60.000 locations and customer service support in more than 40 languages.
📱What do you use for internet connection while traveling?
I'm a big fan of personal WiFi devices and they have saved my ass so many times when traveling. I wrote a full review of the top travel WiFi devices you can read here. I personally use GlocalMe as I can either pop in a physical sim card or use their local carrier.
With regards to my phone connection, I use e-sims while traveling, so rather than having to swap out my regular sim card I can download the app and buy a virtual sim card. I recommend using either Airhub or Alosim. Both have great coverage of multiple countries and are very easy to use.
🛏️ What is the best platform to use for booking accommodation?
The 3 best platforms that I normally use are Booking.com, Hotels.com, and Expedia. They offer great deals and multiple options. I always check all three to be sure of the best deals.
🛅 Do you have any luggage recommendations for traveling?
I do have a complete list of the best packing and luggage products that I recommend, you can check the list here. I'm currently traveling with this suitcase and this backpack.
Conclusion
Santorini, with its diverse range of attractions from the caldera to its caves, offers a variety of experiences tailored to individual preferences. The suggested itineraries serve as guides rather than rigid plans, ensuring that whether you're traveling solo, as a couple, or with family, there's something for everyone.
Pin for later