Athens is a unique city filled with plenty of ancient and modern treasures guests can enjoy. While many families tend to visit the city, Athens is also a terrific place for solo travelers to venture to. Solo travel in Greece could be a thrilling experience. If you're one of these people who would like to explore Athens on your own you'll find some useful information below. You can use to help guide you to navigate the places you must see in Athens as well as making some recommendations on accommodation, safety, and sharing some interesting facts about Greece that will help you plan your trip.
Top Places You Must See In Athens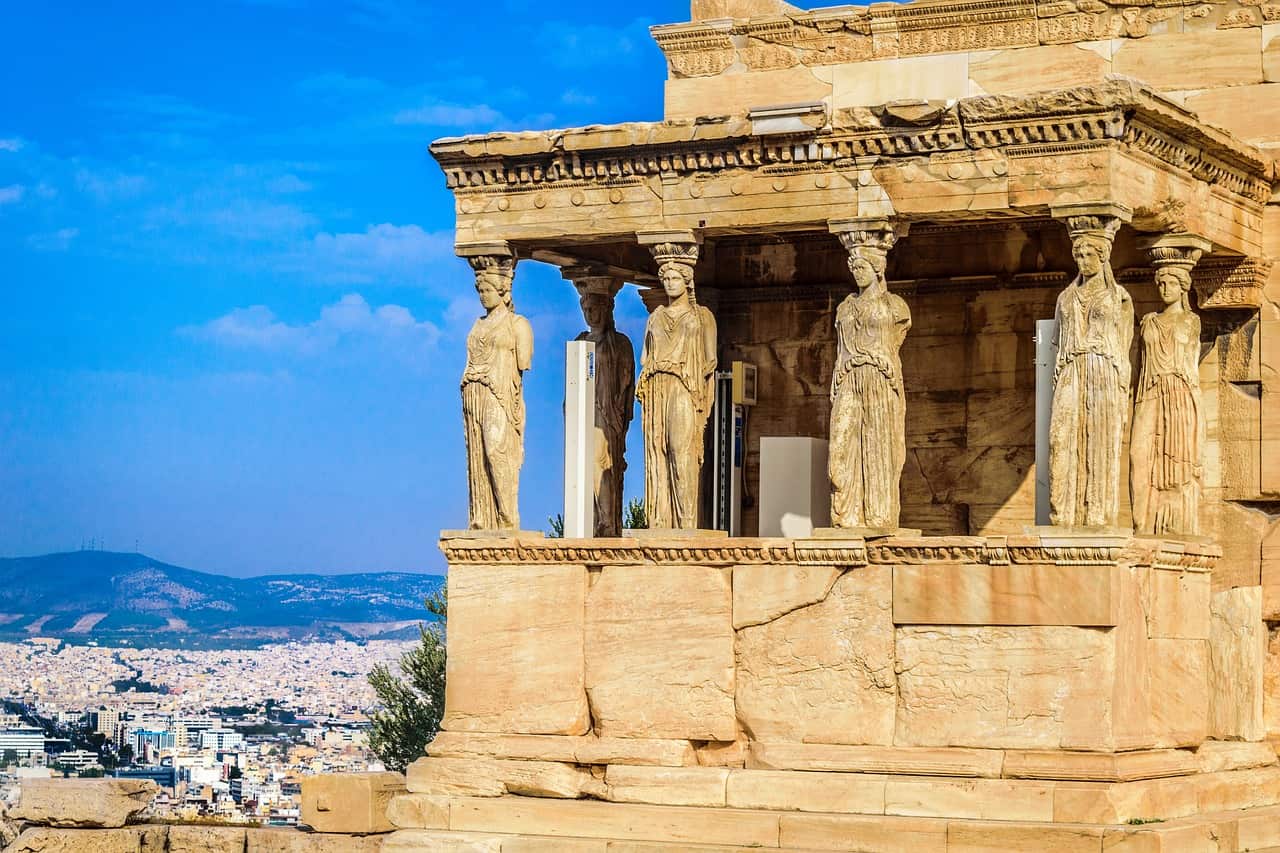 Take a Tour of the Acropolis
A must see in Athens is, of course, the Acropolis. This citadel towers above the city and served once not only as a temple but a place of refuge for city dwellers if they ever were attacked. It also was a place to celebrate the arts. This historical and architectural marvel is the perfect place to spend some time to learn more about ancient Greek culture. You really can't come to Athens and not spend a day visiting the Acropolis.
Also, keep in mind that this a popular spot to visit in Athens so it gets crowded very quickly. Because of this, it's best to go as early as you can to see it to help you skip the crowds.
Explore the Acropolis Museum
The Acropolis Museum is home to thousands of archeological artifacts found near the Acropolis. The museum is home to various exhibits, such as the massive slopes of the Acropolis which will catch your eye as soon as you walk in. You'll also find many other galleries you can explore, such as The Parthenon Gallery and The Archaic Acropolis Gallery which is filled with unique 3D exhibits.
The museum also has a restaurant and daily talks you can listen to about items housed in the museum. To enter the Acropolis Museum you do need to pay a ticket fee, but this fee will give you full access to everything inside.
See the Ancient Agora
The Ancient Agora is well-known for being one of the best places to view an ancient Greek marketplace. Located beneath the Acropolis, you can view the excavations of this former gathering place as well as the nearby Temple of Hephaestus and the Stoa of Attalos which are known for their historical significance and stunning architecture.
See the Changing of the Guard at Parliament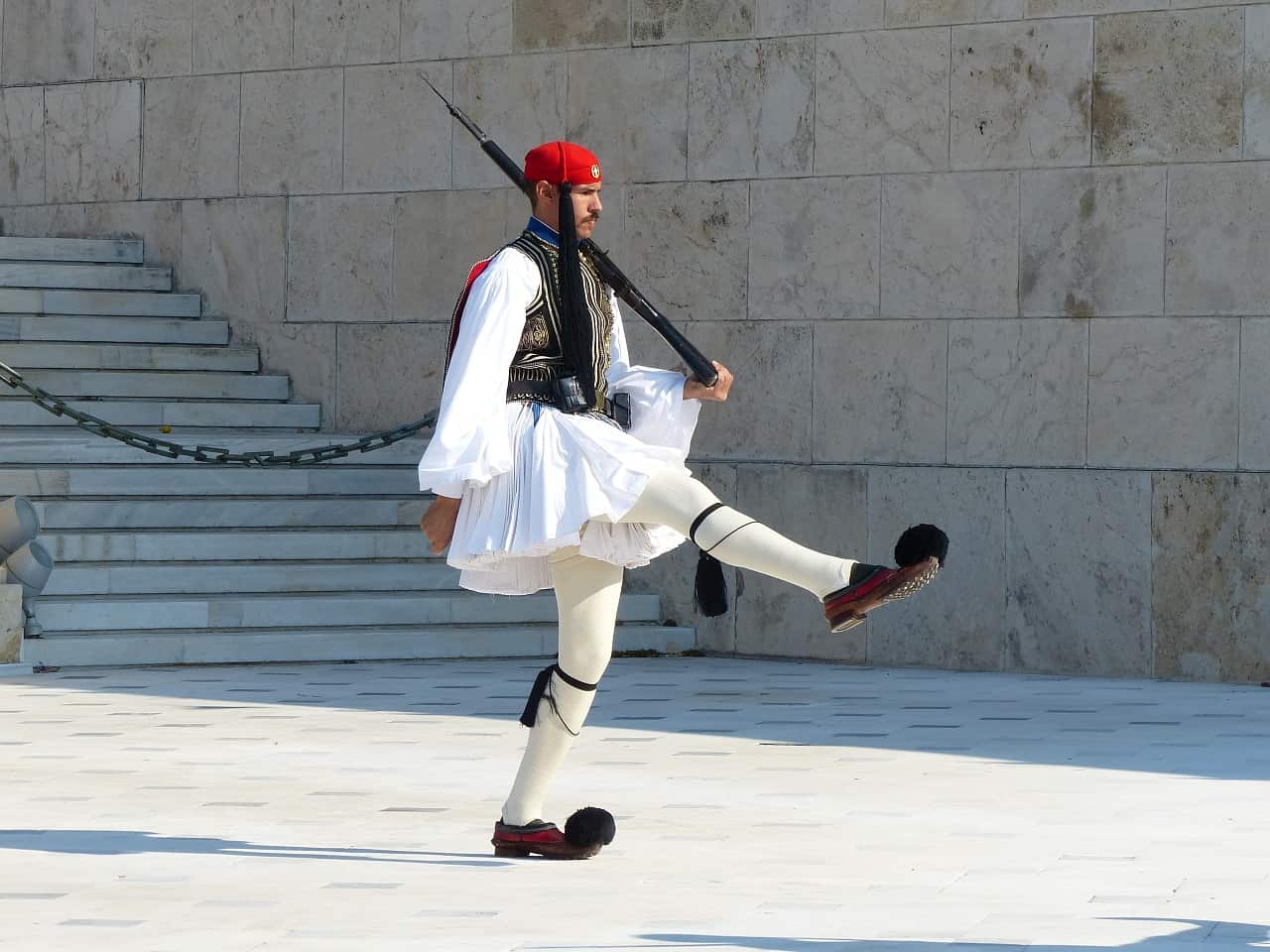 The changing of the guard at Parliament is a sight every guest to Athens should definitely view. While the changing of the guard happens every day in front of the Tomb of the Unknown, if you want to experience a true cultural showcase, you'll want to visit on Sunday.
Every Sunday at 11 A.M. the guards are dressed in traditional military uniforms (inspired by the ones worn during Greece's War of Independence) and participate in a large ceremony as they change places.
This structure is not only a remarkable architectural wonder but is one of the only stadiums in the world constructed solely of marble. Built-in the 4th century B.C., it was once the place where athletes would compete against each other in track events, something very similar to the Olympics we know today.
When you're done touring the exterior, you can stop inside the stadium's shop where you can buy some souvenirs or walk over to the nearby café where you can grab a fresh cup of coffee.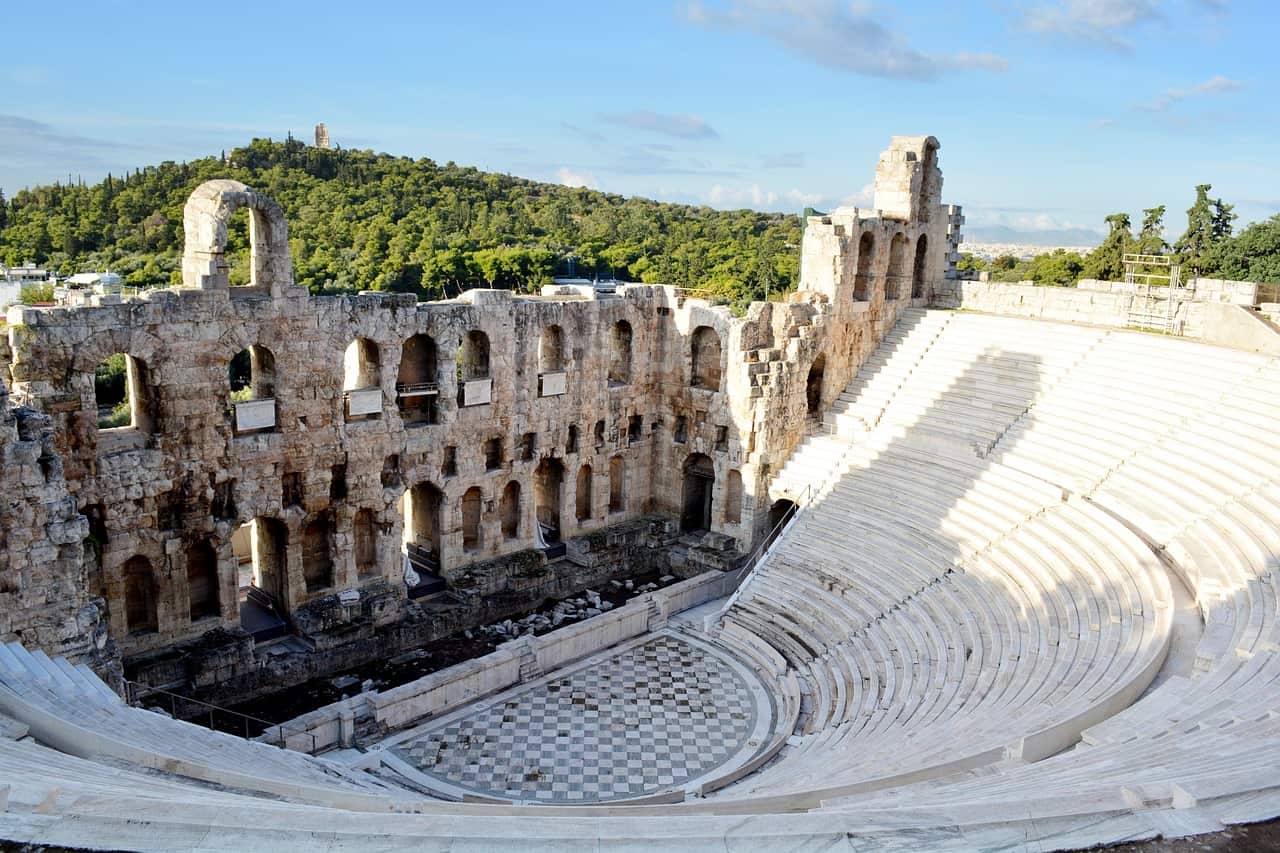 Explore the Temple of Zeus
The Temple of Zeus was built-in 471 B.C. and is a breathtaking place that will instantly take you back in time to ancient Greece. Dedicated to the mythological Greek god Zeus, the temple is especially known for its Doric order architecture.
Wander Around Plaka
This beautiful neighborhood of Plaka is filled with shops and cafes hidden behind native trees and flowers. As one of the oldest sections in Athens, Plaka is not only historical but a great place to experience the Greek culture.
You can stop in shops that sell artisan items you can't find anywhere else in the world or relax at one of the numerous cafes lining the cobblestone streets while listening to musicians play. Plaka is also home to Cine Paris which is considered to be one of the top outdoor movie theaters in the city, a spot which also features a stunning view of the Acropolis.
Take a Half-Day Trip to Sounion and the Temple of Poseidon
Another great thing for solo travelers to do while in Athens is to take a half-day trip to Sounion and the Temple of Poseidon. Sounion is a popular site known not only for its archeology but beaches and panoramic views of the Aegean Sea as well.
While here you can stop by the Temple of Poseidon which rests high on a cliff. You can tour the grounds around the ruins of this temple dedicated to Poseidon, the mythological Greek god of the sea.
Things To Do In Athens At Night
Athens boasts a cosmopolitan nightlife scene with bars to suit all tastes, live music venues, and nightclubs, each area of Athens having its own vibe. This means there is no shortage of things to do in Athens at night.
Exarchia is a hip urban area (think graffiti, bohemian shops, and rock cafes that veer off into seedier side streets) with a wide variety of cheap bars to choose from plus some of the best Rebetika clubs in the city. This place is where the rebels hang out and often gets a bad rap, not being somewhere that you'd want to take your Mother, but if you like your nightlife on the wild side, partying amongst the local Athenian youth, Exarchia fits the bill.
Koukaki is a sophisticated and safe residential area with views of the Acropolis. Not top of the tourist-trail (unless you find yourself staying at one of the AirB&B's here), its charming and colorful pedestrianized streets hold a multitude of quaint bars to enjoy.
Metaxourgeio aka Keramikos is a great place for a bar crawl, this vibrant alternative area having recently had a facelift, becoming an up and coming area for fashion and art with galleries and theatres nestles amongst cozy courtyard bars, jazz bars, and cocktail bars.
Kolonaki is Athens most exclusive area filled with chic yet also slightly quirky wine, cocktail, and jazz bars – You're sure to find something different from the rest that makes you remember a night out here as you explore the Beverley Hills area of Athens – Don't feel daunted, it might be classy but there's nothing pretentious about it.
Grungy Gazi is where the super-clubbers head and is the heart of the LGBTQ+ scene. This former industrial area is home to some of the best gay bars, Rebetiko clubs, as well as live music venues, the area transformed into a cultural center.
A hotbed for local nightlife, Psirri is another trendy area with a village vibe that the young boho crowd flock to with bars to suit all tastes and budgets. People-watching is essential and bar crawling is easy as you move from sophisticate wine bars to boho beer bars.
The oldest neighborhood in the city, Plaka is an iconic area full of twisting backstreets and cute bars and restaurants that are well and truly on the tourist trail. Always busy, it's great for people watching but you won't get the true local feel from other areas.
How To Get From Athens Airport To City
Athens International Airport (Eleftherios Venizelos) provides visitors with a number of public transport options to/from Athens city centre to the airport and vice versa with transport times taking on average between 30-60 minutes.
The best ways to get from Athen's airport to the center are:
The Metro
The Railway
By bus
Take a taxi
The Metro
The metro (blue, line 3) runs from Athens airport with stops at Syntagma Square and Monastiraki, both in the city center. Trains operate every 30 minutes from the airport between 06.30-23.30 with stations clearly identified in English and Greek. From Monastriraki to the airport trains operate between 05:38-23:04 and from Syntagma 5:40-23:06. Journey times take about 40 minutes with a single ticket costing 8 euro.
The suburban railway
The suburban railway (proastiakos) has electric trains departing Athens Airport Station every 15-25 minutes between 05.52-22.50 taking you to Plakentias Station, the Central Railway Station in Athens which is located in the district of Kolonos/Colonos. From here you can switch to the metro and continue to the city center using the same ticket.
From Athens Central Railway Station to the airport, trains run between 04.30-21.03 Monday-Friday. Journey times take about 40 minutes with a price of 10 euros.
Express Buses
Express Buses operate 24/7 with services every 30-60 minutes, journey times taking between 40-60minutes depending on traffic with a cost of 6 euro per ticket. T
he Express Bus Stop can be found outside exits 4 and 5 with various routes – X95 to Syntagma Square and X93 to the Intercity Bus Station is the most common for tourists.
Taxi
Taxis wait outside of the Arrivals Hall on level 3. There is an official flat rate fee from the airport to the city center with journeys taking 30-60minutes depending on traffic.
The daytime flat-rate fare is 38 euros with a flat rate fee of 54 euros for journeys between midnight-5am (the charge is determined by the time of arrival at the destination not the time of departure).
Getting Around Athens – Using Public Transport in Athens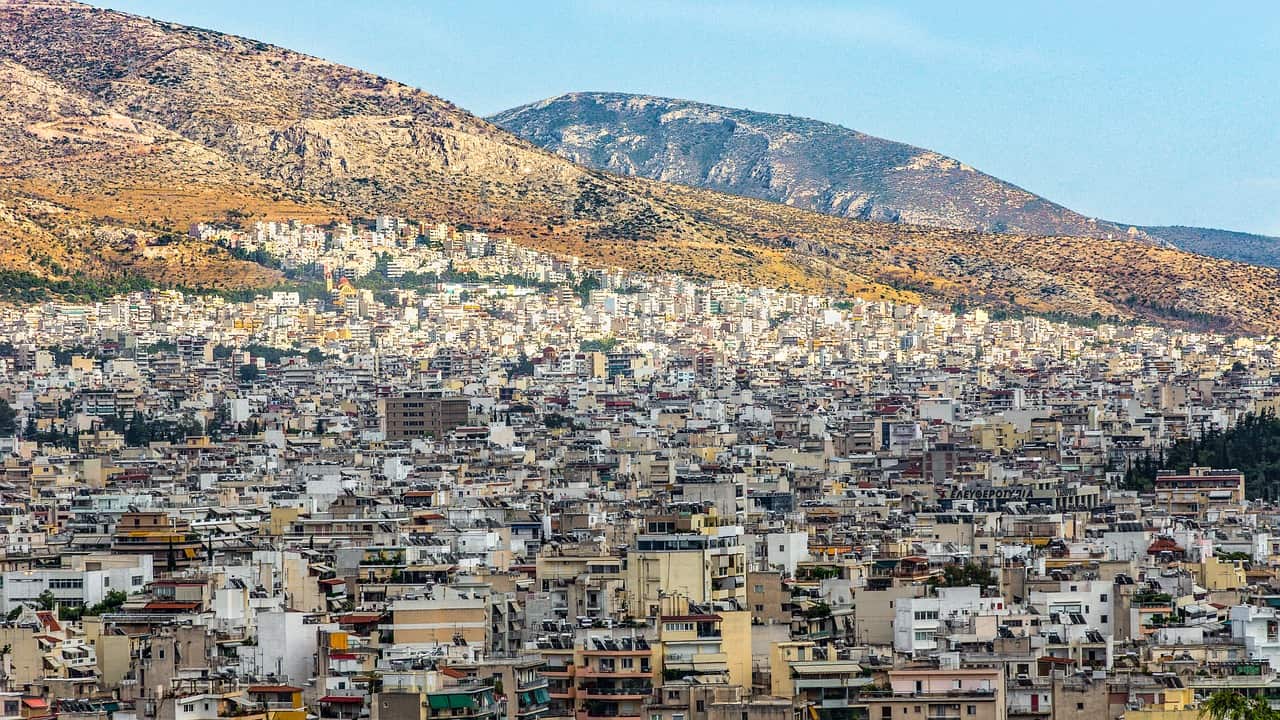 Getting around Athens on public transport is easy. Thankfully, there's the metro. The metro can take you to various spots throughout the city and it's easy to use.
The Athens Metro has three different lines you can access with your metro ticket. Line 1 will take you to Piraeus, Line 2 will transport you over to Syntagma Square and the Acropolis, and Line 3 will take you to the Athens International Airport with a stop also at Syntagma Square.
The metro leaves every 3 minutes and runs for most of the day (about 5:30 A.M. to 12:30 A.M.) so you'll be able to easily catch a ride to wherever you need to go. Unfortunately, there is no UBER in Athens but there is an application for taxis you can download similar on how uber works called Beat.
Best Places To Stay In Athens Greece
There are many places a visitor can stay while in Athens. Below are some of the top recommendations for the best places to stay in Athens, Greece for solo travelers.
The Herodion Hotel is situated right beneath the Acropolis making it the perfect place to stay if you're looking for unique views during your visit. The hotel features many great amenities for travelers, like a roof garden, soundproof windows, and a restaurant that serves tasty Greek dishes.
This modern hotel is located near many highlights in Athens, like Zappeion Hall and the Syntagma Metro Station. So if you are wondering where to stay in Athens, Greece and want to be very central, this is a great choice. The rooms at the InnAthens redecorated with beautiful design schemes and include marble bathrooms and free Wi-Fi. The hotel is also known for its bar and restaurant which serves a large traditional Greek breakfast in the mornings for guests to enjoy.
360 Degrees is a trendy hotel known for its stunning panoramic views and rooftop bar. The rooms here feature free Wi-Fi and special seating areas to provide you with the ultimate comfort.
If you're on a budget, you'll want to check out Athens Studios. Situated near the Acropolis Museum, the hotel offers plenty of spacious rooms guests can stay in, many of which feature kitchenettes and balconies. In addition to this, the hotel has a bar you can grab a drink at and a restaurant that serves meals created with local ingredients.
Recommended Areas for Solo Female Travelers
If you're a woman looking to explore Athens on your own, you'll want to consider these recommended areas that cater especially to the needs of solo female travelers.
Plaka is a charming little area in Athens known for its cobblestone streets and quaint shops. It's also bordered by a small neighborhood that is hidden away in fragrant and colorful plants that are sure to take your breath away. It's the perfect place to experience a cozy and traditional Greek atmosphere.
This neighborhood is filled with amazing ancient ruins like Hadrian's Library and the Ancient Agora. There are also a handful of museums you can explore which are home to many rare artifacts discovered in archeological digs around Greece. Besides this, Monastiraki is also known for its variety of flea markets scattered around Monastiraki Square which sell everything from handmade soap to antiques. There are also many cafes and unique restaurants you can stop by to grab a drink or bite to eat.
As the central square of Athens, Syntagma Square is an extremely historical area in Greece. It weathered many battles during World War II and has been the spot of quite a few political rallies throughout the years. Because of this, it has become one of the most popular sites in Athens for locals to meet and mingle.
Syntagma Square is home to the Greek Parliament, the Tomb of the Unknown Soldier, and the Syntagma Metro Station which is considered to be one of the most interesting metro stations in the world. It not only serves as a transportation hub in the city but as an archeological museum as well.
In addition to this, you'll find plenty of food vendors lining the sidewalks in this neighborhood who sell many scrumptious Greek treats like koulouri, a hot bread ring sprinkled with sesame seeds. You can also stop by the nearby Ermou Square which is home to numerous cafes and other eateries.
The Acropolis is a must-stop place for solo travelers when in Athens. Not only is it historical, but it's an important cultural spot in the city. You can tour its grounds and even view archeological digs nearby. You can also sign up to take a guided tour around the Acropolis to ensure you don't miss a thing.
The form you have selected does not exist.
Safety Tips for Solo Travelers in Athens
While Athens is a pretty safe city to wander around in on your own, there are a few things you need to keep in mind, the first being pickpockets. Pickpockets are abundant in the city, especially at the metro and other heavily crowded places.
Because of this, you should try to not carry many possessions with you, especially expensive ones. Also, to help protect your wallet or purse, place it in front of you so you can keep a close eye on it. You could also carry around a fake wallet which can help to protect the real one containing your cash and credit cards.
Another important thing to remember is to avoid staying in certain spots which can be extremely crowded and dangerous for solo travelers. You'll want to stay away from the areas around Omonoia Square, the Larissa Train Station, and Metaxourgeio. These should be especially avoided at night which can be a huge hazard for many reasons, including the streets and sidewalks being poorly lit.
As the capital of Greece, Athens is a great place for solo travelers to visit and explore. It's filled with historical and cultural wonders and has plenty of unique things to do and see. Athens is also home to a mouthwatering array of food which is sure to please foodies.
While there are a few important things solo travelers need to especially keep in mind, like avoiding certain areas, Athens is overall a safe city and the perfect destination for travelers to experience.
Author Bio
Chrysoula's blog Travel Passionate is in English and French and is focused on luxury travel, cultural and culinary experiences around the world. She enjoys exploring off-the-beaten-path destinations and she is interested in presenting the best locations, attractions, and accommodation in each area she visits. You can follow her on Facebook and Instagram