Planning a Greece island hopping itinerary? While many people might plan a 10 or 14 day Greece itinerary, if you have time I would really recommend spending longer to get the most out of your Greek island hopping trip.
Although there are many popular Greek island hopping routes, spending longer on your trip means you can visit some of the quieter, less popular islands such as Paxos or Naxos which are so beautiful and with a much more relaxing pace than islands like Mykonos or Santorini.
So here is my 3 week Greece island-hopping guide to plan a Greece trip to remember!
The ultimate island hopping Greece itinerary:
Week 1:Cyclades Islands
Day 1-3: Mykonos
Day 3-6: Santorini
Day 6-7: Naxos
Week 2:Dodecanese Islands
Day 8-11: Rhodes
Day 11-13: Kos
Day 13-14: Symi
Week 3: Ionian Islands
Day 15-17: Corfu
Day 17-18: Paxos
Day 18-21: Kefalonia
Of course, this Greek Island hopping itinerary is a guide and you will find when you travel to the Greek islands that the ferries can be unpredictable, so allow space in your itinerary for being flexible!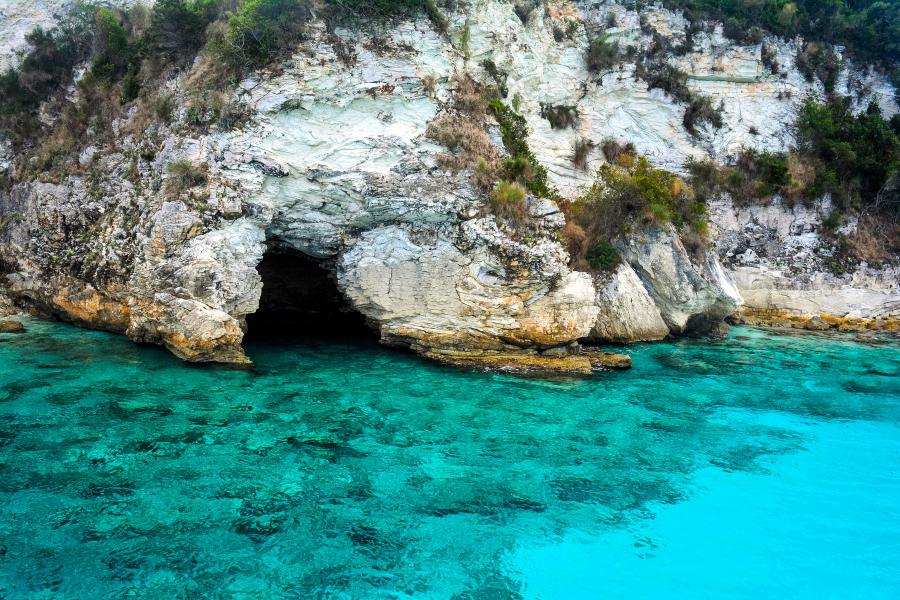 Did You Get Travel Insurance Yet?

The Insurance companies I recommend are Hey Mondo, Safety Wing, and Travel Insurance Master

Hey Mondo is great if you are looking for a great value flexible policy. They offer single-trip cover, annual multi-trip cover, and long-term travel cover. Safety Wing is great value, with monthly coverage starting at $39. It's super easy to use, and it just renews each month. I currently use them as they offer me free cover for my son as part of my policy. I also use Travel Insurance Master for short trips.

Read my full travel insurance post here, where I go into detail about all companies.
Arriving in Greece
To start your Greek island hopping holidays, I suggest you fly into Athens and take a ferry to the first island, Mykonos. Athens is an international airport with flights and connections all over the world and the city also has several ports, making it the easiest starting point to get to the Greek islands.
Using the Greek Islands Pass
There is a Greek Islands pass provided by Interrail that allows you to book your ferries around the Greek islands using one ticket and it also includes the ferry from Italy to Greece if that's how you choose to start your trip.
The pass has two options:
4 travel days within one month – £77
6 travel days within one month – £163
This 3 week Greece itinerary takes 8 ferries, so a Greece island pass wouldn't cover them all, however it does make things easier by just having one ticket, so if you're planning a 10 day Greece itinerary or 14 days, it could work well. Just bear in mind that it can only be used for Attica Group ferries – which could be restrictive depending on the islands you choose to visit.
Greece island hopping itinerary: 3 weeks
Week 1: Cyclades Islands
Day 1-3 Island Hopping Greece – Mykonos
After arriving in Athens, take a taxi or bus to Rafina port where the Mykonos ferry departs several times a day. One way tickets cost around €38 and the ferry ride takes 4-5 hours, or 3 hours if you take the high speed ferry which costs more.
At the start of your Greece trip, spend three days exploring Mykonos. With charming streets, beautiful beaches and plenty of restaurants and nightlife, there's a reason this island is so popular.
Chora, aka Mykonos Town, is one of the best preserved historic towns on the Greek islands and it's perfect for photography lovers or a romantic getaway. Don't miss the iconic white windmills of Mykonos and enjoy a cocktail right on the water in the charming Little Venice area which is full of bars and restaurants.
Although Mykonos isn't the nearest island to Santorini, the high speed ferries run between Mykonos and Santorini several times a day for the next leg of your island hopping Greece itinerary.
Day 3-6 – Travel from Mykonos to Santorini
4 days on Santorini is a great amount of time to see the stunning Caldera views, visit the beaches and wineries and do some shopping in the labyrinth of charming streets in Thira and Oia.
See the blue domes of Thira, visit the famous Red Sand Beach, and see the "Greek Pompeii" Akrotiri village. Don't miss one of the famous vineyards and wineries on the island, Sigalas winery or Argyros vineyard are both boutique wineries with grapevines dating back centuries. There are also plenty of charming villages on the island to explore if you'd like to escape the crowds in Oia.
Day 6-7: Hop over to Naxos
One of the easiest Greece islands hopping routes: simply take a short 40 minute ferry to nearby Naxos island and spend two days soaking in the island's beaches and historic sites.
The ancient ruins at the Temple of Apollo offer spectacular views of the island. After exploring Naxos old town, relax on the white sandy beaches and crystal clear waters at Agios Prokopios Beach or Mikri Vigla Beach.
Week 2: Dodecanese Islands
Day 8-11: Spend 4 Days in Rhodes
Ferries from Naxos to Rhodes can take up to 12 hours so you might also want to check flight availability depending on your schedule.
Rhodes is the largest of the Dodecanese Islands, so allow four days to arrive and explore the island which is full of ancient ruins, as well as the historic Old Town area. The Palace of the Grand Master of the Knights of Rhodes, Lindos Acropolis and the Acropolis of Rhodes are all must-visit sites.
Tsambika Beach and Pefkos Beach are some of the nicest sandy beaches on the island, while Traganou and Jordan Beach are beautiful but are pebble beaches – so don't forget your water shoes!
Day 11-13: See the ancient ruins of Kos
Ferries from Rhodes to Kos take around 2.5 hours, giving you plenty of time to explore the ancient sites, beaches and thermal springs in Kos for three days.
Kos Town is packed full of ancient ruins and historic Greek and Roman landmarks. Neratzia Castle, the Roman Odeon of Kos, the Agora ruins and Cara Romana are all worth visiting. But don't miss the hot springs at Therma Beach and Agios Fokas for a unique experience!
Day 13-14: Go off the beaten track to Symi island
Hop over from Kos to Symi island and enjoy the colourful harbour town of Symi backed by rolling hills. Panormitis Monastery and the surrounding beaches close to Symi town are the best way to spend your 2 days on Symi.
Week 3: Ionian Islands
Day 15-17: Fly to Corfu
Take a flight to Corfu and spend three days there. Corfu's architecture and heritage are Venetian, so you'll see Venetian influences in the stunning Old Town, the two town fortresses and many villages across the island.
With fortresses, palaces and museums to explore, there's also plenty for outdoor lovers from famous beaches like Porto Timoni to hiking trails, including the popular Mount Stravros loop.
Many Greek islands allow you to rent a boat without needing a licence, so why not hire a boat to cruise around the island at your own pace, swim in bays and see the beautiful villages from the water.
You'll also find lots of foodie opportunities in Corfu, from olive oil tasting and honey bee tours to food tours of the best foodie spots in old town Corfu.
Day 17-18: Relax in Paxos for 2 days
Ferries from Corfu to Paxos take 2.5 hours and give you plenty of time to slow down and enjoy a slower pace on the laidback island of Paxos, one of a tiny group of islands south of Corfu.
Explore the main town of Gaios, see the Tripitos Arch, go out on a boat trip or just enjoy the beaches at Erimitis Bay and Kipiadi Beach.
Day 18-21: 4 days in Kefalonia
Take a ferry to the biggest of the Ionian Islands – Kefalonia and spend your last four days exploring the spectacular rugged landscapes, beautiful beaches and historic attractions.
The natural landscape is one of the biggest draws to Kefalonia and you can visit caves on the island: Drogarati Cave and Melissani Cave. But don't miss the stunning beaches with vibrant blue bays and white sand. Myrtos Beach, Antisamos Beach, Avithos Beach and Makris Gialos Beach are just some of the spectacular beaches in Kefalonia.
Kefalonia is also great for hiking, with mountain trails like the Ridge and Summit trails of Mount Ainos or Mount Enos summit hike.
Greece itinerary: 14 days
If you're only planning a 2 weeks in Greece itinerary, I recommend picking two of the 3 weeks' Greece itinerary I've outlined here and focus on the Ionian and Cyclades islands or the Cyclades and Dodecanese Islands rather than trying to cram three weeks in Greece into two.
Greece 7-10 day itinerary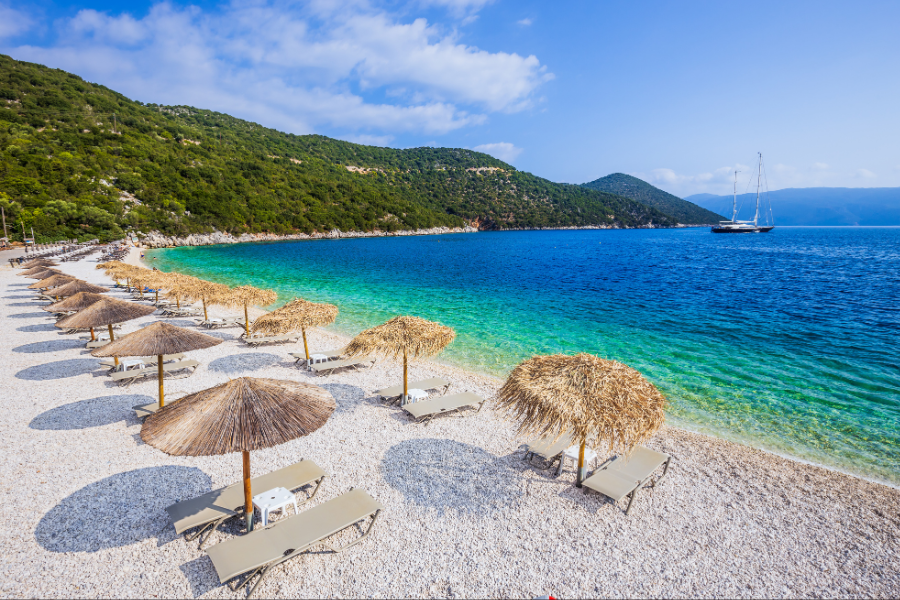 For a shorter trip, like a 7 day Greece itinerary or a Greece 10 days itinerary, I suggest picking one week from the itinerary above to focus on. The Ionian Islands of Corfu and Kefalonia are the biggest and have a lot more to do so you could easily extend your stay.
Or enjoy a slower pace in the Cyclades and spend longer in famous spots like Santorini and Mykonos.
Looking for hotels to stay? Check out these options!
Cyclades Islands
Dodecanese Islands
Ionian Islands
Philarmonic Orchestra Apartment by Konnect
Final thoughts: island hopping Greece routes
Planning island hopping holidays to Greece can feel overwhelming with the number of ferry journeys to coordinate but it's so worth the time you spend planning it and I hope you enjoy your Greece island hopping as much as I did!
Pin For Later