This post may contain sponsored content and or/ affiliate links. This is a way I make an income from my blog without it costing you my readers any money!
P.S. I am a participant in the Amazon Services LLC Associates Program, an affiliate advertising program designed to provide a means for sites to earn advertising fees by advertising and linking to amazon.com.
Do not skip Parque Tayrona! If you are backpacking Colombia, or just heading to the coast for a short holiday be sure to spend at least a night or two in Tayrona camping. My advice would be to spend 3 or 4 days there chilling and enjoying the park. To help you make the most of your trip here is my complete guide to visiting Parque Tayrona.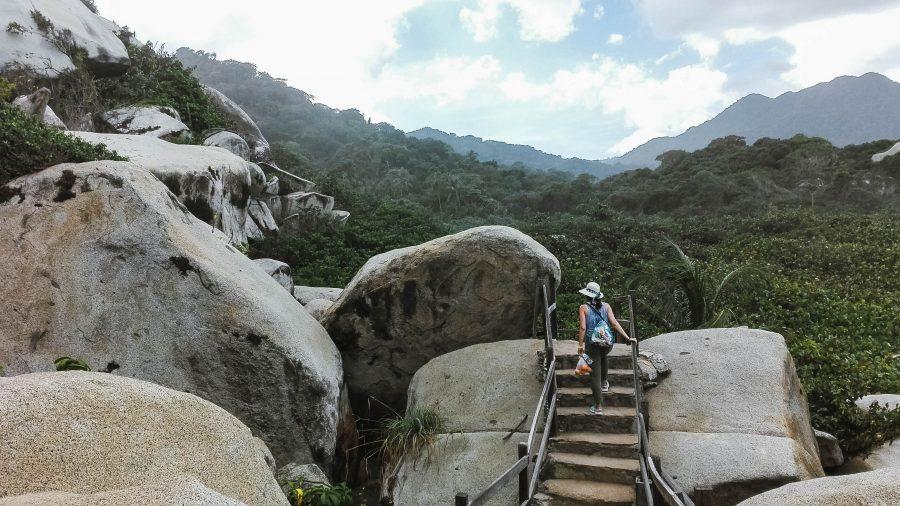 Why visit Parque Tayrona?
The question should be, why not! Unless of course, you hate the jungle, walking, beautiful beaches, rugged coastline or camping. Then you should probably give this a miss!  Tayrona is beautiful! The beaches are stunning, plus there is no one grabbing your foot and trying to massage you (always a bonus in Colombia! if you have been to Playa Blanca you will know what I mean).
So, if you are looking to spend a few days out in nature, camping and spending time in the jungle or relaxing on the beach, Tayrona is the perfect place for you to chill for a few days.
Once you are in the park it is difficult to get signal so you are forced to take some time offline just to relax and enjoy being present in the moment. Although I did manage to upload a few images to my IG stories, for the most part, I was glad to be offline for a few days.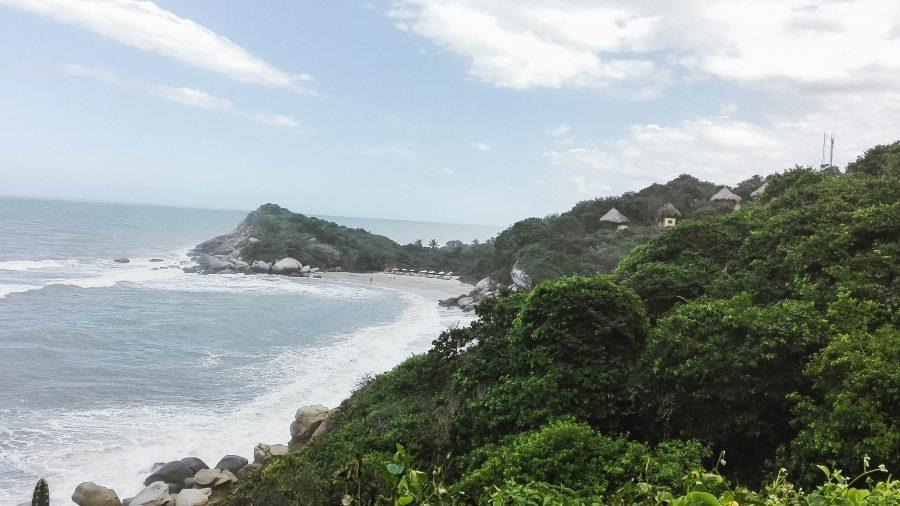 The beaches are some of the nicest I've been to in Colombia, the water is a bit too rough to swim in. In fact many of the beaches you are not allowed in the water, the ones that you are allowed in you can't really swim as the sea is too rough. It's great to paddle and cool off from the sun in though!
Things to see and do inside the park
Ok, first things first. You have to hike quite a way through the jungle to even get to the campsite. So, keep that in mind when you are packing! I took only what I needed. I have my own tent and took that and my sleeping bag too. It wasn't too much weight and I was fine hiking to and from the campsite.
When you arrive, take the shuttle up to the car park where the train begins. You can walk this, but honestly, I wouldn't bother. It's just a road with nothing to see and it will take you an hour. The bus is 2mil COP and saves you 55 minutes!
The trail into the park is really easy to follow. The first campsite you come to is Arrecifes. This should take around an hour (an hour and a half). If you want to keep going to the other campsite Cabo San Juan It is around another hour (an hour and a half max) from here. I have talked more about the campsites below.
The Beaches
All of the good beaches that you can swim in are in between the two campsitesArrecifes and Cabo San Juan. Cabo San Juan is on the beach, whereas Arrecifes is just set back from a non-swimming beach. But it is just a 30-minute walk along the beach to La Picena and 40-minutes to Cabo Beach.
La Picena
Cabo
Trails in the park
As well as the treck in and out of Tayronaa there are several trails you can do if you don't want to just chill on the beach all day.
Palito
The first one I would recommend is the hike to Palito. I LOVED this treck! If you have done the lost city then you might not be so impressed with Pablito itself. But the actual trek is so cool. Honestly, I felt like Tarzan clambering over rocks jumping off things and just generally feeling like a child! Most of the trail is just trying to climb up big boulders.
There is a sign to tell you to turn back if you like your shoes more than walking…totally true! Mine lasted half way up and died haha.
Totally worth it!
It is an hour and a half up going at a steady pace and taking a few rest stops. I didn't find the hike too physically demanding fitness wise. But it is a bit difficult technically due to the big boulders you have to try and scramble over. If you have a walking stick take it!
The train starts from the campsite at Cabo. Just ask someone to point you in the right direction. Once you get on the trail it is really easy to find as it is signposted all the way up.
9 Stones
I really liked this hike and I did it with my full pack on before we left the park. I had no choice in this as there was nowhere to store my bag! The walk is 1 hour in total if you take the longest root…although I felt it was quicker than 1 hour. It's not a challenging walk and the views are stunning!
You will find the trailhead for this back at the main carpark. There is a big mao with 3 routes a,b, and c. I have no idea which route I took as the signage was so confusing! I think I took A and skipped on to B and C too!
But I found my way to the lookout and back… somehow!
Where to stay
Arrecifes
I stayed at the Don Pedro campsite. There are 2 at Arrecifes one that is more expensive where you have nice bathrooms and grass to camp on (Bukaru). And one a little bit further away through a field where you camp on the dirt and have very basic facilities. But, it cost my 10mil per night per person to pitch my tent.
I actually liked this campsite though and as we were only there for 2 nights it saved us a few hours of walking with our gear!
You can rent a tent or a hammock or pitch your own tent here. They have 1 inside shower and one outdoor shower and breakfast is available. If you want to eat in the evening you will need to bring your own food here. Alternatively, you can walk over to the 'fancy' campsite for a 'fancy' meal. This will set you back a good chunk of cash though with meals being around $30mil. If this is too much for you take a short walk along the beach to the next beach where there is a great restaurant where you can eat for around $15 mil. They also do breakfast starting at 7:30-8am.
Cabo San Juan
If you have the stamina to keep going and you are planning on staying for 3+ nights it is worth continuing on to Cabo campsite as it is right on the beach and had many more facilities.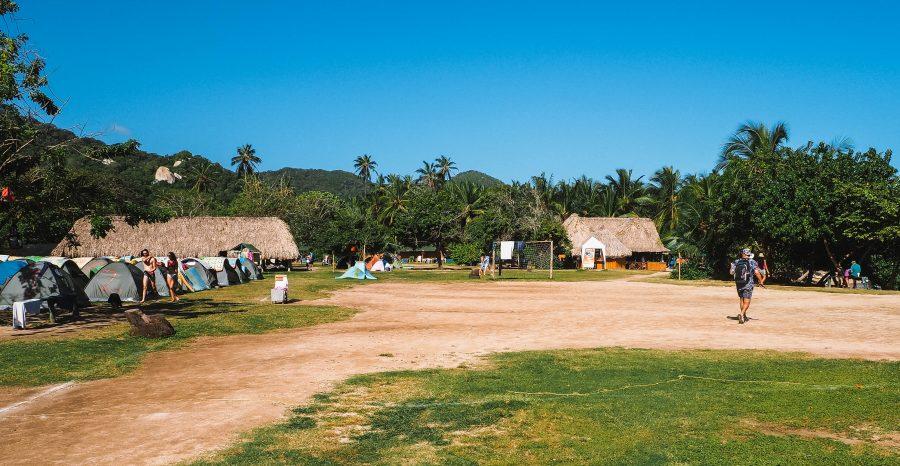 Cabo has 2 beaches, a reasonably priced restaurant, a small tienda and ok bathrooms. They also have tents and hammocks for rent, or you can pitch your own tent. It is the better of the 3 campsites just because of the location and the facilities. So if you are going to be spending a few days in the park I would try to come here.
Cañaveral & Castilletes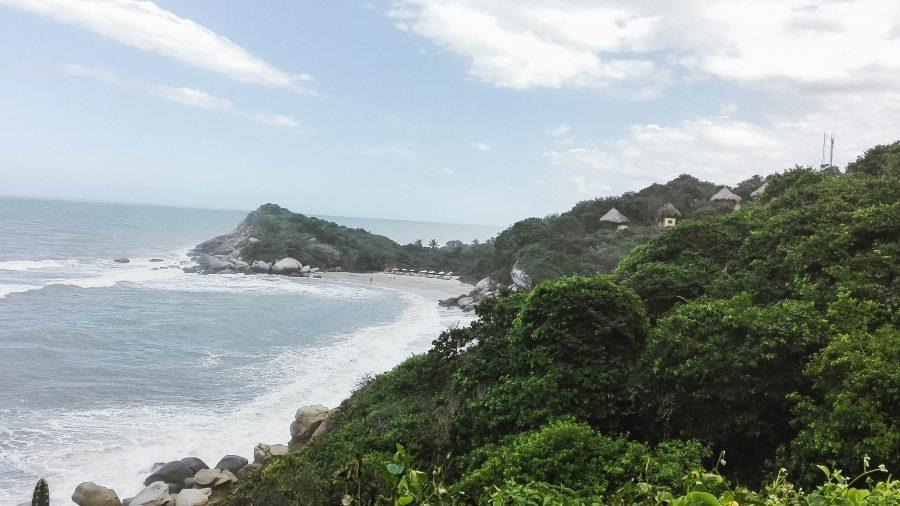 Set in the east of the park. these sites don't get so many visitors as the others. They are a lot closer to the entrance (ideal if you won't want to walk too far) but have no swimming beaches. If you wanted to stay in one of the (very expensive) eco huts you will find them here.
Mules
If you aren't up to the hike you can take a mule, or give them your bag and they will carry it for you. If you don't take one from the car park there are places on the route where they wait for people who can't walk any further. I'm not sure the cost as I didn't need to use this service.
What to pack
Passport – You will need this to enter the park

Enough clothes for each day and something comfortable to wear in the evenings and to sleep in.

Swimwear

Flip flops

Hiking sandals/ Hiking boots or sneakers with a good grip (that you don't mind getting really muddy!)

Bug spray

Wash kit

Quick-dry towel

Sarong (to lay on the beach on)

Sunscreen

Headlamp

Battery pack

Camera

Plenty of water (you can buy it in the park but it is expensive and I only found people selling small bottles)

Food if you want to cook (recommended if you are on a budget. Our campsite had a kitchen we could use)

Lots of snacks!
How to get there
From Santa Marta – head to the market and ask for the bus to Tayrona. It's easy to find and the bus it white and green. The bus stop is around the corner and there is almost always a bus there with a queue of people.
From Palomino – Take the bus from the main road to Santa Marta and ask to get off at Tayrona.
By Boat from Taganga – The cost of one was by boat is $50mil so this was over our budget. But I have heard amazing things about the boat ride. So if you can afford go for it! You can get a boat in the morning from Taganga. Just head to Taganga and ask around.
Booking and Closures
Before you go make sure you check their website. Tayron closes each year for a month, normally eng of January/ February. December and January are the busiest months and I know people who couldn't get in as all of the passes were sold out! So if you are traveling during these peak times then it is best to book your pass online to save disappointment!
If you are planning a trip to Colombia take a read of my other guides here.
PS. After visiting Tayrona I highly recommend taking a trip to Minca for a few nights and then going to Palomino. You can read my guides here.