If you are traveling along the Caribbean coast of Colombia the chances are that you will be stopping in Santa Marta. To help you make the most of your time there I have outlined a few things to do in Santa Marta. As well as offering you some more general information about the best places to stay, eat, shop and party!
Did You Get Travel Insurance Yet?

If 2020 taught us anything, it's that you need to be prepared for anything!

The Insurance companies I personally recommend are Hey Mondo, Passport Nomads, Safety Wing, and Travel Insurance Master

Hey Mondo is great if you are looking for a great value flexible policy. They offer single-trip cover, annual multi-trip cover, and long-term travel cover.

Passport Nomads provides the most comprehensive cover for Digital Nomads. If you find yourself in need of medical care you just contact them and they will pre-load your card with the funds to cover your treatment, meaning you won't need to pay out of pocket and then put in a claim later.

Safety Wing is great value with monthly cover starting at $39. It's super easy to use and it just renews each month. I currently use them as they offer me free cover for my son as part of my policy.

I also use Travel Insurance Master for short trips.

Read my full travel insurance post here where I go into detail about all 4 companies.

A Bit About Santa Marta
In Colombia, tourists go on vacation to Cartagena and Colombians go on vacation to Santa Marta.
Taking a short bus ride along the coast brings the prices down a lot! You won't just save on accommodation, you will also save on food and drink. That said, there are two sides to Santa Marta. The upmarket beach resorts that line the coast and the Historic Centre where you will find locals mixed with backpackers and more adventurous holidaymakers.
Where to Stay in Santa Marta
Where you stay depends on what kind of vacation you are looking for. If you want a beach holiday, then you should look along the coast in between the airport and the Historic Centre.
If you are on a budget I found a great hotel close to the beach, scroll down to 'accommodation' for more information.
However, if you are a backpacker who only has a short time in Santa Marta you should look for the Centro Historico Santa Marta – and spending one or two days there will give you enough time to explore. There is a beach in the center, but, if I'm honest the beach isn't great and in comparison to other places in Colombia there really isn't that much to do.
Using public transport in Santa Marta
If you are just staying in the historic center you can access it everywhere on foot. Although if you need to go somewhere outside of Santa Marta the blue colectivos (local Santa Marta buses) are incredibly easy to use, even if your Spanish is poor!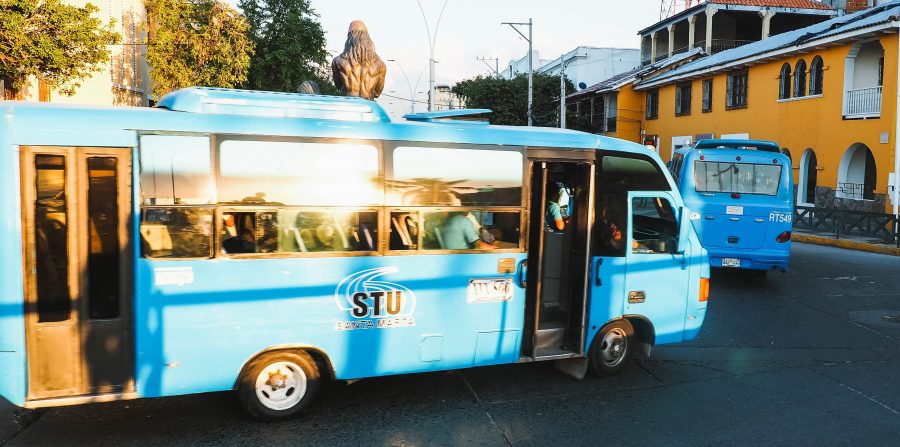 All of the buses in Santa Marta have a fixed price ($1600 COP in 2018), so you simply flag it down (they will stop anywhere) give the driver your money and sit down. No need to utter a word! If you are a bit unsure just say the place name to the driver to make sure you have the right bus. Then either follow along on Google Maps or ask a local to tell you where to get off…simple!
To help, here are some places close to Santa Marta you might want to go to and how to get there:
Need to book transportation in Colombia?
I highly recommend booking all of your Colombia transportation with GottoGo. You can search for buses, shuttles, ferries, and Flights on their website. What I love most about them is their customer service. I know these guys personally from my time living in Guatemala and they really do look after their customers. So if anything happens and you get delayed and miss your bus, you can just call them and they are always there to help.

If you book through them you will pay a little more than if you book in person at the bus station. But it's worth it for the ease and security in my opinion. Click here to search for transportation in Colombia.
How to take the bus to Santa Marta Airport
Walk towards the seafront and take a bus on Carrera 1c that says "Airporto" it will drop you off outside the terminal. It takes 30-45 minutes.
How to take the bus to Santa Marta Bus Terminal
To go to the bus terminal take a bus from Carrera 5 that says Terminal de Transporte on the front. A lot of buses pass the terminal so you might just want to flag any passing bus down and ask. It is generally a 30-minute max ride, but that depends on traffic.
How to take the bus from Santa Marta to Taganga
To get to Taganga head from Carrera 5 and look for a bus that says Taganga. It will take 30-40 minutes to get to Taganga normally.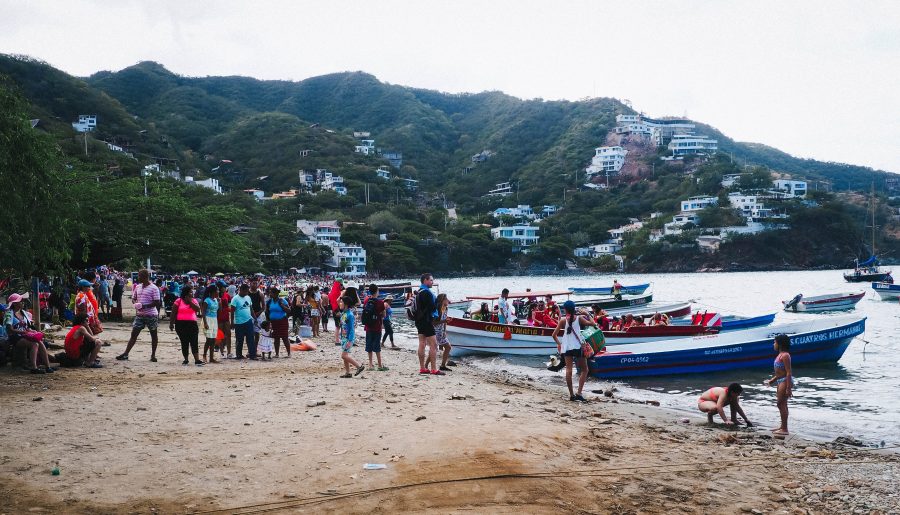 How to get from Santa Marta to Tayrona (and Santa Marta to Palomino)
To get to Parque Tayrona from Santa Marta, Palomino or any of the small towns along the coast in that direction you need to go to the market. Look for the white buses with green writing and someone shouting Tayrona. If you can't see them then just stop and ask a local "¿Dónde está el autobús a Tayrona?" And they will point you in the right direction. Although, you are in Colombia, so don't be surprised if they take you there and make sure you get on the right bus!
You will need to tell the driver where you want to go as the price is variable.
How to get from Santa Marta to Minca
You can find the 'bus' to Minca right by the Tayrona bus. There will be someone on the street shouting "Minca" just go and tell him you would like to go there. Chances are he will speak English. This isn't so much a bus, it's more a large 4×4. Your bag will be strapped to the top and you are going to have to wait until the colectivo is full before it departs.
Things To Do in Santa Marta
If I'm honest in comparison to other places I've visited in Colombia there isn't that much to do. Especially if you are on a budget. Here are a few ideas of interesting things to do in Santa Marta:
Walk the Old Town and See the "Sights" of Centro Historico Santa Marta
To tour Santa Marta on foot will probably take you 20-30 minutes! Start at Parque Bolivia then walk along the seafront. When you get to the end turn around and walk back. Cross over the road and head back into the town passing through Parque de Los Novios to the Cathedral.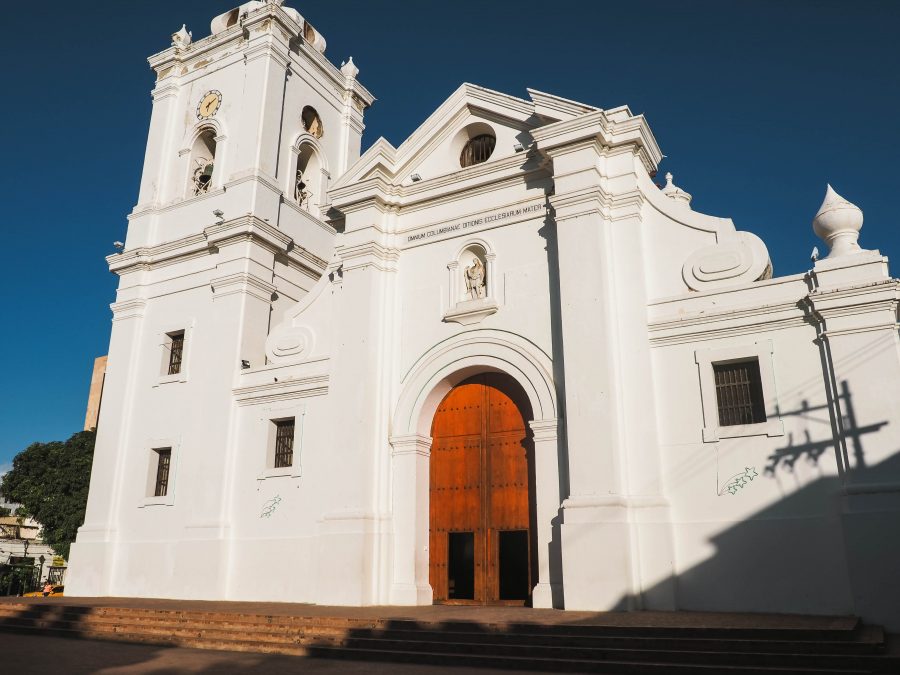 Take a Stroll Down Carrera 5
When I say take a stroll, what I really mean is squeeze down the packed sidewalk stopping every few steps because someone is in the way. Carrera 5 is the main shopping street in Santa Marta. If you need to get any supplies here is the best place to find what you need. There is also a shopping mall not far from the main town. Although the mall is a bit calmer, you will pay more money for the calm!
Try Some Exotic Fruits at the Market
Markets in Colombia are a real treat for the senses. I have never been to a country with so many varieties of fruit. Take a walk to the market and explore the fruit stalls, no trip to Colombia is complete without trying some of the weird and wonderful fruit.
Visit one of Santa Marta's Museums
Santa Marta has several Museums you can visit.
Museo del Oro – The Gold Museum is focused on items found in Santa Marta and the surrounding region. If you have done the Lost City Trek you will find many items here that were found there. The best part it's FREE!
Quinta de San Pedro Alejandrino – Visit the hacienda that Simón Bolívar (that guy who has a Parque in almost every Ciudad in Colombia) spent his final days. Built in the 1700s it is one of the most important buildings in Santa Marta. It also has a beautiful garden you can visit.
Cost is $21mil COP and that includes a guide.
Take the Bus to Taganga
Taganga is a small fishing village close to Santa Marta. It has a beach, however, it isn't great for swimming or sunbathing due to all of the boats! There is a beach a short walk out of the harbor, which you can read more about below.
What Taganga is great for though is diving, eating fish and partying! The bus only takes 30 minutes and costs $1600COP. It is well worth a visit if you have the time.
You can also take the boat from here to Parque Tayrona.
Head out of town to one of the Beaches in Santa Marta
I love Colombia, so it pains me to say this… But, the beaches aren't that great.
Sure there are some nice beaches. However, if you have traveled a lot don't be surprised if you are a little underwhelmed. If you want to spend the day relaxing on the beach then your best option is to go to Parque Tayrona or travel a few hours down the coast to Palomino.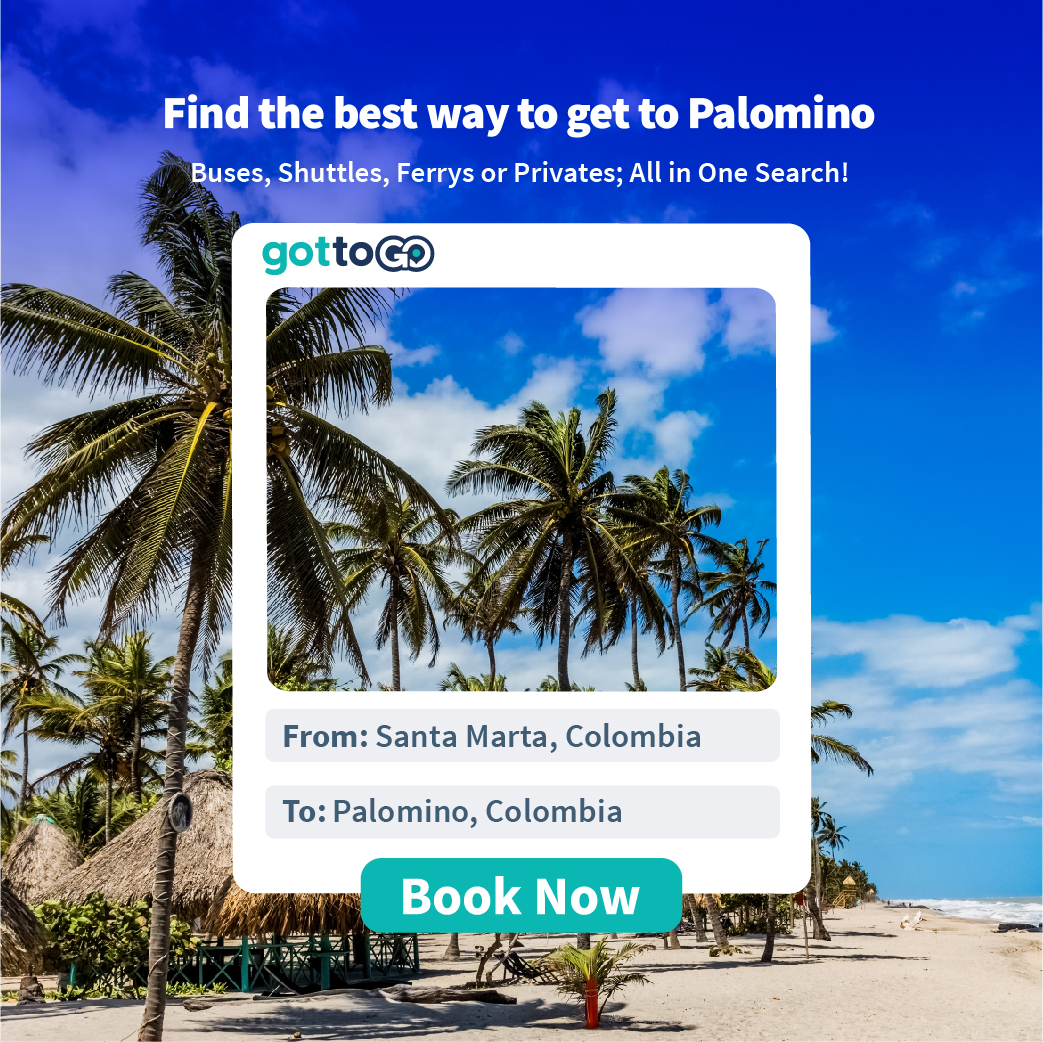 Failing that there are some of the best beaches in Santa Marta you can go to:
El Rodadero – This is the main beach in Santa Marta. Be warned it gets crowded!
Playa Blanca – Accessed by boat it is a great day trip
Playa Grande – You will need to take the bus to Taganga and then follow the nature trail to get here. It is about a 10-minute walk and has some great views!
Playa Salguero – Next to El Rodadero it offers a calmer less hectic experience with a picture-perfect sunset.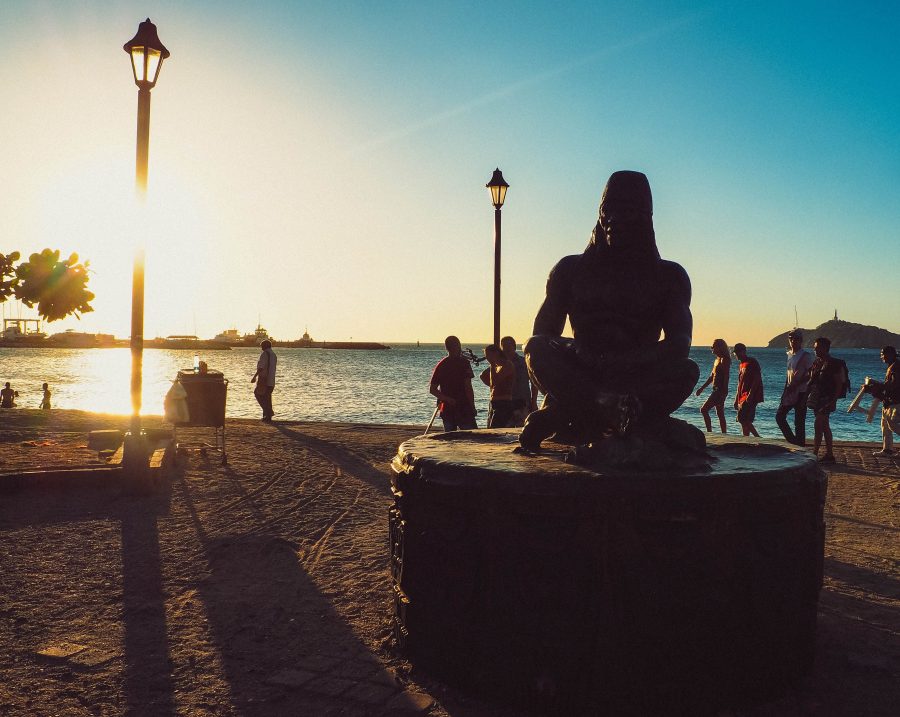 Where to Stay in Santa Marta – Best Hotels in Santa Marta
I can recommend the following hotels depending, on your budget, and where you want to be in Santa Marta. I have personally stayed at all of them.
This is my favorite budget hotel in Santa Marta in my option. It has breakfast included, AC, and great areas to chill out. You will also find a rooftop bar, kitchen and swimming pool! I spent a few nights there, after the Lost City Trek, sunbathing and drinking cocktails. One of the big bonuses is it is only a few meters from Carrera 1, where you can take the bus to the airport.
They speak English here.
The night I got back from Lost City I just needed my own room in a nice place. So this was my 'blow the budget' choice. It was actually only $80mil per night including breakfast. But considering I normally spend $15mil on a bed in a dorm, this really was blowing the budget for me!
They have a great breakfast buffet, swimming pool and plenty of hammocks! The only thing that let this place down for me was the lack of hot water. After 4 days in the jungle, I really wanted a hot shower and cold AC. I got the AC but the shower was the usual Santa Marta cold water. Top Tip: always check the hot water situation if you need it.
They speak English here.
The best thing about this hostel is the location. It is right by the cathedral and a stone's throw from the street food! There isn't much space in the dorm and little communal space but they have plugs and a light in the bed and free coffee in the morning! If you want breakfast you will need to book it before you arrive. I tried to ask for it when I checked in and they wouldn't let me.
They don't speak English here.
I stayed here as it is very close to the market and they let me store my big backpack here for a few days while I went to Punta Gallinas. What I liked was that I was able to check in early and they let me store my bags securely. Then I was also able to check out at 4 am with no problem. They were really accommodating and the rooms had lots of space.
They didn't speak English here but understood my 'Spanglish' well!
I really liked the vibe here. The location is good, and they offer a cheap laundry service. There is no breakfast or coffee included but they do have a small pool, a kitchen, and a rooftop communal area. The internet is pretty good and the rooms are clean.
They speak some English here, but mostly Spanish.
Hotel Donama
This place is quite out of town and close to the airport. It isn't on the beach but it is a short walk or they have transport who will drop you off. As it is also close to the main road you can easily catch a bus here from the historic center or the airport. An added bonus is they have a pool and a rooftop area for sunbathing. It's only private rooms but great value!
Where to eat in Santa Marta
I recommend walking around the street food stalls close to the cathedral and Carrera 5. If you are looking for a restaurant there is an amazing vegetarian Indian restaurant called Maharaja that I highly recommend. They offered a great value menu del dia and the owner is really nice. He also speaks English and was really helpful.
My other recommendation in Santa Marta is Restaurante Welcome on Calle 10c. I was told to eat here by some locals. The food is excellent and you will find it packed with Colombians, which is always a good sign!
What to Pack for Santa Marta Colombia
How much you take really depends on how long you are going for. I try to do trips like this with just hand luggage meaning I choose my clothes very carefully!
Santa Marta is great for shopping so you can always pick up anything you need there. If you are traveling along the coast read my post on what to pack here. I've also included a video in this post.
If you are just visiting Santa Marta then here are some of my 'must have' travel items.
2 pairs of shorts
3 T-Shirts – I have a white one, another plain one and then something a bit more fancy for evenings.
a dress – Make sure it's lightweight.
a pair of leggings – Make sure they are quick drying as it gets very hot along the coast.
1 shirt or lightweight jumper – You will need this if you go to Minca as it gets pretty cold up there in the mornings and evenings.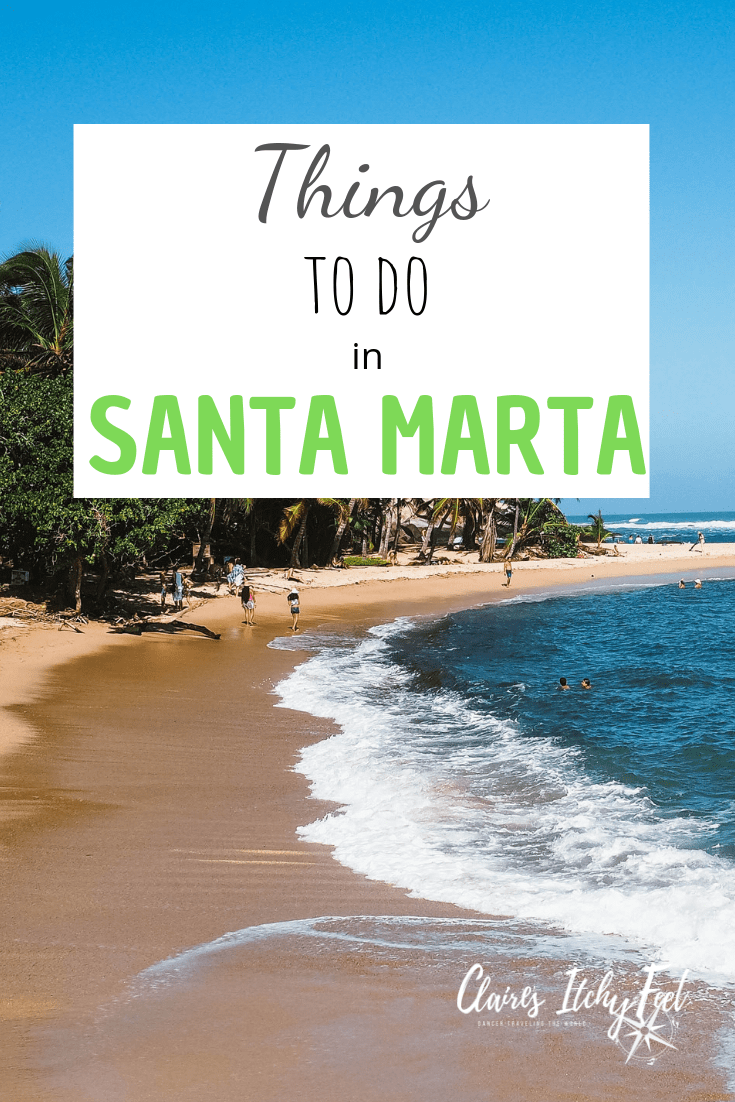 Check out my full packing list for Colombia's Caribbean Coast here.
I hope this is helpful if you are backpacking in Colombia be sure to check out my other guides! Also, you can follow my 1-week, 2-week, and 3-week Itineraries for the Caribbean coast.
This post was proofread by Grammarly