This post may contain sponsored content and or/ affiliate links. This is a way I make an income from my blog without it costing you my readers any money!
P.S. I am a participant in the Amazon Services LLC Associates Program, an affiliate advertising program designed to provide a means for sites to earn advertising fees by advertising and linking to amazon.com.
If you are planning a trip to Colombia it wouldn't be complete without a trip to the Caribbean Coast. How long you spend there will depend on how much time you have to spare. To help make the most of your trip I have put together a 1 week, 2-week and 3-week itinerary. Keep reading for my 1 week itinerary for Colombia's Caribbean Coast.
Day 1 Cartagena
I did like Cartagena, but 1 day here was enough for me. Plus, if you are planning on returning here to catch a flight or bus to your next place you will get an extra day at the end. There is so much to see and more to this coastline that touristy Cartagena!
Day 2 Santa Marta
I really liked Santa Marta and it is the best place to buy anything you need for the best prices, just in case you forgot anything. There are also some great beaches, museums and neighboring villages to explore.
For my guide to Santa Marta including accommodation, recommendations click here.
Day 3 Taganga
I haven't written a full guide to Taganga as although I went there three times I don't feel like I got to know the place enough to write a full guide. I did write about it in my Santa Marta Guide though. Here are my accommodation recommendations.
Top Tip: If you only have 1 night I would book 2 nights either in Taganga or Santa Marta and then just hop on the bus to visit the one you aren't staying at. This saves you moving and they are really close anyway.
Day 4 – 5 Parque Tayrona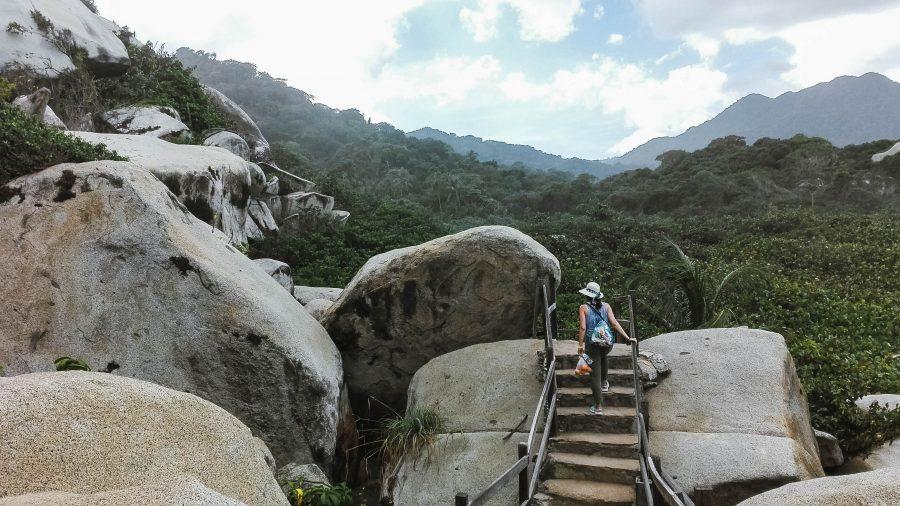 You can not visit the Caribbean coast and not visit Parque Tayrona. If you can I recommend staying 3 nights. Don't worry, if you can't cope with camping they do have eco pods available. Although they are on the expensive side so this may not be an option! If you want to save time you can also just go for the day. Either by bus or boat.
Day 6 Minca
I loved Minca! It's a lot cooler than the rest of the coast and it was wonderful to escape the heat of the beach for a night. There are coffee farms and waterfalls to explore so you will have plenty to do!
Day 7 Return to Cartagena or Santa Marta
Where to next?
If you need help getting to your next destination take a read of my transport guides: